This Instant Pot Chicken and Rice recipe makes a one-pot meal with moist tender chicken and creamy wild rice in less than 30 minutes.
Had I known how easy it is to use my instant pot, I would have shown it a little love sooner. Where do I start? What should I make first?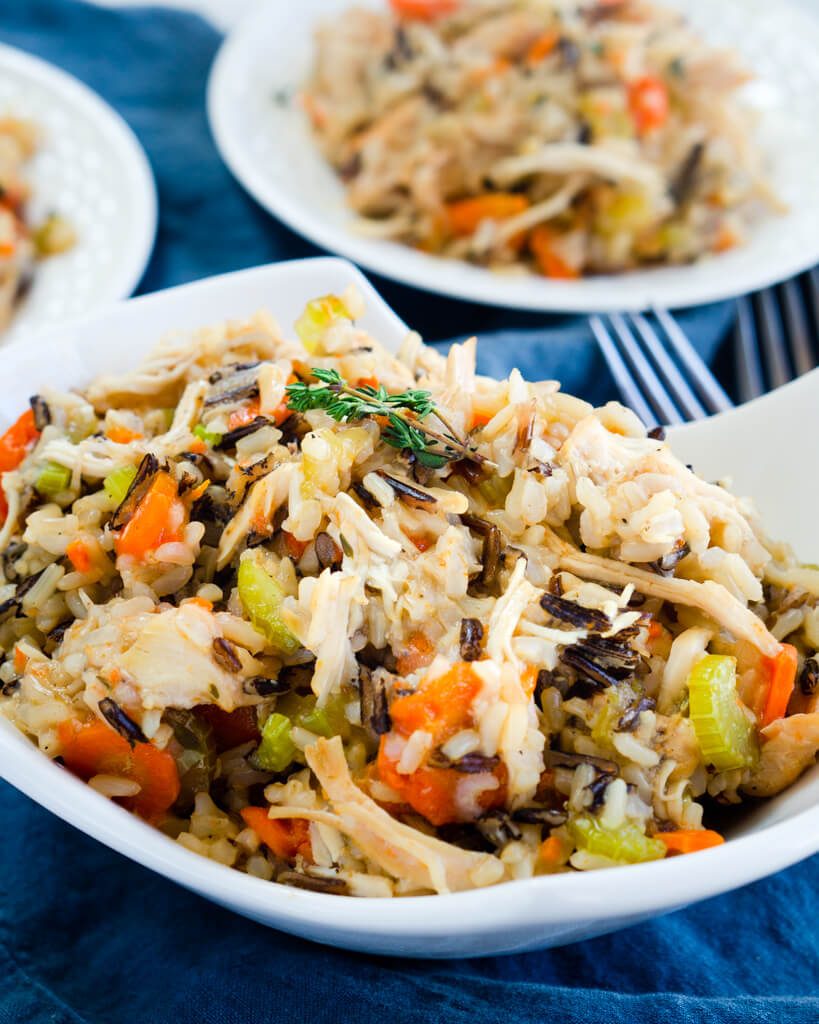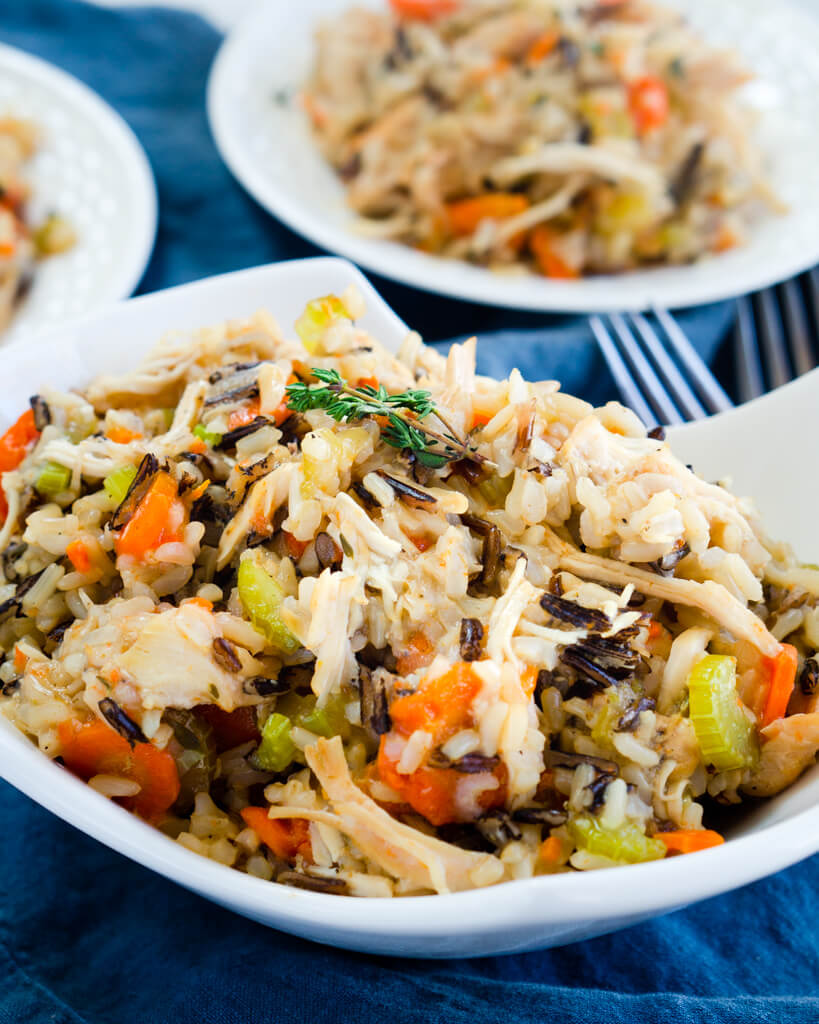 My vote is this easy Chicken and Rice Recipe. I'll be showing you what you need to know to put this chicken and wild rice dish on your table in under 30 minutes.
Yay, I got an instant pot! That was me a few years ago and then it sat on a shelf. Why? Because I didn't want to take the time to figure out how to use the darned thing.
Do you do this too or do you dive right in?
My sister just got an instant pot and she was so happy when she made mashed potatoes in a jiffy. I told her that I'd made some creamy Chicken and Wild Rice soup.
She started asking me a ton of questions and said it would be helpful to have a video showing the steps I used to make this instant pot chicken and wild rice recipe.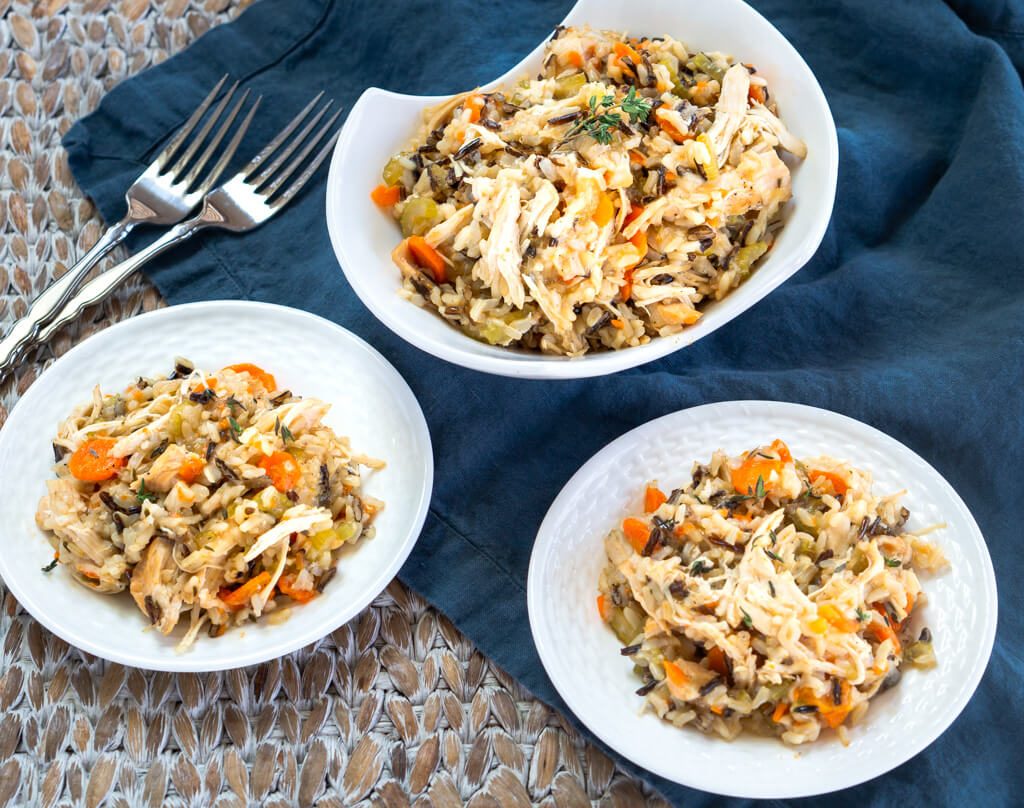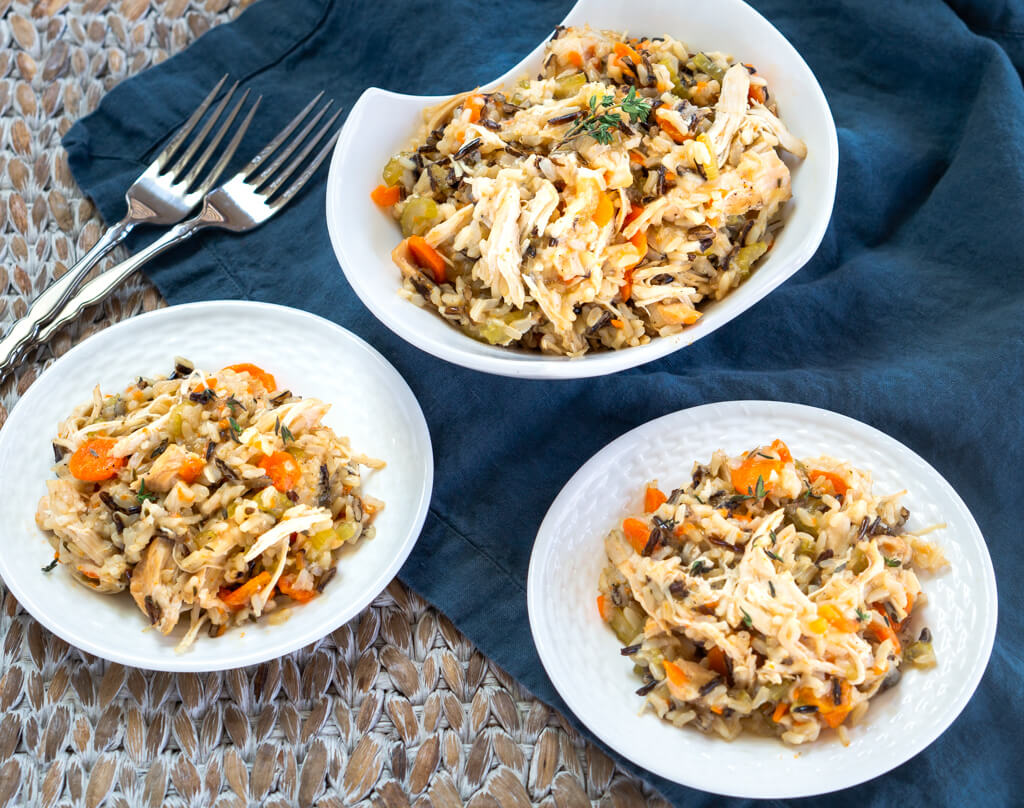 It's easy to make once you've done it, but I had some questions that I had and worked through.
Since I was cooking a recipe that had a variety of ingredients I knew I couldn't just plug it in and go.
Just scroll to the end of this post for the recipe and video if you know how to operate an Instant Pot.
Instant Pot Frequently Asked Questions
I own an 8qt Instant Pot. This recipe works perfectly in a 6 qt too. I've noticed that newer models of the Instant Pot now call the Manual button Pressure. They perform the same.
8qt and 6qt Instant Pot Control Panels
Common questions about cooking chicken in an Instant Pot.
What functions do I need to use?
Can I use frozen chicken?

Yes – Use boneless unless you plan to cook your chicken separately. I used 2 frozen boneless skinless chicken breasts and cooked for 17 minutes.

Can I use a whole chicken (thawed)?

Yes but cook it separately for 25 minutes. I actually cooked a frozen solid whole chicken and cooked it for 35 minutes but thought the texture resembled rubber. I'll experiment further and update this post.

Does the cooking time include the time it takes to heat up and release pressure?

No – Countdown starts when the pot reaches pressure. The fuller the pot the longer it will take to come up to pressure. When the timer goes off, the pot will go into the keep warm function and start the natural pressure release. Again, the fuller the pot the longer it will take to release the pressure.

What is Pressure release? How do you do it? How do I know which method to use? Keep reading.
What Operation Functions do I need to know

right now

about my Instant Pot?
Preheat – After you set the cook time, it will take about 10 seconds to begin. The control panel will show "

ON

". The cooking time appears and will begin the countdown when the pressure is reached. Don't Freak out thinking your pot isn't working or that you have failed Instant Pot 101 (like I did)! Also, it is NORMAL to see a little steam escape from the top as the pot comes under pressure. Just make sure your pressure release valve is in the "sealing" position.
Keep Warm/Cancel Key – When the cooking time is reached the pot will beep and display L000. That is the

Keep Warm

function. Pressing the button will cancel any of the programs and takes the pot to standby.
Pressure Release – The Instant Pot lid will not open when it's under pressure – the

float valve (red button)

on top of the lid will be in the up position. There are three ways to release this pressure.

Quick-release – releases pressure instantly by pressing Cancel and then turning the

pressure release valve

to the Venting position. Be careful not to stand over the pot when doing this. I use a wooden spoon to push it so I don't get burned by hot steam! You don't have to hold it. Just push it until it stays open. The float valve (little red button on top) will go down when the pressure is released and allow you to open the lid.
Natural release – After the time countdown, the Instant Pot will beep. Press Cancel and let the pressure release on its own. The pressure button (little red button on top) will go down when the pressure is released and allow you to open the lid. This can take 20 minutes or more.
10-minute Natural Release – Let the Instant Pot go into the Keep Warm mode and set a timer for 10 minutes. Then press Cancel and release the steam like you would on the Quick release. I use this method most often.
Why did I use the Manual (pressure) function key? Since I'm using a variety of ingredients I knew I could program it to all finish at the right time using the Manual function. I use it 90% of the time.
When you make soup using the Soup function key the liquid will never go into the heavy boil state and the chicken will remain intact. I actually wanted mine to break down so I didn't use it.
The Meat/Stew function will strip meat from the bone so it could be used if you are using bone-in meat. Since I was cooking rice and vegetables with my meat I didn't use this function.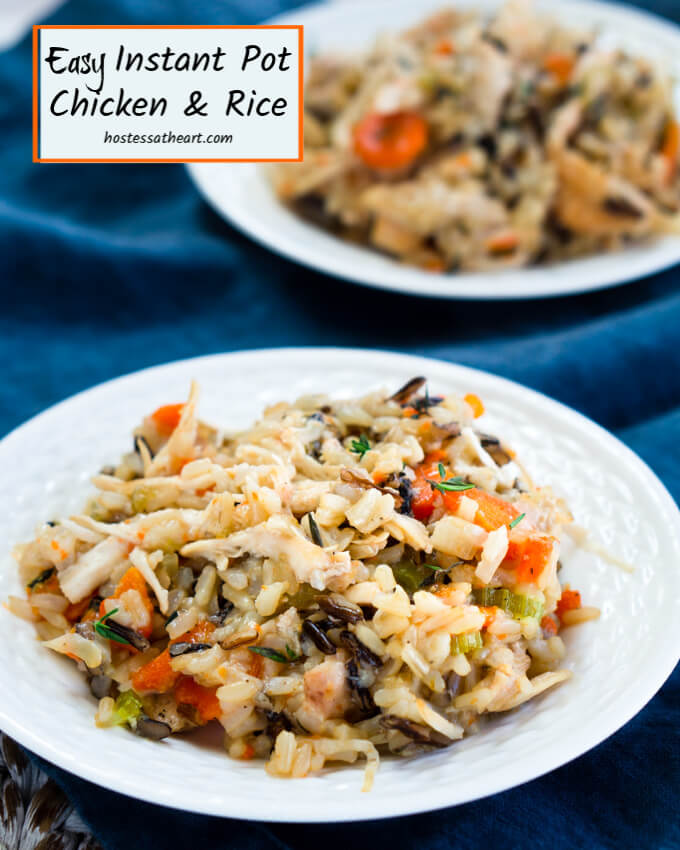 How do I figure out the time my recipes will use? Consult the manual. O.k. I don't like that answer either. The time is calculated based on the longest item in the pot. For this recipe, it's the rice.
Cooking times reference – Sarah over at Instant Pot Life has some very handy reference sheets that you can keep handy for whatever you want to cook in your Instant Pot.
PIN

THIS

RECIPE TO YOUR FAVORITE INSTANT POT BOARD FOR EASY REFERENCE
Pro TIPS
I always make a lot more than we can eat in one meal. I'll put the extra the amount we need for a quick chicken and wild rice dinner in a zip-lock freezer bag and lay it flat on a baking sheet in the freezer.

The bags can be removed from the baking sheet once they're frozen. You can stack the bags or put them in the freezer door.

You can easily make this recipe into a chicken and wild rice soup by adding more broth.
If you liked this recipe here are a few more delicious chicken dishes I think you'll love.
Products I use to make Instant Pot Chicken and Rice:
The following are affiliate links. Hostess At Heart is a participant in the Amazon Services LLC Associates Program, an affiliate advertising program designed to provide a means for us to earn fees by linking to Amazon.com and affiliated sites. You can read my full disclosure.
Instant Pot – I really recommend this Instant Pot. It has been so easy getting to know. I have the 8-quart size but the 6-quart size would be adequate for most recipes.
Chef's Knife – This is my favorite knife and the one I use 99.9% of the time. It's an investment but treated right will be like new for years to come. I consider it an investment into what I love and what's more important than that?
What to Serve with Instant Pot Chicken and Wild rice recipe
A cool and creamy salad such as our Cherry Fluff Salad or Fruit Cocktail Salad would be quick and easy. Don't forget a nice crusty bread such as easy to make Batard Bread.
If you like this recipe, we would appreciate your comment and a 5-star ⭐️⭐️⭐️⭐️⭐️ review!
Easy Instant Pot Chicken and Rice Recipe
Easy Instant Pot Chicken and Rice full of juicy chicken and creamy risotto-like rice and perfectly cooked carrots, celery, and onion. It's delicious comfort food in 30 minutes.
Ingredients
1.5

lbs

chicken

boneless and skinless

2

carrots

diced

2

celery stalks

diced

1/2

onion

diced

2

cups

chicken broth

I use fat-free low sodium

1

cup

wild rice blend

or brown rice

1

tsp

thyme

(optional)

.5

tsp

salt

.5

tsp

pepper
Instructions
Add the carrots, celery, onion to the pot. Add chicken on top of the vegetables and then the rice. Pour the broth over the ingredients. Add salt, pepper, and thyme.

Lock the lid onto the pot and move the pressure valve to the sealing position. Set the pot cooking time for 15 minutes.

When the cooking time is finished, turn the pot off and allow the pressure to release naturally for 10 minutes and then manually release the rest of the pressure. When the float valve is in the down position open the lid.

Using two forks shred the chicken. Stir to combine and serve.
Notes
White rice is not recommended for this recipe.
Add 2 minutes of cooking time for frozen chicken.
Some recipes state that putting the rice under the chicken may allow it to burn. I've never had that happen.
You can add additional broth to make soup.
Nutrition
Sodium:
393
mg
|
Calcium:
37
mg
|
Vitamin C:
9.8
mg
|
Vitamin A:
3615
IU
|
Sugar:
2
g
|
Fiber:
2
g
|
Potassium:
503
mg
|
Cholesterol:
85
mg
|
Calories:
357
kcal
|
Saturated Fat:
4
g
|
Fat:
17
g
|
Protein:
25
g
|
Carbohydrates:
23
g
|
Iron:
1.8
mg
This recipe was calculated using the exact brands and measurements I used to make this recipe. If you are following a strict diet please note changing anything will cause the nutritional info to change. My calculations are intended as a guide only.
I hope this easy Chicken and Rice recipe will get your instant pot off of the shelf and show you how easy it is to use. If this recipe doesn't this Instant Pot Pulled Pork Taco recipe and our 4-ingredient Tomatillo Rice surely will!