Instant Pot Pork Green Chili is an easy green chile stew with beans. It's a hearty comfort food recipe that will stick to your ribs and feed a crowd.
Flavorful Green Chili with tender fall-apart pork tastes like it cooked all day but is done in no time using your instant pot. Your family is going to love this easy chili recipe.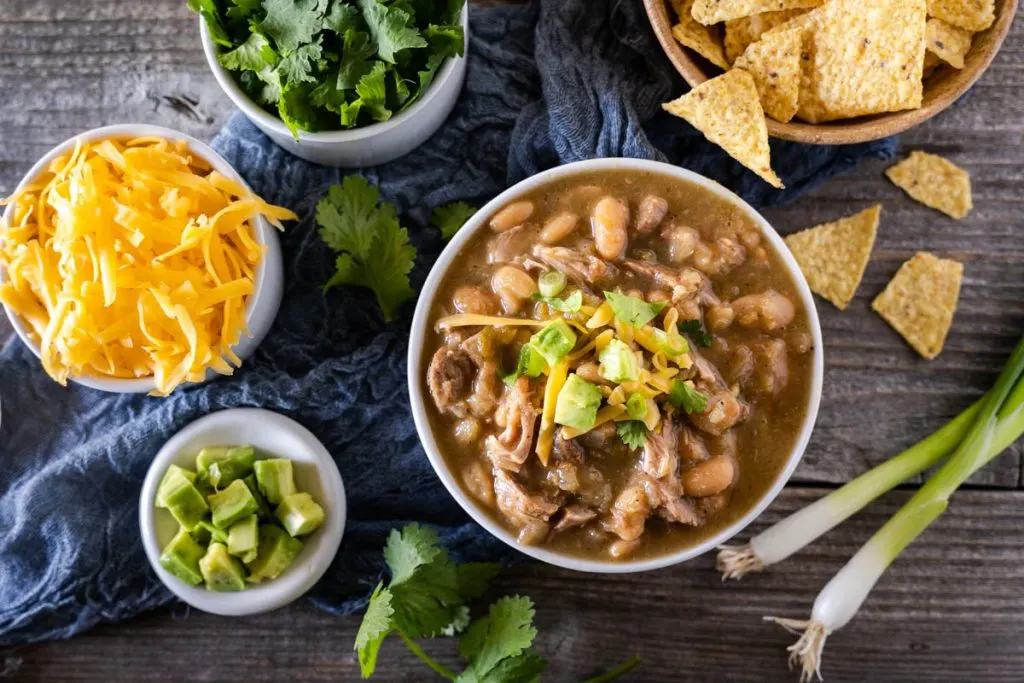 Why I Love this Instant Pot Pork Green Chili Recipe
I absolutely love spicy Pork Green Chili, especially on a chilly day. All of the ingredients are simple and easy to find in most grocery stores. Cooking it in the instant pot makes the pork shoulder fall-apart tender and delicious and a hands-free recipe.
This recipe is perfect for tailgating. It makes a large batch and is so easy to serve. It's Gluten-free and dairy-free too!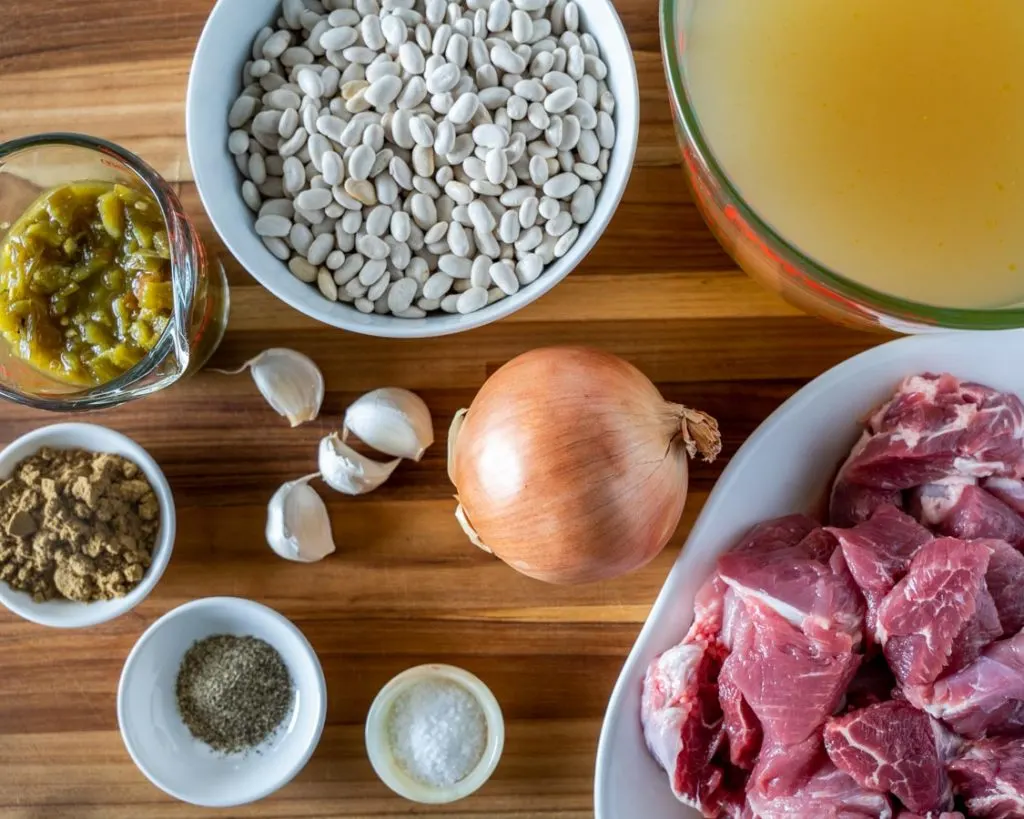 Pork Green Chili Ingredients
Please note that this recipe can be cut in half. I make the whole recipe and freeze it in airtight containers for up to 3 months.
Pork – We use a boneless pork shoulder.
Dried beans – Great northern.
Chicken stock – Fat-free, low sodium
Yellow Onion – Or white onion
Green chilies – Roasted, peeled, and diced. We buy them already prepared
Garlic cloves
Ground Cumin
Salt – We use kosher salt
Ground Black Pepper
Olive oil – Or a neutral cooking oil such as vegetable or canola oil
How to make Green Chili
Trim excess fat from the pork shoulder and cut it into 2-inch pork chunks.
Push the saute mode on the instant pot and drizzle olive oil over the bottom. Line the bottom of the instant pot with large chunks of pork until browned. Cook in batches removing each batch with a slotted spoon before adding the next batch.
Remove all of the browned meat. If brown bits have accumulated on the bottom of the instant pot, you can deglaze the pot with a little chicken stock.
Add the onion, chilies, cumin, salt, and pepper to the instant pot and saute until the onion starts to soften. Add in the garlic and cook for one minute.
Add the pork, beans, and chicken stock to the onion mixture. Note: you will want to just cover the ingredients with the chicken stock for a thicker green chili. If you want more of a soup you can add more chicken stock.
Put the lid on the instant pot and set the vent to sealing. Set the manual mode on high pressure for 50 minutes. Once the cook time is up, let the instant pot naturally release for 10 minutes. Carefully release any remaining pressure and serve.
Do I have to use an instant pot?
No, you do not. You can use a dutch oven or soup pot. After you brown your meat and saute your onion and peppers, combine all of your ingredients just like I did in step 5 above. Cook the pork green chili for 1-1/2 to 2 hours or until the beans are tender.
You can also put all of the ingredients into your slow cooker and cook for 4 hours on high or 8 hours on low.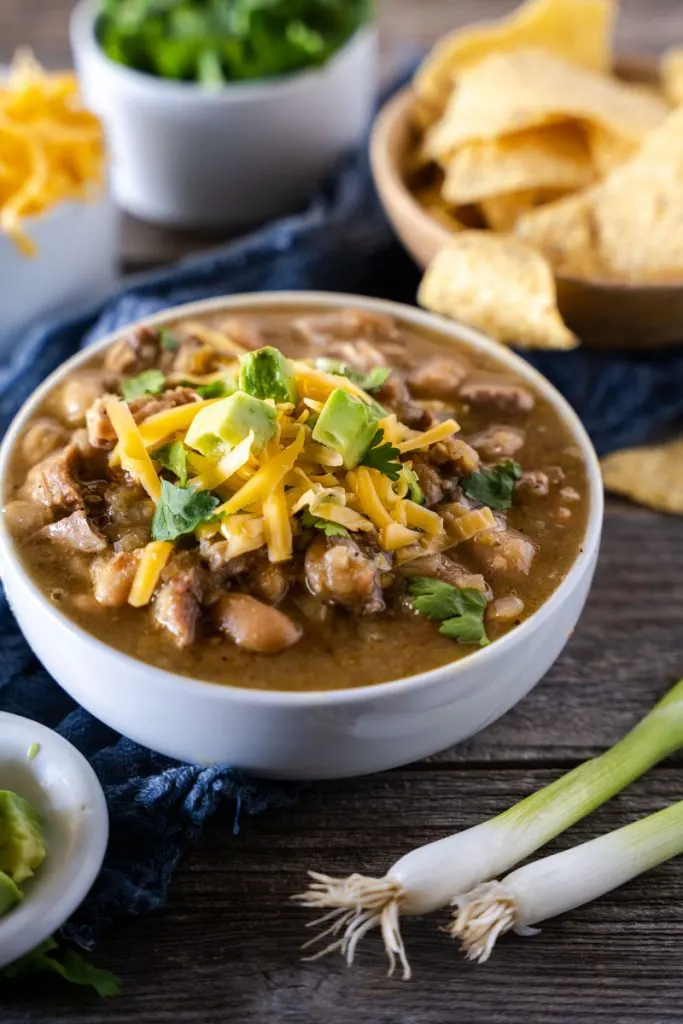 What is the difference between Green Chili and Green Chili Verde?
They are synonymous. Chili Verde means a stew containing beef or pork and hot green peppers.
What are the best peppers to use
If you're looking for a "Colorado" Green Chili you will want to use a pepper called a Pueblo Chile. If you want to make "New Mexico Green Chili", you would probably use a Hatch Green Chile. Both peppers have different heat levels so you can make your green chili pork as hot as you want.
My Green Chili recipe uses Hatch Chiles that are pre-roasted, peeled, and diced. Hatch Chilies are also known as New Mexico Peppers. I used to roast my own, and since finding these prepared chilies, I no longer do that. Some grocery stores carry bags of prepared peppers in the frozen section of their stores as well.
Green Chile Peppers Substitutuions
If you want to roast your own green chilies such as we did in our Pulled Pork Chile Verde recipe, you can use any or a combination of the following:
Anaheim pepper
Poblano peppers
Pasillas
Jalapeno
Serrano
Habenaro
Banana peppers
It usually comes down to what you have available. Here are 20 popular Spicy Peppers with their heat level that may help you use the right pepper for you.
Pin it now!
What is the best pork to use?
I use a boneless pork shoulder, also known as a pork butt. This pork roast has more fat throughout than a pork tenderloin and has so much flavor.
If your pork shoulder isn't boneless, just cube it, removing as much of the meat as you can, and then when you add all of the meat back to the instant pot, put the bone back in too. It will add a lot of flavor and you can remove it before serving your green chili.
Once our Chili is cooked, I serve it by putting the large chunks of pork in the bottom of a bowl and lightly shredding some of it, and leaving some of it in larger chunks. I find that it's a thicker heartier stew consistency this way.
What are the best dried beans to use?
Great Northern or Cannellini beans are what I recommend.
Do I have to add beans? No, you can leave them out and your chili will still be delicious.
Can we use canned beans? Yes, you can. However, they will be over-cooked if added in the beginning. We recommend stirring them in as soon as the instant pot is finished cooking and letting them cook for 5 minutes followed by a quick release.
How do you sort dried beans? You will want to remove any broken beans and occasionally you will find small stones or debris. After sorting your beans, we put them in a strainer and rinse them.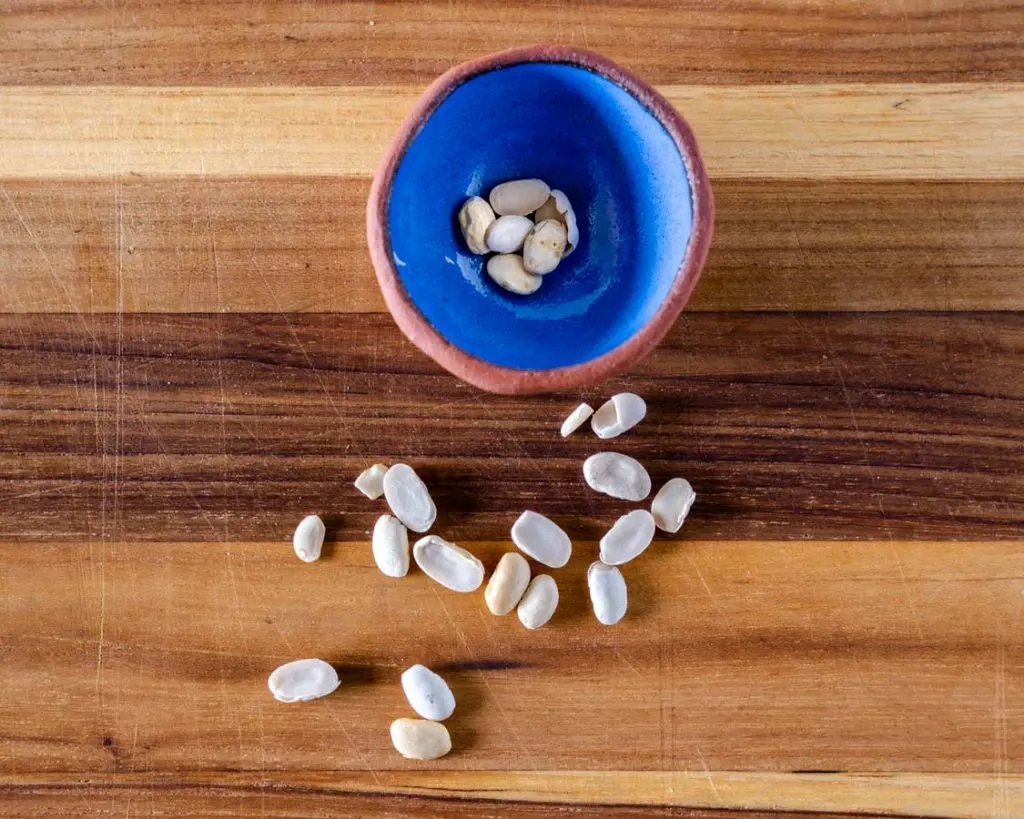 Do I have to soak the beans overnight? Nope, I didn't soak or pre-cook these dried beans which makes this an easy recipe for pork green chili.
What you may need
I've had my favorite instant pot (electric pressure cooker) since they first came out and it is simple to use and works great.
Tips:
Too spicy! – If you need to mellow out the heat of your recipe, adding dairy is a great fix. You can use milk, cream, yogurt, or sour cream to take some of the heat out. You can also add an acid such as tomatoes or lime juice.
Pork Chunks – We cut the pork shoulder into large 2-inch cubes. The large surfaces of the pork chunks make it easier to brown the meat.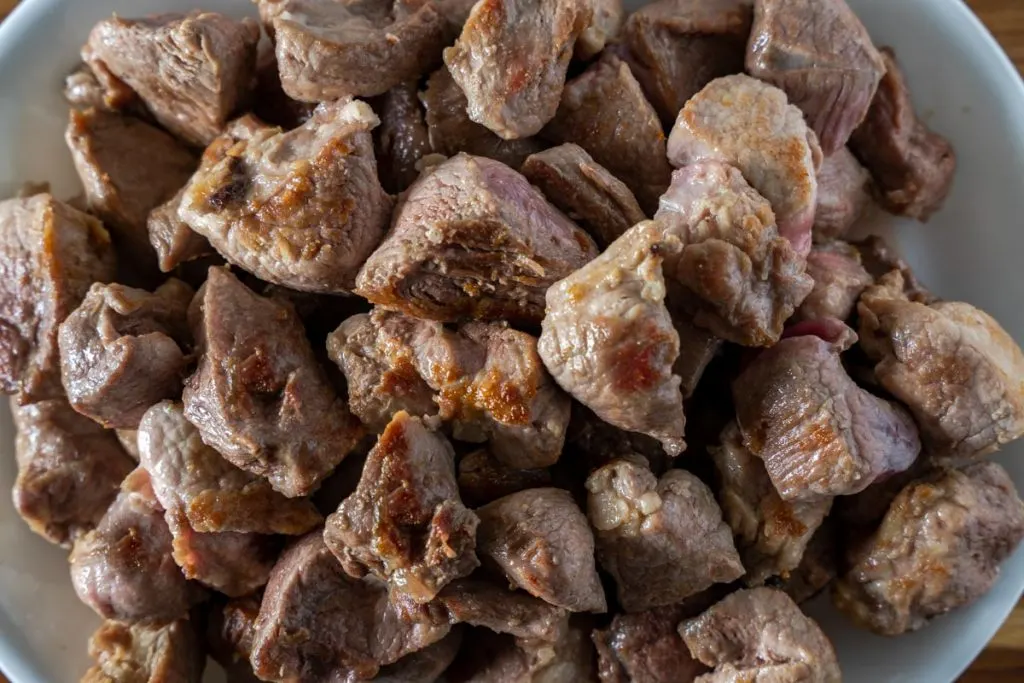 You will want to brown the meat in batches so each pork chunk can sit on the bottom of the pot and sear. If you pile all of the meat in at once, it will just steam and not get brown.
Garnishes
While this Pork Green Chili recipe with beans is amazing as is, we often kick it up with these garnishes:
Fresh cilantro
Tortilla chips
Green onion
Avocado
Grated cheese
Sliced jalapenos
What to serve with Pork Green Chili
We like something a little sweet with a spicy dinner. Concha bread would be my first choice, but Cornbread would be delicious or how about finishing the meal with a Chocolate Chunk Cookie?
If you like this recipe here are a few more I think you'll enjoy!
You can find all of our soup, stew, and chili recipes here!
Welcome to our 2021 Chili Cook-Off!
October is Chili Cook-Off Month! We have delicious recipes from across the country to get your chili making to the next level of deliciousness!

#ChiliCookOff is an annual blogging event that is hosted by Ashley from Cheese Curd In Paradise