Do you ever crave a savory, hearty beef stew to keep you warm and cozy? Introducing Beef Caldereta, a Korean beef stew that will tantalize your taste buds. Bursting with flavor, this classic Korean dish is made in a slow cooker so it's ready when you are.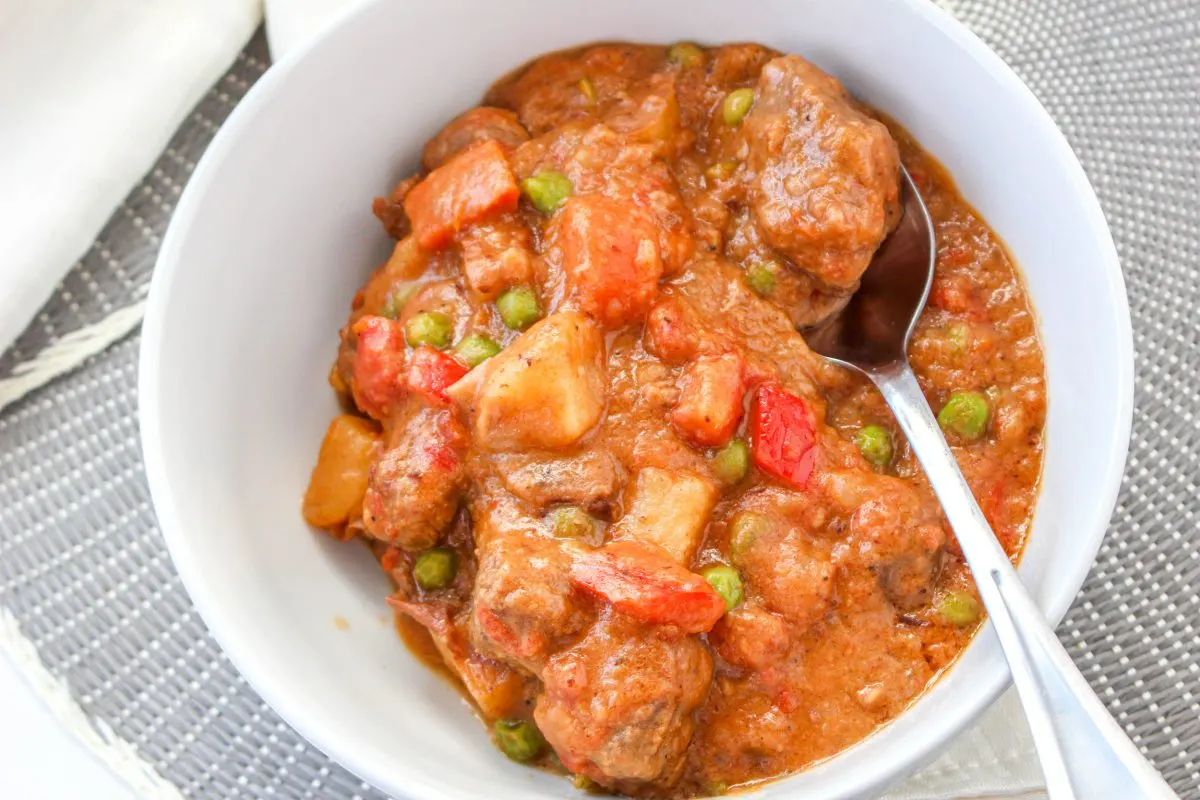 Melt-in-your-mouth tender beef and vegetables in a rich tomato-based sauce is sweet and tangy and sure to be a hit with your family and friends.
Why You'll Love This Beef Caldereta
Hearty Comfort Food. Nothing says home like a pot full of this hot stew at the end of a hard day.
Simple Ingredients. Food does not have to be fancy to taste amazing. These ingredients are probably already in your pantry.
Slow cooked meal that makes a tender delicious plate. Start your evening meal at the beginning of your day and save time at the end of the day when you are too tired to cook! It's a great way to avoid fast food.
What is Beef Caldereta?
Caldereta is a Spanish word that means cooking pot or cauldron. It is a tomato-based Beef Stew made from chunks of beef, tomato sauce, and vegetables. This dish can be made with chicken, pork, or goat meat.
Countries often have their own recipes. Filipino recipes often called Kalereta include a liver paste. Spanish recipes often include seafood, lamb or beef. Spices vary among recipes as well.
Ingredients you'll need for this recipe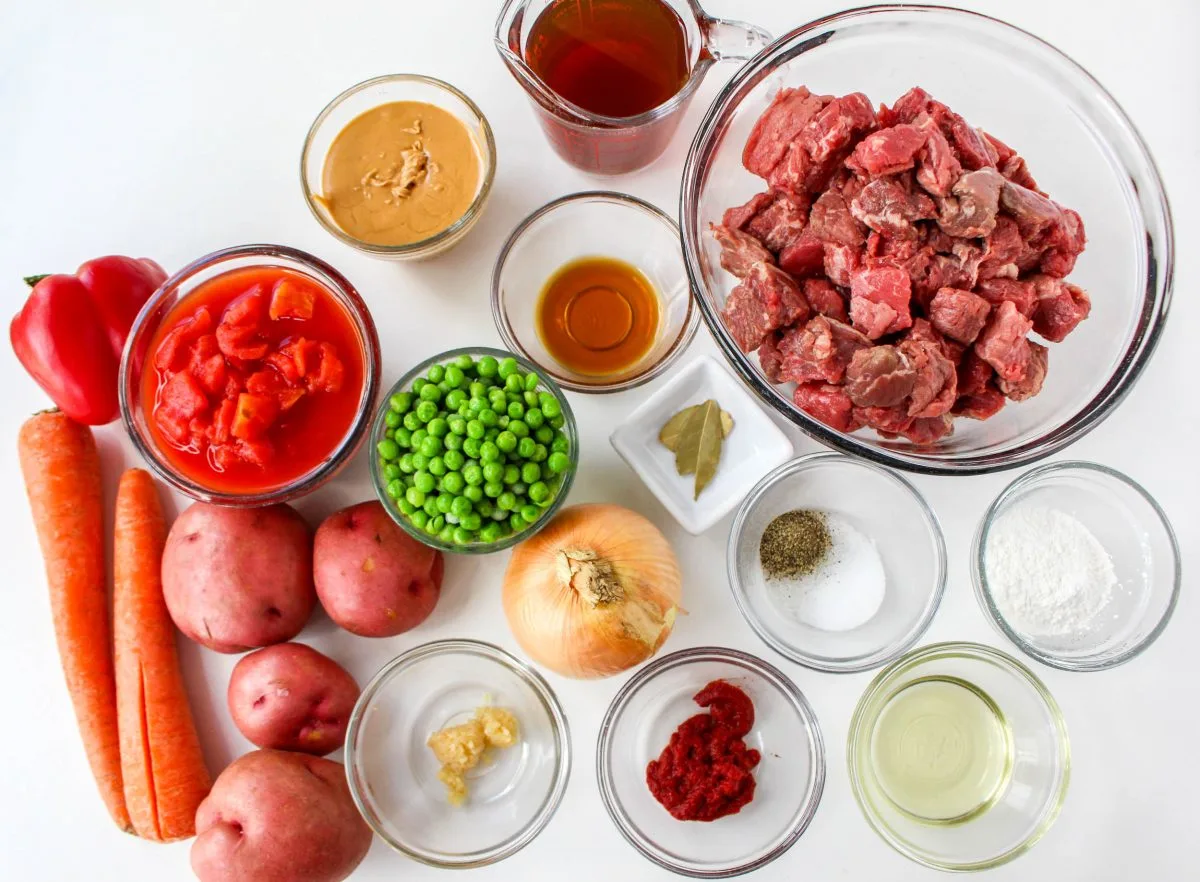 Beef Stew Meat. You can buy this meat already cut into small chunks perfect for stewing. If you can't find it packaged this way, you can purchase a chuck roast and dice it up yourself.
Cornstarch. Used for thickening the stew.
Salt and Black Pepper. To taste.
Canola Oil. A neutral oil for browning the meat.
Onion. Diced.
Minced Garlic. You can use dried minced garlic, fresh minced garlic, or jarred minced garlic.
Beef Broth. If you don't have beef broth, you can make your own by reconstituting bouillon cubes in hot water.
Diced Tomatoes. I like to use petite diced. Crushed tomatoes will work in a pinch but will change the flavor.
Red Potatoes. My favorite, firm potato that doesn't get mushy or grainy with prolonged cooking times.
Large Carrots. You could also use baby carrots.
Fish Sauce. If you cannot find this, use Worcestershire sauce.
Tomato Paste. For thickness and intensity of flavor nothing bumps up a dish faster.
Bay Leaves. Lighten up your dish and remove these before serving.
Peanut Butter. It's the secret ingredient that makes your stew crave-worthy. Try it! A little sweetness. A little nutty flavor. Perfection.
Red Bell Pepper. A bright vegetable with flavor.
Frozen Peas. Sneak one more vegetable into this dish.
Equipment Needed
Kitchen Tools
Hostess At Heart participates in affiliate programs. As an Amazon Associate, I earn a commission from qualifying purchases. Please refer to my disclosure page for more information about these affiliate programs.
In addition to these main ingredients, you'll also need a few tools such as a skillet and crock pot.
How To Make Caldereta
Please note, that the printable recipe card has ingredient quantities, complete instructions, and nutritional information. The following is a quick overview of the recipe.
Step One: Coat the beef.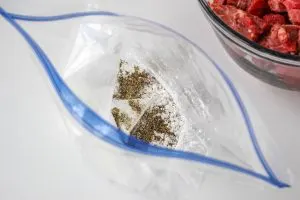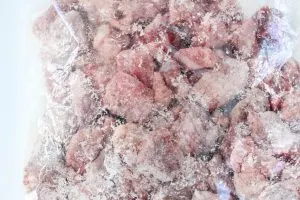 In a large zip-top bag, mix the cornstarch with salt and black pepper. Add the stew meat and shake it all up.
Step Two: Brown the beef.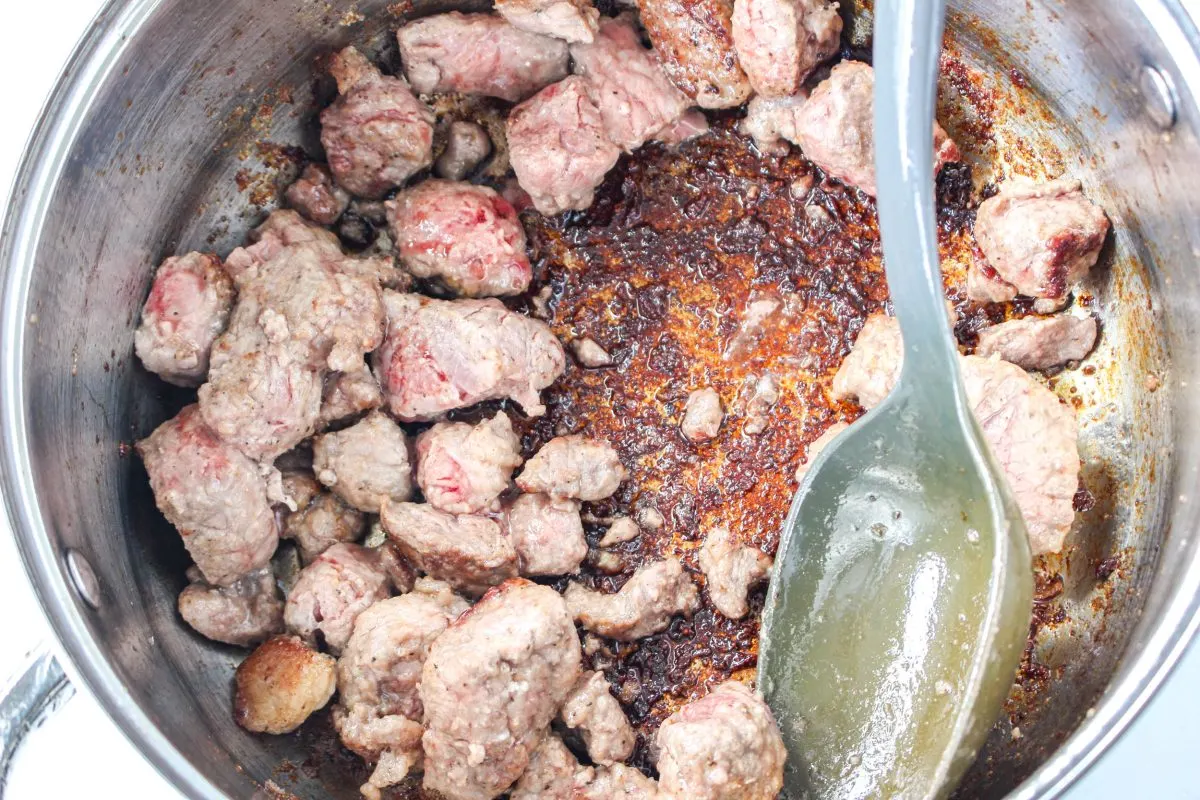 Get your oil hot and brown the beef chunks on all sides. This helps prevent the meat from drying out. Move the beef to the slow cooker.
Step Three: Sauté the onions.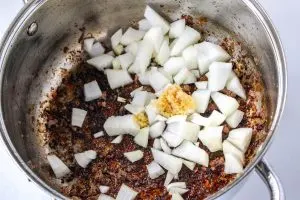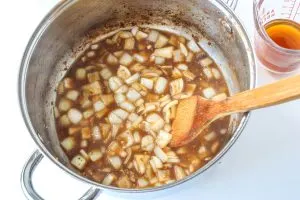 Cook the onions, then add garlic and beef broth. Put it all in the slow cooker.
Step Four: Add more veggies.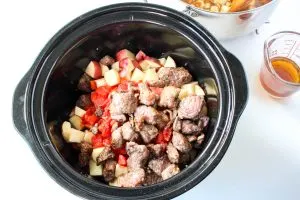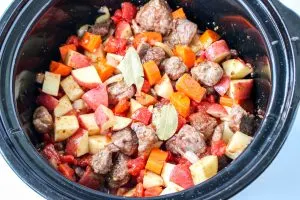 To the slow cooker, also add the diced tomatoes, potatoes, carrots, fish sauce, and tomato paste. Stir to combine. Place the bay leaves on top. Cover the slow cooker and cook on low for 6 to 8 hours or until the beef is tender.
Step Five: Finish off your beef caldereta.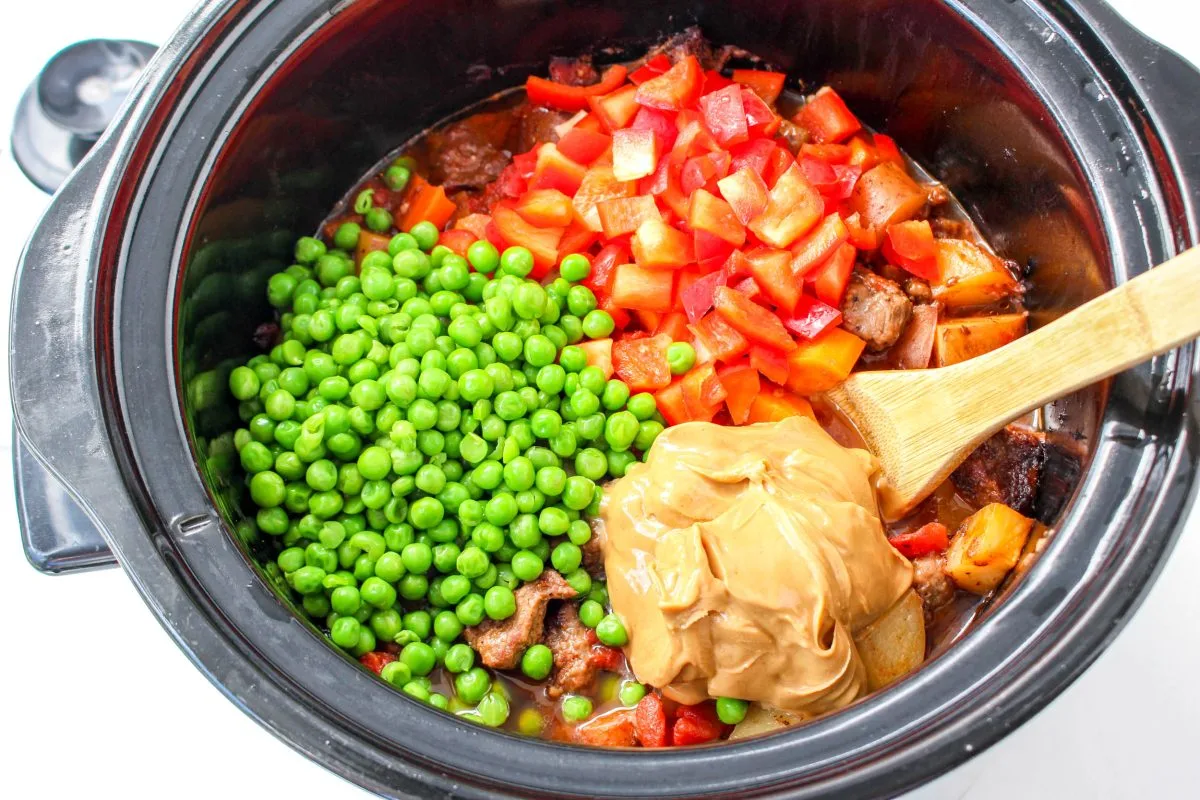 About 30 minutes prior to serving, add the peanut butter, bell pepper, and peas. Stir to evenly distribute. Re-cover and continue cooking for an additional 30 minutes. Taste to adjust seasonings and serve.
What to Serve with this Beef Caldereta Recipe
Serve over rice or as is with a piece of crusty bread. The dish stands on its own as a meal and covers all the basic food groups. If you want something for contrast, a nice bright salad will be perfect.
Substitutions – Additions – Variations
Make it spicy with a small amount of crushed red pepper or a little hot sauce.
Add mushrooms or your favorite vegetables. Turnips, sweet potatoes, or summer squash will all work.
Parsnips are a great carrot substitute.
Beef for stew can be expensive. Consider cutting up a chuck roast or brisket.
Change up the flavors with paprika, cumin, and chili powder.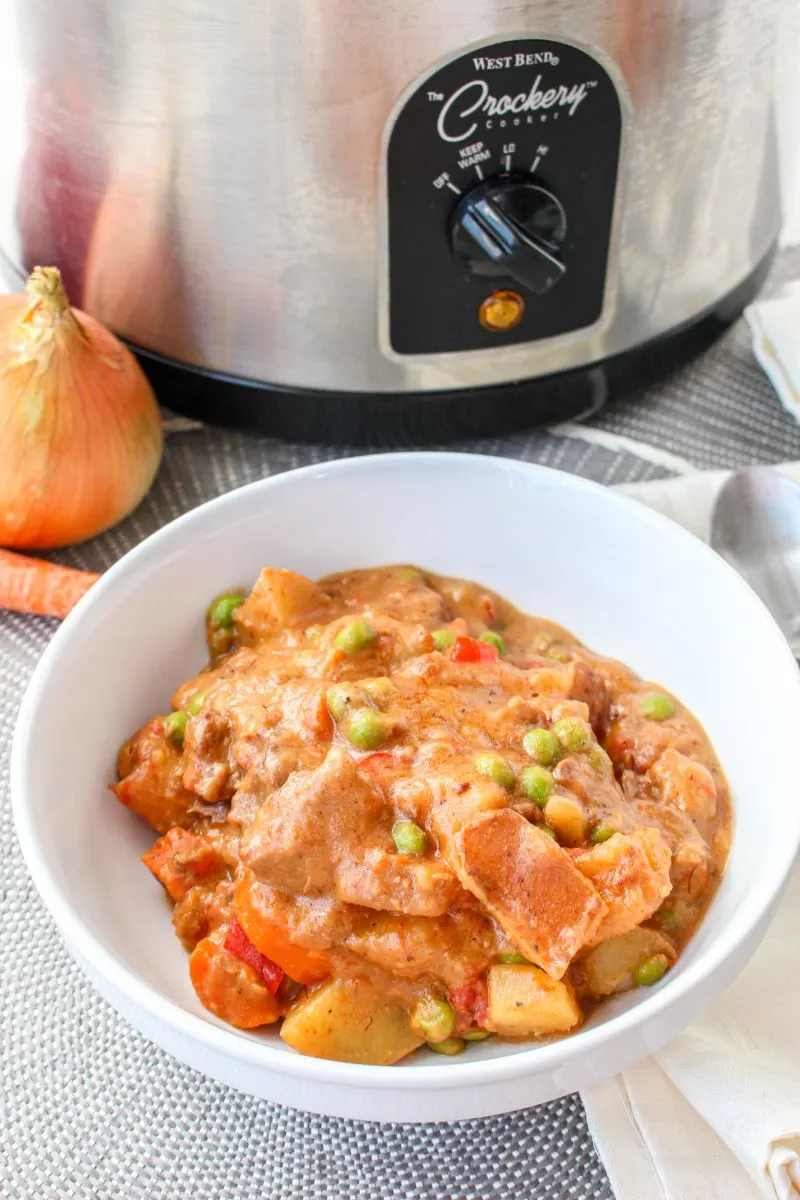 Frequently Asked Questions
Can Caldereta be made ahead of time?
Yes, Caldereta is even better once it's made and then reheated. Caldereta can be made three days in advance and refrigerated.
Can you cook stew too long?
Yes, overcooking the stew will result in mushy vegetables and dry beef.
What does a bay leaf do for beef stew?
The aromatics of the bay leaf lightens up a hearty dish.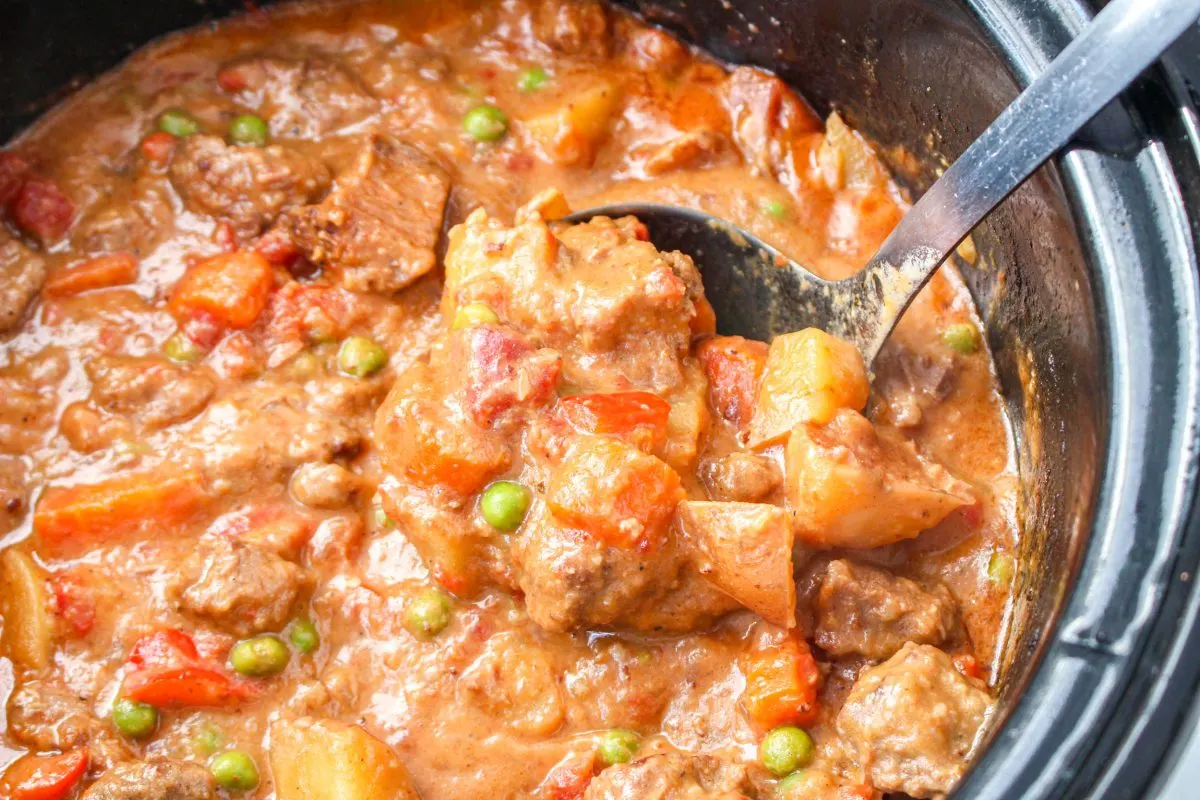 How To Reheat & Store Beef Caldereta
Best Way to Store Caldereta
Keep leftovers of this dish in the refrigerator in an airtight container for up to three days. If you take lunch to work or school, separate the leftovers into individual microwaveable containers for a fantastic mid-day meal.
Can I freeze Caldereta beef?
Yes. Freeze leftovers in an airtight container or individual portion-sized containers that can be frozen and microwaved. It will keep for at least three months.
How to Reheat Beef Caldereta
You can reheat this dish on the stovetop in a saucepan. If you want to reheat individual servings you can place them in the microwave for two to three minutes, stirring halfway through. Add more time as needed to insure a safe temperature of at least 165ºF.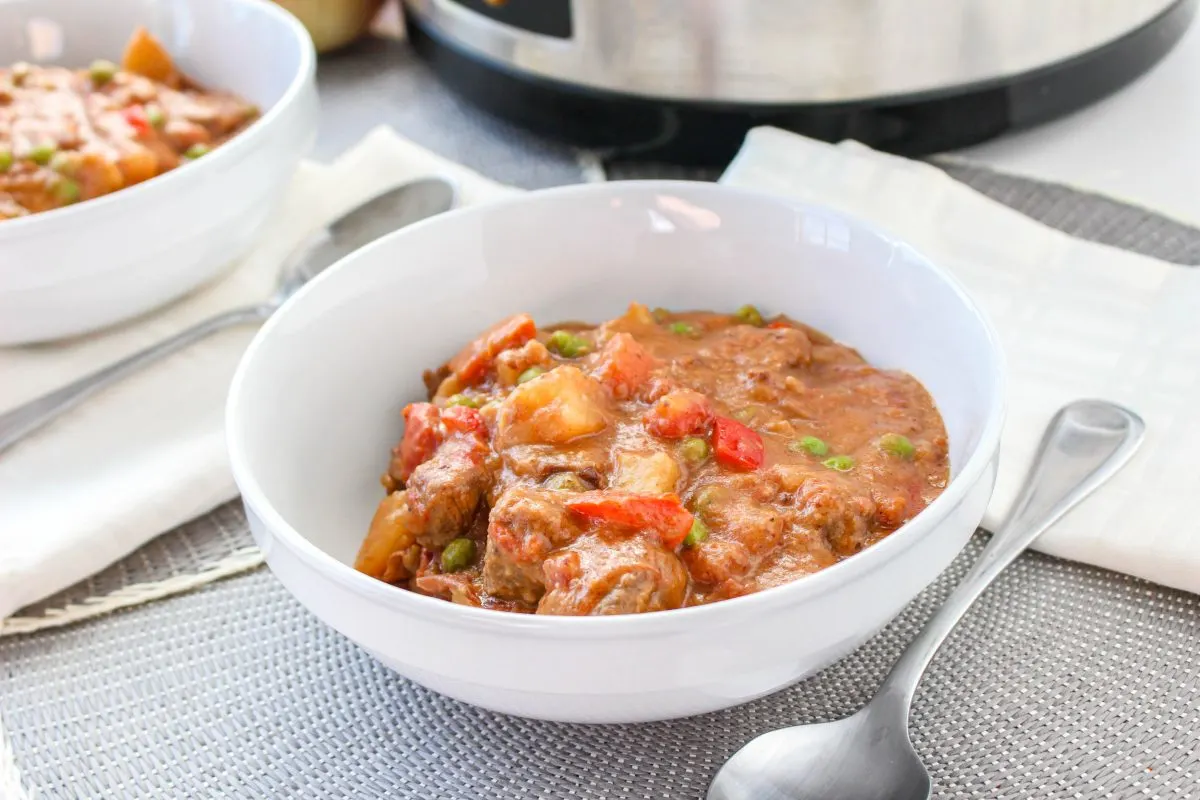 Tips for the Perfect Beef Caldereta Recipe
If the caldereta beef is too thick, it can be thinned with additional tomato sauce or water. Let it heat thoroughly before adding any additional liquid.
If it's too thin make a slurry of 2:1 ratio of cold water to cornstarch. Start with 2 tablespoons of cold water and stir in 1 tablespoon of cornstarch. Add it to the hot stew and let it cook until noticeably thicker.
The slow cooker works well for this recipe because cooking it low and slow makes the beef tender. It can also be made in a dutch oven, on the stovetop, or baked in the oven.
Forget to throw it in the slow cooker? You can also make this dish in your Instant Pot. Follow the same instructions but put it all in the pressure cooker instead. Set it on high pressure for 45 minutes and then quick release.
If you enjoyed this recipe check these out!
If you tried this delicious recipe, don't forget to rate it and leave me a comment telling me what you think. I love hearing from you!
Want more delicious recipes? Follow Hostess At Heart on Pinterest!