Slow Cooker Jambalaya with Farro is perfect for Mardi Gras whether you're celebrating with one, two or a few. It's spicy, delicious and very filling. You'll feel it down to your toes so be prepared to tap. I can already hear all that jazz!
This delicious recipe was first published 2//21 2017 and has been updated to improve the reader experience.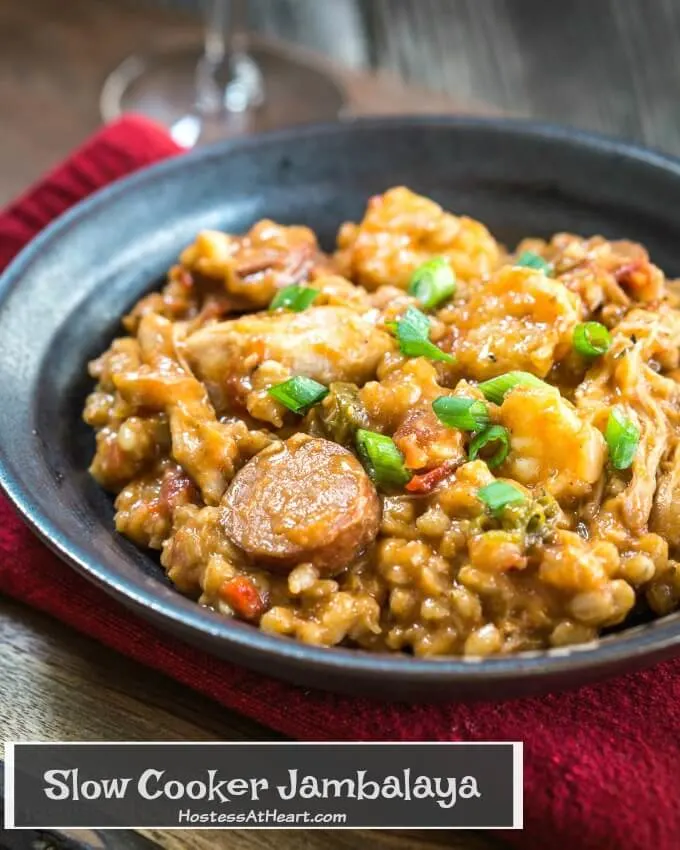 Have you ever been to New Orleans Louisiana? That's the site of the famous Mardi Gras. If you've ever been there or seen pictures, you always see people playing music and dancing in the streets. There is a reason folks. It's because they just tried my Slow Cooker Jambalaya and are feeling it down to their toes!
For real, I've been to New Orleans…in September. Oh, they were still in the party mood even though it was so hot and humid. There is music, food, and booze everywhere you turn. The vibe is electric and people are happy that you're there.
That being said, I would never have the guts to go to New Orleans during Mardi Gras. New Orleans is magical. You can't leave without falling under its spell for good food, music, and spirit.
I wanted to make Jambalaya. Jambalaya according to Wikipedia is a Louisiana-origin dish of Spanish and French influence, consisting mainly of meat and vegetables mixed with rice.
Traditionally, the meat includes sausage of some sort, often smoked meat such as andouille, along with some other seafood, mostly pork, chicken, crawfish, or shrimp. The vegetables are a mixture known as the "holy trinity" consisting of onion, celery, and green bell pepper
Tips for making easy Jambalaya!
My original jambalaya recipe included shrimp. Shrimp has to be cleaned and then cooked during the last 15 minutes. This chicken and sausage recipe eliminated the shrimp and that step.
There are 11 herbs and spices in this recipe. With my make-ahead Creole Spice Blend, you can keep it on hand and use whenever needed or you can buy one.
Farro replaced rice. Previously, the rice was cooked separately then added before serving. Farro can be cooked at the same rate as the other ingredients without becoming mushy.
I didn't saute or precook any of the ingredients.
The "holy trinity" can be chopped the night before or even purchased from the grocery store. You can add carrots if you want to sneak in another veggie.
I purchased boneless-skinless chicken thighs when they went on sale and stuck them in the freezer just for recipes like this.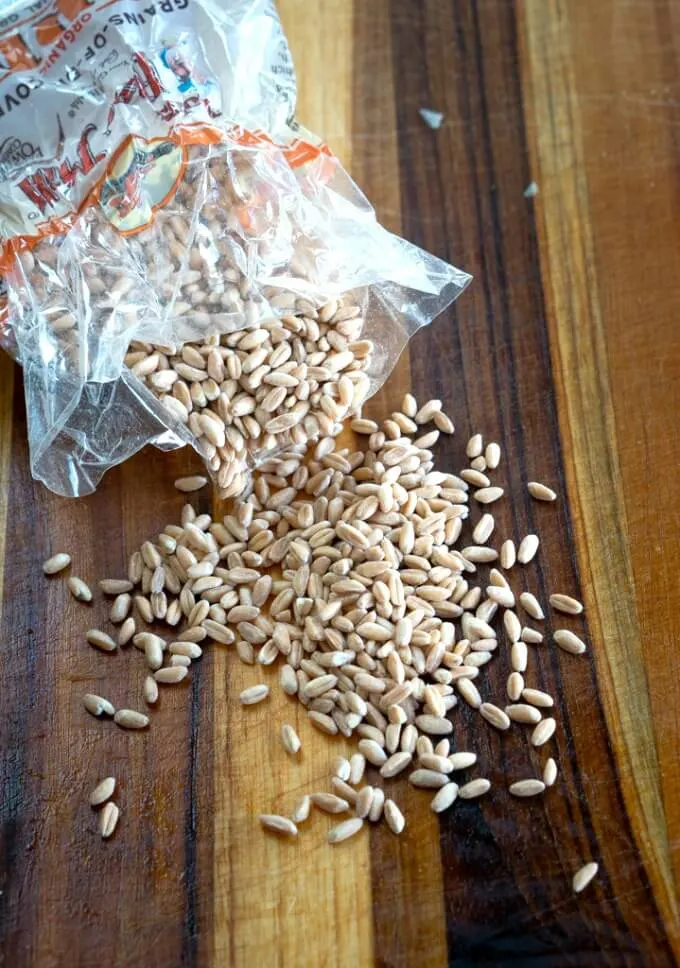 What is Farro?
Farro is an ancient grain that is derived from wheat so it isn't gluten-free. Depending on the wheat species it can also be called spelt, emmer, and einkorn.
What does Farro taste like and how is it used?
Farro is a firm grain that has a chewy texture and a nutty flavor. It can be added to soups, tossed in salads or served in any manner where you would use rice or other grains.
Is Farro good for me?
YES! It Is Very Nutritious. Farro is an extremely nutritious grain. It's an excellent source of protein, fiber, and nutrients like magnesium, zinc and some B vitamins. It's a much healthier alternative to white rice or other refined grains. Healthline is a good resource for additional information on farro.
Cajun or Creole?
There is a lot of crossover regarding the food of these two cultures. According to LouisianaTravel.com Creole cuisine uses tomatoes and proper Cajun food does not. So this is a Creole Jambalaya? True Jambalaya is made with rice. I'm pretending it's Jambalaya o.k.?
Pin this recipe to your favorite board for easy reference
What to serve with The Best Jambalaya?
You May Need
Slow Cooker – I have 3 crockpots! They make entertaining so much easier. This 8-quart one handles my bigger recipes like this one.
Plastic Cutting Board Sheets – Call me a germaphobe! Any time I cut meat I want my cutting board sterilized. These sheets can slip right into the dishwasher and not contaminate you other surfaces.
Using a slow cooker makes everything easy, and as a result, gets the party started before you even get home!