Authentic Duck Gumbo recipe is a traditional southern soup or stew. This Cajun Gumbo recipe is loaded with roasted duck, shrimp, and andouille sausage and is the perfect way to celebrate Mardi Gras. The only thing missing is a spoon.
This recipe was originally published on 2/2/16. It has been updated to improve the reader's experience.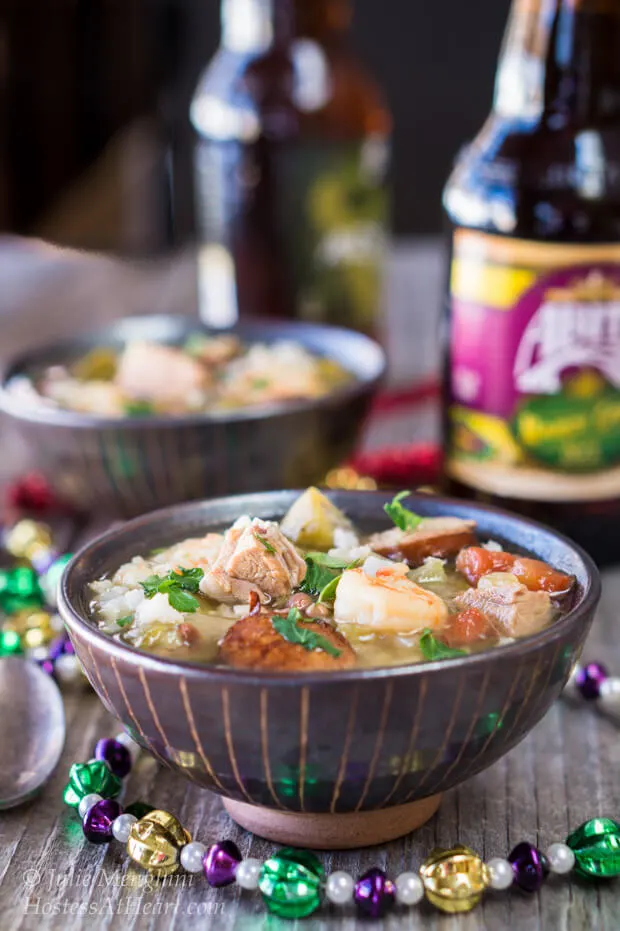 Americans love to celebrate anything. On St. Patrick's Day we are all Irish. The same thing for Cinco De Mayo, and don't forget events like The Kentucky Derby, and very importantly, Mardi Gras.
Mardi Gras isn't Mardi Gras without this perfectly spiced Duck and Sausage Gumbo. Add some friends, and you have all you need for a celebration.
What is Mardi Gras?
Mardi Gras, according to Mardi Gras, New Orleans, originated in medieval Europe in the 17th century, and France in the 18th century where it became the traditional revelry of "Boeuf Gras," or fatted calf.
On March 2, 1699, French-Canadian explorer Jean Baptiste Le Moyne Sieur de Bienville arrived at a plot of ground south of New Orleans, Louisiana. In 1703, the tiny settlement of Fort Louis de la Mobile celebrated America's very first Mardi Gras. In 1875 the "Mardi Gras Act," was passed making Fat Tuesday a legal holiday in Louisiana, which it still is today.
I am celebrating Mardi Gras with a southern dish called Gumbo. There are as many Gumbo recipes as there are southern kitchens. I don't use a lot of duck, but this duck gumbo is living large my friends!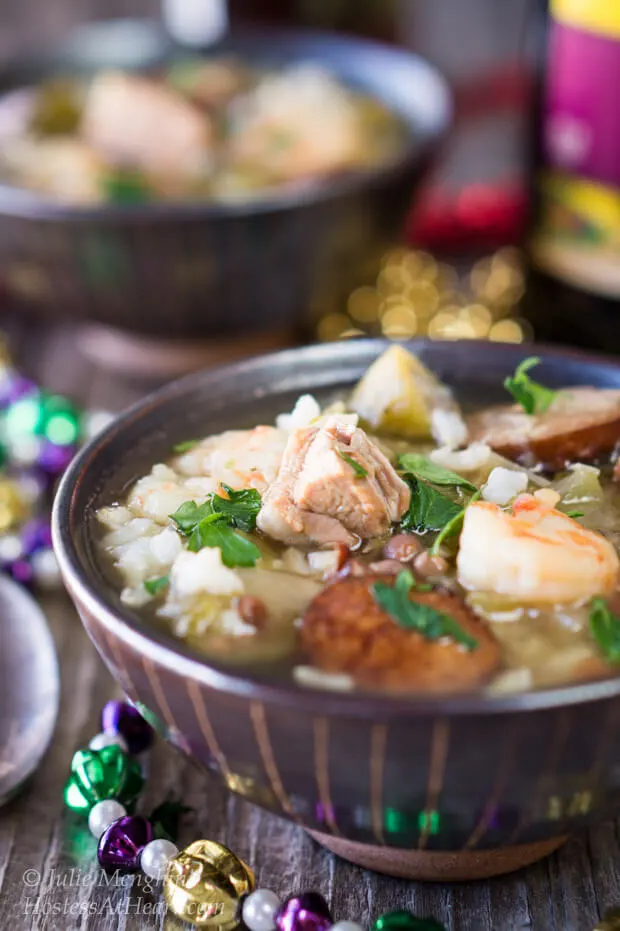 **Note: This Gumbo recipe is cooked on one day then reheated and served the following day so some of the fat can be removed.
You may need:
I wanted to try making Gumbo but I had a few questions first.
What ingredients are in an Authentic Gumbo recipe?
strongly flavored stock
meat (fowl, sausage, ham)
seafood
thickener (okra, roux, or file powder)
The Holy Trinity of vegetables (onion, bell pepper, and celery)
rice
What is File' powder?
File' (pronounced fee-lay) according to Spice House, Gumbo filé powder is a crucial ingredient in authentic Creole cooking. It's made from the powdered leaves of the sassafras tree.
When ground, they have a rich, sweet, cooling smell, reminiscent of eucalyptus crossed with juicy fruit gum. There is not a good substitution for the flavor. File' also has thickening properties so if you're not using file' you'll want to make a roux.
How to make Gumbo
Step 1: Roast the duck
Please note, that the printable recipe card has ingredient quantities, complete instructions, and nutritional information. The following is a quick overview of the recipe.
You can use whole duck or two duck breasts for this recipe. I found this site helpful for roasting methods which is what I used and explain in the recipe card.
Step 2: Make the gumbo roux
Add a couple of tablespoons of duck fat into the dutch oven. Brown the sliced andouille sausage. Remove the sausage from the pan and put it on a paper towel-lined plate. Combine the drippings when making the roux.
What is a roux? It's a scary word for a slurry. Take some duck fat and combine it with the flour. Whisk it together until it's the consistency of pancake batter. Simmer the roux until it browns to the color of peanut butter. You may have to add additional duck fat or butter.
Step 3: Prepare and combine the vegetables
Add the vegetables (except the okra) to the cooked roux. Once they begin to soften, add the garlic and cook just for another minute.
Step 4: What is okra and how is it cooked?
Add duck fat and vinegar to a saucepan and add the okra. Cook for 30 minutes.
Okra is a southern vegetable also known as "ladies fingers". It is very nutritional and tastes similar to eggplant. Okra has a bad reputation for being "slimy". However, there are methods for limiting the slimy texture.
One Green Planet is an excellent source on how to choose Okra as well as using alternative cooking methods to what I've instructed. I found using frozen okra convenient.
Step 5: Assemble the duck gumbo
Using a large dutch oven or soup pot, add the broth, water, spices, and bay leaves together and bring to a simmer. Add the vegetables, sausage, and duck. Simmer until heated through.
Step 6: Add the shrimp and serve
At this point, I prefer to let the gumbo cool and refrigerate it overnight.
The next day I skim off the fat and heat it back up and recommend adding the shrimp to the hot duck and shrimp gumbo and cooking them for just a couple of minutes until they turn pink.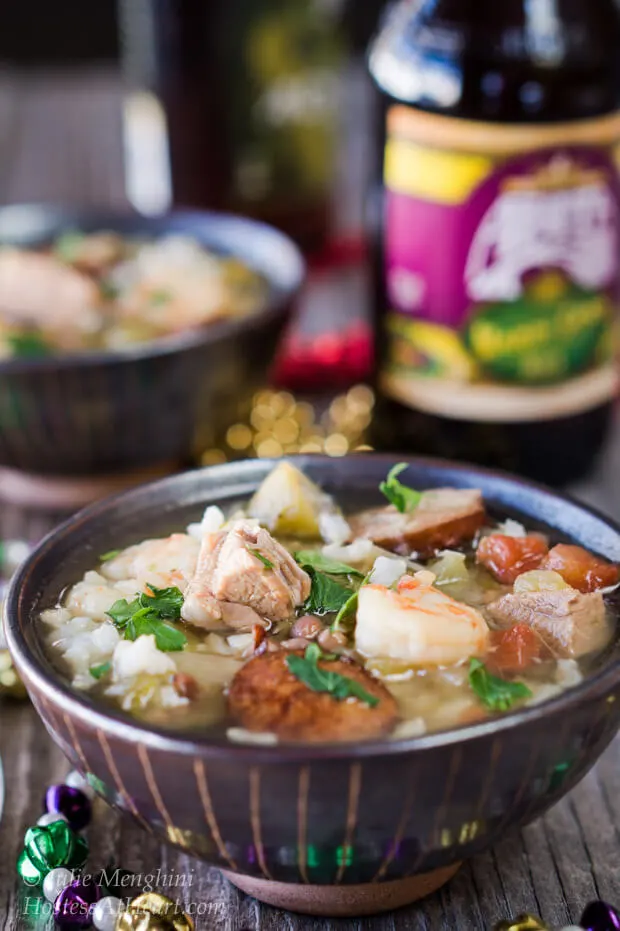 Popular variations
Duck – I wasn't a huge fan of duck but this recipe changed my mind. Duck can be hard to get or expensive in some areas. Chicken is a good substitute.
Vegetables. Most of my soups and stews start with carrots, onion, and celery. The fancy name for that combination is mirepoix. We love the earthy flavor of mushrooms in gumbo but realize they're not for everyone. Feel free to add any vegetable that you like.
Andouille sausage. This sausage is perfect for this recipe. If you don't have it you can use any smoked sausage.

Chorizo sausage. It's not my choice because of its bold flavor and it can be greasy.
Polish kielbasa is another alternative. You may want to adjust the seasonings since this is such a mild sausage.
How is authentic gumbo served?
This recipe is rich and full of flavor so I served it over brown rice with a delicious Griddle Scone slathered in butter and honey.
If you enjoyed this recipe, take a look at these!
Don't Forget To Come Back And Let Me Know How Your Duck Gumbo Recipe Turned Out!
This Gumbo needs a party so it's best to share. Everyone has their own idea of Gumbo. What is yours? Leave me a comment and I'd love a 5-star rating!
John and I were in New Orleans, Louisiana in September one year. This isn't during Mardi Gras of course, but we couldn't believe the festive atmosphere. We decided that we wouldn't have what it takes to survive in that city during Mardi Gras. The food is just amazing, and there is so much history. If you leave before trying beignets or chicory coffee, you haven't experienced New Orleans.
Pin this amazing recipe!