Mardi Gras Salad is a boozy tropical fresh fruit salad with all of the flavors of a New Orleans Hurricane cocktail. It's the perfect Mardi Gras Party Side dish!
This post was updated from 2017 to improve reader experience.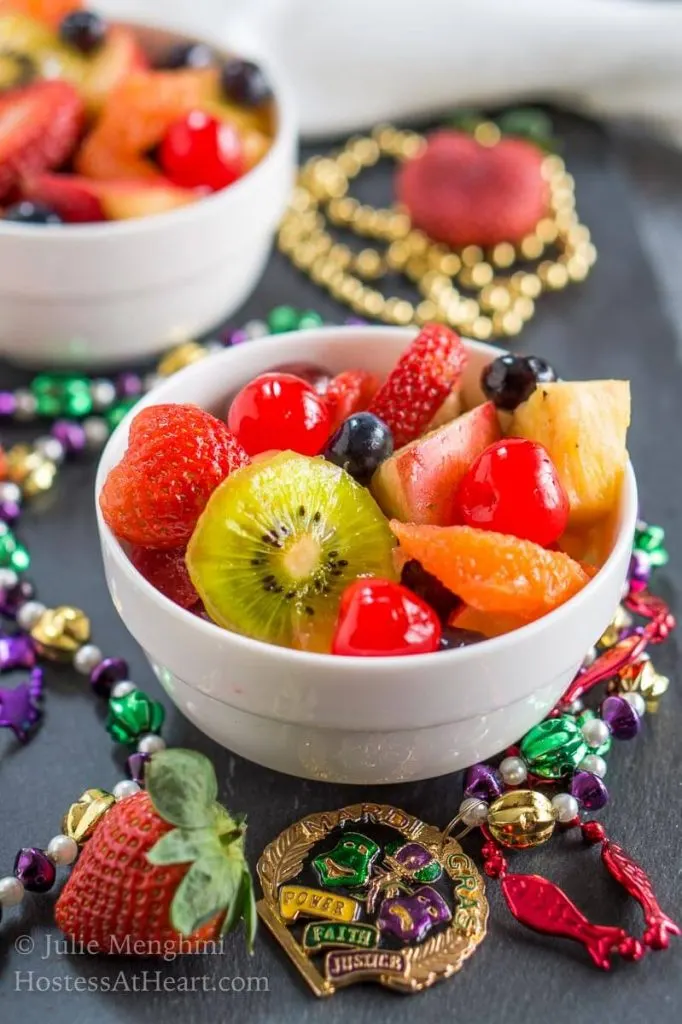 What better way to celebrate Mardi Gras than with a Hurricane? If you answered a fresh fruit Hurricane flavored Mardi Gras Salad, you would be correct! You would also be the hit of the party.
It's sweet, fruity, and boozy, so it contains all the hallmarks of a good party drink or the perfect Salad for a Mardi Gras Party
We love Mardi Gras and just can't let a celebration go by without raising the proverbial glass and declaring Cheers! Instead of a glass, I'm raising a bowl of our boozy fruit salad!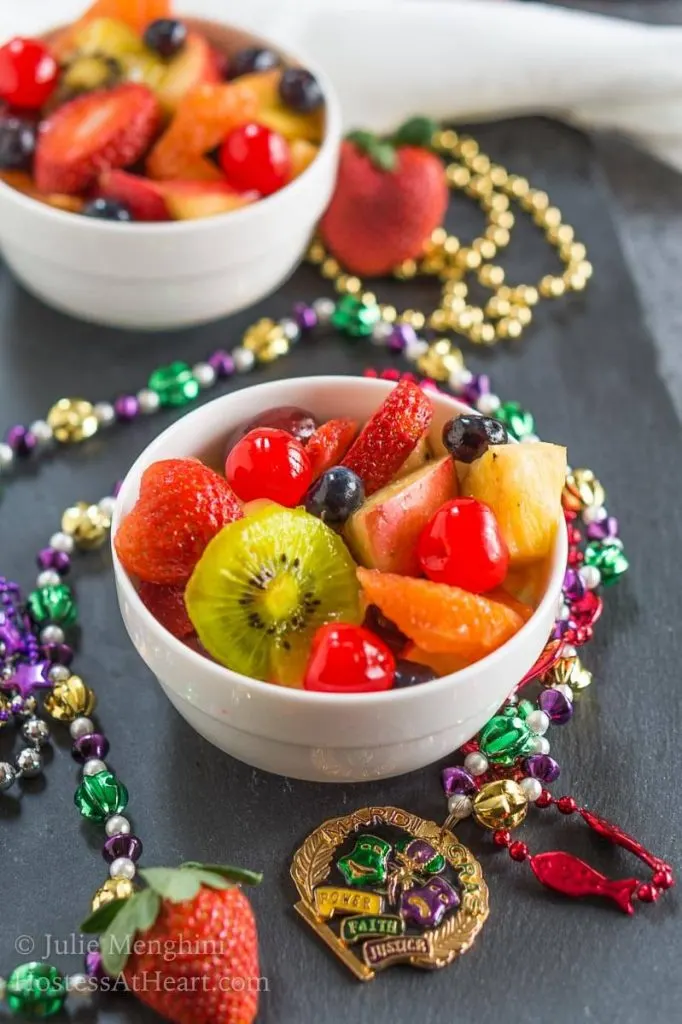 When we posted the Shrimp, Duck Andouille Gumbo, also in celebration of Mardi Gras, I talked about how we look for any reason to celebrate.
So, when we were trying to come up with a recipe to celebrate this year, we kept thinking of the popular Hurricane drink that everyone enjoys on Bourbon Street in New Orleans Louisiana.
Most Mardi Gras salads are green salads mixed with oranges or mandarines. We dared to be different!
What is a Hurricane Drink?
A Hurricane is a a popular strong tropical drink originating in New Orleans.
A Hurricane tastes like tropical fruit and rum. The alcohol is very forward making this Mardi Gras cocktail anything but a foo-foo drink.
Several establishments limit the number they'll serve to an individual with good reason!
Mardi Gras Fruit Salad Ingredients
A traditional Hurricane cocktail is a mixture of rum, fruit juice (often passion fruit), syrup or grenadine, and then topped with an orange slice and cherry. Here are the Ingredients for our boozy fruit salad.
Dark, Pale, or Gold rum – we recommend using a good sipping rum and not a spiced rum which will affect the flavor. In this recipe, we used Diplomatico but also like Pyrat.
White rum – a clear rum. We tend to choose rum from the Dominican Republic or Barbados.
Orange Juice – fresh squeezed is best or 100% orange juice, not from concentrate.
Lime juice – fresh squeezed.
Honey
Fresh Fruit – We chose fruit that wouldn't break down quickly such as raspberries, blackberries, and melons.

Kiwi
Strawberries
Oranges
Blueberries
Pineapple

Maraschino cherries mainly as a garnish.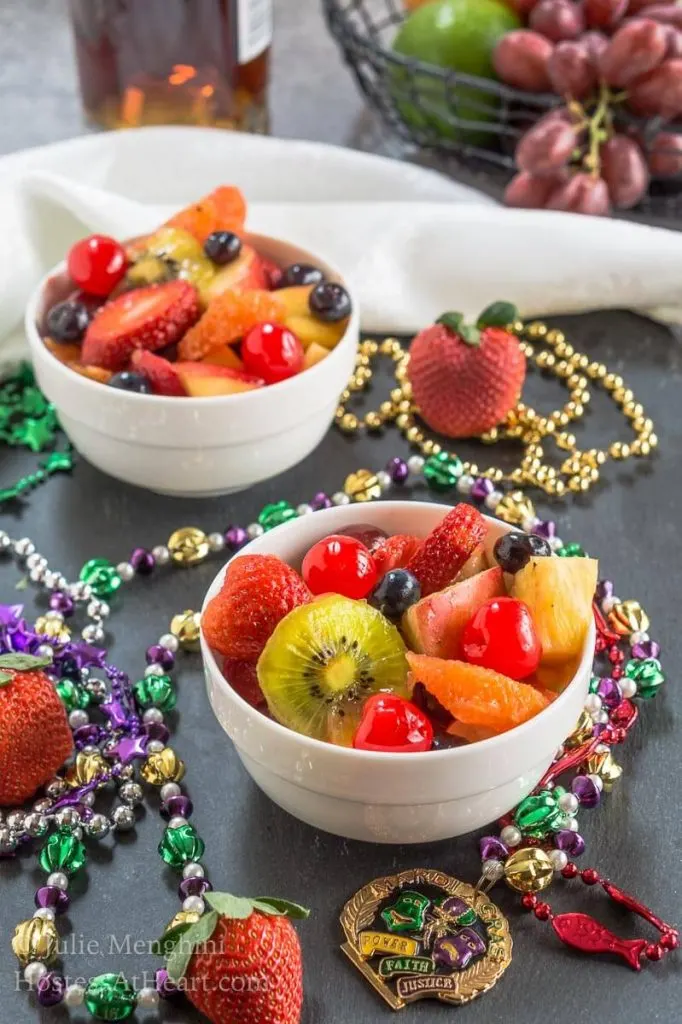 Variations
This salad is delicious as is, and you can use any fruit to your liking. We give you tips for picking the perfect fruit in our "Tips" section. Additional ideas for this salad are as follows:
Shredded coconut
Fresh mint
Pecans or a chopped nut of your choice
You can, of course, leave out the booze and it will still be a delicious salad.
Tips for the perfect Hurricane Salad
Cut the fruit into bite-sized pieces.
We dress the salad and chill it about 30 minutes prior to serving. It stays crisp but still picks up the dressing flavors.
To make ahead, cut up the fruit earlier in the day or even the day before and but don't mix the fruit together. Refrigerate it in separate containers.
This Mardi Gras salad recipe can be stored in the refrigerator for up to 3 days.

The acidity and the honey will help keep it from oxidizing which is what breaks fruit down and makes it mushy.
It's best to drain any extra juices from the bowl prior to storing. The additional juice can make the salad soggy and the rum can become overbearing or bitter.

We don't recommend freezing this fresh fruit salad.
More Recipes for Mardi Gras
Our Mardi Gras Salad is perfect for any Mardi Gras side dish! Here are a few more Mardi Gras recipes that we make all year round!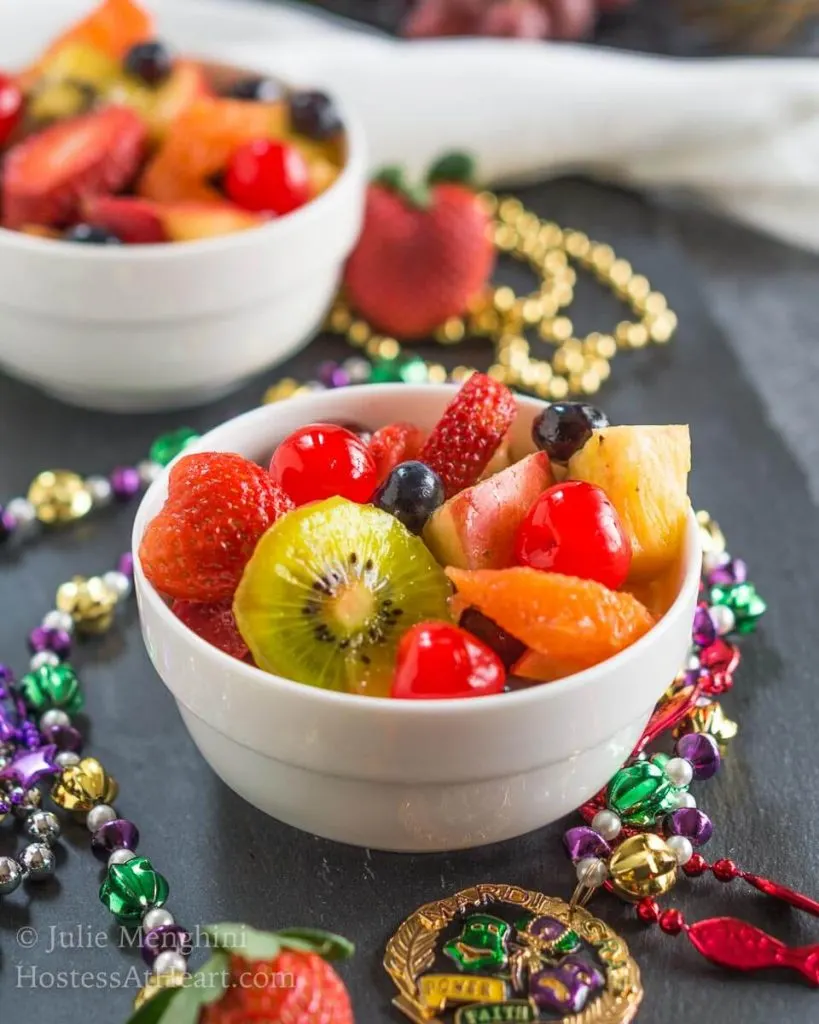 When we put this party salad together, we wanted the bright colors that represent Mardi Gras. This salad is fresh, naturally sweet, and a little boozy.
It would compliment a jambalaya, gumbo, or other savory dishes perfectly and would be a hit at any celebration.
Pin this boozy fruit salad!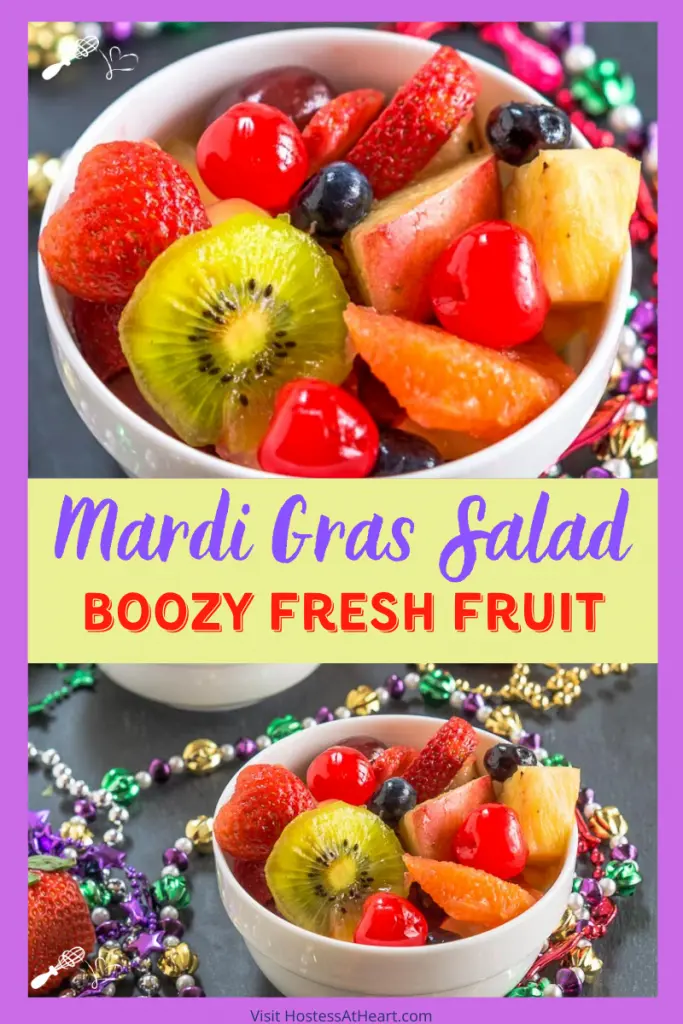 I hope you will join me in celebrating Mardi Gras this year by raising this boozy Hurricane Fresh Fruit Salad bowl too! Cheers!