Chicken Shrimp and Sausage Gumbo has a deep smooth savory flavor with a subtly spicy finish. One bowl is a complete meal.
This delicious recipe was first published on 1/30/18 and has been updated to improve the reader experience.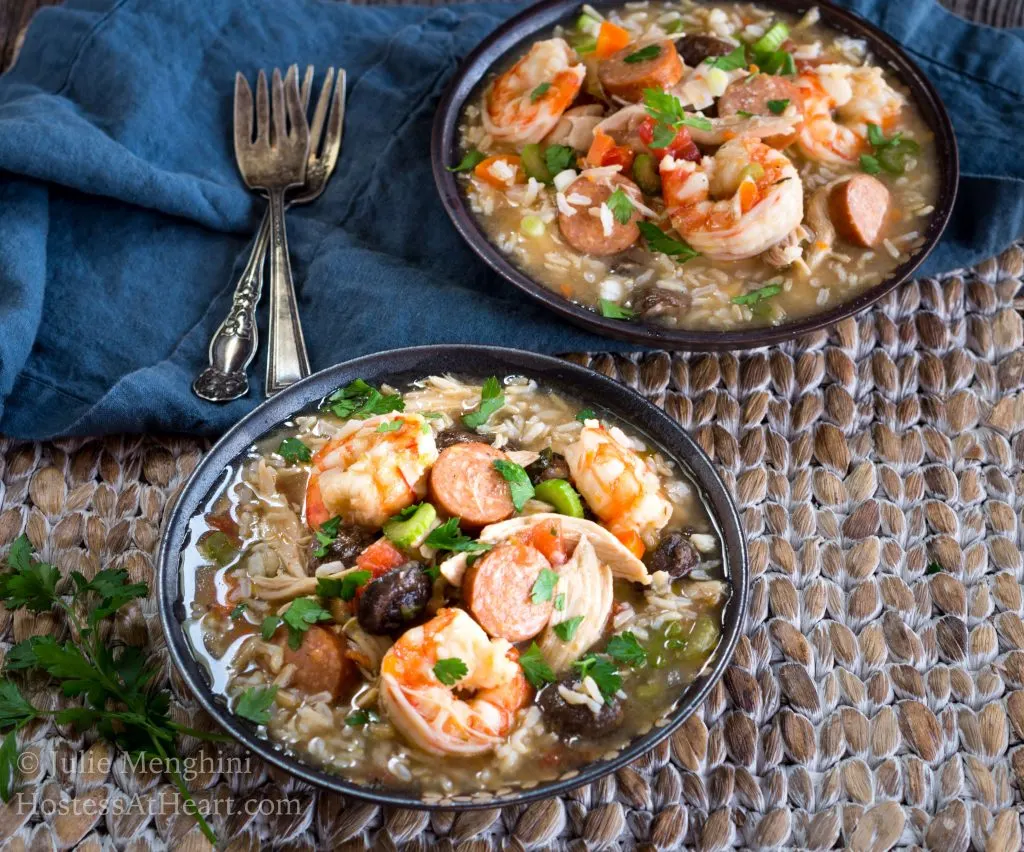 When you have a big ole bowl of Chicken, Shrimp, and Sausage Gumbo, you know you've had a complete meal and you only wish you had room for more. It has a deep savory flavor that's smooth and ends with a spicy zing.
John and I recently stopped at a restaurant for some soup and a sandwich. John chose their gumbo and said it was so good. He said next time he'd skip the sandwich and go for a bigger serving of soup.
Being a foodie with a desire to please I decided to make him some gumbo. I have this beautiful book that a good friend gifted me called "The Encyclopedia of Cajun & Creole Cuisine" by Chef John D Folse.
This book is a huge compilation of over 10 years of recipes. What I love about this book are the history and the photography. The recipes are made up of ingredients that we recognize using techniques that don't involve molecular science.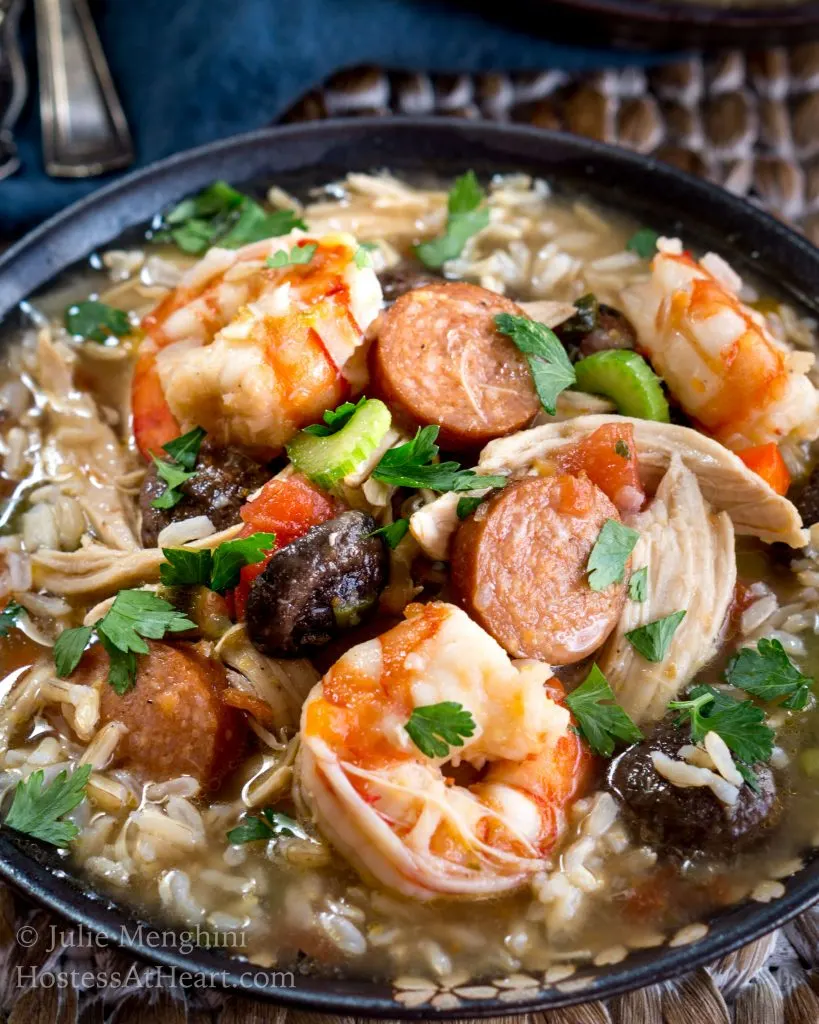 What is the difference between Gumbo & Jambalaya?
Jambalaya is more like a paella, or rice dish. Gumbo is more like a soup that is served over rice. Gumbo starts with a roux and may or may not contain okra or file (dried sassafras leaves) as thickeners.
Both Jambalaya and Gumbo can contain chicken, seafood, and sausage. Their origins are very difficult to track many claiming European or African origins but everyone agrees that they're the best in Louisiana.
You May Need:
Hostess At Heart participates in affiliate programs. As an Amazon Associate, I earn a commission from qualifying purchases. Please refer to my disclosure page for more information about these affiliate programs.
The Encylopedia of Cajun and Creole Cuisine – This book is HUGE and has so many recipes, photos, and history built into it that a food-lover can get lost in it for hours!
Lodge 6-qt Enamel Dutch Oven – I have dutch ovens that cost triple what this one does but it's my favorite for baking bread or simmering soups on top of the stove!
Shun 8″ Chefs knife – These knives are definitely an investment but having great knives has made chopping and dicing no chore at all.
How to make Chicken Shrimp Sausage Gumbo
Please note, that the printable recipe card has ingredient quantities, complete instructions, and nutritional information. The following is a quick overview of the recipe.
Step 1: Homemade Chicken Stock for shrimp chicken and sausage gumbo
Using a large dutch oven or stock pot, add one whole chicken. Cover the chicken with chicken stock and add the onion, thyme bundle, celery, carrots, and salt and pepper. Cook.
Remove the chicken from the pan and place it on a platter and allow it to cool. Once cool, remove the meat from the bone. Shread it or chop it into bite-sized pieces. Reserve the homemade chicken stock.
Shrimp Chicken Sausage Gumbo Recipe
Make a Roux
A roux is simply combining a fat, in this case, butter, with flour and cooking it until it's browned. A liquid is added until you get a thick slurry that resembles gravy. Once you add the liquid, the roux will come together very quickly so have more stock handy. You'll also want to whisk it continuously.
Add remaining Chicken and Shrimp Gumbo ingredients, except for the shrimp. I add the shrimp right before serving and cook until it turns pink.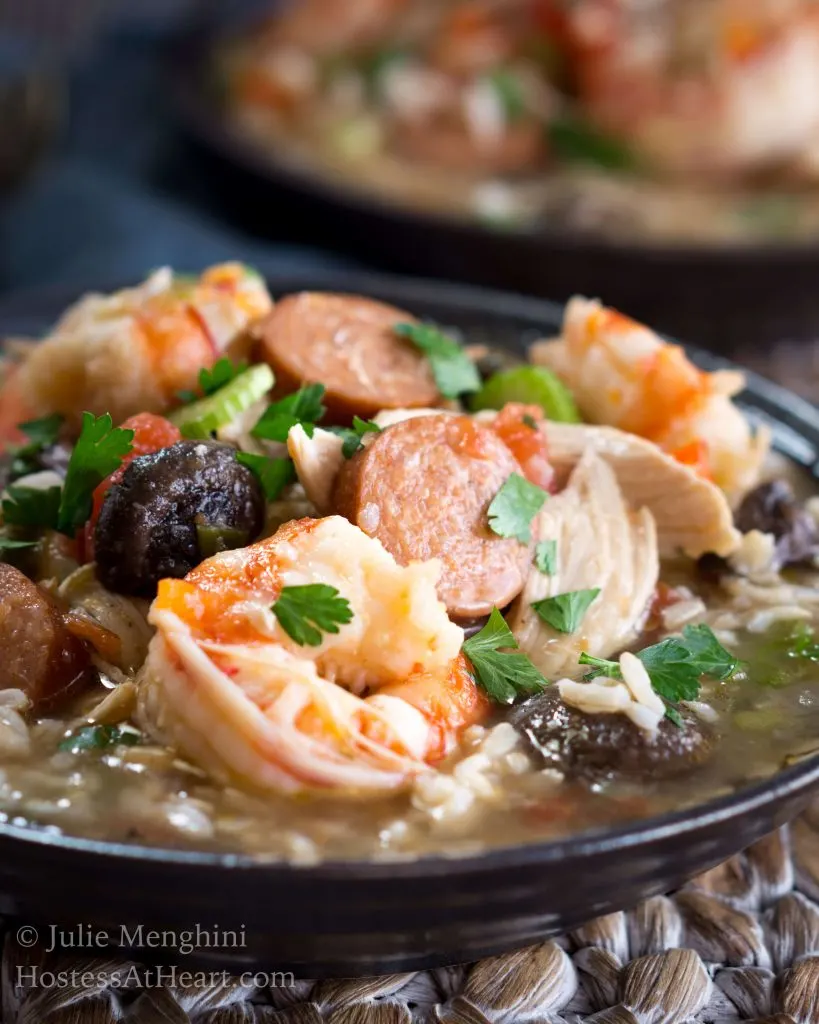 Tips for the perfect Chicken Shrimp Gumbo
I add my shrimp to hot Gumbo shortly before serving it. That keeps the shrimp from overcooking or having a rubbery texture. You can leave it out altogether if you prefer a Chicken and Sausage Gumbo.
Take your time making the gumbo roux (butter, flour, and stock mix) Let it get brown and develop flavor. Make sure you watch it so it doesn't burn.
Prepare your vegetables before you start the roux.
I recommend using Louisiana hot sauce. It adds heat without changing the flavor which Sriracha tends to do. It's used in the recipe and I serve it at the table for people that want more spice.
Slice the sausage before you add it to the sausage chicken and shrimp gumbo.
Popular Variations & Additions
One thing that I took from the Gumbo recipes in this book is that I could make my own according to the flavors that I wanted. It stated that there were as many gumbo recipes as there are families making it. I wanted an easy Gumbo recipe that didn't take all day to make.
Vegetables. Most of my soups and stews start with carrots, onion, and celery. The fancy name for that combination is mirepoix. We love the earthy flavor of mushrooms in gumbo but realize they're not for everyone. Feel free to add any vegetable that you like.
Andouille sausage. This sausage is perfectly spiced for this recipe. If you don't have it you can use any smoked sausage. Or, don't leave it out and make a shrimp gumbo recipe no sausage recipe.

Chorizo sausage can be used but I don't care for the flavor or the greasiness of this sausage in this recipe.
Polish kielbasa is another alternative. You may want to adjust the seasonings since this is such a mild sausage.
If you enjoyed this recipe, take a look at these!
I hope you enjoyed this delicious recipe as much as we do. Drop me a comment below, and don't forget to give it a star rating. ⭐⭐⭐⭐⭐. Your comments and ratings help others decide if this recipe is for them too.