Creole Seasoning recipe makes a great dry rub, marinade, or when you're looking for that little extra "kick in the pants" flavor.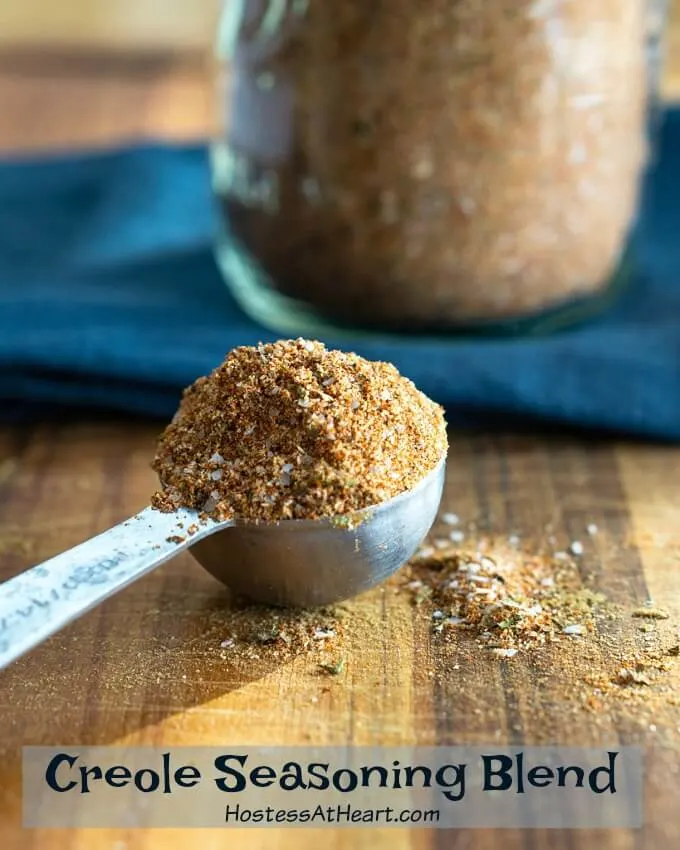 Creole Seasoning is a deeply flavorful blend of herbs and spices that add a spicy savory flavor to anything you use it on or in. It makes a great dry rub, marinade, or perfect for soups or stews.
I've been deep diving into Louisiana recipes lately. Just thinking about it has me tapping my toes to a little New Orleans Jazz and craving creole cuisine.
I'm not going to even pretend that I have any southern roots or claim to have any authentic Cajun or Creole recipes.
What I do have is a powerful craving for the food we enjoyed while visiting New Orleans and the surrounding areas and trying to replicate it.
I was recently working on my recipe for Jambalaya and while it was amazing I knew it could be better with my own blend of spices.
What's the difference between Cajun vs Creole and their seasoning?
There is so much information regarding the differences between Cajun and Creole. I found some great information on LouisianaTravel.com.
Cajun and Creole describe two separate cultures of people. Their ancestors have different roots and their cooking differed because of the access to ingredients that their families had.
Cajun seasoning relies more on peppers and spice while Creole seasoning use more herbs. There are some crossovers but it's said to truly know the difference is to know the people.
When I put my mix together I used the best of both cultures. Some great herbs and spices. It could be called a Cajun-Creole Spice Blend but this recipe is adapted from Allrecipes and I didn't want to misrepresent that.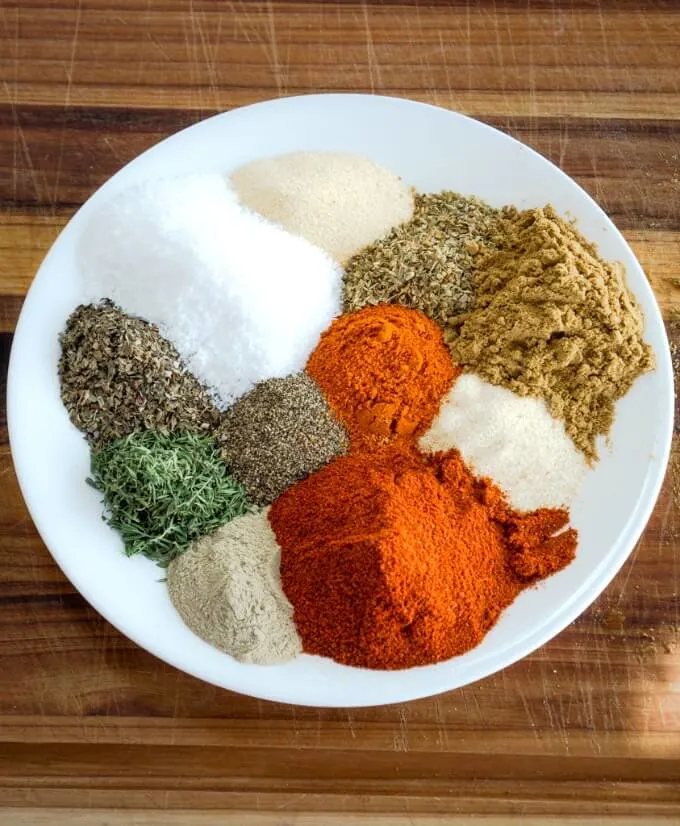 I really have a problem buying a $4.00 jar of mystery spices. I want to know what's in my spice blends, control the sodium and heat, and know that it's not loaded with preservatives. Blending your own does all of that!
Some of my favorite seasonings blend recipes.
You May Need:
Hostess At Heart participates in affiliate programs. As an Amazon Associate, I earn a commission from qualifying purchases. Please refer to my disclosure page for more information about these affiliate programs.
Spice jars – I keep these on hand for when I mix my own spices, cookie sprinkles or even paper clips in my office!
Spice Organizer – I use this one personally. Round or square spice jars fit. You can see mine here.
If you LOVE this recipe please comment and leave me 5 stars! Here are a few more recipes that get my toes tapping!
Do you have Cajun or Creole roots? What is your favorite Creole food or Cajun food recipe? PLEASE share. You are my inspiration!