This Homemade Blackened Seasoning Blend recipe is a delicious mix of herbs and spices. It's guaranteed to bump up the flavor. It's great on meat, fish, veggies and in soup. This Blackened Seasonings mix has a great flavor followed by a nice kick.
This post was updated 1/9/19 to improve the reader experience. There were no changes made to the recipe.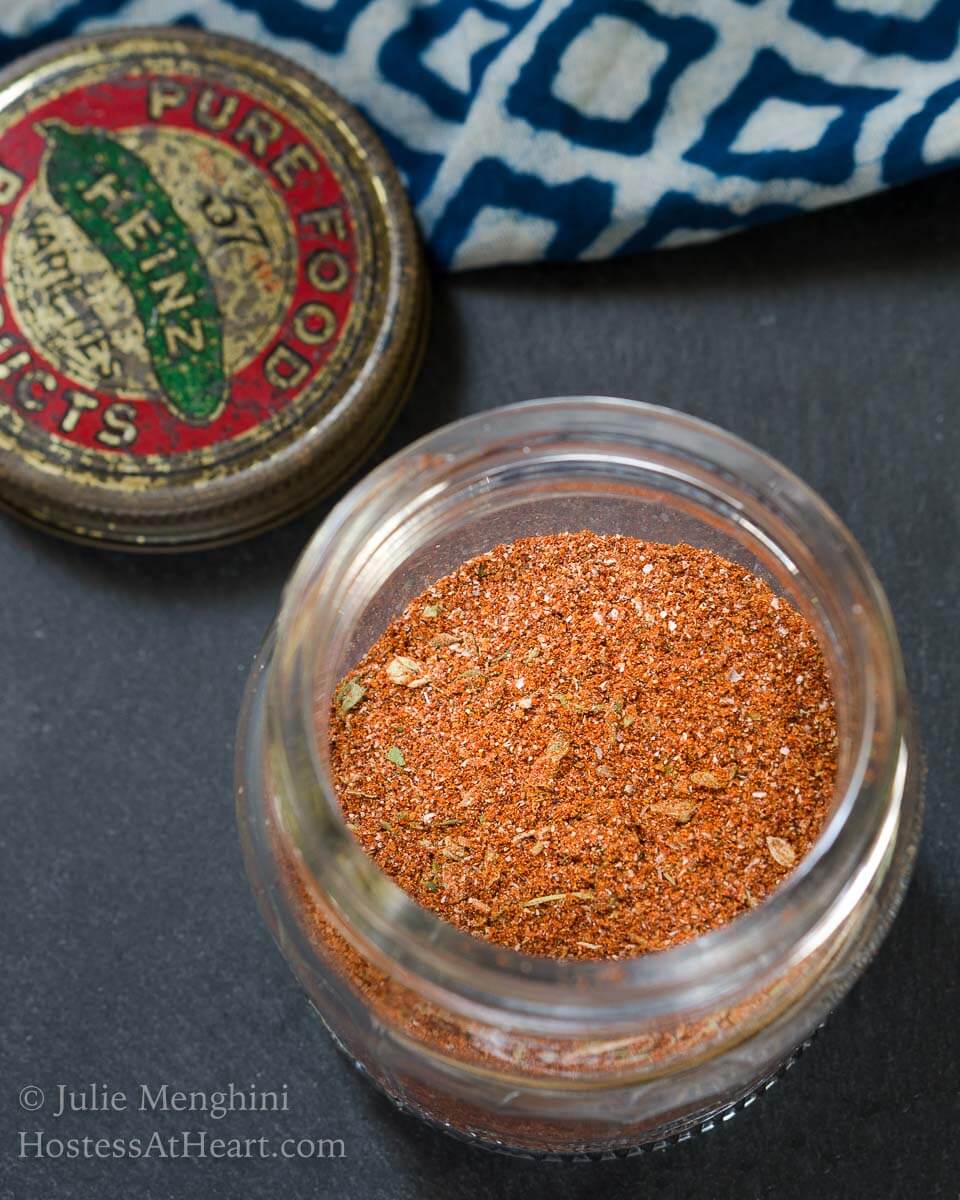 Why do people make their own spice blends? You can find about any blend of spices already put together and conveniently bottled at the grocery store right? Trying this Homemade Blackened Seasoning will be the last recipe you try before you make it your own.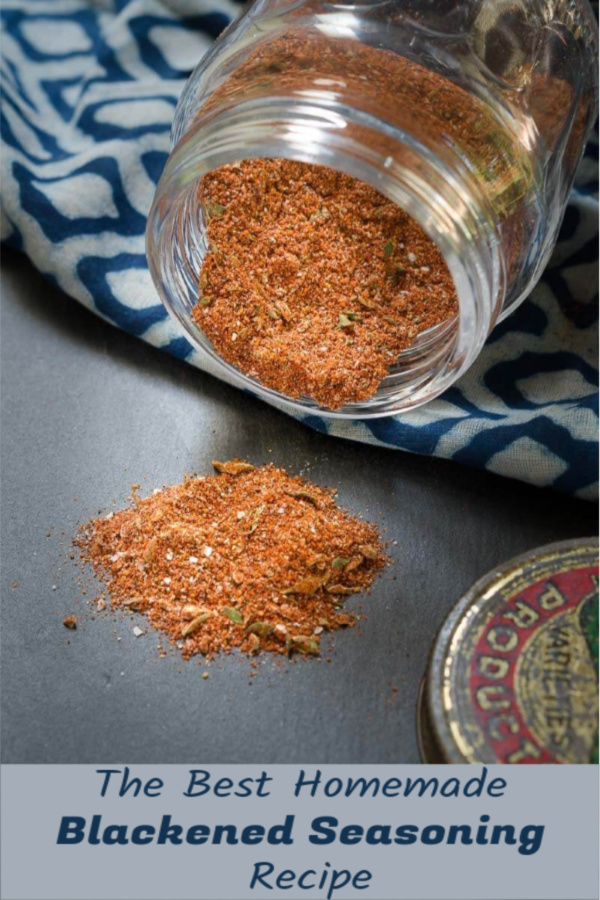 HOMEMADE BLACKENED SEASONING
If you've never visited New Orleans you've really got to do it. I heard stories of all the craziness long before we made our first trip to the Mardi Gras capital of the world and to tell you the truth I was a little nervous about going. I'd heard a lot about the antics and didn't know if I would make a fool of myself reviving my crazy ways or what.
As it turns out the city has something for everyone and we just fell in love with the people and their culture. We went to some amazing restaurants and ate some dishes that I didn't have a lot of experience with. One of those dishes was fish with this deep dark spicy crust covered in a lemon butter sauce. I'm sure my veins are clogging just thinking about it. I may have licked the plate (guilty not guilty).
As a result, we've been using a lot of blackening seasoning. It's our go-to flavor for grilled fish and shrimp. You can find a dozen different kinds of Blackened Seasoning Brands. I know because I've bought several. They were either so hot that it's the only thing I could taste or so salty that you balloon up after eating it.
It wasn't easy finding a seasoning blend that we both liked  This one was definitely the winner! It has a lot less black pepper and salt than what you'll find in some commercial blends.
BLACKENING SEASONING
What kind of seasoning is blackened?
Blackened seasoning is associated with Cajun or Creole cooking. It's said that it was made popular in New Orleans Louisiana by the late Chef Paul Prudhomme. He was known for dipping food in melted butter and then dredging it in seasonings. The food was generally fried in a cast iron pan which gives it that charred, black crusty appearance.
Blackening seasoning is a blend of herbs and spices. The red appearance is the result of paprika and cayenne. This blackening mix is delicious and definitely has a spicy kick.
Why should I make my own seasoning?
You can control the ingredients. A lot of commercial brands include preservatives and anti-clumping ingredients and can have a large amount of sodium. John loves a lot of heat so I can adjust the ingredients just for him (think flame thrower). I like mine milder (wimp comes to mind).

To add heat add more ground cayenne pepper, not chili powder which will change the flavor.

You know exactly how fresh your seasoning is.
You can make it up ahead of time or as you need it.
Making your own spice blends are less expensive and use spices that you usually have on hand.
What are the ingredients in blackening seasoning?
There are no standard blackened seasoning recipes. These are the ingredients I use and please note that they are all dried and not fresh.
Paprika
Salt
Black pepper
Garlic powder
Cayenne pepper
Onion powder
Oregano
Thyme
Cumin
---
PIN THIS

TO YOUR FAVORITE BOARD FOR EASY REFERENCE
---
How do I use Blackened seasoning?
Food is dipped in butter or oil and then coated heavily with the blackened seasoning. The food can be fried or grilled. Don't move the food in the pan until it develops a coating from the spice. This will keep that coating adhered to the food.
Spray food with cooking oil so the seasoning will stick when you apply it. If food is on a baking rack there is no need to turn it.
Use blackening seasoning in soups or stews such as gumbo.
Add seasoning to vegetables, rice, pasta, and sauces.
You can add oil to your spice mix and use it as a marinade or lightly spray or rub your meat with oil and use it as a dry rub.

BLACKENED SEASONING RECIPE
TIPS
Store spices in airtight containers.
You know your spices are fresh if you remove the lid and can smell them. Once they lose their aroma they are also going to lose their flavor
Any time you cook food with a spicy seasoning make sure you do it in a ventilated area. The strong spicy aroma can affect your breathing.
YOU MAY NEED
The following are affiliate links. Hostess At Heart is a participant in the Amazon Services LLC Associates Program, an affiliate advertising program designed to provide a means for us to earn fees by linking to Amazon.com and affiliated sites.  You can read my full disclosure.
SimpleHouseware 12 Square Spice Bottles w/label Set
 – I keep these jars on hand and I put dried herbs and spices in them as well as my spice blends.
If you love this recipe, you're going to love making your own Taco seasoning and Spice Rub recipes too!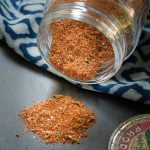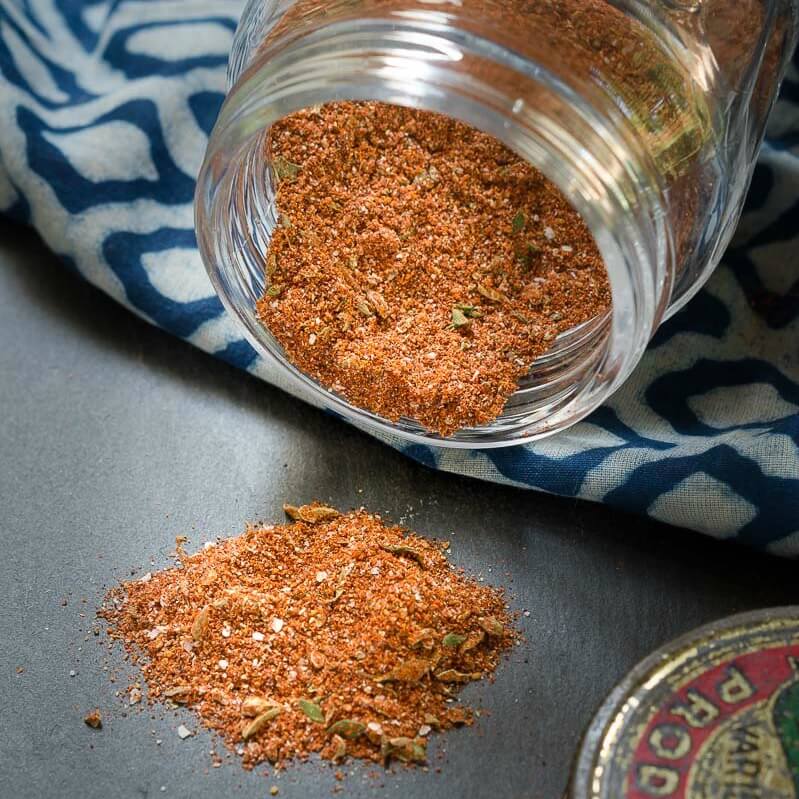 Homemade Blackened Seasoning Blend Recipe
This Homemade Blackened Seasoning Blend recipe is spicy delicious and is the perfect seasoning for fish, meat, veggies, and soups.
Keyword:
Blackened seasoning
Ingredients
2

tbsp

paprika

1

tsp

salt

Kosher

1

tsp

ground black pepper

1

tsp

garlic powder

1/2

tsp

cayenne

1

tsp

onion powder

1

tsp

dried oregano

1

tsp

dried thyme

1

tsp

cumin
Instructions
Mix all ingredients together. Store in an airtight container.
Here are some great shrimp dishes that are just begging fo
r this
seasoning!
Let's keep in touch!  You can find me on Pinterest, Instagram, Facebook, Twitter, and The Mix!  Better yet, enter your email address in the box below and never miss a recipe!