Baked Chicken Fajitas recipe is perfect with a side of rice, in a wrap, or an amazing chicken fajita salad. A flavor explosion, these easy oven-baked fajitas will be your go-to one-dish meal on busy nights. Prep is easy, clean-up is a breeze, and while it's all baking you can walk away and get something else done!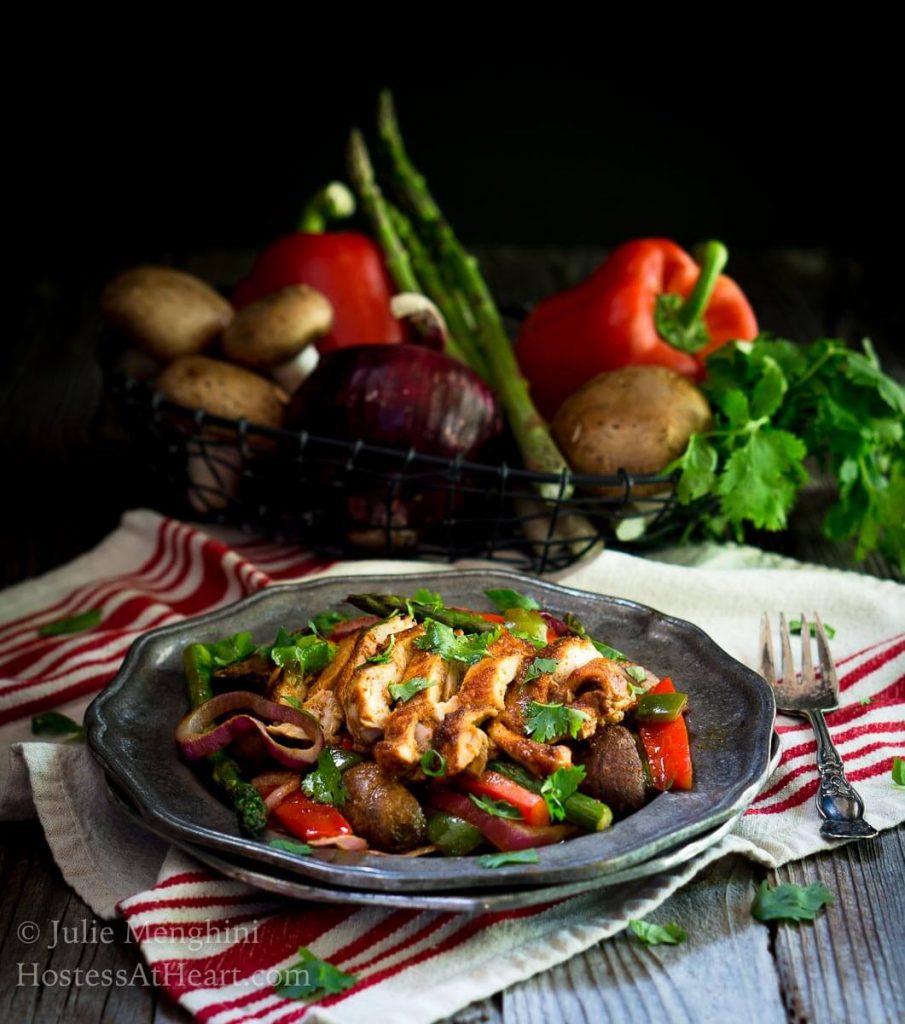 If you like a one-pan, no-fuss recipe, our Oven-Baked Chicken Fajitas Recipe is for you.
This easy oven fajita recipe can feed any size of gathering and can be prepped when you've got the time. Just slip it in the oven and you've got an amazing meal with a southwestern flair.
How to Bake Chicken Fajitas
Step one: First, mix the marinade ingredients and soak the chicken in the marinade for at least two hours. This allows the chicken to absorb all of the flavors from the marinade.
Step two: Bake the chicken in the marinade.
Step three: After the chicken has baked, remove it from the pan and allow it to rest. Add all of the veggies to the same pan in the marinade and bake while the chicken rests.
How long do you bake chicken fajitas?
You'll need to bake the chicken until your meat thermometer reads 165º F. I like to use an Instant Read Thermometer.
What vegetables go well in oven-baked chicken fajitas?
You can use almost any vegetables in this one-pan chicken fajitas recipe and it will turn out great! Everyone thinks of red peppers and onions when they think of baked chicken fajitas. We used onions, peppers, jalapeños, and mushrooms plus asparagus. You could also use any summer squash like zucchini, or snow peas, diced sweet potatoes, tomatoes, and even broccoli or cauliflower.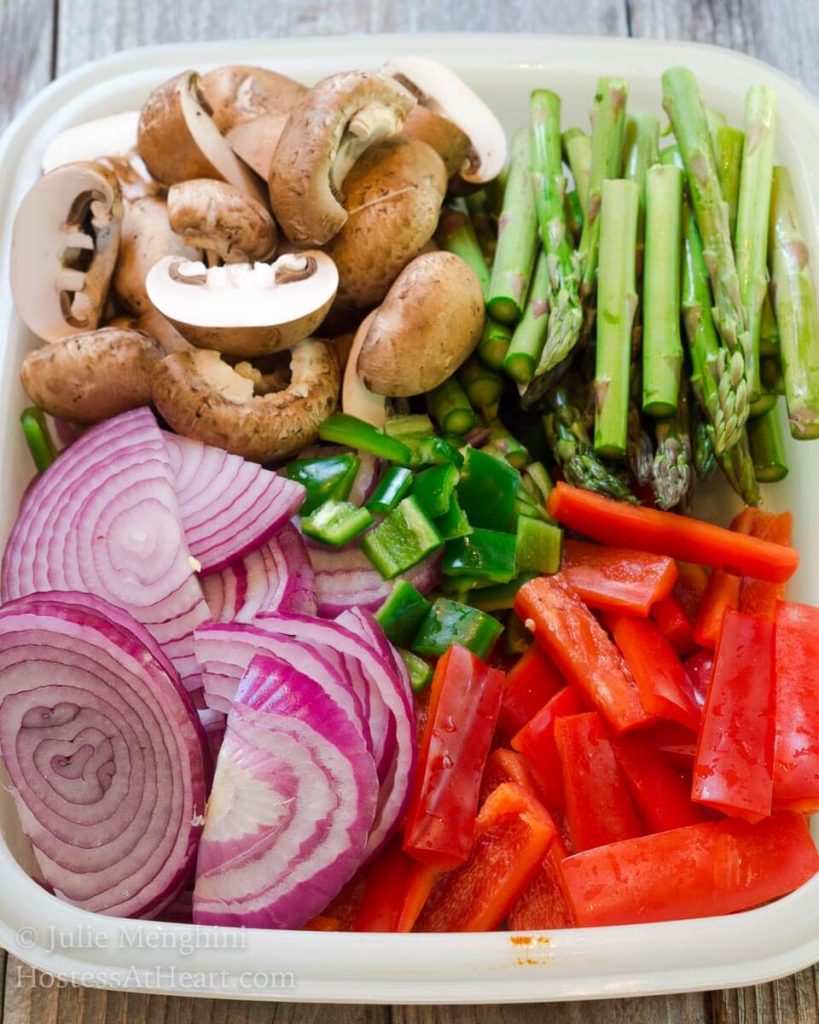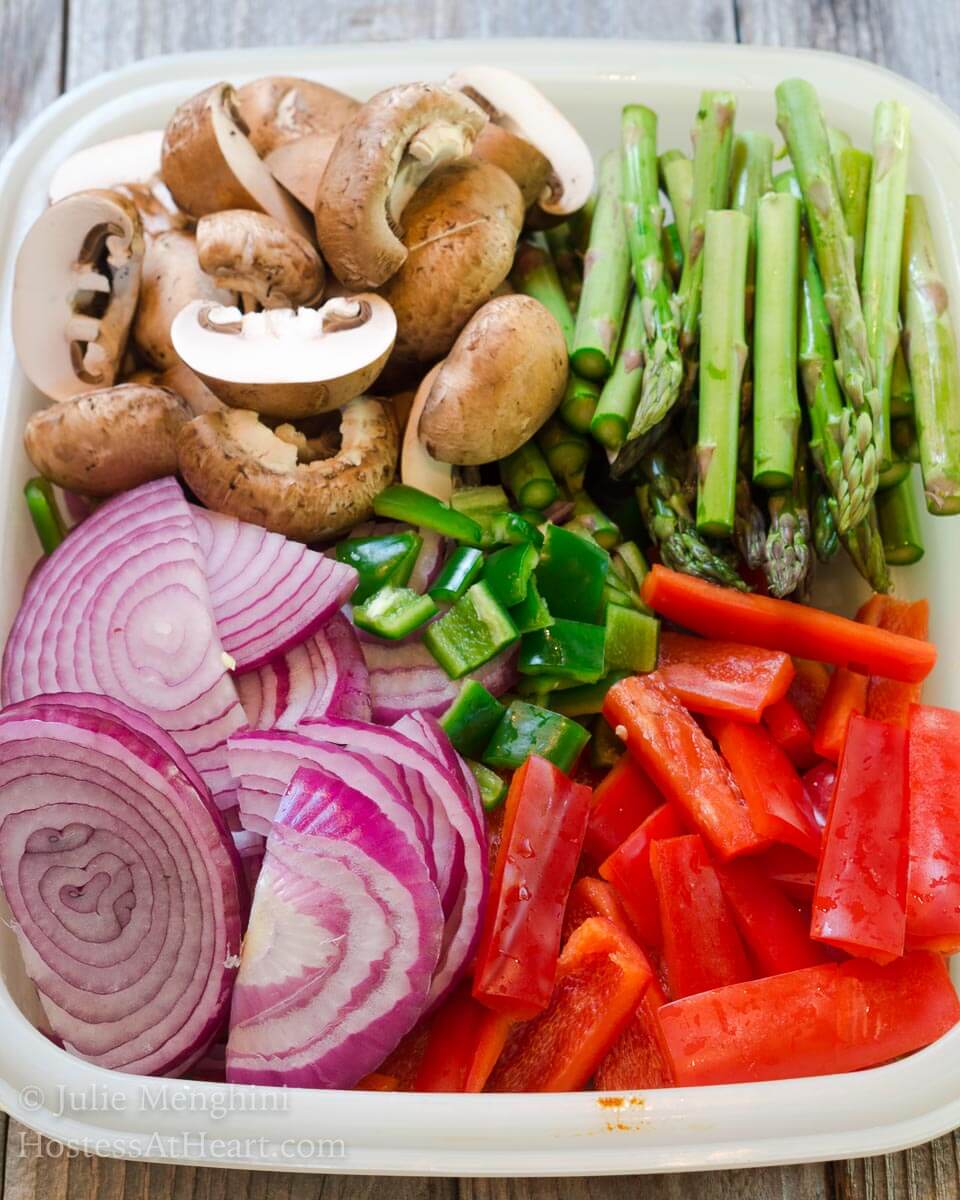 If you are in a hurry, you can buy your fajita vegetables already prepared for you in the freezer section of your local grocery store.
Tips for Easy Oven-Baked Chicken Fajitas
Cut the chicken in uniform sizes so they cook at the same rate.
We line the baking sheet with aluminum foil and spray it with non-stick cooking spray. This makes it easy to turn the ingredients halfway through baking so everything gets roasted evenly.
Choose vegetables that cook at the same rate.
Denser vegetables need to be cut into thinner pieces.
Storing Baked Chicken Fajitas
Sometimes, I just take all the leftover fajitas veggies and all and toss it in a freezer-safe ziplock bag and then throw it in the fridge. This can be dumped in a skillet the next day to reheat.
How to Freeze Easy Chicken Fajitas
Chicken freezes great but I'd recommend freezing just the chicken or freezing the marinated chicken for a quick meal and adding fresh vegetables.
Frequently Asked Questions
What is the best chicken to use for the Baked chicken Fajita Recipe? We buy boneless skinless chicken breasts or thighs. This chicken cuts easily and since it's marinated is tender and juicy. It also is easy to cut into uniformed-sized pieces for even cooking.
How to serve Baked Chicken Fajitas

Over brown rice is our favorite way. It's a delicious way to make the recipe serve more.
You can also serve this recipe on warmed tortillas or in a wrap.
Warmed leftovers make a whole new meal served as a chicken fajita salad.
Or, you can serve them as is with a side of Tomatillo Rice, Cherry Chipotle Salad, or Black Beans.

Chicken Fajita Toppings

Sour Cream
Cheese
Bean Sprouts
Avocados
Cilantro
Tastes Like Summer
It's time for the Summer version of "The Freaky Friday" blog hop, and I'm bringing an Easy Oven-Baked Chicken Fajita recipe to the party! The Freaky Friday blog hop is a group of bloggers that are secretly assigned each others' blogs from which we choose a recipe. It is so much fun, and the bloggers that participate are all amazing foodies. The biggest problem I always have is picking just one recipe to post about.
This time I had the pleasure of being assigned Dini's blog The Flavor Bender. I've known Dini for about as long as I've been blogging. I can't even begin to tell you how talented she is and what an amazing friend she is to so many people including me!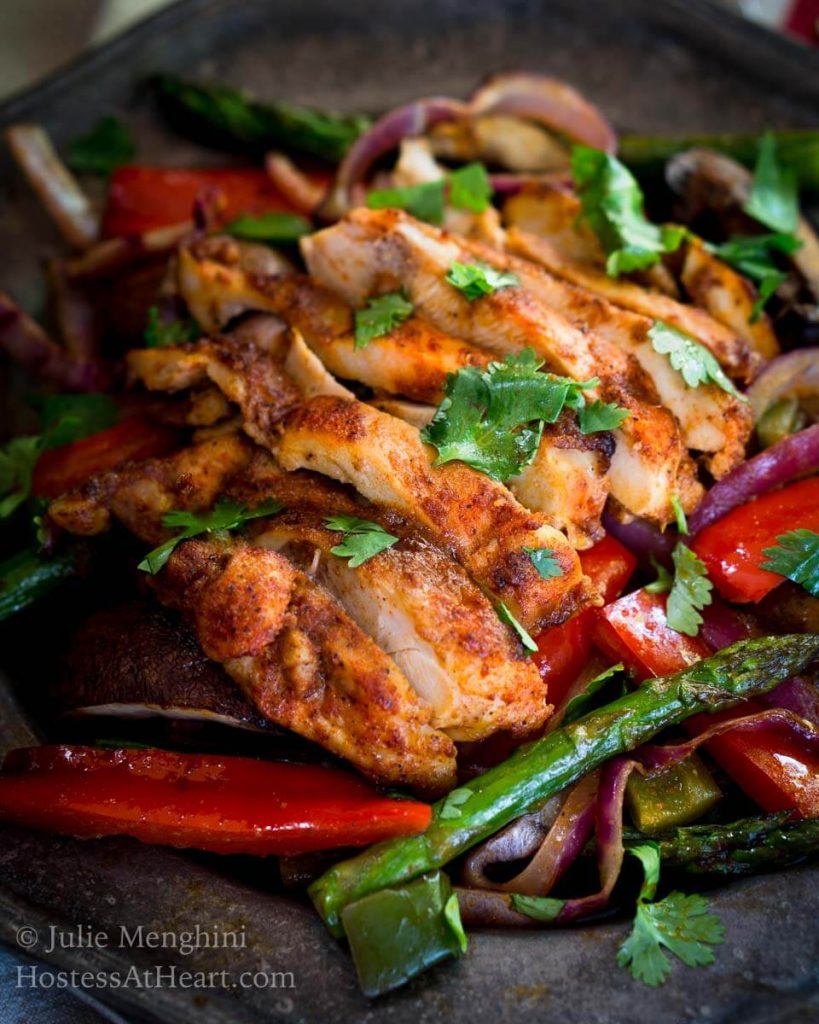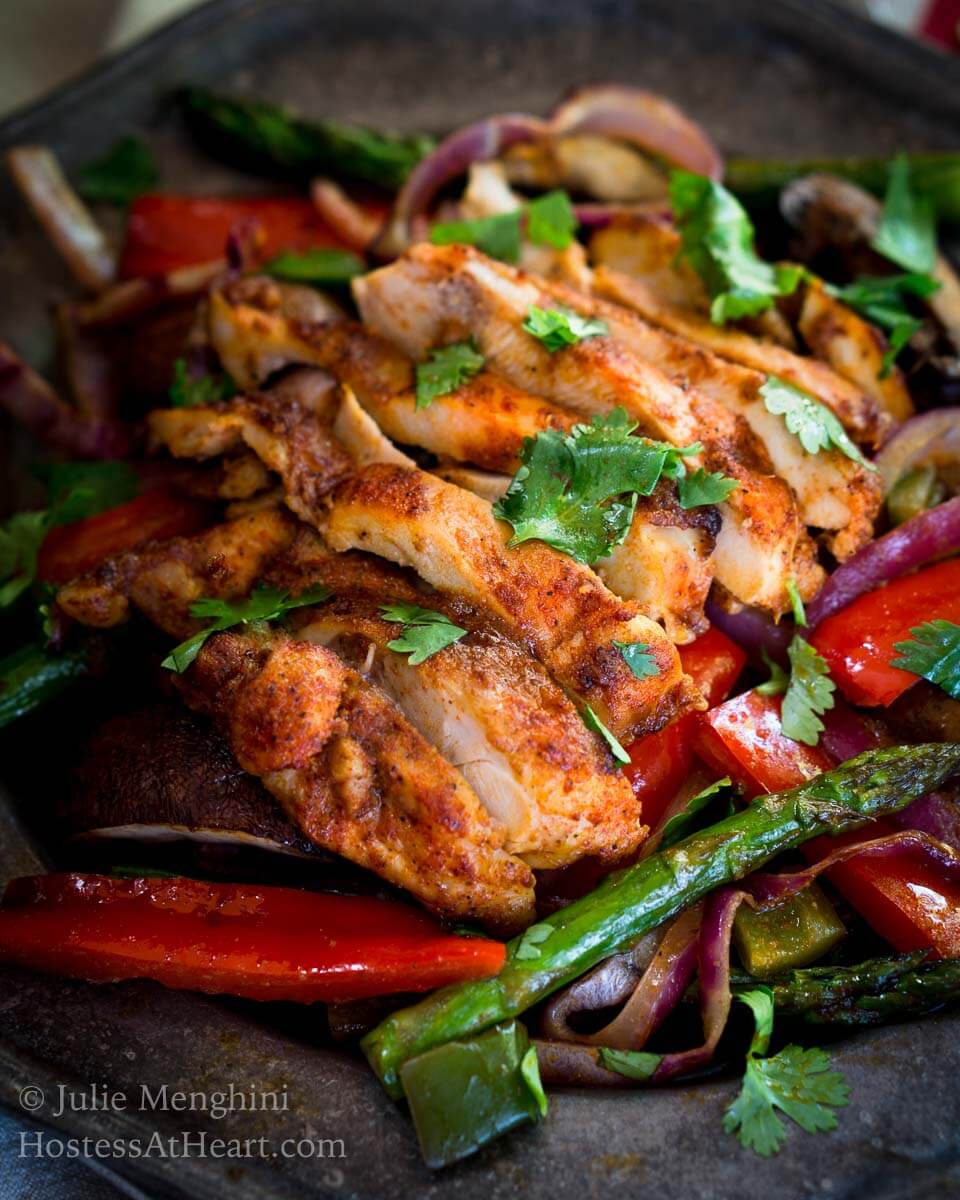 Dini refers to herself as the mad-scientist behind the Flavor Bender where she combines flavors in new and wildly creative ways that will make you fall in love with cooking and baking! That is exactly the way I would describe her! Just look at her Galaxy Cocktails!
I wanted to make her Self Saucing Chocolate Pudding Cake with Strawberry and Bourbon recipe but didn't trust myself not to eat the whole thing. So, I made her Easy Oven-Baked Chicken Fajita recipe. What drew me to this recipe is that it was baked and there were so many ways that I could think to serve it. I can't wait to try to make a new version of my Chipotle Grilled Chicken Salad using her Fajita seasoning!
Don't have time to make it now?

Pin it

for later!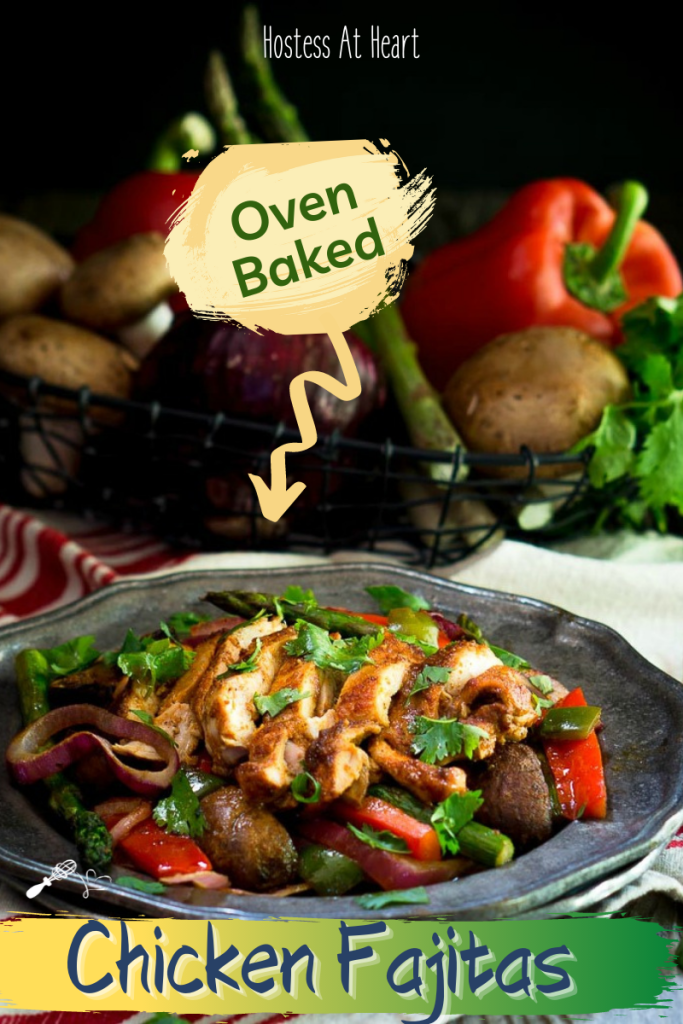 The only change that I made was that I used boneless skinless chicken thighs and drumsticks and threw in a few extra veggies. Her Fajita seasoning mix is phenomenal! John loved his fajita in a tortilla and I loved it as is. Once the veggies were gone, I put that amazing chicken on a salad for lunch.
If you like this Easy Baked Chicken Fajitas recipe, here are a few more I think you'll enjoy
This Easy Oven-Baked Chicken Fajita recipe is going to become a regular in my kitchen! Just go see for yourself all of the amazing recipes on The Flavor Bender. I'll guarantee you'll want to stay awhile.
TAKE A LOOK AT ALL OF OUR FREAKY FRIDAY RECIPES:
A Dish of Daily Life – Mexican Black Beans
An Affair from the Heart –Deconstructed Guacamole Salad
Aunt Bee's Recipes – P.F. Chang's Lettuce Wrap Salad
Belle of the Kitchen – Crock Pot Honey Sriracha Meatballs
Bowl Me Over – Grilled Shrimp Nicoise Salad
The Devilish Dish – Southwestern Coleslaw
The Flavor Blender – Creamy Frozen Margarita Pie Slice with a Pretzel Crust
Full Belly Sisters – Bacon Scallion Deviled Eggs
The Foodie Affair – New Zealand Bacon and Egg Pie
Honey & Birch – Grilled Guacamole
Hostess at Heart – Easy Oven-Baked Chicken Fajitas
Lemoine Family Recipes – Easy Peach Dumplings
Lisa's Dinnertime Dish – Tortellini Caprese Salad
PicNic – Oreo Scones
PlatterTalk – Black Bean and Roasted Corn Chowder
Seduction in the Kitchen – Peach Sweet Tea
Take Two Tapas – Spicy Margarita Shrimp Skewers
Who Needs a Cape? – No Bake Chocolate Cherry Cheesecake Parfait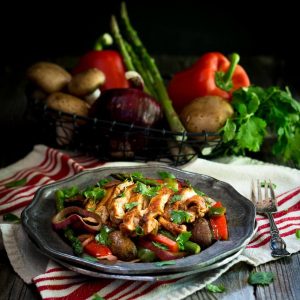 Oven-Baked Chicken Fajitas Recipe
Baked Chicken Fajitas recipe is delicious with a side of rice, in a wrap, or as is. You'll love this easy one-pan oven-baked recipe.
Ingredients
Fajita Seasoning
1 1/2

tbsp

paprika

1/2

tsp

cayenne pepper

more if you like it spicy

1 1/2

tsp

coriander, ground powder

2

tsp

cumin powder

2

tsp

black pepper, ground

2

tsp

onion powder

2

tsp

brown sugar

either dark or light
Marinade
2/3

cup

orange juice, freshly squeezed

about 1 orange

1

lime, juiced and zested

1/4

cup

oil, canola or vegetable

2

tsp

salt, kosher

3

lb

chicken thighs

I used boneless/skinless

2

onions, sweet

I used purple onions

4

bell peppers

2

jalapeno peppers

2

cups

portabello mushrooms

2

cups

asparagus

roughly chopped
Garnishes – optional
1/4

cup

Cotija Cheese

1/2

cup

cilantro

chopped
Instructions
Combine the ingredients for the Fajita seasoning. Make extra for other recipes down the road!

Mix the Fajita seasoning with all of the marinade ingredients except for the chicken.

Pat the chicken pieces dry. Place them in a dish large enough to immerse the chicken in the marinade. Refrigerate for at least 2 hours or up to 24 hours.

Preheat oven to 350°F. Cover a rimmed baking sheet with foil and spray it with non-stick cooking spray. Place chicken skin side up in a single row on a cooking sheet and pour marinade over the chicken. Bake for 30 minutes or until chicken registers 165°F with a thermometer. Cover with foil if skin gets to dark.

Remove chicken to a dish, cover and allow to rest.

Place vegetables on the same pan in remaining marinade. Bake for 20 minutes or until just al dente, stirring after 10 minutes to redistribute in the marinade.
Notes
Use the vegetable combination of your choice.
Chicken can also be grilled.
This recipe was adapted from The Flavor Bender
Nutrition
Calories:
664
kcal
Carbohydrates:
18
g
Protein:
40
g
Fat:
47
g
Saturated Fat:
10
g
Cholesterol:
222
mg
Sodium:
961
mg
Potassium:
1013
mg
Fiber:
5
g
Sugar:
10
g
Vitamin A:
4010
IU
Vitamin C:
127
mg
Calcium:
73
mg
Iron:
4
mg
Nutritional Disclaimer
This recipe was calculated using the exact brands and measurements I used to make this recipe. If you are following a strict diet please note changing anything will cause the nutritional info to change. My calculations are intended as a guide only.