This quick and Easy Black Bean Recipe skimps on time but never on flavor. These black beans are rich in flavor but and never mushy. These delicious beans make the perfect side dish.
When you want restaurant-quality beans, this will be your go-to choice. Use this easy black bean recipe as a filling for tacos as your main protein, or serve black beans with any Mexican meal as a wonderful complement and an additional protein. By the way, black beans are an excellent source of protein!
This post was updated from 2017 to improve our readers' experience.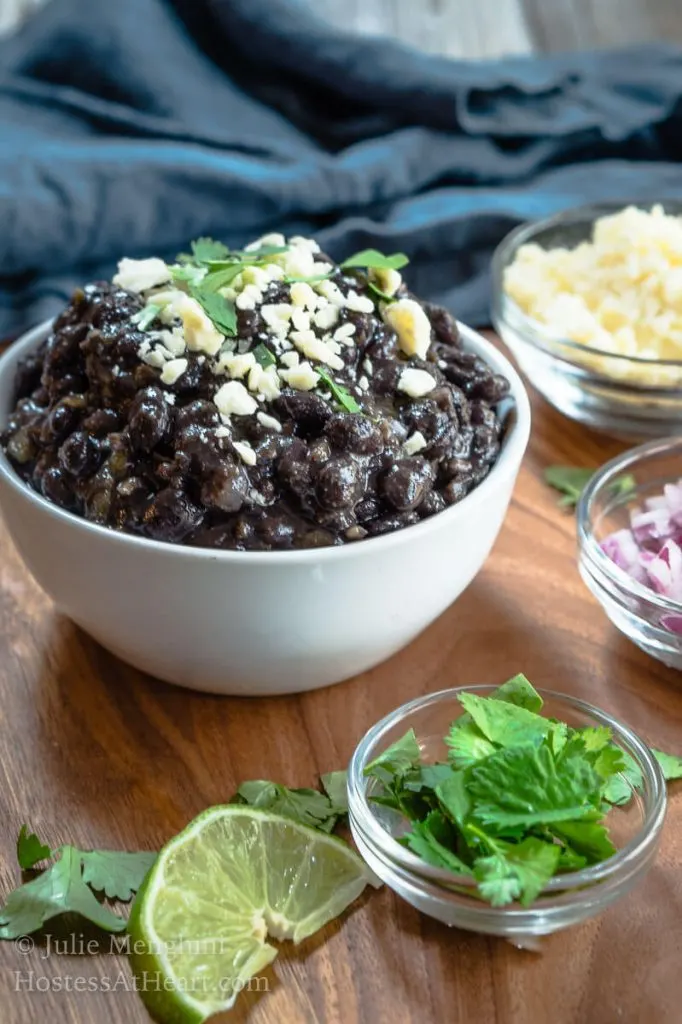 How to Make This Black Bean Recipe
When I was younger, unlike most kids I wasn't a picky eater. There wasn't much that I didn't like. One of the exceptions was black beans. Black beans were not something that we ate a lot of and the only time that I had them they hardly resembled beans and didn't have a lot of flavor.
As I got older, I would give them a try when we ate out at Mexican restaurants. I learned that no two black bean recipes are alike, or created equal in the flavor department.
To me, what makes a great black bean recipe is a thick sauce with some of the black beans kept whole. I don't want a soupy mess that just runs into everything else on the plate or that is as thick as wallpaper paste. And, we want flavor. Many times, beans kept on the stove all day long lose their consistency as well as any flavor they once had.
Ingredients for Quick and Easy Black Beans
To make this recipe super fast without compromising on flavor, we used canned beans. Here's the full list of ingredients you'll need for our canned black beans recipe. This recipe has no added fat. Many restaurants add lard or other animal fats to their black bean dishes. All of the flavor in my recipe comes from the additional ingredients, herbs, and spices.
Black Beans. Straight from a can, liquid and all. No-fuss.
Red Onion. The specific flavor of red onion adds so much to this dish. You can sub other onions but it won't be as good.
Garlic. Freshly crushed cloves are my favorite. If you don't have a garlic press yet, you need one!
Green Chilis. Also from a. can the diced variety.
Jalapeño. One whole pepper, seeded unless you like super spicy.
Cumin. High-quality cumin is worth the cost and adds a certain richness to the dish's flavor.
Chili Powder. If you can, use ancho chili powder. If your supermarkets are more limited regular chili powder will work, it just won't bring any heat.
Cayenne Pepper. Bump it up a notch with a dash of this or red pepper flakes, or hot sauce.
Salt and Pepper. To taste.
Fresh Cilantro. Chopped and added when you serve the beans.
Fresh Limes. Serve each person with a fresh wedge of lime for garnish and added bright flavor.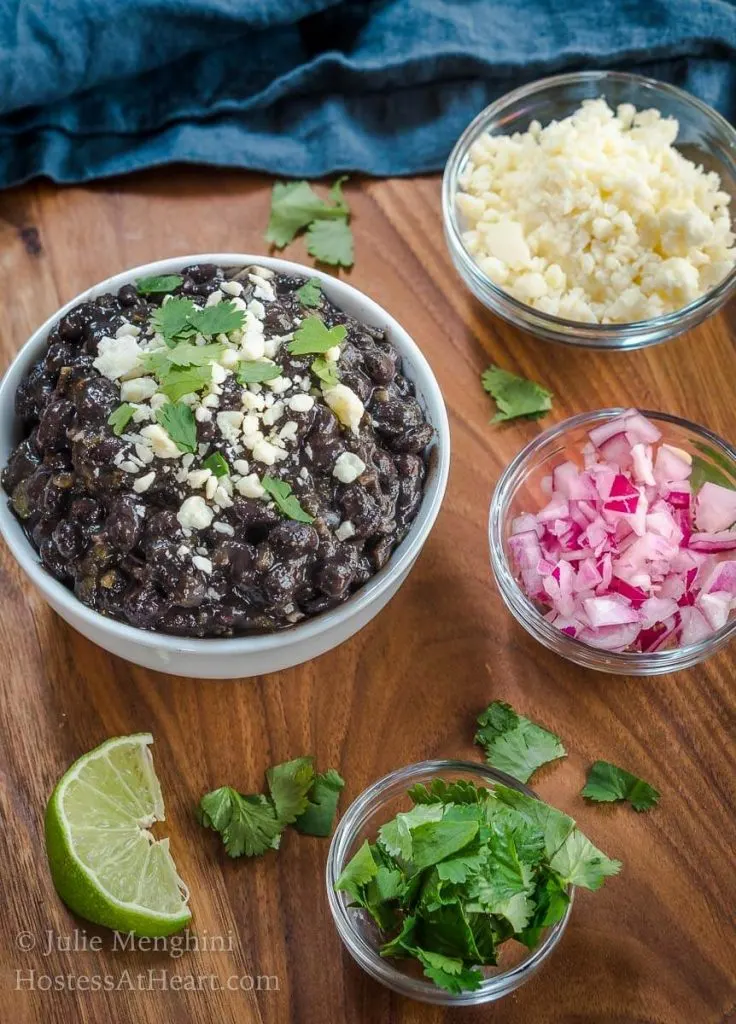 Step-By-Step Instructions
Put one of the cans of beans in your saucepan and mush it just a bit with a potato masher and then add the second can without mashing it.
Add the remaining ingredients (except garnish) to the pan, and cook until the onions and jalapeño soften.
Salt and pepper to taste.
Add a garnish of the fresh cilantro and lime wedge before serving.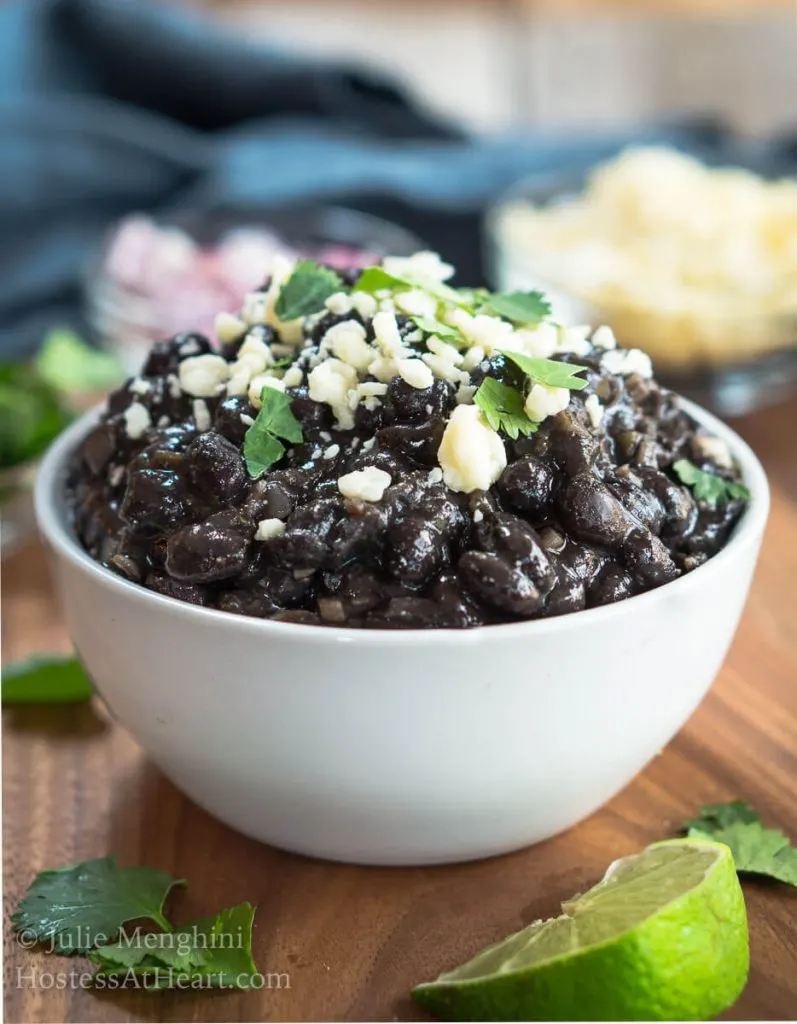 Tips for Making Fast and Easy Black Beans
Don't rinse them. The sauce helps thicken the beans.
Make them as spicy as you want. We used Ancho chili powder. If you can't find it, regular chili powder will work. You can also add more cayenne or a pinch of crushed red chili flakes to bump up the heat. John loves a dash of hot sauce to his.
Don't overcook this black beans recipe. We combined our ingredients and only cooked them for about 10 minutes. Just enough time to heat the ingredients together and slightly soften the onions.
Black Bean Garnishes
We like garnishing most of our dishes because it adds visual appeal and another opportunity to add flavor. Besides the cilantro and lime wedges here are a few other options for garnish.
Fresh chopped cilantro
Lime Wedges
Freshly diced tomato
Cotija cheese
Avocado
Chopped jalapeno
Storing Leftovers
Store ungarnished black beans covered in the refrigerator for up to 5 days. We do not recommend freezing leftover beans to serve as regular beans. However, you can turn your leftover beans into a black bean dip using a hand mixer. Mashed beans can be frozen to use as a dip later. They just tend to get extra mushy when frozen and then thawed, perfect for a dip or even a refried bean.
What to serve with this Black Beans Recipe
Leftover Black Beans can be added to your taco salad or other recipes that use Black beans as an ingredient.
They're delicious as a vegetarian dish or as a side to any cuisine.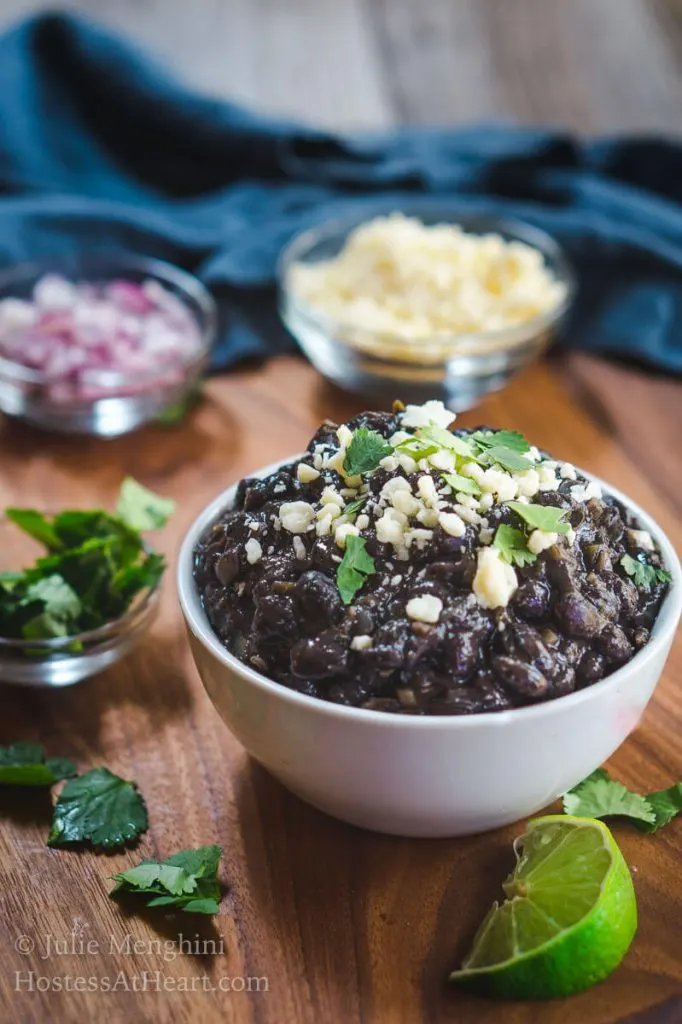 If you like this recipe, we would appreciate your comment and a 5-star ⭐️⭐️⭐️⭐️⭐️ review!
Some more delicious recipes I think you'll enjoy
This recipe is quick, easy, and delicious, a homerun in my book. You are definitely going to want to try it, and I think it will become a regular in your kitchen like it has mine!
Let's keep in touch! You can find me on Pinterest, Instagram, Facebook, Twitter, and YouTube! Better yet, enter your email address in the box below and never miss a recipe!
Pin it now!