These Instant Pot Pulled Pork Tacos are cooked perfectly and the spices are fresh and delicious. Our pork taco recipe tastes as if you cooked the meat all day instead of 45 minutes!
This post was updated from 2018 to improve our readers experience. No changes were made to the recipe.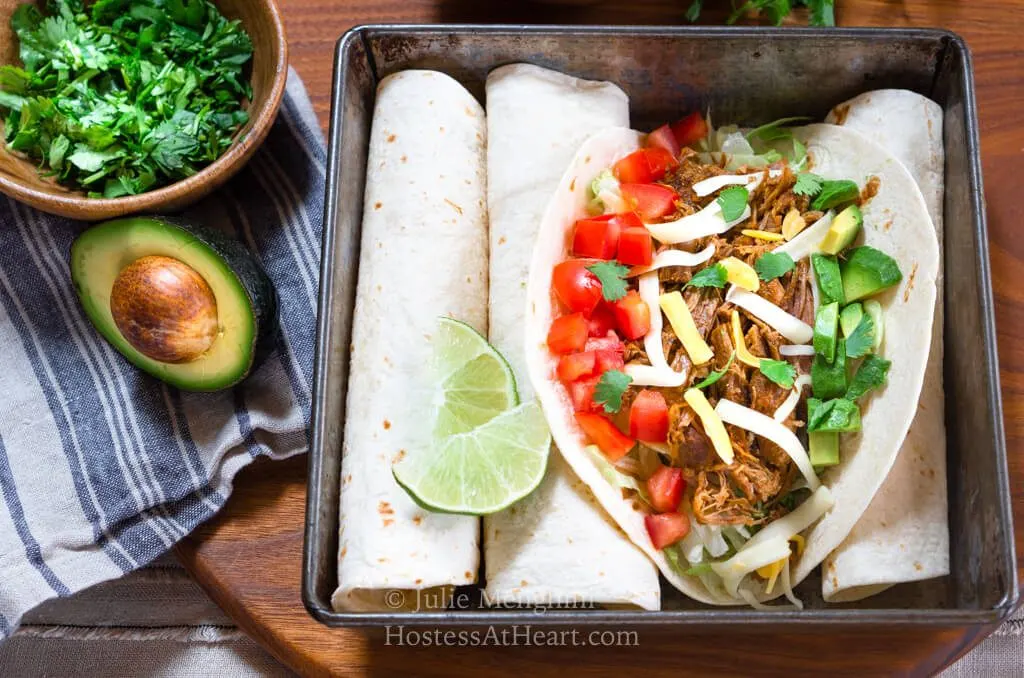 These Instant Pot Pork Tacos are absolutely delicious with these Charro Beans.. If you would have told me that they only cooked for 45 minutes I would have thought you were fooling. They taste as if you braised them all afternoon.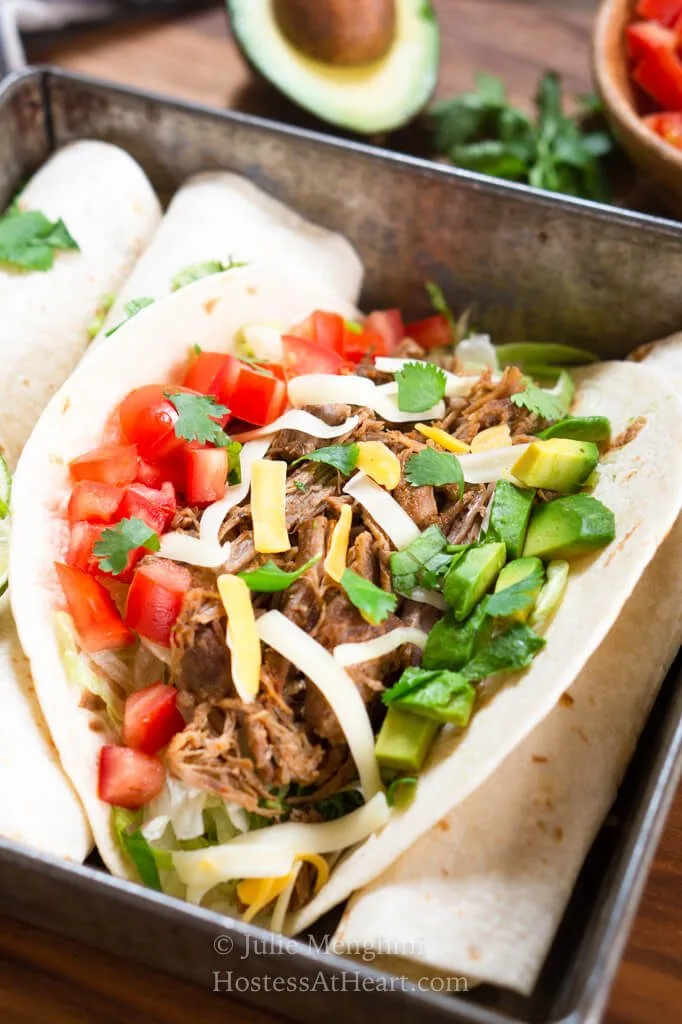 One day, John came home from the gym and said we were having friends over for the football game which started at 11:00 a.m!
That meant instead of a few snacks we needed lunch and I had about 2 hours.
You can whip up a lot of dishes quickly but I thought I'd finally give my instant pot an audition. My friends are often my guinea pigs so if it doesn't work we can always order a pizza.
How to Make Pork Tacos
Tacos are super easy for people to serve themselves and instead of ground beef, I thought pulled pork sounded yummy.
What is the best cut of meat for pulled pork?
Pork shoulder (also referred to as pork butt) is ideal for pulling purposes. It has an optimum fat content that yields to create a tender, melty meat, but it's essential you cook it slowly to allow the protein to break down properly.
Our grocery store had a sale on pork butts (also called pork shoulder) but the smallest one I could find was almost 8 pounds!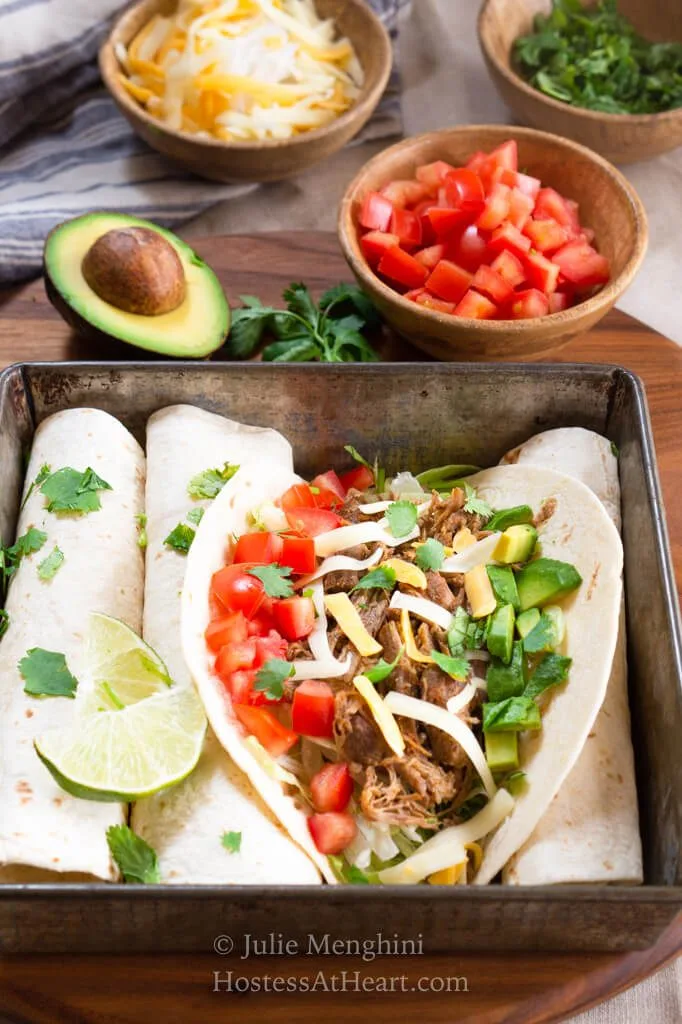 We cut it in half and then in about 4-inch pieces. The other half went into the refrigerator to cook later.
We didn't bother searing the meat and just added the liquid and spices.
The meat was cooked in the Instant Pot at high pressure for forty-five minutes with a slow fifteen-minute pressure release. The meat is ready to pull immediately and falls apart!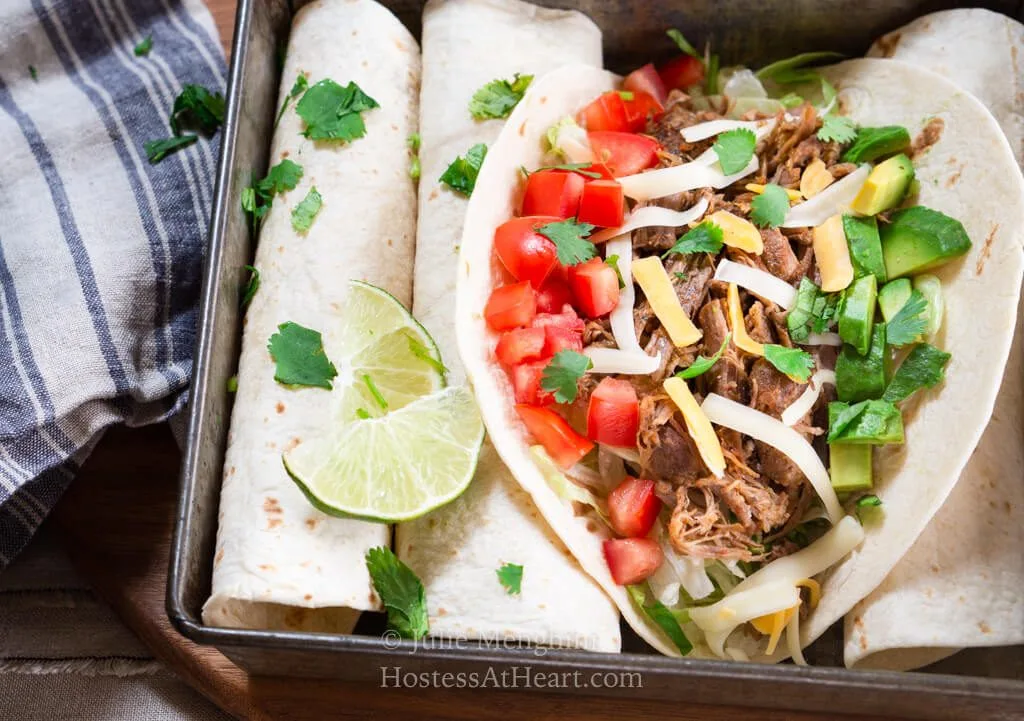 This is an easy meal that is so delicious and I couldn't wait to share it with you. It was so juicy and so tender.
This meat came out so good that I cooked the other half the next day.
Instead of broth, I saved a cup of the liquid from the first half that I cooked.
Can pulled pork tacos be cooked in a slow cooker?
Yes! low heat setting for 8-10 hours or high heat for 5-6 hours or until pork is tender enough to pull apart with a fork.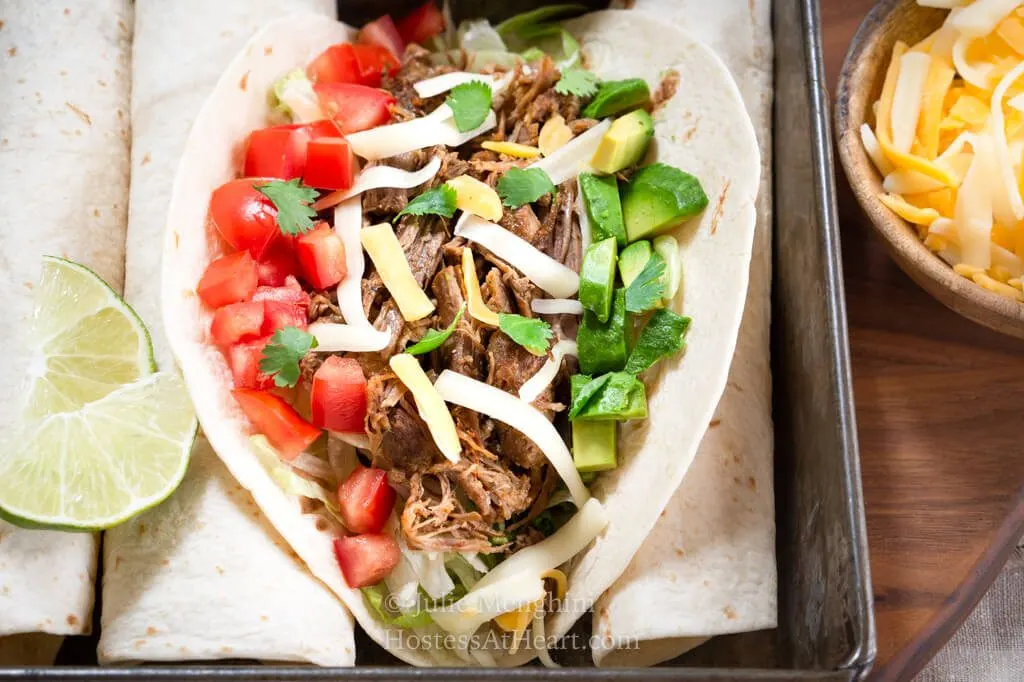 Equipment You May Need
An Instant Pot. I can be a little (ok a lot) compulsive when it comes to kitchen toys. So last year when Amazon had their Black Friday sale I convinced myself that I couldn't live without an Instant Pot.
So I did what every compulsive buyer does, I bought it! And, it sat on my shelf for almost a year except to cook boiled eggs. It cooks eggs PERFECTLY!
Ingredients for Pulled Pork Tacos
You'll need to add a little seasoning for your pork. Here's the list of what you'll need for our pulled pork taco recipe.
Yellow Onion. A more mild onion adds flavor to the dish without overwhelming it.
Jalepeno (Seeded). Removing the seeds removes most of the heat. Still, this is optional if you can't enjoy heat.
Garlic Powder. The powdered form will cover the meat more uniformly than minced garlic.
Mexican Oregano. If you cannot find or do not have the Mexican variety regular dried oregano will work.
Cumin. Adds a little heat and lots of flavor.
Paprika. Adds a nice richness to the flavor.
Chili Powder. Make sure you use fresh chili powder. Spices stored in the cabinet for a long time lose their flavor and potency.
Kosher Salt. Just regular table salt will do or you can use coarse kosher salt instead.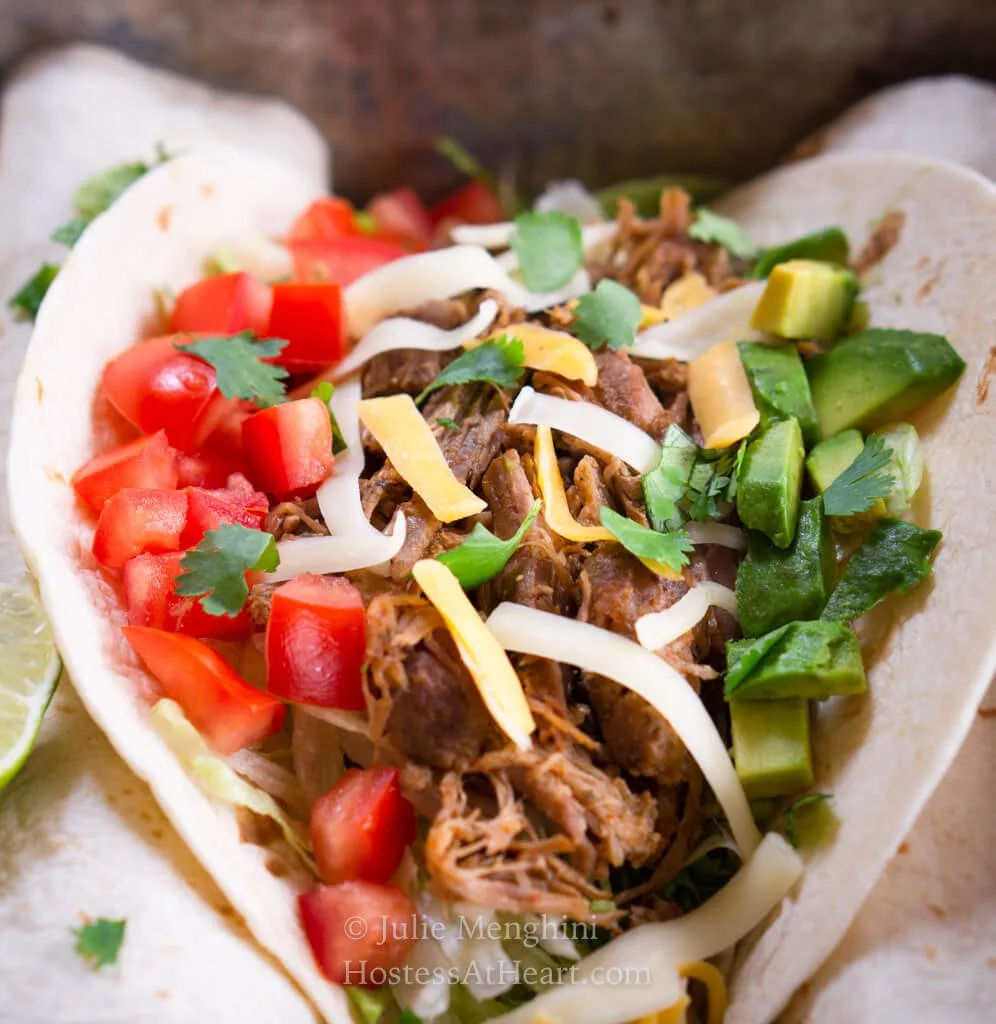 Pork Taco Toppings
I like to serve our Instant Pot pork tacos on corn tortillas. Flour tortillas will also work. Your can put almost anything you want on your pulled pork tacos, but here are some of our favorite taco toppings.
Tomato
Lettuce
Cheese
Salsa
Avocado
Sour Cream
Cilantro
Cooked and drained black beans
La Crema
What to Serve with the Pulled Pork Taco Recipe
Tips for Pulled Pork Tacos
If you have to buy a large pork shoulder and will have more than you need, follow these steps to freeze the extra and make dinner super easy one night in your future.
Cut the unused portion into four-inch pieces.
Place in a freezer-quality zipper bag.
Add the seasoning ingredients.
Seal the bag removing the extra air.
Shake it up to mix the ingredients and coat the pork.
Place it into an Instant Pot liner in the freezer for the first few hours, so that when you are ready to cook it, it will fit in the pan. After a bit, you can place it directly in the freezer and put your liner away.
Freeze for Up to Six Months
Cook for five to ten extra minutes unthawed, or thaw in the refrigerator the night before you need it.
This pulled pork can also be served on buns with barbecue sauce or over rice in a rice bowl style dish!
How to Store Pulled Pork Taco Meat
If you have leftover cooked meat, you can place it in the refrigerator in an air-tight container for a couple of days and serve it later over rice or on buns.
If you want to store the meat long-term, you can place it in a freezer-quality zipper bag or use a vacuum sealer bag and keep it in the freezer for up to three months. Thaw and heat thoroughly to serve.