Tomatillo Rice is a 4-ingredient recipe that cooks up in less than 30 minutes using the Instant Pot and canned tomatillos. This tomatillo rice recipe makes a great side dish and is delicious stuffed into your favorite burrito recipe.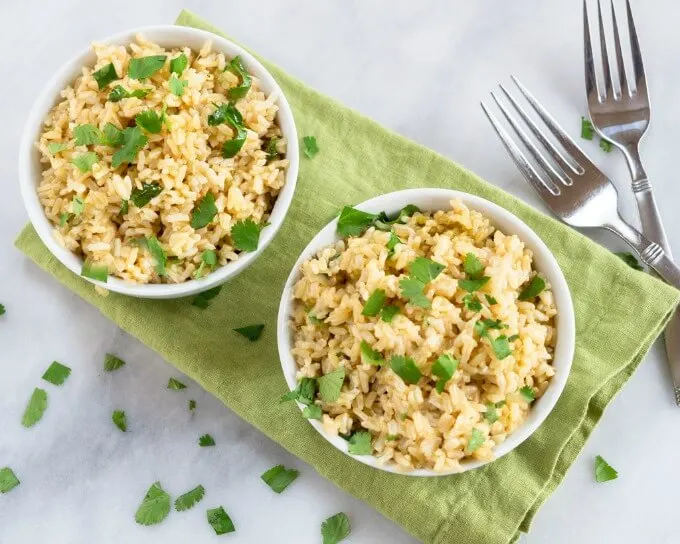 Tomatillo Rice is so easy to make. It's nice and fluffy and never sticky. It tastes great right next to your favorite Mexican recipe or makes a flavorful filling in burritos.
It's been several years since we were first introduced to a green salsa made from tomatillos at a Mexican restaurant that we like. I was so smitten (yep I said smitten) that I asked the waitress for the recipe. She gave us her mother's tomatillo recipe and we tried it shortly thereafter.
First of all, it was quite a bit of work. Secondly, it was so hot that I've just now recovered. It was a great start though.
We love tomatillos so much that we wanted a tomatillo recipe that wasn't salsa.
What are Tomatillos?
I was really curious about what a tomatillo actually is. We grew up eating green tomatoes and these are kind of like them, right? It turns out, like tomatoes, it's a member of the nightshade family but a totally different plant. Scientists have actually found tomatillo fossils dating back 52 million years in Argentina!
Tomatillos are not hot. They're sour and bitter. The most common tomatillo recipes include sauces, salsas, and dips.
Is Green Rice and Tomatillo Rice the same thing?
No. Mexican Green Rice is a Cilantro Rice Pilaf and traditionally has poblano chiles, onions, cilantro, parsley, carrots, and peas.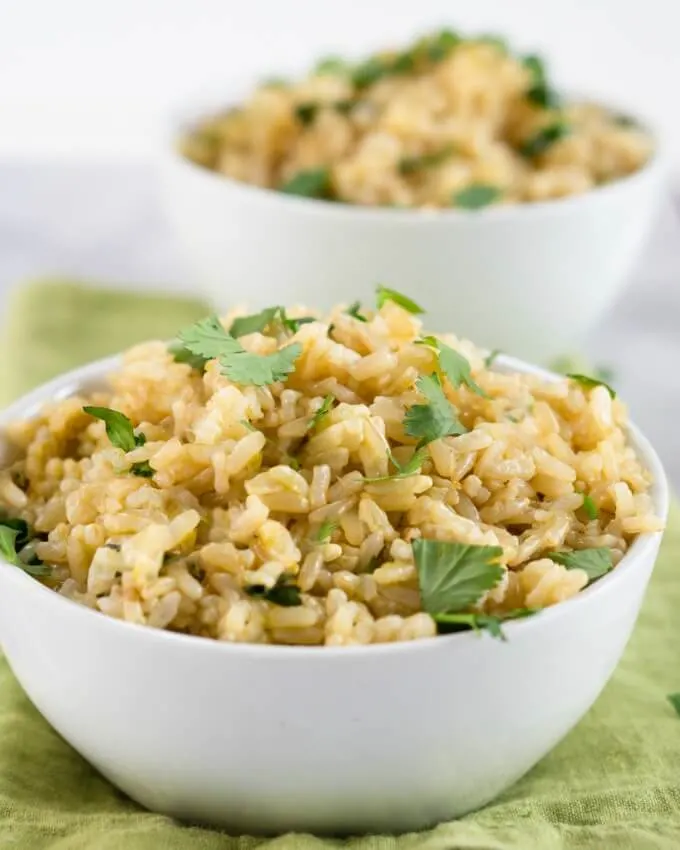 Tomatillo Rice Recipe Ingredients
Rice – I used brown rice but traditionally Mexican rice is made with long-grain white rice.
Tomatillos – Canned Tomatillos are what I used. They're flavorful and a lot less work than using fresh.
Chicken stock – Low fat and low sodium are what I prefer. You can use vegetable stock for a vegetarian tomatillo rice recipe option.
Butter – A small amount of butter adds flavor to this tomatillo rice recipe.
How do you make this recipe for tomatillo rice?
Please note, that the printable recipe card has ingredient quantities, complete instructions, and nutritional information. The following is a quick overview of the recipe.
Puree the can of tomatillos in a blender.
Add all of the ingredients to the instant pot and stir to combine. Replace the lid and close the vent valve. Set the instant pot for 15 minutes at high pressure. When the 15 minutes is up let the instant pot release naturally for 10 minutes and then do a quick release.
Fluff up the rice and serve.
Tomatillo Rice Variations
We love cilantro tomatillo rice so I stir it into the cooked rice as well as garnish the top. Other delicious toppings include diced tomatoes, green onion, and Cotija cheese.
Add chopped jalapenos or onion to the rice before cooking.
Add chicken! Chicken and tomatillo rice is a delicious tomatillo recipe! Chicken and tomatillo rice can be cooked together just like we did in this electric cooker Chicken and Rice recipe
Tips for the perfect Instant Pot Tomatillo Rice
I've had readers say that their rice had too much liquid after cooking it in the instapot. I use brown rice. If you use a different variety it may need a different cooking time.

If the rice is watery but cooked use less liquid next time.
If the rice isn't cooked completely, increase the cooking time.
Common FAQs about tomatillos:
Can tomatillos be eaten raw?
Yes! Raw tomatillos are tart but can be chopped up into salads. Tomatillos do not need to be cooked, however, cooking or roasting tomatillos mellow out their flavor.
How do you know when a tomatillo is ripe?
Tomatillos are ripe when green and should be picked when their husk has burst. They can also be purple or yellow.
How do you prepare fresh tomatillos?
Remove the husk which is like a thin paper. Rinse to remove the sticky residue I often use a citrus-based fruit and vegetable wash that works well to remove the sticky film.
Do tomatillos need to be peeled?
No. They can be chopped raw or cooked or roasted without peeling.
What you need for this Tomatillo Rice Instant Pot Recipe
6-Qt 9-in-1 Programmable Instant Pot – I really recommend this Instant Pot. It has been so easy getting to know. I have the 8-quart size but the 6-quart size would be adequate for most recipes.
Silicone Spatulas – This pretty set has a flat side and a curved side to take on your toughest job. I love that they are all one piece and can withstand 500°F! Throw out those old chipped ones and treat yourself!
Pin it Now!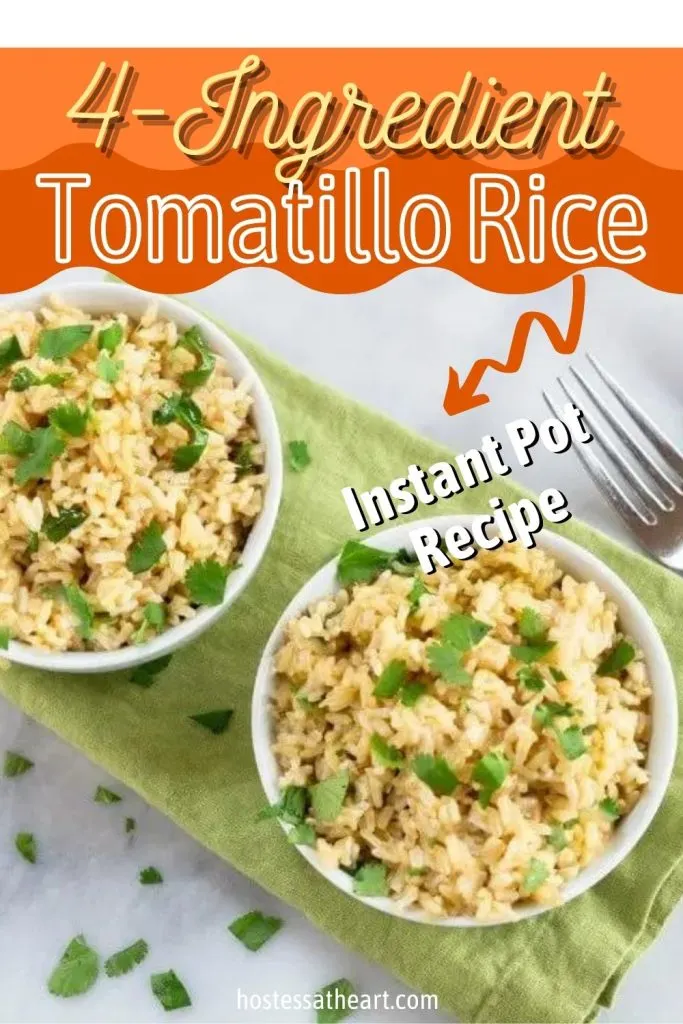 Here are a few more recipes you may like
Don't forget to stop back and let me know how your Tomatillo Rice Recipe turned out!
If you like this recipe, we would appreciate your comment and a 5-star ⭐️⭐️⭐️⭐️⭐️ review!
We liked Mexican tomatillos so much that we actually planted a couple. Note to self one plant produces enough fruit for the whole neighborhood! For this recipe, I actually used canned tomatillos.
Fresh definitely has their place but the canned tomatillos work perfectly in this recipe. They worked perfectly in my Poblano Pork Stew over Tomatillo Rice. That rice was made without an IP too.
Do you have a favorite tomatillo recipe? I'd love to use Mexican tomatillos a lot more and would love it if you'd share it with us by posting it in the comments below.
Or, send me an email. I answer all of my own correspondence and never share or sell your contact information.
This post was originally released in 2019 so it was time for an update. Detailed instructions, tips, and FAQs have been added to improve our readers' experience. No changes were made to the recipe.