Crockpot Chipotle Chicken Tacos recipe is loaded with a spicy juicy shredded chicken. This hands-off recipe takes the guesswork out of what's for dinner!
This post has been upgraded from 4/25/16 to improve reader experience.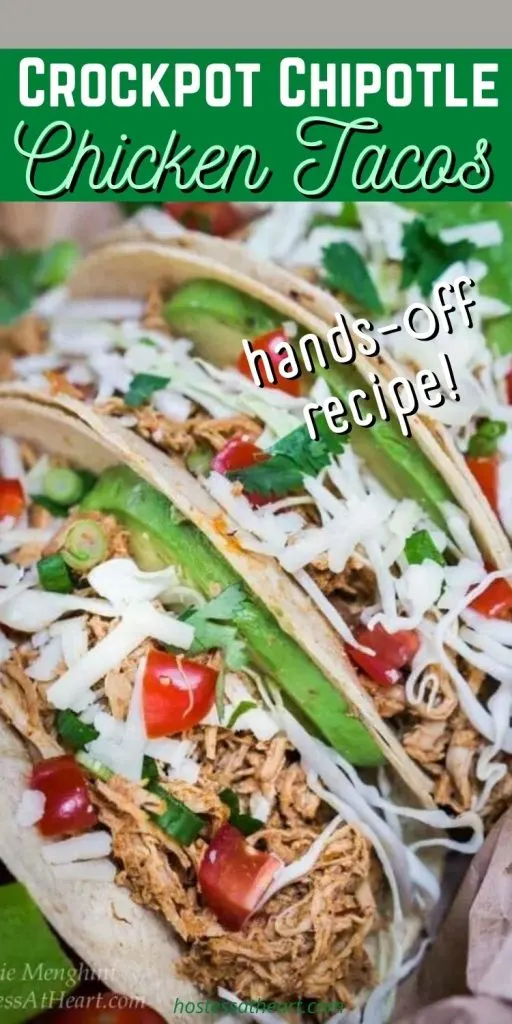 Crockpot Chipotle Chicken Tacos start with a simple paste that infuses into a delicious juicy shredded chicken taco recipe with a kick!
I don't use a crockpot nearly as much as I should. It's an easy way to plan dinner when you don't have a lot of hands-on time. That isn't the only reason, it's a great way to infuse flavors.
The only tacos that I knew how to make were with ground beef seasoned with a spice packet called taco seasoning. I
t was a quick meal and we loved them. That is until we had a taste of what Chipotle Chicken Tacos tasted like.
We loved going out and trying other Mexican dishes. At the time we had no clue what was in them. So when I started making a lot of our own crockpot shredded chicken tacos at home, we wanted a flavorful spice combination.
We wanted to infuse the meat with flavor, not boil it. This chipotle taco recipe was the way to go!
I had a few questions regarding chipotle taco seasoning options:
What is Chipotle? Chipotle is a jalapeno pepper that has been smoked. The Aztecs found that the jalapeno doesn't dry as well as other peppers because of its thicker walls so they smoked them as a way to preserve them.
Is Chipotle spicier than a jalapeno? Generally yes because Chipotle is made using a red, fully ripened jalapeno.
What is adobo? Adobo can have separate meanings. We're referring to the spicy sauce that's intensely red due to paprika. This chipotle marinated in this sauce is called Chipotle in Adobe sauce and is what's used here.
This Chipotle Chicken Taco recipe is spicy enough for my tastes.
That isn't the case with John. I swear he has a cast-iron stomach. The heat in these tacos comes from Chipotle Chilies in Adobo. The heat can be adjusted according to your tastes.
How do you make the chipotle paste for this Easy Chicken Taco Crock Pot recipe?
Combine Chipotle peppers with spices, onion, and cilantro and then blend into a paste using a blender or food processor.
The can of Chipotle in Adobe sauce contains about 12 chipotle peppers. This chipotle tacos recipe uses 3 chilis in the shredded chicken taco meat.
When we make the Chipotle paste, we'll double it and freeze what we don't use so the rest of the can doesn't go to waste.
It also speeds up the time it takes the next time we want to make these tacos.
We'll put some in the refrigerator so ole cast-iron stomach can smear more on his Shredded Chicken Tacos.
Pro tips:
If you like using avocado in tacos or sandwiches, mash them into a spread. I find that it helps keep all of your goodies in the taco shell or sandwich. Sliced avocado tends to slide right out taking the remaining ingredients with it.
Cut the carbs and pice it on a taco salad!
Using slow cooker shredded chicken makes meal prep easy on a busy day. And, it will not heat up the kitchen making it perfect for a summer day.
Shredded chicken recipes can feed a crowd so are perfect for entertaining. Set up a taco bar!
We still love a good ground beef taco but no longer use that little packet of seasoning. Our Homemade Taco Seasoning recipe is so much better and we always have a big jar of it mixed up.
Garnishes for Chipotle Chicken Tacos:
Diced Tomato
Green onion (mild compared to some other varieties)
Chopped cilantro
Shredded cheese
Sour cream
Shredded cabbage or lettuce
You may need:
Mini Food Processor – I use this little powerhouse for chopping and blending smaller quantities so I don't have to use my much bigger and heavier food processor.
Boxed Grater – I grate my own cabbage, lettuce, and cheese. The convenience packages of cheese have non-clumping ingredients and everything tastes so much fresher when you do it yourself. It doesn't add that much time.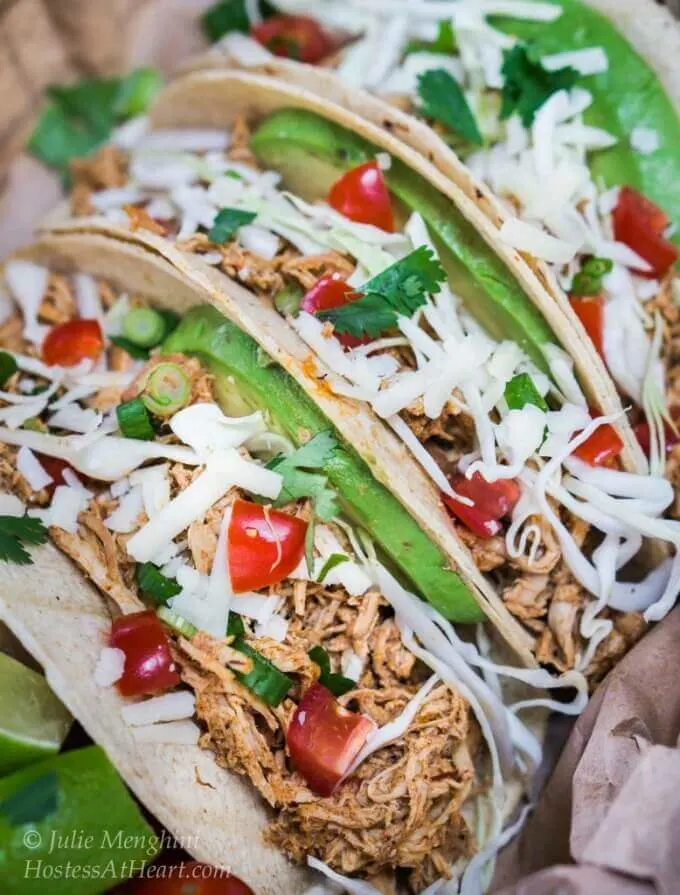 What to serve with Shredded Chicken Tacos
If you like this recipe, here are a few more you may enjoy
What is your favorite taco recipe? We do love a great taco so please share!