Ground Chicken Taco Salad Bowl is a quick 30-minute meal making it a weeknight favorite. This Taco Bowl recipe can be doubled and made ahead of time for your own taco party.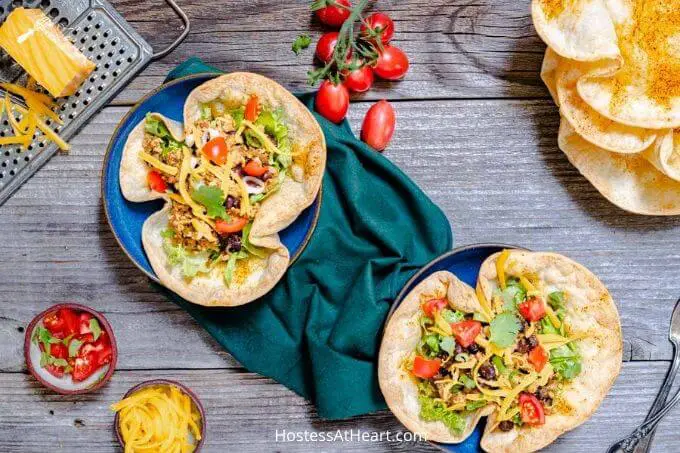 Food doesn't have to be complicated to be delicious. When given the choice, these Easy Chicken Tacos are exactly what my kiddos asked for 80% of the time. I'm more for the Chicken Taco Salad Bowl!
I liked that they take no time to make and clean up is a breeze.
To make this easy chicken taco salad even easier, I keep a batch of my Homemade Taco Seasoning on hand. It's so easy to use as a dry rub over a chicken breast or shrimp for a whole new meal.
Ground Chicken Taco meat can be made in any quantity you want. For a family of 4, I use 1 pound of meat.
Make plenty because the taco meat filling makes amazing leftovers. You can freeze it for another day or use it to fill enchiladas quesadillas or burritos.
Did you know my recipe card will calculate ingredient quantities for you? Just hover over the servings and put in the number you want.
What's the benefit of using ground chicken?
Ground Chicken is a lean protein. It also has less moisture. For that reason, you can combine it with less lean meats such as lamb or beef for more moisture and flavor.
What I do is add a drizzle of oil to the pan when I brown the meat. If you don't, it can stick to the pan.
Keep it low carb by spooning the meat over lettuce for a delicious chicken taco salad without the shell or a tortilla.
If you're not counting carbs, try making your own Jalapeno Tortillas! They're delicious!
How to make your own taco bowls:
Preheat the oven to 400°F.
Spray both sides of a tortilla shell. Optionally you can sprinkle the tortilla with chili powder for a little extra flavor.
Set the prepared tortilla inside a medium-sized heat-resistant bowl or pan that's smaller than the diameter of the tortilla.
Put the bowl into the oven and bake until lightly browned.
Allow the shells to cool on a wire baking rack.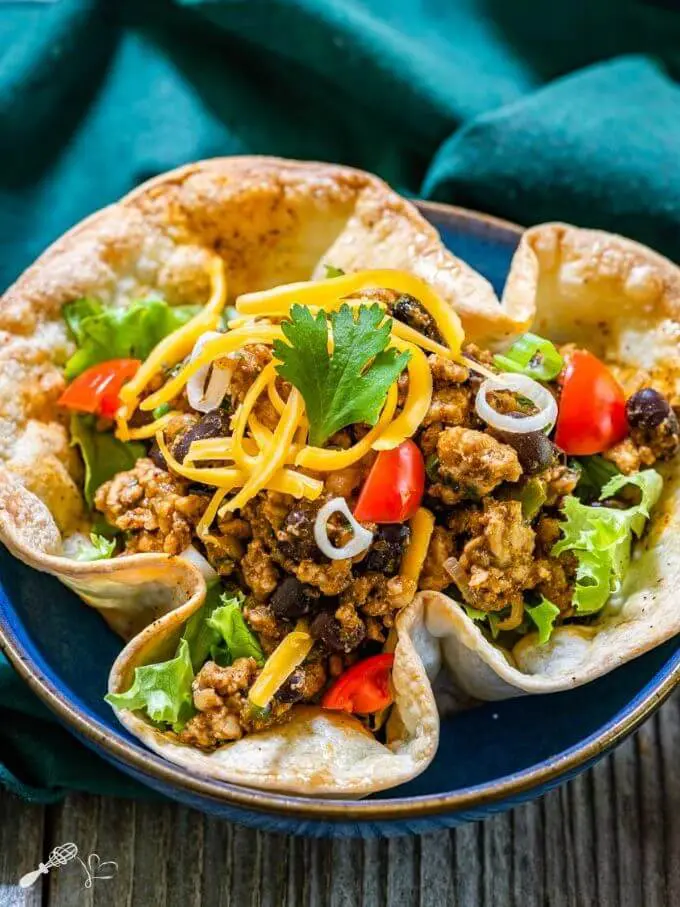 Can I substitute the Ground Chicken?
You sure can. I've used ground turkey, lamb, or beef.
When using ground chicken or turkey I find that I need to flavor it more than beef. Instead of just hiking the amount of salt, I'll add jalapenos or other peppers, green chilis, black beans, roasted corn, and onions.
How to cook ground chicken for this taco bowl recipe:
Drizzle the pan with cooking oil before browning the meat. Chicken is lean and low in moisture and can stick to the pan.
The ground chicken will not brown as beef does. Cook it thoroughly but don't overcook it. Ground chicken can dry out.
Feel free to mix up your spices according to your tastes too. Dried spices need to be woken up but not drowned.
Add your spices to the meat after it's been browned and put a lid over the pan and let those spices infuse with the meat. The steam will keep it moist.
If you find that your ground chicken taco meat becomes dry, you can add a little water. Put the lid on the taco meat and let it absorb the liquid.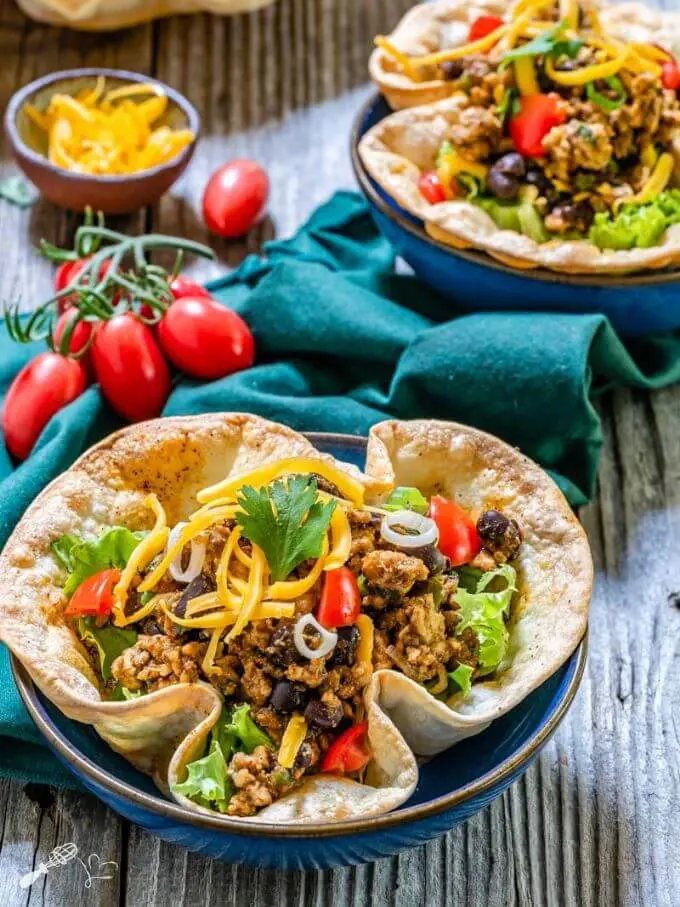 Chicken Taco Salad toppings
Some of the fun serving Easy Chicken Tacos and taco salads is letting everyone assemble their own. I like setting out bowls so everyone can help themselves. Here are a few ideas, you may like.
Fresh Cilantro
Shredded Cheese
Avocado
Tomatoes
Green onion
Salsa or pico
Sour cream
Fresh lime wedges
Entertaining tips: Taco Bowl recipe is perfect for a birthday party, family reunions, graduations, or tailgating too!
Make the meat mixture ahead of time and put them in the crockpot to stay warm.
Make Chicken Street Tacos by setting out small tortilla shells. Your meat mixture will go a lot further.
Have an array of tortilla sizes and taco bowls out so people can choose what the want.
What to serve with Chicken Taco Bowls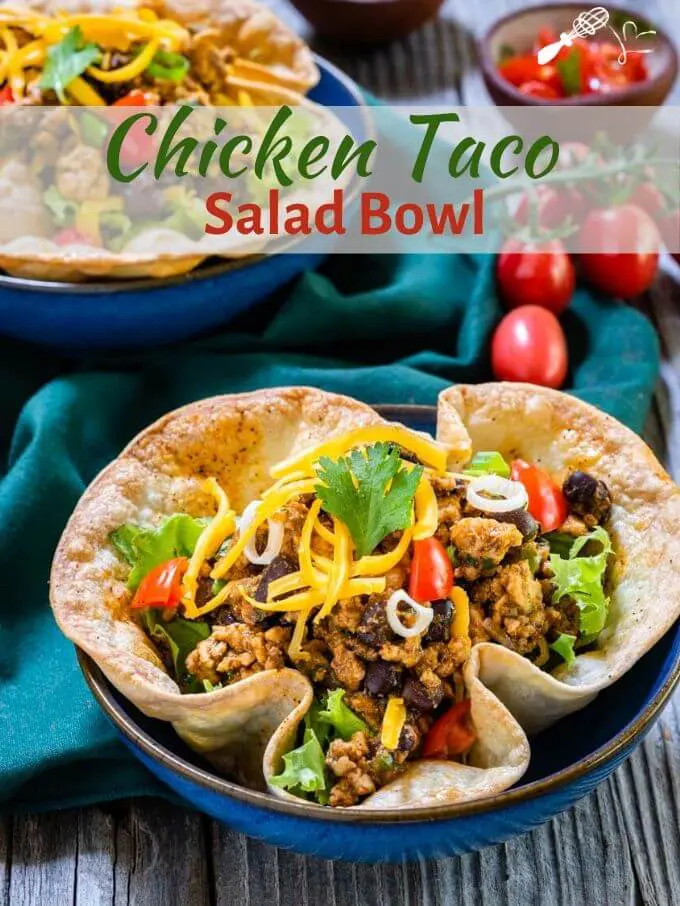 Pin this recipe to your favorite recipe board!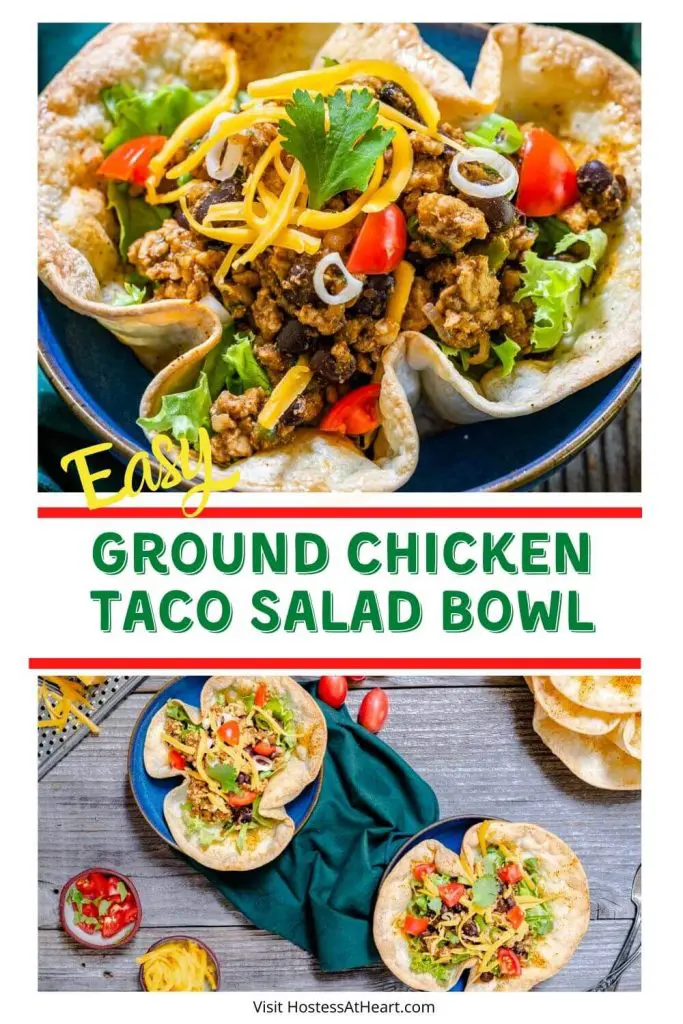 Products I use to make Ground Chicken Taco Salad Bowls
Skillet with lid – I prefer stainless steel cookware. It allows me to see how my food is cooking and browning. It cleans up beautifully and is durable.
If you like this recipe I think you'll like these too:
If you like this recipe, we would appreciate your comment and a 5-star ⭐️⭐️⭐️⭐️⭐️ review!
What is your favorite kind of taco? Do you like the inferno hot or mild? Do you go for the Chicken Taco Salad Bowl or are you a Ground Chicken Taco lover? Please share, I love hearing from you!