Fajita Stuffed Chicken recipe stuffs Fajita-seasoned chicken breasts with crunchy veggies and a creamy cheese mixture for a delicious one-dish meal that's ready in 30 minutes. On busy weeknights, you can throw this delicious meal together super fast, and clean-up is a breeze too.
Fajita stuffed chicken breasts are a wonderful, inexpensive family meal that will please everyone and become one of your ultimate comfort foods. Serve them on their own or with any Mexican-style side dish such as roasted corn, black beans, cilantro lime rice, or some Mexican Sweet Bread.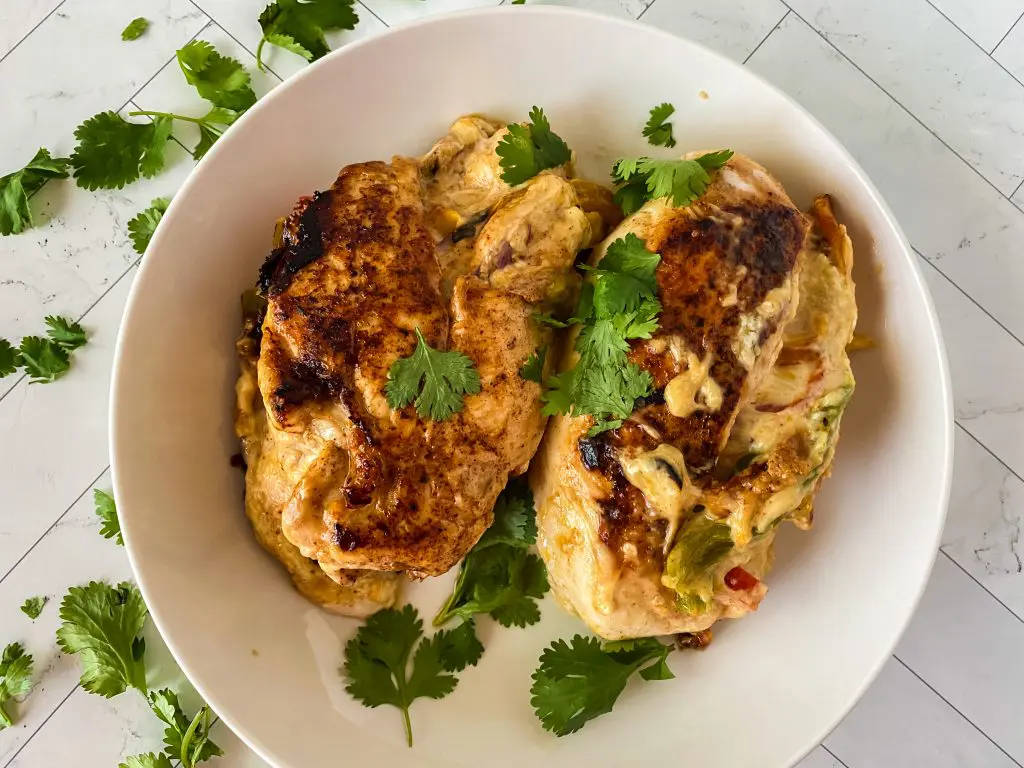 How to Make The Fajita Stuffed Chicken Recipe
Ingredients
Onion. I love yellow onions, but any onion will work.
Bell Pepper. Combine different colored varieties if desired.
Poblano Pepper. This adds a distinct flavor but not a lot of heat.
Cream Cheese. You'll need it softened. You can set it out at room temperature for a couple of hours to get it perfectly softened.
Mexican Blend Shredded Cheese. You'll find this at your supermarket.
Chicken Breasts. Large, skinless, and boneless.
Extra Virgin Olive Oil. EVOO brings so much flavor to every dish, plus it's a healthier choice than vegetable oil.
Ingredients for Fajita Seasoning
Garlic Powder.
Onion Powder.
Chili Powder.
Cumin.
Salt.
Black Pepper.
Cayenne Pepper. This is optional depending on how much heat you want.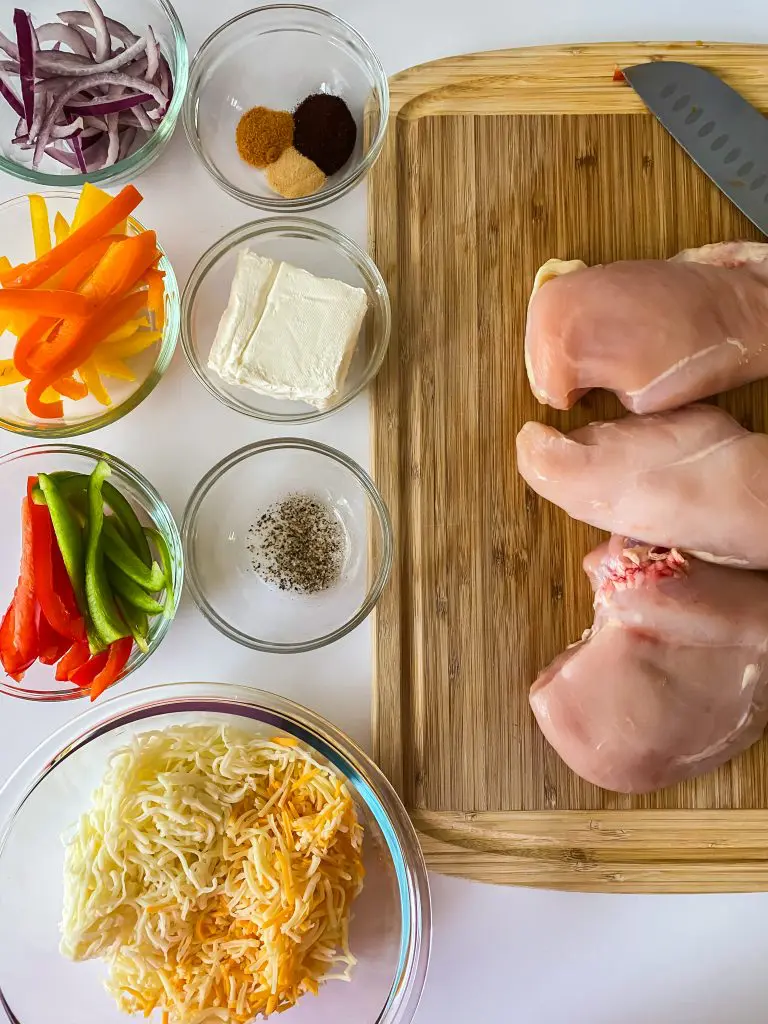 Step-By-Step Instructions for Fajita Stuffed Chicken Breasts
First, combine the spices together with a fork or whisk and set that aside.
Get a large skillet hot with the oil, and then add the vegetables, cooking on medium-high until al-dente.
Remove the vegetables to a bowl and immediately stir in the cream cheese and shredded cheese. Stir until combined and creamy.
Slice a pocket into each chicken breast as deeply as you can without cutting all the way through and season the chicken.
Spoon the filling into each chicken breast.
Add the stuffed chicken breasts back into the same pan, adding more oil as necessary.
Cover and cook the chicken.
Print and save the recipe card for more complete instructions for our fajita stuffed chicken recipe.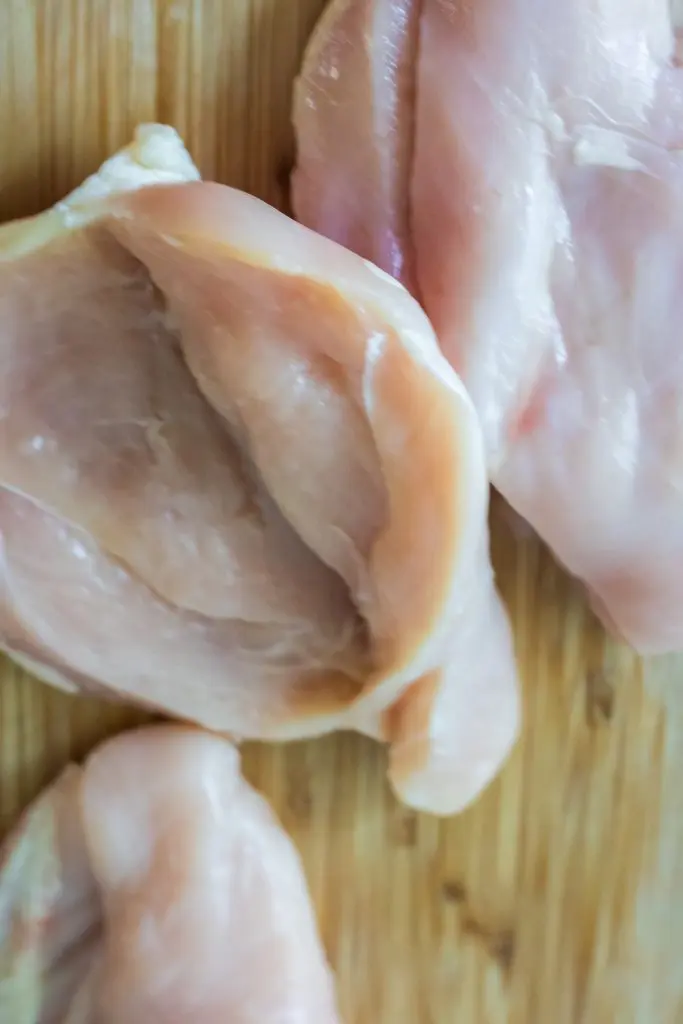 FAQ
What is the best cut of chicken to use?
We use boneless, skinless chicken breasts in this recipe. You could use boneless chicken thighs for another option. Bone-in will not work with the filling.
How do you keep cheese from melting out of stuffed chicken?
You can secure the edges of the chicken together with toothpicks or a skewer.
We also found if we sliced more of a pocket into the chicken instead of just opening up the chicken breast and sat it with the pocket up that the filling stayed in the chicken breast. That was easiest when we baked it instead of pan frying it.
Do you stuff chicken before cooking?
Stuff the chicken right before cooking to prevent any chance of food-borne bacteria. This is not one of those recipes you want to make ahead on the day before.
How long to cook Stuffed Chicken Breasts
Test the chicken with an instant-read thermometer in several places. Try and get the thermometer in the chicken and not the filling. Chicken should read 165°F.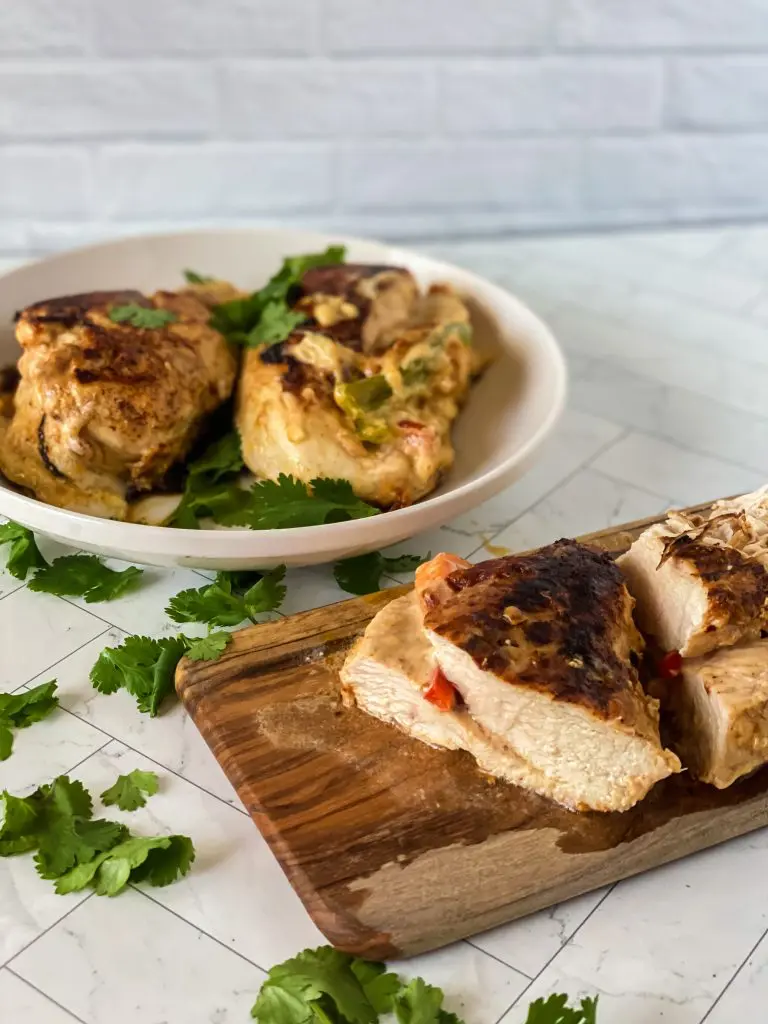 Tips and Variations for Fajita Stuffed Chicken Breasts
We didn't have to flatten our chicken breasts. We concentrated more on making our cut evenly through the center so both sides would cook evenly.
Slice or dice the vegetables thinly and no longer than 1½-2 inch pieces otherwise they will fall out of your filling.
Make extra seasoning and store it in an air-tight container for quick and easy meals.
If you are looking for an oven-baked fajitas stuffed chicken, this recipe can be baked in an oven-proof safe skillet or baking dish at 375°F for 25 minutes or until fully cooked. Place the filling side up if possible.
Variations
Add the Fajita Vegetables that you like. It's important to pick vegetables that cook at the same rate.
Colorful Bell Peppers.
Onions – Purple, yellow, or sweet all work.
Poblano and jalapeno peppers.
Mushrooms. Any mushroom will work but I just want to say that shitake mushrooms are so full of flavor.
Green or yellow squash such as zucchini.
Cheese – We used ⅓ less fat cream cheese and a Mexican blend of shredded cheese.
We wouldn't change out the cream cheese but you can use the full-fat variety.
You could use a different variety or combination of varieties of shredded cheese such as cheddar or mozzarella.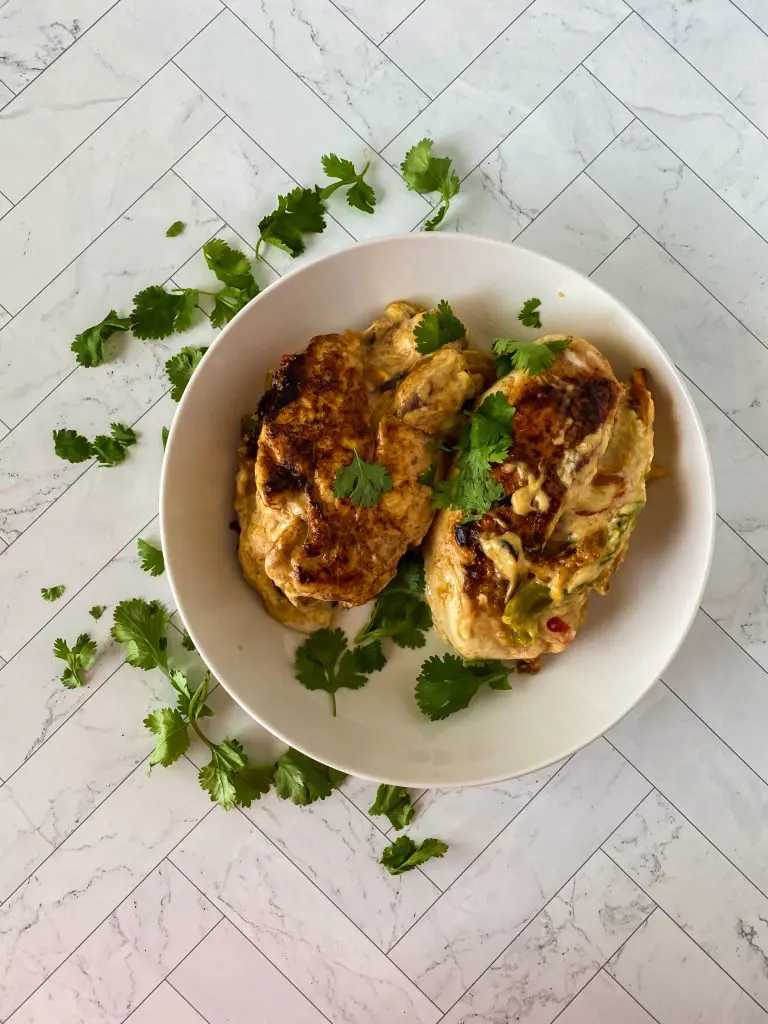 Storing Leftovers
Refrigerate for 2 to 3 days in an airtight container. We don't recommend freezing stuffed chicken breasts because it can change the texture of the filling significantly.
If you like to prepare things ahead and get them in the freezer, you could get the chicken breasts ready by cutting and seasoning them as described, and then freeze with the plan of adding your filling when you are ready to thaw and cook the chicken. This makes the meal even faster to cook on a busy weeknight!
What to Serve with Fajita Stuffed Chicken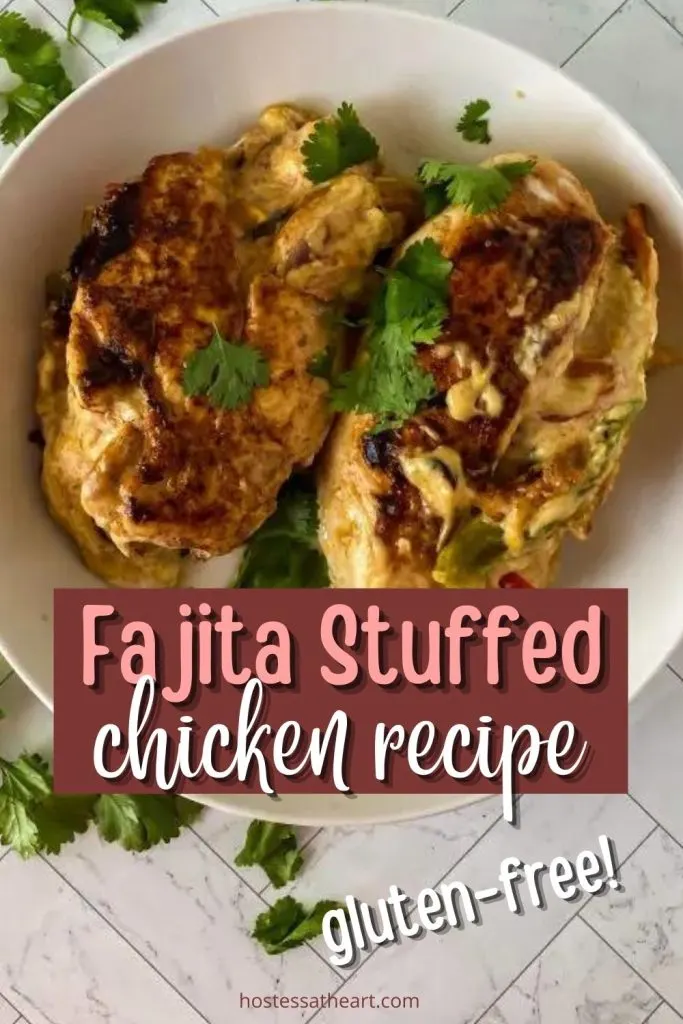 In our opinion, this recipe doesn't need a thing. If you're looking for any sides, here are some of our favorite recipes
If you like this recipe, we would appreciate your comment and a 5-star ⭐️⭐️⭐️⭐️⭐️ review!
Chicken lover? Here are some of our favorites!
Thai Basil Chicken Bowl is a complete meal that's a little sweet and spicy.
Crockpot Chipotle Chicken Tacos can't be easier. This chicken is guaranteed juicy and just as spicy as you want.
Instant Pot Chicken and Rice is a complete meal in less than 30 minutes and absolutely delicious!
Sheet Pan Chicken Fajitas couldn't be any easier! It's one of those recipes that you can do so much with.