Cherry Fluff is an easy 5-ingredient salad recipe that combines sweet cherries with pineapple, a bunch of mini marshmallows, and fluffy whipped cream.
This delicious recipe was updated on 4/18/19 to improve reader experience.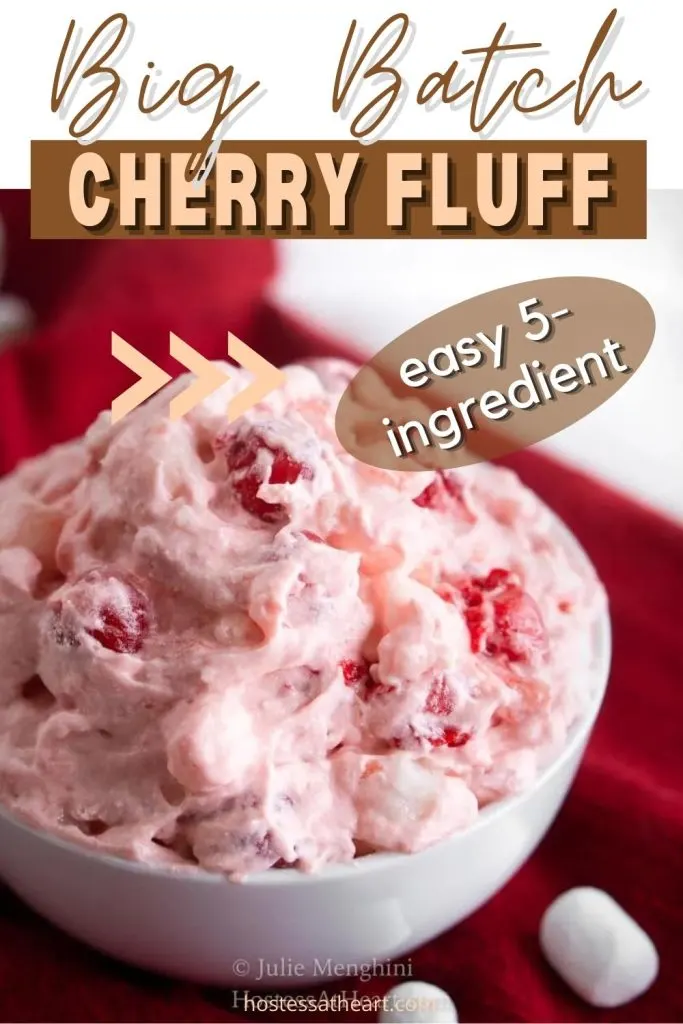 Cherry Fluff is a family favorite. It's a quick cherry fluff recipe that takes 5 minutes and only 5 ingredients! It's simple enough to make ahead and perfect for any occasion.
I'll be throwing in some tips to make this creamy dreamy pink fluff your own. Everyone loves this Cherry Fluff salad with its pretty pink color and best of all you can make a big batch or just enough for a small crowd.
It's the perfect make-ahead recipe too! You don't need to fess up and tell them how easy it is to make!
I've been making fluff recipes for as long as I can remember. My children loved Cherry Fluff when they were young and they were always excited when there was a big dish of it on our dinner table.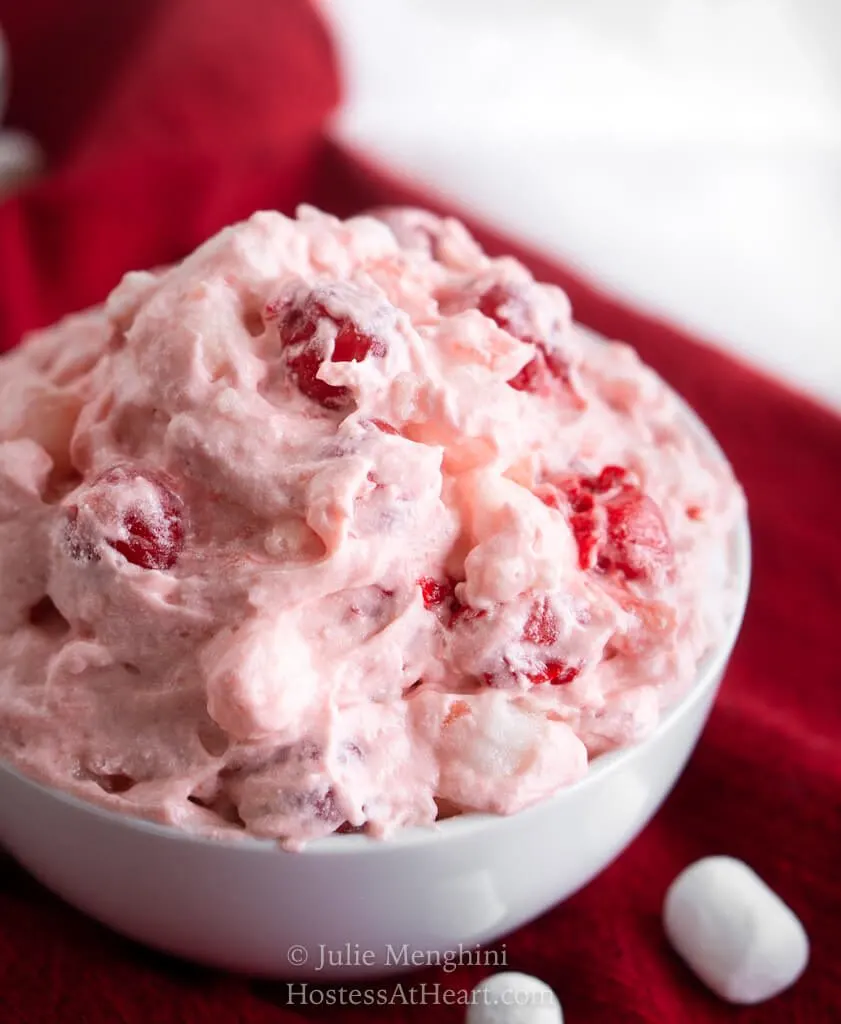 It's also a dish that was easy for them to help make. I remember little faces coated with pink whipped cream. Some of it actually made it to the bowl.
Now we have a new helper that loves to help make our Fluff Recipes. If we didn't have one when she joins us for dinner she'd be very disappointed.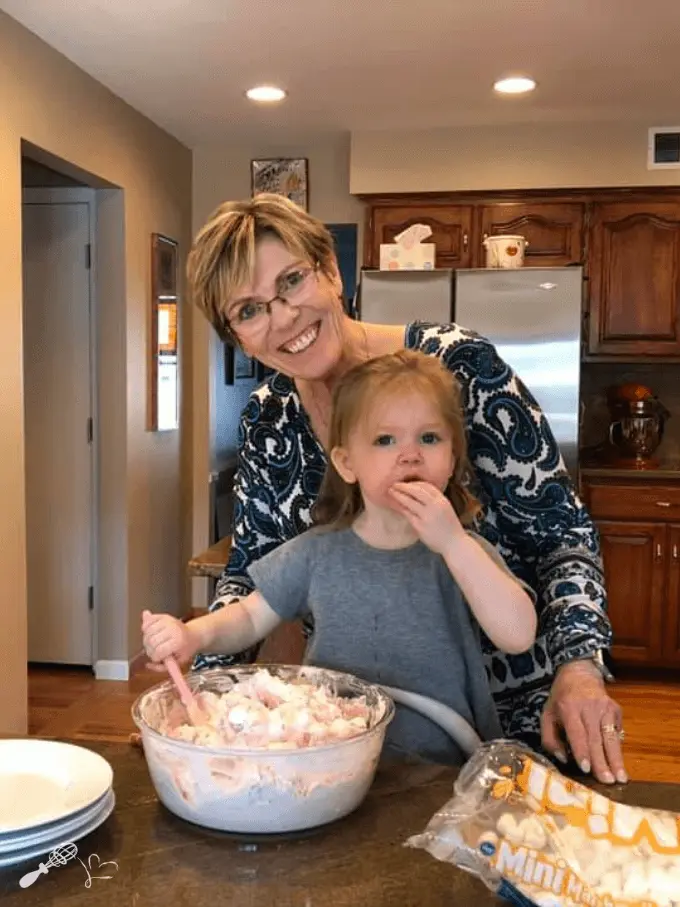 When she helps, however, we're lucky to get any of the marshmallows or cherries into the bowl!
This Fluff recipe is stuffed with enough cherries that everyone is guaranteed to get a bowl full unlike some of those dishes where you have to search for that elusive cherry.
There are only 5 ingredients in this Cherry Fluff Recipe!
Instant pudding – Powder only. Don't make the pudding.
Whipped topping – We purchase whipped topping because it has stabilizers that keep this fluff from breaking down.
Cherry pie filling – We get the more fruit brands.
Crushed pineapple – Juice and all which helps the instant pudding blend.
Miniature marshmallows – Who doesn't want marshmallows?
Who doesn't like a recipe that makes a great salad but is as sweet and creamy as a dessert? Even though this Cherry Fluff salad recipe version is our family favorite here are a few variations that you can to make it your family's favorite.
Variations you can make to this Creamy Dreamy Cherry Fluff salad:
Chopped nuts of any variety
Shredded coconut
Fresh or frozen fruit such as grapes or strawberries (note, fresh fruit will shorten the time that your fluff lasts because they break down. Especially if you use fresh raspberries which we don't recommend.
Replace the pineapple with mandarin oranges.
Change the pudding flavor such as strawberry or cheesecake. You can also use a sugar-free variety.
Rainbow mini marshmallows or skip the marshmallows if that's not your thing. (Party pooper)
Fat-free whipped topping
The great thing about this dish is that it looks beautiful in a crystal dish for the holidays or in a non-breakable container for your packed lunch or a picnic.
This Pink Fluff recipe is perfect for Christmas or Valentine's Day. It's great made ahead of time and is a great make-and-take dish too.
Even though you can freeze the ingredients individually, I've never tried freezing cherry fluff. I don't know why you couldn't. Cherry Fluff Salad lasts for up to 4 days in the refrigerator so I've never tried it.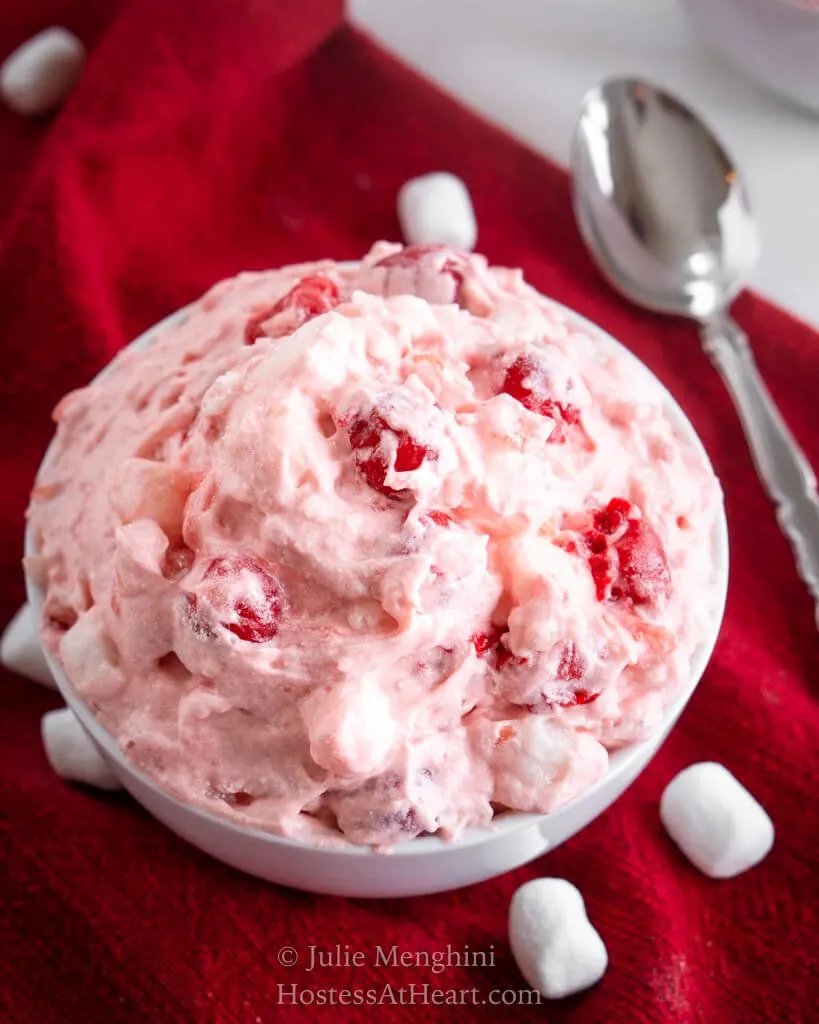 Here are a few

TIPS

to make sure your Cherry Fluff comes out perfectly!
Stir the vanilla pudding in with the undrained can of pineapple first. The pineapple juice will start thickening the pudding.
Stir in the cherry pie filling only until it's combined. There's no need to whip it or beat it.
Fold whipped topping into the cherry mixture gently. If you use a heavy hand, it will break your pink fluff down.
Fold in the marshmallows. As many as you want! It's your Cherry fluff party!
Be selective if you use fresh fruit. Don't use fruit that contains a lot of liquid. It will break down the whipped topping. Fresh fruit will shorten the shelf life of this fluff recipe too.
This recipe can be eaten right away but is best chilled and can be made a day in advance.
PIN THIS

FOR LATER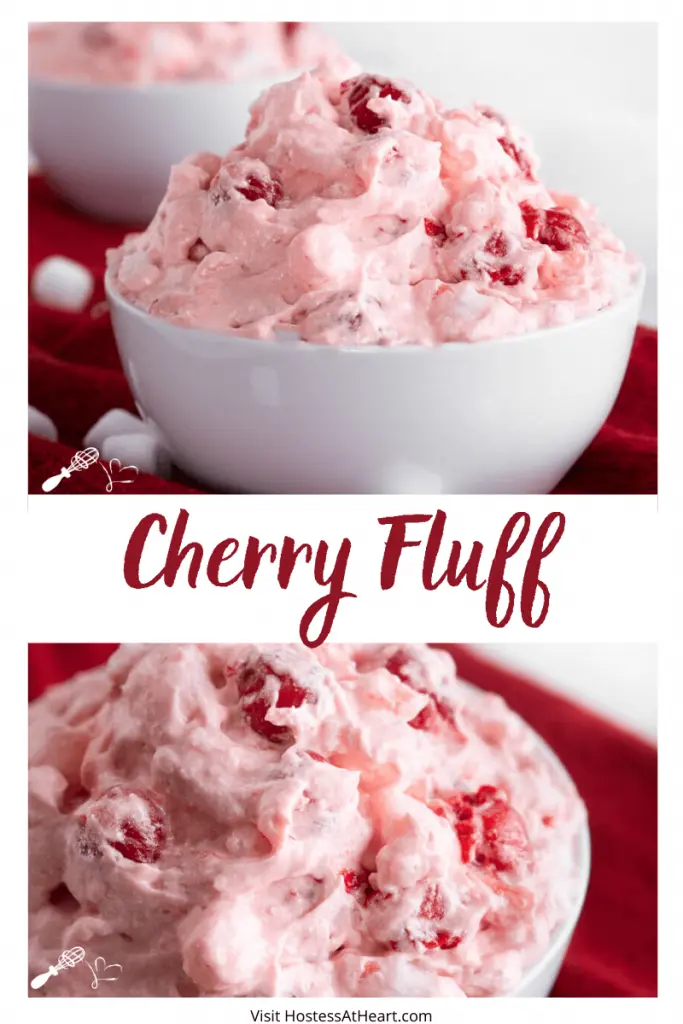 If you like this Cherry Fluff recipe I think you'll like these too!
Products that we used to make Cherry Fluff Recipe
Trifle Bowl – Just because this is an easy salad doesn't mean you can't dress it up by putting it in a trifle bowl to show off all of its loveliness!
Spatulas – this pretty set has a flat side and a curved side to take on your toughest job. I love that they are all one piece and can withstand 500°F! Throw out those old chipped ones and treat yourself!
We love all of the sweet cherries in this recipe. Our Cherry Bread and Cherry Torte recipes are all about the cherries too!
These are our most popular recipes
If you like this recipe, we would appreciate your comment and a 5-star ⭐️⭐️⭐️⭐️⭐️ review!
Do you have a family favorite recipe like this Pink Fluff recipe? I'd love it if you'd leave me a comment below!