A Whole Wheat Spinach, Onion and Roasted Red Pepper Bread recipe that is so moist and delicious that you forget it's healthy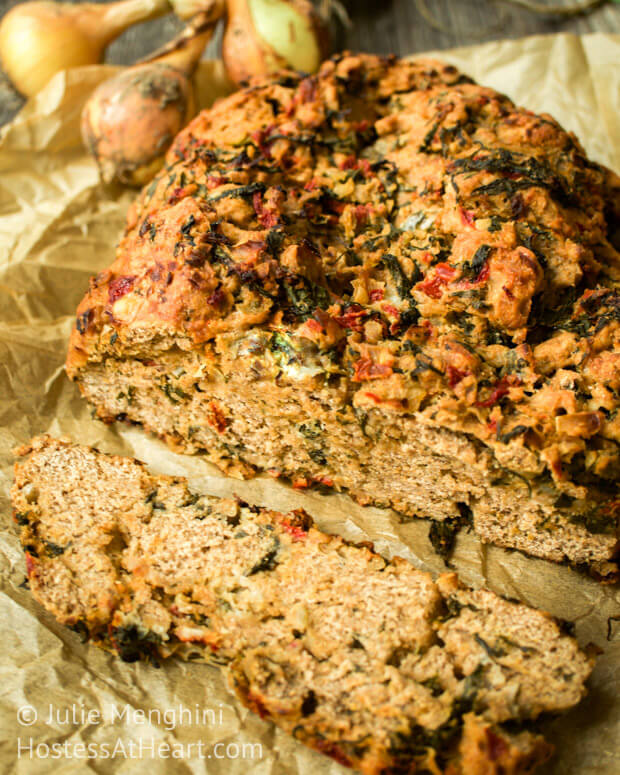 When I was a teenager, I was so introspective that I was dangerous. I thought I had so many things figured out, and had good reasons for the things that I thought or did.
For instance, I generally didn't date a guy if he was to good looking or a super athlete (I doubt any of them are reading this food blog).
In my mind, since I put them on this imaginary pedestal, they probably put themselves there too, and weren't as nice as the guys I was friends with or did date.
Is that a whopper or what?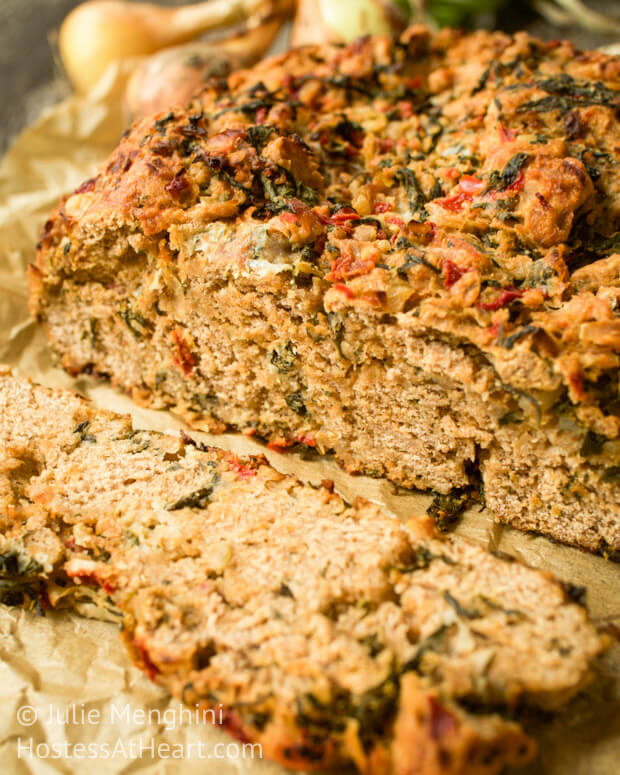 I am just preparing you for my logic on posting this bread.
Yes, it is kind of an ugly loaf, which means it tastes amazing. This bread was made as a part of my Bread Bakers group challenge. Our theme this month is "Summer Bounty".
I put about the whole darned farm into this loaf! I put so much stuff in the dough that it just didn't want to stay together.
I also think that using all whole wheat flour, made the dough less resilient to absorb and contain all of the ingredients.
This bread will not make a great sandwich bread because it is difficult to slice thinly, but it would be delicious to eat on a cheese board or with a salad.
This bread was moist, flavorful, and tender but yet firm. So, I guess if I were to date a loaf of bread, it would be a match made in heaven.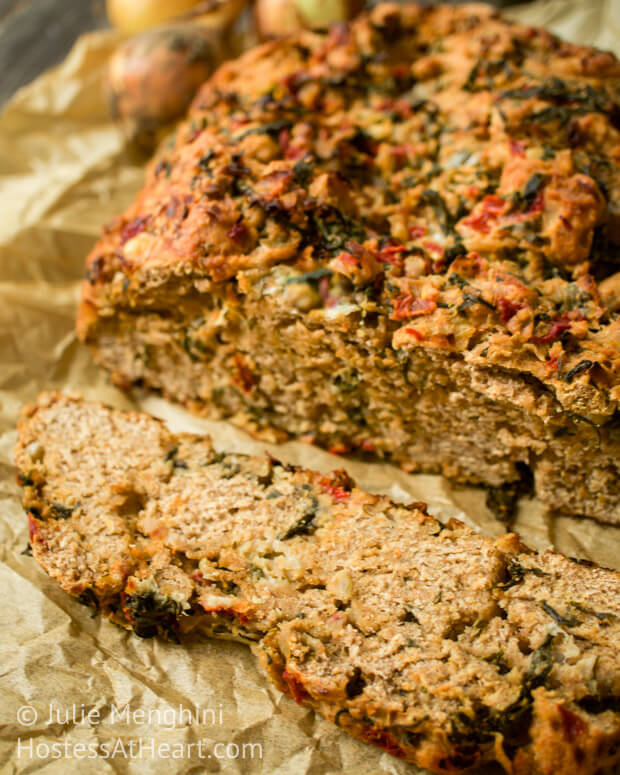 By the way, I met my husband at the age of 19, in college. He was nice, smart, gorgeous, and a great athlete. Who knew! We just celebrated our 40th wedding anniversary. I guess you could say he's a patient man too!
Whole Wheat Spinach, Onion and Red Pepper Bread
A whole wheat bread recipe that is moist, tender and delicious. Flavored with spinach, onion and red peppers make it a great choice for a cheese board or with a salad.
Ingredients
3/4

cup

warm water

110 to 115 degrees F

1

teaspoon

honey

2

teaspoons

kosher salt

divided

1

tablespoon

active dry yeast

1/4

cup

olive oil

divided

3-1/2

cups

whole wheat flour

divided

6

oz

package of baby spinach

remove stems and slice thinly

1

cup

onion

diced finely

1/2

cup

roasted red peppers

diced (I used jarred fire roasted sweet red bell peppers)

1

teaspoon

garlic

diced finely

1

tablespoon

fresh thyme

2

tablespoons

lemon juice

1/2

cup

cheddar

diced into small pieces
Instructions
In a medium size bowl, combine water, honey, 1 teaspoon of salt and sprinkle yeast over the top. Let set for 15 minutes to foam. Whisk in 2 tablespoons of olive oil, and then sift in 1 cup of the whole wheat flour and mix until combined. Set aside for 45-60 minutes or until it has a sponge-like texture.

Meanwhile, in a medium skillet, heat 2 tablespoons of olive oil and saute onions until tender, about 5 minutes. Add peppers, thyme, garlic and 1 teaspoon of salt. Stir in the spinach and cook until the spinach is soft. Pour the lemon juice over the mixture. Drain the spinach mixture in a colander set over a bowl to catch the drippings.

In a large bowl, add two cups sifted whole wheat flour. Make a well and pour the spongy mixture into the well. Knead for 10 minutes, adding enough of the cooking liquid to make it pliable yet firm. Transfer to the oiled bowl and cover with plastic wrap. Let rise for 2 hours.

Add cheddar cheese and mix for 1 minute. Add spinach mixture and sprinkle with remaining 1/2 cup whole wheat flour. Mix together quickly. Dough will be moist and loose. Don't knead again. Form into an oblong loaf and place the dough on a well oiled or parchment paper-lined baking sheet. Cover lightly with plastic wrap and let proof for 1 hour.

Preheat oven to 375 degrees F. Bake the bread for 20 minutes. Reduce oven temperature to 350 degrees F and bake for another 30 minutes. Cover last 10 minutes with aluminum foil if bread gets to brown.
Notes
Adapted from romancingthebee.com with many changes.
Nutrition
Serving:
1
g
|
Calories:
1057
kcal
|
Carbohydrates:
168
g
|
Protein:
48
g
|
Fat:
30
g
|
Saturated Fat:
14
g
|
Cholesterol:
59
mg
|
Sodium:
6643
mg
|
Potassium:
2075
mg
|
Fiber:
30
g
|
Sugar:
15
g
|
Vitamin A:
17345
IU
|
Vitamin C:
116
mg
|
Calcium:
748
mg
|
Iron:
14
mg
This recipe was calculated using the exact brands and measurements I used to make this recipe. If you are following a strict diet please note changing anything will cause the nutritional info to change. My calculations are intended as a guide only.
Breads using Summer Bounty
#BreadBakers is a group of bread loving bakers who get together once a month to bake bread with a common ingredient or theme. Follow our Pinterest board right here.
Links are also updated each month on this home page. We take turns hosting each month and choosing the theme/ingredient.
If you are a food blogger and would like to join us, just send Stacy an email with your blog URL to [email protected]