You cannot beat the comfort and flavor of a good loaf of bread. Our homemade cheese bread recipe makes a beautiful, cheesy, delicious addition to any meal.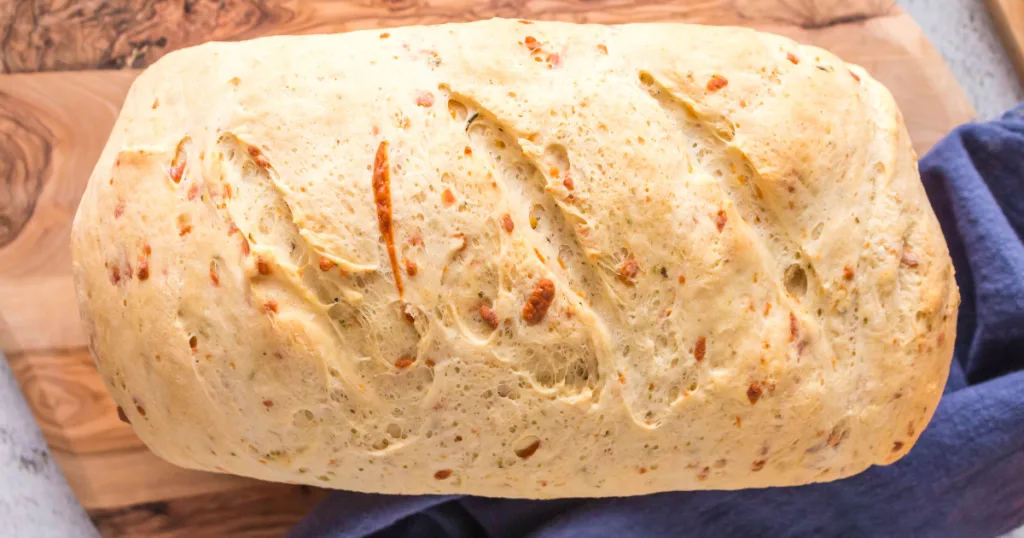 The perfect texture, rich flavor, and soft interior of this cheddar bread will have your friends and family asking for it over and over again.
Why You'll Love This Homemade Cheese Bread Recipe
Common ingredients. You probably already have everything you need to make this bread with the exception of active dry yeast.
Versatile enough to make it your favorite bread. Change up the recipe with different cheese or customizations and make it your favorite.
Makes an amazing gift. This recipe makes two loaves of cheesy bread. Wrap a loaf in parchment to take to a friend, a family with a new baby, or a special relative.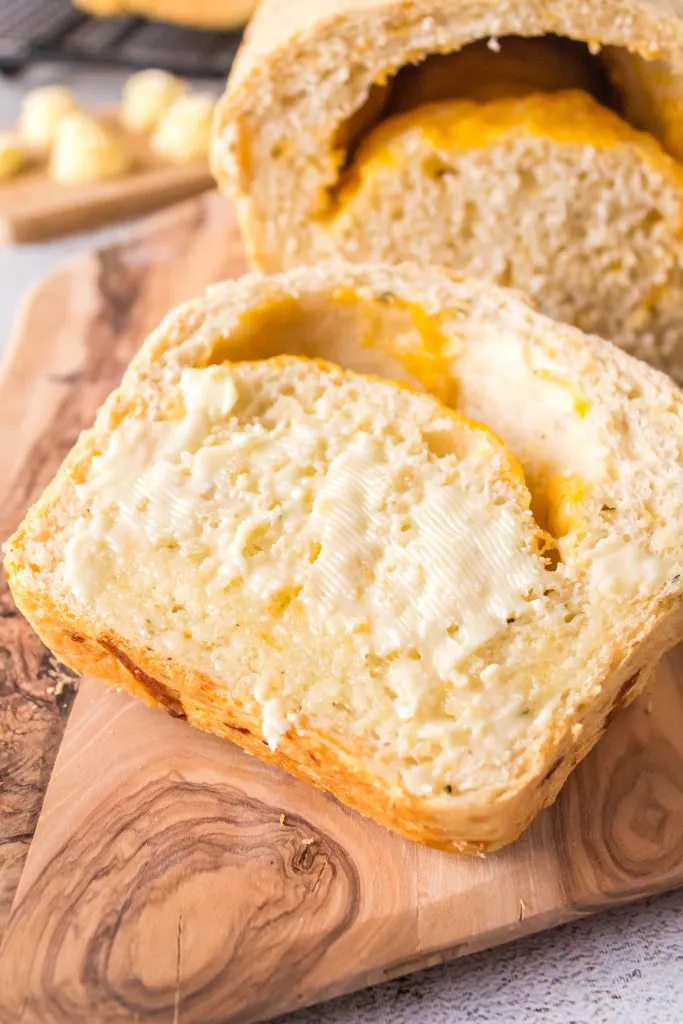 Equipment Needed To Make Cheese Bread with Yeast
Hostess At Heart participates in affiliate programs. As an Amazon Associate, I earn a commission from qualifying purchases. Please refer to my disclosure page for more information about these affiliate programs.
What is Cheese Bread?
Cheese bread is a soft and tender bread loaf stuffed and layered with cheddar cheese. This Cheddar Cheese Bread makes a great sandwich or as a side with a plate of pasta!
Ingredients For Your Cheese Bread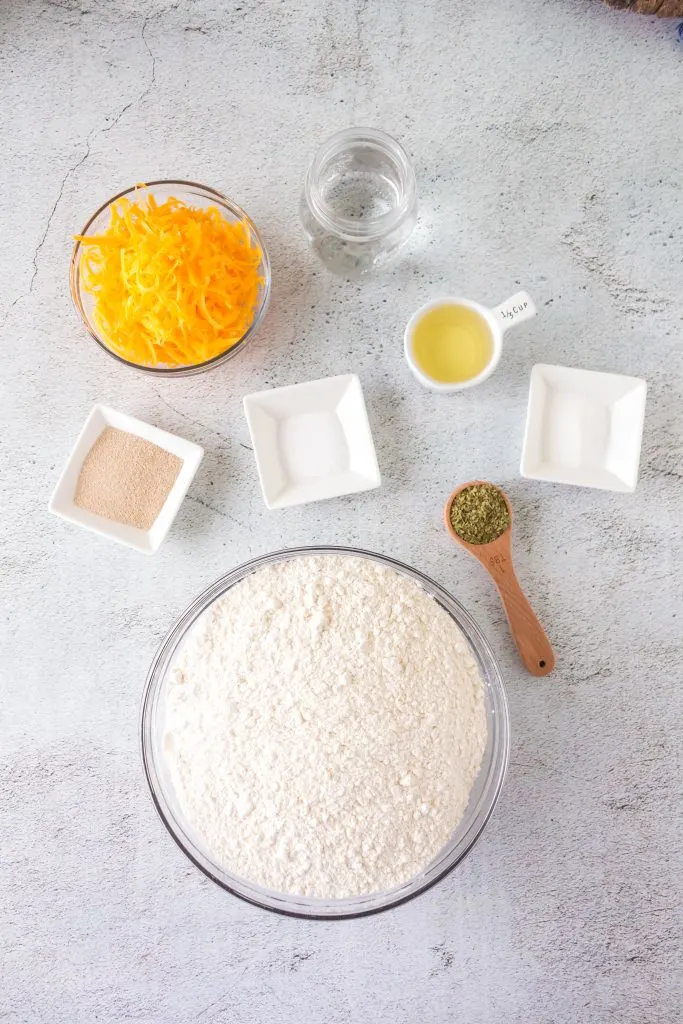 Warm Water. It should be warmed to a temperature of 90º and 95º F.
Active Dry Yeast. Look with the baking soda and baking powder
Sugar. White granulated sugar.
Olive Oil. For fat and flavor.
All-Purpose Flour.
Salt. For seasoning and chemistry.
Shredded Cheddar Cheese. You can use any kind of cheddar or cheddar blend and can even change it up with different cheeses if you want to experiment. You'll want a semi-soft cheese so that it will melt when it bakes.
Italian Seasoning. This is a spice blend containing oregano, basil,
Egg. For the optional egg wash.
Water. For the optional egg wash.
Please note, that the printable recipe card has ingredient quantities, complete instructions, and nutritional information. The following is a quick overview of the recipe.
How To Make Cheese Bread
Step 1: Proof the yeast.
Set up your stand mixer first and then proof the yeast directly in the stand mixer bowl.
Step 2: Mix the dry ingredients in a separate mixing bowl.
Mix the ingredients until they are evenly combined.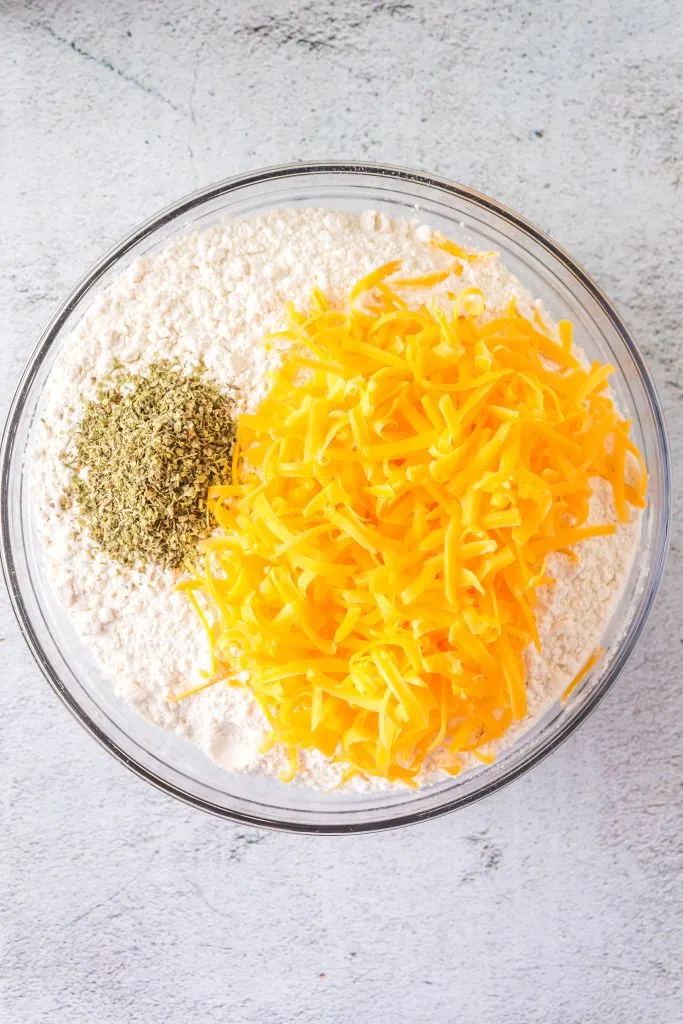 Step 3: Mix half of the dry ingredients into the proofed yeast mixture.
Mix on low speed until all the loose flour is mixed in.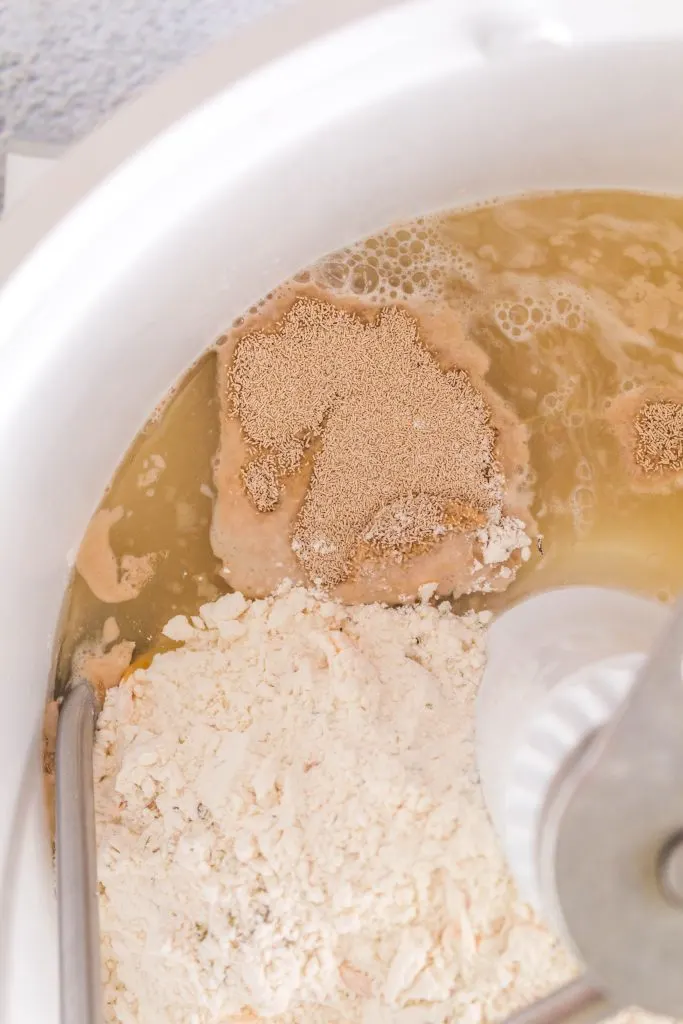 Step 4: Add the remaining water and oil and mix well.
Use low speed.
Step 5: Add the remaining dry ingredients.
Mix on low speed until the dough forms.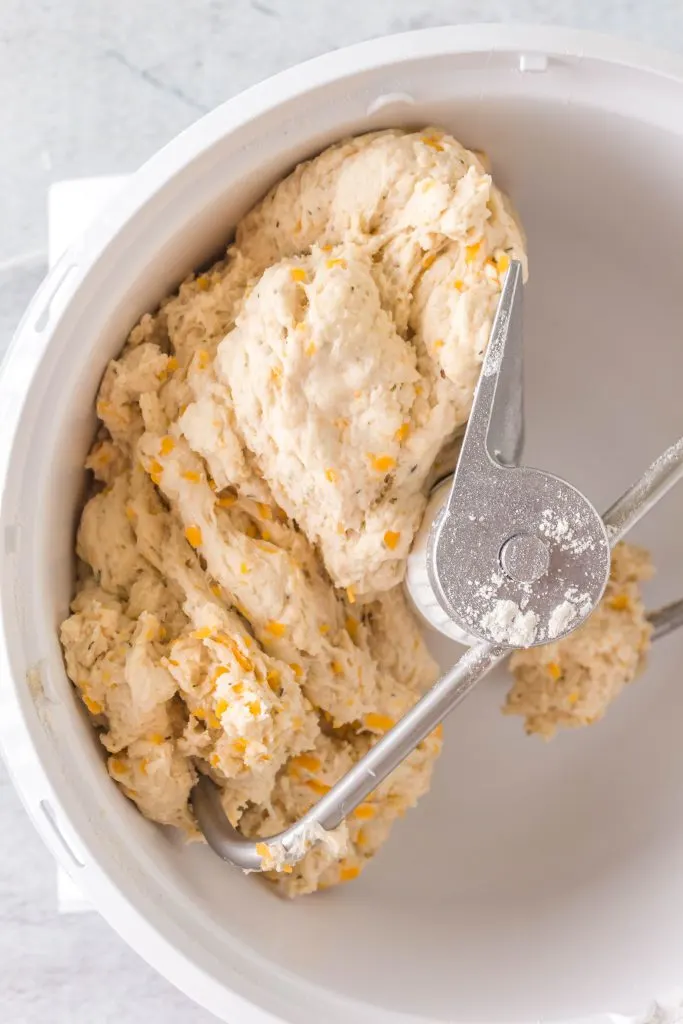 Step 6: Increase the speed on the mixer and mix for 4-5 minutes.
This allows the gluten to form.
Step 7: Let the dough rise and butter your loaf pans.
The dough will need to double. If your oven has a proofing drawer or setting, this will work best. Make sure to move the racks to allow room.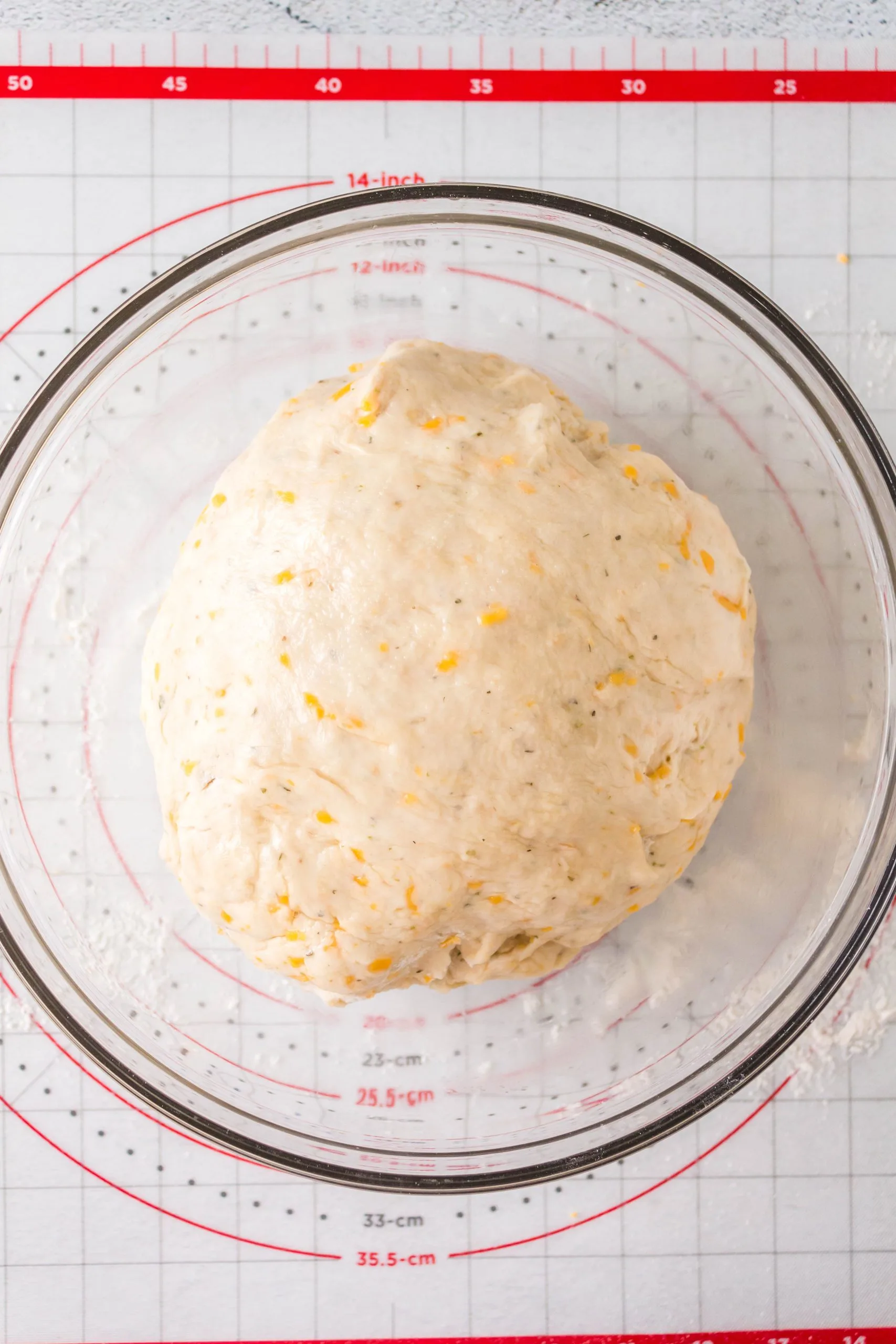 Step 8: When the dough has risen, divide the dough between the pans.
Press the dough down into a rectangular shape and cover it with cheese if you want a swirl.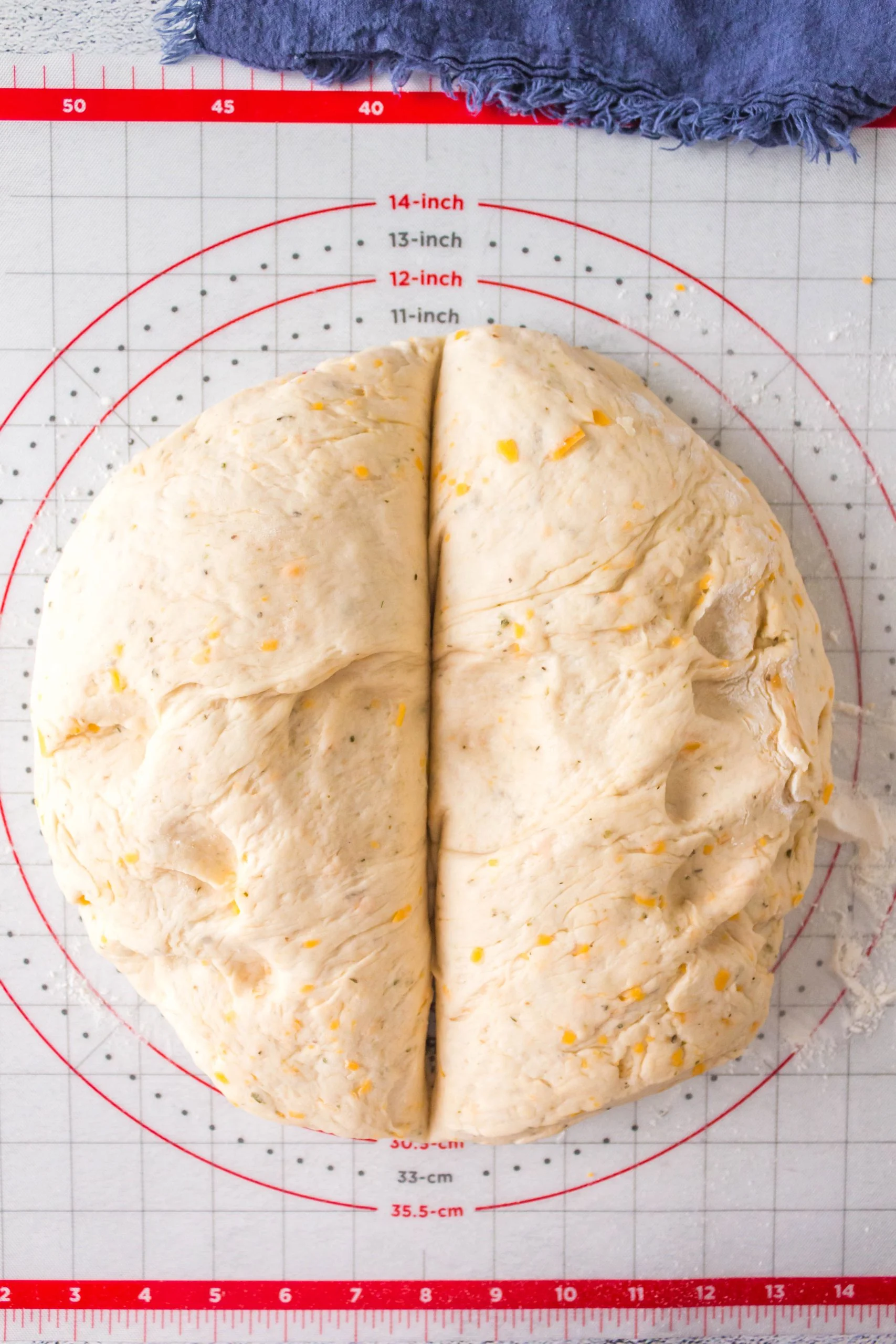 Step 9: Let the loaves rise.
When they have doubled or nearly doubled they are ready.
Step 10: Score the loaves with a sharp knife.
This allows the loaf to breathe as it bakes.
Step Eleven: Bake the bread.
Your goal is 90ºF or 95ºF and this is easy to measure with an instant-read thermometer.
Step Twelve: Let it cool significantly before slicing so that it isn't easily crushed.
What to Serve with your Homemade Cheese Bread
Popular Substitutions & Additions
Add 2 to 3 minced garlic cloves to the dough for a garlic cheese bread recipe.
Change up the herbs. Rosemary and thyme would be delicious or you could use another seasoning blend like a Mediterranean spice blend.
Veggies – It's best that any add-ins be semi-cooked or softened such as bell pepper, onion, or jalapeno.
Crumbled bacon.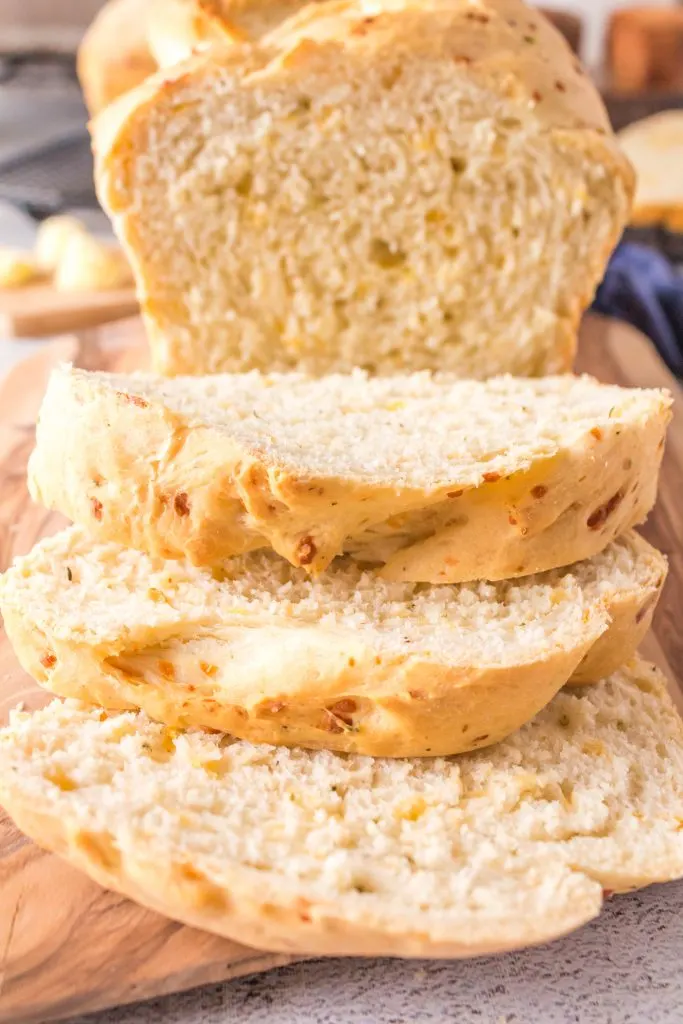 How To Reheat & Store This Cheese Bread Recipe
Best Way To Store Leftover Homemade Cheese Bread with Yeast?
Keep your leftovers in a zipped plastic baggy on the counter for a few days.
How Long Will Cheesy Bread Last In the Fridge?
3-4 days on the counter or refrigerator. In the refrigerator, moisture can condense on the bag and make the bread's exterior soggy.
Can I Freeze Homemade Cheese Bread?
Yes. But make sure it's completely cool first so the bread doesn't become mushy from the condensation.
How To Reheat Cheese Bread
If you want to eat the cheese bread hot, microwave an individual slice for roughly ten to fifteen seconds depending on the wattage of your microwave. You can also slice it thin and put slices in your toaster for a different effect.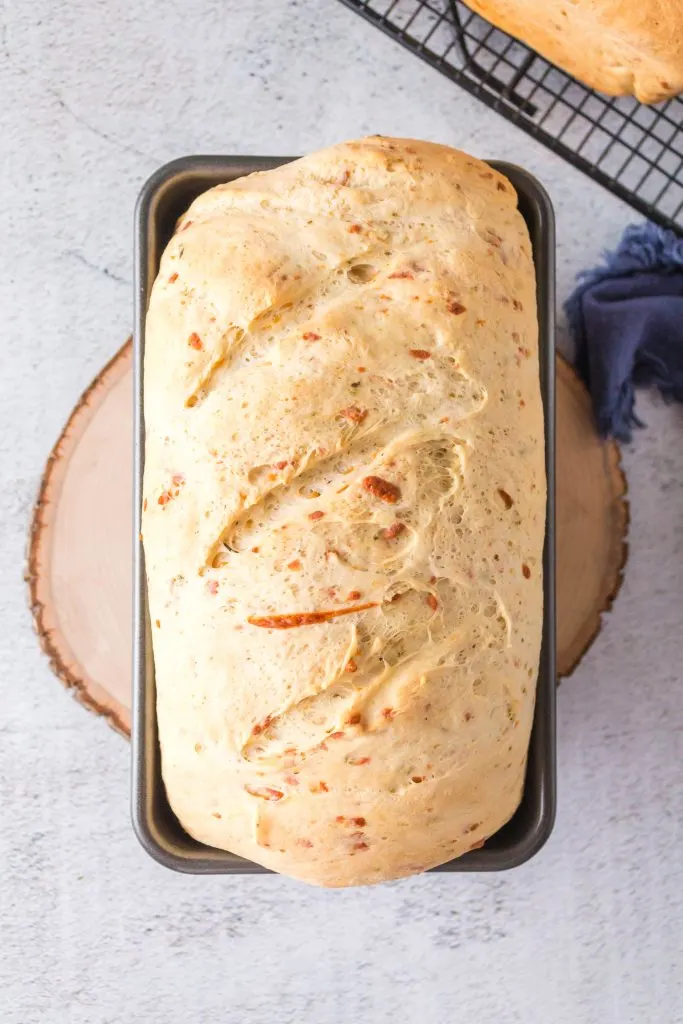 Homemade Cheese Bread FAQ
What is the best cheese for cheese bread?
Cheddar Cheese is the best cheese – Switch out for any semi-hard cheese that has some ability to melt. Asiago, mozzarella or kick it up with pepperjack. Cheeses that would not work include feta, cotija, queso, paneer, halloumi, or soft goat cheese.
How do I make garlic cheese bread?
Add two cloves of garlic to the recipe.
When do I add the cheese to the bread dough?
For this cheese bread recipe, add the cheese with the dry ingredients. If you want the cheese bread swirl, see the recipe card below.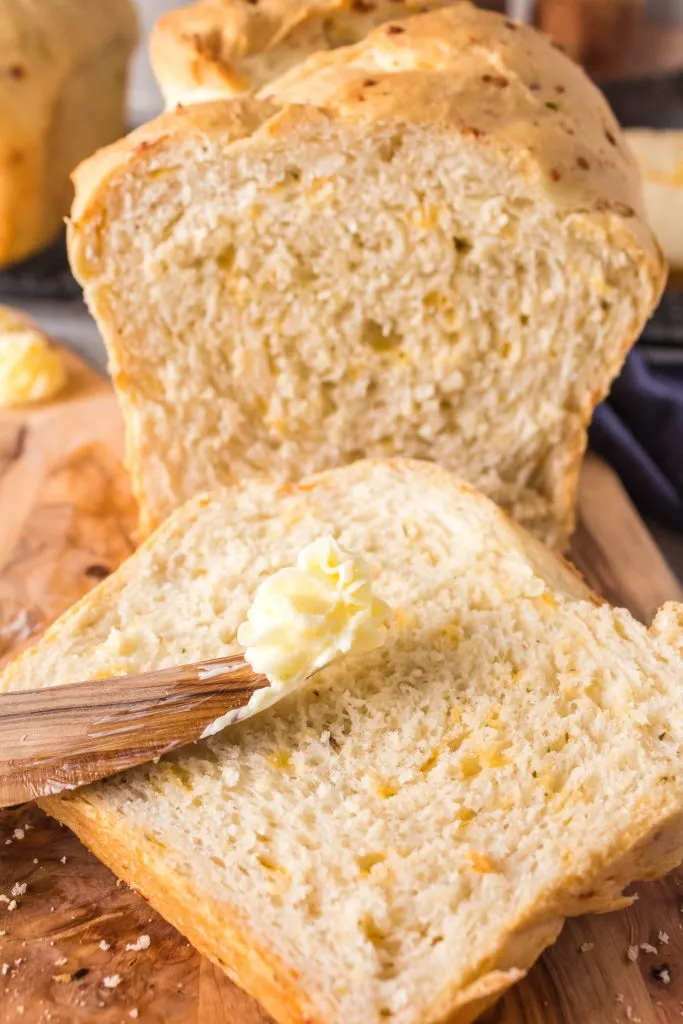 Pin It Now
Tips to Make the Perfect Cheese Bread
Warm water between the temperature of 90 to 95 degrees F is the best temperature to activate the yeast. Think about warm bathwater. If it is too cold the yeast won't activate and if it is too hot it will kill the yeast.
Sugar works better than honey or maple syrup to activate yeast so I don't recommend making a substitution.
If you put the swirl of bread in the loaf, the tighter you roll it the tighter the swirl will be when cut.
You can use oil or a non-stick spray to prepare the pans but I like using butter because it makes the crust even better.
The egg wash will give a crunch to the bread. Brushing with butter after baking will keep the crust soft. Both are excellent.
Mixing the cheese with the flour helps the cheese to be uniformly distributed throughout the dough.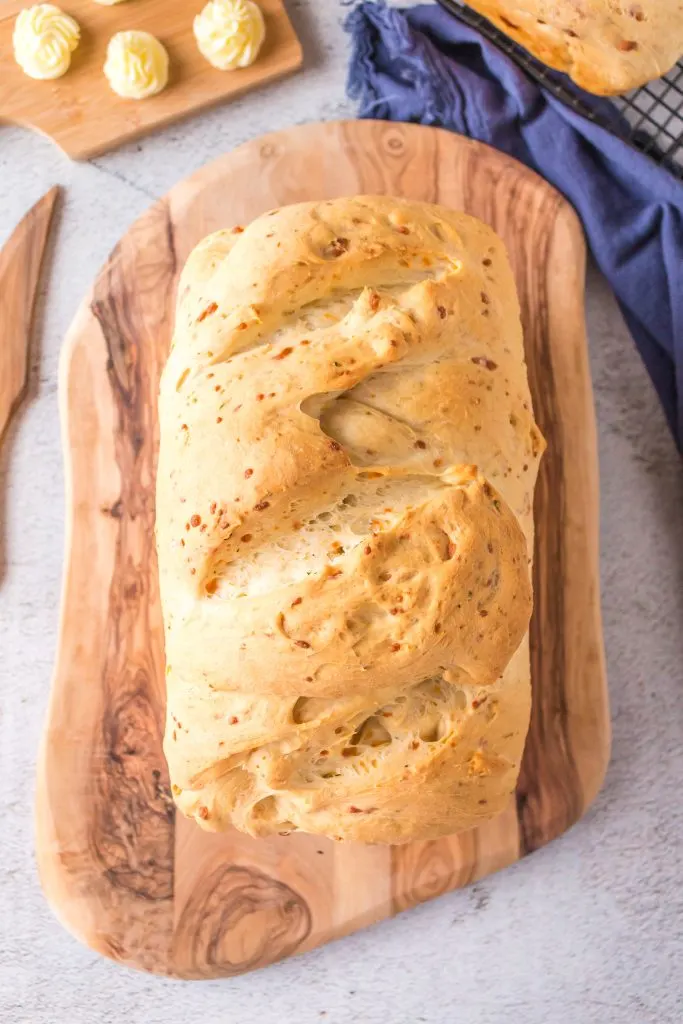 Other Recipes You'll Love
Don't Forget To Come Back And Let Me Know How Your Cheese Bread Turned Out.