Whether it is summer when blueberries are ripe or winter when frozen blueberries can help remind us of summer, it's always the perfect time to make this homemade blueberry pie recipe. Thick, blueberry filling bakes to perfection in our perfect all-butter pie crust.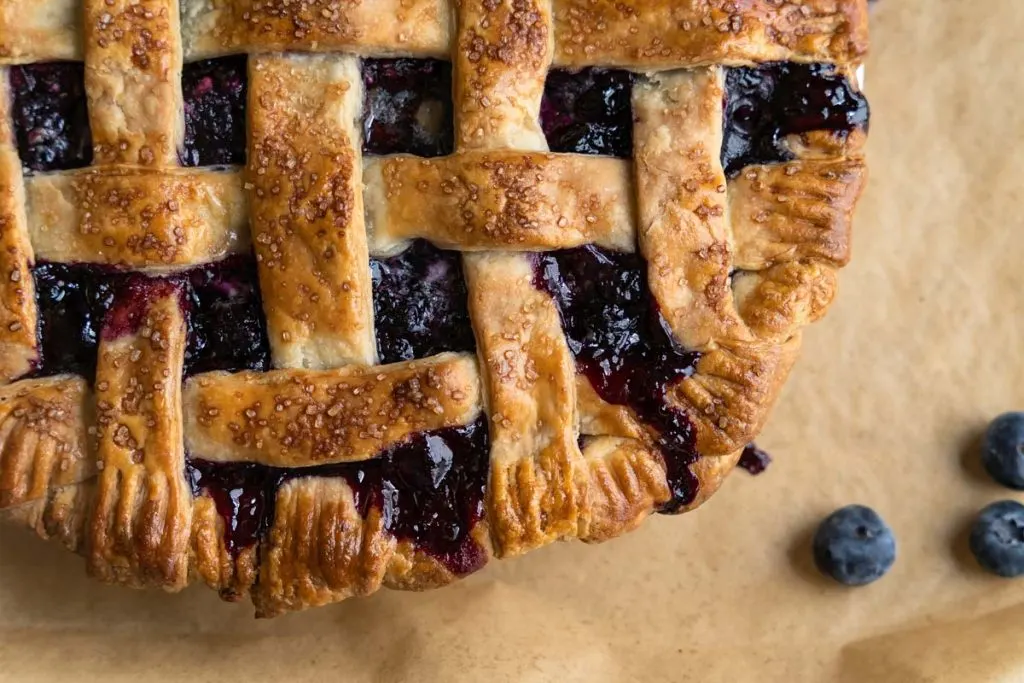 I tried so many fresh blueberry pies and some were watery or had so little filling. I wanted a pie like my grandmother made with a thick rich filling with soft delicious berries in between a flaky buttery crust.
So, I went to one of my favorite sources, America's Test Kitchen, and this pie will not be a disappointment. Using their technique, I made just a few personal adjustments and created a pie that I couldn't wait to share.
I'll walk you through this homemade blueberry pie recipe and hope to answer any questions that you have so you can get this beautiful pie on your table.
Why You'll Love Our Homemade Blueberry Pie
Perfectly thick filling. The filling of this pie isn't watery or thick like jelly. It's thick and rich and all about the berries.
Secret ingredient. Our special addition to this pie adds just the right of tartness to pull everything together. The pectin acts as a natural thickening agent too!
Ingredients and Substitutions For Your Homemade Blueberry Pie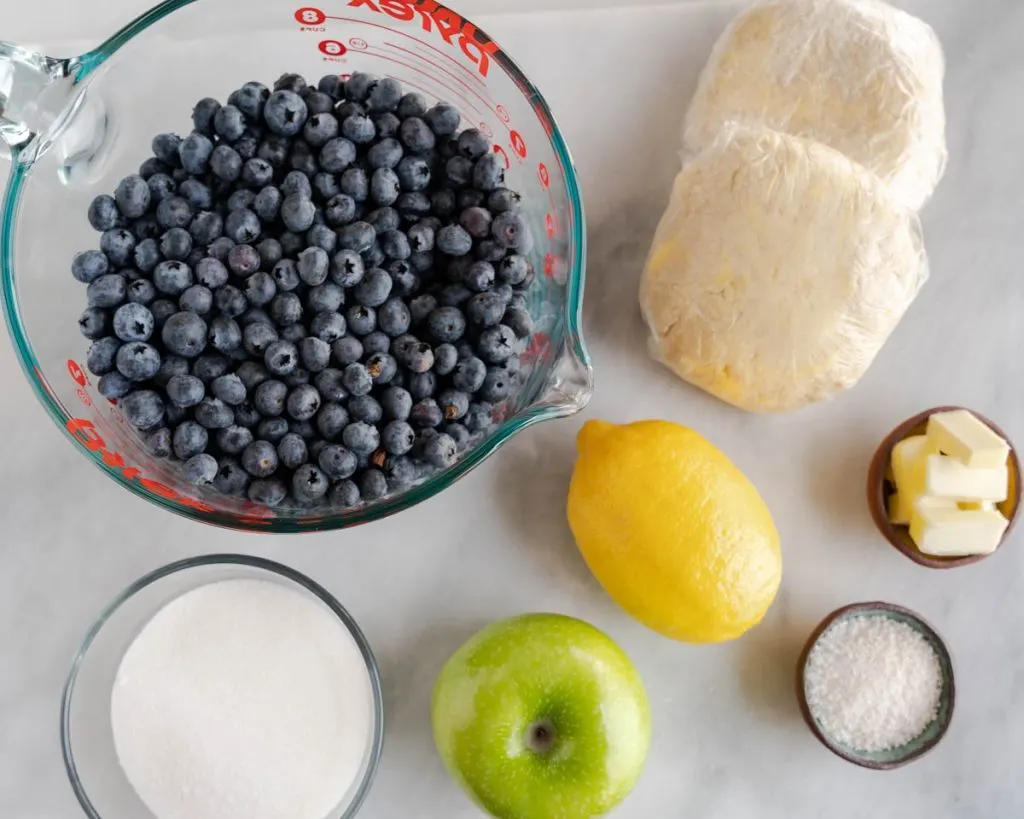 Double Crust Pie Dough. An all-butter pie crust recipe with amazing flavor.
Blueberries. Fresh blueberries are perfect. If you only have frozen, simply thaw them or at least partially thaw them before making the pie. You can set them on the counter to thaw or microwave them in a pinch.
Granny Smith Apple. (The secret ingredient) The pectin in a Granny Smith apple will help thicken this pie.
Sugar. Granulated white sugar.
Cinnamon. A special touch that kicks this pie up a notch.
Instant Tapioca. Ground. This is a thickening agent.
Lemon Zest. For a little tartness and flavor.
Lemon Juice. More tartness to counter the richness of the filling.
Salt. Intensifies the flavors.
Unsalted Butter. I like to keep the unsalted version on hand for baking.
Tools You'll Need For Homemade Blueberry Pie Recipe
Hostess At Heart participates in affiliate programs. As an Amazon Associate, I earn a commission from qualifying purchases. Please refer to my disclosure page for more information about these affiliate programs.
Please note, that the printable recipe card has ingredient quantities, complete instructions, and nutritional information. The following is a quick overview of the recipe.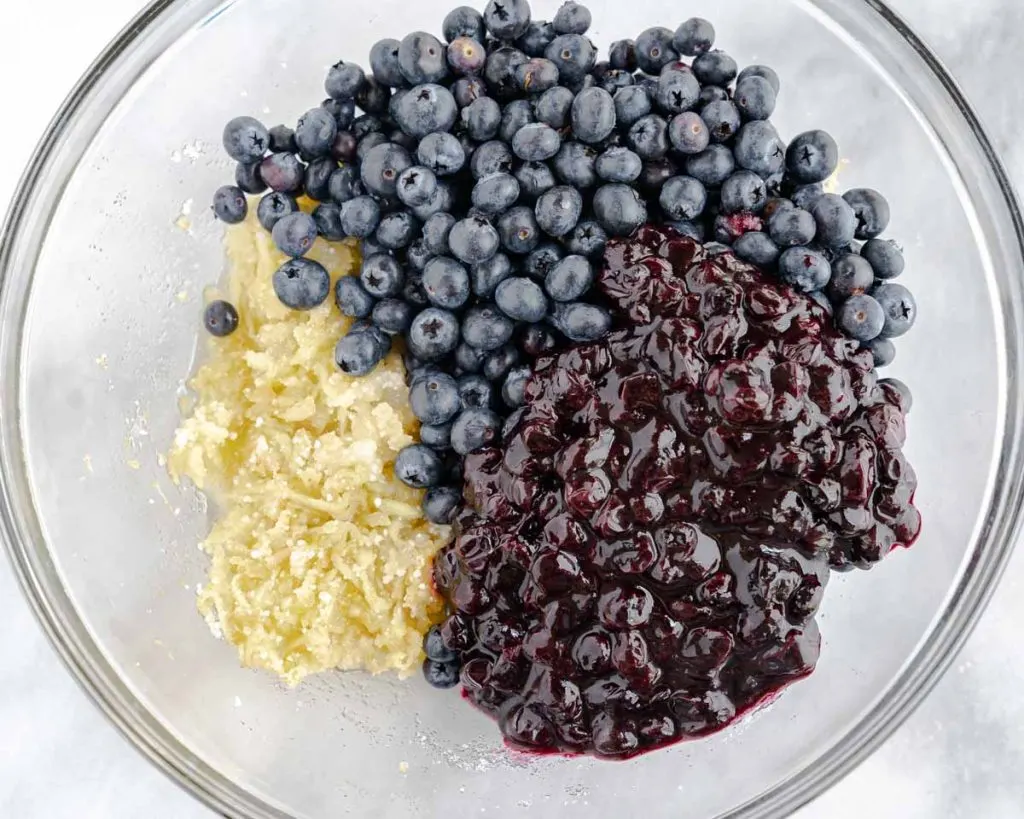 How To Make A Homemade Blueberry Pie
Step 1: Roll out the pie dough.
Prepare it in a pie pan and then refrigerate it for at least thirty minutes.
Step 2: Mash the blueberries.
Heat in a medium saucepan and use a potato masher to mash them up.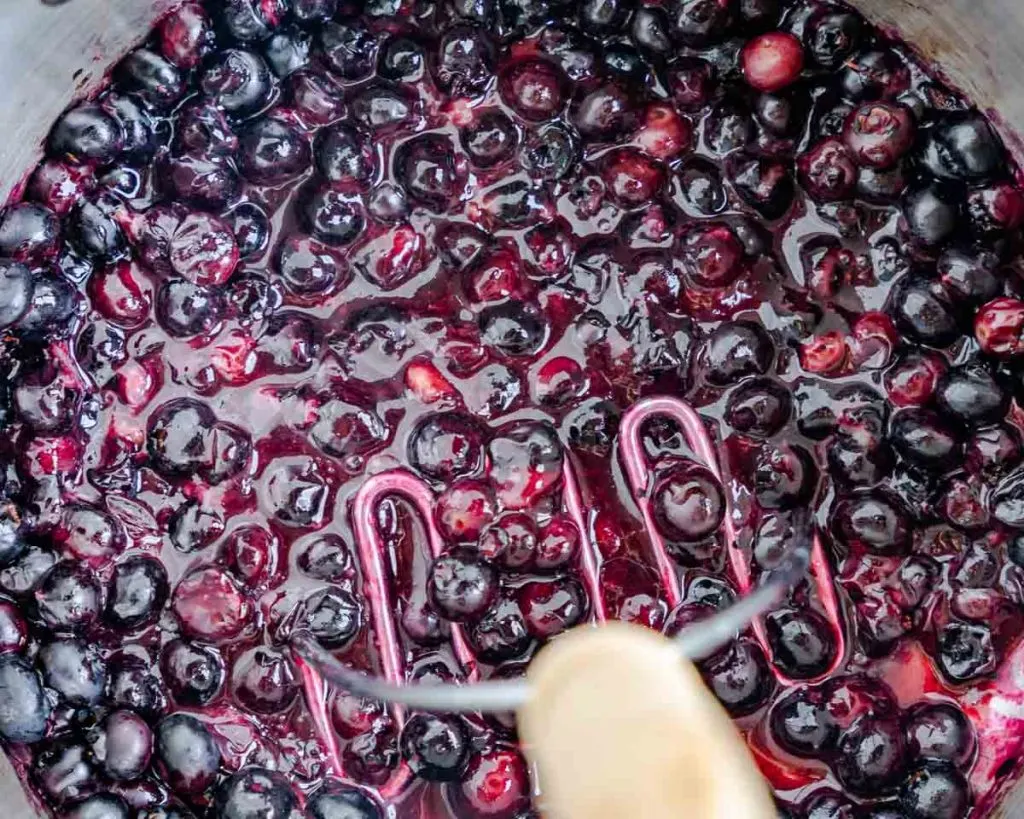 Step 3: Preheat the oven.
400ºF.
Step 4: Peel and shred the apple.
Remove excess liquid by wrapping the shredded apple in a clean kitchen towel and twisting it over a bowl.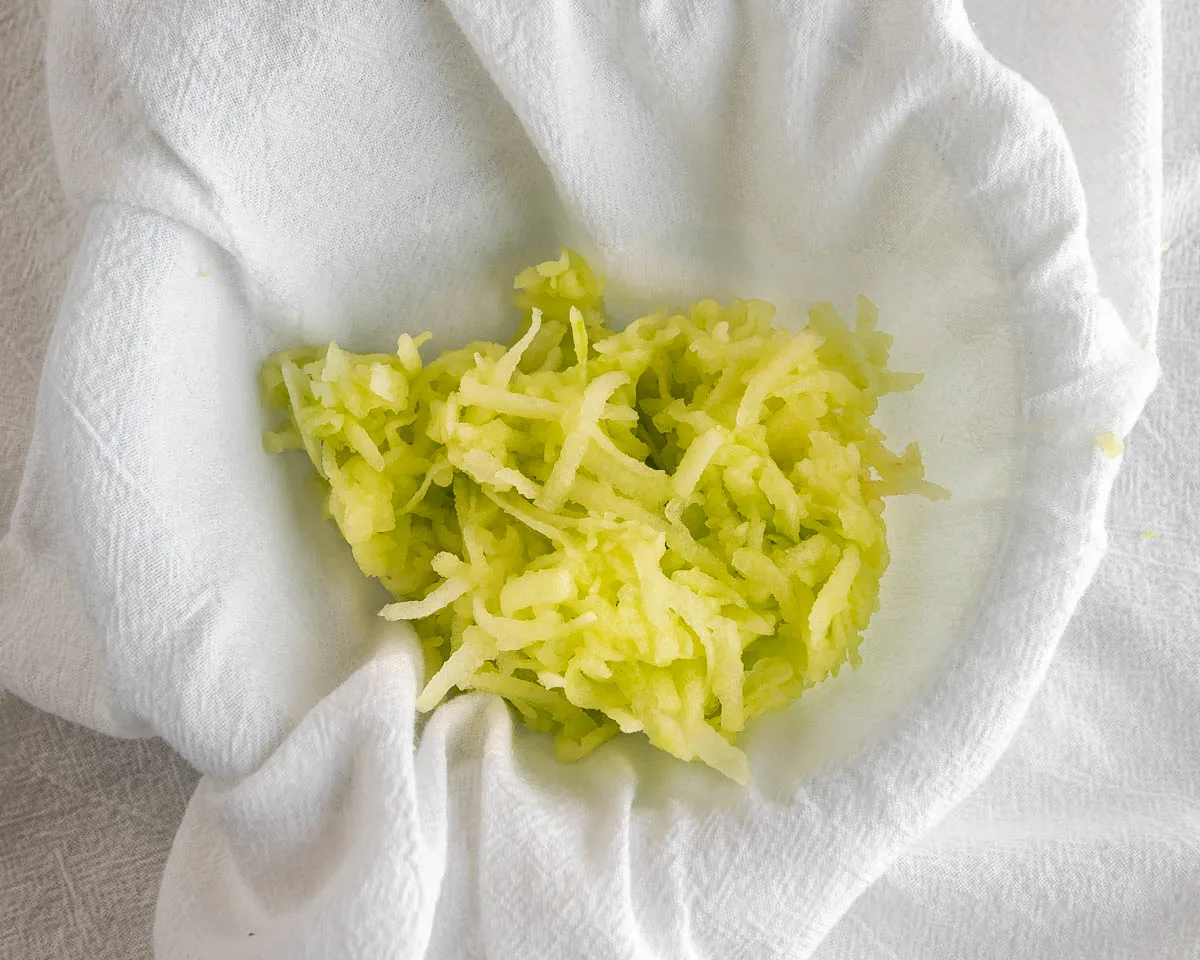 Step 5: Mix the Filling.
Mis all of these ingredients together.
Step 6: Fill the pie.
Add the lattice top and brush it with an egg wash and a dusting of sugar.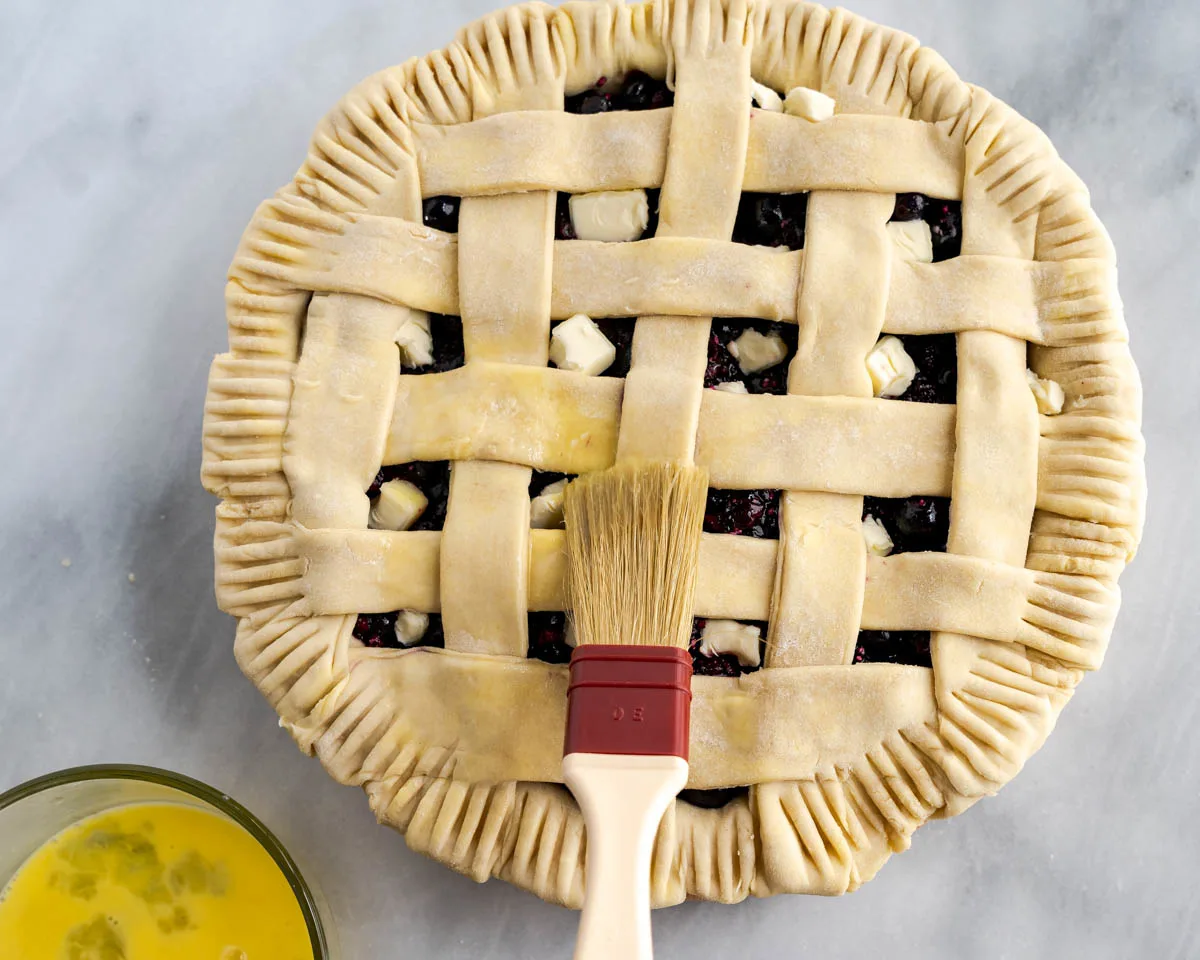 Step 7: Bake the pie.
Reduce the temperature as it bakes.
Step 8: Allow your beautiful blueberry pie to cool.
Popular Variations & Additions
I added a bit of warm cinnamon to this classic. A little bit of nutmeg, say 1/4 teaspoon would be delicious too.
1/4 teaspoon of cardamom is a nice touch.
Change up the top crust.
Use a crumble on top instead of a crust.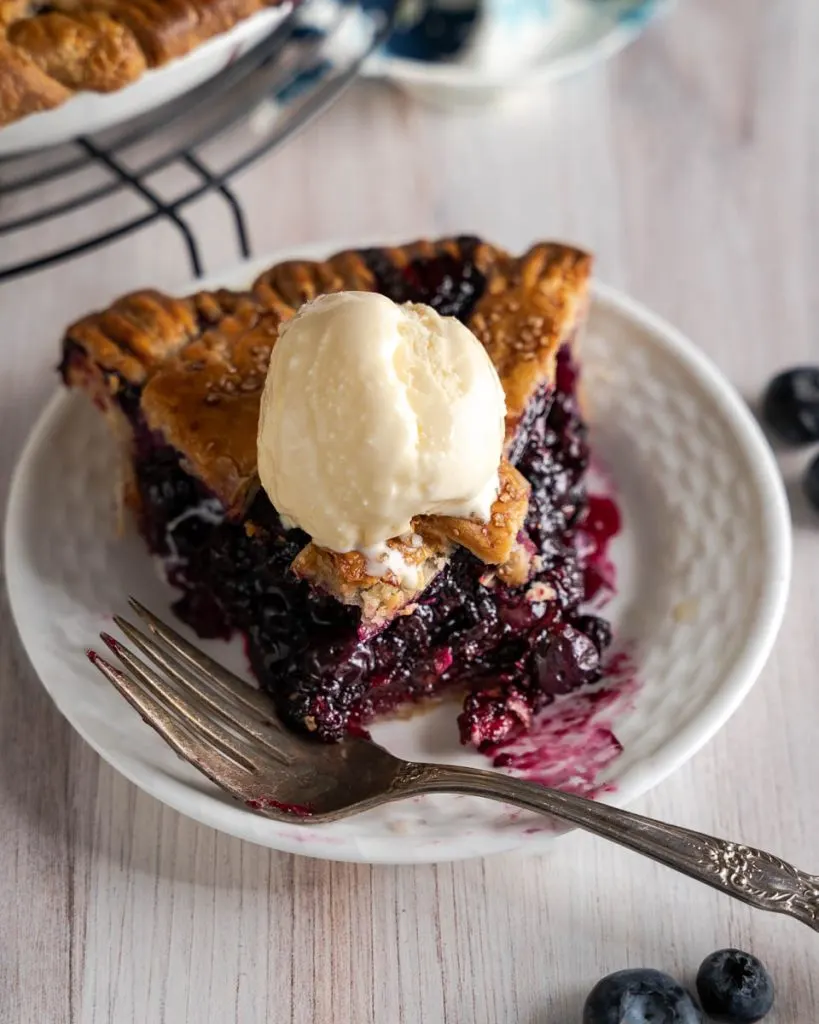 How To Reheat & Store Homemade Blueberry Pie
Best Way To Store This Recipe for Blueberry Pie Leftover
I prefer to refrigerate baked fruit pies. They are less likely to become watery.
How Long will this Blueberry Pie Recipe Last in the Fridge?
Two days at room temperature or 4 days refrigerated covered with plastic wrap.
You can keep leftover blueberry pie in an airtight container in the refrigerator for four to five days. If it is just loosely covered and left in the pie plate it will still last for two or three days.
Can I Freeze Homemade Blueberry Pie
Freeze a whole blueberry pie and simply thaw it in the refrigerator or on the counter when you are ready for it.
Freezing individual portions in an airtight container is also a great idea. This will give you a grab-and-go dessert for surprise guests or a late night craving. Simply thaw in the microwave and it's ready to eat.
How To Reheat This Recipe for Blueberry Pie
If you love warm blueberry pie as much as I do, reheat your leftover slice of pie in the microwave for thirty seconds. If it still isn't heated through to your liking, add ten or fifteen second increments until it is perfect.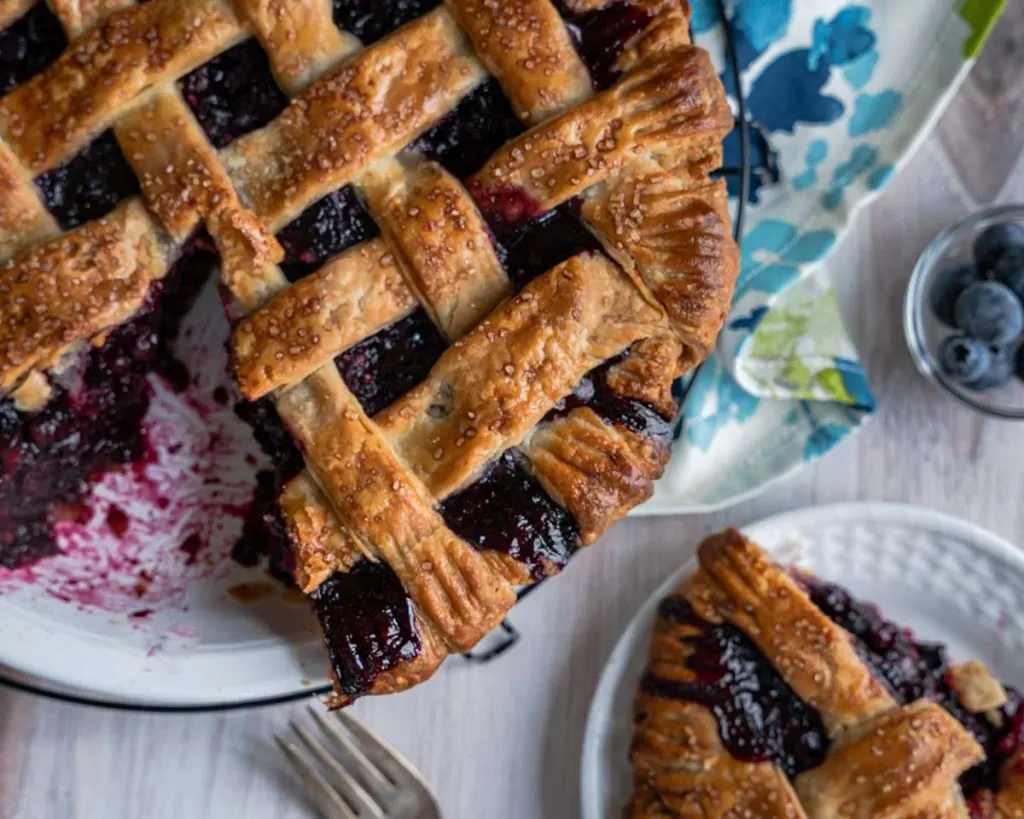 Blueberry Pie Recipe FAQs
Can I use frozen blueberries?
Yes, do not thaw them. Cook half of the frozen berries over medium-high heat without mashing until they're reduced to 1-¼ cups (12-15 min).
Should you poke holes in the bottom of the pie crust?
For a filled pie, such as this one do not poke holes in the crust.
Do fruit pies need to be refrigerated after baking?
Yes. Not technically, but they do keep longer. Plus, fruit pies tend to separate and become watery at room temperature. The warmer your climate, the more important it is to refrigerate your pie.
Should I wash blueberries before baking a pie?
Berries should be rinsed and drained as well as inspected for mold or decay right before you use them. Don't wash them s soon as you bring them home because they will break down quicker.
How do you keep a blueberry pie from being runny?
Our pie uses a brilliant combination of tapioca powder and pectin from the shredded apple for a perfectly thickened pie filling.
Will this pie work with canned pie filling or canned blueberries?
I have not tried these ingredients.
What to Serve with your Homemade Blueberry Pie
Blueberry pie warm out of the oven, just as the filling has fully set, is absolutely perfect with vanilla ice cream.
Cold blueberry pie is great on its own and also pairs well with homemade whipped cream or store-bought.
Gourmet coffee or dessert wine is always a good choice.
When I need to make several different pies for the holidays, blueberry pie is always a good choice for those that love fruit and don't enjoy the traditional holiday flavors.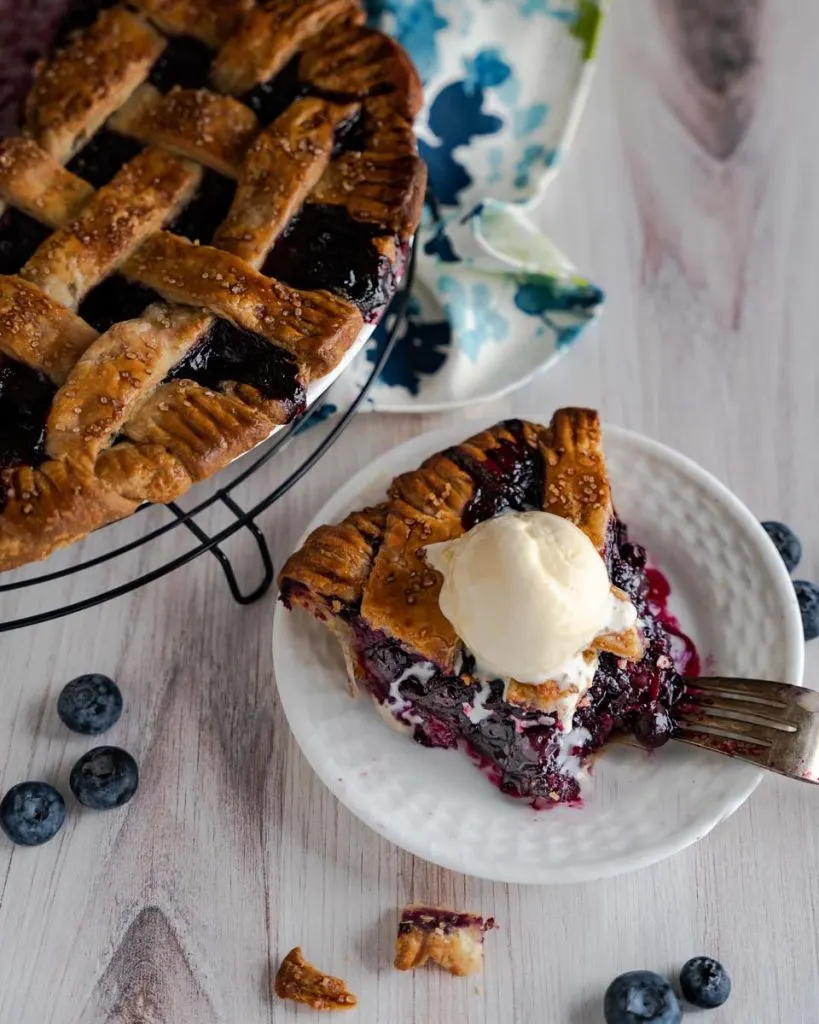 Other Pie Recipes You'll Love
Easy Pear Pie Recipe with Fresh Pears
Old-Fashioned Lemon Icebox Pie
Fresh Peach Pie Recipe (No-Bake)
Old-Fashioned Strawberry Rhubarb Pie Recipe
Don't Forget To Come Back And Let Me Know How the Blueberry Pie Recipe Turned Out!
Pin It Now