You won't find a better pie crust than this homemade all-butter pie crust recipe. It's rich and flakey and will enhance any recipe that uses pie dough.
This double-crust recipe will immediately become your go-to recipe.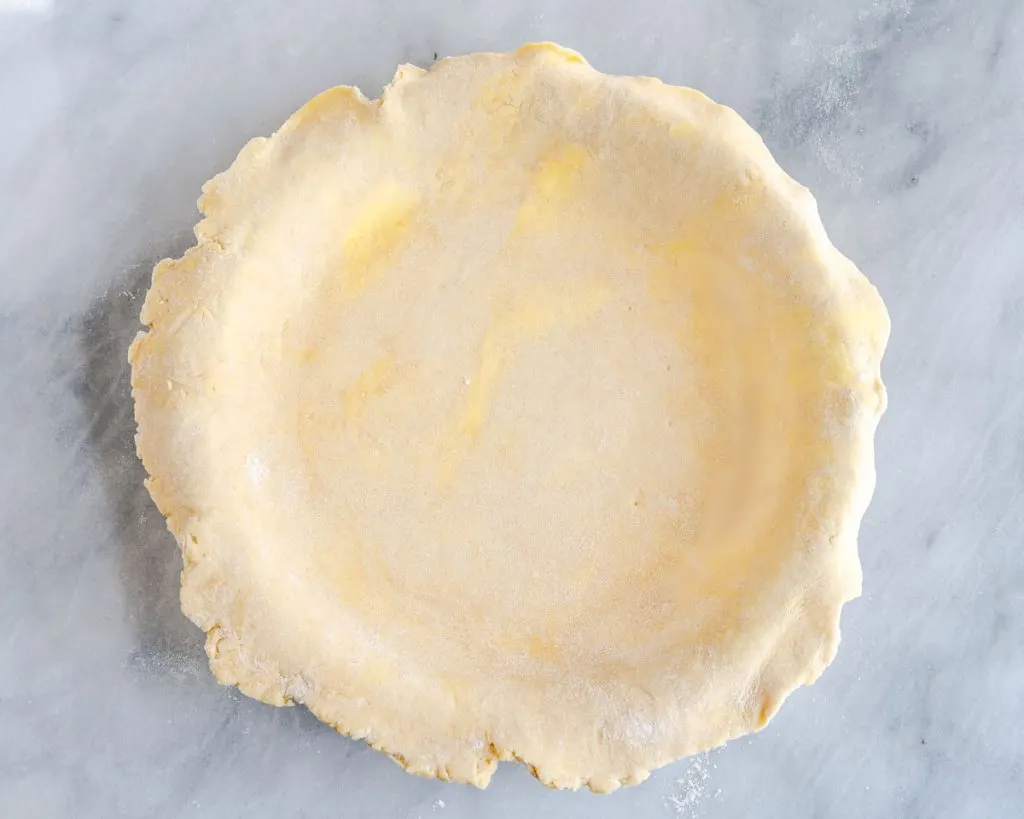 Making homemade pie crust is only easy if you've done it before or if someone has shown you how.
In this post, I will show you how you can make your own pie crust that isn't only simple to do with a few tips but also a delicious crust that bakes up tender and flaky.
For years, I bought my pie crust because I was never happy with my attempts. My mother always made her own, and I even had her recipe, but they never came out like hers.
I went to pie school! Kate showed us how to make this All-Butter pie crust. She made sure that none of us failed and alleviated any anxiety we had regarding making the perfect crust.
"It's just pie. It may not look the best but it's going to taste good. Just have fun!"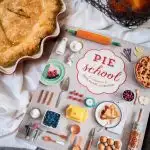 Kate Lebo
author of "Pie School
Why You'll Love This All-Butter Pie Crust
Flaky crust perfection. Exactly the kind of crust you crave.
Buttery flavor. No tasteless dough here! This crust adds more than a foundation to your pie; it adds a rich buttery flavor.
Flexible. Works for any recipe that uses pie dough. It can be baked ahead of time or baked with the filling. You can also make the crust ahead and freeze it to use later.
Equipment Needed To Make This Pie Crust Recipe with Butter
Ingredients For The Butter Pie Crust Recipe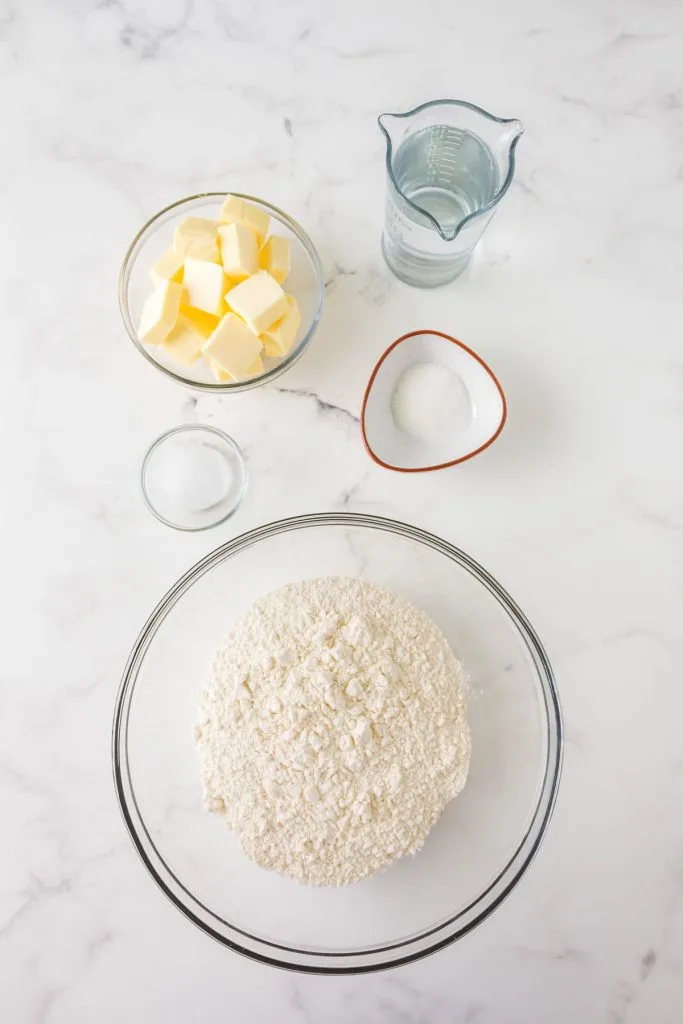 All-Purpose Flour. I used unbleached.
Butter. Use good quality, salted butter, not a generic brand. I use Kerrygold or Land O'Lakes.
White sugar. Granulated sugar.
Salt. You can use any salt but I prefer fine sea salt. It seems to blend better into my recipes and is less likely to end up as pockets of salt.
How To Make A Butter Pie Crust
Step 1: Get your water ice cold.
Place 1-1/2 cups of water in a liquid measuring cup in the freezer. You will not use it all but you don't want to run out in the middle of making your double crust pie recipe.
Step 2: Mix the ingredients.
In a large bowl, combine flour, sugar, and salt. Add the cold butter.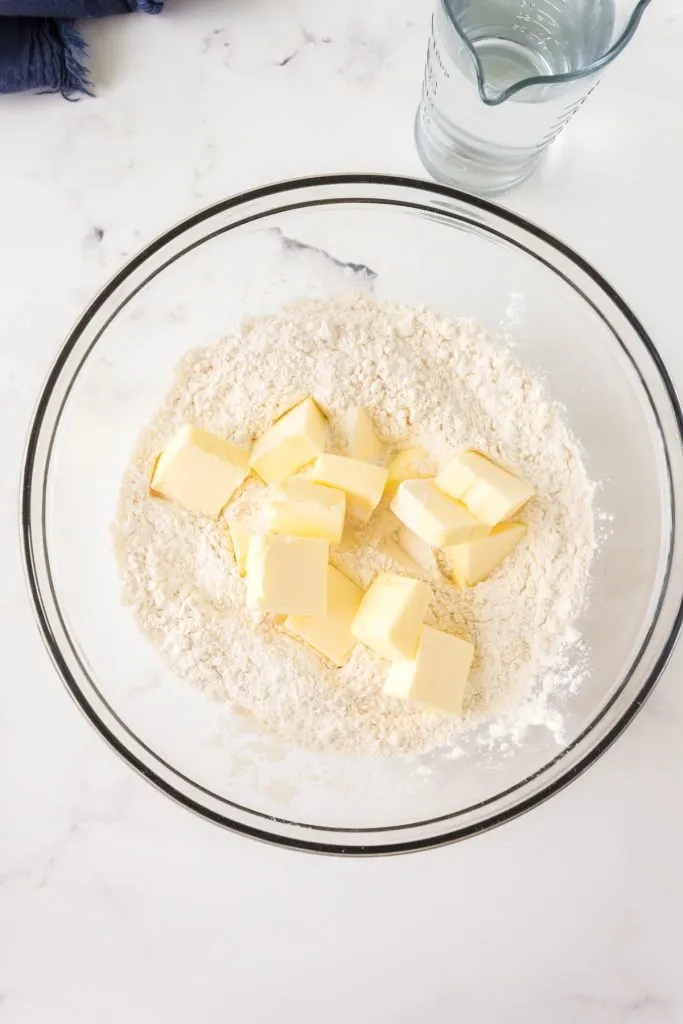 Work the butter into the dough. I use my fingers to pinch the butter into the flour until you have a shaggy mix.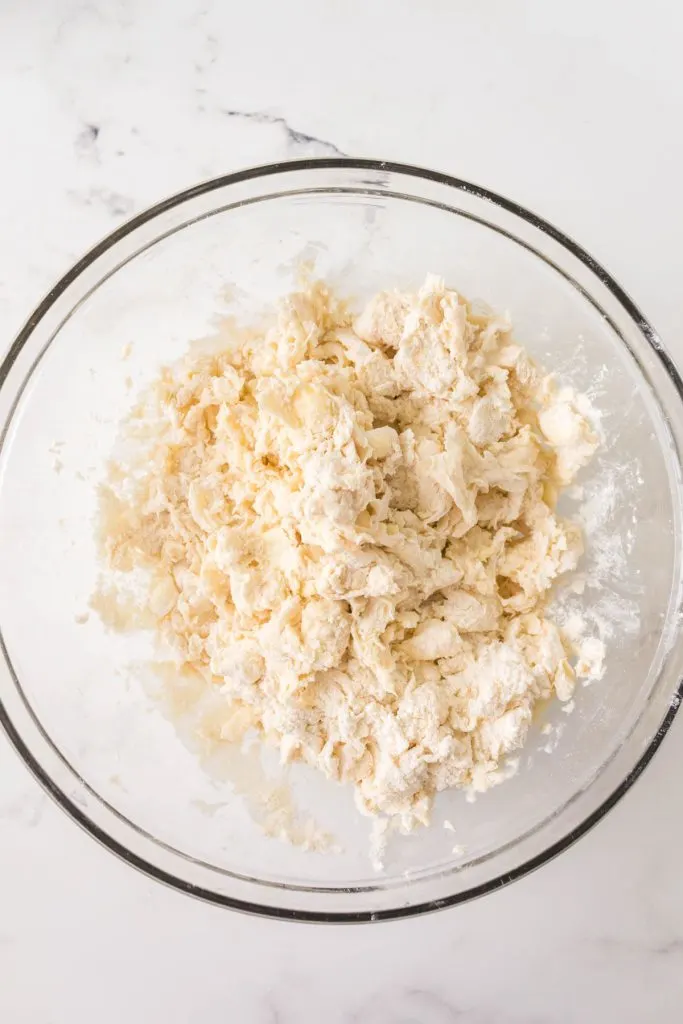 Step 3: Add small amounts of water.
Drizzle a small amount of the ice water into the dough using a slow fine stream for about 5 seconds. Toss the water through the flour with your hands until you no longer feel wet spots. Don't knead it in.
Repeat adding a little water at a time until your crust holds the shape of an egg when pressed together and lightly tossed without breaking apart.
Step 4: Divide the dough.
Form the dough into two equal discs. Wrap them separately with plastic wrap and refrigerate them for at least 1 hour.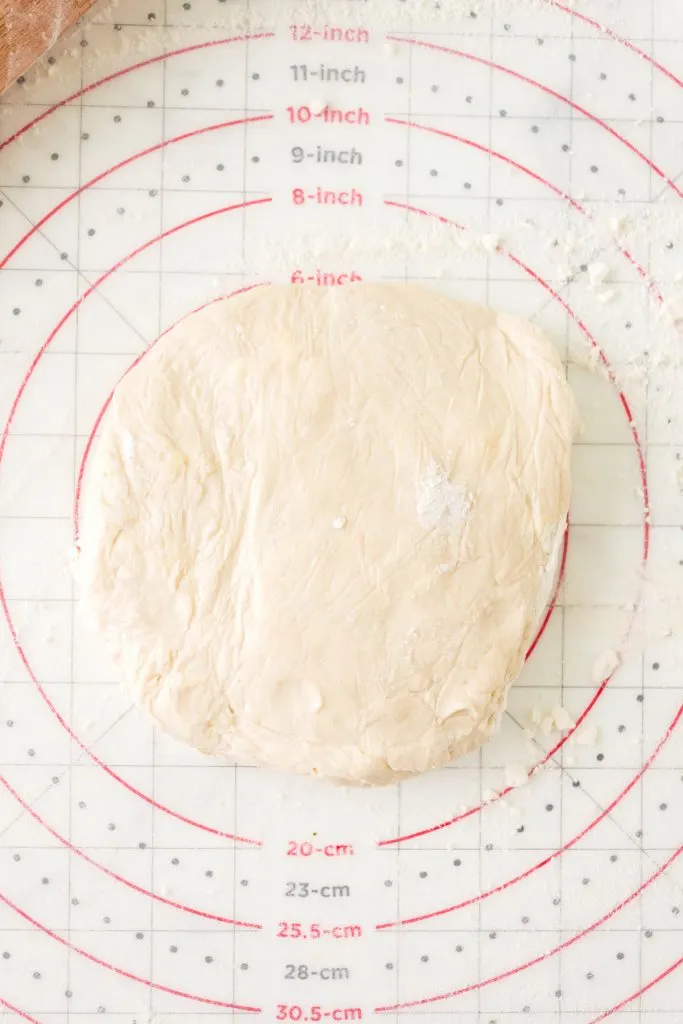 Step 5: Roll the butter pie crust dough.
Remove pie dough from the refrigerator. Roll it out on a floured surface turning as you roll, constantly pushing out away from yourself. Lay the dough into the pie shell Don't stretch it.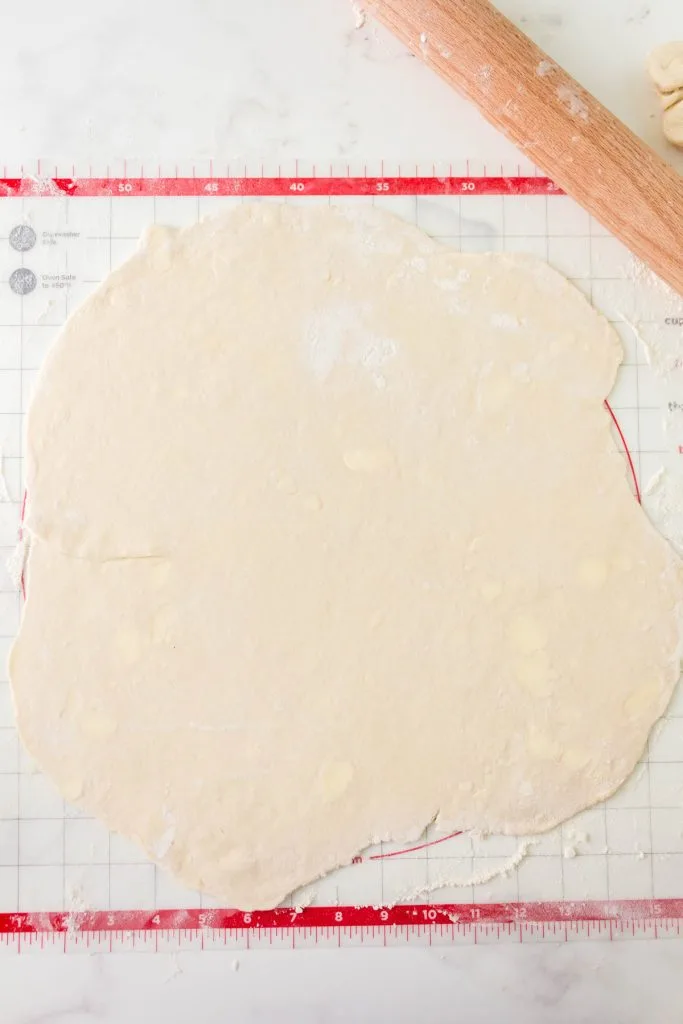 Place the rolled dough into a pie plate
It's easier for me to move my crust by loosely wrapping the rolled dough over my rolling pin and then laying it onto the pie plate. When I try to move it by hand it can stretch and tear.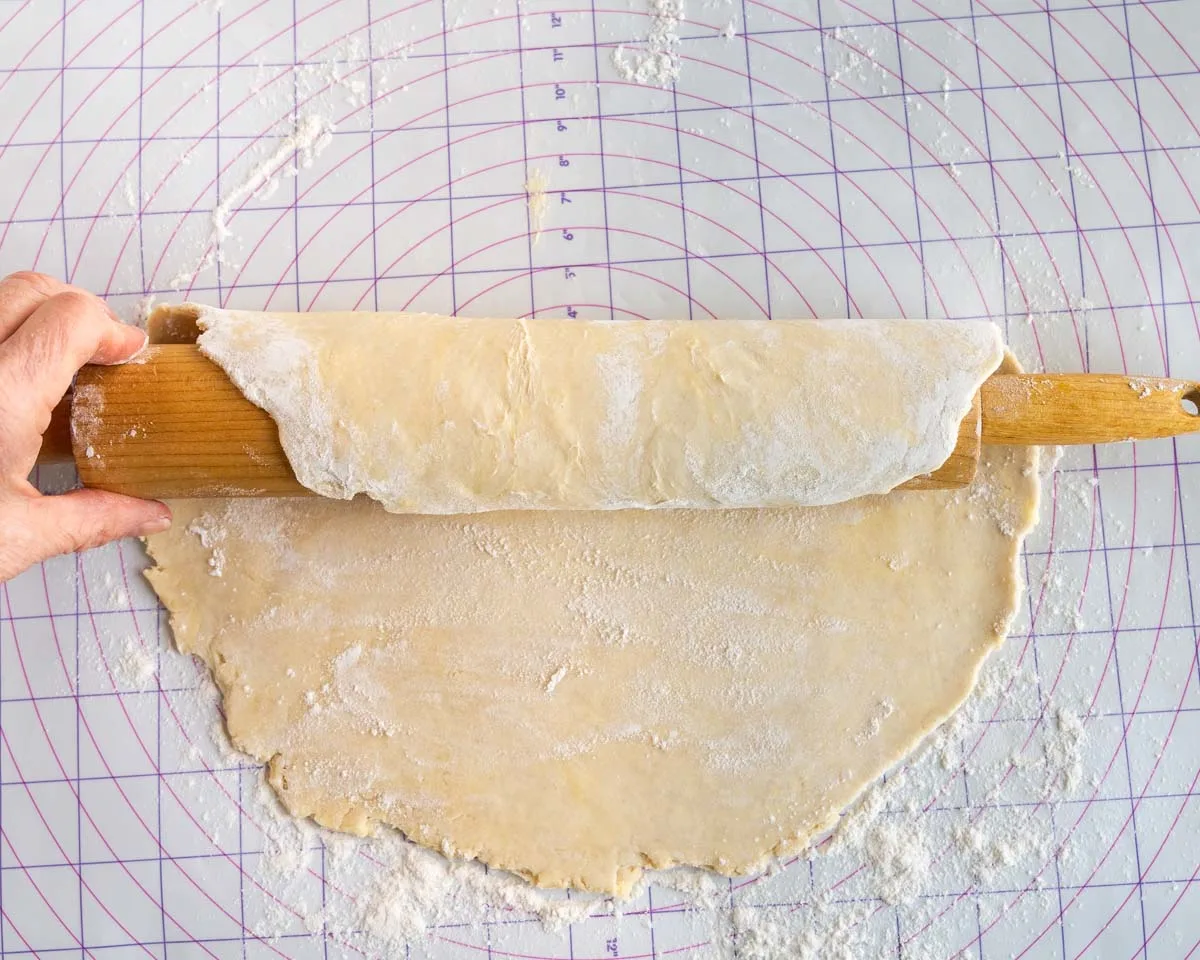 Step Six: Bake your all-butter pie crust.
This crust goes into a HOT 425°F oven for 10 minutes to help the butter in the crust burst, making the pie crust flakey.
After 10 minutes the oven temperature is lowered to 375°F for 10 minutes if blind baking or until your pie is finished baking.
Definitions
Egg Wash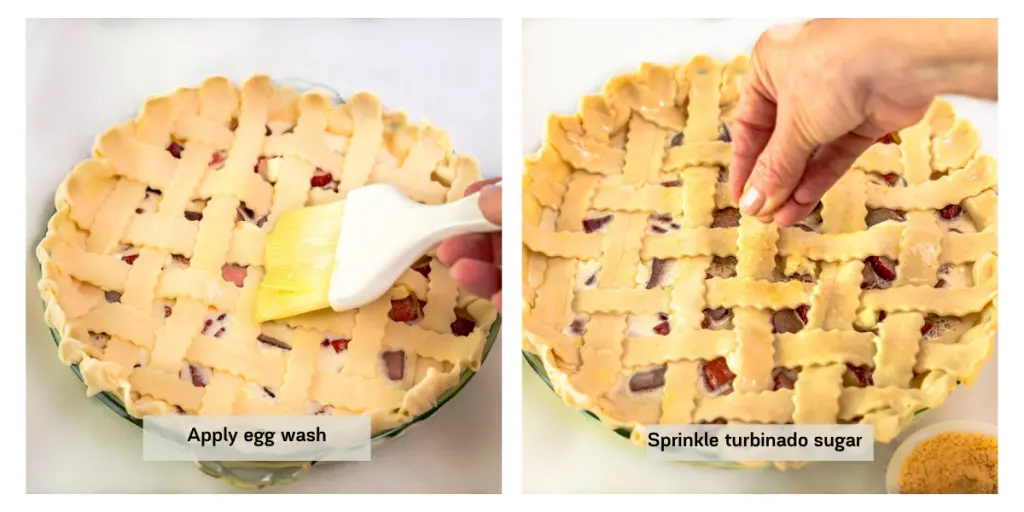 An egg wash is a process of brushing the pie crust with a mixture of egg and water before you bake it to create a shiny finish. It also helps give your crust a golden brown finish.
I often sprinkle the top crust with sugar or turbinado sugar for a delicious crunch. An egg wash helps the sugar adhere to the crust instead of just falling off after baking.
Double Crust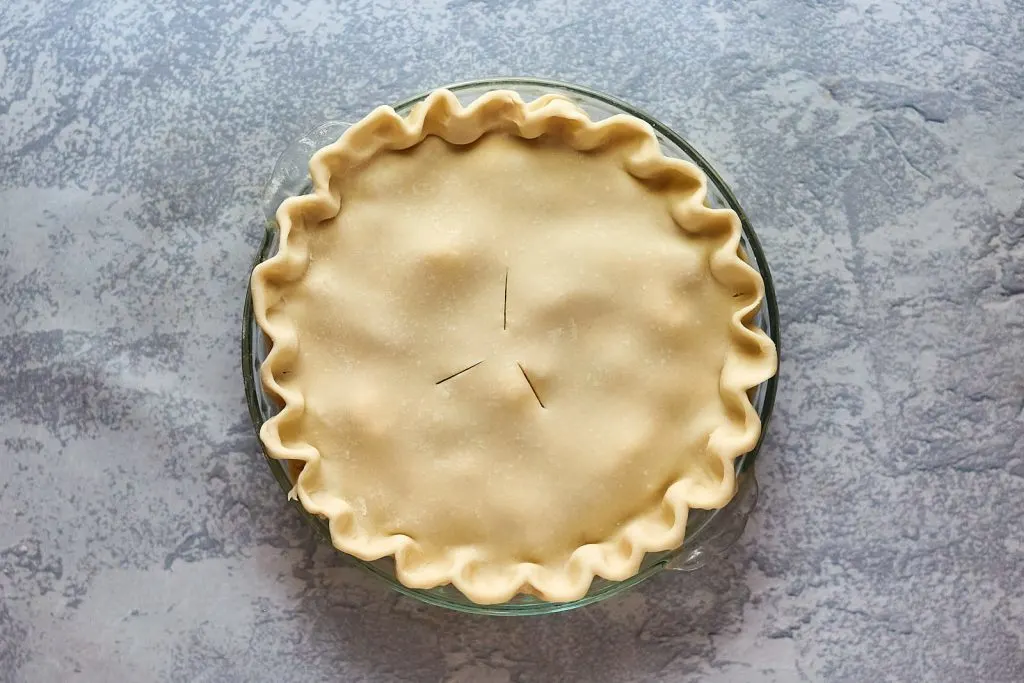 A double crust is one where there is a crust on the bottom of the pie and on the top of the pie. Many fruit pies have a double crust.
Lattice Crust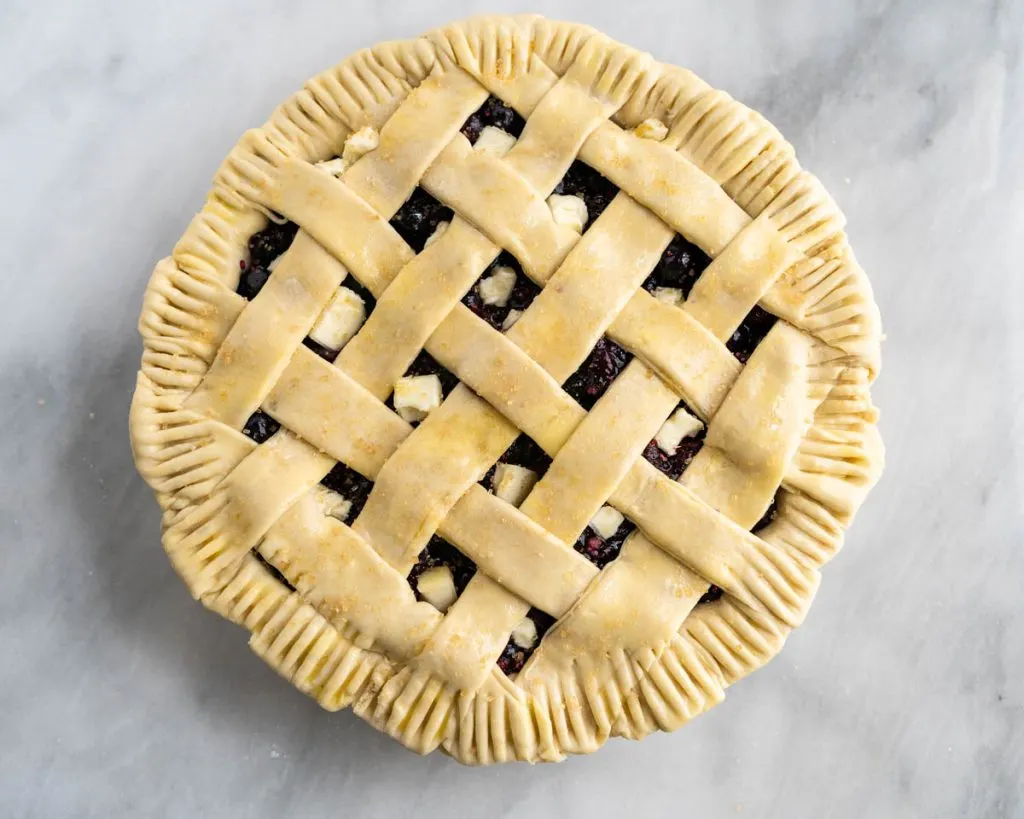 A woven pie crust on top of the pie is called a lattice crust. It is not as hard to make as it looks. Here is a simple Lattice Crust How To Video.
Blind Bake
Blind Baking is a term that just means pre-baking. This method is used to pre-cook pastry dough before adding the filling.
When you blind bake a pie crust, you pierce the bottom crust with a fork and turn it slightly.
Add a sheet of parchment paper or foil over the crust and then fill it with dry beans, rice, or pie weights to help the crust hold its shape as it cooks.
Without the filling, your pie crust or pastry crust can bubble up and lose its shape.
For a more detailed description of blind baking see my Baking Techniques post.
What to make with your All-Butter Pie Crust
Of course, you can use this crust for any pie you want to bake. You can also make hand pies, tarts, and even empanadas from this pie dough.
How To Store Butter Pie Crust
Best Way To Store Leftover All-Butter Pie Crust
Refrigerate the plastic-wrapped pie crust disc. The unrolled crust will keep for three or four days in the refrigerator.
If you're making your pie dough ahead of time, store it in the disc shape wrapped in plastic wrap in the refrigerator. Don't roll it out and refrigerate it. Your dough will dry out.
This is a double crust pie recipe. If you have extra dough, you can refrigerate it and use it later for hand pies, tarts, or cinnamon and sugar toast. Or, freeze it for later.
Can I Freeze All-Butter Pie Crust dough?
Yes. You can freeze it for up to three months and thaw it to roll out later. I recommend freezing it in the disc shape versus rolling it out and then freezing it to prevent it from drying out.
To Freeze – Don't roll the pie dough. Keep it in a disc and wrap it in plastic wrap and foil or a reclosable freezer bag for 3 months. Thaw in the refrigerator.
Pie Crust Recipe with Butter FAQs
Is pie crust better with butter or shortening?
Butter tastes a lot better than shortening or lard.
Can I use butter instead of Crisco (vegetable shortening) for pie crust?
Yes, you can in an equal 1:1 ratio. My mother always used shortening, which created a very tender pie crust. It's also a vegetarian option.
Why do you use cold water in making a crust?
Tiny bits of fat evenly spread throughout the dough are what create a flaky pie crust. You want that. Icy cold water is all about keeping the butter or shortening from melting. These fats smoothly mix into your dough as you roll it.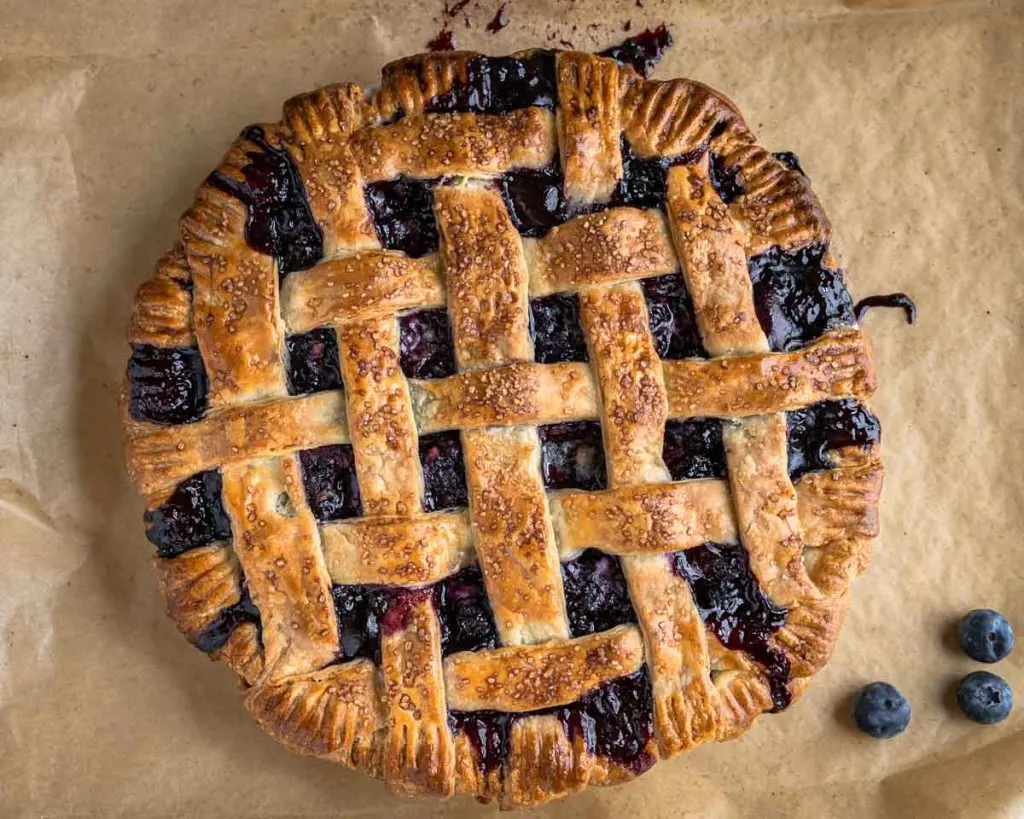 Tips to Make the Perfect Butter Pie Crust
Keep the butter very cold. If your dough starts to become warm, put it in the refrigerator for 15 minutes and then continue.
To keep your pie crust from shrinking or losing its shape in the oven, put the pie plate into the freezer for 15 minutes or in the refrigerator for 30 minutes before you bake it. Chilled and rested pie doe will keep its shape and definition better.
Don't overwork the dough; you want some chunks of butter. These chunks of butter burst when baked and are what create a flaky crust.
Roll your crust larger than your pie plate and just drop it into the dish. Don't stretch it.
If you want a thick crust, don't roll it as thin. This recipe makes a double crust. If you want a larger or thicker crust, use the whole or more than half of the recipe.
Don't eliminate the salt! A pie crust without salt is bland.
Don't underbake your pie. Baking until brown assures a delicious buttery flaky crust. If the edges start to get too brown, you can cover them with a piece of aluminum foil.
Pin It Now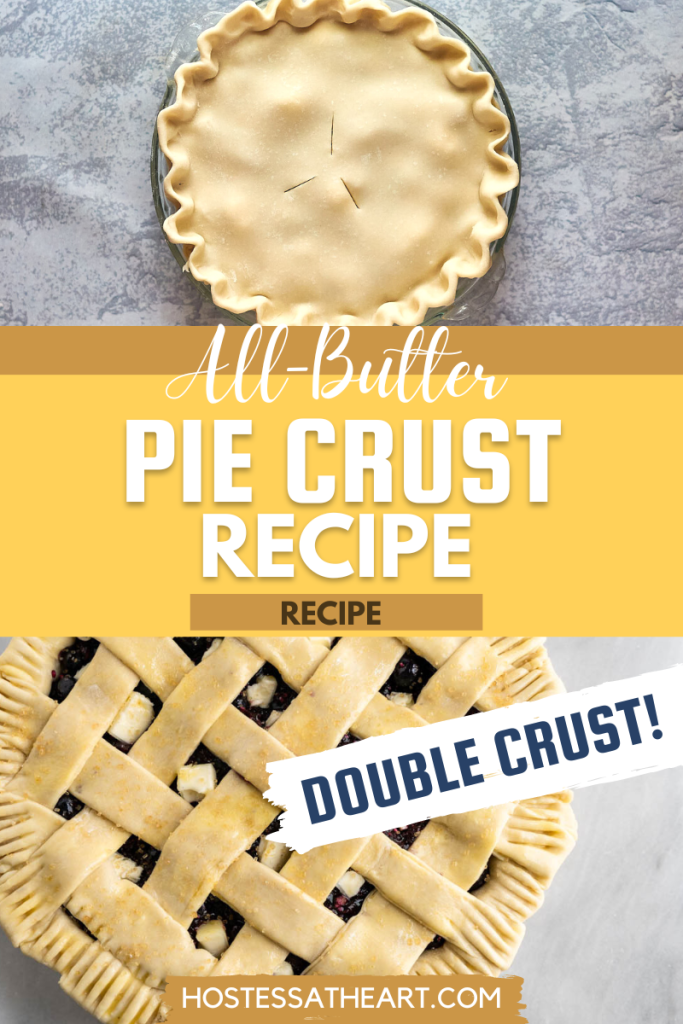 Great Pie Recipes to Use This Crust
Don't Forget To Come Back And Let Me Know How Your All-Butter Pie Crust Turned Out!