Pumpkin Chocolate Chip Muffins Recipe brings two amazing flavors into a muffin that's rich and tender. Large chunks of chocolate make this chocolate pumpkin muffin absolutely decadent.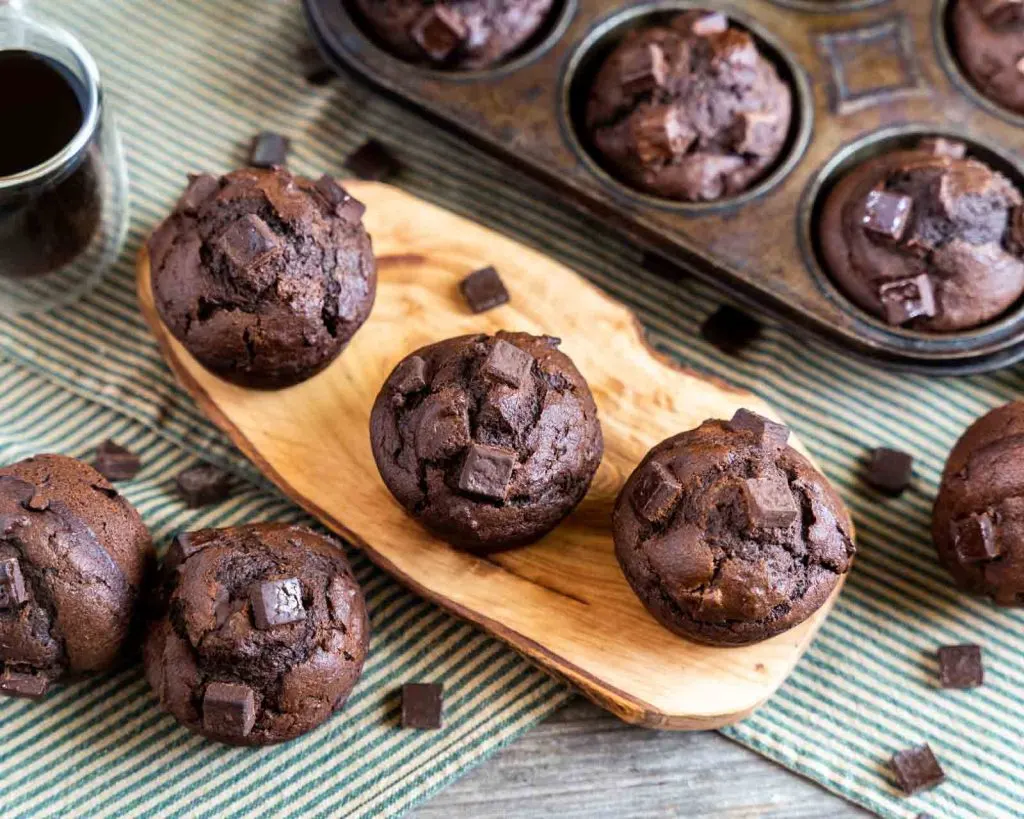 Do you think that muffins have to be dry and boring? Not these pumpkin chocolate chip muffins. They're just sweet enough to provide the perfect contrast to an omelet at breakfast or a bowl of soup for lunch.
Why I love this recipe for Chocolate Chip Pumpkin Muffins
They're EASY to make
A lot of recipes have the word easy in the title, right? I promise you that this Pumpkin Chocolate Chip Muffins Recipe IS easy. Why? Because I've made it several times and just cut out the steps that weren't necessary.
The first few times that I made them I tried swirling pumpkin and chocolate layers together just like I did with this Chocolate Pumpkin Bread recipe. Well, this batter is thick and that wasn't easy to do in such a small space.
Then, I made a two-tone muffin. I put the chocolate over the pumpkin layer. You either got a chocolate bite or a pumpkin bite, not a chocolate pumpkin bite.
Minimal ingredients
Lastly, I eliminated several spices for just pumpkin pie spice and cinnamon.
Ingredients and Substitutions For Pumpkin Chocolate Chip Muffin Recipe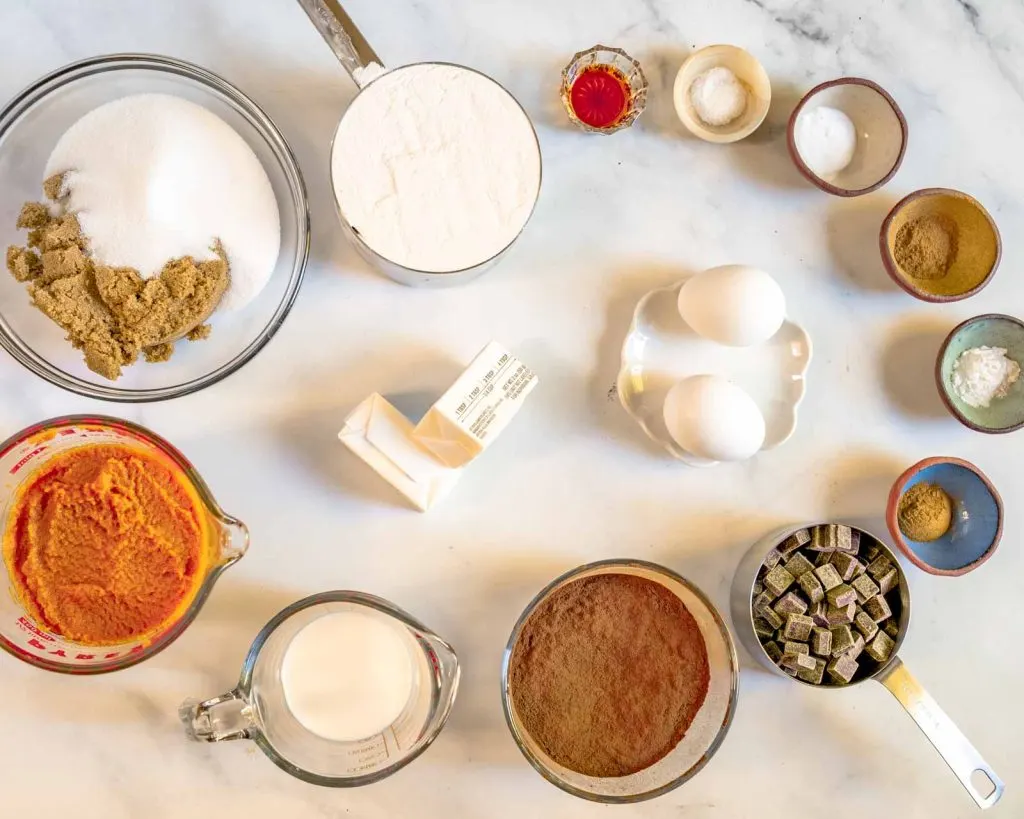 Chocolate Chips – You can use any variety. I prefer dark chocolate so went with a 62% cocoa variety. As you can see, I stepped it up and used chocolate chunks!

Everyone wants to make sure their pumpkin chocolate muffin is loaded with chocolate so I added a few to the top too.

Unsweetened Cocoa Powder – I prefer this cocoa but you can use what you have or prefer. The darker the cocoa the darker the muffin.

I always sift it because the moisture causes the cocoa powder to clump and the clumps are difficult to break up once they're added to other ingredients.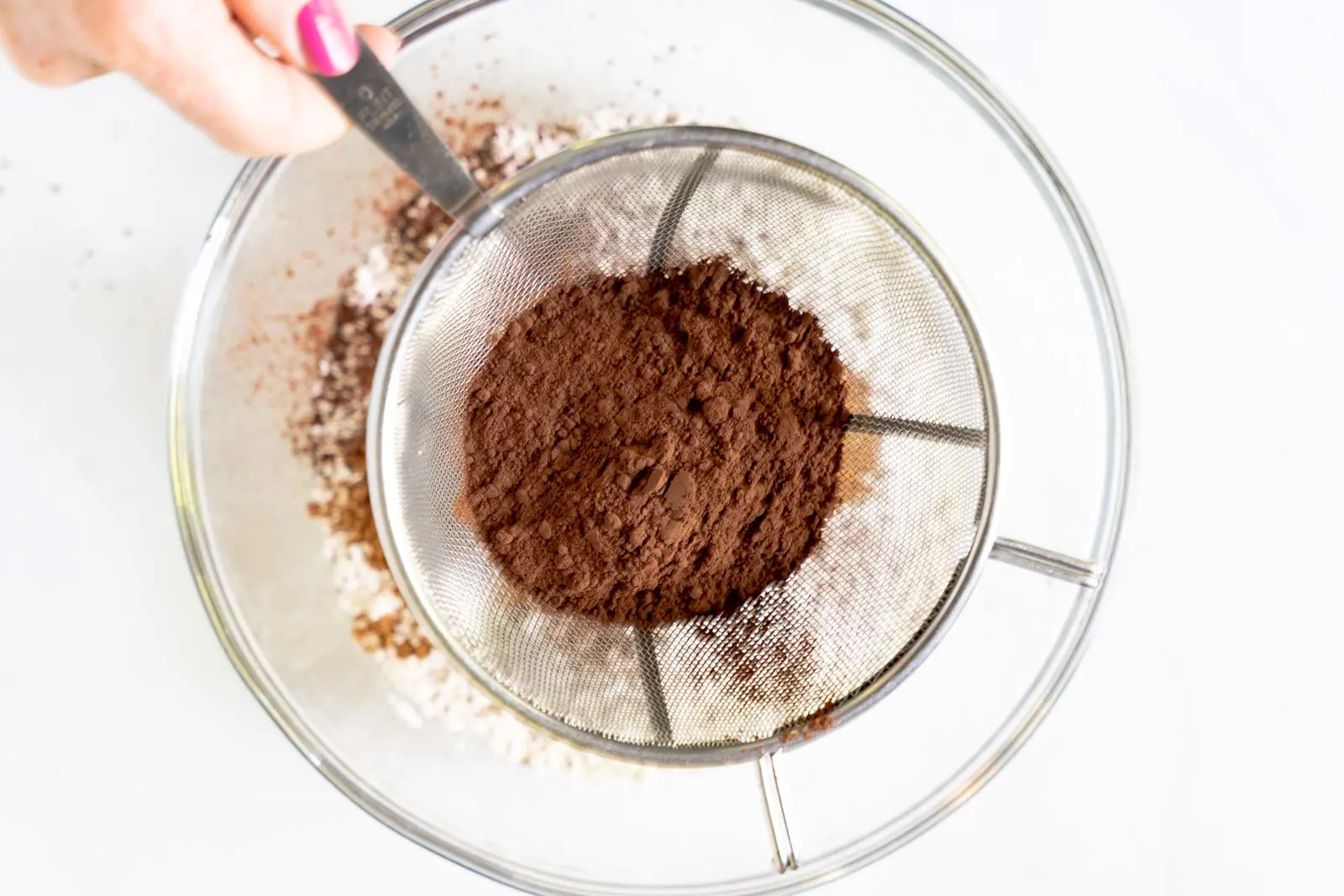 Flour – I used unbleached all-purpose flour but bleached is fine too.
Spices – Cinnamon and Pumpkin Pie Spice. You could just use cinnamon as well.
Salt – I prefer fine sea salt. Coarser or large grain salts sink to the bottom of the dry ingredients and the fine sea salt seems to dissolve better.
Baking Soda and Baking Powder – these ingredients are leaveners which is what makes your muffins rise. Make sure they're active if you've had them for a while.
Eggs – Grade A, large is what I use.
Butter – The real stuff tastes great with the chocolate. You can replace the butter with an equal amount of vegetable oil. Butter keeps them soft oil can make them a little crisper.
Sugar and Brown Sugar. Brown sugar has more moisture than white sugar and I like the additional caramel flavor dark brown sugar adds.

You could use all white sugar or all brown sugar.

Pumpkin Puree – I use canned. Don't mistake canned pumpkin pie filling for pumpkin puree.
Unsweetened Cocoa Powder – Any variety is fine. I prefer darker cocoa because I think it enhances the chocolate flavor and adds richness to Pumpkin Chocolate Chip Muffins.
Vanilla – Pure is what I use but imitation will work in this muffin.
Milk – Even though I used whole milk you can use any variety. Water will work too.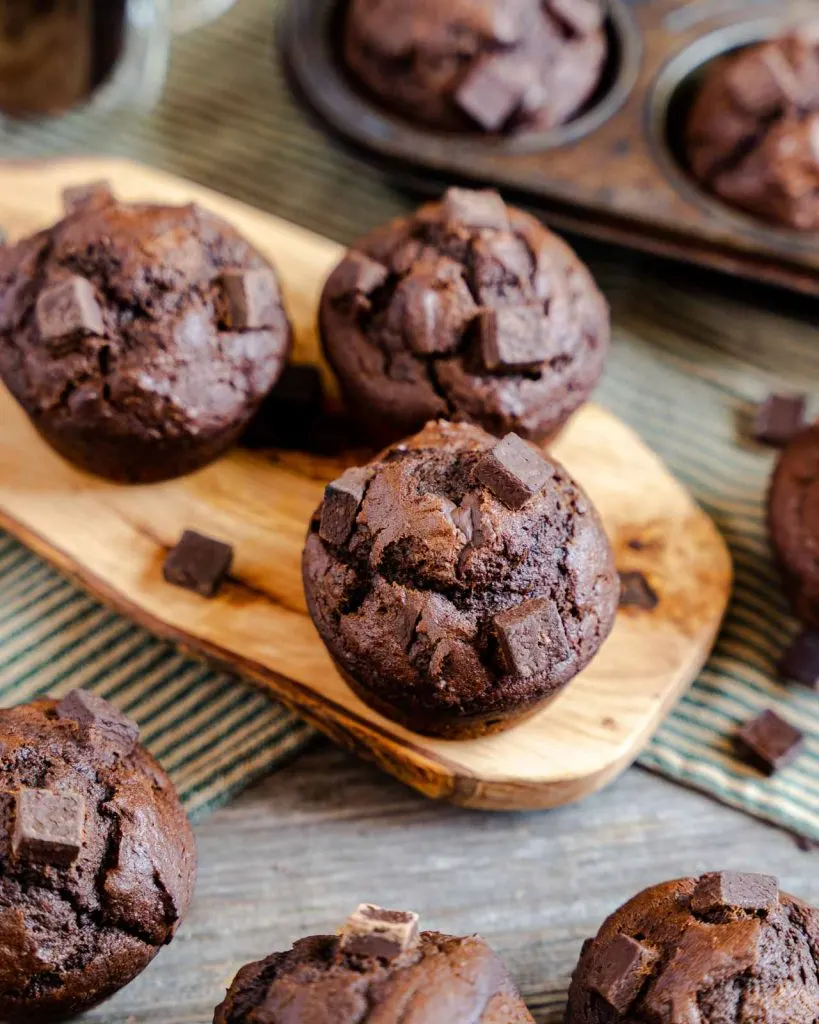 Tools You'll Need For Pumpkin Chocolate Chip Muffin Recipe
Muffin pans – This Pumpkin Chocolate Chip Muffin Recipe makes approximately 18 muffins. I used two pans so I didn't have to wait for my pan to cool before baking the second batch.
Scoop – I used an ice cream scoop for these muffins.
How To Make Pumpkin Chocolate Chip Muffins Recipe
Please note, that the printable recipe card has ingredient quantities, complete instructions, and nutritional information. The following is a quick overview of the recipe.
Step 1: Preheat the oven so it's good and hot when your Pumpkin Chocolate Chip Muffins are ready to bake. Also, grease your muffin pan or line it with cupcake liners.
Also, melt the butter so it has a chance to cool a little bit before you need it.
Step 2: In a medium-sized bowl combine the dry ingredients; flour, sifted cocoa powder, baking powder, baking soda, salt, cinnamon, and pumpkin pie spice.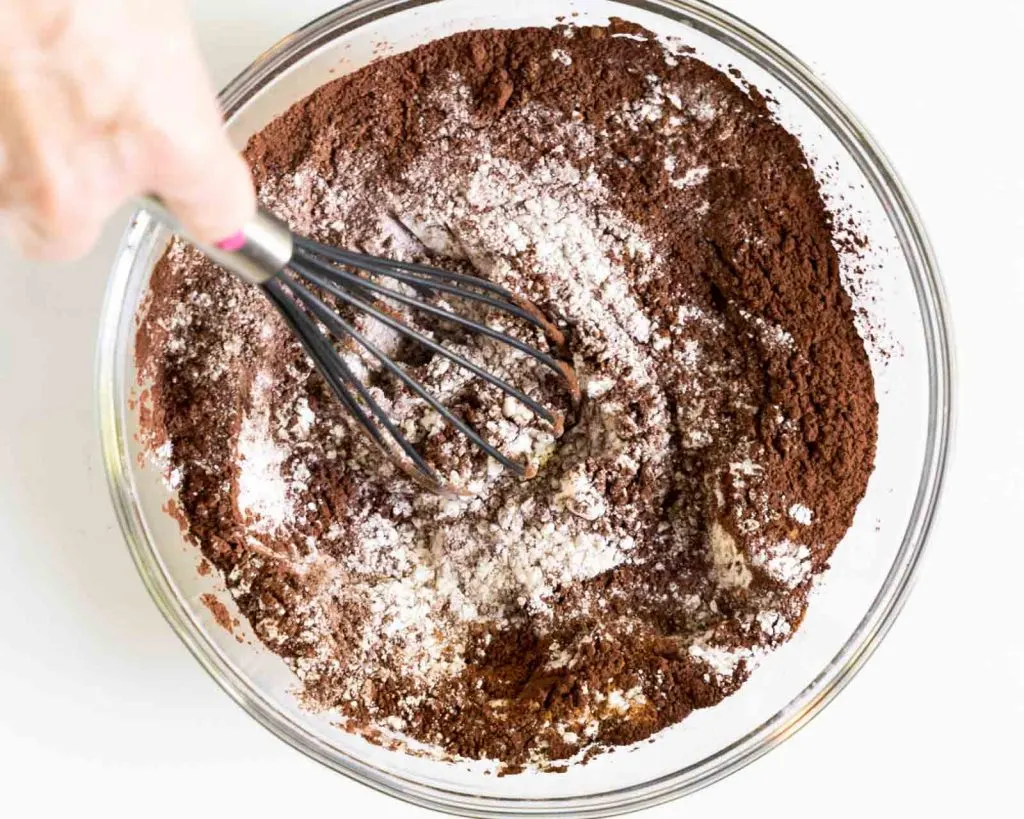 Step 3: In a large bowl beat the eggs. Add the pumpkin puree, brown sugar, white sugar, vanilla, melted butter, and milk. Stir until combined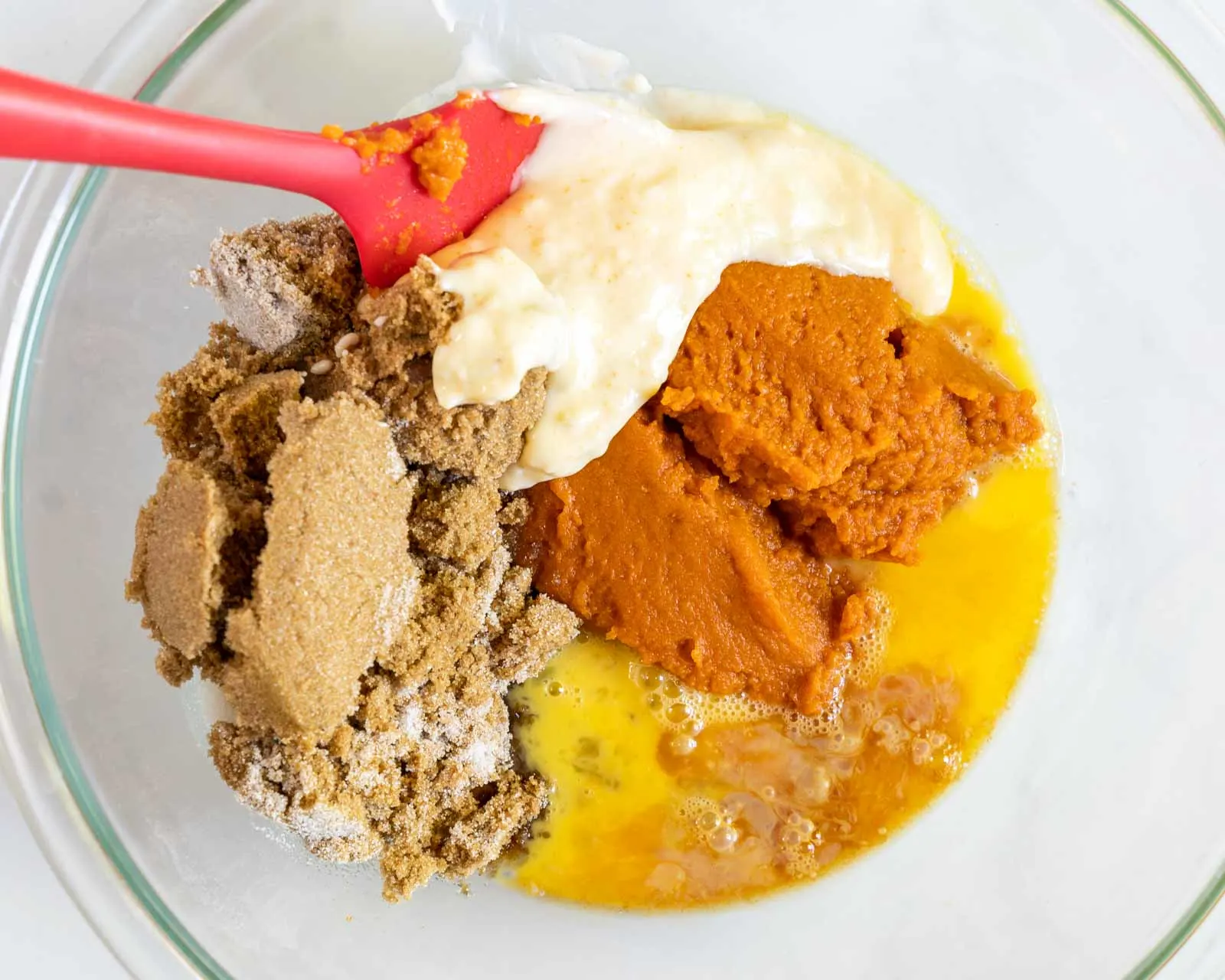 Step 4: Combine the dry ingredients with the wet ingredients. Stir only until combined. Fold in the chocolate chips. Save about 1/2 cup for a garnish too.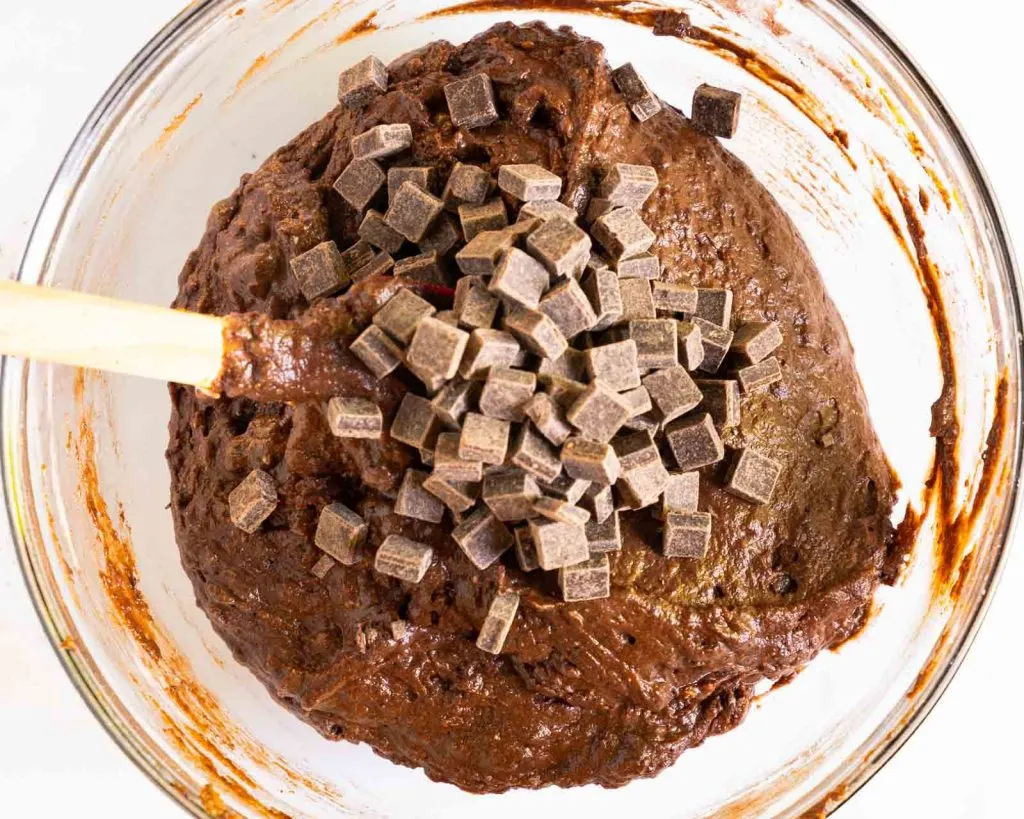 Step 5: Using an ice cream scoop, fill the muffin pan. Garnish each muffin with additional chocolate.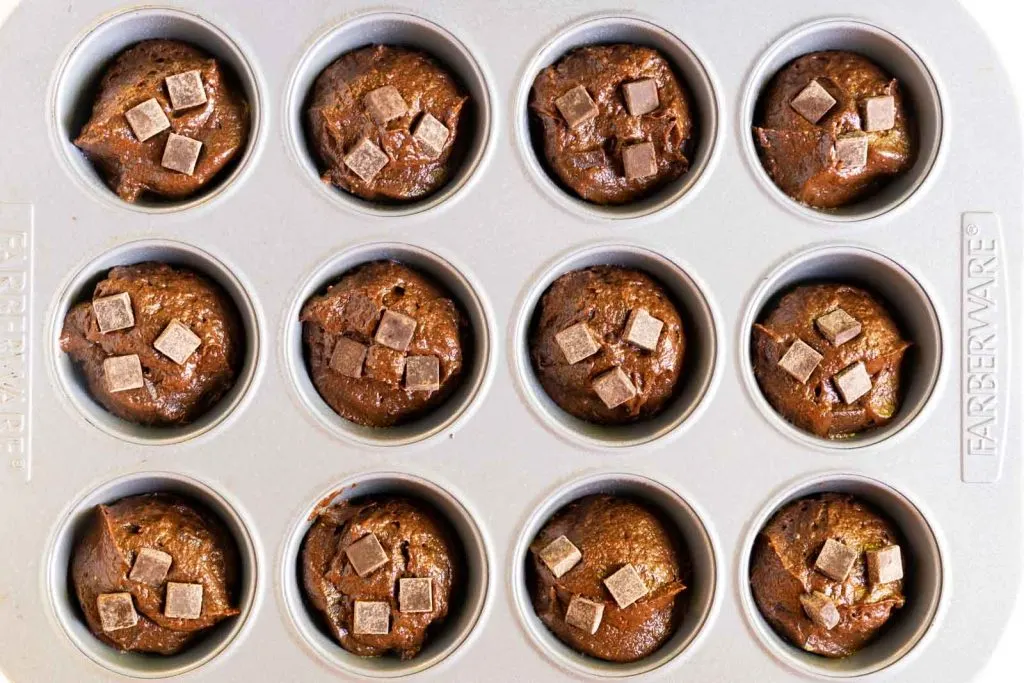 Step 6: Bake for 5 minutes at 425° and then lower the oven temperature to 350° and bake for an additional 12 to 14 minutes or until a toothpick inserted into the muffin comes out clean.
Let the muffins cool in the pan for 5 minutes and then put them on a cooling rack to cool completely.
Popular Chocolate Chip Pumpkin Muffin Recipe Variations
Add crushed nuts! Macadamia, walnuts, pecans, or peanuts would be delicious. Chop them into small pieces and fold them into the batter when you add the chocolate chips.
Replace the chocolate chunks with peanut butter chips, white chocolate chips, or mini chocolate chips.
How To Reheat & Store Pumpkin Chocolate Chip Muffins
Best Way To Store Pumpkin Chocolate Chip Muffins
Once Chocolate Chip Pumpkin Muffins are completely cooled, store them in an airtight container or reclosable bag for up to 5 days.
I don't refrigerate these muffins. The moisture in these muffins will condensate and could cause them to get soggy.
Can I Freeze this Easy Pumpkin Chocolate Chip Muffins Recipe?
Yes! These muffins freeze well for up to three months. Place them in an airtight container or reclosable bag.
How To Reheat Chocolate Pumpkin Muffins
Reheat Chocolate Pumpkin Muffins in small 10-second increments in the microwave. That will warm the muffins without completely melting the chocolate.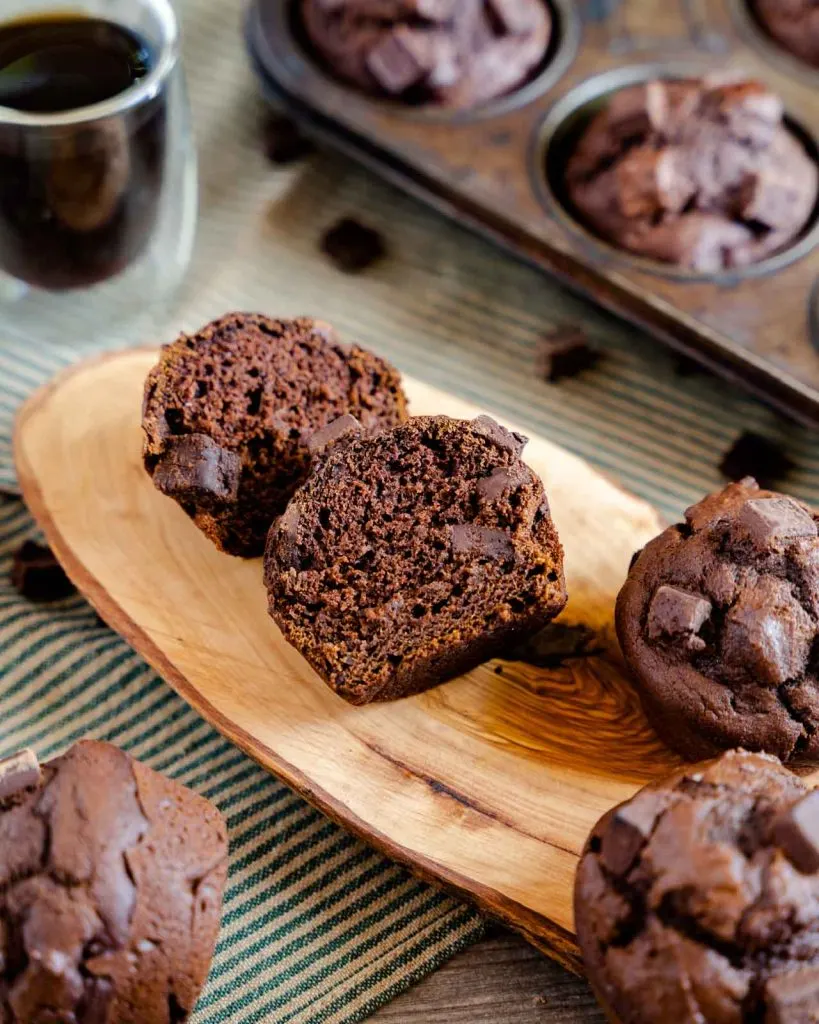 Chocolate Chip Pumpkin Muffins FAQs
What makes a chocolate chip pumpkin muffin moist?
In this muffin, we used butter and milk. The fat in these ingredients provides moisture to these muffins. The technique is also important. See some of my tips below.
Should muffin batter be thick or runny?
Either! The batter for this Easy Pumpkin Chocolate Chip Muffins Recipe is thick but it all depends on the muffin recipe ingredients. Don't be afraid to try a muffin recipe that has a thinner batter.
How full should Pumpkin Chocolate Chip Muffins cups be filled?
I use one ice cream scoop which is approximately 4 tablespoons of batter. If the muffin cups are filled too full, the muffins will spill over the top as they bake creating a hard, dry ridge.
Are muffin tins the same as cupcake tins?
Yes, they're the same thing.
Tips for the perfect Chocolate Pumpkin Muffin
Use room temperature ingredients. This will allow the ingredients to blend together and become fluffy when mixed.
Don't overmix these muffins. That will create a dense and dry muffin.
Use a scoop to dip out the batter which will make each muffin the same size.
Always check the muffins for doneness right before they're supposed to be done. In the case of this Chocolate Pumpkin Muffin about 13 to 14 minutes.
Remove the muffins from the pan after about 5 minutes. The heat of the pan will dry out the muffins if they're completely cooled in the pan.

I find an offset spatula or knife works well for getting the muffins out of the pan. Especially when they're topped with hot melting chocolate.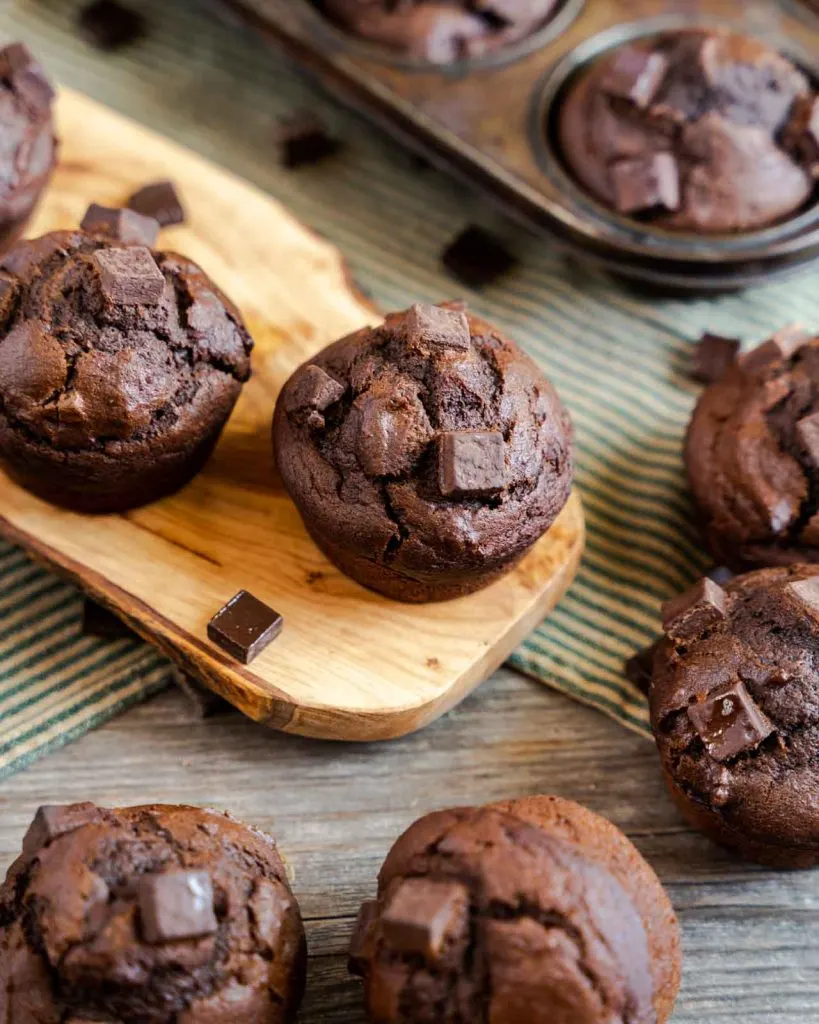 If you enjoyed this Chocolate Chip Pumpkin Muffin Recipe you may like these recipes too.
Don't forget to come back and let me know how your Pumpkin Chocolate Chip Muffin Recipe turned out!
Pin It Now