This Chocolate Pumpkin Bread recipe is soft, tender, and so moist. It's a quick and easy chocolate marbled pumpkin bread with warm spices making it perfect for Fall.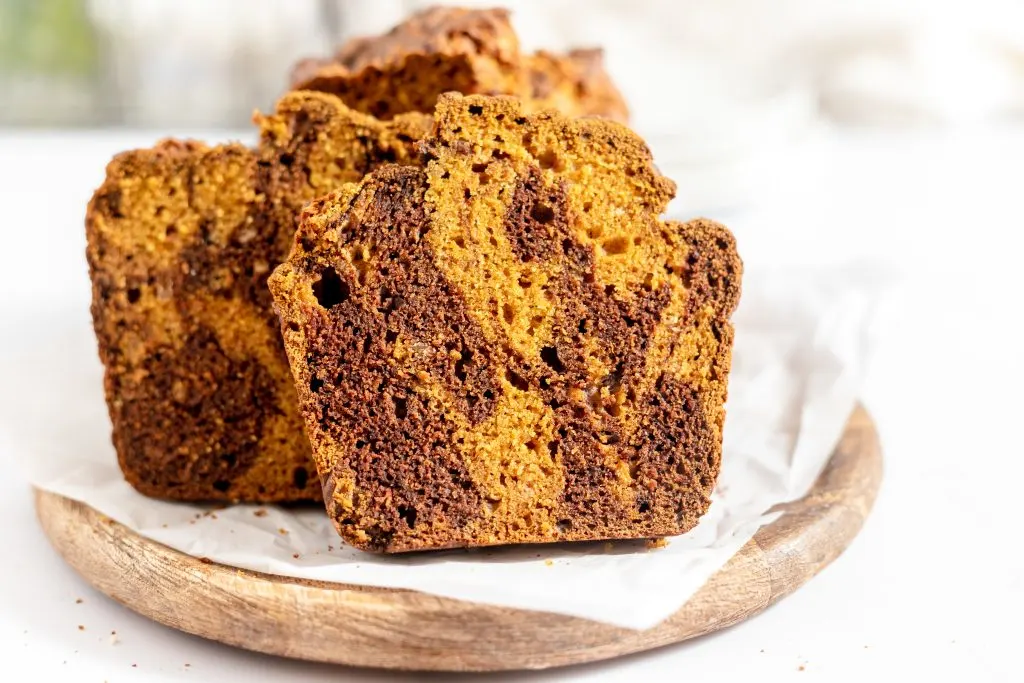 Pumpkin Chocolate bread is a Fall staple at our house. Perfectly suited flavors of chocolate, pumpkin, and warm spices are combined creating a magically swirled interior.
This quick bread recipe is delicious with a cup of coffee or with a bowl of soup for a simple lunch.
Let me tell you about this Chocolate Pumpkin Bread
This bread is fast and easy to make. It's perfect for bake sales or holiday gifts. The marbled interior of this bread shows off your amazing baking skills (wink wink).
This is a quick bread so there's no yeast to fuss with.
Freeze a couple of loaves in advance for make-and-take get-togethers.
The ingredients are easy to find in most grocery stores.
No-fancy equipment is needed.
What is "Quick Bread"
It doesn't mean quick as in fast. Quick bread uses leavening agents other than yeast such as the baking soda in this chocolate pumpkin loaf.
That being said, marbled chocolate pumpkin bread is faster than bread that requires yeast as a leavening agent because there is no need to wait for it to rise.
Chocolate Pumpkin Bread Recipe Ingredients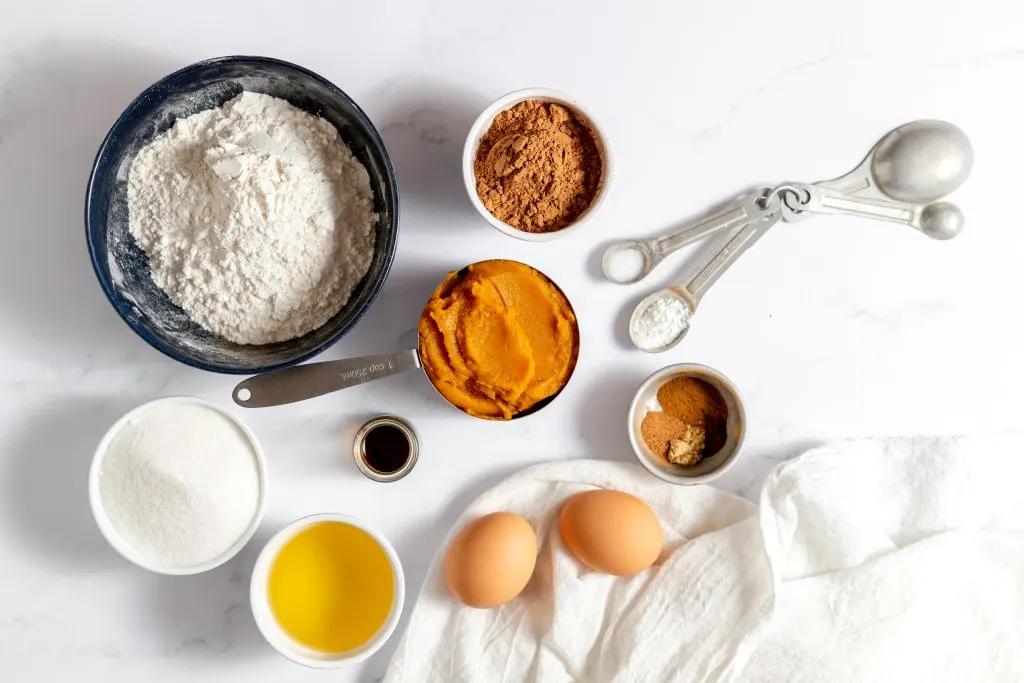 Flour – all-purpose flour, beached or unbleached.
Baking Soda – make sure your baking soda is fresh. If you're not sure how to tell, you can refer to my Baking Techniques post.
Spices – we used cinnamon, nutmeg, ginger, and cloves. You could use an equal amount of pumpkin pie spice.
Salt – I like using fine sea salt. I think it blends and dissolves better than coarser salts. Use what you have or prefer.
Eggs – Large eggs is what I use for consistency in my baking.
Vanilla – pure is what I prefer but imitation is fine if that's what you prefer in this chocolate pumpkin bread recipe.
Oil – neutral flavored oil such as canola or vegetable.
Sugar – white granulated sugar
Pumpkin puree – I use canned pumpkin puree.

Don't use pumpkin pie puree

. It's not the same thing.
Cocoa powder – unsweetened baking cocoa. Most of the time I like dark chocolate cocoa powder but didn't in this recipe. Use what you prefer.
Milk – Any milk including fat-free. Milk alternatives or water will work for a vegetarian option.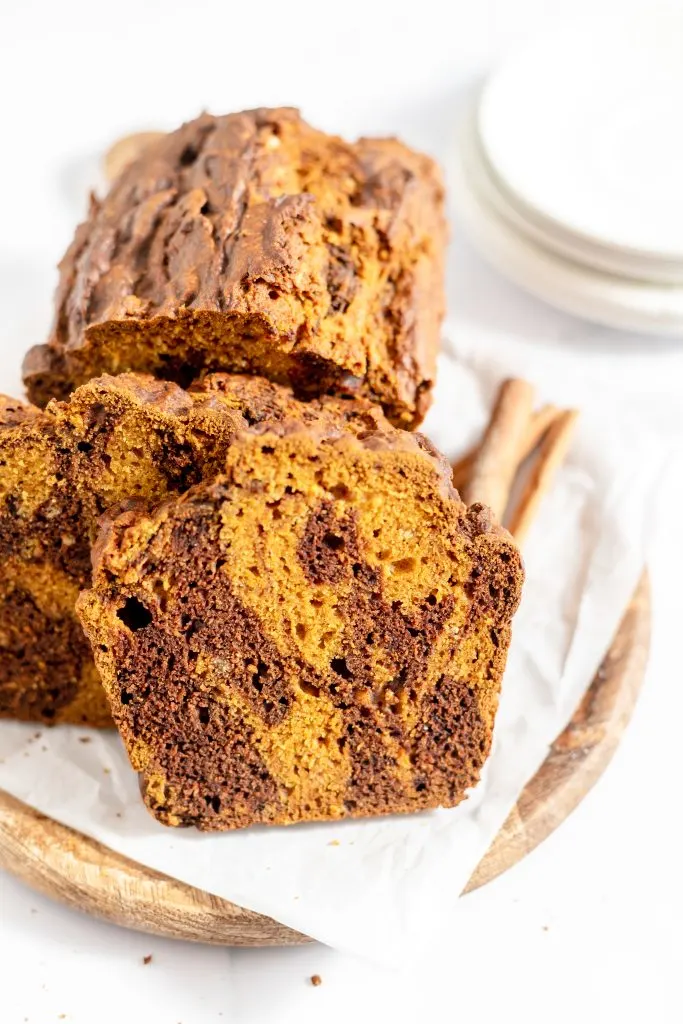 How To Make Chocolate Pumpkin Bread
Please note, that the printable recipe card has ingredient quantities, complete instructions, and nutritional information. The following is a quick overview of the recipe.
Step 1. Preheat the oven so it's good and hot when your bread is ready to bake. Also, grease your loaf pan. If you forget to grease the pan or spray it with non-stick spray, your bread is guaranteed to stick.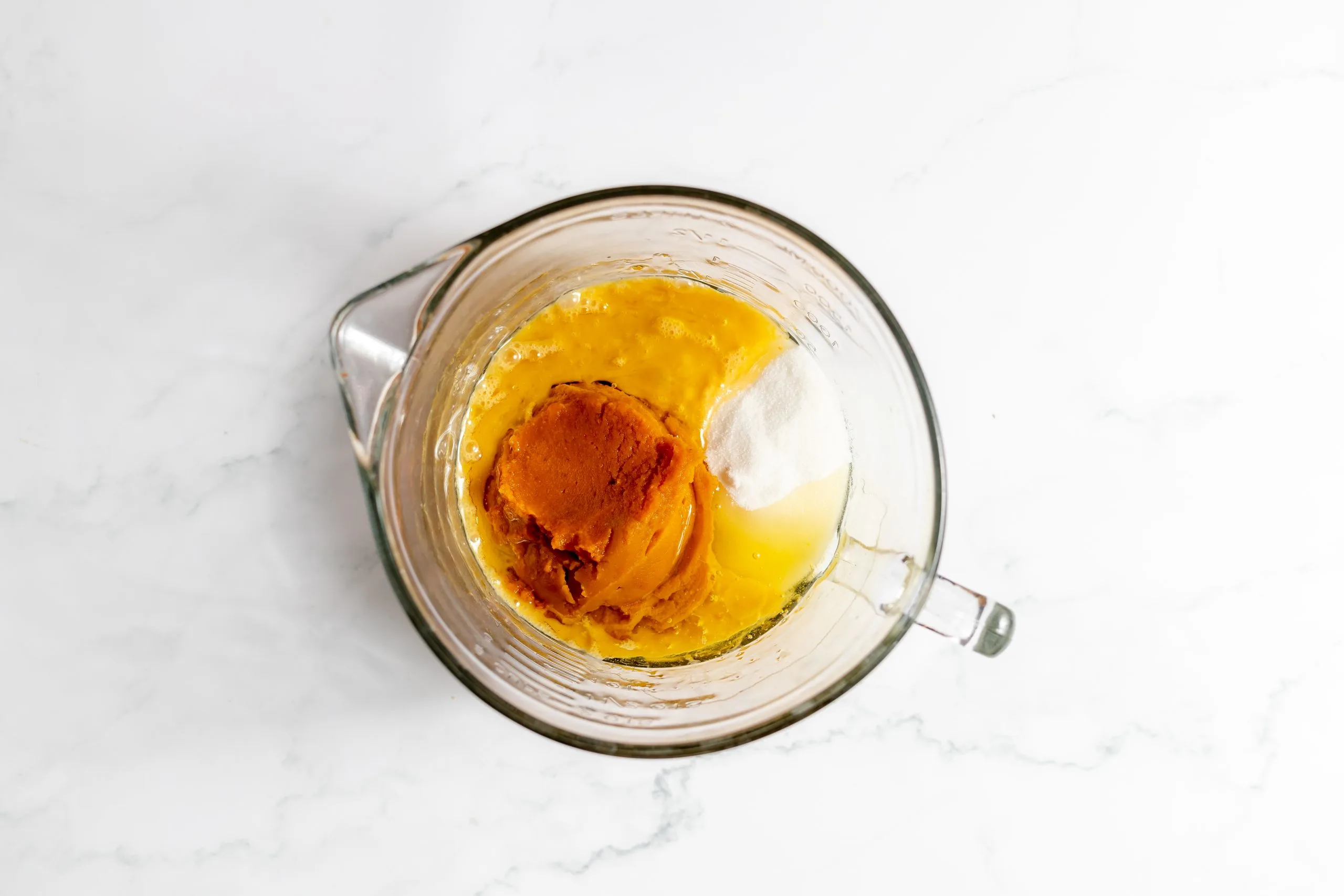 Step 2. In a medium-sized bowl combine the dry ingredients.
Step 3. In a large bowl combine the eggs, vanilla, oil, sugar, and pumpkin puree.
Step 4. Add the dry ingredients to the wet ingredients and stir together.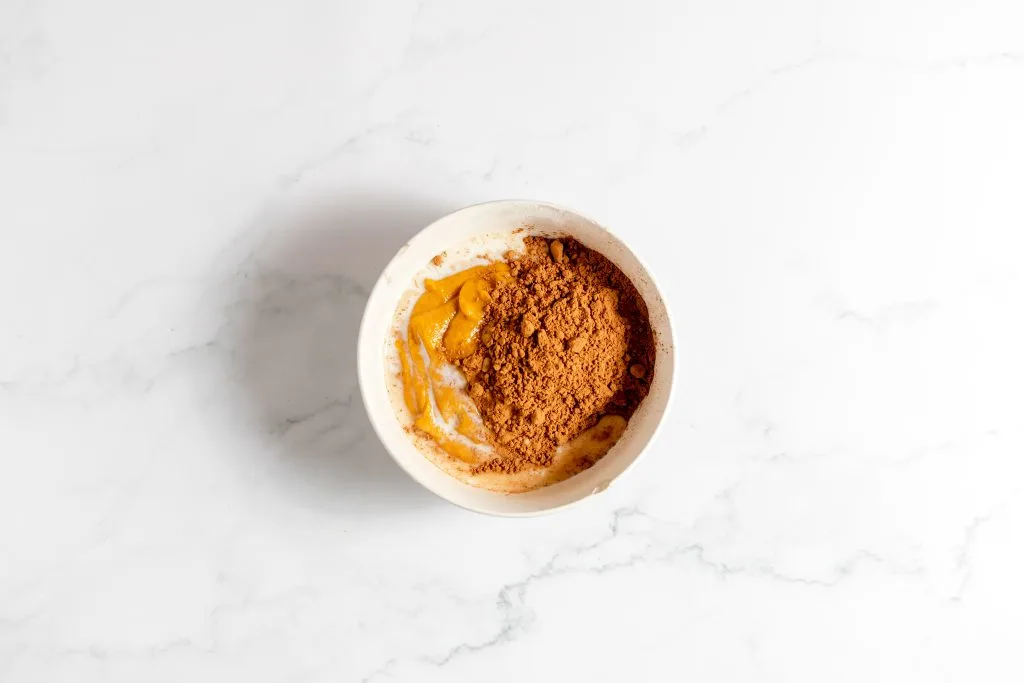 Step 5. Remove 1/3 of the batter and place it in a separate bowl. Add the cocoa powder and milk. Whisk together.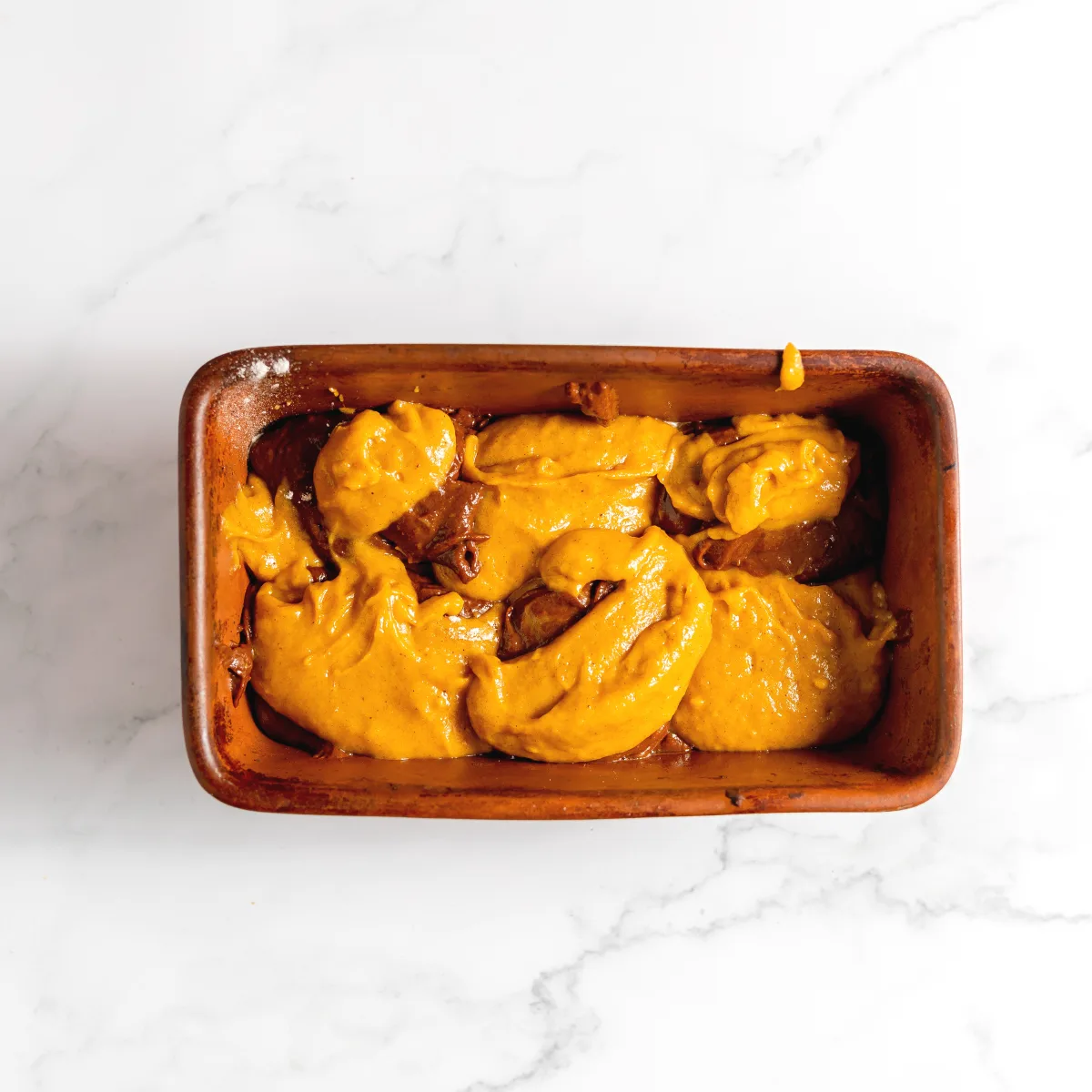 Step 6. Add both batters one spoonful at a time to the loaf pan, alternating between chocolate batter, and regular batter. Lightly swirl the batter together.
Step 7. Bake and cool.
Popular Substitutions & Additions
Add chocolate chunks or chocolate chips for chocolate chip pumpkin bread.
Add chopped nuts such as pecans or walnuts.
Add a powdered sugar glaze to the top such as we did with our Snickerdoodle Bars.
The best way to Store Pumpkin Chocolate Bread
Marbled Chocolate Pumpkin bread is best stored at room temperature such as in a reclosable plastic bag for up to 5 days. This bread can also be refrigerated for up to 7 days.
However, the bread is at its peak of deliciousness for 2 days. If you're not going to get it eaten, I recommend that you freeze it.
Can I Freeze Pumpkin Chocolate Bread?
Absolutely yes! This bread freezes very well. Make sure that it's completely cool and then wrap it in plastic wrap and foil. Don't forget to label it to prevent having those mystery packages in your freezer (guilty).
How To Reheat Marbled Chocolate Punkin Bread
I love a warm slice of buttered pumpkin chocolate bread with a cup of coffee in the morning or for a snack in the afternoon. Heat slices of pumpkin chocolate bread in a single layer on a plate at 30-second intervals. Don't stack the slices.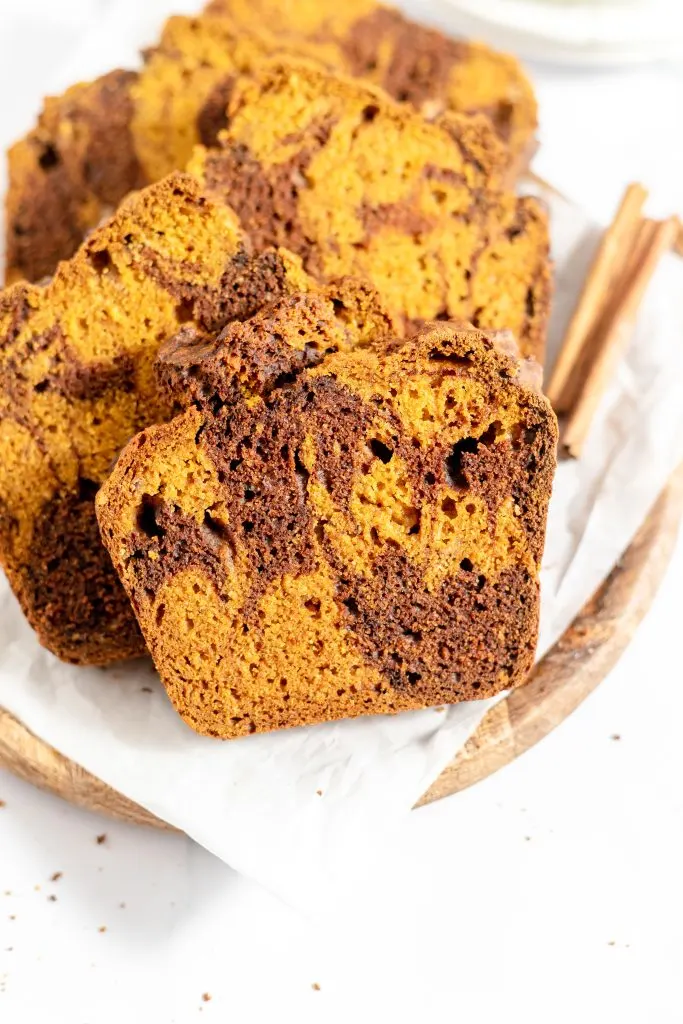 Pumpkin Chocolate Bread Recipe FAQs
What makes Pumpkin Chocolate Bread dry?
The most common reasons are:
1. Overmixing which can make the bread gummy or dry by incorporating too much air while mixing.
2. Baking at too high of a heat.
3. Baking too long.
How can I tell if my pumpkin bread is done?
If you use an instant-read thermometer, the internal temp should measure at 190 to 200 for a quick bread recipe. Or, use a cake tester or toothpick and insert it into the center of the loaf. If it comes out clean or with just a couple of crumbs, it's done.

The bread can also puff up and crack on the top or will start moving away from the sides of the pan when it's finished baking.
Why doesn't my pumpkin bread cook in the middle?
Usually, the bread was removed from the oven before it was thoroughly baked.
What happens if you cut bread before it cools?
As the bread cools it "sets" or turns solid. Cutting bread too soon can result in a gummy crumb. The bread is more likely to tear instead of cutting a clean slice.

My rule of thumb is to allow chocolate pumpkin quick bread to cool 45 minutes before slicing. See the recipe for proper cooling.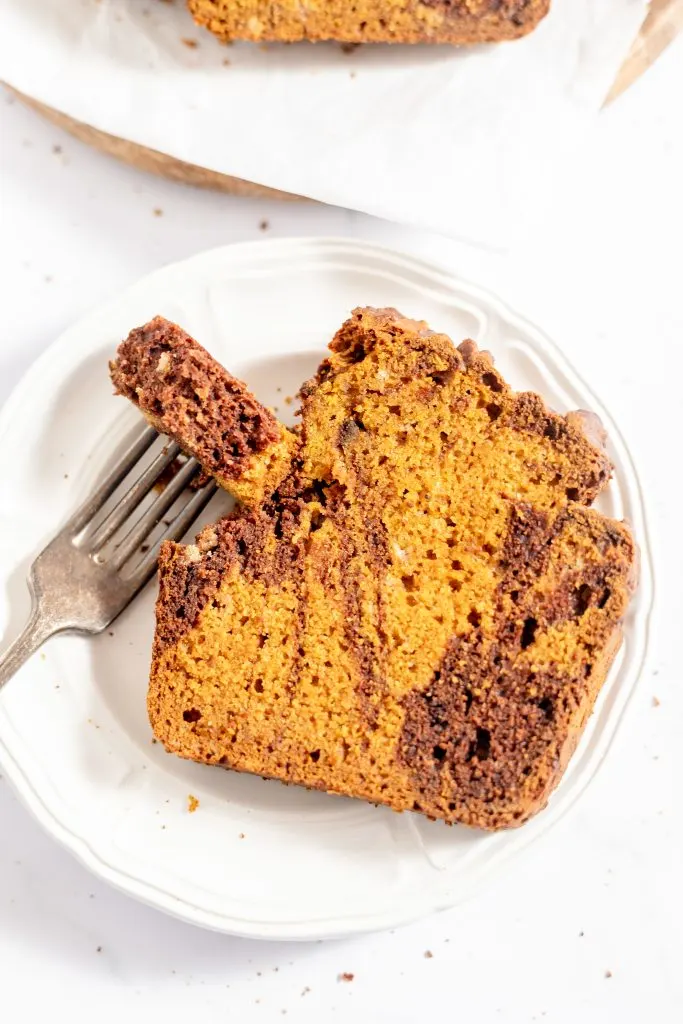 Tips for the perfect Pumpkin Bread with Chocolate Swirl
I always sift cocoa before using it. The moisture in the cocoa causes clumps that are hard to incorporate into your other ingredients.
Don't over swirl the two batters together. Doing so will muddy the marbling effect.
Don't cover the loaf as it cools. That will result in a gummy crust.
Make sure the bread is completely cool before storing it. If it's warm it will cause moisture to condense in the container making the bread wet and gummy.
If you like this Pumpkin Chocolate Swirl bread you may enjoy these recipes too!
Want more delicious recipes? Follow Hostess At Heart on Pinterest!
Don't Forget To Come Back And Let Me Know How Your Chocolate Pumpkin Bread turned out!