It's pumpkin time! Come along with me and indulge in the rich flavors of Fall with pumpkin and creamy Nutella all swirled together in our heavenly pumpkin babka recipe. Everyone will love this freshly baked sweet bread with a subtle pumpkin flavor.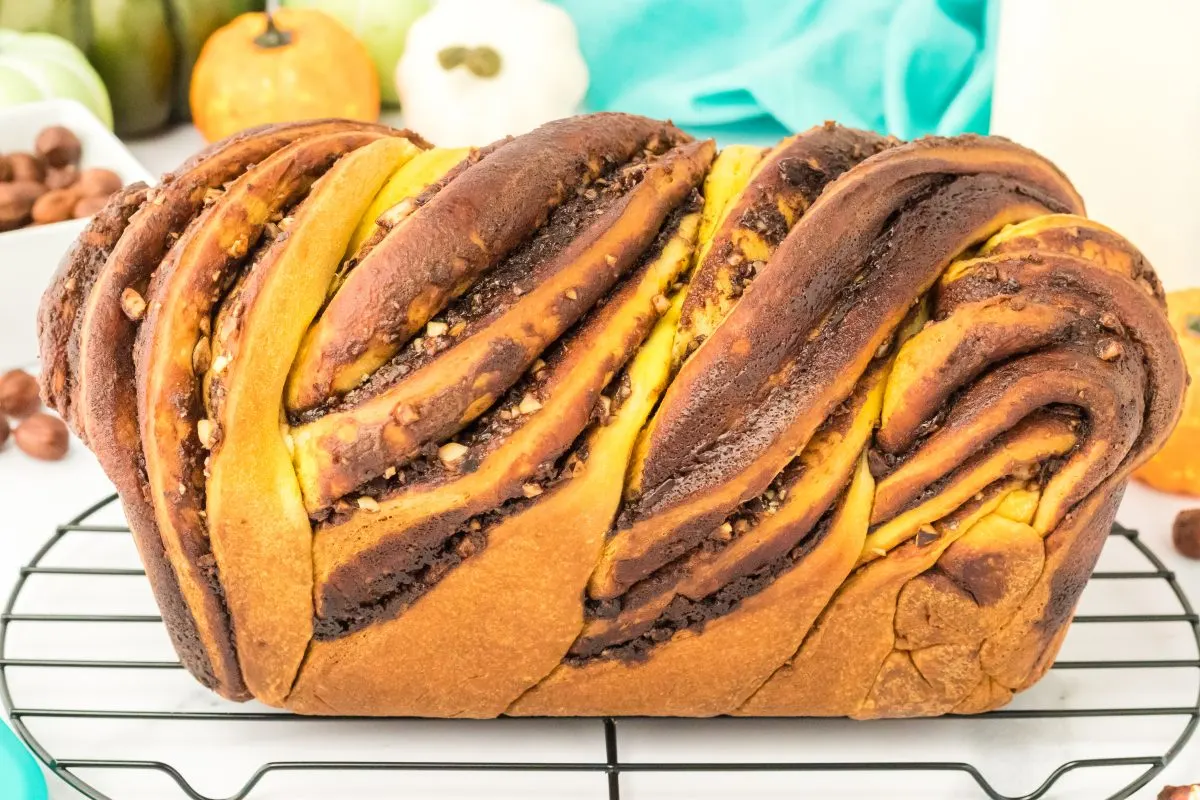 Babka is a very special bread traditionally made to celebrate holidays and special occasions with family and friends. So many beautiful variations exist; you will have endless recipes to try! Make this gorgeous sweet braided bread with a subtle pumpkin flavor from September to December and proudly bring it to your holiday table. Step-by-step directions will make the process painless.
Why You'll Love Nutella Babka
Irresistible Fall Flavors: This recipe beautifully combines the warm, comforting taste of pumpkin with the rich, nutty goodness of hazelnuts. It's like a cozy autumn embrace in every bite.
Decadent Nutella Swirls: The addition of Nutella takes this babka to a new level of indulgence. The luscious, creamy chocolate hazelnut filling creates heavenly pockets of flavor throughout the bread.
Stunning Visual Appeal: The mesmerizing swirl pattern of the babka will capture your readers' attention and make their mouths water. It's a feast for the eyes as well as the taste buds.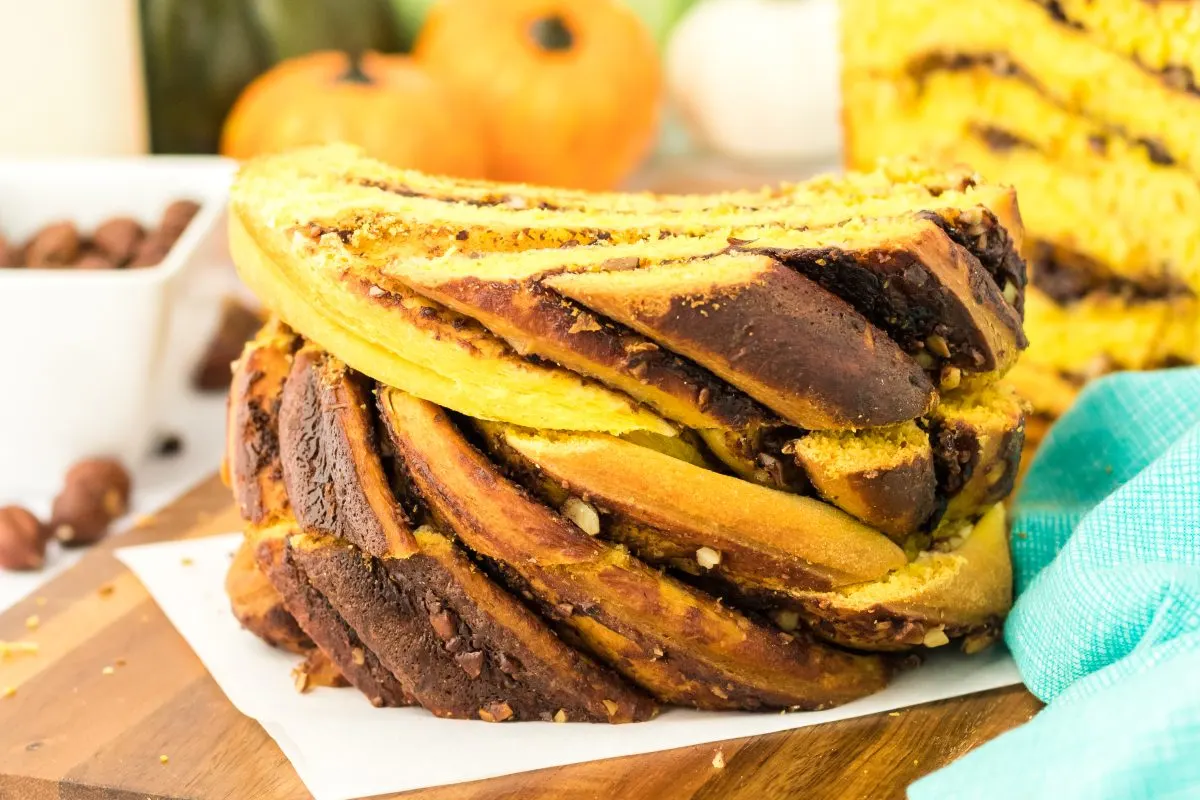 What is Babka Bread?
Babkas are one of my absolute favorite baked treats. Babka recipes can be sweet like our Chocolate Babka or Savory like this amazing Cheese Bakba Recipe. Babka is an enriched yeasted dough meaning that it is sweetened and uses yeast. Original babkas originate from Eastern European Jewish cuisine.
It's a real crowd-pleaser, and I can't help but get excited every time I bake it! It's a bit like a cross between bread and cake. And the flavor? Oh, it's divine! Traditional Babka Bread is often swirled with a rich filling, typically made of chocolate or cinnamon, although many delightful variations exist.
Let's Make Pumpkin Babka Bread Recipe
While this recipe for pumpkin babka bread isn't difficult to make, I recommend that you have all of the ingredients laid out and that you've read through the instructions.
Ingredients you'll need for this recipe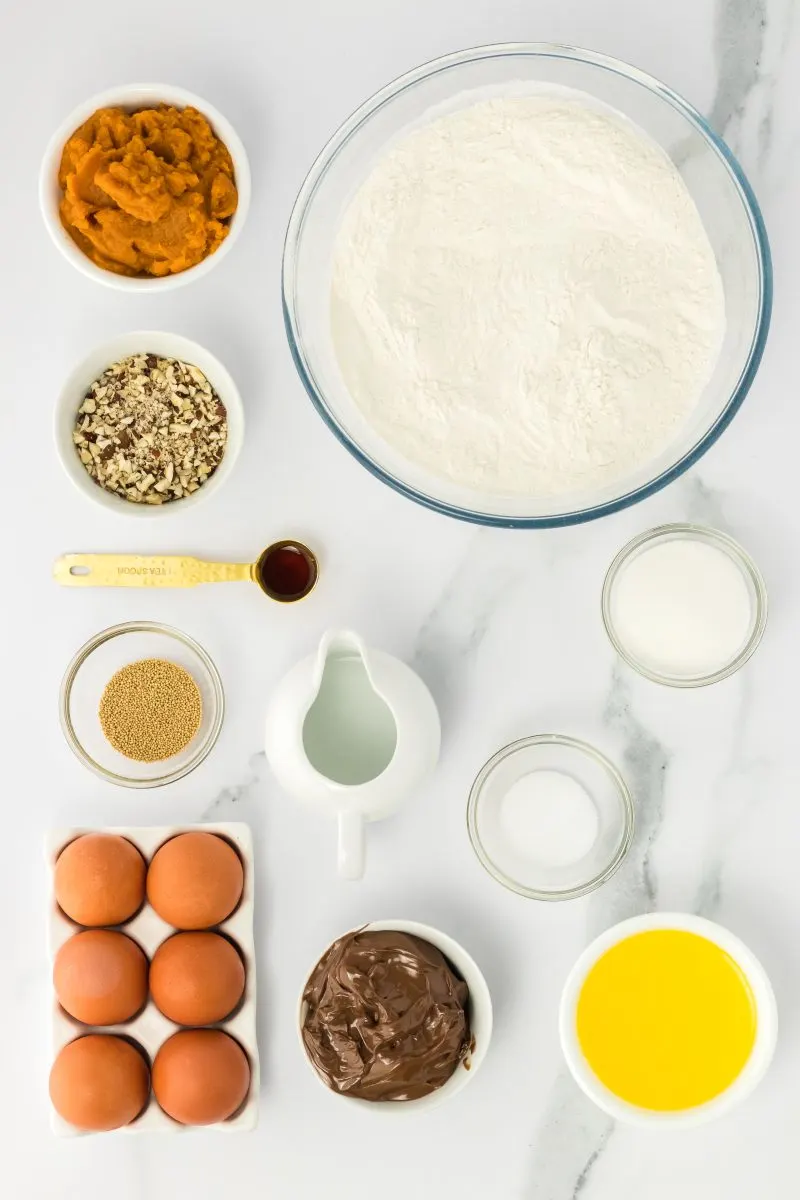 Warm Water.
All-Purpose Flour. We used the spoon and level method to measure our flour. Using the scoop and level method will add too much flour. See our video showing you how this is done if needed.
Canned Pumpkin Puree. This isn't the same as pumpkin pie filling which shouldn't be used since it already contains sugar and spices.
Unsalted Butter. If you use salted butter, reduce the amount of salt used by 1 teaspoon, or 1/2 teaspoon total.
Eggs.
White Granulated Sugar.
Salt.
Chocolate Hazelnut Spread. We use Nutella.
Raw Hazelnuts.
Delicious Variations
Substitute the white granulated sugar with dark brown sugar for a rich flavor of molasses.
A teaspoon of ground cinnamon or pumpkin pie spice would be a delicious addition to the dough.
Top the braided bread with poppy seeds or mini chocolate chips before baking.
Swirl a sweet glaze over the top of the baked bread like we did with these muffins.
How To Make Pumpkin Babka
Please note, that the printable recipe card has ingredient quantities, complete instructions, and nutritional information. The following is a quick overview of the recipe.
Step One. Preparation for Pumpkin Babka Recipe
Get your pan ready by greasing it really well. Proof your yeast in warm water to make it happy. You can skip proofing your yeast if using instant yeast.
Step Two. Start Mixing the bread.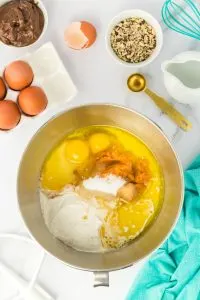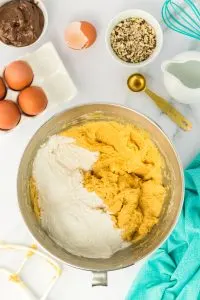 Add two cups of flour, the pumpkin puree, the melted butter, eggs, sugar, salt, and vanilla extract to the yeast mixture in the bowl of a stand mixer. Use the paddle attachment of your stand mixer. With the mixer on low speed, add the remaining two cups of flour and mix until combined.
Step Three. Let the Pumpkin Babka dough rise.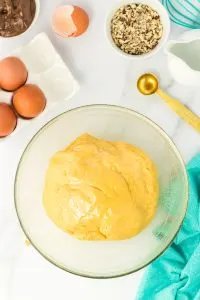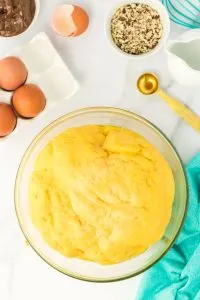 Place the bread dough in a large mixing bowl that has been sprayed with cooking spray or brushed with vegetable oil. Set it in a warm space covered with a kitchen towel or plastic wrap. If you have a proof setting on your oven, place the bowl in the oven on the bottom rack with all other racks removed and let the dough rise until it doubles.
Step Four. Prepare the Braided Dough.
Punch down the proofed dough. Put the dough on a lightly floured surface, and using a rolling pin thinly roll the dough into a large rectangle. Using a spatula, spread it with Nutella leaving a one-inch border along the edges. Shape the dough as explained in the step-by-step instructions below.
Step Five. Let the dough rise again.
Once your twist is prepared, place it in the pan and let it rise for a half hour or so in a warm location or proofing oven for the final rise.
Step Six. Bake your pumpkin babka.
Bake until golden brown, covering it with aluminum foil for the last 20 minutes. Once baked, let it cool in the pan for ten minutes before removing from the pan and cool some before slicing.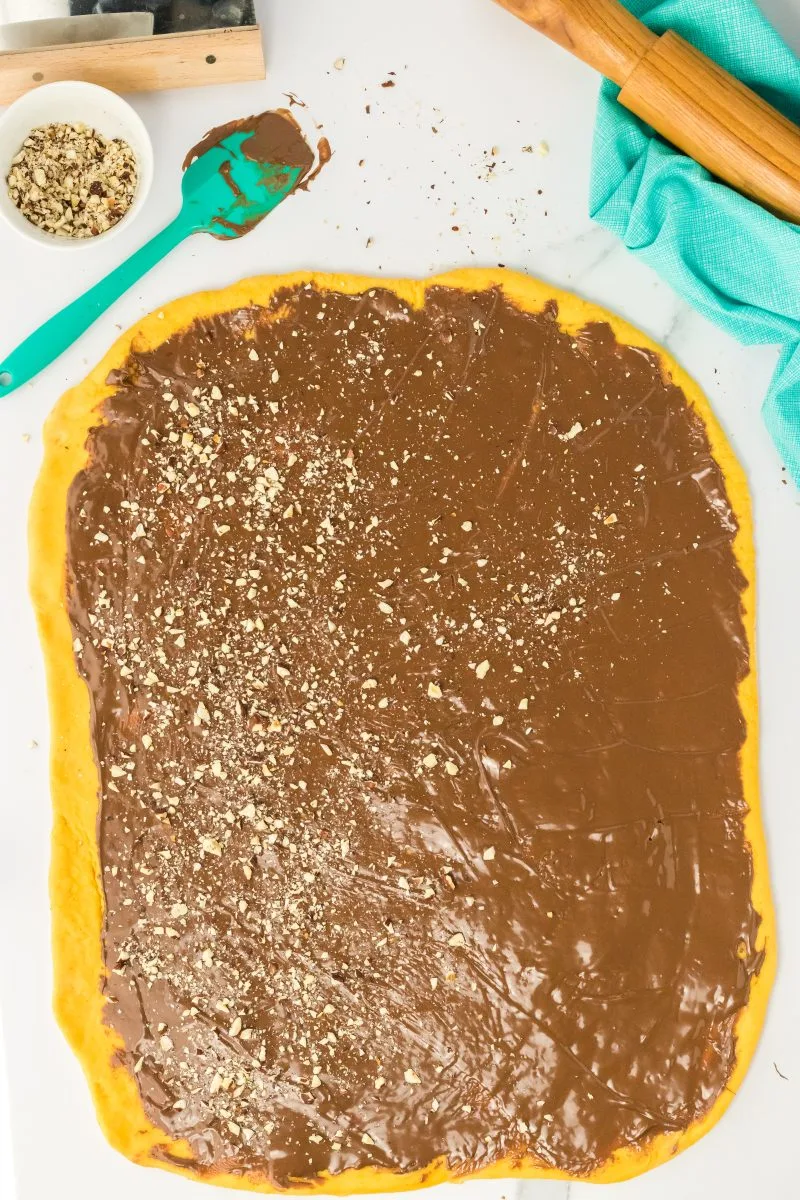 How do you shape Babka? Step-By-Step Instructions
Starting on the long sides, roll the filled dough into a long tube like you would when making cinnamon rolls rolls. Pinch the seam closed.
Using a sharp knife or dough cutter, cut the long log in half lengthwise and position the cut side upwards and side-by-side.
On one end, pinch the two halves together then slowly and loosely twist the two halves together, keeping the cut end facing up.
Tuck the two short ends of the log under the loaf and place it in the 9 x 5 prepared loaf pan.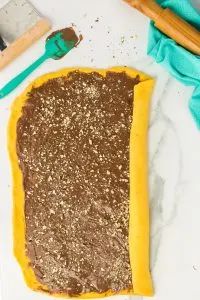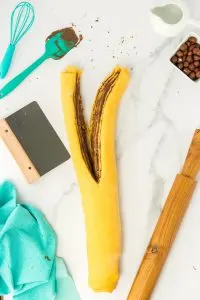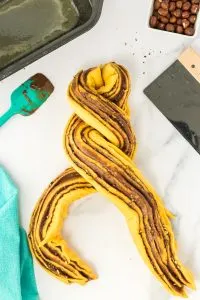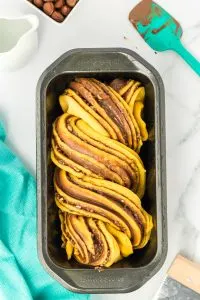 Frequently Asked Questions
I know that when it comes to trying out a new recipe, questions often pop up along the way. So, let's tackle some common reader questions about making Pumpkin Babka Bread and ensure you have all the answers you need to embark on this delicious baking adventure:
Can I make this Pumpkin Babka recipe ahead of time?
You can make the dough in advance and either refrigerate it or freeze it. If making in advance, do not allow it to rise. Simply cover the dough in plastic wrap and place it in the fridge or freezer. When you are ready to use it, simply place it in an oiled bowl and allow it to come to room temperature. Once at room temperature, cover and place in a warm place for 1 hour and continue with the hazelnut steps.
Can I use fresh pumpkin puree instead of canned?
Using fresh pumpkin puree can be a fantastic option. Just make sure to drain any excess moisture from it before adding it to the dough. You can also roast and puree your own pumpkin for that extra homemade touch.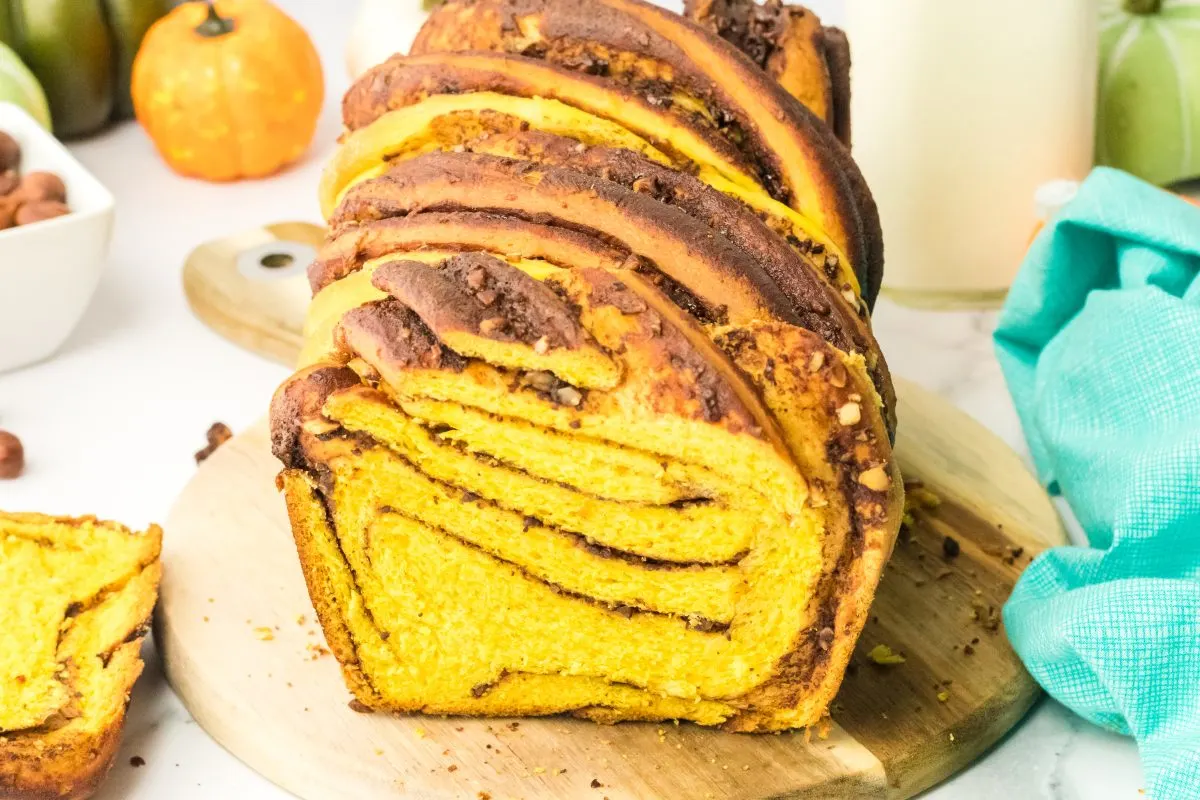 How do I achieve the perfect swirls in my babka bread?
To get those picture-perfect swirls, make sure your dough is rolled tightly and evenly. When spreading the filling, leave a one-inch border around the edges to prevent it from oozing out while rolling. Take your time and be gentle when rolling and shaping the dough, ensuring the filling is evenly distributed throughout.
How can I ensure my babka bread has a soft and fluffy texture?
To achieve that soft and fluffy texture, be careful to add the correct amount of flour. Measure the flour by spooning it into the measuring cup and leveling it off with a knife. See our video showing you how this is done if needed. Scooping and leveling will add too much flour and lead to a tough loaf.
Also, don't overmix the dough. Mix until the ingredients are just combined, as overmixing can lead to denser bread. Also, don't skip the rising time. Letting the dough rest and rise properly allows for the development of the airy and light qualities we love in good bread.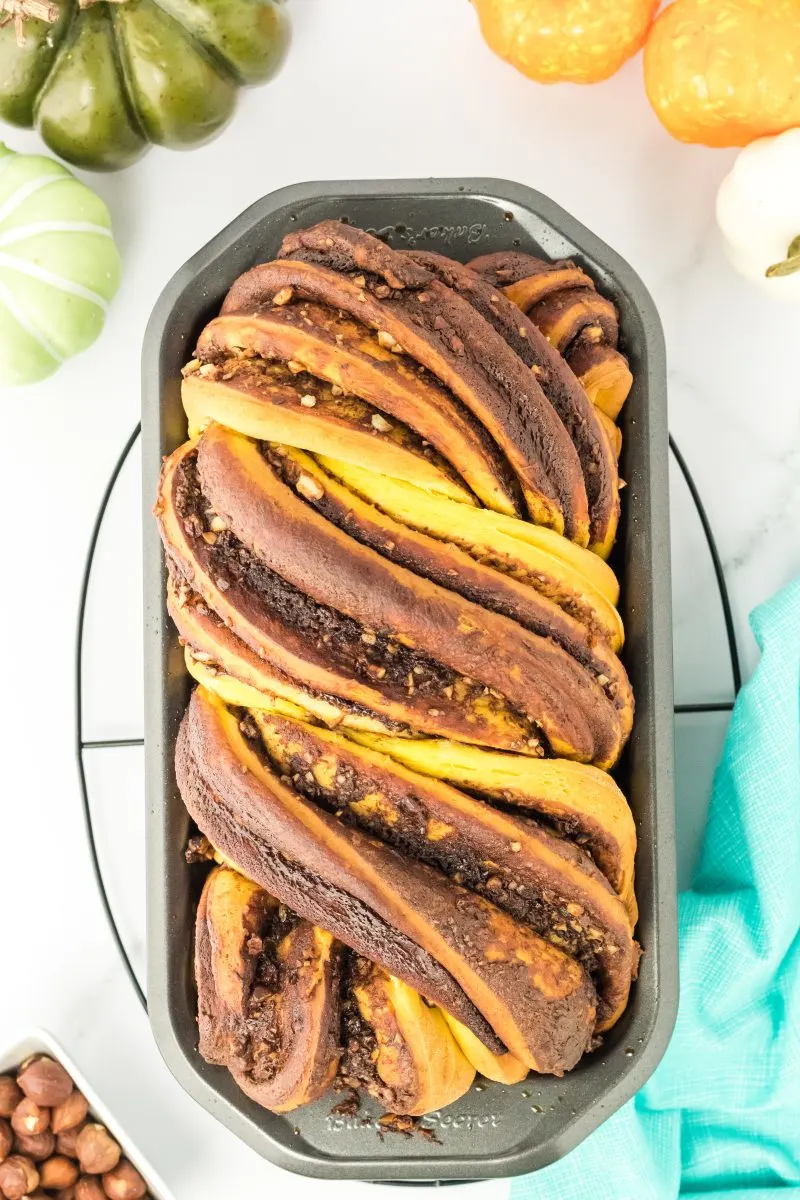 How should I store my Pumpkin Babka Bread?
Once cooled, wrap your leftover babka bread tightly in plastic wrap or store it in an airtight container. It will stay fresh at room temperature for a couple of days. If you want to keep it longer, you can store it in the refrigerator for up to a week or freeze it for a few weeks. Just make sure to let it come to room temperature or reheat gently before serving.
Can I freeze Nutella Babka?
Yes, pumpkin Nutella babka can be frozen as a whole loaf or in slices. Wrap it in parchment paper like a gift, and place it in an airtight container. It will keep for up to 3 months. Thaw at room temperature.
How to Reheat Babka
To reheat the pumpkin spice babka, bake it at 350ºF for about 5-8 minutes.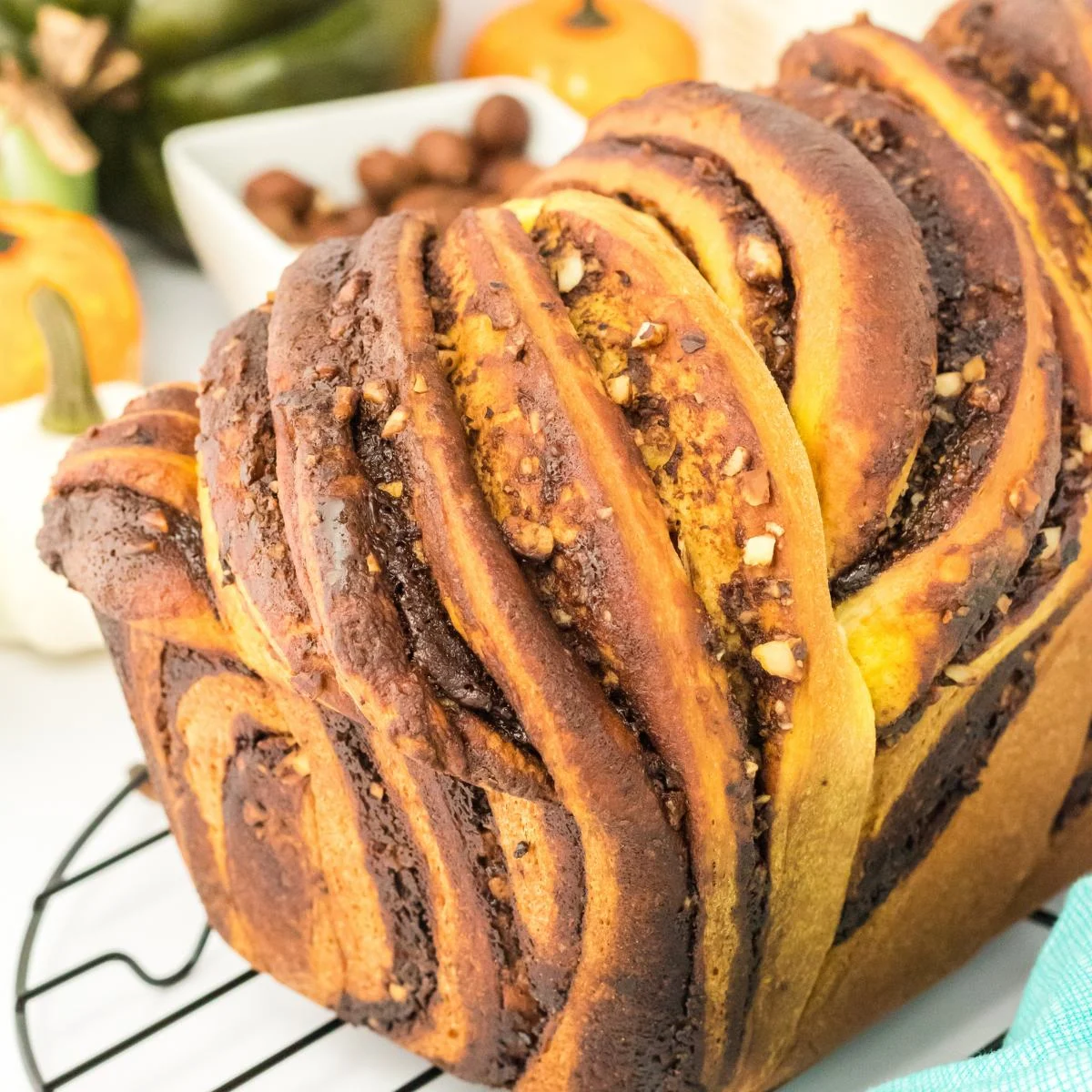 Tips for the perfect Pumpkin Chocolate Babka
Knead the dough correctly. You want to make sure you do this part right so that gluten develops. Gluten is critical to give the bread a good texture and structure. Make sure to knead the dough until it is smooth, elastic, and slightly tacky like a soft brioche dough. If you are kneading by hand, expect it to take ten minutes. With a mixer, fitted with the dough hook attachment, it may take as little as five minutes.
Don't overfill the dough with Nutella: When spreading the chocolate filling on the rolled-out dough, make sure to leave a border around the edges. Overfilling can cause the filling to leak out during baking, resulting in a messy babka.
Roll tightly. When rolling the dough into a log shape, make sure to create a tight roll. You don't want the filling to escape. I make my first twist in the center and work to each end.
Cool completely: Be patient because your bread isn't quite ready. Bread continues to cook internally even after it is removed from the oven. The residual heat evaporates moisture during the cooling process, allowing the bread to set and firm up. Slicing into hot bread can produce a gummy or doughy texture, as it hasn't had enough time to bake and set fully.
Slice the bread. Once the bread is cool, gently slice it using a sharp or serrated knife.
If you enjoyed this recipe, check these out!
We love everything pumpkin! Keep it going and make our Thai Pumpkin Soup with Coconut Milk for supper, or try the Best Pumpkin Pie Recipe ever! Make breakfast extra special with baked Pumpkin Donuts. You can even get extra fancy when you make this Pumpkin Pecan Cheesecake. Don't let Autumn pass you by without getting into the pumpkin-spice spirit. It's worth the effort.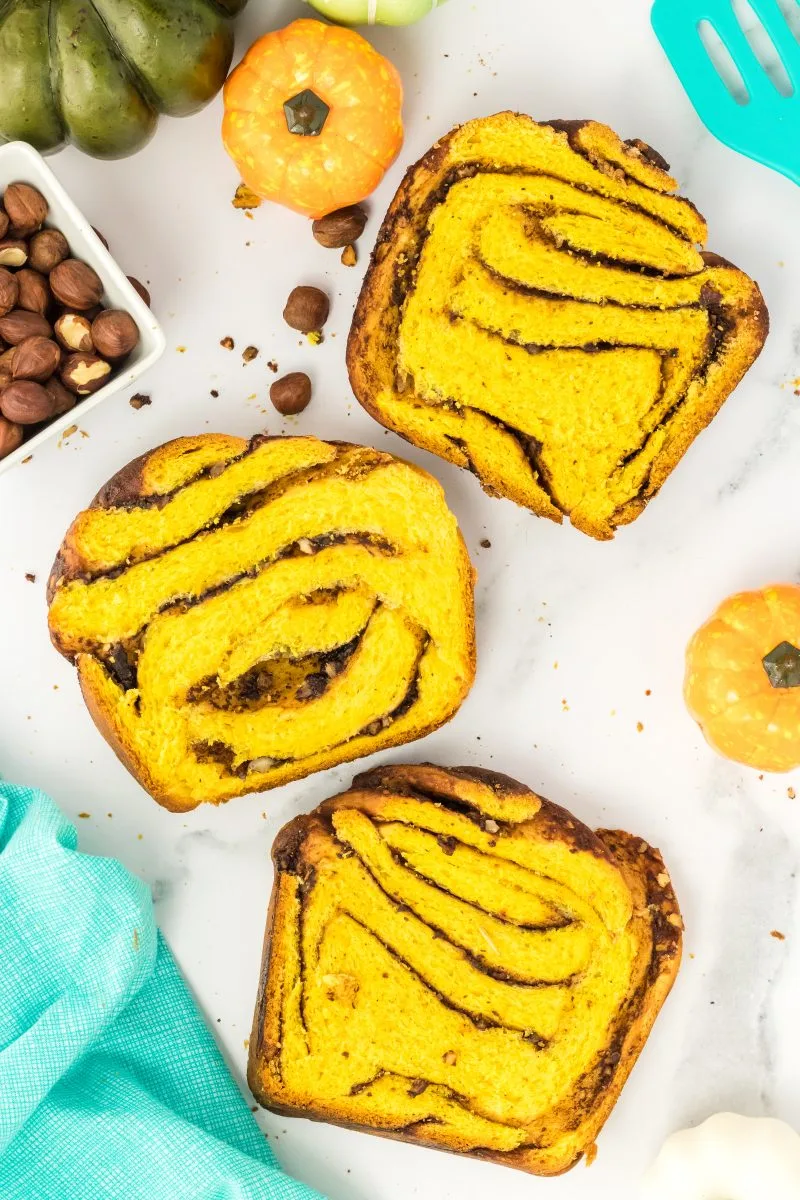 I hope you enjoyed this delicious recipe as much as we do. Drop me a comment below, and don't forget to give it a star rating. ⭐⭐⭐⭐⭐. Your comments and ratings help others decide if this recipe is for them too.
Pin this amazing recipe!