Transform leftover turkey to make this incredible recipe. Our Turkey and Cheese Crescent Roll combines savory turkey, sweet cranberry sauce, and buttery brie, all wrapped in a warm crescent roll.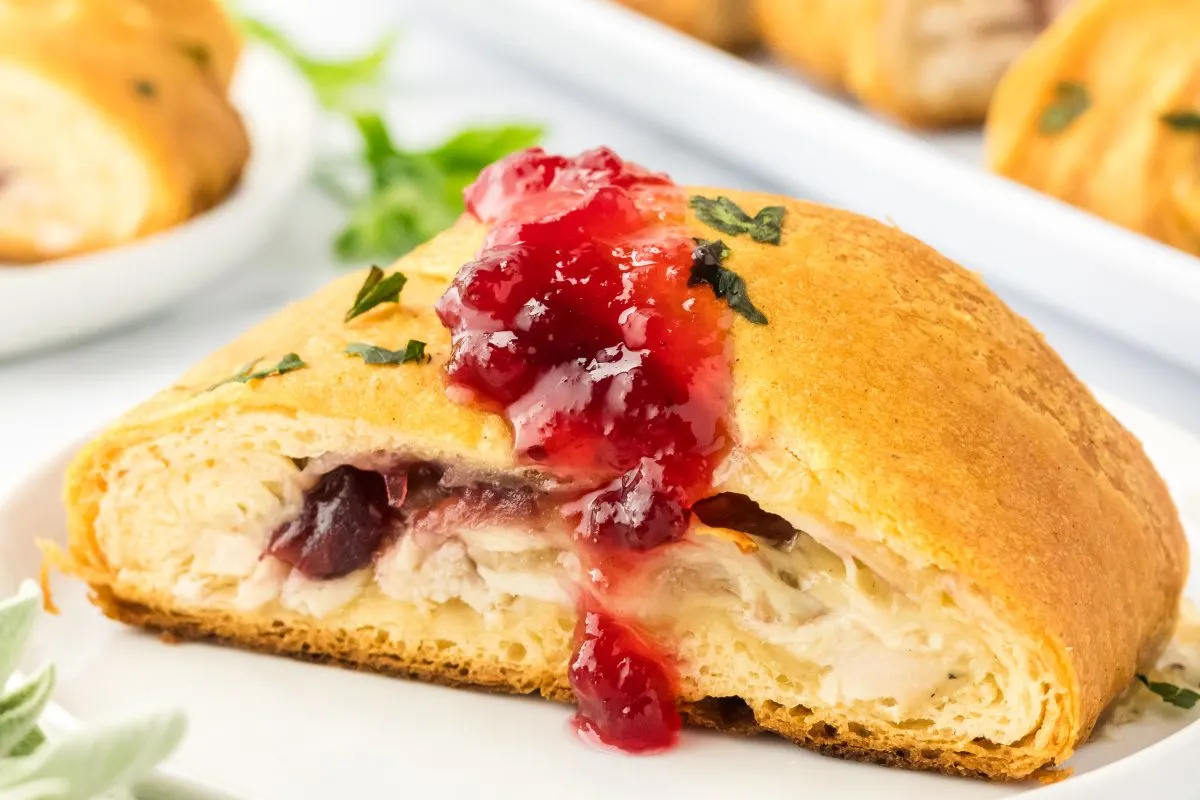 Easy instructions and ready ingredients make this a meal that comes together with just minutes of prep. If you don't have turkey, just grab a rotisserie chicken!
Why You'll Love These Turkey Crescent Rolls
Huge Time Saver. Buy store-bought crescent dough sheets and make this as quickly as you can find the ingredients. This is convenience at its finest for a quick weeknight meal.
Use up holiday leftovers. I don't know if you are like me or not, but around holidays, we always end up with extra turkey and cranberry sauce that we only use once or twice a year. This easy recipe is a great way to put those Thanksgiving leftovers to good use!
Versatile – Leftover turkey recipe make delicious crescent roll appetizers the next day while watching the big game or the perfect way to make a whole new main meal. Who said leftover turkey sandwiches were the only way to enjoy leftover Thanksgiving turkey?
What is a Crescent Roll Braid?
Store-bought crescent roll dough is used to fashion a meal, layering meat, cheese, and the dough into a baked loaf of bread that appears braided. This convenience dish was popularized by the Pampered Chef company many years ago and has become a holiday favorite in many homes.
Our leftover turkey crescent roll recipe is a new twist on this fun classic and we believe that this dish will make its way to your list of holiday favorites on the first bite.
Ingredients you'll need for this recipe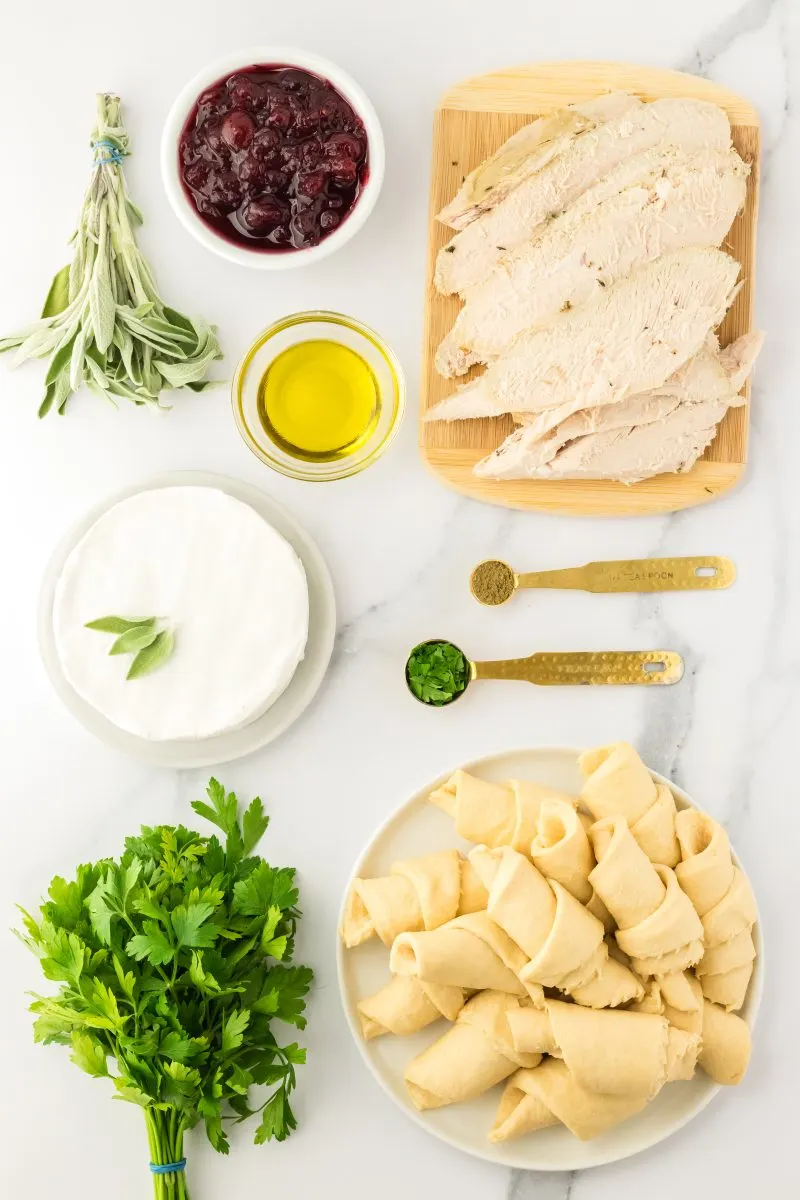 Sliced Turkey Breast. You need to start with fully cooked meat. Use leftover turkey or chicken! Deli turkey from the store counter also works.
Cranberry Sauce. Whole berry cranberry sauce usually has less liquid and works well.
Brie Wheel. Rich buttery brie makes this meal a conversation starter. You don't really need the most expensive variety; you just need about five ounces.
Crescent Rolls Can. This pastry dough comes in triangular pieces perfect for braiding. If you cannot find a can of rolls, you can make do with a can of full-sheet pastry and cut it yourself.
Olive Oil. You can also use vegetable or canola oil.
Fresh Parsley. Save out some for garnish.
Ground Sage. Be careful with dried sage. It can be very potent.
Fresh Sage Leaves. Optional for garnish.
How To Make A Turkey and Cheese Crescent Roll Braid
Please note, that the printable recipe card has ingredient quantities, complete instructions, and nutritional information. The following is a quick overview of the recipe.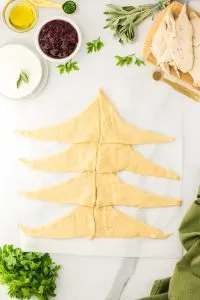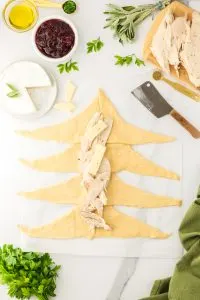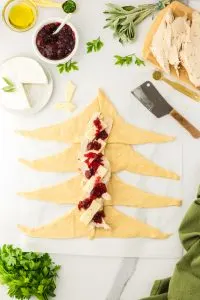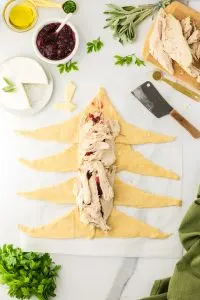 Step One. Arrange the crescent roll dough.
Prepare your pan, preheat the oven, and start laying out the dough triangles connecting the wider end of each triangle from the middle.
Step Two. Layer the meat, cheese, and sauce.
Trim the rind off your brie first. Then, layer the meat, cheese, and sauce down the center of the dough. Make two layers of each.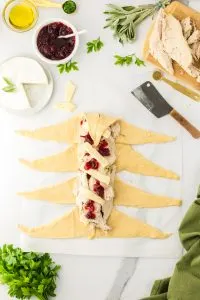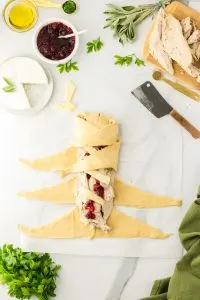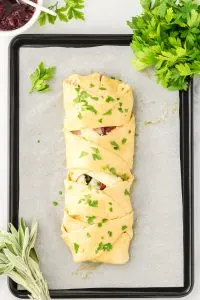 Step Four. Close up the braid and pinch the dough on the edges.
Alternate the flaps of the triangle to form the shape of a braid. Brush the outside with olive oil and sprinkle with fresh herbs.
Step Five. Bake the Turkey and Cheese Crescent Roll Braid.
Place the rolls on the prepared baking sheet and bake until golden brown. Serve while warm.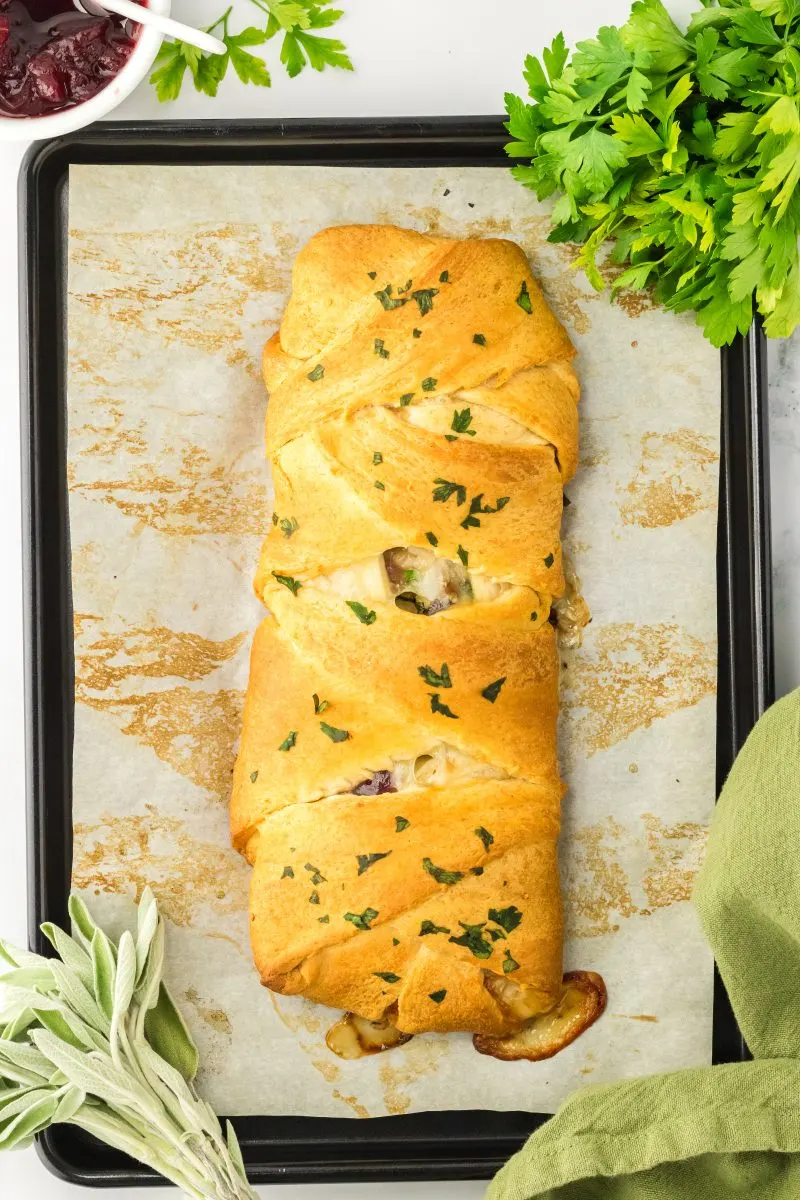 Frequently Asked Questions
How do I know when my crescent roll braid is done?
Since the meat is already cooked, all you really need to know is that everything is hot and the bread itself is fully cooked. When the bread is done, the dish is ready.
How To Reheat & Store Turkey and Cheese Crescent Roll Braid
Best Way to Store Leftover Turkey Crescent Rolls
If you make this from leftovers, you really should do so within 1 or 2 days and store it no longer than 4 days from the day it was originally baked. Store leftover turkey roll-ups within three or four days in the refrigerator in an airtight container.
Can I freeze the leftover crescent roll braid?
We don't recommend freezing this recipe. It's better to freeze slices of turkey to make this recipe the perfect choice for a quick and easy appetizer on game day or for your favorite turkey meal.
How to Reheat the Turkey and Cheese Crescent Roll Braid
A microwave is the simplest and fastest method for reheating this dish. Microwave it in thirty-second increments until it is hot throughout. You can also reheat it in the oven.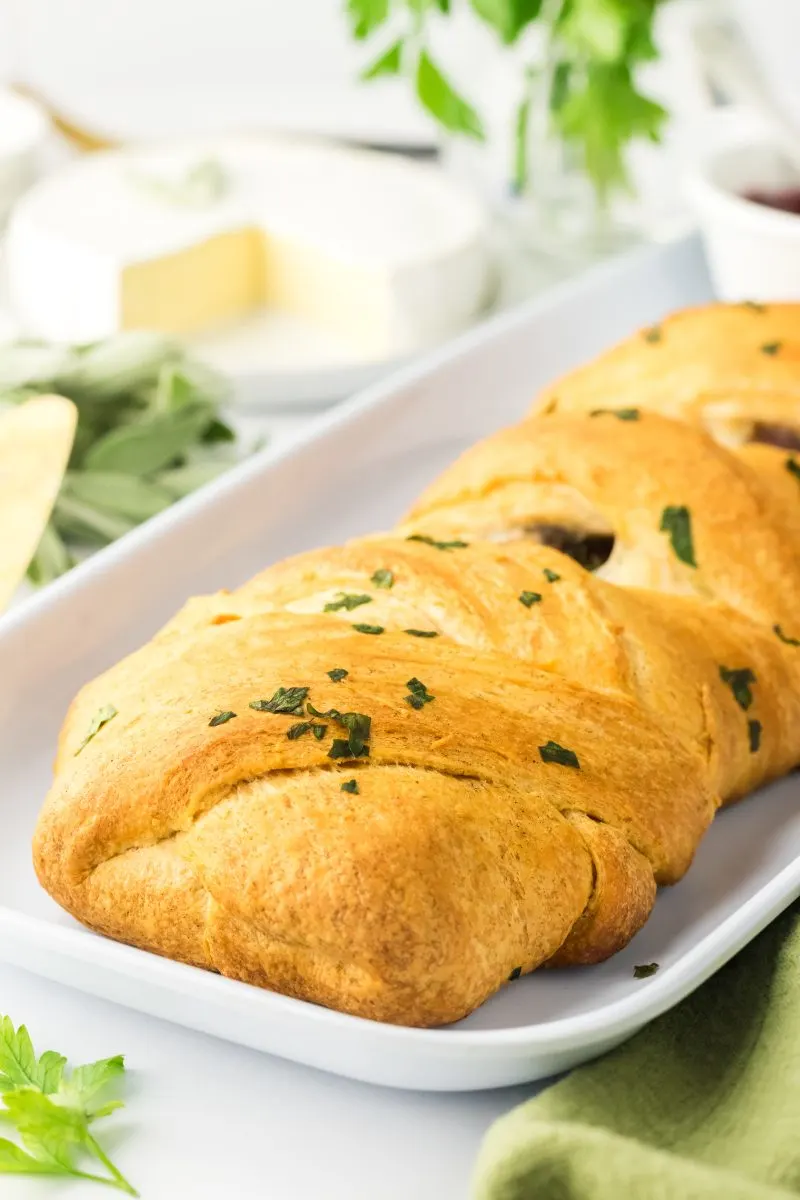 Variations and Substitutions
If chicken or turkey is not readily available, you can make this braided bread with ham or even roast beef. Each of these is a nice variation that changes the flavor considerably.
Brie is really lovely, but if you prefer, you can use shredded cheese or slices of cheese such as provolone, swiss, or a combination of melting cheeses.
Instead of cranberry sauce, use fig or raspberry preserves or a different fruit preserves. Instead of preserves, you could use diced red peppers and onions or sun-dried tomatoes.
Sprinkle the top of the braid with poppy seeds or sesame seeds.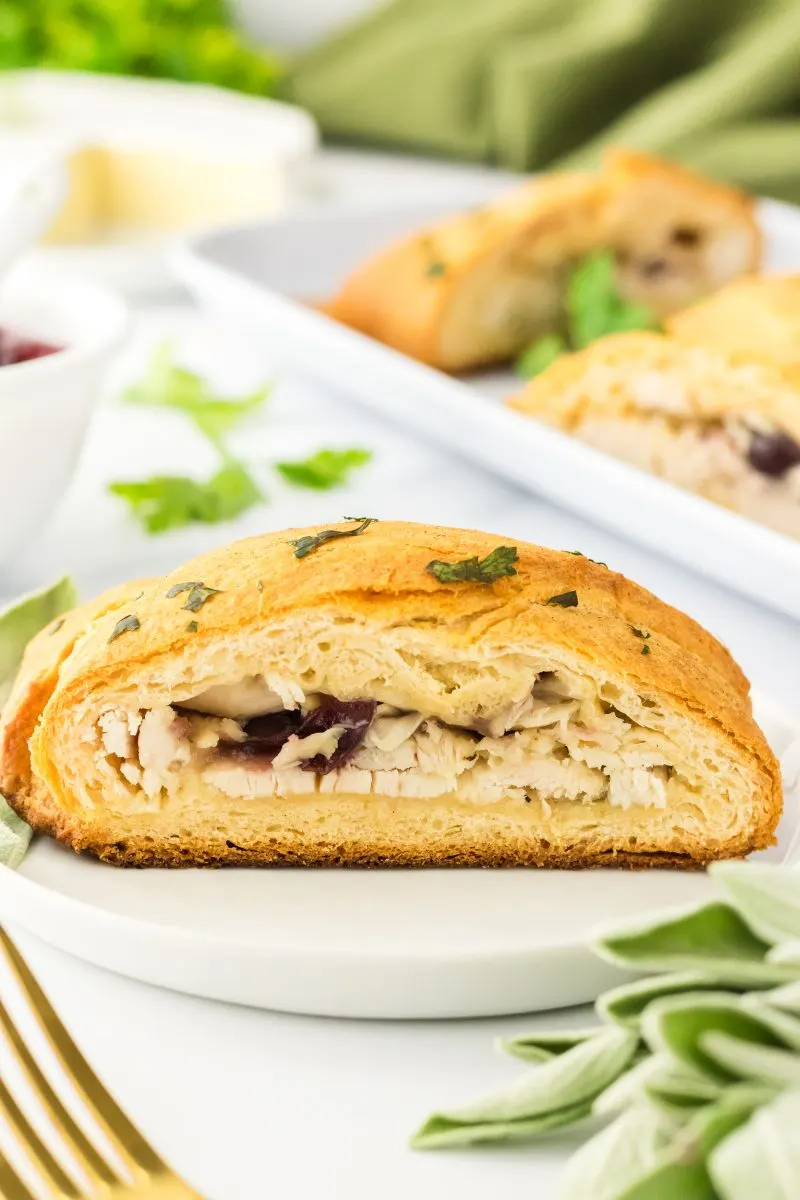 Hostess Tips and Tricks
Do not overbake the bread. The turkey and cheese should be heated throughout; once the bread is cooked through, the dish is ready.
Use a whole berry cranberry sauce or if you use homemade, drain off extra liquid to keep the braid from getting soggy. For the best results serve it shortly after it's baked.
Cut your turkey or chicken into bite-sized pieces and stir it together with the cranberry sauce. Making a turkey mixture is easier to slice and serve.
Offer extra cranberry sauce to drizzle over individual servings or use as a dipping sauce.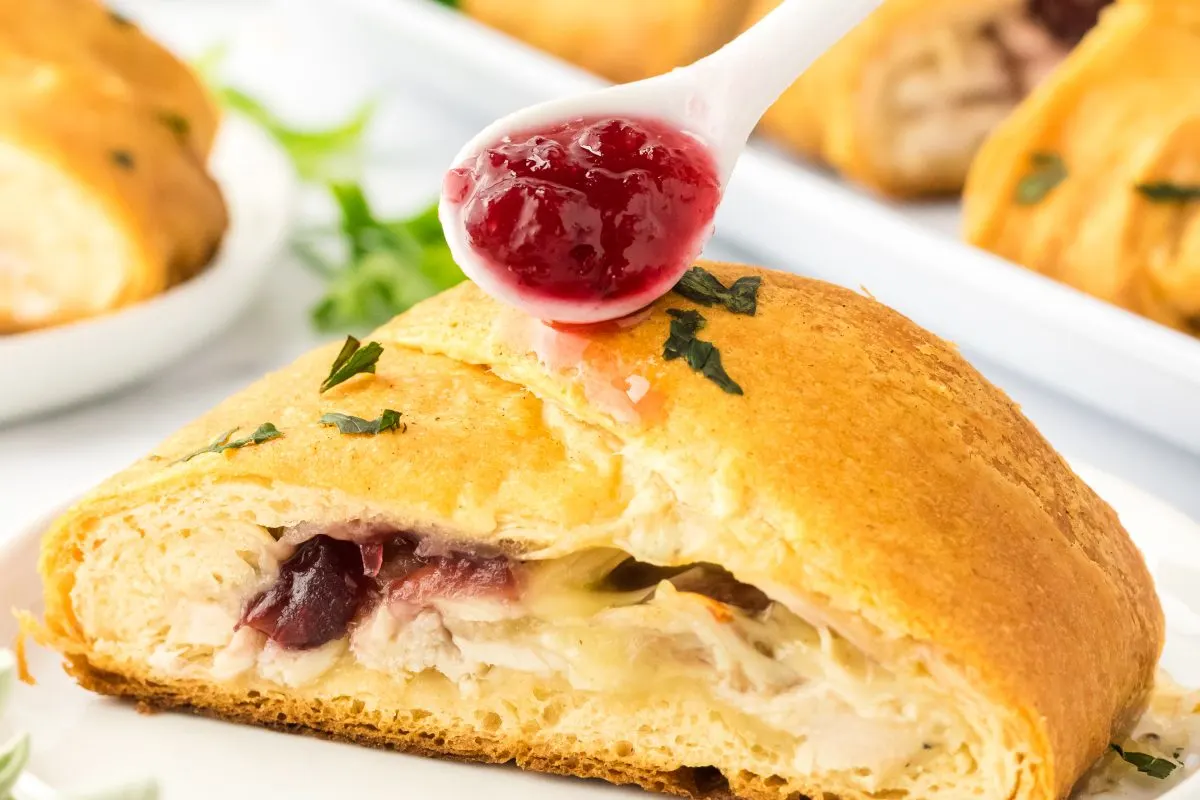 If you have a lot of leftovers, here are some more of our favorite recipes!
Leftovers make delicious meals. Our leftover fried dressing patties or potato cakes make a great addition to any meal. We love our ham leftovers too!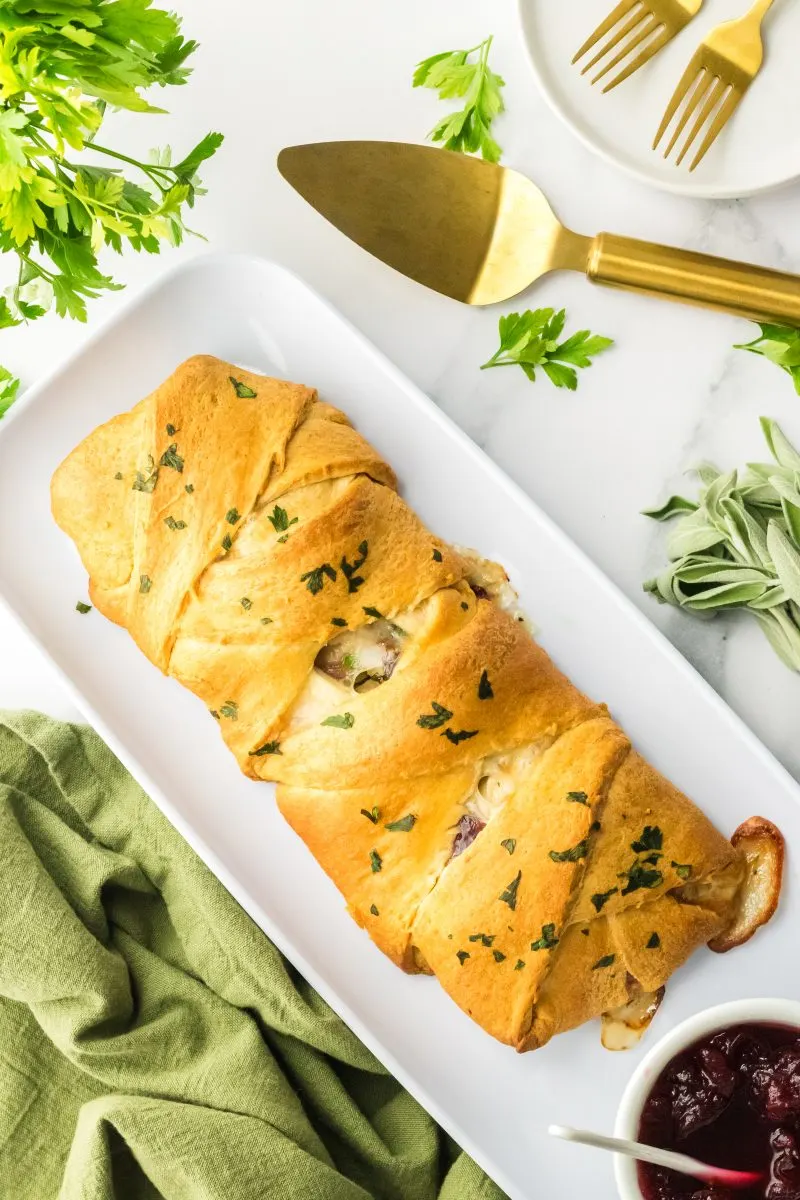 I hope you enjoyed this delicious recipe as much as we do. Drop me a comment below, and don't forget to give it a star rating. ⭐⭐⭐⭐⭐. Your comments and ratings help others decide if this recipe is for them too.