Turkey a la King is an easy one-pot meal that comes together in 20 minutes. It's a deliciously creamy Leftover Turkey Recipe that you'll want to make all year.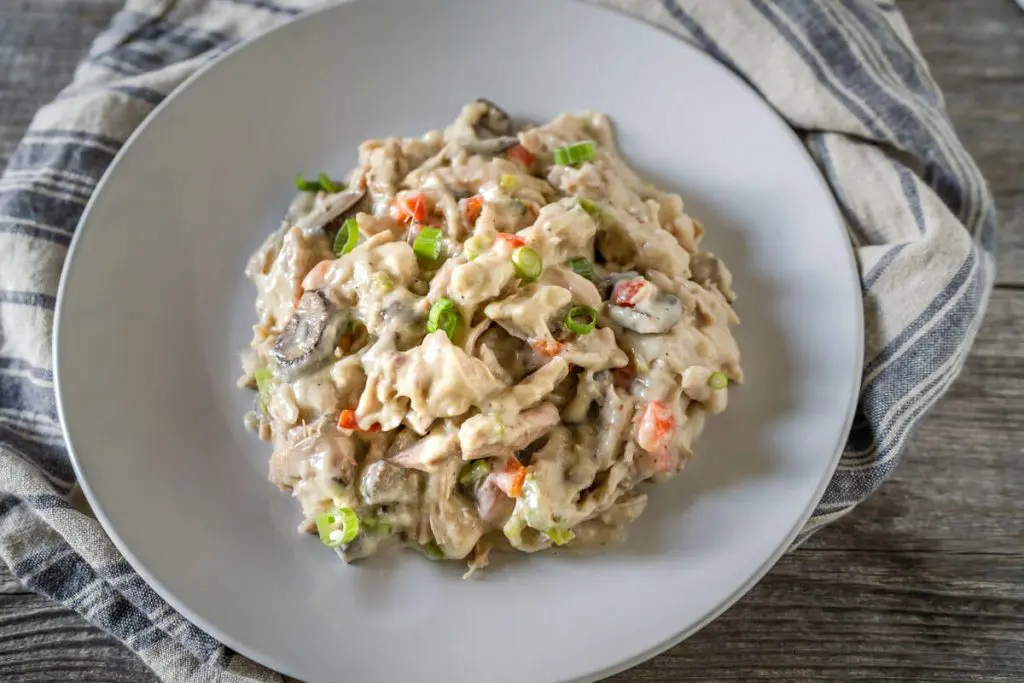 Turkey a la King is a quick and easy comfort dish meal that comes together in under 20 minutes.
Leftover Turkey a la King is a great way to use up leftover chicken or turkey, and the ways to serve it is endless.
This family favorite uses ordinary ingredients and is a perfect answer for when they ask "what's for dinner?"!
Growing up, Turkey ala King would have been considered a foreign dish.
We were a meat and potatoes family with all of the benefits of fresh fruit and vegetables you can find in a Midwest agricultural community.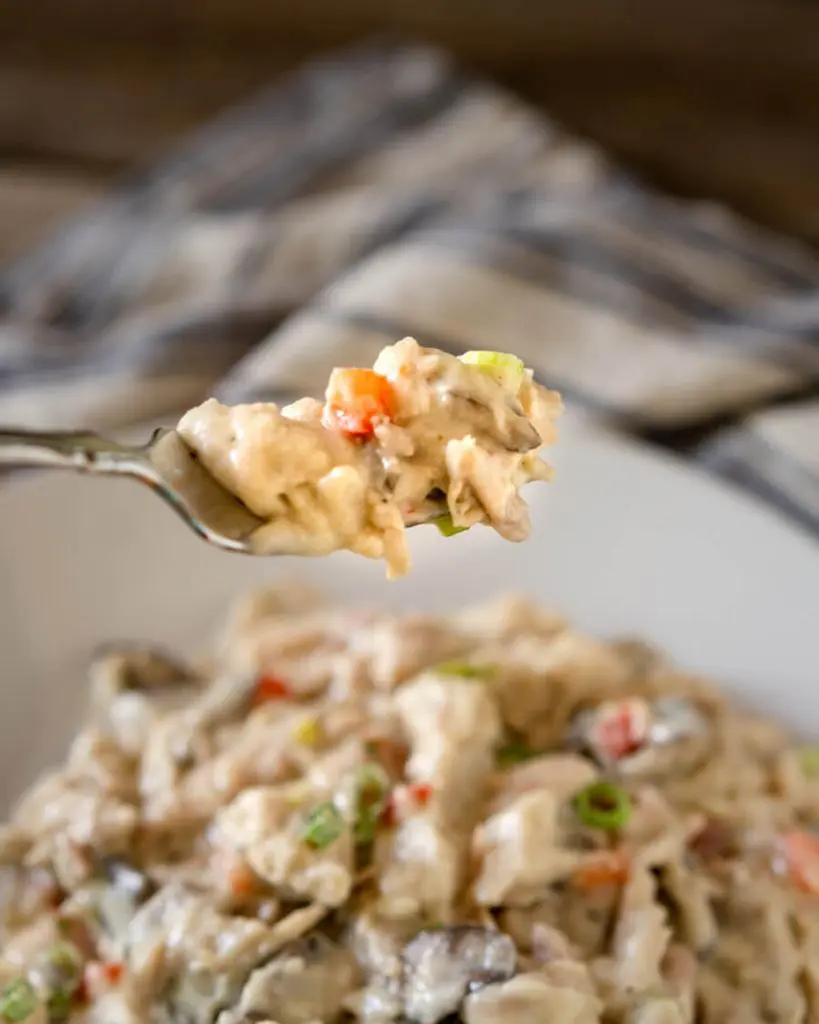 What does a la king mean?
Simply, the definition of à la king means "served in a cream sauce with mushrooms and pimiento or green peppers".
In our opinion, à la king means easy comfort food. It's like a pot pie without the crust.
This Recipe for Turkey a la King is a favorite in our kitchen and believe it will be yours for the following reasons:
Uses ordinary ingredients.
Versatile ingredients make it a recipe your family will love.
Perfect for using leftovers.
Tastes just as good the second day as the first.
One-pot recipe.
Done in less than 20 minutes.
We make this recipe a lot after Thanksgiving when we're going through our leftover turkey recipes such as our Leftover Turkey Casserole.
You know, when you don't dare serve one more turkey sandwich? The flavors in this Turkey a la King converts turkey into a brand new meal.
It's also great for converting dry turkey into a creamy dish that the whole family will love.
How to make Turkey a la King
There are basically three steps in making the easy Turkey a la King recipe.
Chop and saute the vegetables.
Create the cream sauce using flour and stock or broth followed by cream.
Add turkey.
I told you it was easy right?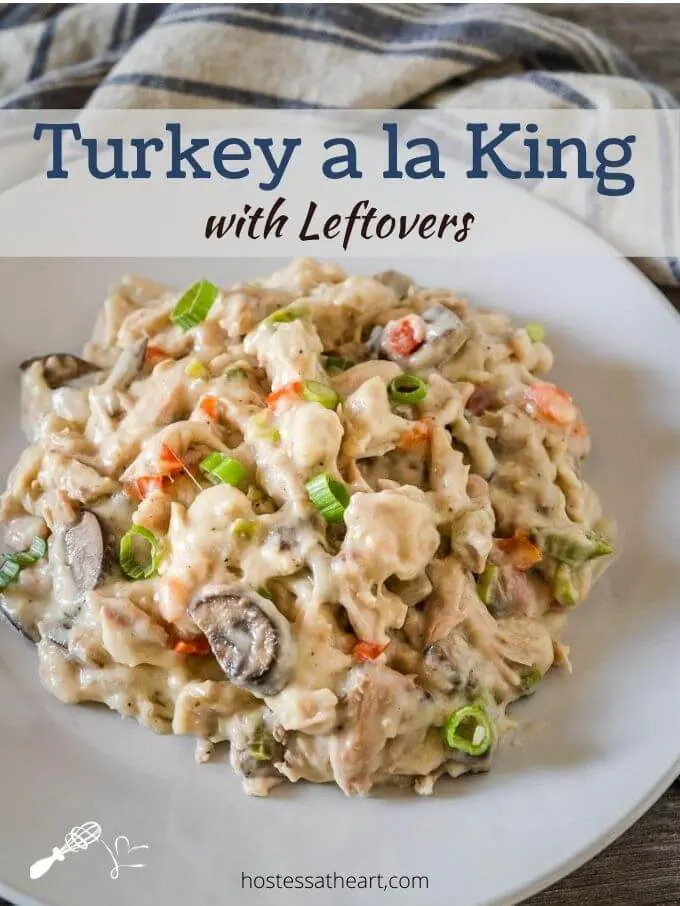 Variations you can make to this Turkey a la King Recipe
The definition in this recipe states that it's made with mushrooms and pimentos.
We didn't use pimentos because I rarely have them on hand. We love mushrooms in this recipe so always get some when I do my holiday shopping for our leftover recipes.
Vegetables – We'll also include celery, onions, carrots or green or red peppers. You can clean out the vegetable drawer with this recipe!
Butter – We used unsalted but you can use salted. If you do taste the dish before salting it further. You can substitute the butter for cooking oil.
Turkey – This recipe is delicious with leftover chicken too. Grab a rotisserie chicken on the way home from work for an Easy Chicken a la King dinner.
Stock or Broth – Here's another great way to use leftovers! Use leftover turkey stock or thin your turkey gravy to a stock-like consistency. The flavor will be over the top!
Cream – Just a little bit really adds a richness and velvety smooth texture to the dish. You can substitute the cream for half-and-half or even milk. Any variety will do.
That makes it perfect at any time of year! It's warm comfort food in the winter and quick enough to make that it will not heat up the kitchen in the summer.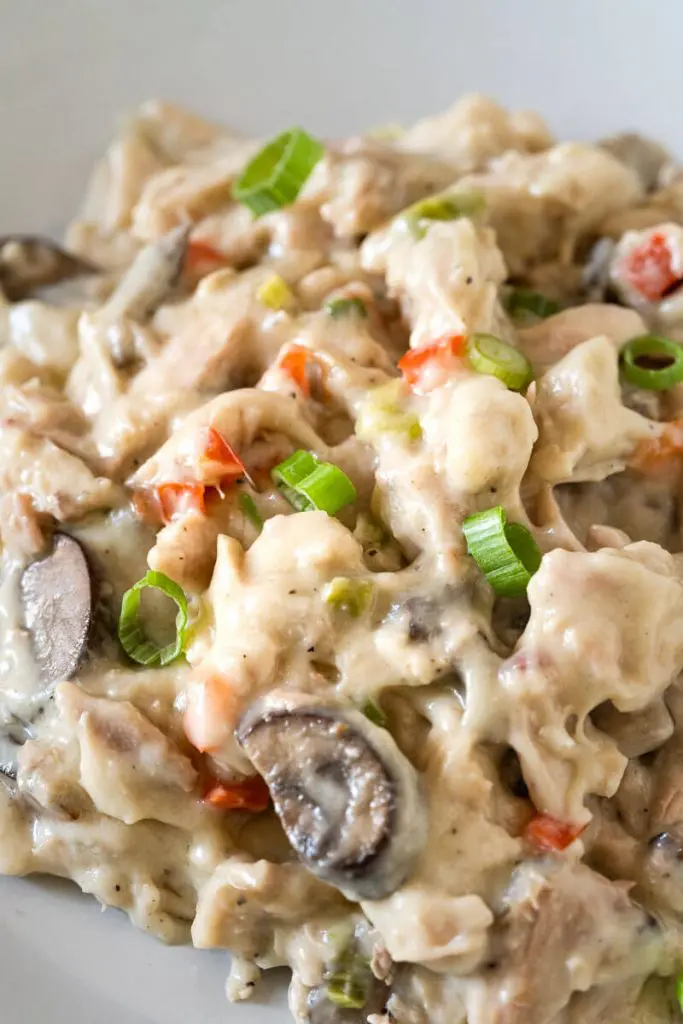 How to Serve Turkey a la King
Leftover Turkey a la King is delicious served over leftover mashed potatoes, stuffing, or dressing!
Spoon it over baked puff pastry or refrigerator biscuits for a semi-homemade meal.
Rice is delicious and adds whole grain to your meal.
Noodles make Turkey a la King a kiddo favorite. We love the wide noodles because they hold up well with this dish.
Leftover Turkey Recipes
Any dish that calls for cooked chicken or turkey is perfect for using leftover turkey. Here are a few you may enjoy.
What you need to make this recipe
Hostess At Heart participates in affiliate programs. As an Amazon Associate, I earn a commission from qualifying purchases. Please refer to my disclosure page for more information about these affiliate programs.
You don't need a lot of fancy equipment to make this recipe. One of the most used skillets in my kitchen is actually a braiser. I love the wide bottom for even cooking.
We also use silicone spatulas. They don't scratch our cookware and wear like iron. They're cost-effective and the colors are FUN!
If you like this recipe, we would appreciate your comment and a 5-star ⭐️⭐️⭐️⭐️⭐️ review!
Love it! Pin it!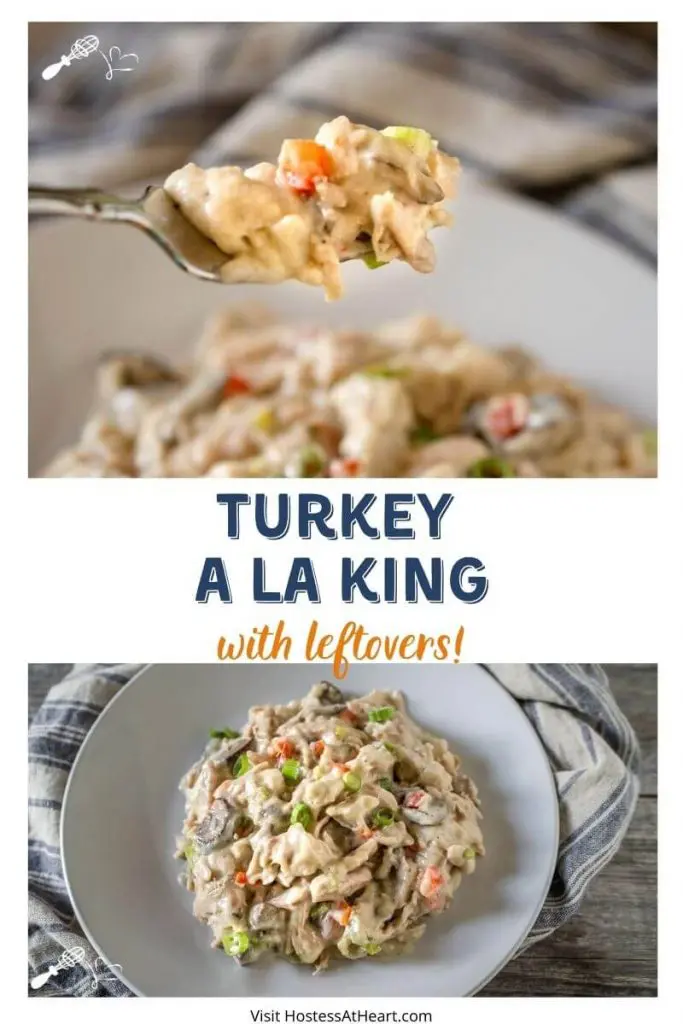 Our most popular recipes