Leftover Turkey Casserole repurposes leftover turkey and stuffing into one easy recipe. This one-dish turkey casserole is quick, creamy, and delicious. With only 3 steps it's on your table in a jiffy!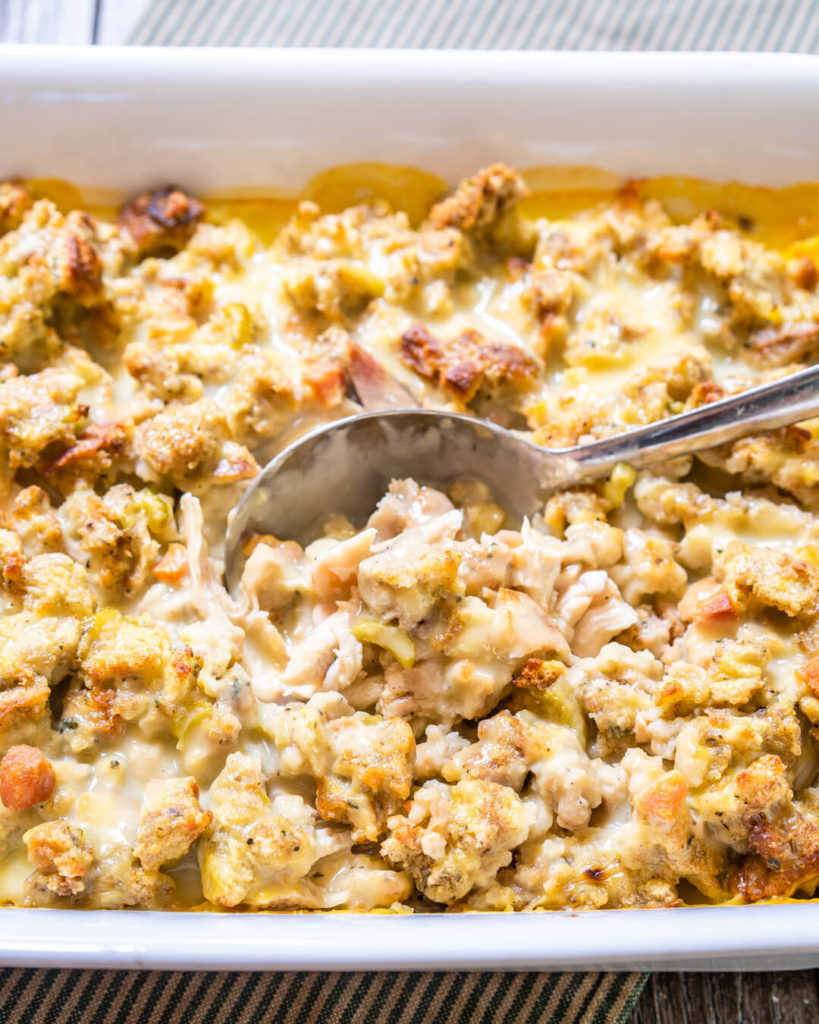 Leftover Turkey Casserole is a great way to use up Thanksgiving leftovers especially when everyone is screaming "not more turkey"! This turkey casserole recipe is also a great fix for a turkey that ended up dry.
I just love Thanksgiving. All of that delicious food and sitting around the table with the people we love.
I have John's family over every year, and even though it's not a big group I still cook like I'm feeding a hundred. Can you relate?
I don't mind because I WANT the leftovers! John's always a big help because he cooks the bird on the grill which frees up my oven.
Here's our tutorial on How to Spatchcock and Carve your Thanksgiving Turkey as well as some easy tips for making Thanksgiving stress-free!
It wasn't all that long ago that my 96-year-old father-in-law declared that he liked my Turkey Dressing better than his wife's dressing. He's such a soft-spoken man that I didn't know he was that brave even though he served in WWII and the Korean War.
I always make extra dressing to make sure I have plenty left to make this Leftover Turkey Casserole. After all of the cooking, I do in preparation for Thanksgiving, I want something quick, easy and delicious.
How long is leftover turkey good for?
According to USDA, refrigerate leftovers within two hours. Keep hot food hot and cold food cold until then. They have a lot of handling tips that's very helpful as well.
It's important to use your leftover turkey and stuffing as soon as possible. Most leftovers can be kept for three to four days in the fridge. If you have more food than you plan to eat within four days, freeze within two hours after it's cooked.
When you're ready to eat your leftovers, reheat them to an internal temperature of 74 C (165 F), measured by a digital food thermometer. Use frozen leftovers within 1 to 2 months.
I don't use a lot of canned ingredients, but this turkey casserole recipe is the exception. I grab two cans of cream of chicken soup when I'm grabbing all of the other ingredients that I need for the Holiday.
Leftover Turkey Casserole Ingredients: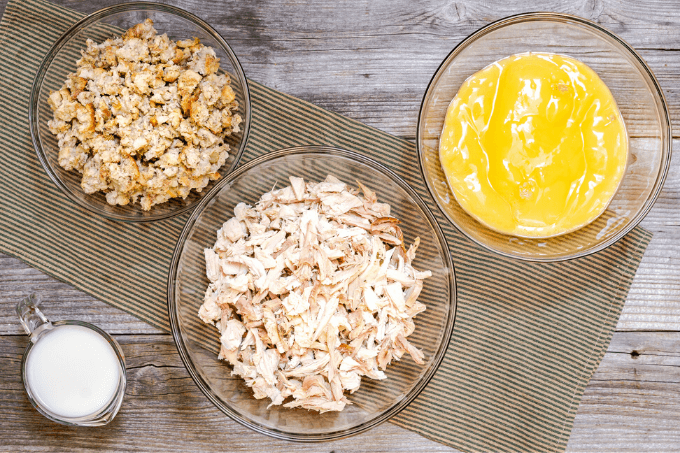 Cooked turkey – Shred or chop turkey. Use white, dark or a combination. Whatever you like.
Bread Dressing (Stuffing if you like)
Cream of chicken soup – use low sodium since your leftovers have already been seasoned.
Milk – I used skim but any is fine and found that it blends easier with the soup when it's room temperature.
There's a video in the recipe card for your convenience.
VARIATIONS & TIPS FROM THE COOK:
This recipe works well with cooked chicken whether you bake it or buy a rotisserie chicken at the store.
Turkey breasts are on sale and easy to freeze around the holidays. The leftovers will work great here.
If you don't have any leftover dressing you can use a small box of "Stove Top Dressing".
Add veggies! You will need to use vegetables that don't have to cook very long such as frozen corn, peas or green beans or saute them before you put this turkey casserole recipe together.
Cream of Mushroom or Celery soup works well if that's what's in your cupboard.
You can make a smaller amount if you don't have a lot of leftovers or if you're cooking for just a few. Use a smaller container and use only one can of soup.
Bake this recipe in two freezable containers. Eat one and freeze the other for a rainy day.
What can you serve with Leftover Turkey Casserole?
If you have any leftover cranberry sauce, that would be amazing. Keep it simple! Here are a few ideas for you.
IF YOU LIKE READING MY POSTS AND SEEING MY RECIPES, CONNECT WITH ME ON YOUR FAVORITE SOCIAL MEDIA CHANNEL FOR BEHIND THE SCENES PHOTOS AND MUCH, MUCH MORE:
Do you need some more leftover turkey recipe ideas?
You can substitute cooked turkey for any recipe that calls for chicken.
If you like this recipe leave me a comment below and 5-⭐️⭐️⭐️⭐️⭐️ rating.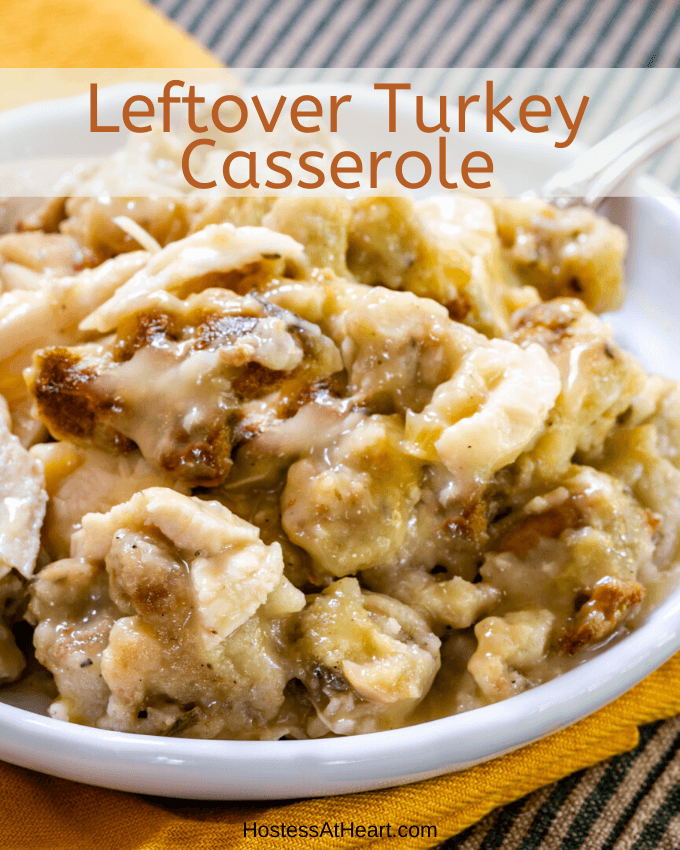 A few items you may need to make the perfect Leftover Turkey Casserole Recipe
The following are affiliate links. We are a participant in the Amazon Services LLC Associates Program, an affiliate advertising program designed to provide a means for us to earn fees by linking to Amazon.com and affiliated sites. For more information, please see our disclosure.
Instant Read Thermometer – I use an instant-read thermometer for this recipe, for grilling, and even baking bread! I couldn't function without one.
Baking Dish – I've got this one and love it. It comes with a lid that makes taking and refrigerating my treats a lot easier.
Pin this delicious turkey casserole recipe!
Leftover Turkey Recipe
Leftover Turkey Casserole repurposes leftover turkey and stuffing into one easy recipe. This one-dish casserole is quick, creamy, and delicious.
Ingredients
6

cups

cooked turkey

cubed or shredded

4

cups

bread stuffing

2

cans

cream of chicken soup

low sodium

1

cup

milk

I used skim
Instructions
Preheat your oven to 350°F. Spray the bottom of a 9×13 baking dish with non-stick cooking spray.

Cover the bottom of the baking dish with the cooked turkey. Crumble the dressing over the top of the turkey.

Mix the canned soup with the milk and pour over the dressing and turkey.

Bake until bubbly, 40 to 60 minutes.
Video
Notes
The milk blends easier with the soup when both are at room temperature.
Chicken can be substituted for Turkey.
Cream of Mushroom or Celery can be substitued for Chicken soup.
You can use more or less turkey. Just make sure that it covers the bottom of the dish you use. The more you use the thicker the casserole will be.
You can add vegetables to a variation to this dish.
Leftovers can be frozen in an air-tight container.
This recipe was calculated using the exact brands and measurements I used to make this recipe. If you are following a strict diet please note changing anything will cause the nutritional info to change. Please calculate your own nutritional information if you want it exact to what you make and use my calculations as a guide only.
Nutrition
Calories:
369
kcal
|
Carbohydrates:
29
g
|
Protein:
22
g
|
Fat:
18
g
|
Saturated Fat:
5
g
|
Cholesterol:
63
mg
|
Sodium:
1111
mg
|
Potassium:
319
mg
|
Fiber:
3
g
|
Sugar:
4
g
|
Vitamin A:
543
IU
|
Calcium:
85
mg
|
Iron:
3
mg
This recipe was calculated using the exact brands and measurements I used to make this recipe. If you are following a strict diet please note changing anything will cause the nutritional info to change. My calculations are intended as a guide only.
What is your favorite way to repurpose Thanksgiving leftovers? Are you the cook or the guest? Please share, you are my inspiration!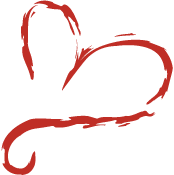 Thank you from the bottom of my heart for spending some time with me today!