How to Spatchcock and Carve a Turkey is a step by step tutorial that will help you get a deliciously juicy turkey with crispy skin on your table in a fraction of the time it takes to bake one in your oven.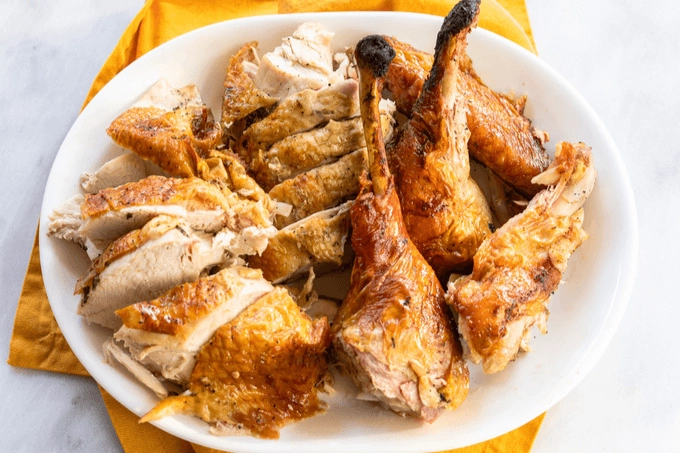 How to Spatchcock and Carve a Turkey provides you with easy step by step instructions from buying the turkey to getting it to your table.
We'll show you how to cook your Spatchcocked Turkey on the grill to free up your oven as well as give you a recipe for our Herb Butter!
Preparing your turkey in a fraction of the time guarantees a beautifully juicy and browned bird. You don't need to order your bird precooked to get the turkey on the table.
Growing up we always went to my Grandmothers house for Thanksgiving. She would get up in the middle of the night to get the bird in the oven so we could eat it early afternoon.
She turned everything out by herself like a well-oiled machine and didn't even mind me and my three other siblings squawking over who was going to get the drumsticks!
Oh, and the smell. When we walked into her house, hunger immediately took over. I'm getting hungry just thinking about it!
Now, John and I make Thanksgiving dinner. When I initially cooked a turkey I did it like my Grandmother. Hours in the oven and I thought Turkey was supposed to be a little dry right? That's what gravy is for you know?
John took over the bird duty and one of the first things that he did was to move it to the grill. I loved that because it freed up my oven!
Tips for cooking a Spatchcocked turkey on the grill
We use what's called a "Big Green Egg" which is a ceramic grill that takes lump charcoal. You adjust the heat by opening or closing dampers similar to other charcoal grills.
When you cook the bird on the grill, you want to set it up like an oven.
Use indirect heat. What this means is that you don't want the bird directly over the fire. We have what's called a plate setter which is a stone heat deflector. It sits under the pan in the following image.

John also places an aluminum pan with some water in it between the plate setter and the rack. That catches the drips for a delicious gravy and adds moisture while roasting the turkey.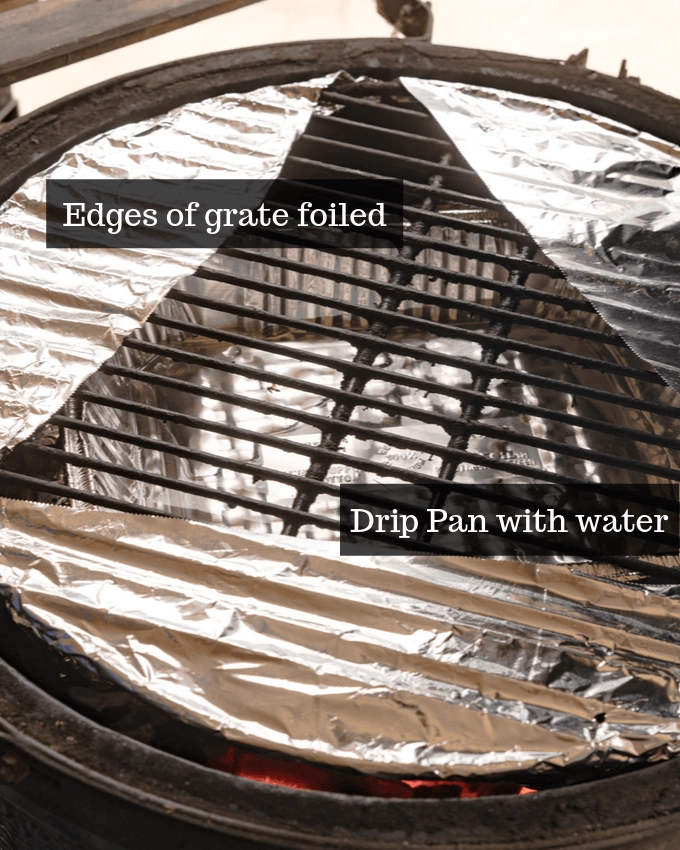 To create indirect heat on a gas grill. Burners on the sides of the grill are turned lower and the center burners are turned off. Here's a link to a video showing you the setup.
To create indirect heat on a charcoal or Weber Grill – Hot coals are pushed to the sides of the grill so coals aren't directly under the bird. Here's a link to a video showing the setup.
Many recipes call for high cooking temperatures of 425° to 450°F. We prefer 350° F.
You can also bake the turkey in the oven after spatchcocking it. Even though these instructions are for the grill, it works the same way in the oven.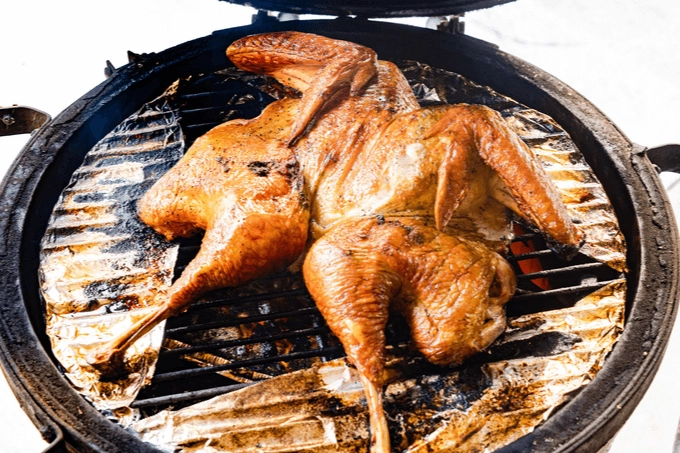 Important – You want to position the bird flat and turn the legs in a "knock-kneed" position. Also, turn the wings inward over the bird.
What does Spatchcock mean?
Spatchcock means removing the backbone and flattening the breast bones before cooking. It's also called butterflying.
The benefits of Spatchcocking a Turkey
A spatchcocked turkey lays flat. Therefore, all of the skin faces up and the meat down. This provides for juicy meat and crispy skin.
The cooking time is considerably less.
If you cook it in the oven, it doesn't take as much verticle space leaving you room to cook other dishes at the same time.
A spatchcocked turkey is easier to carve.
Items you may need for Spatchcocking and Carving a turkey
Kitchen Shears – I've had this pair of shears for years and they are great for big or small jobs. They come apart so it's easier to put them in the dishwasher and my drawer for storing.
Cutting Board with Juice Groove – I use a plastic cutting board for meat so I can sanitize it in the dishwasher. I like the juice groove when cutting meat too.
Carving knife – I use Shun cutlery. They're expensive but I've gotten a piece at a time. Regardless of what brand you use we've found that a thinner carving knife with a narrower point works best.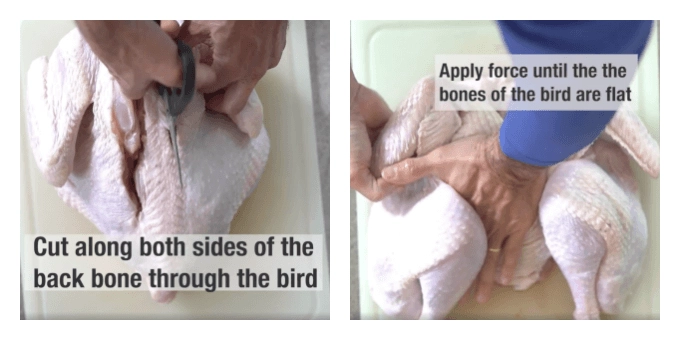 How to Spatchcock a Turkey
Make sure your turkey is completely thawed.
Some birds come with a plastic or metal cage inside the neck opening and also a bag containing the giblets. Remove everything.
If the neck is attached, cut it off and save it to make some great broth.
There is no need to wash the turkey. Just pat it dry with a paper towel.
With the opening of the bird facing you, cut down both sides of the backbone with a pair of sharp kitchen shears. Turn the bird halfway through to finish cutting through the backbone. Keep the backbone to use in your broth!
With the inside of the bird facing you, clip each side of the "Y" shaped wishbone (clavicle). This is optional and it may also be removed whole. Removing it makes it easier to carve the bird after it's cooked.
Using a sharp knife, slice the cartilage (silver skin) on both sides on the underside of the ribs.
Turn the bird over so the skin is facing up. Apply pressure to the breast bone area until the bones flatten. We've found applying pressure to the middle and then on each side of the breast works well.
Tips for stress-free turkey:
If you're nervous about trying this on Thanksgiving, you can spatchcock any bird. This is our preferred way to cook a chicken too. Practice on a bird of your choice before the big day.
Cook the bird the day before. Carve it after it rests and then put it in the refrigerator with a bit of chicken stock covering the bottom of the storage dish and cover it with aluminum foil. It heats up quickly in a low-temperature oven or you can even microwave it right before serving. It's not nearly as delicious but still very good.
Tips for choosing the perfect turkey
When you spatchcock a turkey you want to make sure that you choose a bird that's going to fit into your oven or grill. A spatchcocked turkey fits onto our grill if it's under 13 pounds.
We've found no difference in getting a fresh versus a frozen turkey. If you buy frozen give yourself plenty of time for it to thaw. It always takes longer than they say it does! It's recommended 24 hours in the refrigerator for every 4 to 5 pounds.
The skin should look pink (white) without blemishes.
If you have questions on buying a turkey and food safety, check out this thorough article from The University of Florida Extention.
Spatchcock turkey recipe seasoning options:
You can season your turkey simply with salt or pepper or prepare herb butter as we did in the video. The simple recipe follows.
We do recommend applying butter or oil to the outside of the skin as well so it crisps up nice and golden.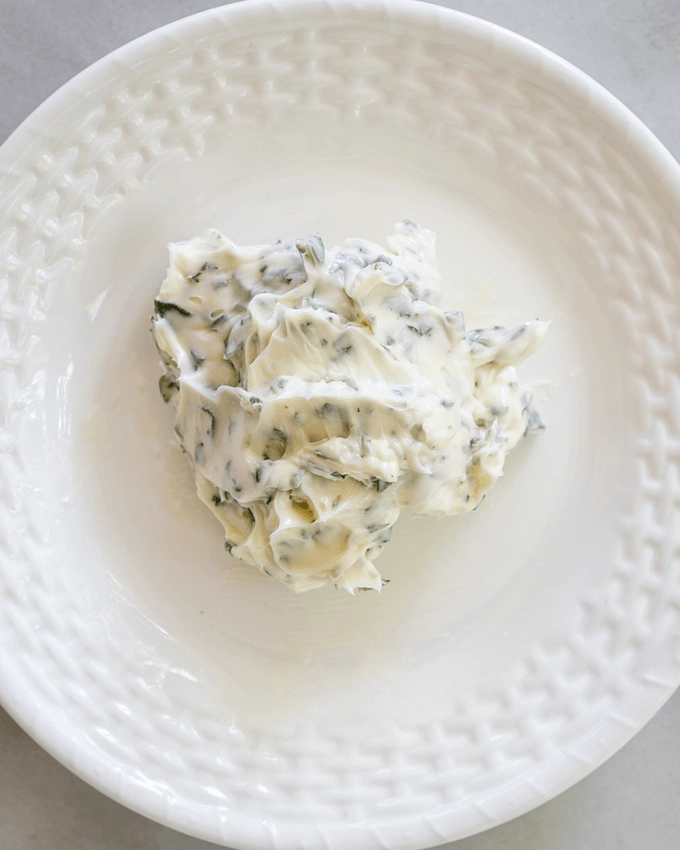 How to Cook a Spatchcocked Turkey
Many recipes have you cooking in a 425-450°F degree oven. We prefer a 350°F oven. Our 12 lb turkey took about 1 hour 45 minutes. The turkey is done when an instant-read thermometer reads 165°F for white meat and 185° for dark meat.

How to Carve a Spatchcocked Turkey
Let the turkey rest after removing it from the grill or oven for 15 to 20 minutes. It doesn't need to be covered but you can tent it with foil if you wish.
You need a sharp knife and start by cutting the skin in front of the thigh until you locate the joint. Cut through this joint until you can remove the leg.
Remove the tips of the wings and then cut through the joint that attaches the wing to the turkey. We prefer to cut the wing into two pieces as well. That's up to you.
Remove the leg from the thigh by cutting through the joint.
Remove the breast meat by cutting down both sides of the breast bone. This bone curves at the bottom. Just follow it until the meat can be removed.
Slice each piece of breast meat into serving slices.
Remove any small pieces of meat and include them on your meat tray or save them for leftovers or late-night nibbling in our case!
Tip: I cover the neck, backbone, and the giblets from the bird with chicken broth and simmer it while the bird cooks. I'll either use it to make my dressing, gravy, or soup.
The entire turkey (or chicken) carcass can be covered with liquid and cooked to make soup or broth. If you don't want to do it now just put it in an airtight bag and put it in the freezer for up to 3 months.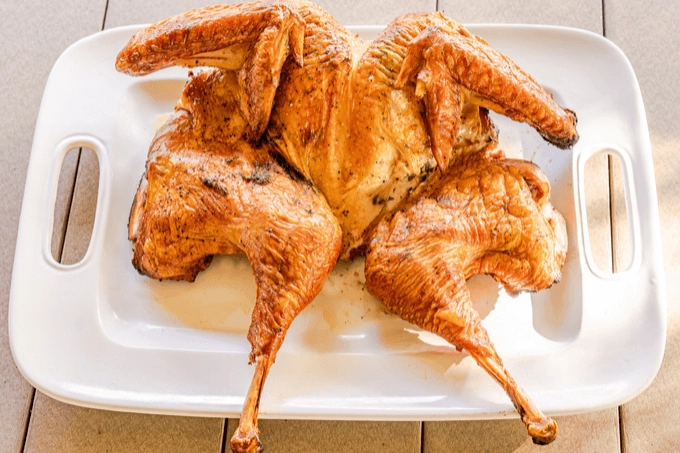 If you're a turkey lover like us, take a look at some of our other Turkey Recipes!
What to serve with Spatchcocked Turkey!
If you happen to have leftover turkey, our Leftover Turkey Casserole and Turkey a la King recipes. They're delicious!
Don't forget to stop back and let me know how your Turkey came out.
If you like this recipe, we would appreciate your comment and a 5-star ⭐️⭐️⭐️⭐️⭐️ review!