Homemade Apple Pie Filling combines fresh apples in a brown sugar sauce loaded with warm cinnamon. This easy Apple Pie Filling from Scratch can be eaten as is or made into a quick apple dessert.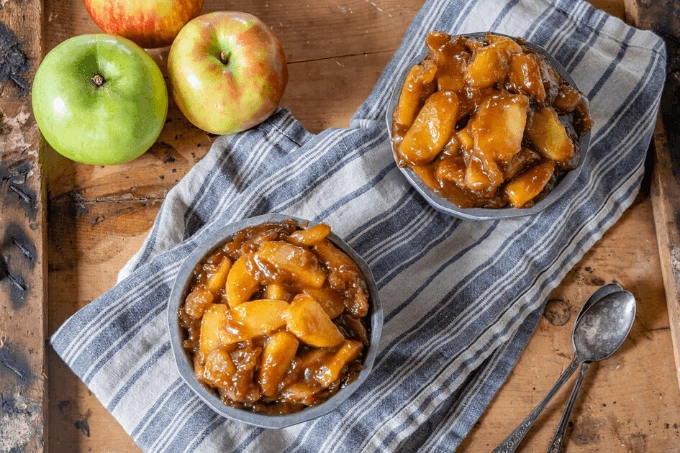 Homemade Apple Pie Filling is the first thing that I make when I buy too many apples humanly impossible to eat in a month. This easy apple pie filling makes a great side dish, topping for ice cream and pancakes, or a quick dessert with a delicious comfort meal.
I just love apples, and the truth is I eat one almost every day for lunch.
For that reason, I tend to buy them by the warehouse full (not quite) and after about a week reality sets in and I realize that once again my eyes were much bigger than my stomach.
Apples can last 1 to 2 months in the refrigerator (best in the crisper drawer) but only 5 to 7 days on the counter.
When shopping for apples, I always want to get the freshest ones that I can.
Tips for choosing the freshest apples
If you're heading to the orchard, you know how fresh they are. However, in the grocery store apples don't come with an "eat by" date, you have to rely on your knowledge of what to look for.
At Spoon University they state to pick an apple that is colorful, smooth, and firm. Also, make sure that it's free from bruising or spots. If you rub your finger across the skin of the apple and it wrinkles, that's not a good apple.
They also have a great buying guide on the best apples to buy according to your purposes like eating or baking.
Some apples are naturally softer in texture, and we don't care for them as much and they're not great for baking in my opinion either. I tend to buy Honeycrisp or Braeburn apples which are great for eating or baking or making an Easy Apple Pie Filling Recipe! John's a Granny Smith guy.
Are apples healthy?
They sure are! Here are just a few of the benefits according to UsApple.org!
Packed with Antioxidants and Good Gut Bacteria
Can reduce bad cholesterol levels
Lowers the chance of bone fractures
One of the best sources of soluble fiber
Weight reduction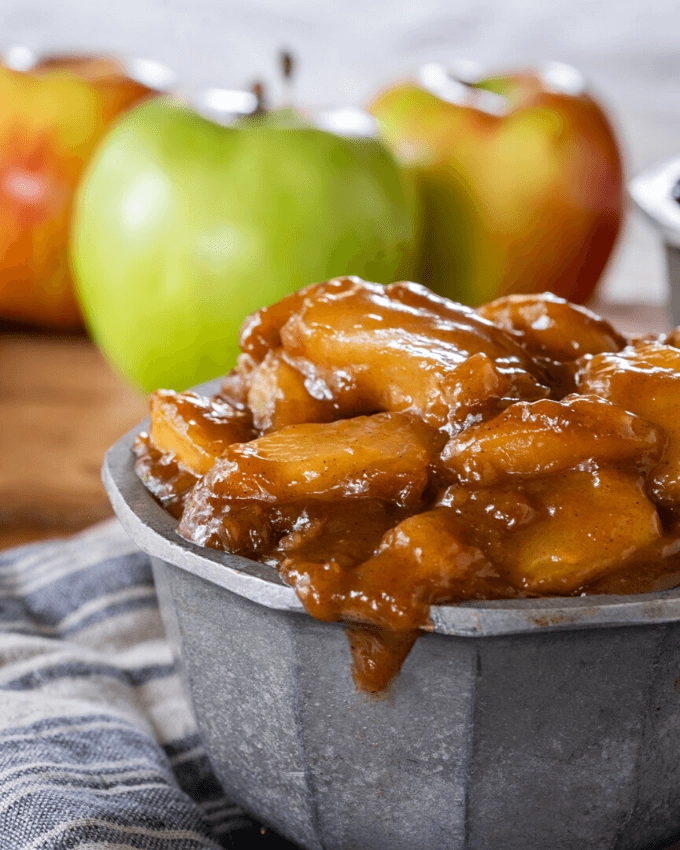 Ingredients in Apple Pie Filling
Apples – the best ones are the ones you like. This recipe is all about using what you have. Some may cook up softer than others but they'll be delicious just the same. I combined Honey Crisp and Granny Smith for this post.
Brown Sugar – I like dark brown sugar. It has a little more molasses in it which gives it more of a caramel flavor. You can use light if that's what you like.
Cinnamon – adds warmth to this Apple Pie Filling with Brown Sugar recipe. By using only cinnamon I can add it to other recipes if I choose to.
Apple juice – I used 100% juice but you could even use water which the apples will flavor.
Butter – I used salted in this recipe for simplicity. If you use unsalted, just add a pinch of salt.
Cornstarch – thickens this filling into a delicious saucy consistency.
I love making this saucy Apple Pie Filling and serving it with a warm savory dish like chili or a casserole such as the following: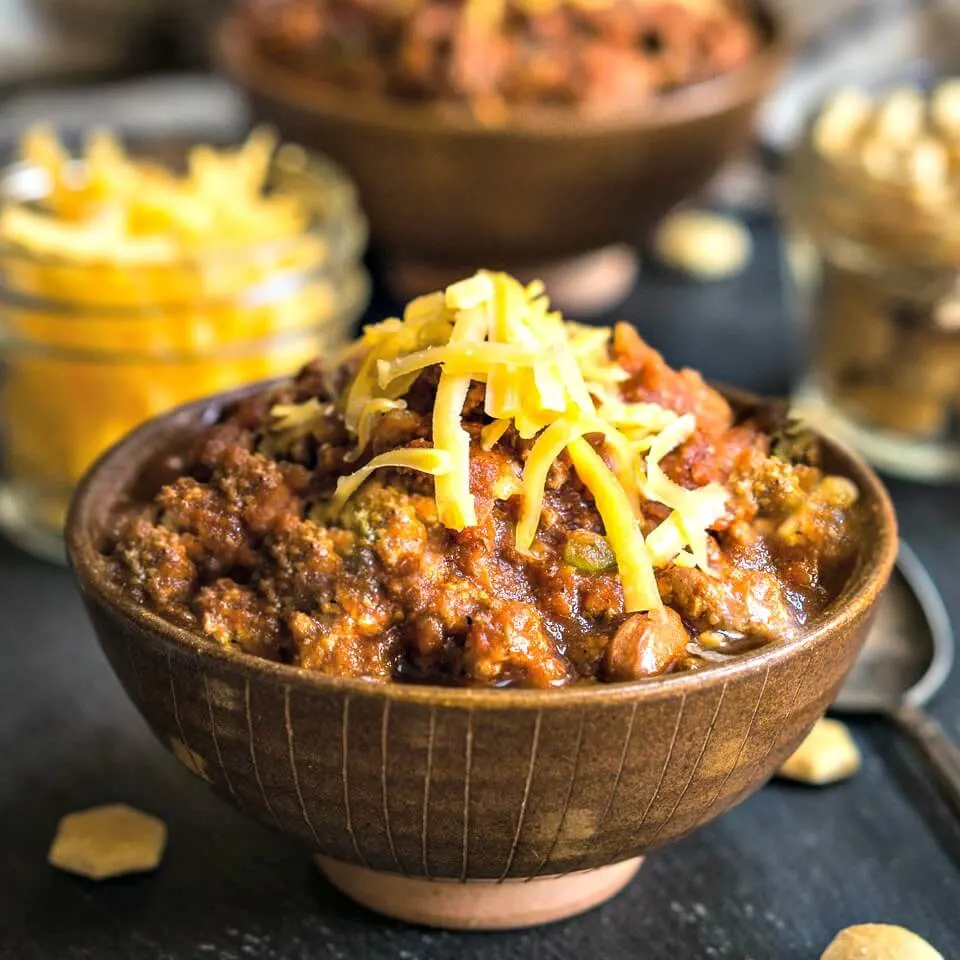 Pin this recipe to your favorite Board!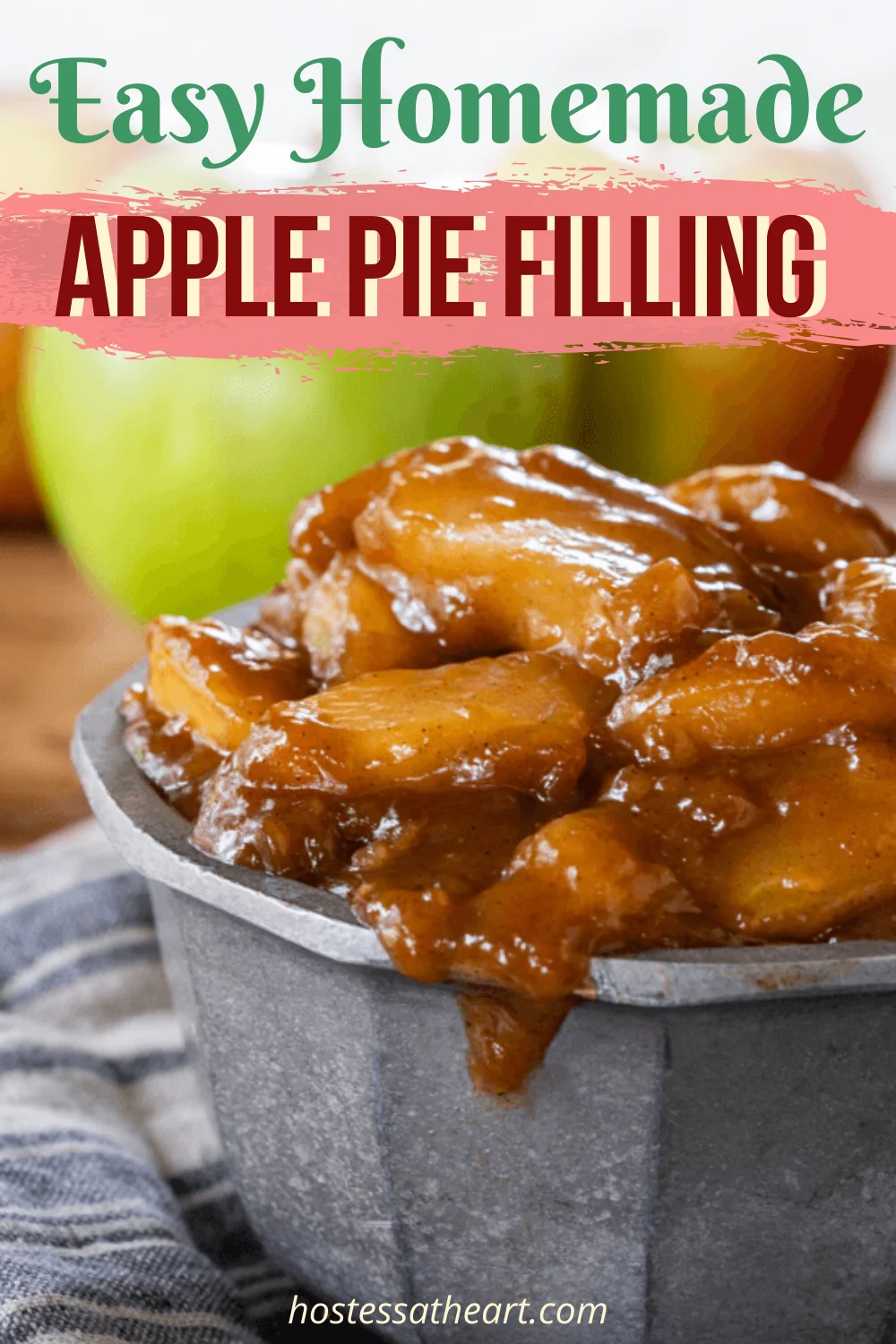 This Easy Apple Pie filling makes a great side dish or in amazing in recipes like these:
Tips for making the perfect Apple Pie Filling:
Don't overcook the apples! This apple pie recipe only takes about 10 minutes to cook depending on how thick you slice the apples.
Slice the apples all about the same 1/4″ to 1/2″ thick. That way they will all cook at the same rate. Otherwise, you'll have some undercooked and others overcooked and mushy.
As a flavor variation, you can also add Nutmeg, Allspice, Clove, and Ginger. Make it your own!
Homemade Apple Pie Filling can be frozen in an airtight container for up to 3 months.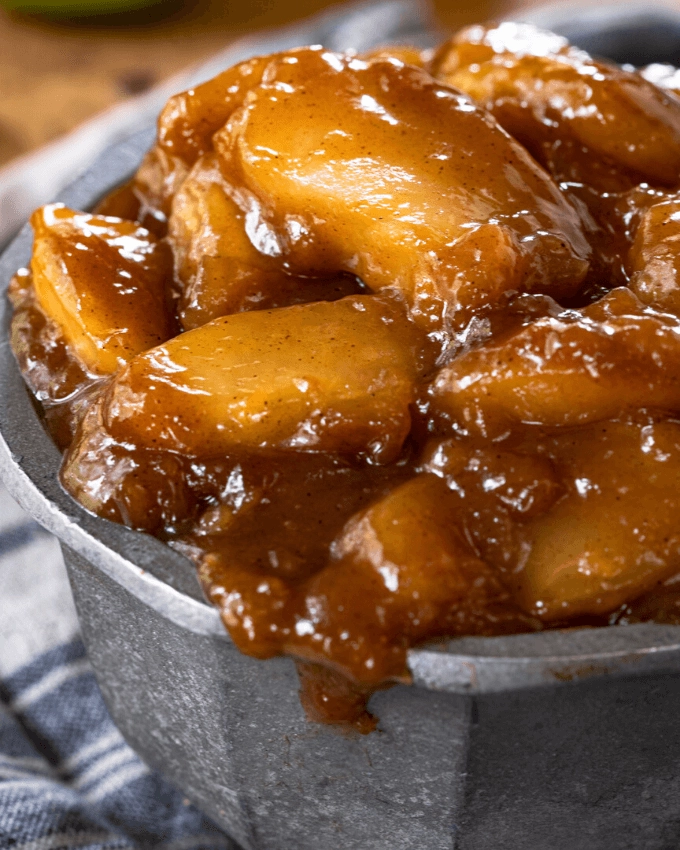 STORING SUGGESTIONS:
Apple Pie Filling can be stored the same as you would fresh apples.
Refrigerated for up to 3 days
Frozen in an air-tight container for up to 3 months
Canned
If you like making your own filling, our Caramelized Pear Pie Filling is one of our most popular recipes!
What is your favorite way to repurpose apples? Please share, you're my inspiration!