Caramelized Pear Pie Filling Recipe is full of tender pears drenched in brown sugar and cinnamon. It makes a great topping or a great dessert on its own.
THIS POST HAS BEEN UPGRADED FROM 10/27/14 TO IMPROVE READER EXPERIENCE.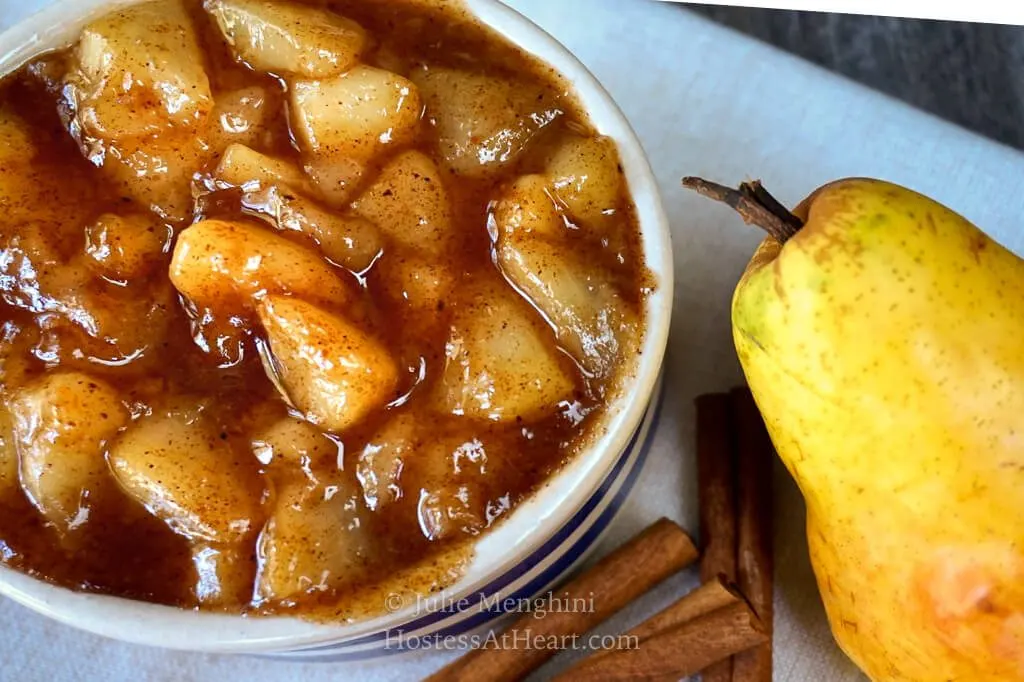 Caramelized Pear Pie Filling is swimming in a warm sweet gooey brown sugar and cinnamon sauce that compliments so many recipes or absolutely delicious on its own.
Pears are one of those beautiful fruits that I crave. I love eating a fresh pear, pear desserts, or salads with pears such as Chicken Pear Salad with Goat Cheese.
I grew up with a huge pear tree right outside my bedroom window. It produced huge pears and I remember the juice just running down my chin after biting into one of those juicy pears. My grandmother canned quarts upon quarts every year. There isn't much better than canned pears in a sweet syrup when there's 10 inches of snow on the ground.
I have a horrible habit of overbuying produce. Do you have that problem? I can't be the only one. Well after one of these trips, I had 8 pears sitting on my counter that were all ripening at the same rate.
I love pears but don't quite know why I thought two people should have a dozen pears and reasonably expect to eat all of them. What I did know is that we wouldn't be enjoying them for long if I didn't do something with them soon.
Cooking fruit with cinnamon and brown sugar just warms me from the inside out. I grew up eating fruit prepared like this. One of my favorite ways to eat pear filling is warmed and spooned on vanilla ice cream!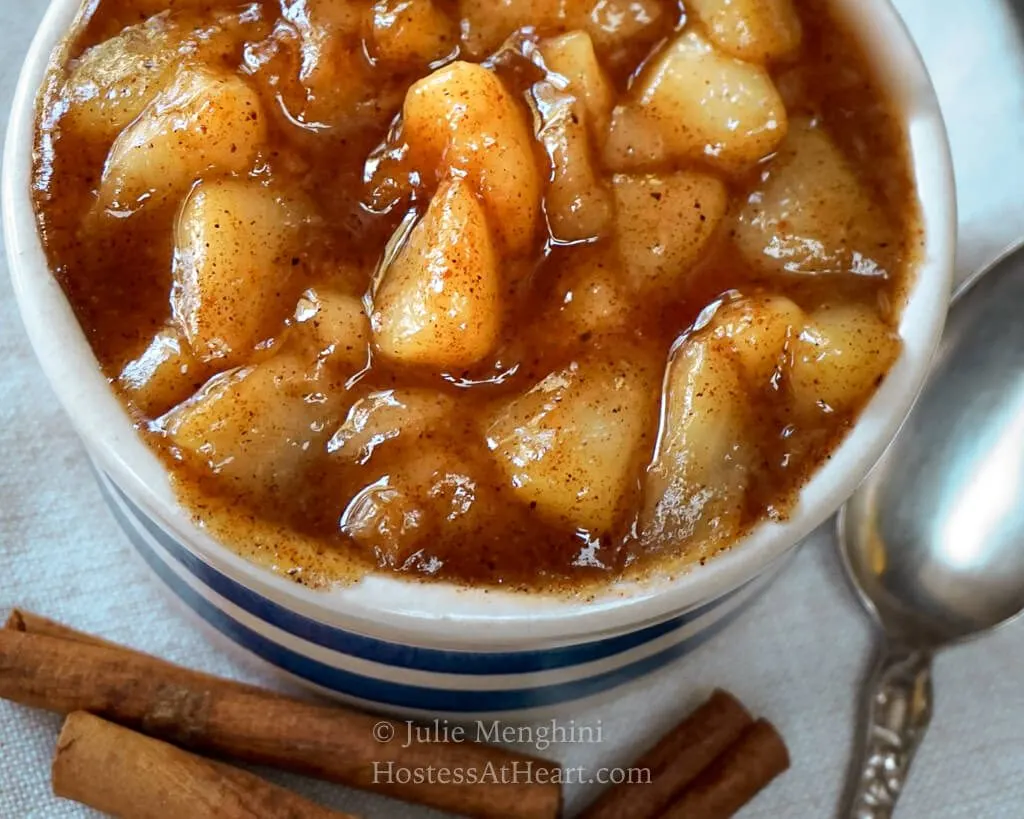 This Pear Pie Filling recipe is made with sweet brown sugar and cinnamon combined with beautiful ripe pears. This filling can be put in the freezer in an airtight container to be enjoyed when fresh pears are only a memory.
What kind of pears are best for cooking?
Good Keeping states: Bosc and Anjou varieties are tops at holding their shape and texture. In a pinch, Bartletts and other varieties work fine, too. Avoid Comice pears for cooking.
I love the flavor and texture of Bartletts so that's what I get. I just make sure that I don't overcook them.
Do pears have to be ripe to bake?
The best way to judge ripeness is to gently press the neck of the fruit near the stem with your thumb; if the flesh gives, the pear is ready to use.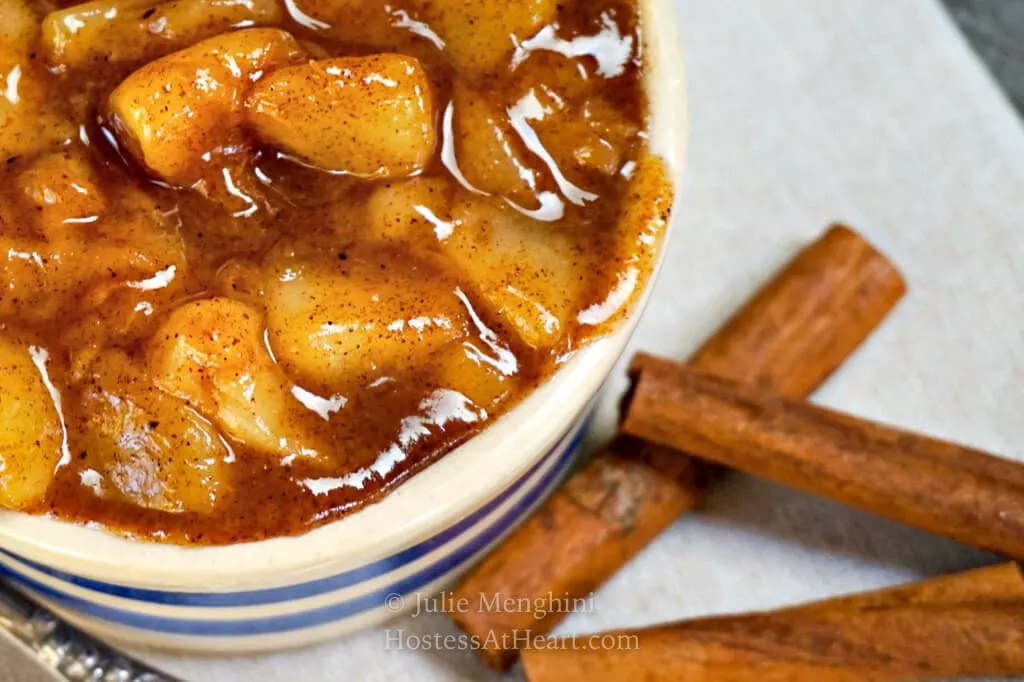 Suggestions for using Caramelized Pear Pie Filling:
Topping for pancakes, French toast, waffles, oatmeal, ice cream
Mashed and spread on toast
A sweet side to a cup of soup or chili
Storing suggestions:
Pear Pie Filling can be stored the same as you would fresh pears such as:
Refrigerated for up to 3 days
Frozen in an air-tight container for up to 3 months
Canned
If you like this recipe, here are a few more I think you're going to LOVE!
You may need:
Cutting Boards – I use these cutting boards. hen I want to put my cutting board into the dishwasher, such as when cutting cooked meat.

Wooden Cutting Boards – are better on your knives. I'll use this cutting board for fresh veggies and making salads.

8″ Chef's Knife – These knives are an investment but I've had mine for years and I just love them. They keep their blade a long time in between sharpening.
Don't have time to make it now?

Pin it

for later!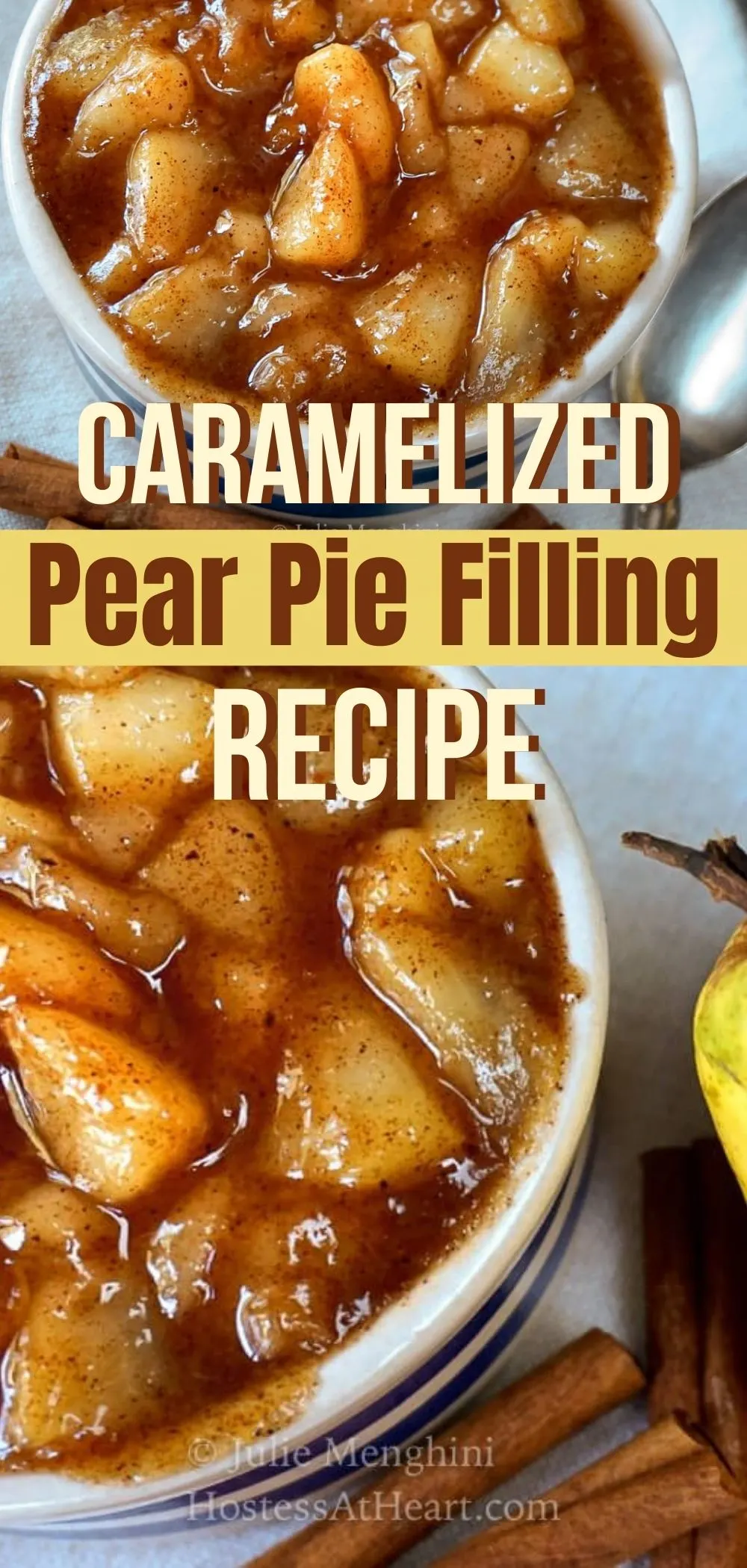 This recipe was updated from it's original on October 18, 2018. The recipe was slightly amended by adding water to the cooking pears.
How would you serve this Caramelized Pear Pie Filling? Leave me a comment with your suggestions! With a spoon is my #1 suggestion!