Indulge in a heavenly blend of flavors with our Manchego Grilled Cheese Sandwich. Made with premium Manchego cheese, this gourmet delight boasts a crispy, buttery exterior and a gooey, melty interior that's sure to tantalize your taste buds. Perfectly paired with a variety of accompaniments, this elevated twist on a classic sandwich is a symphony of savory satisfaction. Try our Manchego Grilled Cheese Sandwich today and experience culinary bliss like never before.
THIS POST HAS BEEN UPGRADED FROM 4/21/15 TO IMPROVE THE READER EXPERIENCE.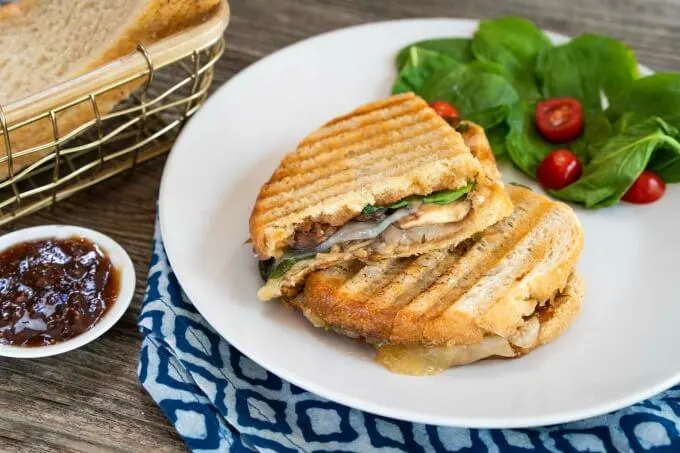 Manchego Grilled Cheese is my favorite grilled cheese sandwich. It may look like a fancy grilled cheese but it comes together in a jiffy.
I grew up going to religion classes on Saturday mornings.
When our classes were over, we went home to a lunch of grilled cheese and tomato soup.
Tomato soup was from a can, and our grilled cheese was a skinny yellow slice of cheese on buttered white bread. I loved it. Of course, I loved anything drowned in ketchup.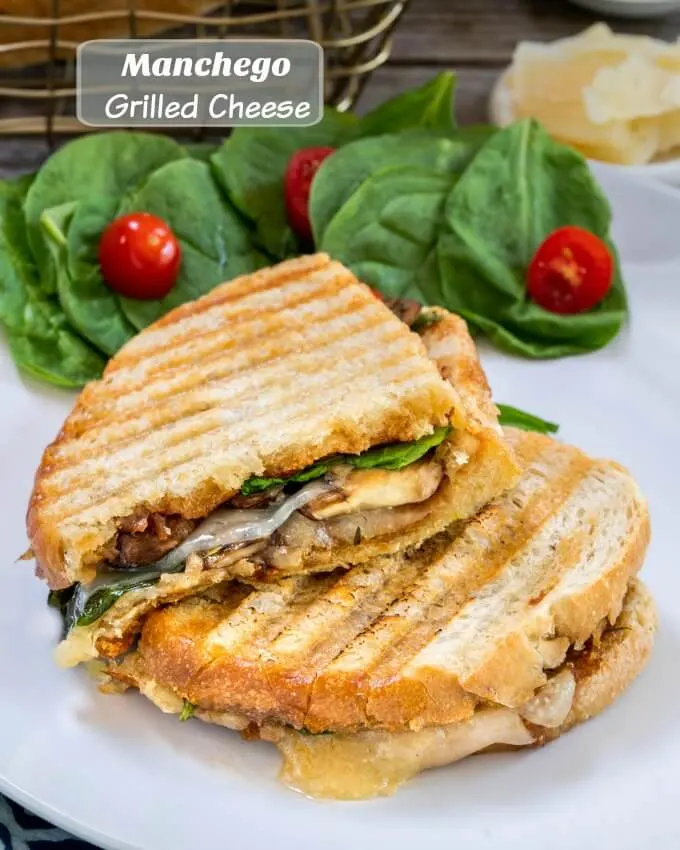 The grilled cheese that we make now is a grown-up grilled cheese. My little person self would probably have turned up her nose.
My big girl self just loves every single layer of the grown-up version of this grilled Manchego Cheese Sandwich. Oh, and it doesn't need one drop of ketchup to improve its flavor.
What is Manchego cheese?
Castello Cheeses states Manchego cheese is from Spain and made from sheep's milk. Manchego is aged from 2 months to 2 years. This cheese is a sharp, acidic, and nutty cheese.
Often when you purchase Manchego cheese it will come with a cheese rind. I cut the rind off and store it in my freezer for when I want to add flavor to homemade soups and sauces.
Manchego is a delicious cheese on a charcuterie board or grated over fresh pasta too.
What you may need to make a Manchego Grilled Cheese Sandwich
Panini Press – This is the one that I have. I like that the reversible grates become a griddle and that they can be removed for easy cleaning.
Slotted Spatula – Also called a fish spatula. I use mine for everything.
Manchego Sandwich Ingredients & Substitutions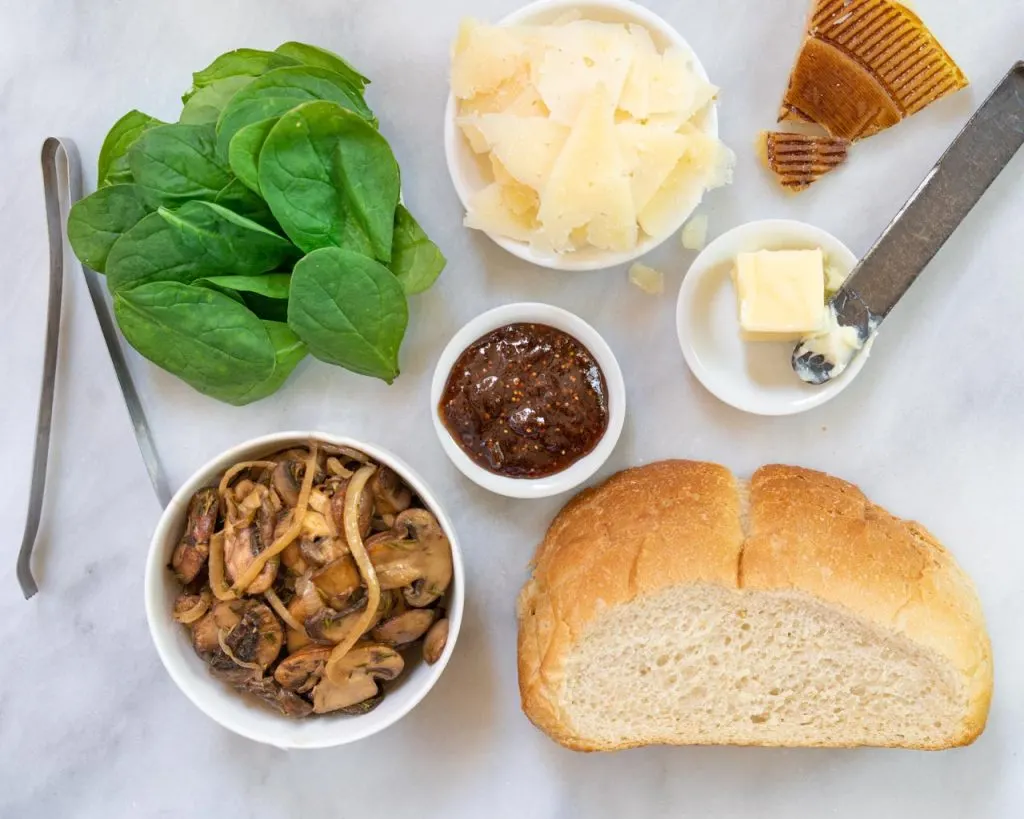 Manchego cheese
Fresh spinach – arugula is a good substitute that adds a hint of pepper to the sandwich
Fig jam – honey is a delicious substitute.
Butter or butter substitute.
Mushrooms – we used cremini but any mushroom will work
Onions – yellow onion was our choice but you can use what you like.
Fresh Thyme or rosemary or a seasoning blend such as Italian seasoning or a Mediterranean spice blend.
Sherry – or white wine vinegar.
Bread – we love our sourdough sandwich bread for this recipe. However, any sandwich bread or even a baguette will be delicious.
Meat – thinly sliced Serrano ham or Proscuitto would make this an amazing grilled meat and cheese sandwich.
How to make a Manchego Grilled Cheese Sandwich
Get a heavy skillet hot and add butter. Add the onions and mushrooms and cook over medium heat until the mixture is browned and caramelized. Remove from the heat and assemble.
Grilled Manchego Cheese Assembly
Spread butter on the outside of two slices of bread.
Spread fig jam on the inside of one piece of bread for a slightly sweet sandwich or on both sides if you want it sweeter.
Add 1/4th of the sauteed mushroom-onion mixture.
Top the mushroom mixture with fresh spinach.
Finish with a layer of Manchego cheese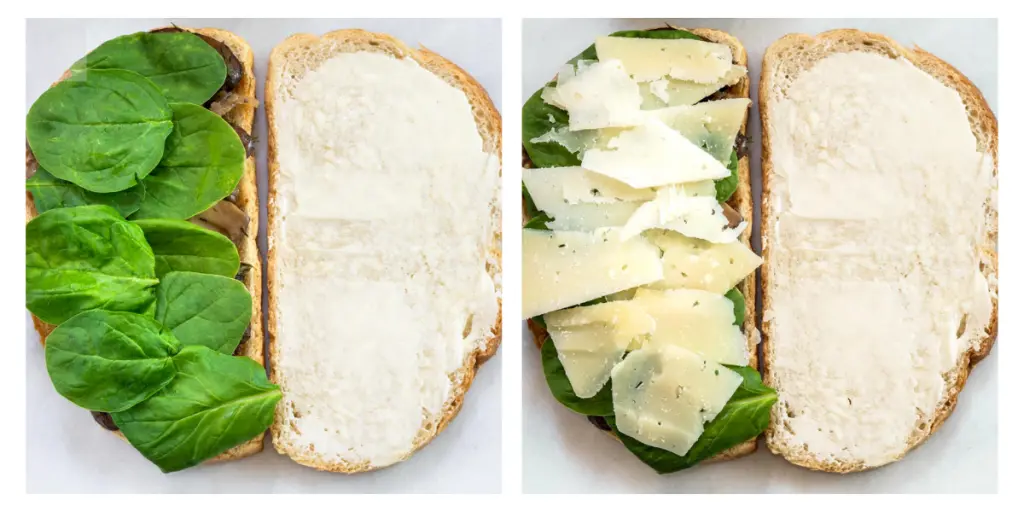 Grill the sandwich with the bread slices buttered side out on a preheated panini maker, grill pan, or hot skillet for approximately 4 minutes on each side or until the bread becomes golden brown.
Manchego Cheese Substitutes
What we love about Manchego cheese is that it's nutty and buttery and melts well without being real greasy like a cheddar often is. I find that recipes that work with any of the suggested chesses will make an amazing Manchego Cheese recipe.
So when choosing an alternative to Manchego cheese you'll want to make sure it's a good melting cheese. Most soft and semi-soft cheeses are.
Parmigiano-Reggiano
Pecorino-Romano
White English Cheddar
Jarlesberg
Gruyere
FAQ's
Does Manchego cheese melt?
Yes, Manchego is a good melting cheese.
Do you have to cook this grilled cheese sandwich in a Panini maker?
No, you do not. You can cook this grilled cheese sandwich on a griddle or in a large skillet.
Is this a Vegan Grilled Cheese Sandwich
Yes, you can make this sandwich Vegan by using a Vegan butter substitute such as sun butter or almond butter.
Tips for the Perfect Grilled Cheese with Manchego
The perfect grilled cheese is making sure all of the ingredients are cooked perfectly and finished at the same time. This is how we achieve that.
Precook the mushroom onion mixture until it's an al dente.
Make sure all of the ingredients are "bite-size" so every bite of your sandwich is perfect.
Slice the Manchego thinly. That will assure that the cheese melts at the proper rate.
When grilling your manchego cheese sandwich, apply even pressure to the bread whether you're using a panini maker or a spatula. Harder pressure will press the ingredients from the sandwich, and to light of pressure will make it harder for the ingredients to melt together.
Once the bread on this sandwich is grilled to a golden brown, you will want to stop cooking this sandwich.

If the cheese needs a little more melting, you can wrap it in foil and put it in a warm oven for 5 minutes. The foil will stop the bread from cooking and create an "oven-like" environment perfect for melting the cheese.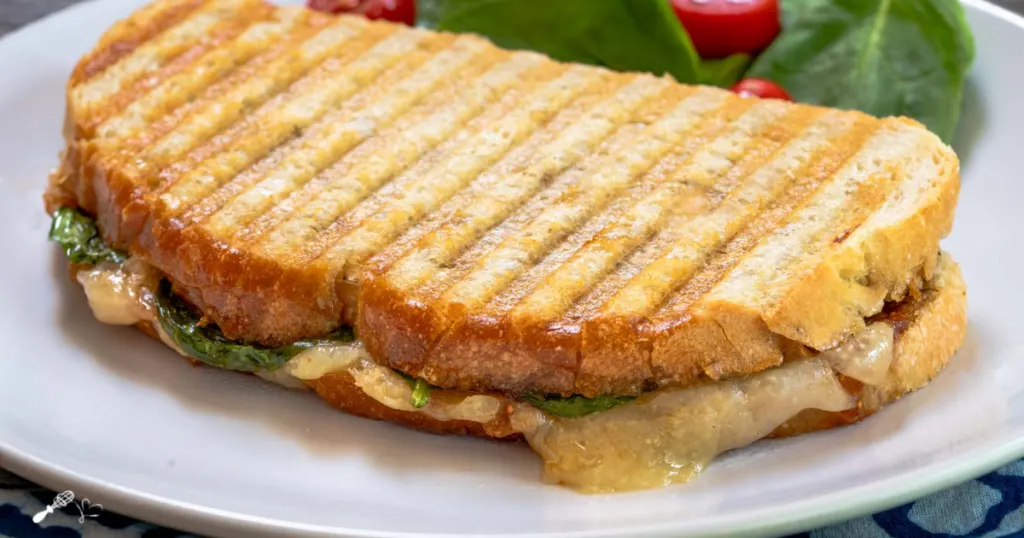 If you like this fancy grilled cheese sandwich, here are a few more you may enjoy
So, I may not have been great at memorizing my religion, but I aced grilled cheese!
And, the tomato soup was there too, a bumped-up big person version called Easy Tomato Florentine Soup!
Pin it!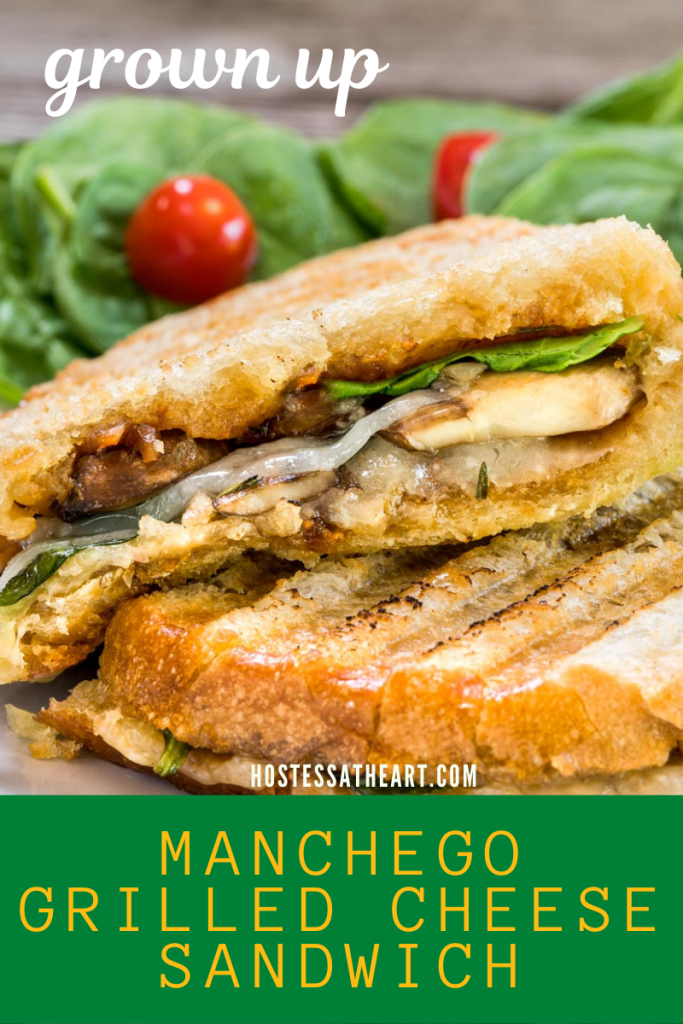 If you like this recipe, we would appreciate your comment and a 5-star ⭐️⭐️⭐️⭐️⭐️ review!