First, comes the bread and then comes the Best Cuban Sandwich! It's sweet, tangy, eggy, and best of all, delicious!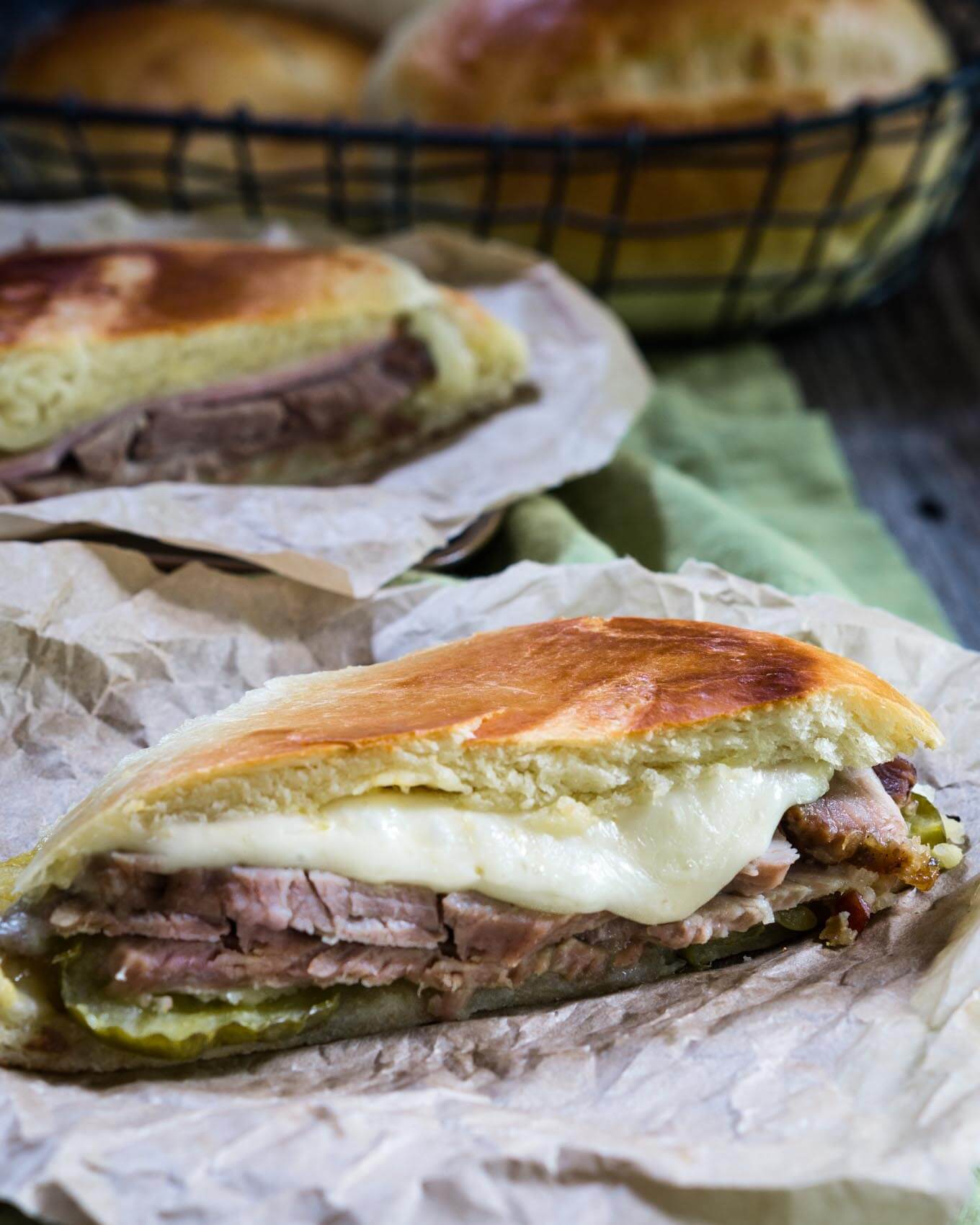 I know you remember the beautiful Cuban Medianoche Bread that I recently posted. Here is the Best Cuban Sandwich that could ever come out of my kitchen. It is sweet, tangy, eggy, and everything that I could want in a Cuban sandwich.

My mother-in-law gave me a panini press/grill not long ago. I had been wanting one and she never used hers so I was the beneficiary! John and I love a great Cuban sandwich, and I set out on a quest to make one in my kitchen. Now that I had a panini press, I could make them without a foil covered brick or a cast iron skillet…or so I thought.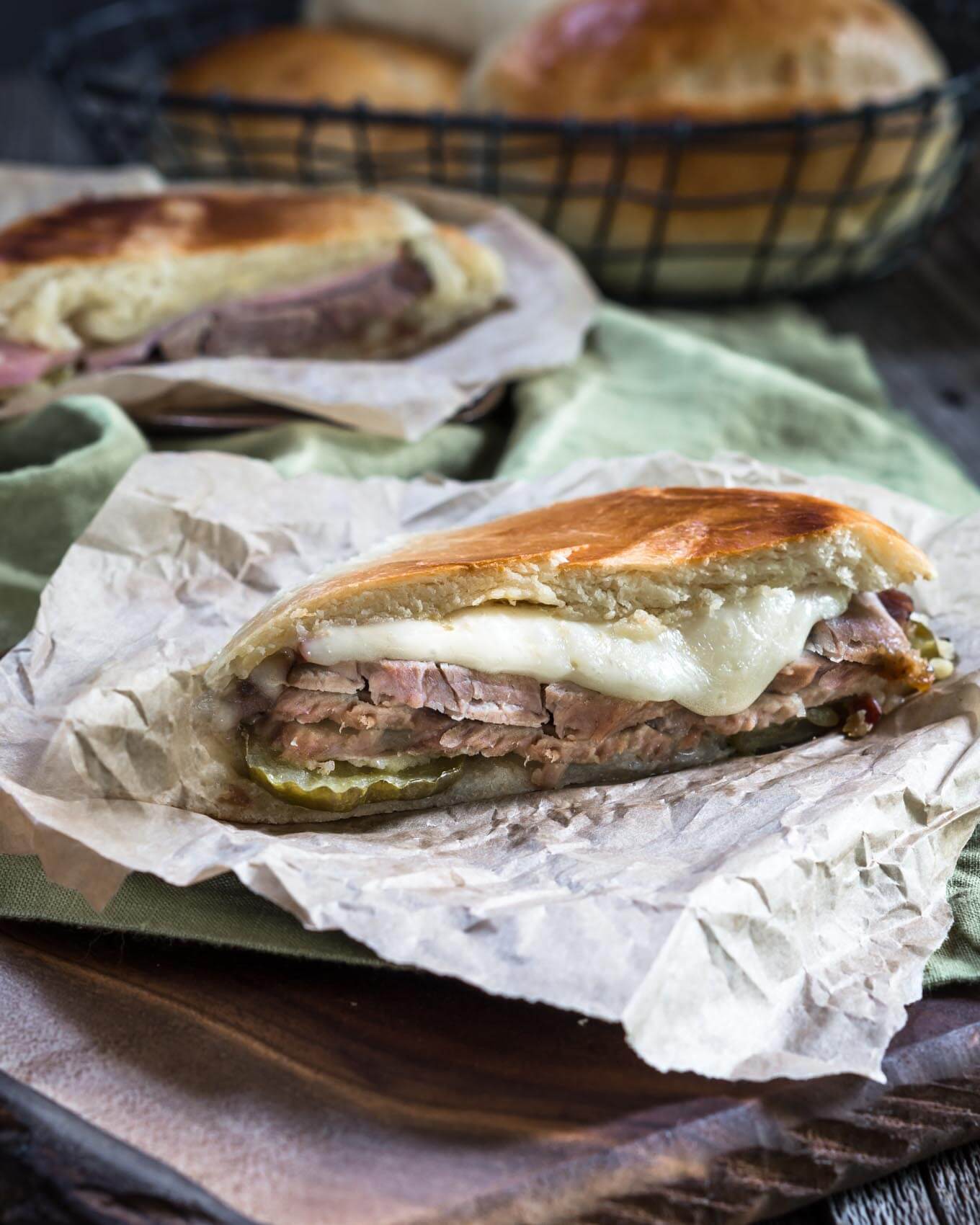 I got all of the ingredients that I needed, marinated and roasted the most amazing pork shoulder, and baked those amazing Cuban Medianoche Bread rolls. All I had to do was put it together and put it in my panini maker until golden brown.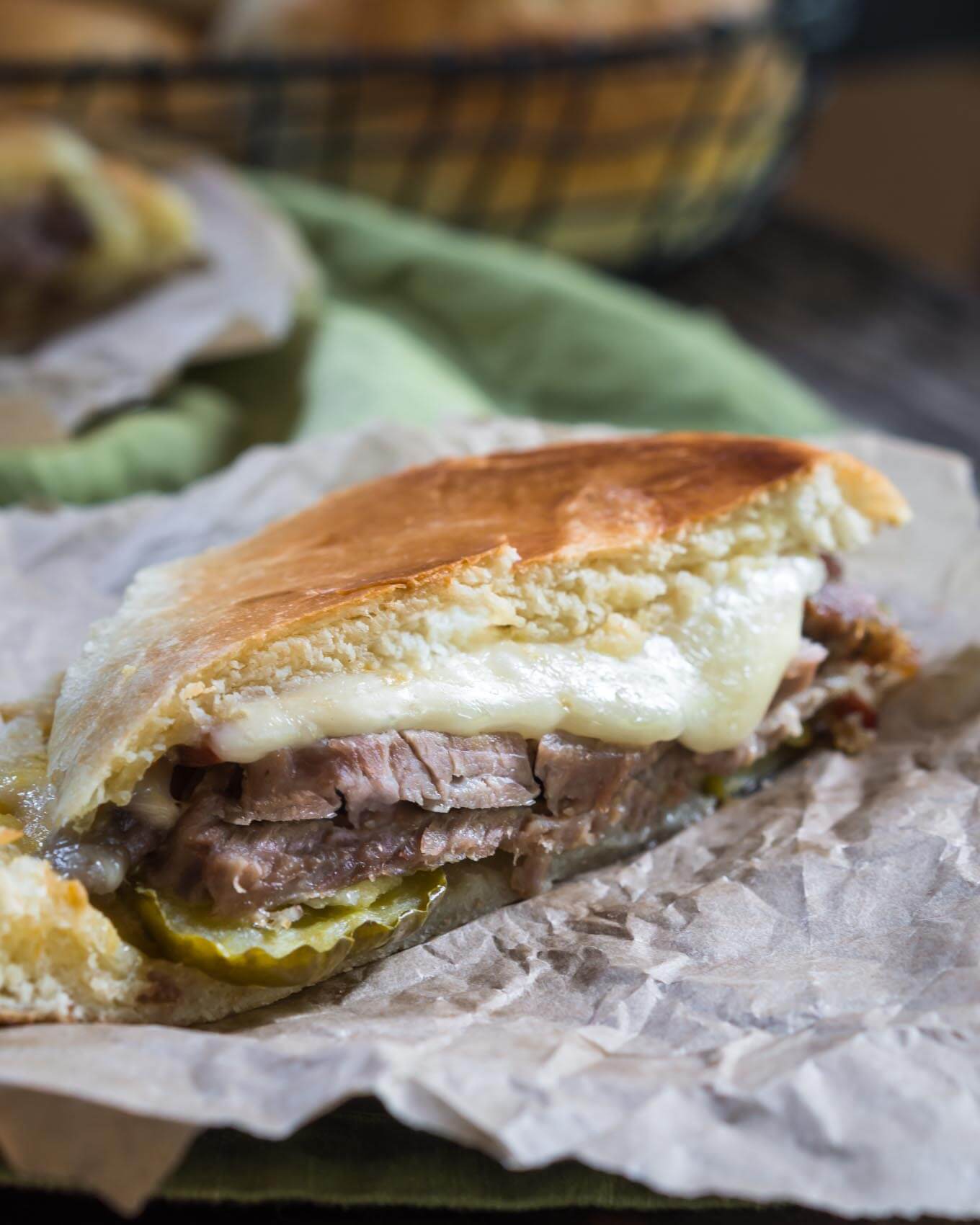 [Tweet "First, comes the bread and then comes the Best Cuban Sandwich! #food #recipe"]This recipe is featured in the cookbook "Three Guys From Miami Cook Cuban by "The Three Guys" from Miami. They state there is only one way to build this sandwich. On buttered Medianoche bread, place the pickles, roasted pork, ham and then cheese in that order. Mustard is optional. I did that and then squished my bread until the whole thing slid apart as you can see. The ham slid to the back and the cheese and pork to the front.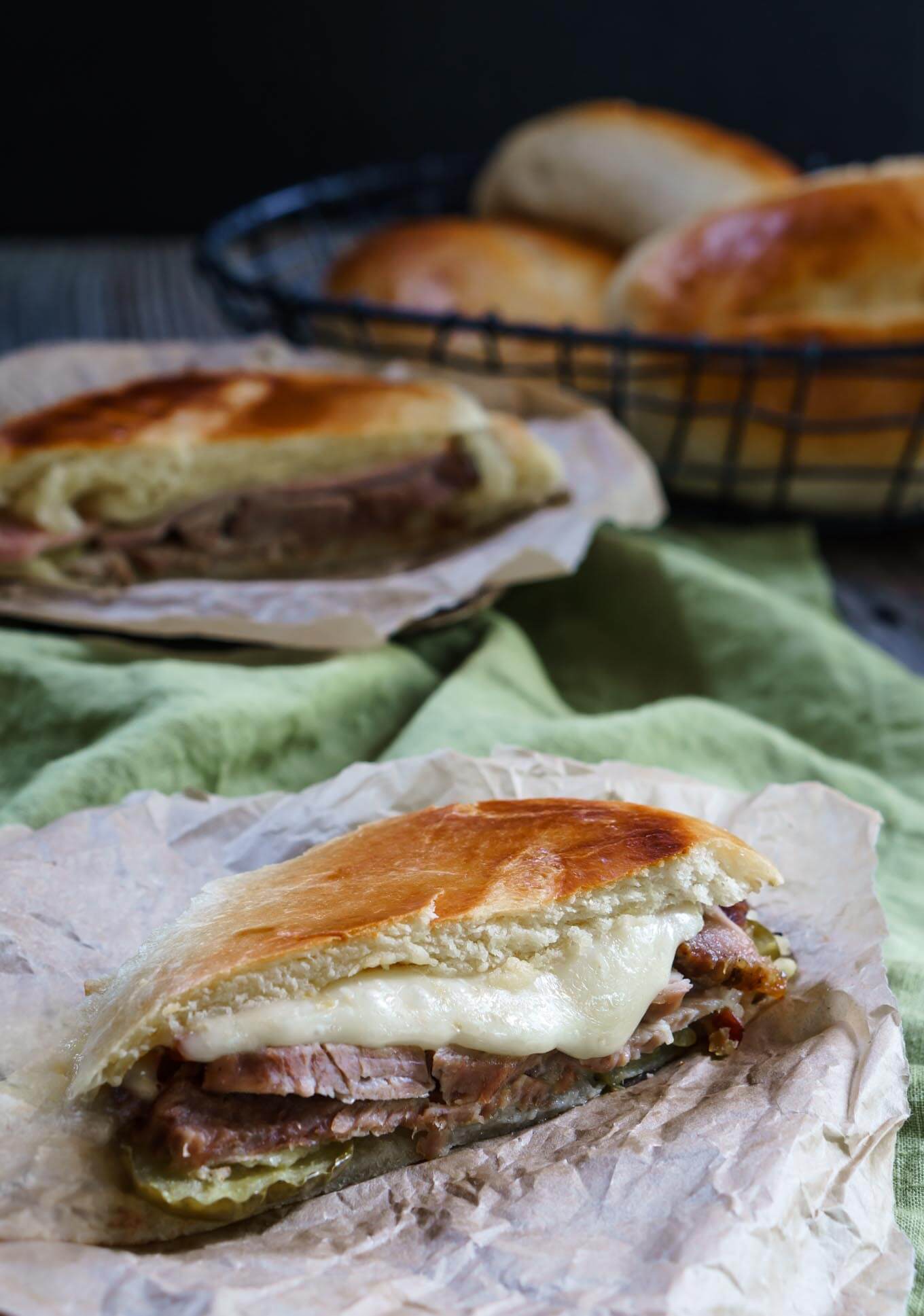 Well, even though I've created the Best Cuban Sandwich, my panini skills need a bit of work. You asked me to post some less than perfect results. My perfectionist self is doing it under duress. The next attempt was better, but no pictures are available. John got a hold of it and that's the end of the story and of The Best Cuban Sandwich…for now.
Don't have time to make it now? Pin it for later!
The Best Cuban Sandwich
First, comes the bread and then comes the Best Cuban Sandwich! It's sweet, tangy and eggy, and best of all, delicious!
Ingredients
Sandwich
4

Cuban Medianoche Bread rolls

3

tablespoons

butter

1

pound

Cuban pork

1

pound

sliced ham (sweet cured or bolo ham - I used honey ham

8

slices

of Swiss Cheese

Dill pickle slices

Mustard

optional I used a Dijon but a spicy brown would be great or just yellow too.
Cuban Pork
4 to 6

pound

shoulder roast

1

bulb of garlic

1

teaspoon

salt

1

teaspoon

black peppercorns

1

cup

sour orange juice

I used 2/3 cup 100% orange juice (not from concentrate, 1 lime juiced and 1 lemon juiced)

1

cup

minced onion

2

teaspoons

dried oregano

1/2

cup

olive oil

Spanish if you have it. I used Italian
Instructions
Pork Shoulder
Mash the garlic, salt and peppercorns into a paste, using a mortar and pestle. Stir in sour orange juice, onion and oregano. Let mixture sit for 30 minutes.

Heat the olive oil in a 2 quart saucepan until hot but not frying hot. You'll see some movement in the oil. Remove the oil from the heat and quickly AND CAREFULLY whisk the mixture until well blended. Let cool before using as a marinade.

Pierce the pork roast several times all over with a fork or sharp knife. Place it in a roasting pan and pour garlic mixture (save a little for basting while roasting) over pork. Cover and let sit in the refrigerator for two or three hours.

Preheat the oven to 375°F.

Remove lid from pork and roast for 20 minutes. Reduce temperature to 225°F and roast until the meat is soft and you can pull it apart easily with a fork. Baste occasionally while roasting. I roasted mine to an internal temperature of 175°F. Remove from the oven and let rest 10 minutes before slicing.

Bring the pan juices to a boil and simmer until the juice is reduced by half. Sprinkle juice onto the pork when you put it in the sandwich.
Sandwich Assembly.
Butter the inside of the top and bottom of the bread and mustard if using. Put the pickles on the bread, followed by the roasted pork and juices, ham and cheese. Be generous!

Butter a hot griddle or pan. Place the sandwich on the pan and using a heavy skillet, bacon press or foil wrapped brick, flatten the sandwich for approximately 3 minutes and then flip to the other side.

You don't want you pan so hot that your bread burns but it needs to be hot enough to melt your cheese.

Slice the sandwich diagonally and serve immediately.
Notes
Cooking time depends on the size of your roast.
The Three Guys from Miami recommend that you let your meats and cheese come to room temperature so the bread wont get over toasted before the cheese melts.
I recommend that you toast the inside of the bread so the pickles don't make your bread mushy. Recipes courtesy of the Three Guys From Miami from their book: "Three Guys From Miami Cook Cuban." Copyright ©2004 All Rights Reserved. Check out their website at: http://icuban.com/food
http://icuban.com/food
You only need 1 pound of the pork for 4 sandwiches, but make plenty for future Cuban sandwiches! I froze my leftover pork for a future dinner of the Best Cuban Sandwich.
It's always fun to share so let's head over to Fiesta Friday and Saucy Saturdays!
Let's keep in touch!  You can find me on Pinterest, Instagram, Facebook, and Twitter! Better yet, enter your email address in the box below and never miss a recipe!