First, comes the sweet buttery bread and then the Best Cuban Sandwich! It's loaded with Cuban pork roast, cheese, ham, and pickles.
THIS POST HAS BEEN UPGRADED FROM 10/6/16 TO IMPROVE READER EXPERIENCE.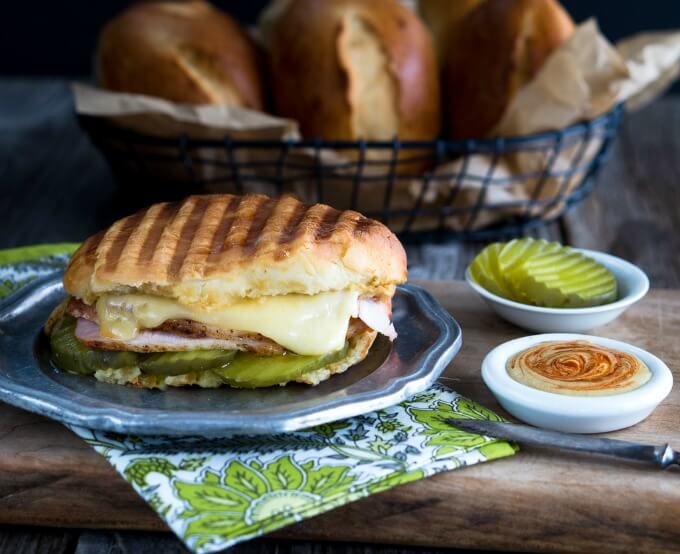 Cuban Sandwich Recipe is a complete meal between two slices of bread. It's sweet, tangy, eggy, and everything that I could want in a Cuban sandwich.
Do you remember the beautiful Cuban Medianoche Bread that I posted? Well, the Best Sandwich that's ever come out of my kitchen was the reason for that beautiful Cuban bread recipe.
Our son lives in Miami and John and we had our first experience with Miami Cuban food shortly after he moved there.
We fell in love with their authentic Cubano sandwich, and I set out on a quest to make one in my own kitchen.
Since first making my Cuban recipe I've learned that there is also a Cuban sandwich called a Medianoche.
The recipe that we used is featured in the cookbook "Three Guys From Miami Cook Cuban by "The Three Guys" from Miami.
They use the Medianoche bread and call it a Cuban Sandwich but technically it could be a Medianoche.
I'm just the cook so if you're passionate about the difference, take it up with the pros!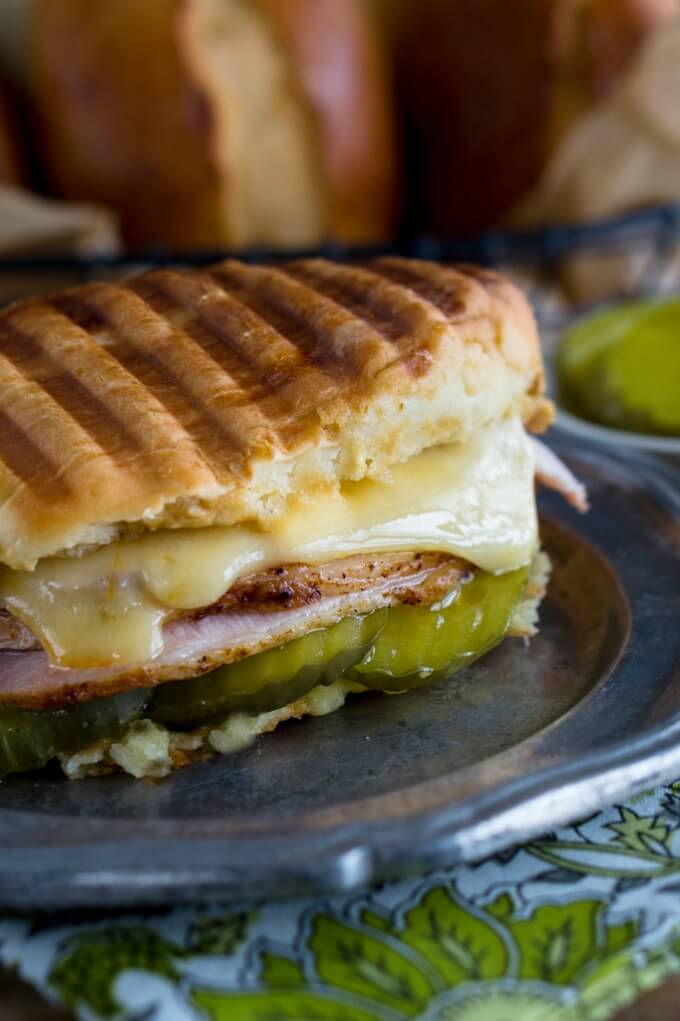 What is the difference between a Cuban sandwich and a Medianoche?
A Medianoche consists of roast pork, ham, mustard, Swiss cheese, and sweet pickles. It is a close cousin to the Cuban sandwich.
The chief difference being that a medianoche is made on soft, sweet egg dough bread similar to Challah rather than on crustier Cuban bread.
Cuban bread is a fairly simple white bread, similar to French bread and Italian bread.
There is only one way to build this sandwich!
"The Three Guys" from Miami state there is only one way to build this sandwich. On buttered Medianoche bread, place the pickles, roasted pork, ham and then cheese in that order. Mustard is optional.
We combined Dijon mustard with a little sriracha sauce. The difference is amazing.
Ingredients
Bread Rolls
Cuban Roast Pork
Sliced Ham
Swiss Cheese
Dill Pickles
Mustard – optional
NOTE: You only need 1 pound of the pork for 4 sandwiches, but we baked the entire pork roast so I had plenty for future sandwiches!
We froze my leftover pork for a future dinner which makes a delicious no-fuss meal when we are too busy to cook or just don't feel like it.
Pin this yummy sandwich to your favorite sandwich board!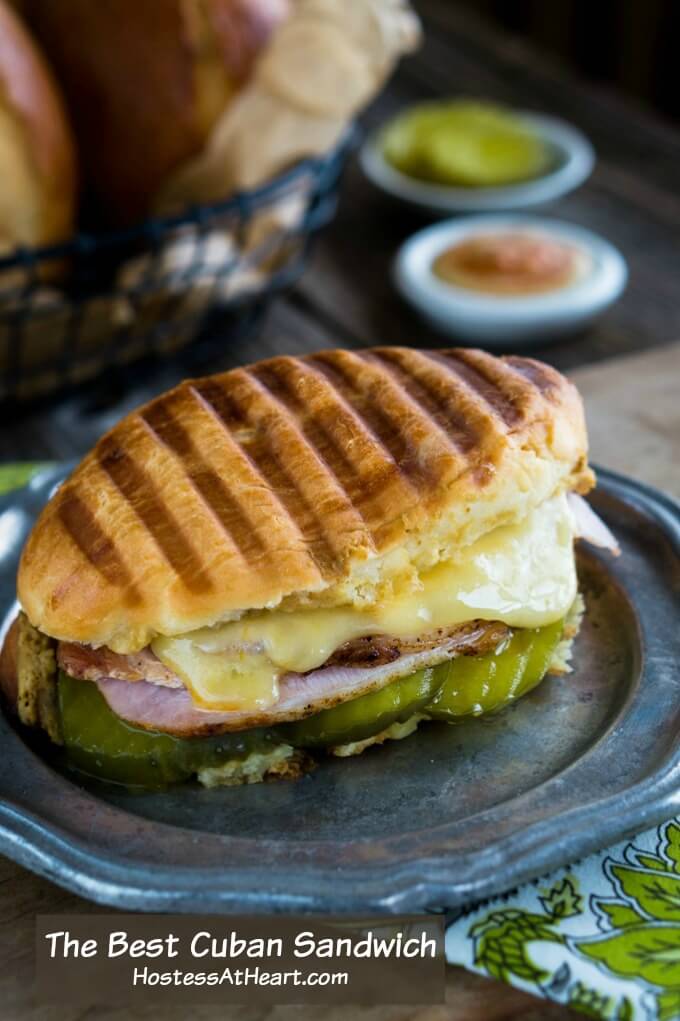 You May Need:
The following are affiliate links. We are a participant in the Amazon Services LLC Associates Program, an affiliate advertising program designed to provide a means for us to earn fees by linking to Amazon.com and affiliated sites. For more information, please see our disclosure.
Panini Press – This is the one that I have. I like that the grates are reversible and become a griddle and that they can be removed for easy cleaning.

You can also use a grill pan with a sandwich press or foil-covered brick.

Slotted Spatula – Also called a fish spatula. I use mine for everything. It's basically replaced my turner spatula.
If you like my Cubano recipe, here are a few more I think you'll love!
The Best Cuban Sandwich
First, comes the sweet buttery bread and then the Best Cuban Sandwich! It's loaded with Cuban pork roast, cheese, ham, and pickles.
Ingredients
Sandwich
3

tbsp

butter

1

lb

Cuban Roast Pork

8

slices

sliced ham

(sweet cured, Serrano, or bolo ham – I used honey ham

8

slices

Swiss Cheese

Dill pickle slices

Mustard

optional I used a Dijon but a spicy brown would be great or just yellow too.

*Sriracha

Optional
Cuban Roast Pork (Mojo – Marinated Pork)
4

pound

Pork shoulder roast

1

garlic clove

1

tsp

salt

1

tsp

black peppercorns

1

cup

sour orange juice

I used 2/3 cup 100% orange juice (not from concentrate, 1 lime juiced and 1 lemon juiced)

1

cup

minced onion

2

tsp

dried oregano

1/2

cup

olive oil

Spanish if you have it. I used Italian
Instructions
Cuban Roast Pork

Mash the garlic, salt and peppercorns into a paste, using a mortar and pestle or a food processor. Stir in sour orange juice, onion and oregano. Let mixture sit for 30 minutes.

Heat olive oil in a 2 quart saucepan until hot but not frying hot. You'll see some movement in the oil. Remove the oil from the heat and quickly AND CAREFULLY whisk the garlic-orange juice mixture until well blended. Let cool before using as a marinade.

Pierce the pork roast several times all over with a fork or sharp knife. Place it in a roasting pan and pour garlic mixture (save a little for basting while roasting) over pork. Cover and let sit in the refrigerator for two or three hours.

Preheat the oven to 375°F.

Remove lid from the pork and roast for 20 minutes. Reduce temperature to 225°F and roast until the meat is soft and you can pull it apart easily with a fork, about 2 hours and 20 minutes. Baste occasionally while roasting. I roasted mine to an internal temperature of 175°F. Remove from the oven and let rest 10 minutes before slicing.
Sandwich Assembly.
Butter the inside of the top and bottom of the bread and *mustard if using. Put the pickles on the bread, followed by the roasted pork, ham, and cheese. Be generous!

Butter a hot griddle or pan. Place the sandwich on the pan and using a heavy skillet, bacon press or foil wrapped brick, or panini press, flatten the sandwich for approximately 3 minutes and then flip to the other side.

You don't want you pan so hot that your bread burns but it needs to be hot enough to melt your cheese.

Slice the sandwich diagonally and serve immediately.
Notes
4 sandwiches only take 1 pound of meat.  I freeze what I don't use so we always have Cubanos without having to roast the pork each time.
Cooking time depends on the size of your roast.
The Three Guys from Miami recommend that you let your meat and cheese come to room temperature so the bread so it doesn't get over toasted before the cheese melts.
I recommend that you toast the inside of the bread so the pickles don't make your bread soggy.
* I add a little Sriracha to Dijon mustard.  It adds a delicious little kick to the sandwich.
Recipes courtesy of the Three Guys From Miami from their book: "Three Guys From Miami Cook Cuban." Copyright ©2004 All Rights Reserved. Check out their website at: https://icuban.com/food https://icuban.com/food
Nutrition
Calories:
443
kcal
|
Carbohydrates:
2
g
|
Protein:
35
g
|
Fat:
32
g
|
Saturated Fat:
16
g
|
Trans Fat:
1
g
|
Cholesterol:
135
mg
|
Sodium:
858
mg
|
Potassium:
425
mg
|
Sugar:
1
g
|
Vitamin A:
549
IU
|
Vitamin C:
1
mg
|
Calcium:
285
mg
|
Iron:
1
mg
This recipe was calculated using the exact brands and measurements I used to make this recipe. If you are following a strict diet please note changing anything will cause the nutritional info to change. My calculations are intended as a guide only.
My mother-in-law gave me a panini press/grill. We'd been wanting one and she never used hers so we were the beneficiary!
Now that we had a panini press, we could make them without a foil-covered brick or a cast iron skillet…or so we thought.
We squished the bread until the whole thing slid apart as you can see. The ham slid to the back and the cheese and pork to the front.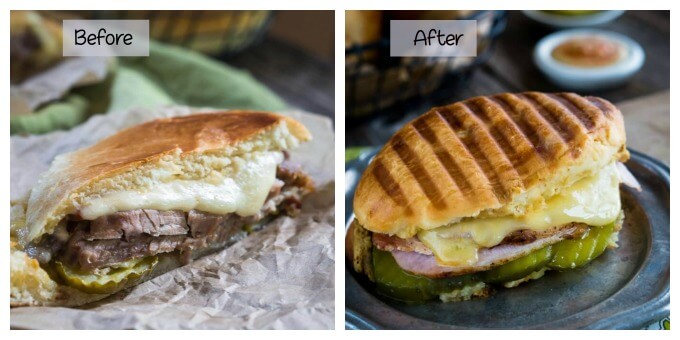 You asked me to post some less than perfect results. My perfectionist self is doing it under duress.
Even though the first attempt tasted amazing, our Panini skills needed some work as you can see! Like anything, practice makes perfect.