Thai Chicken Sandwich with Peanut Sauce is a grilled chicken sandwich with an Asian flair that is easy to make at home. When the day calls for a fresh, hot sandwich you are going to love this creamy sweet, savory, spicy, and crunchy Thai Chicken recipe.
If you love Thai flavors, this sandwich is for you. Just like my Thai Pumpkin Soup, It's smooth, spicy, and delicious!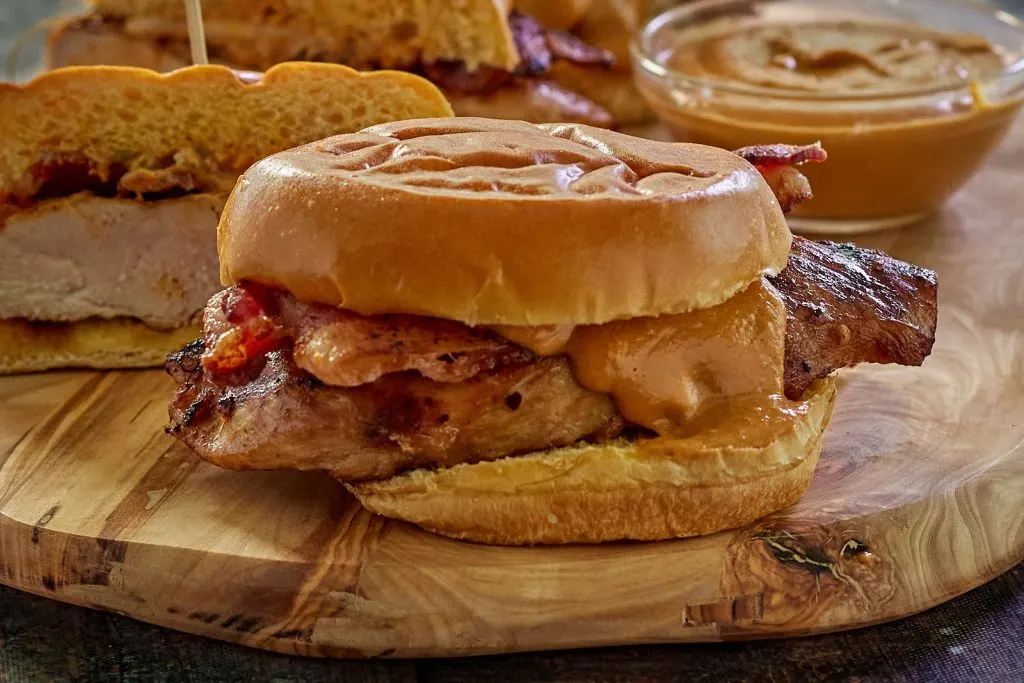 If you've been visiting the blog for a while, then you know my mother didn't love cooking the way I do. Sandwiches in my house were something between two pieces of store-bought white bread.
Fancy meant that it also had mayonnaise or cheese on it. It took me a long time to redefine what a good sandwich is. This Thai Peanut Chicken Sandwich is definitely a good sandwich.

Why You'll Love This Thai Peanut Chicken Sandwich
A few weeks ago John and I went on a bike ride and ended up at one of our favorite places to eat. I was looking at the menu, and while I didn't order it, there was this sandwich that looked interesting to me.
At home, I took this sandwich idea and started deconstructing it and putting my own spin on it. The result is this easy and delicious Thai Peanut Sandwich!
Tastes better than take-out. Nothing beats a simple, gorgeous homemade hot sandwich you can make with ingredients you already have.
It's better for you. Use low sodium soy sauce and a low-carb roll and you've already made the sandwich a better choice for your body. You also know exactly what you are putting into your food because you make it yourself.
Equipment Needed to Make a Peanut Butter Chicken Sandwich
Saucepan. Used to cook the peanut sauce.
Whisk. Used to mix and stir the peanut sauce.
Plastic Zipper Bags. Use your favorite brand for marinating the chicken.
Ingredients for Your Thai Chicken Recipe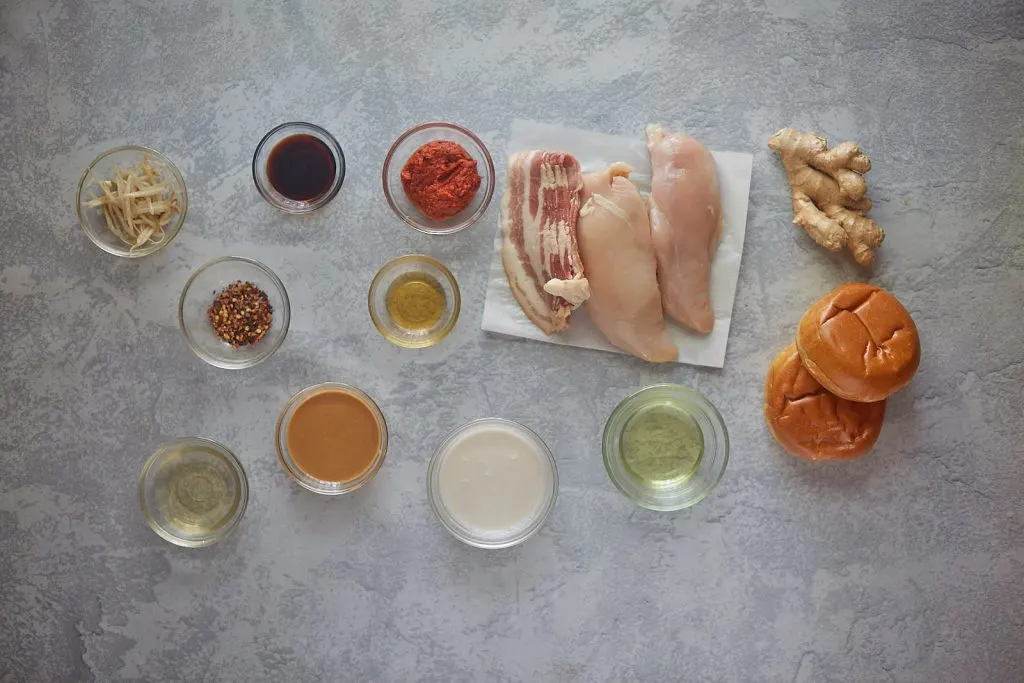 Chicken Breasts. Skinless and boneless is the easiest to work with for sandwiches.
Bacon. This special ingredient can be used to take almost any sandwich over the top and it definitely adds flavor and depth to this one.
Fresh Bean Sprouts. Alfalfa sprouts are the most common to find in the grocery store and will work fine.
Brioche Buns. A tasty, spongy bun that adds so much to a sandwich! Good buns are essential when you want your sandwich to be better than takeout.
Marinade. This plumps up the chicken and keeps it moist as it cooks. See the ingredients for the marinade below.
Peanut Sauce. Our homemade recipe is included on the recipe card below!
Thai Marinade Ingredients
Peanut Oil. This is one of the most flavorful oils available and very traditional for Thai cooking.
Soy Sauce. I use low sodium.
Ginger. Freshly grated ginger is amazing, but you can also use refrigerated minced ginger or ginger paste.
Crushed Red Pepper. For heat, so you may want to leave this ingredient out depending on your tolerance levels.
Ingredients for the Peanut Sauce
Coconut Milk. The lite version is fine for this recipe.
Red Curry Paste. Adjust and use more or less according to your heat tolerance.
Peanut Butter. I used natural peanut butter.
Soy Sauce. Low sodium.
Honey. For sweetness and flavor.
Rice Wine Vinegar. A little acid to balance out the sauce.
Water. To thin it out a little.
Peanut Oil. For fat that matches the flavor profile, and to help thin out the sauce and give it a nice texture.
Please note, that the printable recipe card has ingredient quantities, complete instructions, and nutritional information. The following is a quick overview of the recipe.
How to Make a Thai Chicken Sandwich
To assure that the chicken breasts were plump and moist, I infused them with a delicious ginger marinade before they hit the grill. The chicken is then topped with bacon, peanut sauce, and a sprinkling of bean sprouts, all on a homemade buttery brioche bun. This sandwich is sweet, savory, spicy, creamy, and crunchy. It is definitely not your average sandwich and deserves the distinction of being a main dish meal.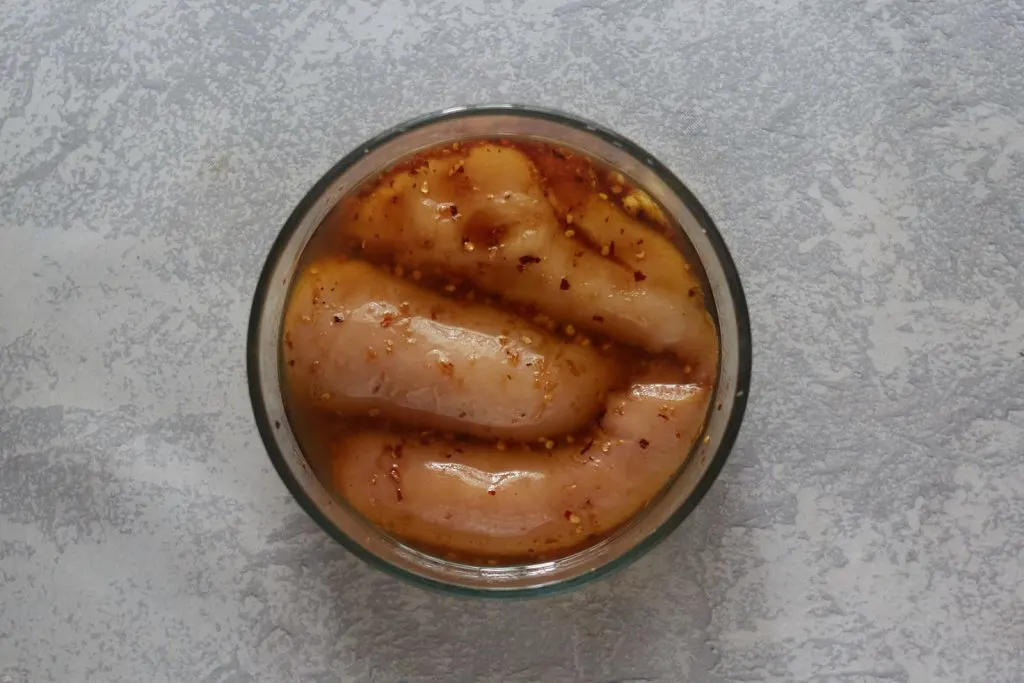 Step One. Combine the Thai Chicken marinade ingredients in a zipper bag or bowl and marinate the chicken for at least thirty minutes and up to twenty-four hours. Marinate overnight for best results.
Step Two. Grill the chicken.
Step Three. Cook the bacon using your method of choice. Pat it dry with a paper towel to remove grease and set it aside.
Peanut Sauce
Step 1. Combine the peanut sauce ingredients in a small saucepan over medium heat. Bring to a simmer and whisk continuously until thickened.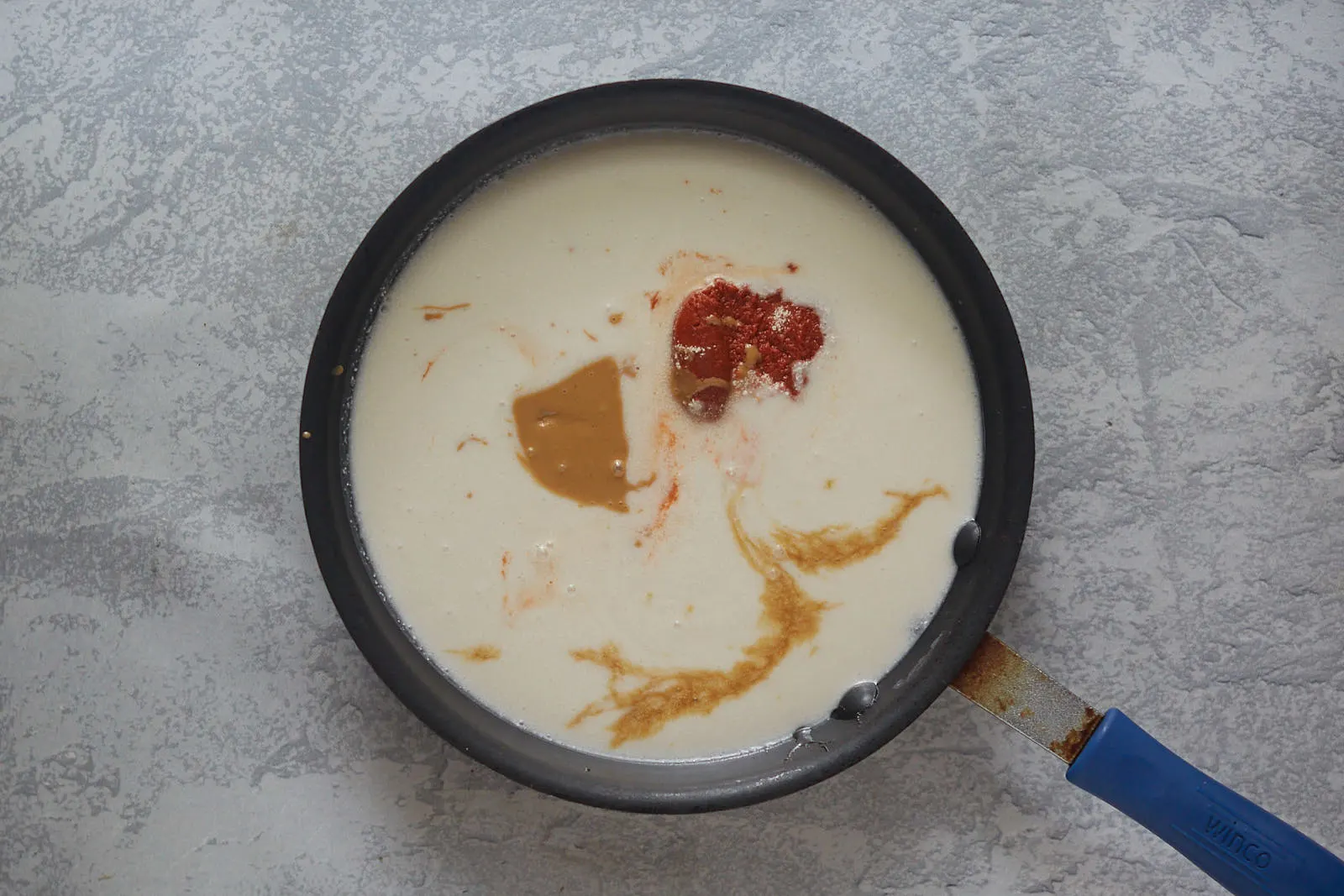 You can precook the peanut sauce and then refrigerate it until you are ready to assemble the sandwich or just let it sit while you cook the chicken. This can also be done the day before if you like.
Assembling your Thai Peanut Chicken Sandwich
Layer your bun with chicken, bacon, a drizzle of peanut sauce, and a sprinkling of bean sprouts.
Serve with additional peanut sauce.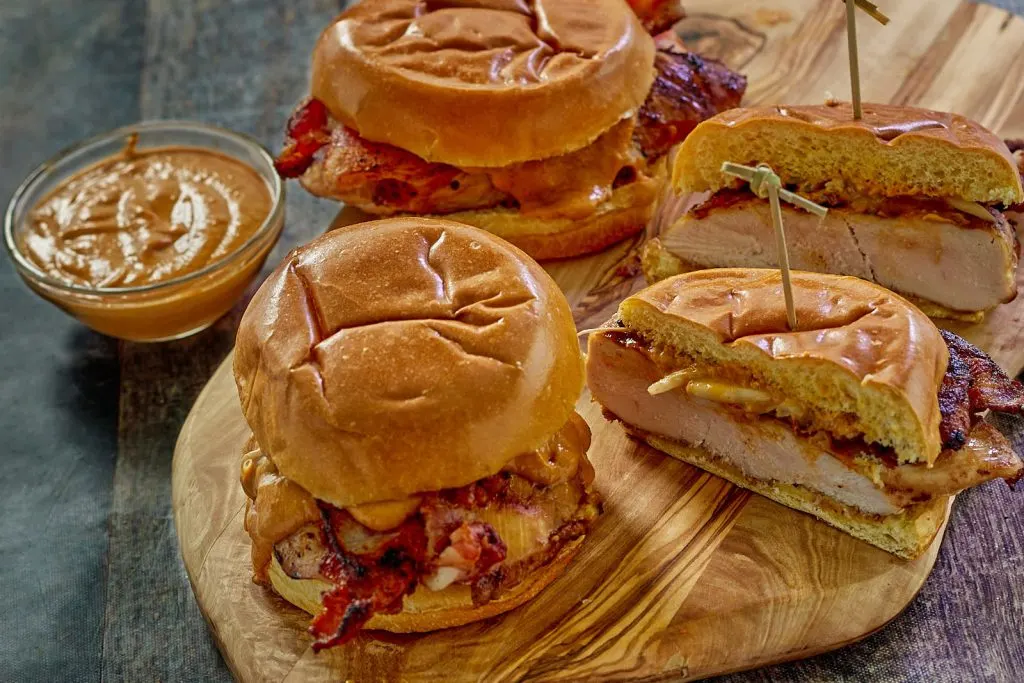 What to Pair with your Peanut Butter Chicken Sandwich
Asian Inspired Soba Noodle Salad Recipe
Cashew Asian Cabbage Salad Recipe
Substitutions & Additions
Serve over rice instead of a bun.
Top with shredded cabbage or bean sprouts
How To Reheat & Store Thai Peanut Chicken
Best Way To Store Thai Chicken
Keep the grilled Thai chicken in an airtight container in the refrigerator for up to three days. You can also make ahead and refrigerate the peanut sauce.
How Long Will a Thai Chicken Sandwich Last In the Fridge?
You can keep the marinated raw chicken in your refrigerator for one to two days depending on the sell-by date. You can keep the grilled chicken in your refrigerator for up to three days after it is cooked. If you have extra sandwiches assembled, they might become soggy but will keep for two to three days otherwise.
Can I Freeze/Thaw Thai Peanut Chicken Sandwich
You can freeze the marinated raw chicken in the bag you marinated it in and pull it out later for grilling. You can also freeze the cooked peanut chicken for a few months in an airtight container and thaw it to use on sandwiches as you wish. The peanut sauce can be refrigerated for a couple of weeks and can be frozen but is best made fresh.
How To Reheat Peanut Butter Chicken Sandwich
Place the chicken in a skillet to reheat, or put it in the microwave. Proceed with caution in the microwave because chicken can switch from heated through to rubbery within seconds. Try twenty to thirty seconds at a time until you reach a safe temperature of 160ºF.
Want more delicious recipes? Follow Hostess At Heart on Pinterest!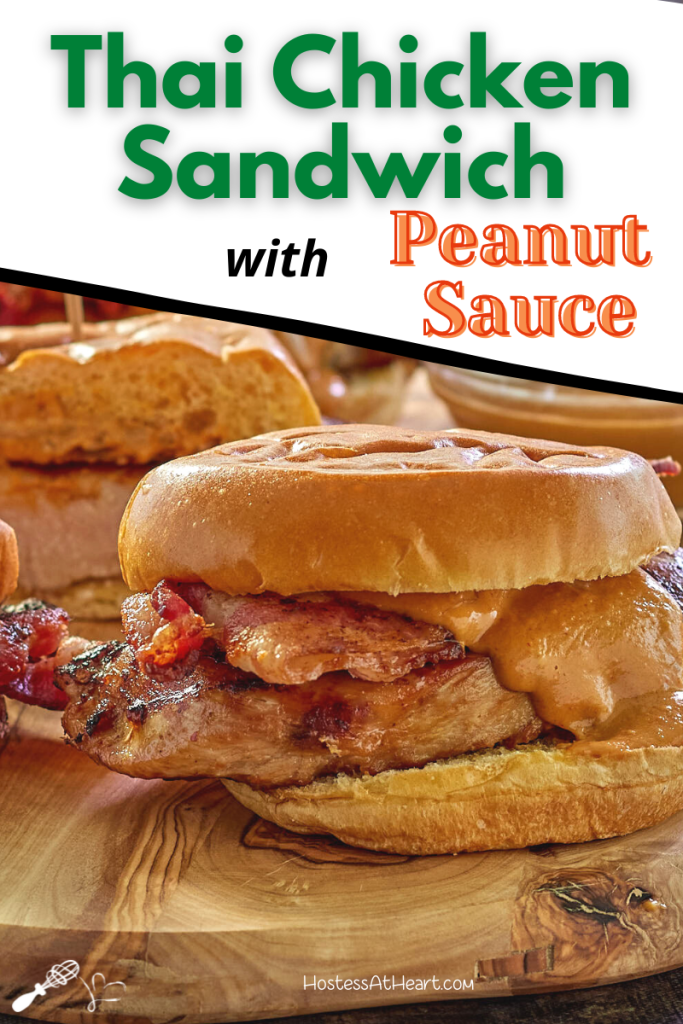 Thai Peanut Chicken Sandwich FAQ
What is the best bread for a Thai Chicken Sandwich?
We love building the sandwich on our homemade Brioche Bun. However, you can use any bread or bun suitable for a sandwich.
Can I make this Thai Peanut Sandwich gluten-free?
Yes. Simply use your favorite gluten-free bun or a leaf of lettuce.
Tips to Make the Perfect Thai Chicken Sandwich
Cut or pound the chicken breast to the same thickness for even cooking.
Grill the chicken breast for seven minutes per side and then continue flipping every minute or so until it reaches the desired temperature of 160ºF.
Other Thai Recipes You'll Love
Thai Basil Cabbage Slaw with Jalapeno Recipe
Saucy Thai Basil Chicken Noodle Bowl Recipe
Thai Red Curry from West Via Midwest.
Don't Forget To Come Back And Let Me Know How Your Thai Chicken Recipe Turned Out!
This recipe was originally posted on May 9, 2016, so it was time for an update. Detailed instructions and additional content has been added to make this delicious Thai Chicken Sandwich easier to make. No changes have been made to the recipe