Perfect for Fall, our Thai Pumpkin Soup Recipe is such a refreshing change of pace with warm spices and a smooth velvety texture. Drizzled with coconut milk and topped with toasted pumpkin seeds, this gorgeous curried pumpkin soup will impress every guest at your table.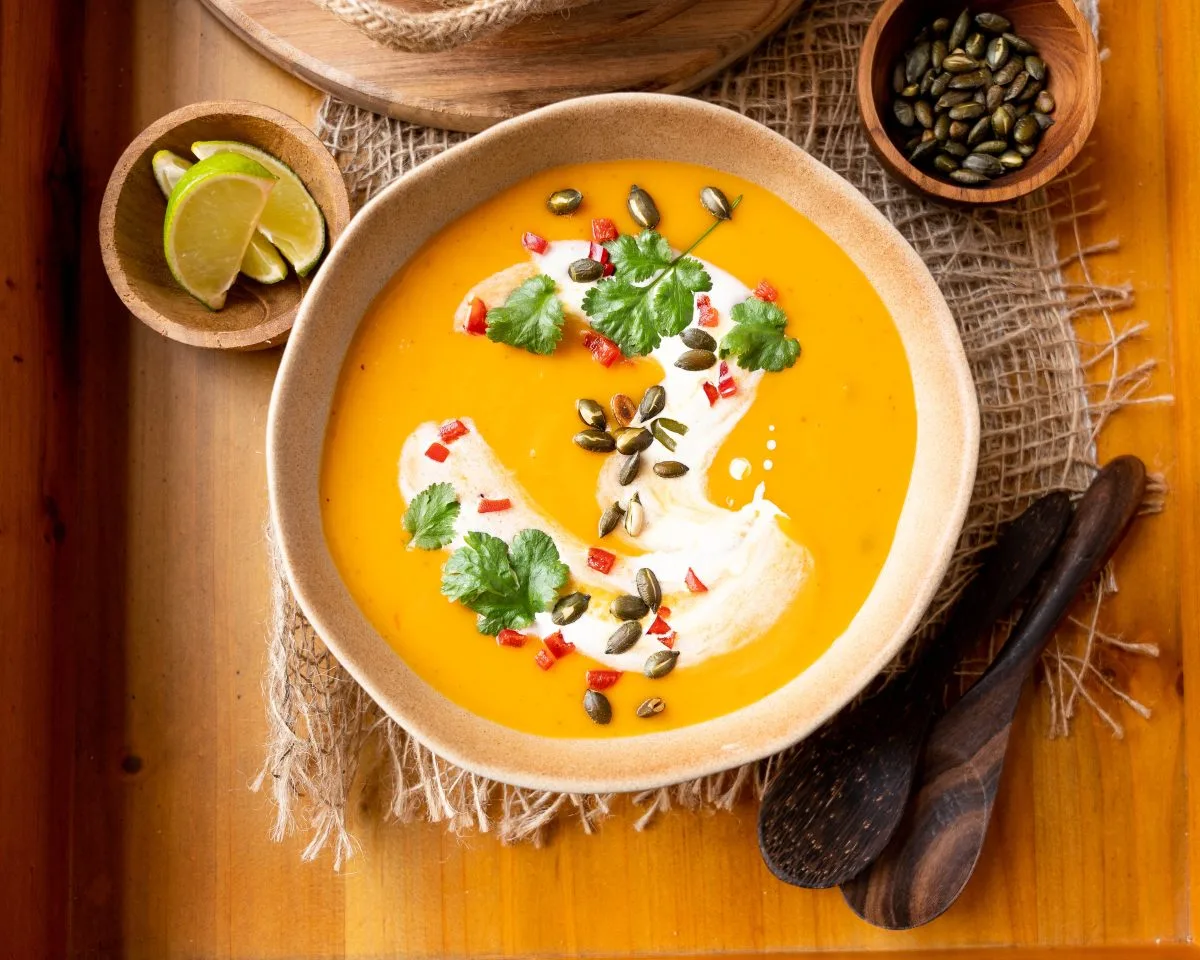 Fresh Asian flavors are layered in this dish creating a unique and wonderful pumpkin soup your friends and family will rave about.
Table of contents – I'll mess with this
Why You'll Love Our Thai Pumpkin Curry Soup
A beautiful festive soup for Fall. This soup looks beautiful on your Autumn tablescape and works great as a first course or the star of the show when you are entertaining guests.
Very simple to make. One of the things that makes soups so fabulous for the dinner table is how easy they are to make when life gets busy! Throw everything in a pot and let it simmer. Then puree it at the end. That's the gist of so many soup recipes, including this one.
Incredible flavor. The Thai spices and flavors take this curried pumpkin soup over-the-top and break away from the traditional, more bland variety.
Ingredients For The Thai Pumpkin Soup Recipe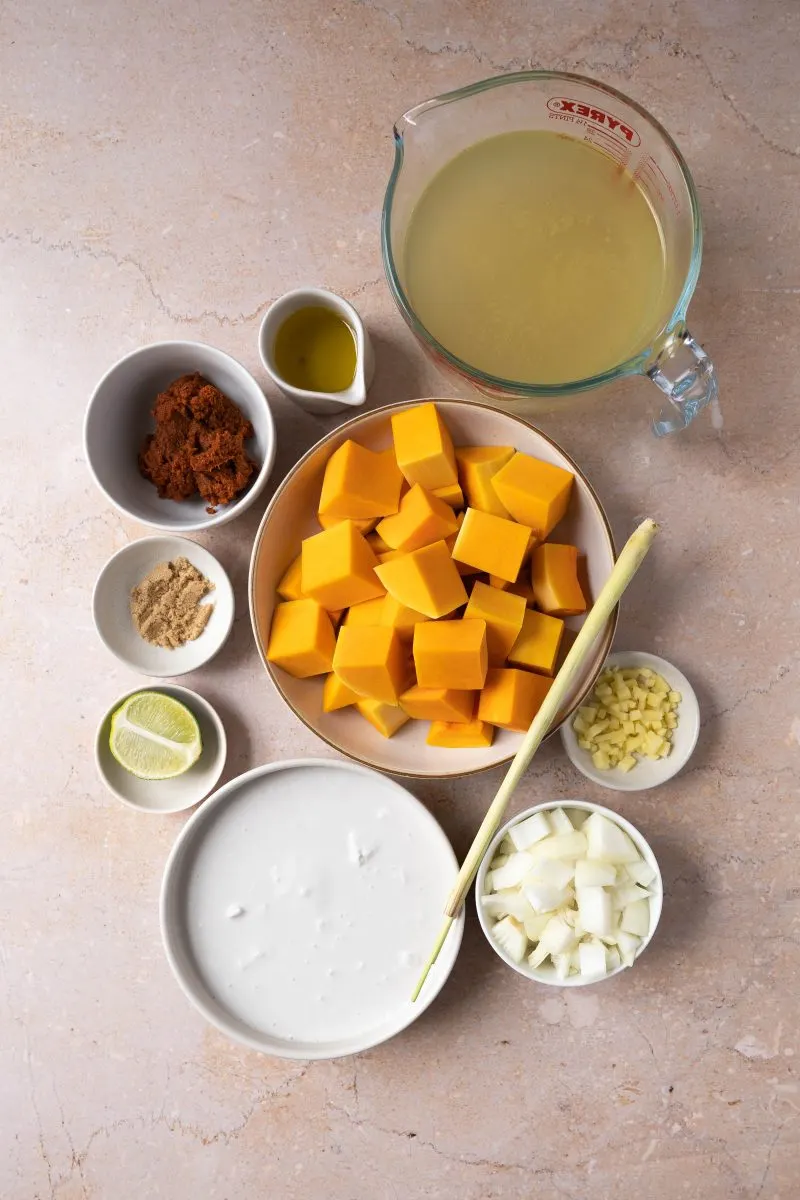 Pumpkin. You need cubed fresh pumpkin, or you can use canned pumpkin puree.
Onion. A sweet onion or a yellow onion will both work.
Fresh Ginger. Peel off the woody exterior before using.
Thai Red Curry Paste. Store-bought pastes are often not vegetarian/vegan-friendly due to shrimp paste in the contents. Check the label if that concerns you.
Coconut Milk. Light coconut milk can be used to reduce the saturated fat content.
Vegetable Stock. Using vegetable stock instead of meat stock provides a neutral base so the pumpkin can shine.
Lemongrass. A delicious lemony flavor comes from a stalk of the lemongrass plant. If you cannot find this in your supermarket, check in any Asian market.
Lime Juice. For an acidic balance.
Brown Sugar. It adds just the right flavor and sweetness. Light or dark brown sugar will both work.
Tools You'll Need For Pumpkin Thai Soup
Hostess At Heart participates in affiliate programs. As an Amazon Associate, I earn a commission from qualifying purchases. Please refer to my disclosure page for more information about these affiliate programs.
Braiser – You can use a saucepan and a stockpot or dutch oven. I love this pan because it combines the two.
Immersion Blender – Also called a stick blender. I consider this to be one of the handiest tools in my kitchen. You could also use a blender or food processor with caution.
Please note, that the recipe card has more complete instructions. This is intended as an overview.
How To Make A Thai Pumpkin Soup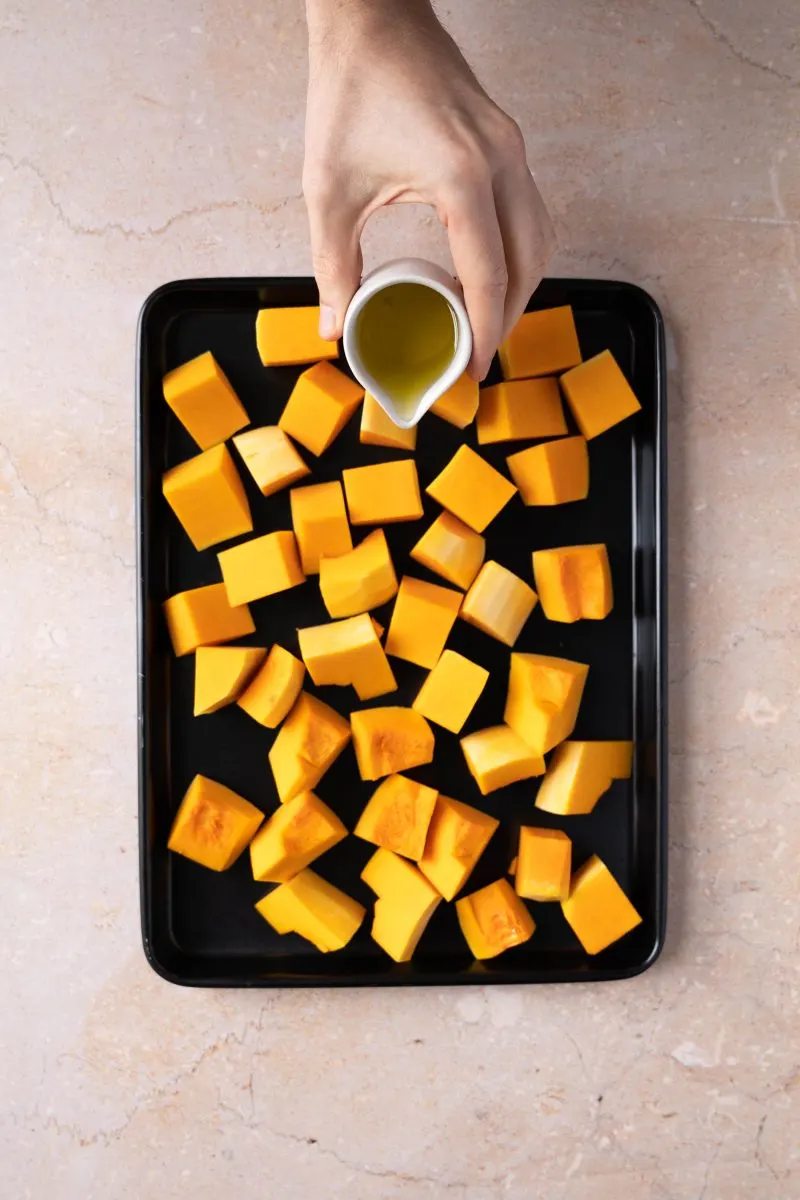 Step 1: Roast your pumpkin until tender.
It will take about twenty minutes in the oven with a drizzle of oil, or it can be done in an Instant Pot.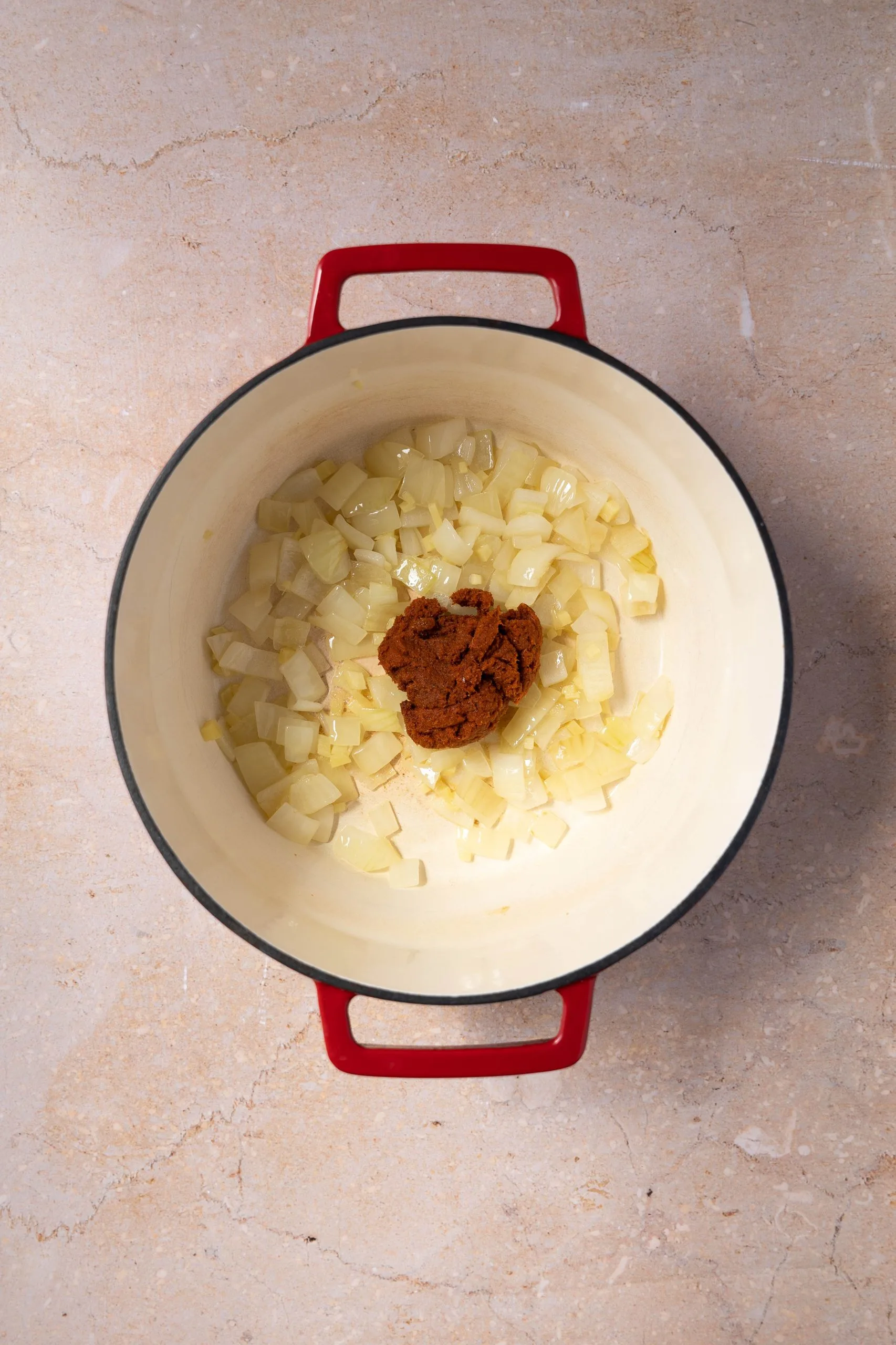 Step 2: Layer flavors in the pot for the perfect Pumpkin Thai Soup Recipe
Saute the onion first, then add ginger. After a little bit add the curry paste.
Step 3: Add your liquids.
Vegetable broth, coconut milk, and the lemongrass stalk go in the pot and are simmered.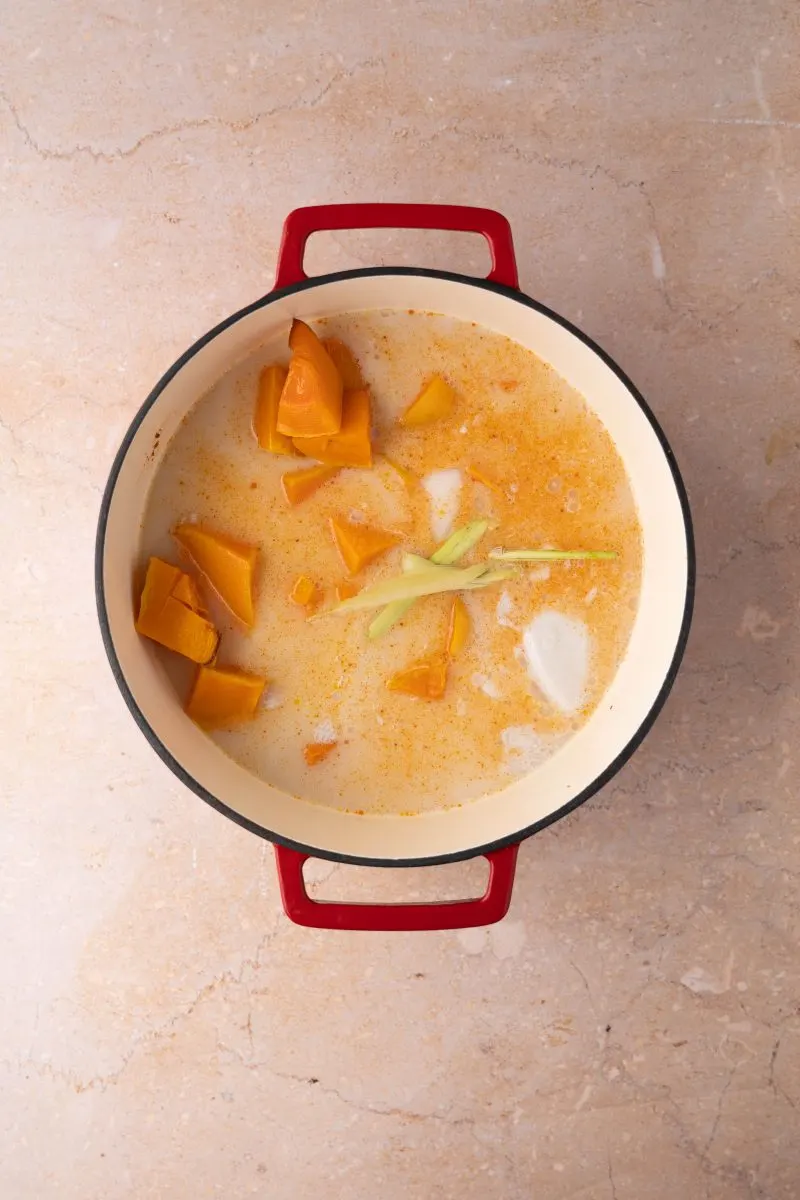 Step 4: Thicken up the Thai Pumpkin Soup.
Add the pumpkin, lime juice, and sugar. Simmer again.
Step 5: Puree the curried pumpkin soup.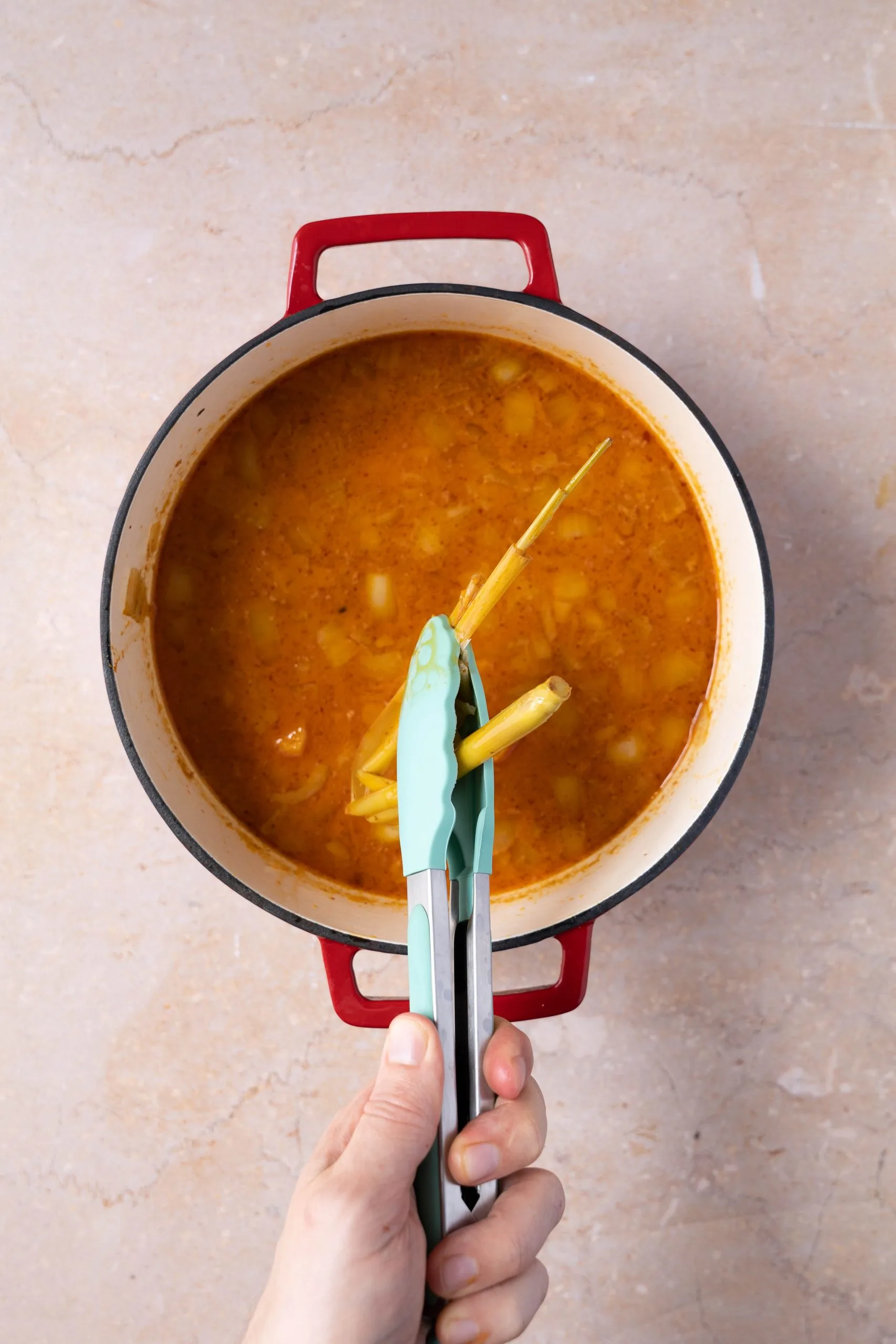 Make sure you remove the lemongrass first. Then use an immersion blender to puree the soup.
Step 6: Add the finishing touches and serve.
Salt and pepper to taste. Drizzle with coconut milk and top the soup with freshly ground coriander and pumpkin seeds.
Popular Variations & Additions
Pumpkin can be switched out for butternut squash or a mix of sweet potato and butternut squash as long as the quantities remain the same.
If you don't have pumpkin seeds, also known as pepitas, you can top this soup with toasted nuts such as pine nuts instead. The added crunch is very nice to have.
Heavy cream works as well as coconut milk.
If you cannot find lemongrass stalks which are seasonal and hard to find in some areas of the country, you can use lemongrass paste.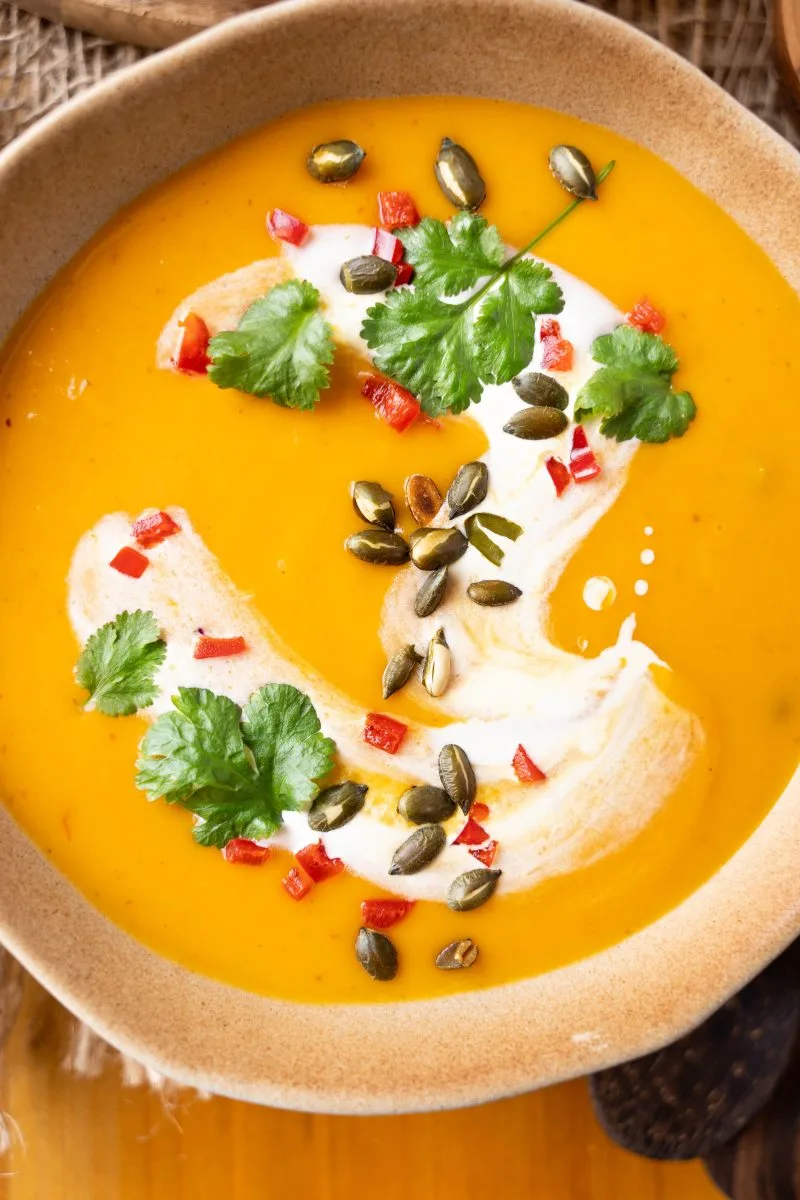 How To Reheat & Store Thai Pumpkin Soup
Best Way To Store Thai Curry Pumpkin Soup Leftover
Keep your leftovers in the refrigerator for up to three days in an airtight container.
Can I Freeze Thai Pumpkin Curry Soup
Yes. Freeze it without adding the coconut milk. It will keep frozen in airtight containers for up to three months. Defrost well before reheating the soup. You can freeze it individually or in a large batch. Reheat either in the microwave or in a saucepan on the stovetop. Add the coconut milk as you serve it.
How To Reheat Pumpkin Thai Soup
Reheat refrigerated or frozen soup in the microwave or on the stovetop. If you use a microwave, stir the soup before eating it because it may have pockets of extreme heat.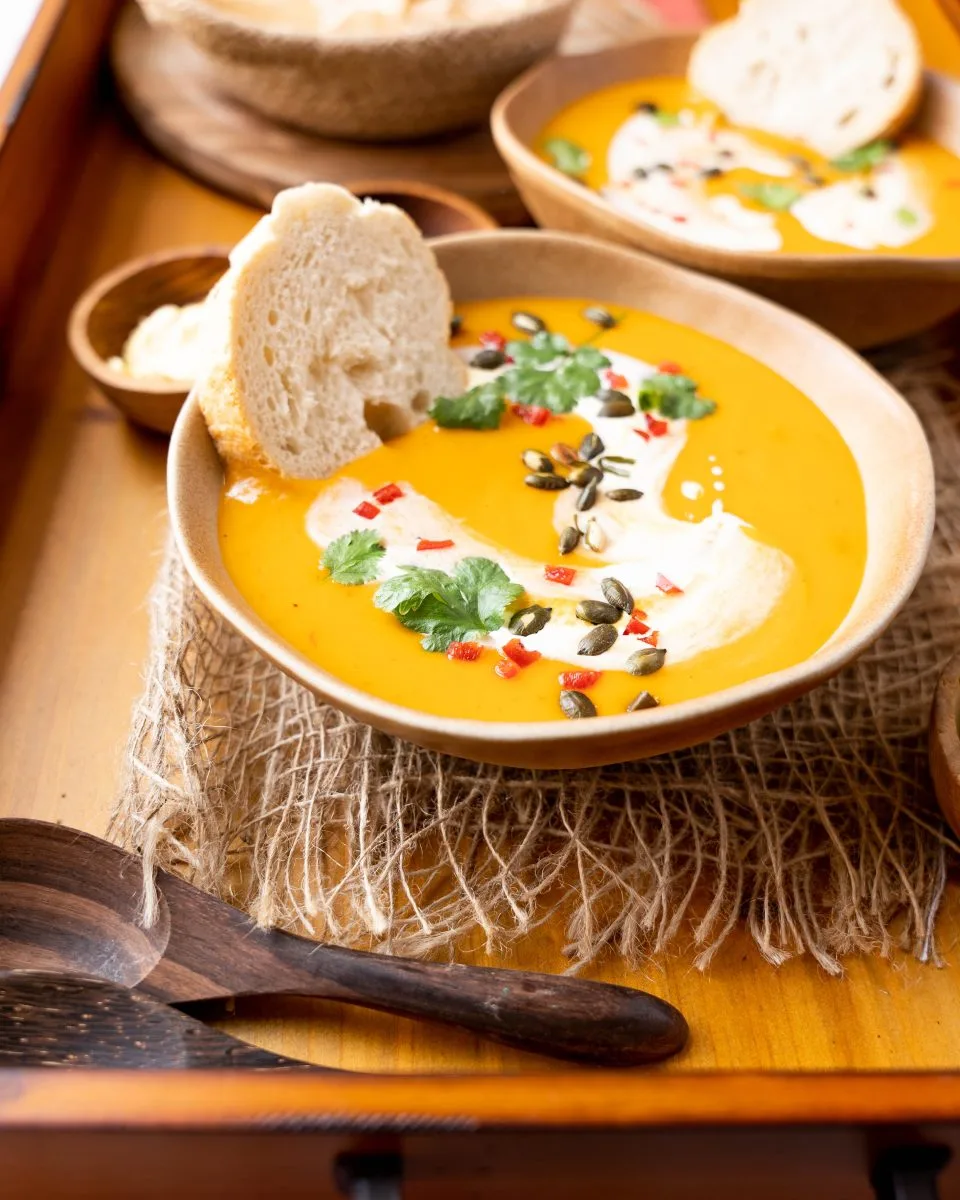 Pumpkin Thai Soup Recipe FAQs
Can I use canned pumpkin?
Yes, you can. I prefer preparing my own cubed pumpkin for this recipe, but you can substitute it for an equal amount of pumpkin puree. Do not use pumpkin pie filling. Pie filling contains spices that are not used in this recipe.
How do I trim and bash lemongrass?
Take a stalk of lemongrass and slice off the bottom. If any of the layers are dried out, peel them away. Use a rolling pin to bash the woody top end and soften the lemongrass. This helps to release the aromatic oils of the plant. You can find additional info here.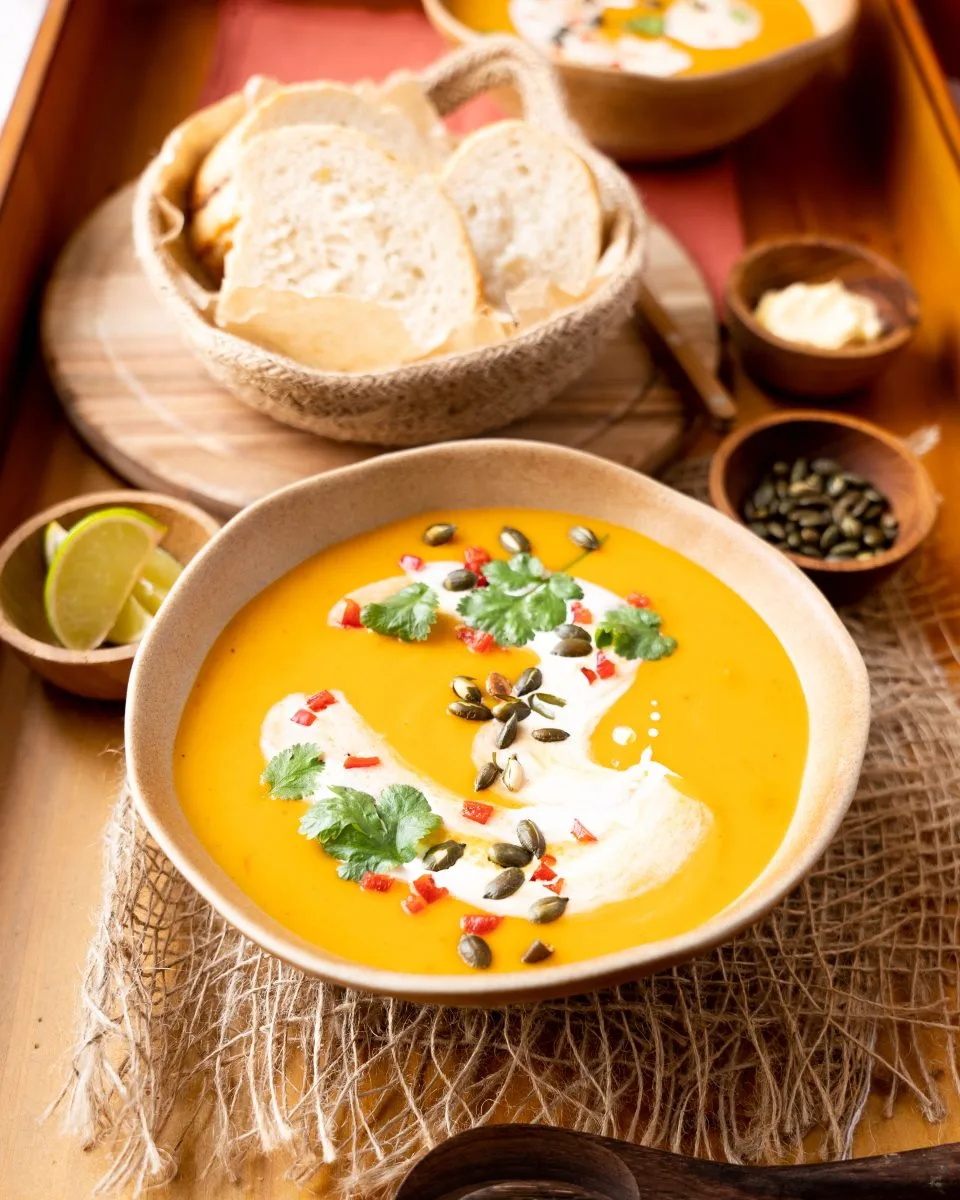 Tips for the Perfect Thai Pumpkin Soup
If you don't want to heat up the kitchen, you can soften the pumpkin in a pressure cooker instead of the oven. It takes about 20 minutes on high pressure with a half cup of water in the bottom.
For 35 ounces of pumpkin you will need about a five pound pumpkin.
This soup is naturally vegan, dairy-free, and gluten-free.
If you can't find Thai Red Curry Paste local to you, it can be ordered on Amazon. It is essential for this recipe.
Our soup is shown with fresh cilantro and pumpkin seeds, also known as pepitas, for garnish. A little diced red pepper adds a beautiful contrast of color but is optional
What to Serve with Your Thai Pumpkin Curry Soup
This soup makes a lovely first course and also works well on its own for a hot lunch or dinner. Serve the soup with crusty Italian bread, a cheese tray with chutney, homemade crackers, or basmati rice and grilled chicken.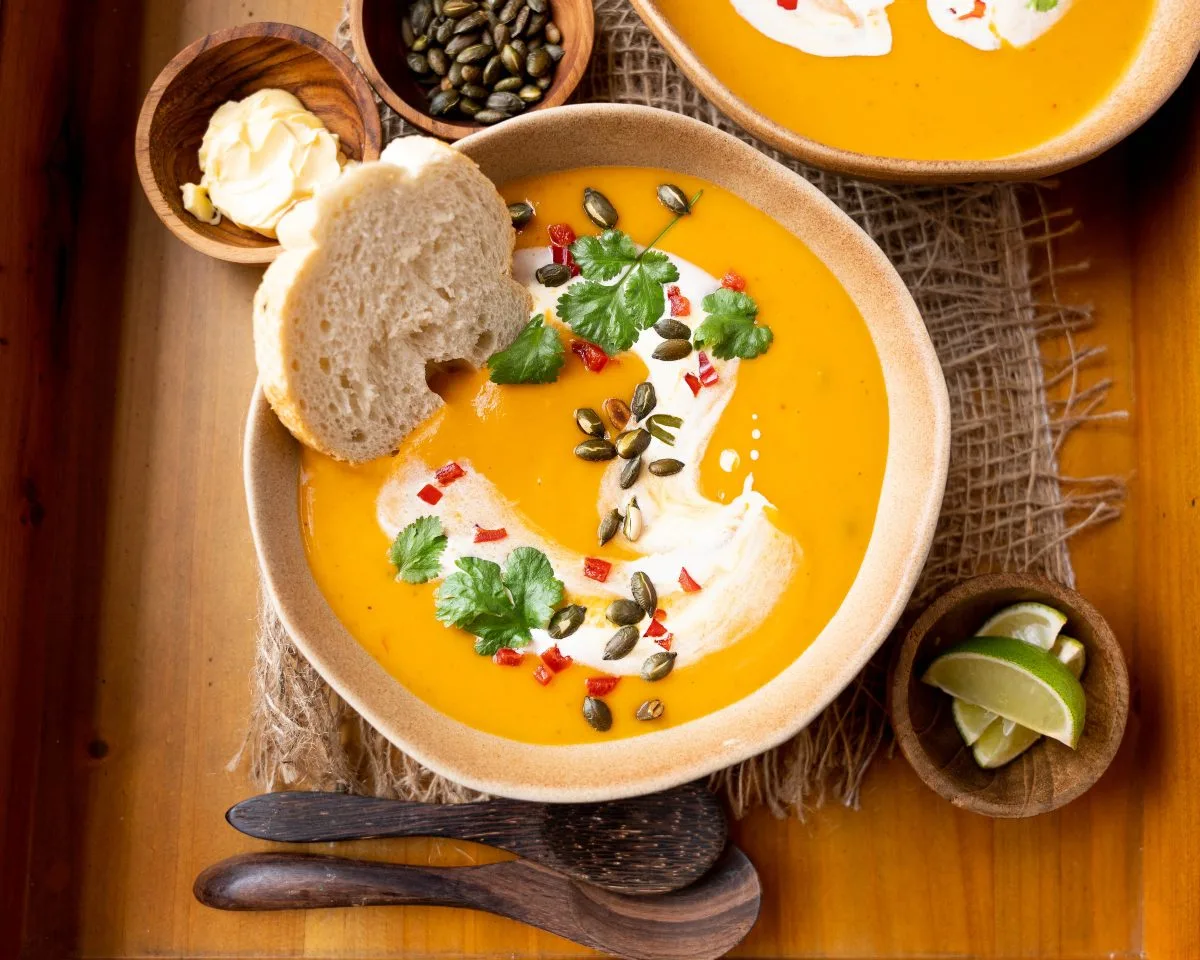 If you enjoyed this recipe check these out!
Don't Forget To Come Back And Let Me Know How Your Thai Pumpkin Soup Recipe Turned Out!
Want more delicious recipes? Follow Hostess At Heart on Pinterest!