Your entire family will be delighted with this uniquely delicious Chocolate Thumbprint Cookies recipe. A chewy, decadent cookie rolled in nuts and topped with a Hershey's Kiss, this cookie has a special filling that takes it over the top and makes it a cookie to remember.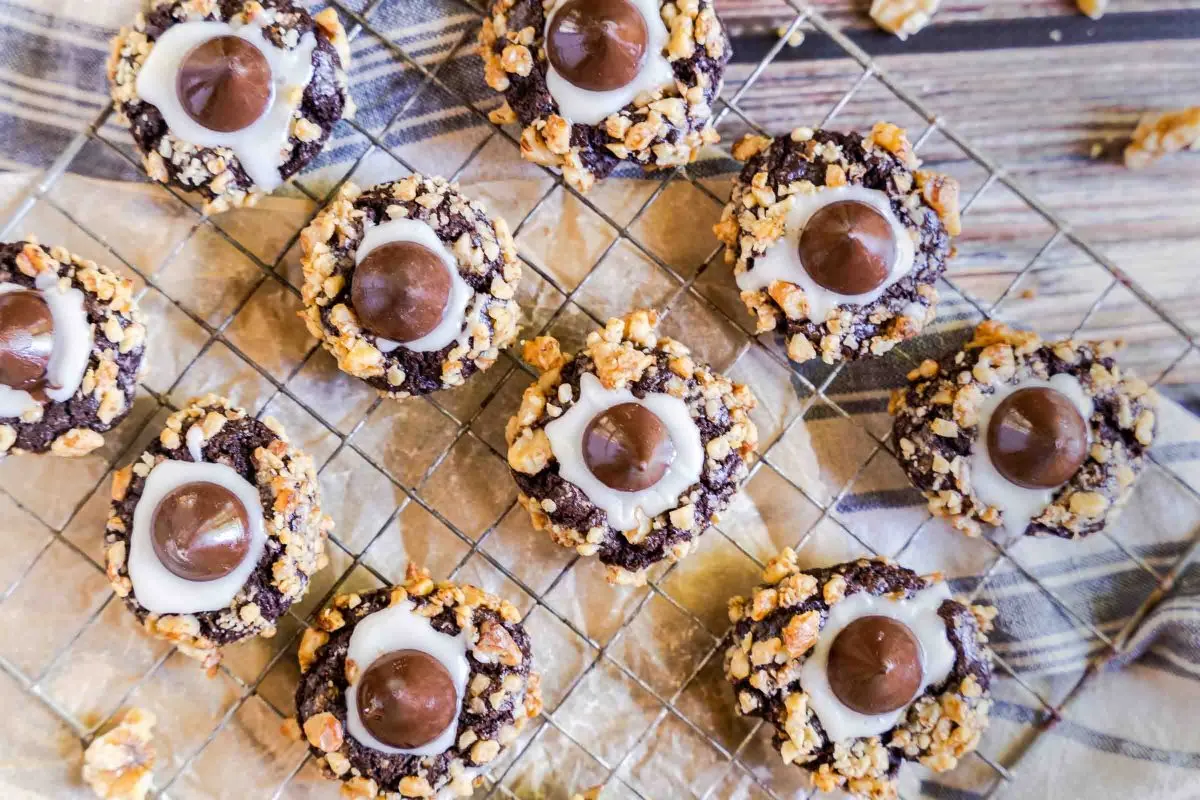 My 96-year-old mother-in-law and I have always shared our love for cooking including gifting each other subscriptions to Taste Of Home cookbooks. She gave me this recipe years ago but I believe that's where she got it. It's such a great recipe!
Why You'll Love This Chocolate Kiss Thumbprint Cookie Recipe
Make-Ahead Convenience. Dough can be made up to 3 days in advance and refrigerated.
Unique and Enticing. Perfect for holiday cookie platters.
Impressive. This cookie looks way more complicated than it actually is. Wow your guests! Everyone will want the recipe.
Equipment Needed To Make The Chocolate Kiss Thumbprint Cookie Recipe
Ingredients For Your Chocolate Thumbprint Cookies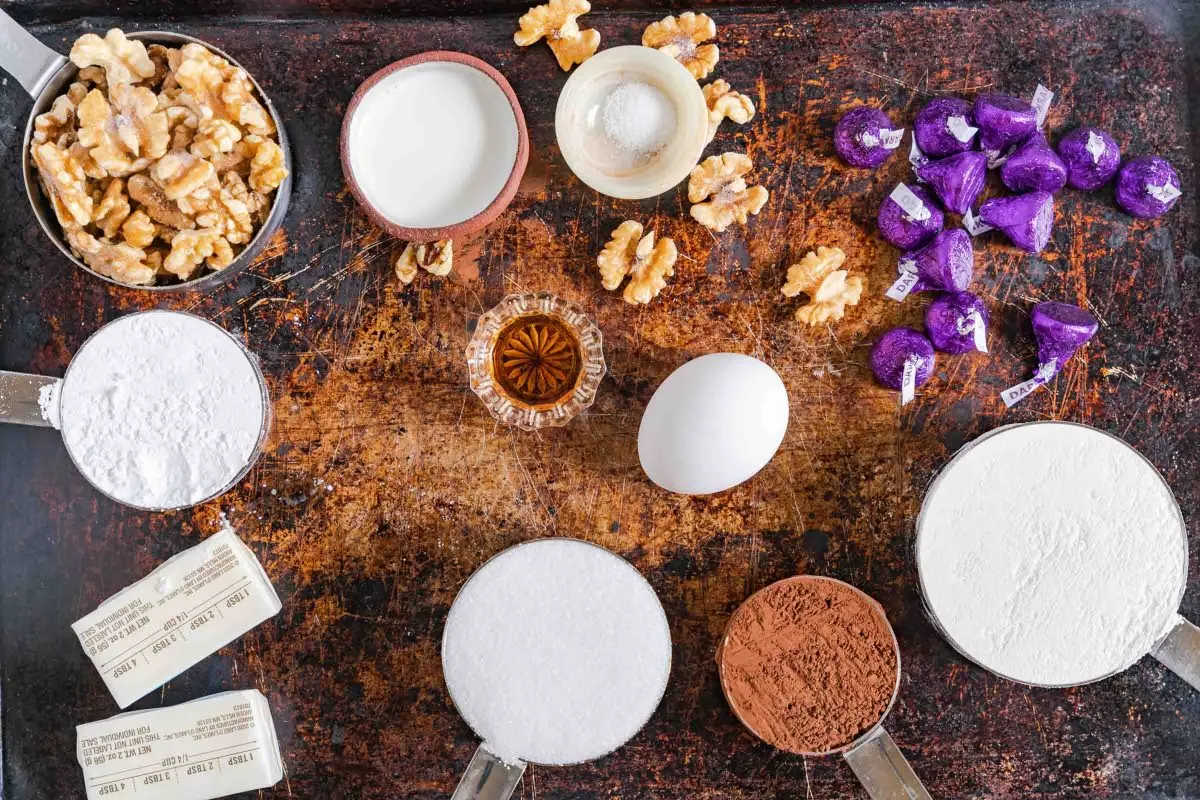 Butter. You can use salted or unsalted for this recipe.
Sugar. White sugar.
Egg. I recommend large eggs. Separate the egg. You will use the yolk in the dough and the egg white for rolling the cookie.
Cocoa Powder. I like this one but use what you like.
Cream. Milk or half and half will also work.
Vanilla Extract. This is my favorite brand.
All-Purpose Flour. Use a gluten-free one-for-one substitute if needed.
Salt. This is one cookie you will definitely want to intensify the flavor! So much yumminess.
Chopped Walnuts. Other kinds of nuts will also work.
Filling Ingredients for the Chocolate Kiss Thumbprint Cookie
Powdered Sugar. Confectioner's sugar.
Butter. Softened.
Cream. Milk or half and half also work
Vanilla Extract. Pure vanilla is always best.
Dark Chocolate Kisses. Use milk chocolate if you have a strong preference. Otherwise, I encourage you to try the dark chocolate version.
Please note, that the printable recipe card has ingredient quantities, complete instructions, and nutritional information. The following is a quick overview of the recipe.
How To Make Chocolate Thumbprint Cookies
Step 1: Cream the liquids.
Beat the butter, sugar, egg yolk, cream, and vanilla for three minutes or until light and fluffy.
Step 2: Mix the dry ingredients.
Use a whisk to mix the flour, salt, and cocoa in a separate bowl.
Step 3: Combine.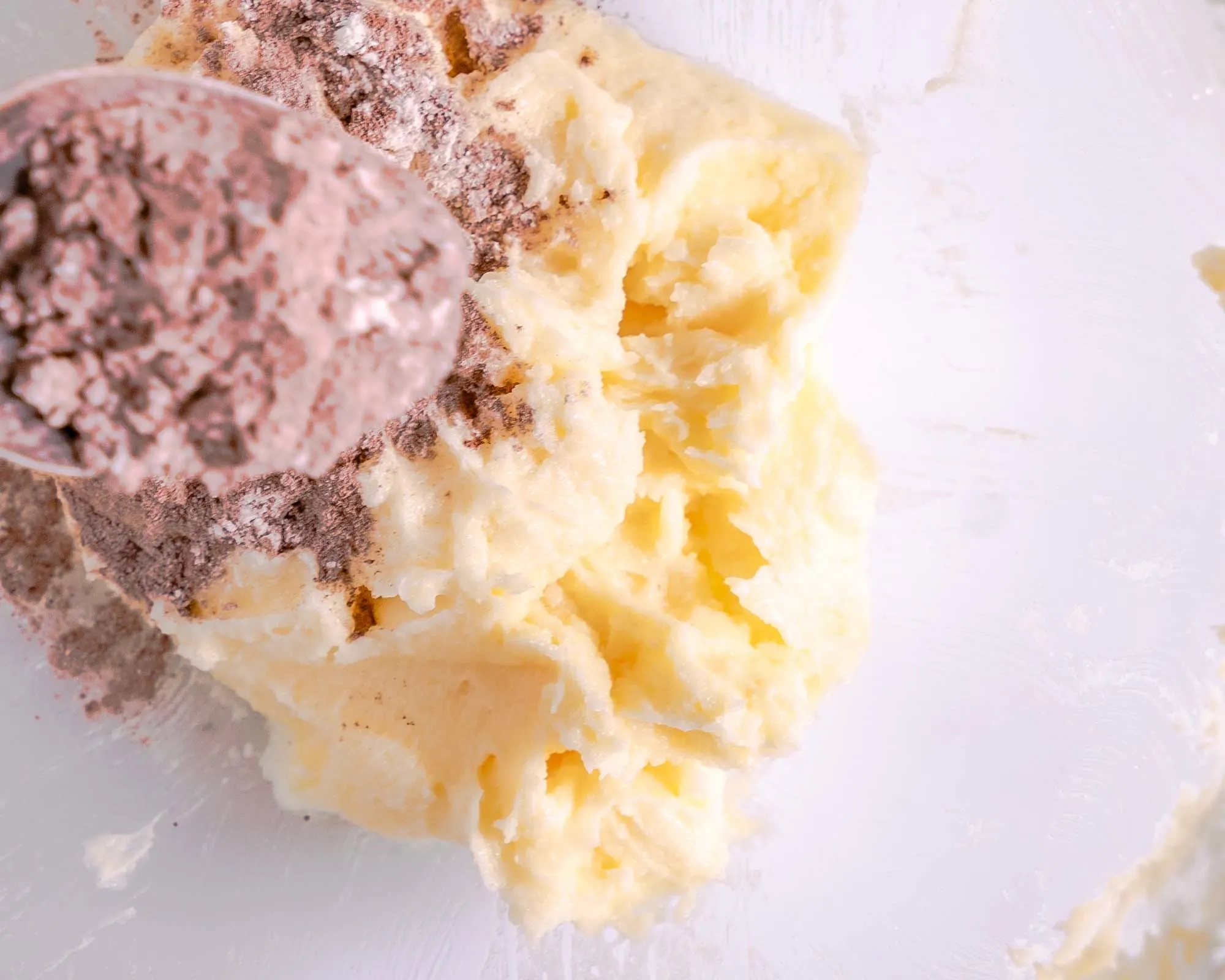 With the mixer on low, spoon the flour mixture in with the butter mixture until combined. The batter will be thick. Cover and chill for 1 hour.
Step 4: Get ready for baking.
Preheat the oven to 350°F and grease baking sheets or line them with parchment paper.
Step 5: Whisk the egg white.
Whip the egg white with a whisk or fork until frothy.
Step 6: Roll the cookie and bake.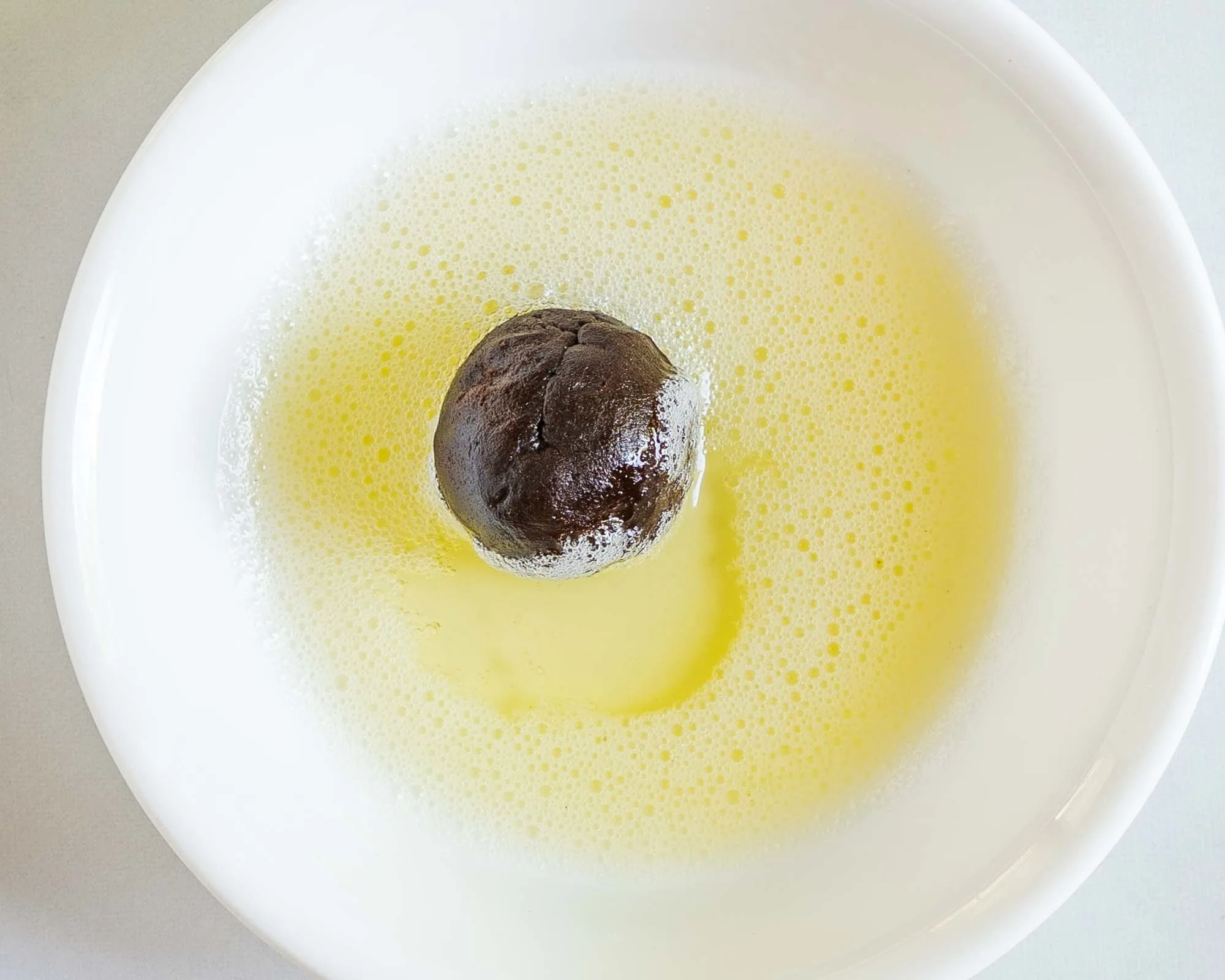 Scoop and roll the cookies into balls. Roll in egg whites and then nuts. Place the rolled cookies on a baking sheet and indent them with the back of a measuring spoon or another round object. Be careful not to go through the bottom of the cookie and bake.
Step 7: Prepare the filling while the chocolate thumbprint cookies are baking.
Mix the first four ingredients.
Step 8: Add the filling after the cookies are finished baking.
Remove the cookies from the oven. Add 1/4 teaspoon of the filling into the indentation of each cookie and carefully top it with a candy kiss. Remove the cookies to a cooling rack and cool completely.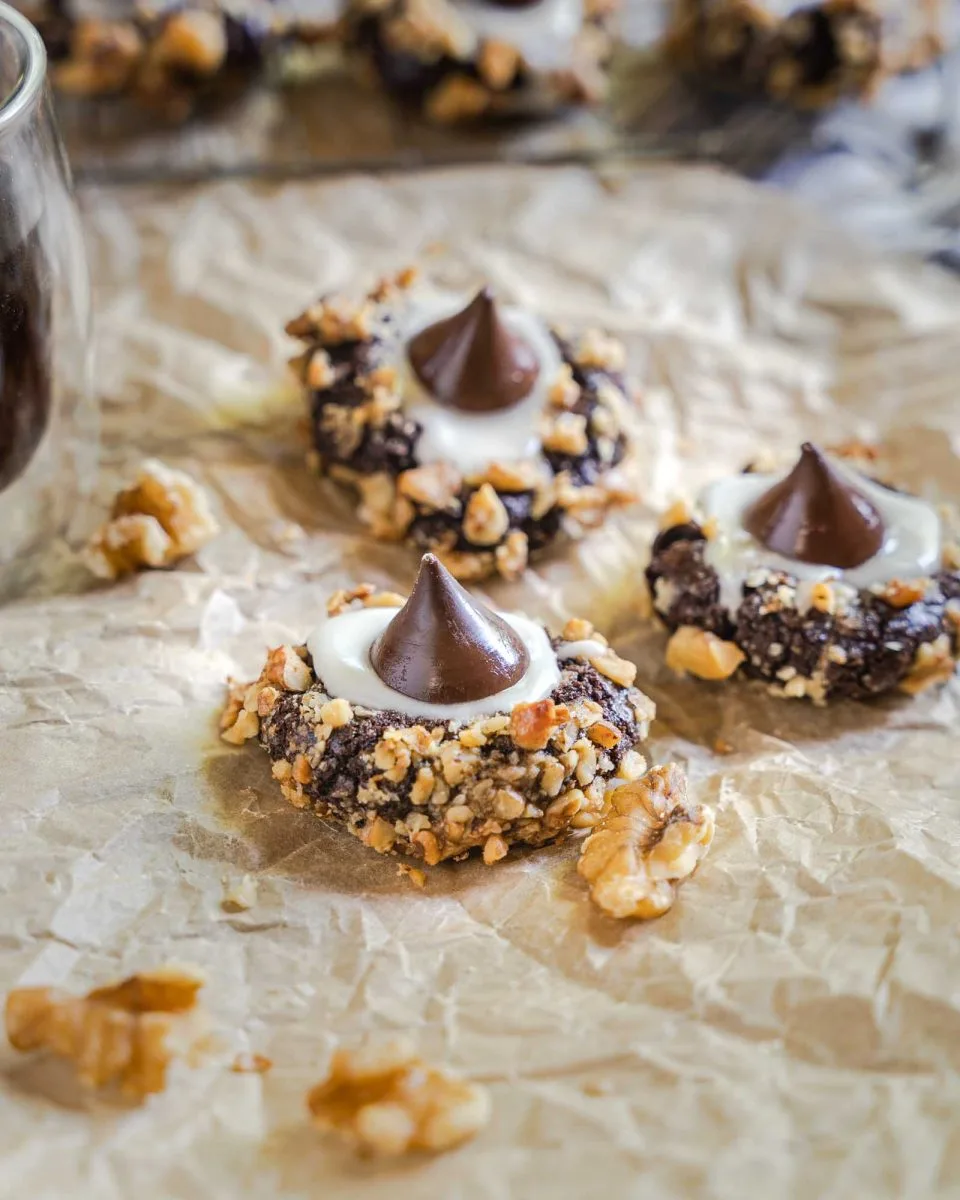 Popular Substitutions & Additions
Change out the type of nuts
Use coconut instead of nuts.
Use a peanut butter kiss or other variety.
Skip the nuts and roll them in sprinkles for a Halloween or Christmas-inspired cookie.
How To Reheat & Store Chocolate Thumbprint Cookies
Best Way To Store Thumbprint Cookies With Chocolate Kisses
These cookies are best stored at room temperature in a single layer in an air-tight container for up to 5 days.
How Long Will Chocolate Thumbprint Cookies Last In the Fridge?
If you refrigerate these cookies they may get hard and inedible because of the filling and the chocolate. I recommend storing them at room temperature.
Can I Freeze Double Chocolate Thumbprint Cookies
Yes. Freeze your cookies on a sheet pan in a single layer. Once frozen, you can combine them all into a single airtight container, They will keep for up to 3 months.
How To Reheat This Chocolate Kiss Thumbprint Cookie Recipe
Thaw the cookies at room temperature or reheat the cookie in the microwave. Ten seconds is usually enough to refresh a slightly stale cookie. For a frozen cookie, microwave in ten second increments until thawed to your liking.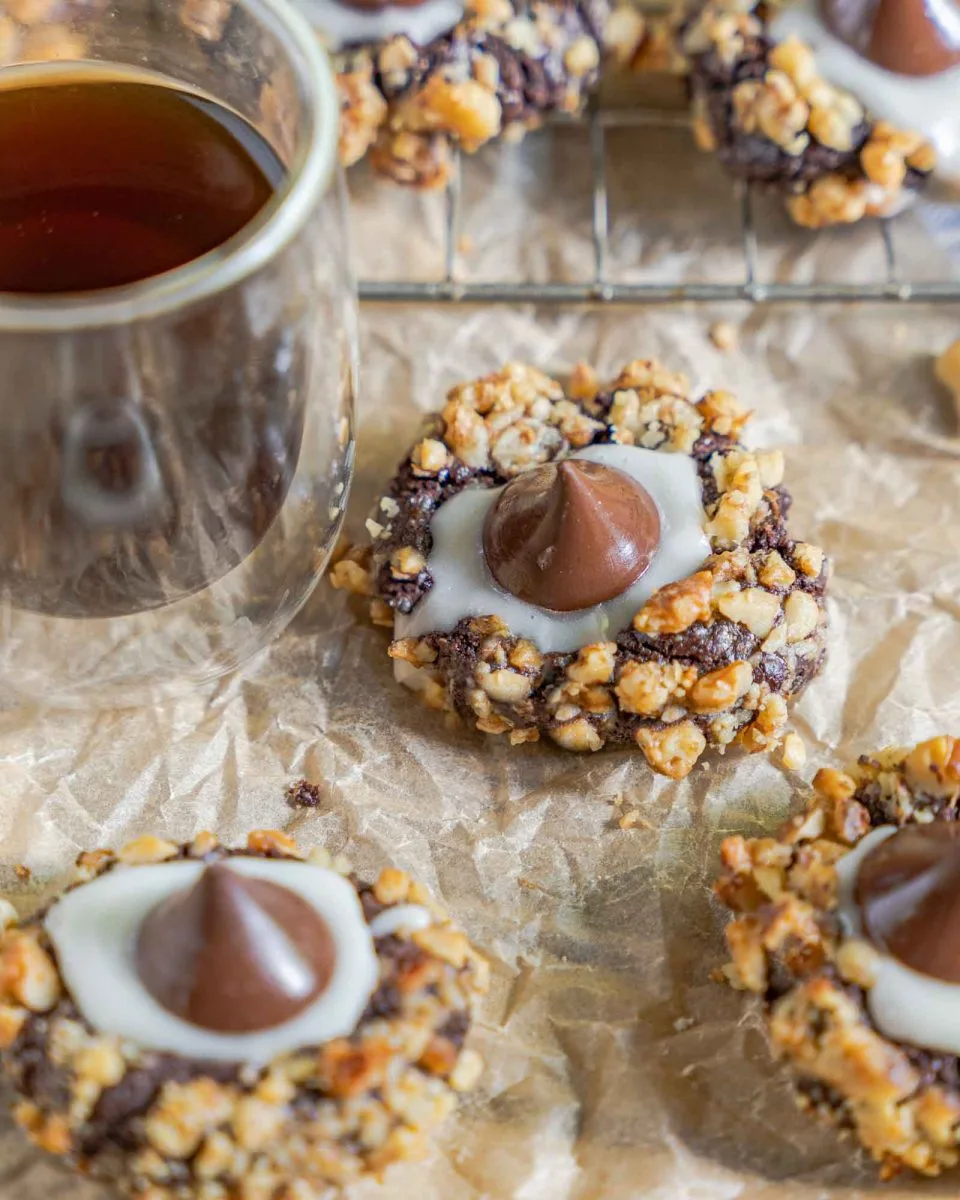 Double Chocolate Thumbprint Cookies FAQs
Can thumbprint cookie dough be refrigerated overnight?
Yes. This recipe requires a minimum of 1 hour, overnight is fine. Chocolate Thumbprint cookies are fluffier and will hold their shape if chilled. Don't bring them to room temperature before baking.
How do I keep my thumbprint cookies from cracking?
Allowing the cookie to form a crust before indenting or pressing too hard can cause cracking. I recommend that only a few cookies be rolled at a time before indenting so they don't form a crust. You can always do damage control by pushing the cracks together before baking. Also, the crushed nuts will cover up most of the cracks.
Tips to Make the Perfect Chocolate Thumbprint Cookies
Don't press too hard when indenting the cookies, the bottom will become too shallow to hold the filling and is more apt to crack.
Make sure the dough is chilled which will keep these cookies from spreading too much.
If the cookies lose their indentations upon baking, you can lightly press the center of them again. I use the flat end of a wooden spoon or kitchen utensil or even a 1⁄4 measuring spoon.
Let the cookies cool a little before adding the filling. That will also help keep the chocolate kiss from melting too much.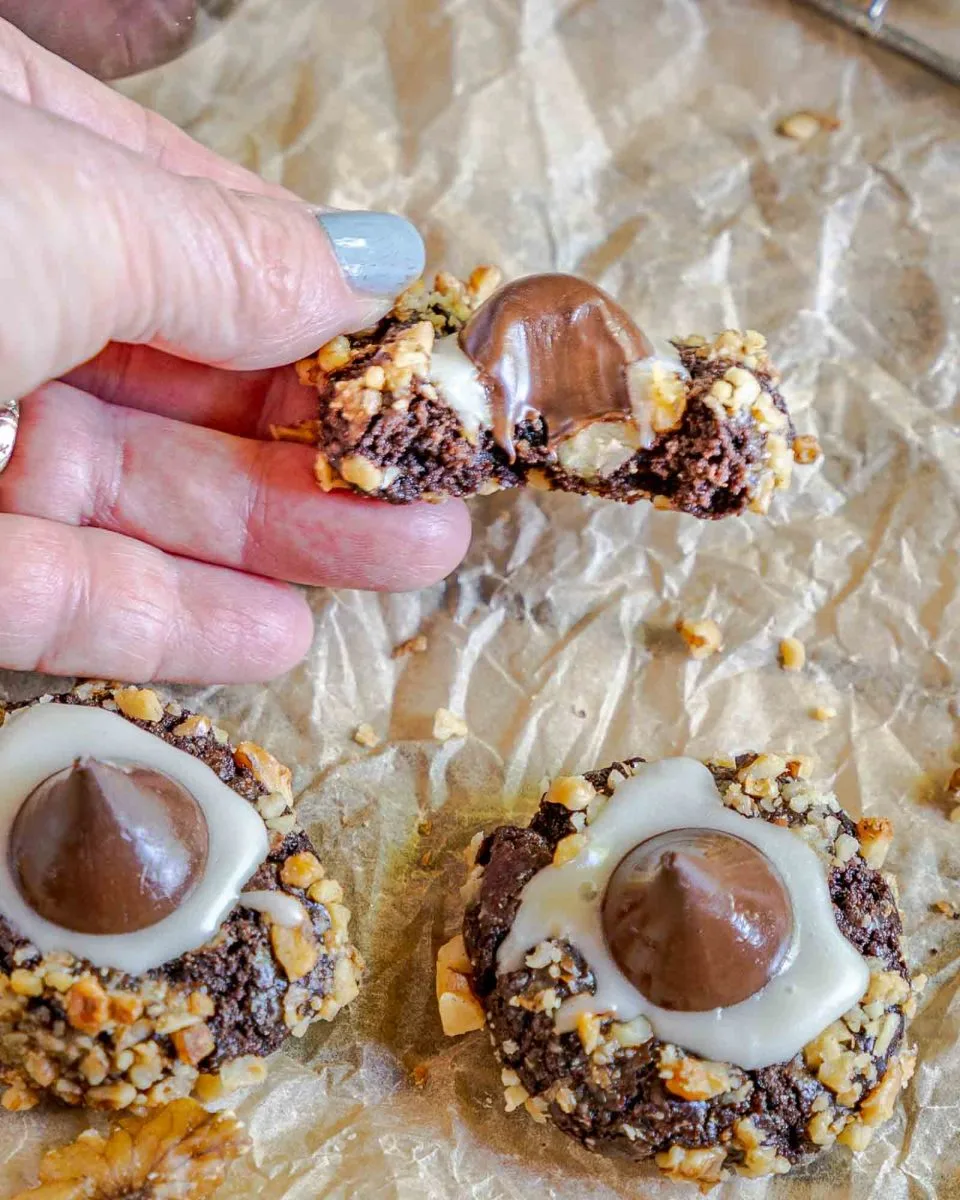 Want more delicious recipes? Follow Hostess At Heart on Pinterest!
If you enjoyed this recipe, check these out.
If you tried this delicious recipe, don't forget to rate it and leave me a comment telling me what you think. I love hearing from you!
Welcome to #ChristmasCookies Week! That time of year when we soften the butter, fire up the oven, and make cookie trays for family, friends, and neighbors. This year more than 20 top-notch bloggers are sharing their very favorite creations for all to make and enjoy. Join us for a week's worth of Christmas cookie deliciousness.
Want more delicious recipes? Follow Hostess At Heart on Pinterest!
Pin It Now