My melt-in-your-mouth sour cream cookie recipe is exactly the kind of cookie you love to make for your family. Full of flavor and just the right texture, these sour cream sugar cookies will brighten up any day and are perfect for after-school snacks, cookie jars, or special occasions.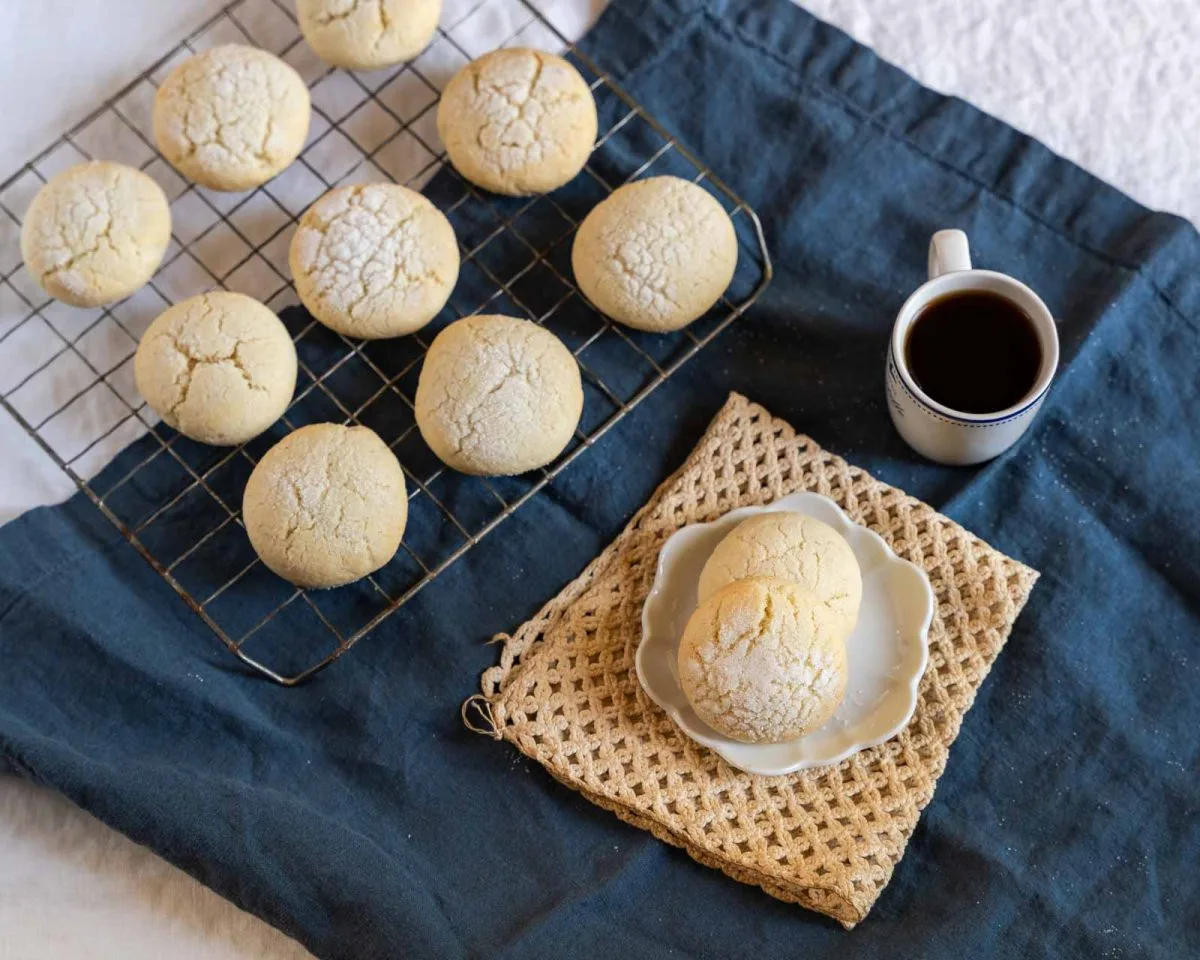 Sink your teeth into the crispy exterior of this cookie and find a soft warm center. Satisfying without overwhelming, these cookies are perfect for any occasion and pair well with hot chocolate.
Why You'll Love These Sour Cream Sugar Cookies
Soft and sweet. The dusting of sugar adds just the right amount of extra sweetness to these perfectly moist and tender cookies.
Fast and easy to make. Cookies can be in the oven in less than fifteen minutes.
Great for kids. This recipe is one your middle school and high school kids can make on their own, but even the smallest of your children can help make balls of dough and roll them in sugar with a little coaching from you. Have fun in the kitchen with your kids!
Equipment Needed To Make The Sour Cream Sugar Cookies Recipe
Hostess At Heart participates in affiliate programs. As an Amazon Associate, I earn a commission from qualifying purchases. Please refer to my disclosure page for more information about these affiliate programs.
Ingredients For Your Sour Cream Cookies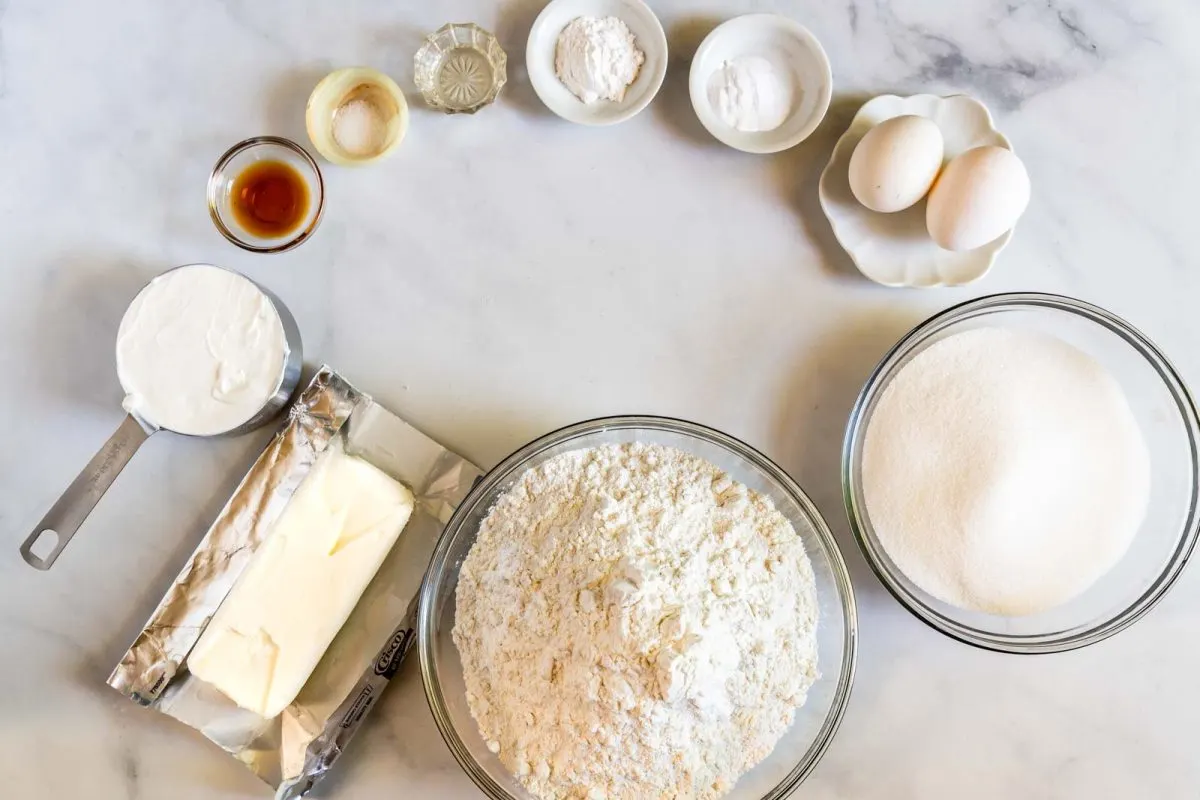 All-Purpose Flour.
Baking Soda. The mix of both baking soda and baking powder helps these cookies rise perfectly and brown evenly.
Baking Powder.
Shortening.
Sugar.
Eggs.
Sour cream. It not only adds flavor but adds moisture and a soft and tender crumb.
Salt.
Optional. Colored or decorative sugar.
Please note, that the printable recipe card has ingredient quantities, complete instructions, and nutritional information. The following is a quick overview of the recipe.
How To Make Sour Cream Cookie Recipe
Step 1: Prepare.
Preheat your oven before you start and line a baking sheet with parchment paper.
Step 2: Mix the sour cream sugar cookie dough.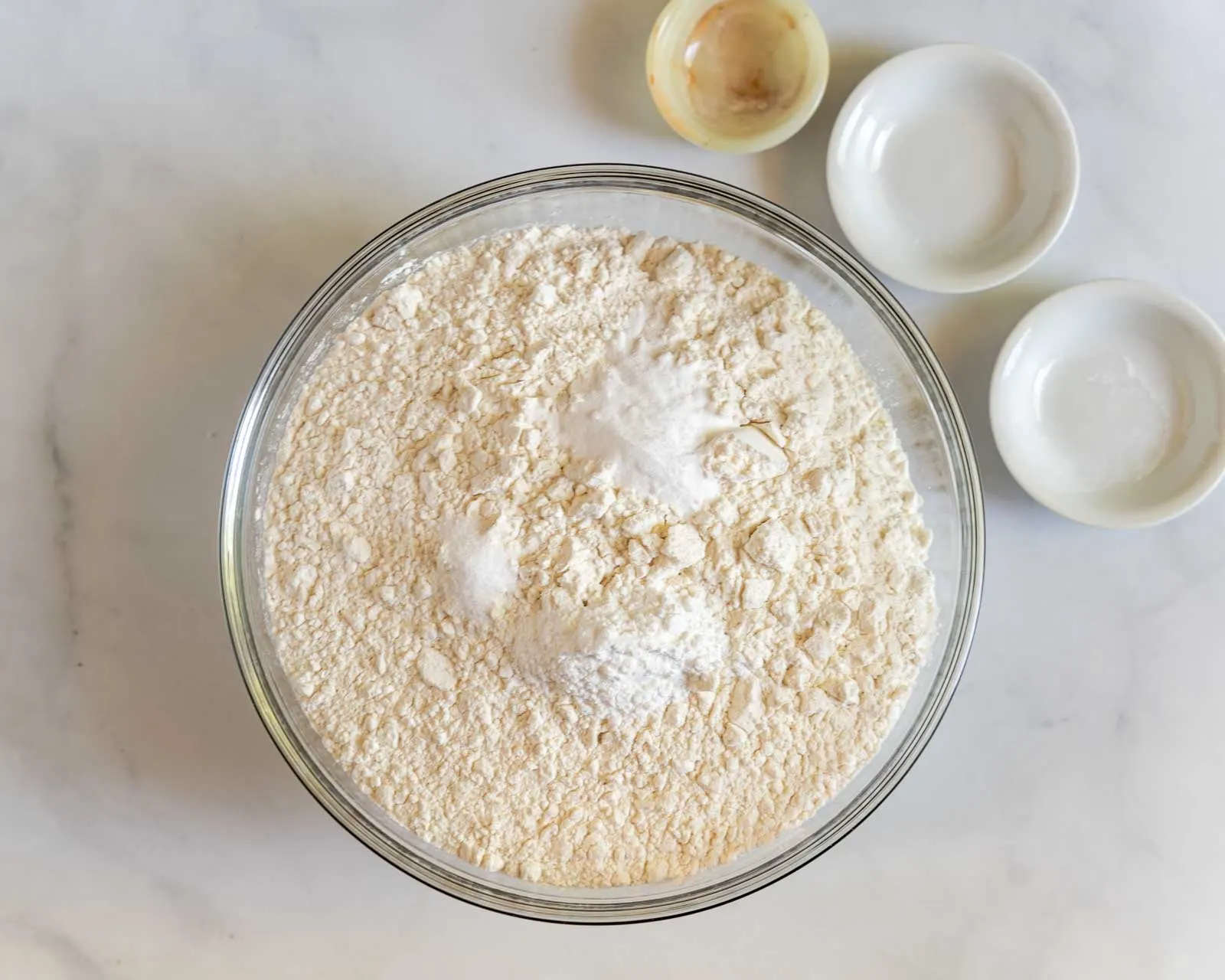 Mix the dry ingredients. In a separate bowl, mix the remaining ingredients. Combine the wet and dry ingredients.
Step 3: Shape sour cream sugar cookies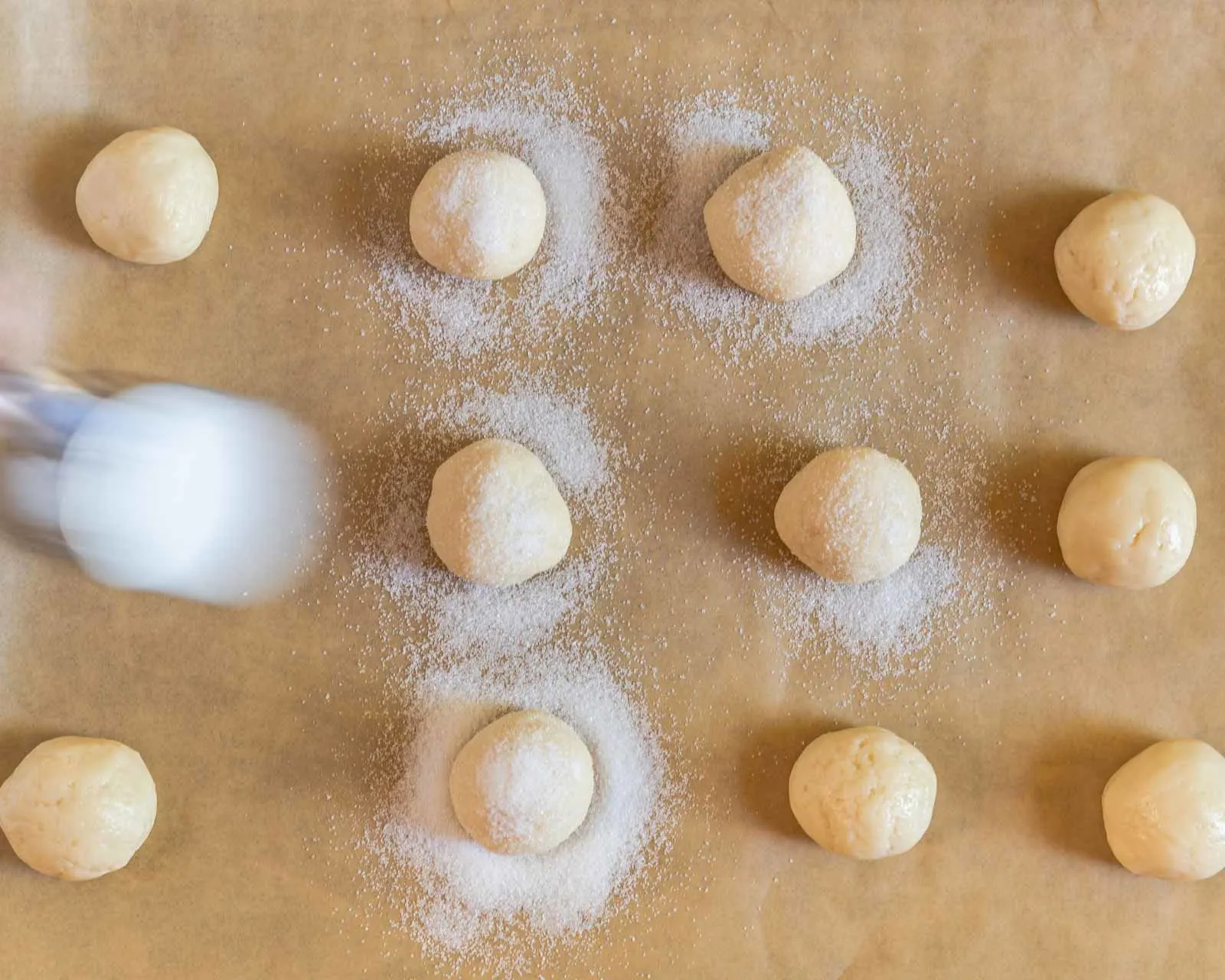 Scoop out the batter and form it into balls. Place them on the cookie sheet and dust them with sugar. Press them slightly with a cup or fork.
Step 3: Bake your sour cream cookies.
Bake for 10 minutes. Remove immediately to a cooling rack to cool completely.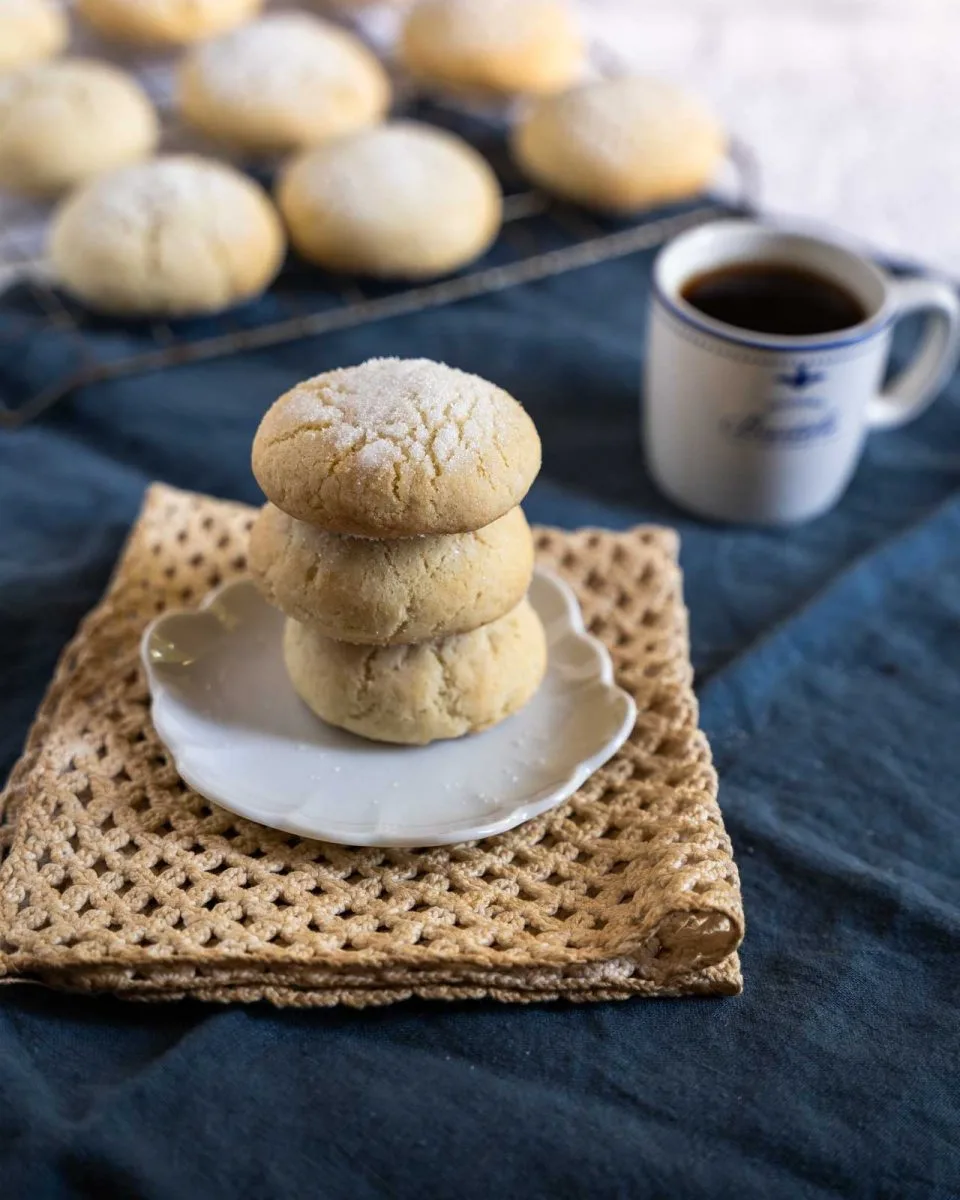 Popular Substitutions & Additions
Cookies can be frosted to make them even more festive for the holidays or a special event. If you don't want to add frosting, customize these cookies for any season or special event by changing up the color of sugar used or using sprinkles instead.
Add lemon extract for a lemon sugar cookie with sour cream.
I made these cookies small (1-inch" balls) like my butter cookies recipe. You could make them larger. Cooking time may vary by a minute or two.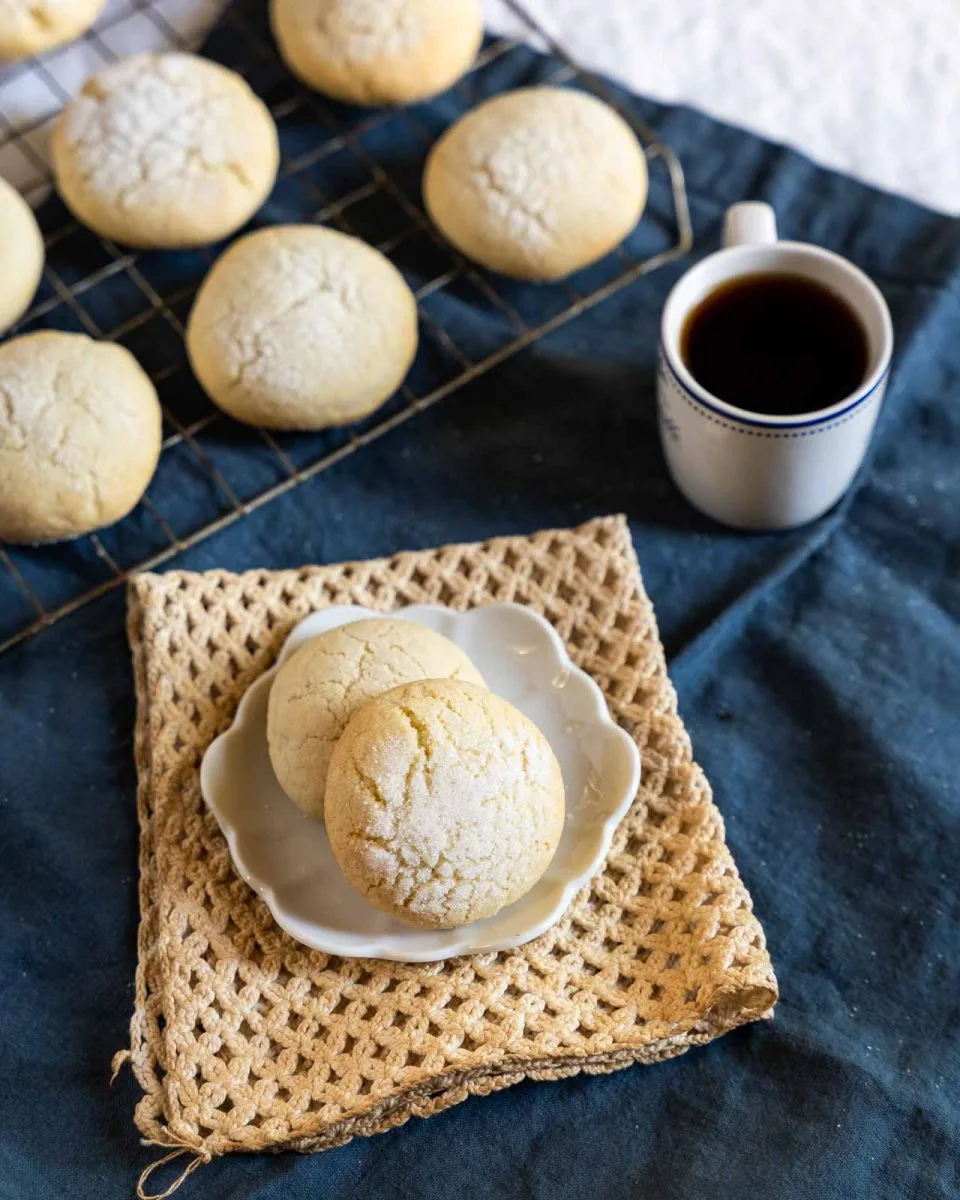 How To Reheat & Store Sour Cream Cookies
Best Way To Store Sugar Cookies with Sour Cream Leftover
These cookies can be stored at room temperature in an airtight container for up to one week.
Can I Freeze Sour Cream Sugar Cookies?
Unbaked cookies can be frozen for up to three months in an airtight container. Bake from frozen and add a few minutes to the time. Baked sourcream cookies can be frozen for up to six months in an airtight container. Thaw overnight at room temperature to eat the cookies.
How To Reheat a Sour Cream Sugar Cookie?
Ten seconds in the microwave will warm up your cookie perfectly.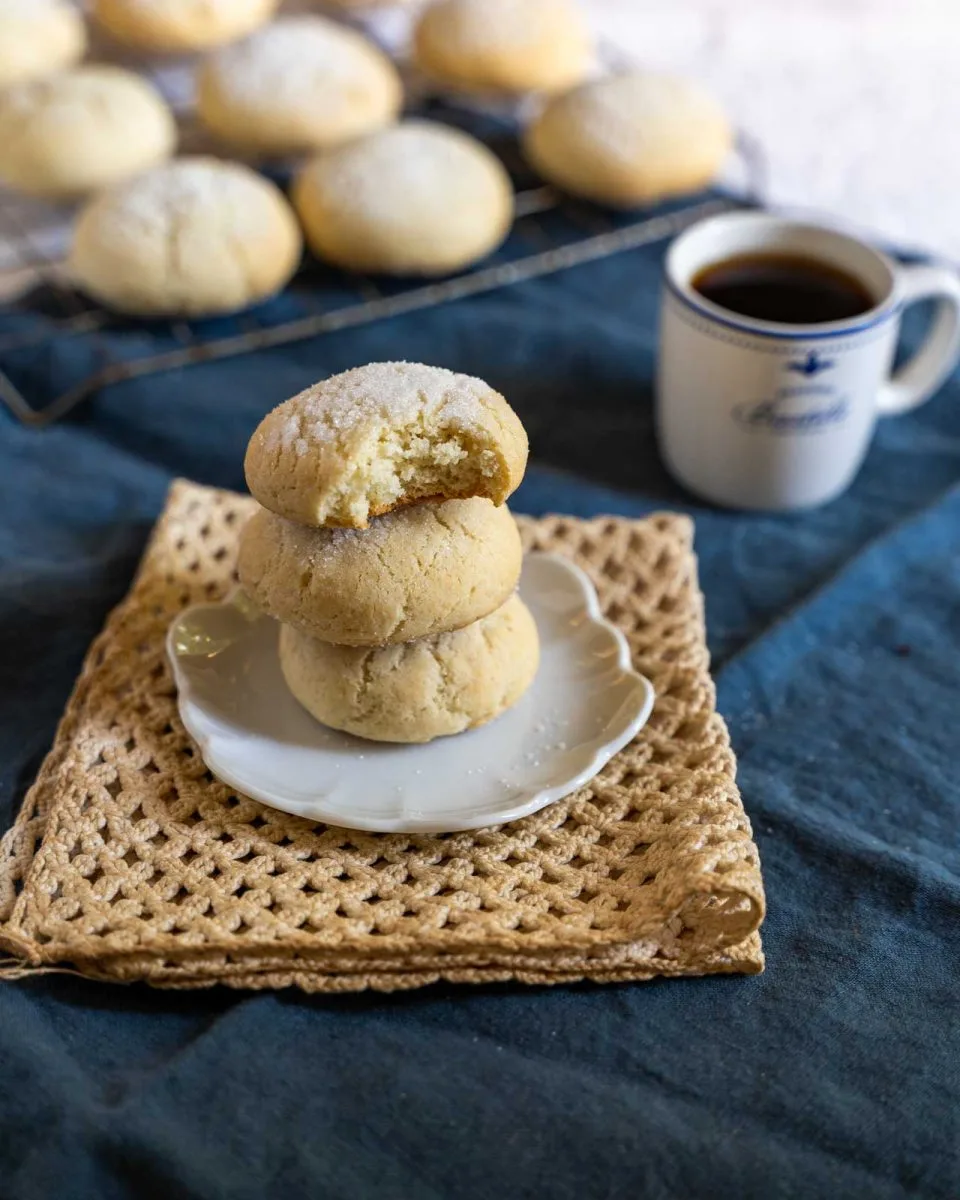 Tips to Make the Best Sour Cream Cookies Ever
Measure your ingredients using the scoop and level technique for the flour and baking powder. This recipe is dependent on the ratio of butter to sugar to flour, so correct measurements must be used.
You want your butter and sugar to be light and fluffy but don't over-mix it until it breaks down.
Press the tops of the cookies lightly until they start to resist. Pressing too hard will make the cookies crack on the edges.
Cookies don't spread while baking, so you can bake up to 16 cookies on a baking sheet.
These cookies are small. Don't overbake them. My cookies baked for only 9 minutes and weren't browned when we removed them from the oven, but they had a crisp exterior. We also removed them from the pan and moved them to a cooling rack within a couple of minutes of when we took them out of the oven.
I put a little sugar on the cookie ball before flattening it so my measuring cup doesn't stick to the batter. You could also use a fork or other flattened object.
Use a cookie scoop to get your cookies uniformly beautiful.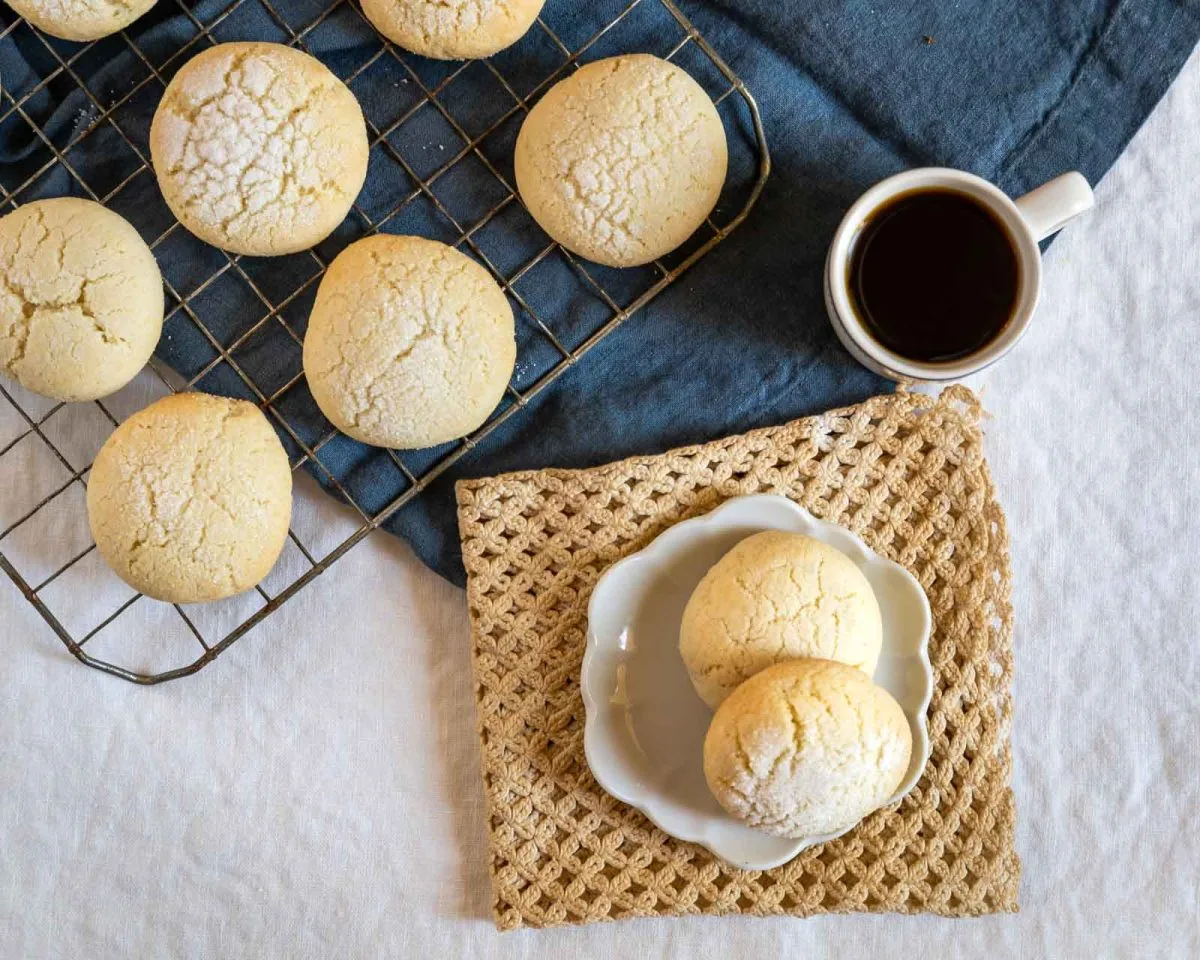 Sour Cream Sugar Cookie Recipe FAQs
How do I know when my cookies are done?
My cookies took 9 minutes. They appear set on the edges and will continue baking after removing them from the oven. Leave them on the pan for a couple of minutes and then transfer them to a cooling rack
to finish cooling.
Can I make these cookies in advance?
Yes. You can prepare the dough in advance and refrigerate it. Bake them when you're ready.
Why do you put sour cream in sugar cookies?
Sour cream adds flavor and moisture and creates a soft and tender crumb.
If you tried this delicious recipe, don't forget to rate it and leave me a comment telling me what you think. I love hearing from you!
This shortbread recipe is sweet and delicious but what's even sweeter is that this recipe was made for the Sweetest Season Cookie cookie exchange event called the Cookies for Kids' Cancer fundraiser.
If you would like to help with this worthy cause, head on over and donate. Any amount is appreciated.
Other Recipes You'll Love
Want more delicious recipes? Follow Hostess At Heart on Pinterest!