Italian Sausage and Potatoes is an easy hearty meal. The combination of crispy potatoes, sweet onion, and ground sausage will have your family asking for more.
This one-pan fried potatoes recipe cooks up perfectly every time in cast iron making this a quick meal and clean-up a breeze. Add a slice of English Muffin Bread and you have a meal fit for a King!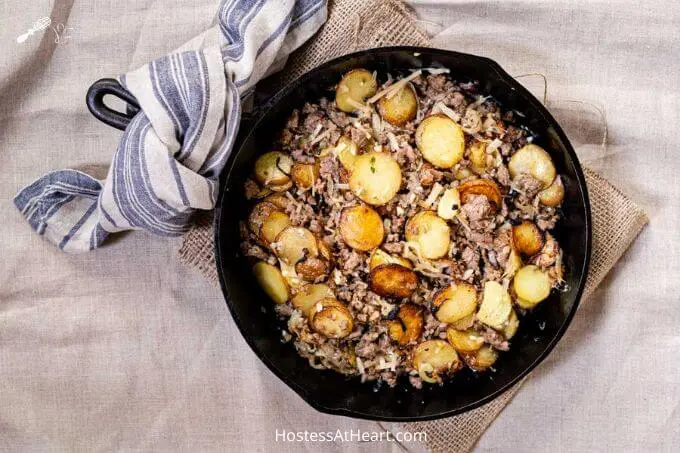 Italian Sausage and Potatoes is a complete meal! There's nothing like a hot pan of crispy potatoes and onions unless it's loaded with ground Italian sausage and seasoned with the perfect amount of spice.
I grew up learning how to fry potatoes perfectly. It was the most often requested thing my dad asked for regardless of the meal.
The potatoes had to be perfectly browned with crispy edges and lots of onion. He would have loved Italian Sausage and Potatoes.
Why You'll Love Sausage and potatoes recipe
One-pan meal makes this an easy recipe to make and clean up!
It's a quick 20-minute meal.
Ground sausage makes eating this meal easier than using links.
Simple ingredients
Easy to customize to your family's tastes.
How do you fry the perfect potato?
It's not a simple thing. I just talked to my sister and she said she can never get her potatoes crispy. Here's what I told her:
If you can, use a cast-iron skillet. I use this 13-inch cast-iron skillet for the majority of my skillet work. Cast-iron can get really hot which is perfect for frying potatoes.
Cover the bottom of the skillet with neutral cooking oil such as vegetable or canola oil.

Neutral cooking oil will not add flavors and it has a "high flash point" meaning you can safely heat it to a high temperature.
Add enough oil or the potatoes will stick to the pan and will not release when you want to turn them.

Heat the oil until HOT. You can test it by adding a small piece of the onion to the pan and if it sizzles you're ready to cook.

If your pan isn't hot enough, your potatoes will just absorb the oil and will not crisp up.

Cut your potatoes and onion all the same thickness. This will guarantee that they cook at the same rate.
Add the potatoes and onion to the pan. Let them cook until brown before flipping them over. I like the control that I get with a fish spatula.

There isn't any reason to keep flipping them. Doing so will not allow both sides to get crisp and you run the risk of breaking the potatoes.

Remove the potato and onion mixture to a plate lined with a paper towel.
Who knew there was so much to consider when frying potatoes! The key to great Italian Sausage and Potatoes is to pay attention to the little details. That's the key to any recipe really.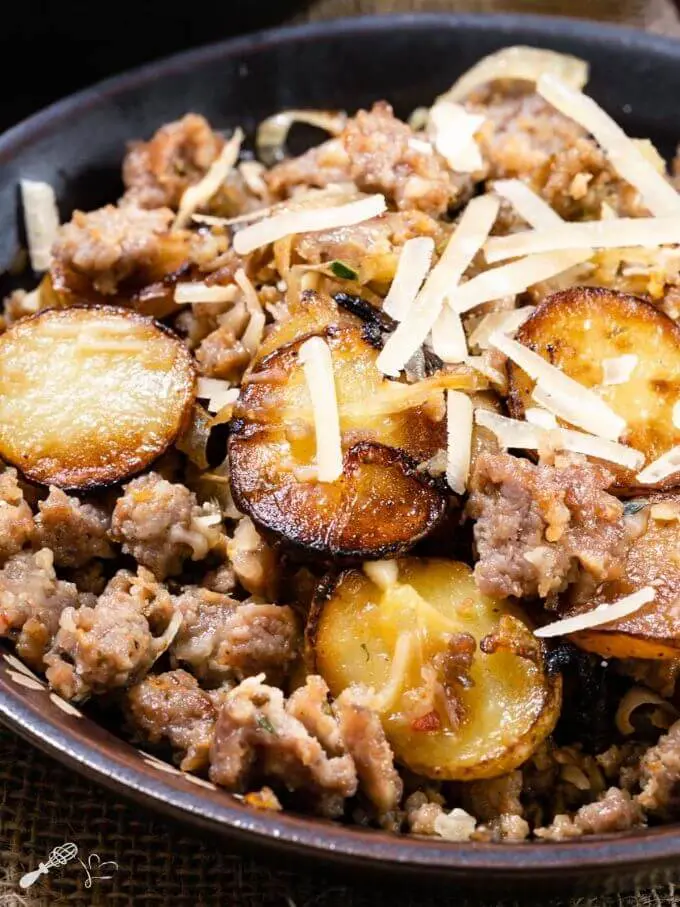 Italian Sausage and Potato Ingredients:
Potatoes – I like the baby Yukon or red potatoes. They are smaller so that makes them bite-sized. They also assure me that I have a balanced dish and that it's not all potatoes.
Italian Sausage – Please don't use breakfast sausage. Breakfast sausage has different seasonings than Italian sausage. If you don't have Italian sausage, you can use any of its substitutes that you can check from here.

Sausage Potato Skillet will not take on the spices called for in this recipe if you use breakfast sausage. It will taste like breakfast sausage.
You can also use ground pork. We're adding seasoning so feel free to make that change.
You can buy pre-ground or link sausage and remove the casing yourself. Sometimes it's hard to find ground Italian sausage.

Onion – I used yellow onion in this recipe. You can substitute what you like to use. White or red onions work fine.
Garlic – I use fresh but you can buy pre-minced.
Parmesan – I like shredding my own Parmesan Reggiano. It doesn't melt the way the packaged cheeses do because it has less moisture content. I like seeing this cheese mixed in with the Sausage Potatoes and Onions.
Spices – Fresh or dried herbs are fine. I used oregano, rosemary, thyme, and, salt and pepper. For convenience, you can substitute with 1-1/2 teaspoons of an Italian Seasoning Blend.
Quick tip: When I boil potatoes for another meal I'll make extra. Previously cooked potatoes fry up perfectly and make this meal really quick to put together.
How to make Fried Potatoes and Sausage
The order of these steps maximizes the flavor of this dish. Let me tell you why.
Drizzle the bottom of the cast-iron skillet and preheat until hot.
Add the ground Italian sausage and cook until browned. Remove to a plate lined with a paper towel. Don't drain any drippings.

The sausage drippings will infuse the potatoes with flavor from the sausage.

Add more oil until the entire bottom of the cast-iron pan is coated if necessary. Once hot, add the sliced potatoes and onions. Salt and pepper (liberally). Allow the potatoes and onion to brown on one side. Turn and brown the other side. Once browned, add the minced garlic. Cook just a minute or two until fragrant.

If you added the garlic with the potatoes and onions, in the beginning, it can burn. Cooking it for just a minute or two will release the flavor. Burnt garlic tastes bitter.

Remove the potato mixture and drain if there is a lot of oil remaining on the bottom of the pan. If there isn't to much oil just add the sausage back into the potato mixture.
Add the dried or fresh herbs and heat just until the ingredients are hot and the spices are aromatic.

There's no need to cook these herbs. They are best with just a little heat to wake them up if dried or softened if fresh.
Variations you can make to Italian Sausage and Potatoes
Add peppers, mushrooms or veggies you like to the potato and onion mix
Use Italian link sausage and brown it like you did the ground sausage. I recommend slicing it to the size of the potatoes.
Instead of Parmesean cheese use Asiago.
Add scrambled eggs to the Italian Sausage and Potatoes for a breakfast scramble that will keep you full for hours.
Make it vegetarian! Just skip the sausage. Potato and onion skillet is amazing!
You don't have to add a poached egg, but it transforms this Italian Sausage and Potato recipe into a rich dish that's over the top.
Looking for more Ground Italian Sausage Recipe?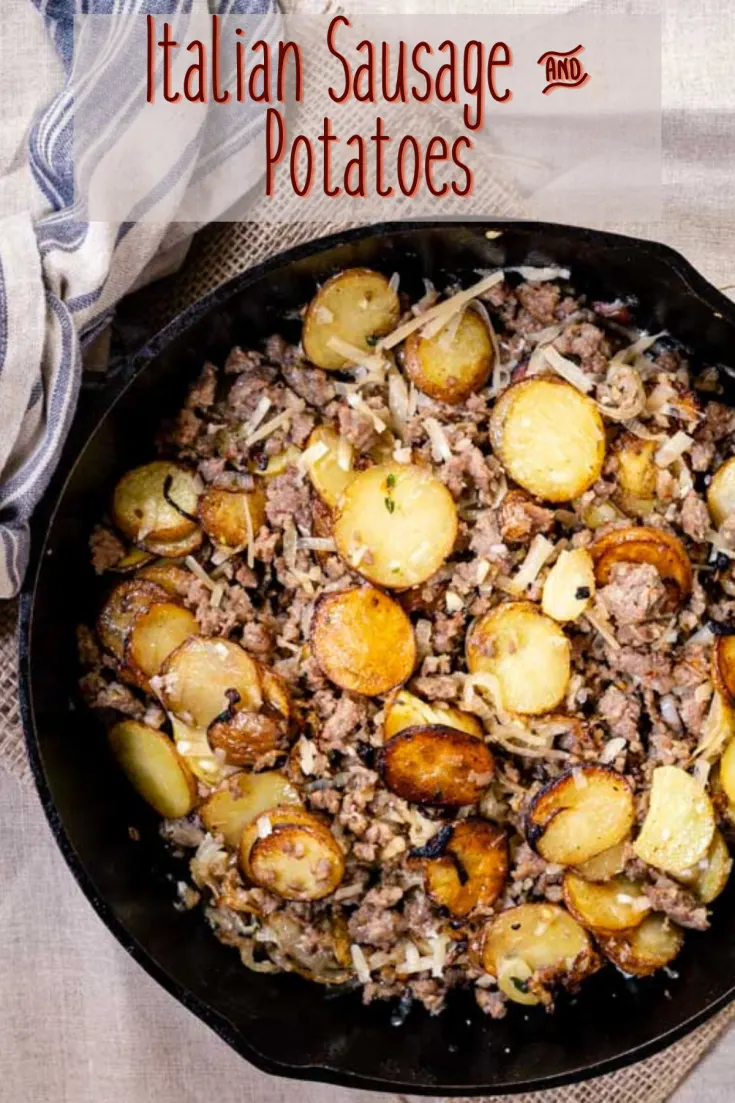 What can I serve with Italian Sausage and potatoes?
This is definitely a savory one-dish meal that's perfect for any meal of the day. My preference would be to add something a little sweet whether it's bread and jam for sopping up that egg or a fruit dish. Here are some recipes I think you may like.
Basic Muffin Recipe – This recipe is perfect with a drizzle of honey but I've also included 8 variations that you can make so it's perfect for you.
Fruit Cocktail Salad – This creamy dreamy salad is a great accompaniment to any savory meal and can even be served as a salad or dessert.
Dark Chocolate Banana Bread – Talk about decadent. This bread is tender and moist and loaded with chocolate flavor.
If you like this Sausage and Potato Recipe here are a few more recipes I think you'll like
As you know, food is about the memories around it as much as it is eating it. This recipe reminded me of my dad eating my fried potatoes.
I soaked up the praise he delivered over this simple meal. I only wish he was here to try it with that soft drippy egg! He would have gone bonkers over this Italian Sausage and Potatoes recipe!
What to do with extra potatoes
When I buy a bag of potatoes I always have plenty leftover for other recipes. Here are a few of our favorites: