One of my favorite seasonal vegetables to use in later summer and Fall is the beautiful acorn squash. My Sausage Stuffed Acorn Squash is full of flavor and makes an impressive, attractive plate for family or guests. This dish just screams Fall harvest!
The Sausage Stuffed Acorn Squash Recipe takes advantage of both squash and fennel from the garden or farmer's market. Plus, both are incredibly good for you, bringing a variety of vitamins and minerals and even fiber to the dinner table.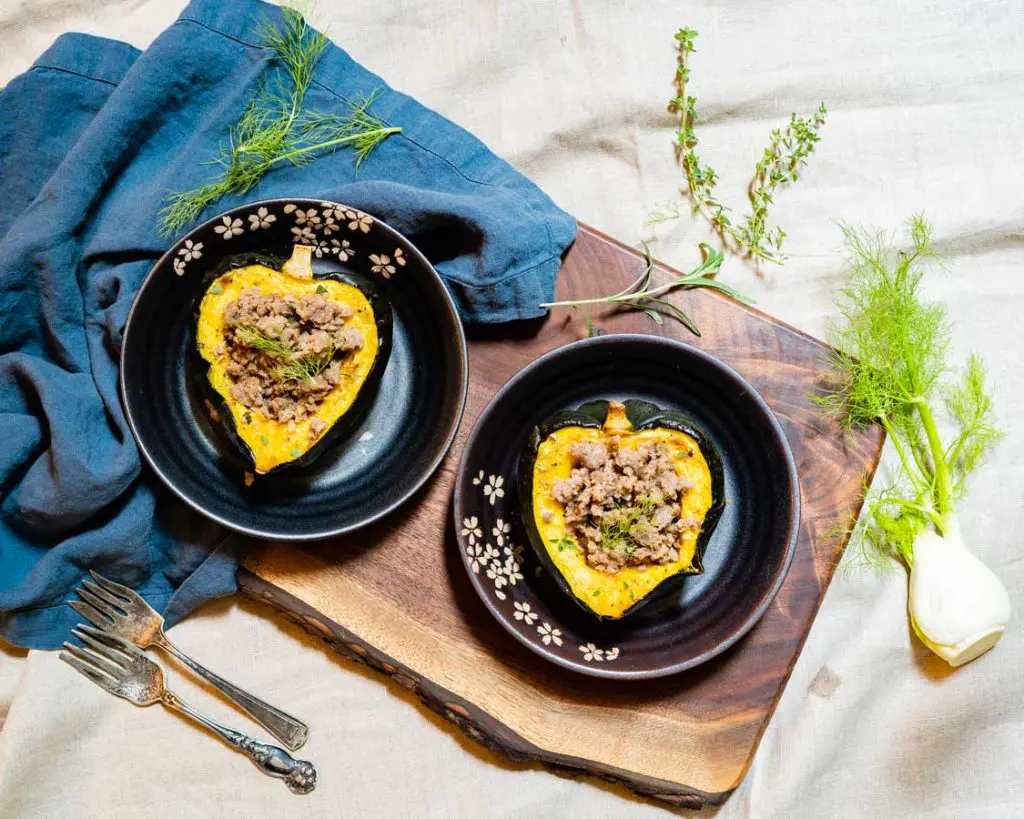 Why Make Sausage Stuffed Acorn Squash
Not only is the dish tasty, but the presentation is also a wow factor and memory maker. This meal is a Fall tradition your family will remember and talk about for years!
If you like to have more than one dish at each meal, you can serve sausage stuffed acorn squash with a bright salad with vinaigrette for contrast, fresh tomatoes, or a nice crusty bread.
Unlike many of the recipes for stuffed acorn squash, this one does not include any brown sugar, bread crumbs, or parmesan. It's a completely different take! As an added bonus, as long as you buy GF sausage, this recipe is gluten-free sausage stuffed acorn squash.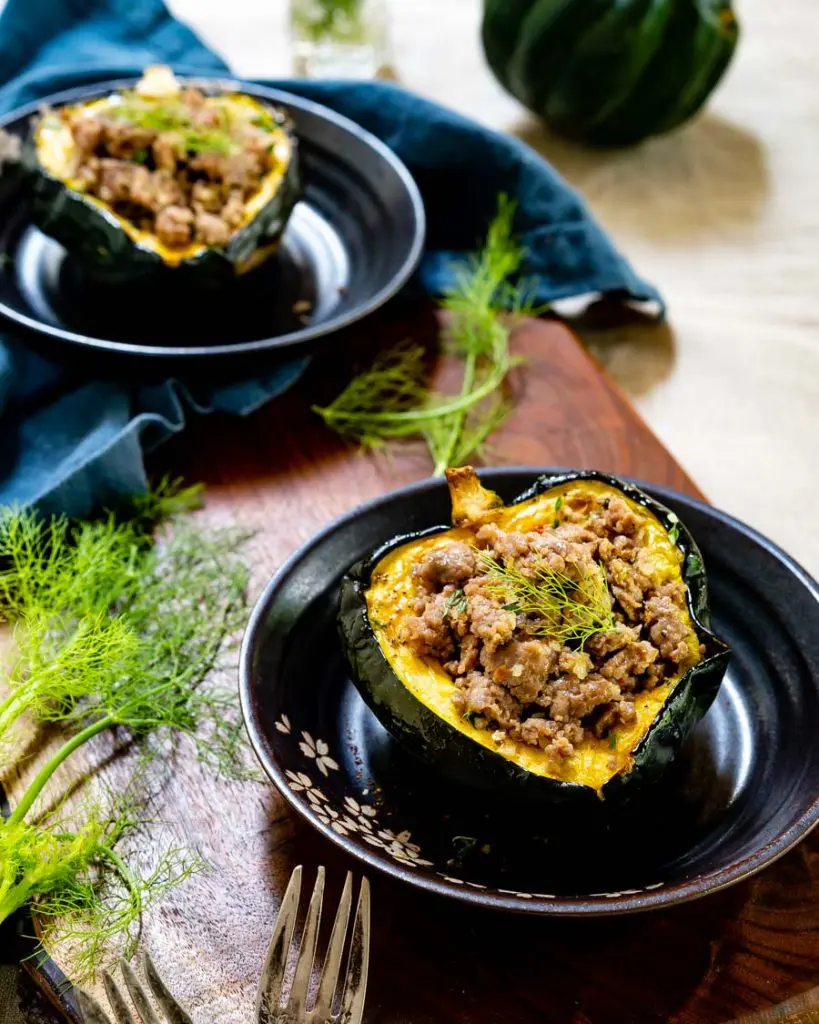 How to Make Sausage Stuffed Acorn Squash
This squash meal begins with the gorgeous dark green squash. Of course, the inside is a buttery yellow. Microwave the squash to soften it just enough to make slicing easier. That's the hardest part of any big squash dish! Once it's sliced in half and the seeds are all scooped out, you'll make baked acorn squash following the instructions on the recipe card below.
While it's baking, you make the sausage filling in a skillet and then bring it all together. The sausage stuffed acorn squash recipe is not difficult, but baking the squash will take close to an hour so you'll need to plan accordingly. Top with a frond or two from the fennel for a special touch.
Ingredients for Sausage Stuffed Acorn Squash
Acorn Squash. A lush green squash with a buttery yellow center perfect for baking, soups, or stews.
Butter. Real is good. Dairy-free will work.
Salt.
Black Pepper.
Ingredients for the Sausage Filling
Olive Oil. You need just enough oil to get the fennel started sauteeing while the sausage cooks up. You may still need to drain off the fat after cooking, depending on how much fat cooks out of the sausage.
Italian Sauage. Mild, ground sausage is perfect for this recipe.
Fennel. Diced.
Thyme. Fresh or Dried will both work.
Oregano. Fresh or Dried will both work.
Rosemary. Fresh or Dried will both work.
Garlic. Two fresh cloves.
Salt.
Pepper.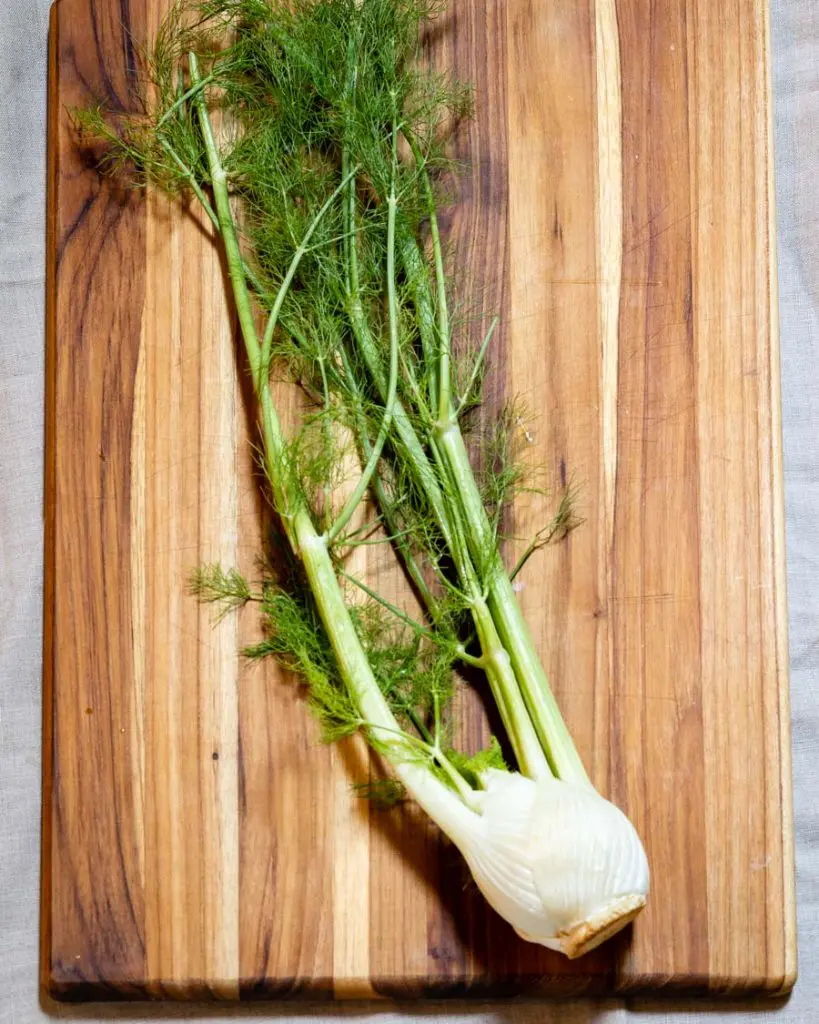 FAQ
What is the Easiest Way to Cut a Fennel Bulb?
Watch this quick video for the absolute easiest way to cut fennel for the sausage stuffed acorn squash.
Can I freeze sausage stuffed baked acorn squash?
I do not recommend freezing baked squash. It is already soft and tends to get mealy or change unpleasantly in texture when frozen. You can refrigerate leftovers and reheat them in the microwave for a few days if you'd like.
What other meat goes with acorn squash?
Ground beef or turkey will both work in place of sausage, but bring less flavor to the dish so you may need to up the seasoning. Chorizo is also fantastic and will have a slightly different flavor if you want to make this recipe twice and have it taste different each time.
What can I use instead of acorn squash?
Butternut squash is a great substitute for acorn squash. They are a similar consistency when baked, but the presentation won't have as much contrast in color. Butternut squash is also about twice the size of a typical acorn squash so you won't need as many.
You could also use the sausage filling on spaghetti squash. You can bake it in the exact same way, and then remove it in strands by twisting with a fork and serve it with the sausage on top. It won't necessarily be sausage "stuffed" squash (although you can serve spaghetti squash in its skin if you prefer), but it will still be quite tasty.
How do I pick a good acorn squash at the grocery store or farmer's market?
Choose acorn squash that is firm without any bruises or soft spots. Look for one with nice smooth skin. If you can hear stuff moving inside when you shake a squash or if it feels surprisingly light when you pick it up, it's probably been on the shelf for too long. Choose two that are similar in size so that they will finish baking at the same time.
We love squash and eat a lot of acorn and butternut squash. I enjoyed this article on other squash varieties.
Recipes for Stuffed Acorn Squash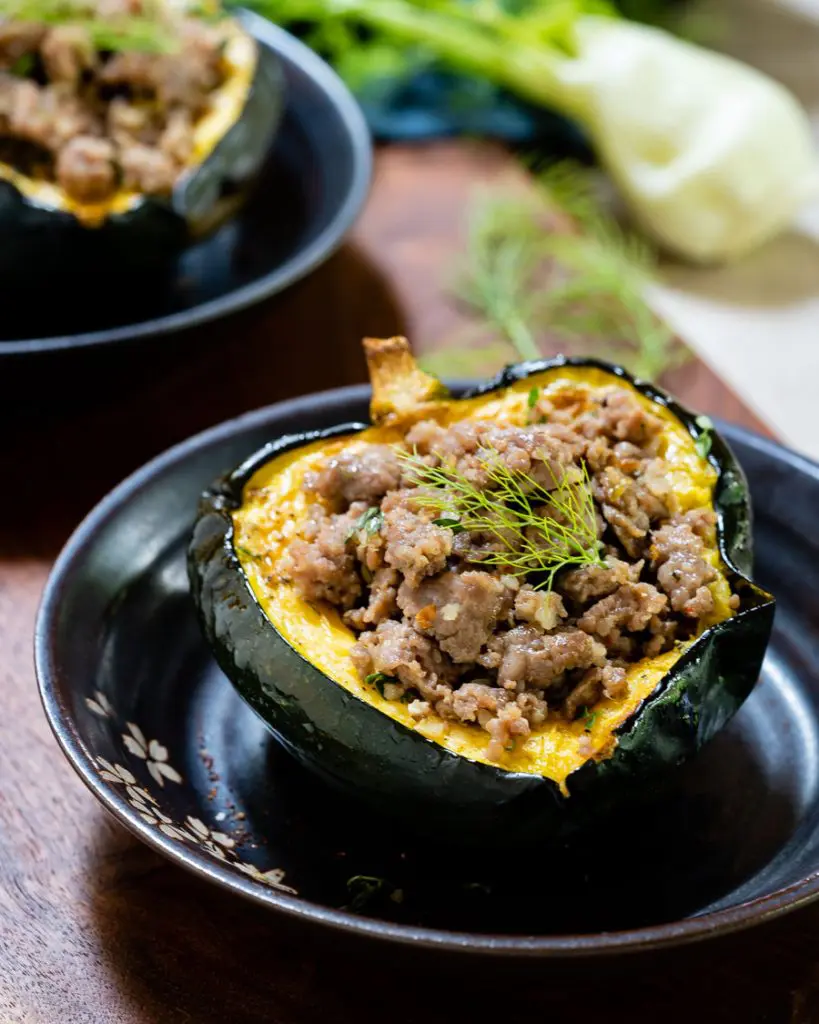 You can find all of our side dish recipes here!
Items we used
Loaf Pans – I like these loaf pans for baking squash because they'll stay upright without spilling one drop of butter!
Vegetable Brush – I try and keep the peel/skin on my vegetables when I cook them. They contain vitamins and other nutrients. It's important to get them clean and using a brush works well!
If you like this recipe, we would appreciate your comment and a 5-star ⭐️⭐️⭐️⭐️⭐️ review!
Thank you to our #FallFlavors sponsors, Millican Pecan, Dixie Crystals, Melissa's Produce, Taylor & Colledge, Nairn's, and Republic of Tea who supported this year's events!
More #FallFlavors Recipes Below:
Appetizers and Snacks
Breakfast and Baked Goods
Soups and Salads
Side Dishes
Main Dishes
Desserts
a Rafflecopter giveaway
Six (6) winners will be randomly selected. The prize packages will be sent directly from the giveaway sponsors. Bloggers are not responsible for prize fulfillment. Winners have 24 hours to respond once notified by email, or they forfeit the prize and an alternate winner will be chosen. The #FallFlavors bloggers are not responsible for the fulfillment or delivery of the prize packages. Bloggers hosting this giveaway and their immediate family members living in the household cannot enter or win the giveaway. Entries will be verified. No purchase necessary. Void where prohibited by law. Must be 18 years of age or older to enter giveaway and the contest is open only to US residents. This promotion is in no way sponsored, endorsed, administered by, or associated with Facebook, Instagram, Pinterest, Twitter or any other social channel mentioned in the #FallFlavors posts or entries. Thank you to our sponsors Millican Pecan Company, Dixie Crystals, Melissa's Produce, Taylor & Colledge, Republic of Tea, and Nairn's for providing prizes.
Welcome to #FallFlavors where more than 25 food bloggers are sharing recipes with favorite Fall flavors. Our sponsors, Millican Pecan, Dixie Crystals, Melissa's Produce, Taylor & Colledge, Nairn's, and Republic of Tea, have furnished participating bloggers with complimentary product to use in their recipe creations that they will be sharing this week. These same sponsors have generously offered prizes for our giveaway so be sure to enter and share with your friends so they can enter too. Be sure to follow our Fall Flavors Pinterest account for more inspiration.
Prize 1: Texas Pecan Candy Basket from Millican Pecan
The Millican Pecan Texas Pecan Candy Basket is loaded with a variety of pecan gifts. Includes 6 Milk Chocolate Pecan Clusters, 6 Milk Chocolate Caramillicans (similar to Turtles), 6 White Chocolate Caramillicans, 6 Pecan Pralines, and a 1/2 lb. Bag of Flavored Pecans! Every bit DELICIOUS! A $75 value.
Prize 2: Williams Sonoma Cleartouch Nonstick 6-Piece Bakeware Set from Dixie Crystals
Perfect for the occasional baker, our entry-level collection features a sturdy nonstick silicone coating at a great value. Aluminized steel, the material of choice for professional bakers, provides excellent heat transfer for even baking, so food turns out beautifully and releases easily, every time. 6-Piece Set includes: Half-sheet pan, 12-cup muffin pan, round cake pan, square cake pan, rectangular cake pan, loaf pan. An $80 value.
Prize 3: 3 Month Melissa's Produce Gift Subscription
A stunning selection of the most delicious produce will be delivered once a month for 3 months. At Melissa's, the produce is selected at their peak of perfection and packed by hand to ensure safe arrival. A $124 value.
Prize 4: A Red Dancing Leaves Teapot and a tin of Hot Apple Cider Tea from The Republic of Tea
Let the aroma of fresh apple and mulled cider spices envelop you as you sip this golden infusion. The crisp, lingering finish will leave you wanting more! A naturally-caffeine free blend of apples, cinnamon cloves and ginger. Reminiscent of apple cider, with the luscious aroma of cinnamon and cloves, make this cup the perfect accompaniment to the colors of the harvest season.
Embossed, windswept leaves whirl across this 20 oz ceramic teapot. Includes a stainless steel infuser. An exclusive design by The Republic of Tea. A $44 value
Prize 5: A selection of six flavors of Oat Crackers from Nairn's
One winner will receive a box of each Nairn's Original, Chocolate Chip, Stem Ginger Oat Grahams, Caramelized Onions, Rosemary & Sea Salt Flatbreads, and Oat Cracker. Nairn's has been baking oats since 1896. They use simple, natural, and wholesome ingredients in their products. Minimum $25 value
Prize 6: A Selection of extracts from Taylor and Colledge.
One winner will receive a selection of extracts to include vanilla bean, almond, lemon, and lavender. In 1897, Taylor & Colledge won its first award for excellence in vanilla. Since then, the Taylor & Colledge commitment for unsurpassed quality has earned its reputation as one of the world's finest producers of vanilla. Minimum of $25 value
Pin this delectable Stuffed Squash recipe!