Stuffed Acorn Squash with Wild Rice and Apple recipe is a complete meal. It's sweet and savory and full of good for you ingredients.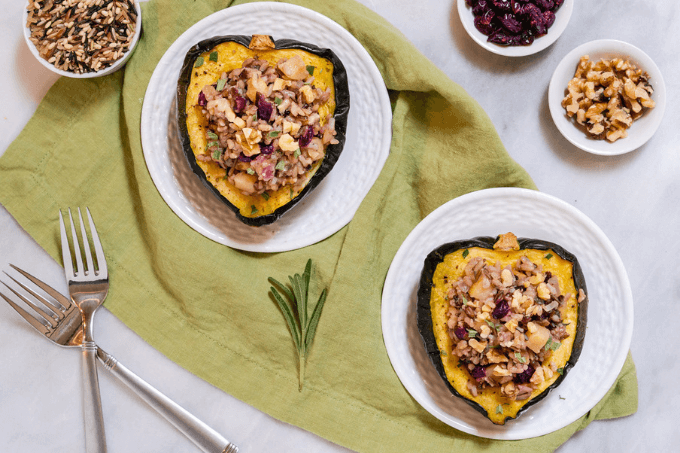 Stuffed Acorn Squash with Wild Rice and Apple makes the perfect meal. It's a delicious way to add nutrients and fiber to your diet. Wild rice stuffed acorn squash makes a great side dish too.
I grew up eating the humble acorn squash. Roasted acorn squash is sweet and can be flavored so many ways including with a drizzle of olive oil with a little salt and pepper which is one of my go-too ways.
Squash is available all year round in grocery stores but is considered a "Winter Squash" because they're typically harvested after the weather becomes cooler.
An Acorn Squash is typically 1 to 3 pounds and is the shape of an acorn. The skin is usually dark green but now have varieties with other colors.
Acorn squash can be baked, grilled or are excellent pureed into soups, stews or baked into pies and muffins. Stuffed Acorn Squash recipes are as versatile as the imagination.
This vegetarian stuffed acorn squash guarantees your carnivore isn't leaving the table satisfied.
All parts of squash are edible including the plant leaves, flowers, and tendrils. Once the squash becomes mature, the skin becomes very tough and while is edible isn't very desirable.
Squash is a nutritional powerhouse too. It's high in vitamins, minerals, and fiber. In fact, one-half cup of cooked squash has as much soluble fiber as a cup of lentils or barley!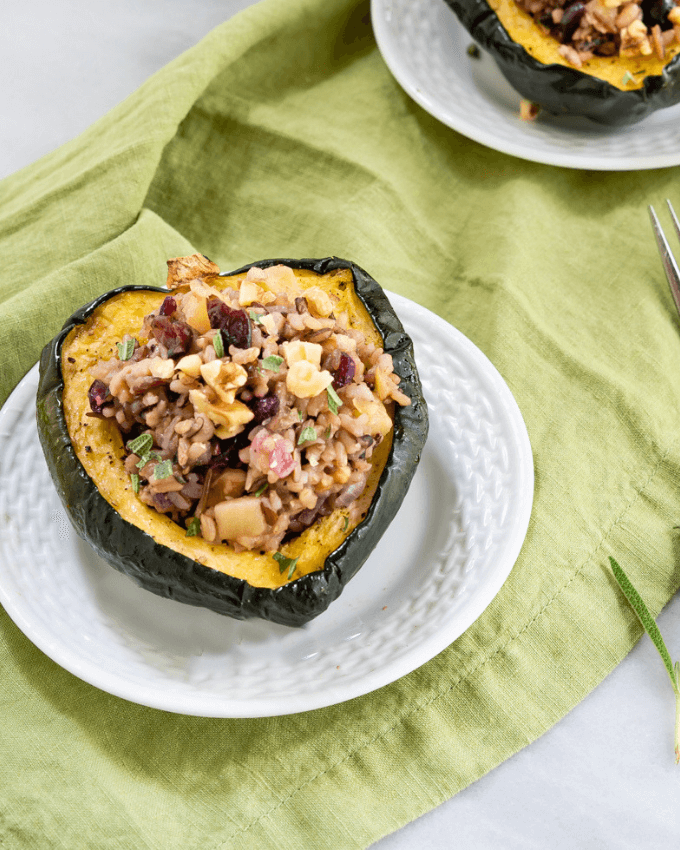 I totally understand how busy you are so if you don't have time for our helpful tips and delicious recipe ideas, just scroll to the bottom of the page where you can find the printable recipe card.
Types of Squash
Squash are categorized as either Winter Squash or Summer Squash. They are categorized according to usage and not an actual variety. They're both available year-round and prepared much of the same way.
There are several varieties of squash including Butternut, Hubbard, Turban, Buttercup, Delicata, as well as several others. They can generally be substituted equally in your recipes. I found What's Cooking America gave a great in-depth summation of the best ways to prepare each variety.
Here are some of our other favorite Baked Squash Recipes!
---
---
---
---
How to pick or buy squash
When selecting a squash of any variety, it should feel heavy for its size without any sunken or moldy spots. Also, avoid squash with visible punctures or cuts in the skin.
Storing Squash
Squash can be stored in a cool well-ventilated area for 3 to 6 months. Check regularly for rotting. The cooked flesh of squash can be frozen until needed in an airtight container.
Pin this recipe to your favorite board!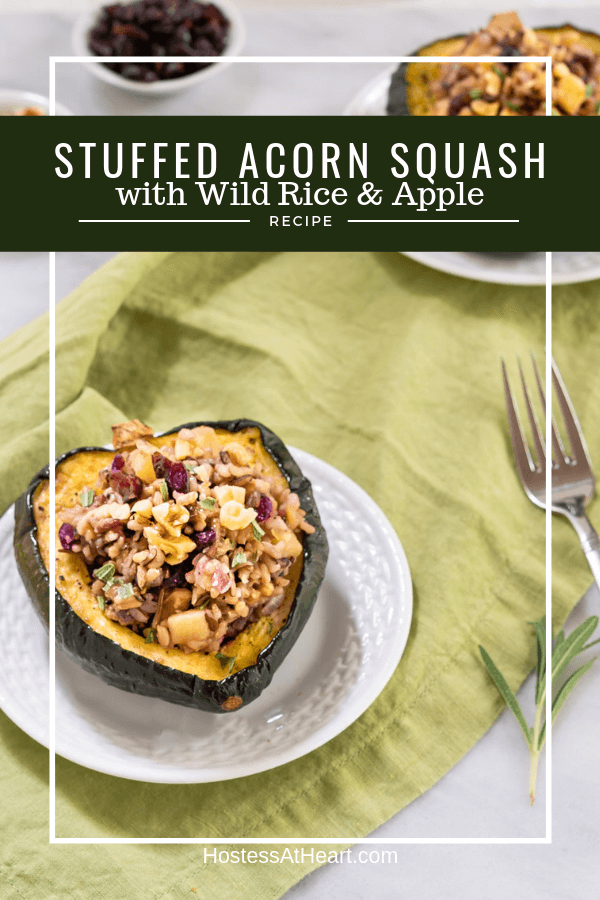 HOW TO BAKE ACORN SQUASH
Wash the skin of the squash. I use a vegetable brush
Microwave the whole squash or 3 minutes
Lay the squash on its side and cut it in half.
Scoop the squash seeds out
Place the squash in a baking dish flesh side up.
Season and fill with ingredients
Bake until tender when pierced with a fork
Preparation tips:
Even though the skin of the squash is edible, in my opinion, it's tough and flavorless even when baked or steamed. If your recipe calls for removing or cutting through the skin like this baked squash recipe does, microwaving the whole squash for 3 minutes for a small to medium-sized squash or 3-1/2 minutes for a larger squash will make it soft enough to work with without cooking the squash.
Wash the squash before you work with it. Any substances that are on the squash before you cut into it will end up in the squash if it isn't washed first. I use a soft vegetable brush but you can also use a paper towel.
Baking the squash in a loaf pan will keep it sitting up without spilling all of those seasonings, spices, and butter. There isn't any need to lay it flesh side down. It can always be covered with foil and baked as well.
A few items you may need to make the perfect Stuffed Squash Recipe!
The following are affiliate links. We are a participant in the Amazon Services LLC Associates Program, an affiliate advertising program designed to provide a means for us to earn fees by linking to Amazon.com and affiliated sites. For more information, please see our disclosure.
Loaf Pans – I like these loaf pans for baking squash because they'll stay upright without spilling one drop of butter!
Vegetable Brush – I try and keep the peel/skin on my vegetables when I cook them. They contain vitamins and other nutrients. It's important to get them clean and using a brush works well!
Stuffed Acorn Squash with Wild Rice and Apple
Stuffed Acorn Squash with Wild Rice and Apple recipe is a complete meal. It's sweet and savory and full of good for you ingredients.
Ingredients
1

Acorn Squash

2

tbsp

butter

2

tsp

maple syrup

1

red onion

1

apple

I used Honeycrisp

1

cup

wild rice

cooked

1/2

cup

walnuts

chopped

1/2

cup

dried cranberries

(Craisins)

2

tsp

rosemary

chopped

1/2

cup

apple juice

1/2

tsp

salt

1/4

tsp

black pepper
Instructions
Squash
Preheat the oven (or grill) to 400°F.

Wash the outside of the squash.

Microwave the whole acorn squash for 3 to 3-1/2 minutes.  Remove with hot pads or a towel.  Lay the squash on its side (not end) and slice the squash in half.  Scoop out the seeds using a spoon.  Put the squash in a baking dish lined with parchment paper. A loaf pan works well too.

Rub the cut side of the squash with 1 teaspoon of butter and put the remaining piece in the center for each half.

Drizzle each half lightly with maple syrup.  This glazes the squash and adds a touch of sweet maple flavor.  Sprinkle each side with a pinch of salt.

Bake for 45 to 50 minutes or until the squash is fork-tender.
Rice Mixture
While the squash bakes prepare the rice mixture.

Saute the diced onion with the apple just until the apple begins to soften. Don't overdo it. You want the apple to still have an al dente texture.

Combine the cooked wild rice, apple/onion mixture, and apple juice.

Right before serving, stir in the walnuts and dried cranberries into the rice mixture.

Spoon into the cooked squash and serve.
Notes
I usually have leftover rice mixture that I serve with another meal or eat for lunch.
This recipe was calculated using the exact brands and measurements I used to make this recipe. If you are following a strict diet please note changing anything will cause the nutritional info to change. Please calculate your own nutritional information if you want it exact to what you make and use my calculations as a guide only.
Please share, you are my inspiration!
What is your favorite squash variety and how do you like preparing it? Do you stuff it or are you a simple squash lover? Please share you're my inspiration!
Other amazing baked Squash recipes:
If you like this recipe leave me a comment below and 5-⭐️⭐️⭐️⭐️⭐️ rating.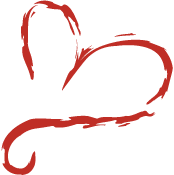 Thank you from the bottom of my heart for spending some time with me today!