No-Bake Chocolate Pretzel Peanut Butter Squares is an easy dessert. Crunchy pretzel filling and sweet peanut butter chocolate make the perfect contrast.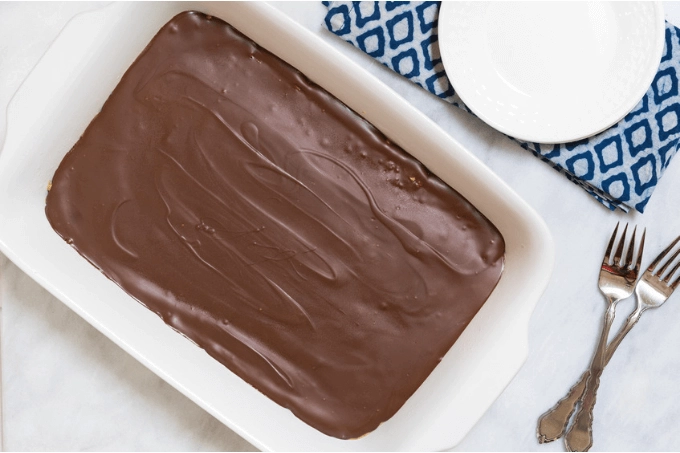 THIS POST HAS BEEN UPGRADED FROM 12/11/14 TO IMPROVE READER EXPERIENCE.
Who doesn't like No-Bake Chocolate Pretzel Peanut Butter Squares? They're rich, gooey, and have a delightful crunch from the pretzel filling.
I love to cook, but I really love to bake. I'm just in awe of some of the recipes and pictures that I see.
I also like pushing myself to learn new recipes and techniques except when being pulled in 100 different directions. That is when I rely on recipes like these No-Bake Chocolate Pretzel Peanut Butter Squares.
We just had a family tailgating gathering, and for me, I want to watch the game. I don't want people to have to wait for me to serve food. Finger food or food that can sit out is a must.
That also makes them perfect for holiday get-togethers when everyone is full from a big dinner but just wants a little sweet treat. Cut these Peanut Butter squares with Chocolate small and put them on a fancy plate and they're definitely a holiday-worthy dessert.
Chocolate Pretzel Peanut Butter Square Ingredients:
Crushed pretzels – I use the twists. I find they're salted perfectly so I don't need to add additional salt.
Powdered Sugar – Using powdered sugar acts as a binding ingredient that holds these bars together.
Peanut Butter – I use creamy peanut butter. It makes these bars look smooth but if you like the crunchy variety that works great too.
Chocolate chips – This recipe originally called for milk chocolate chips. I use what I have and will often combine dark or semi-sweet with milk chocolate.
Unsalted butter – There is plenty of salt in the pretzels so I don't add additional salt by using salted butter.
Pretzel Peanut Butter Bars are so easy to make and everyone loves them. They only have 5 ingredients and who doesn't love that?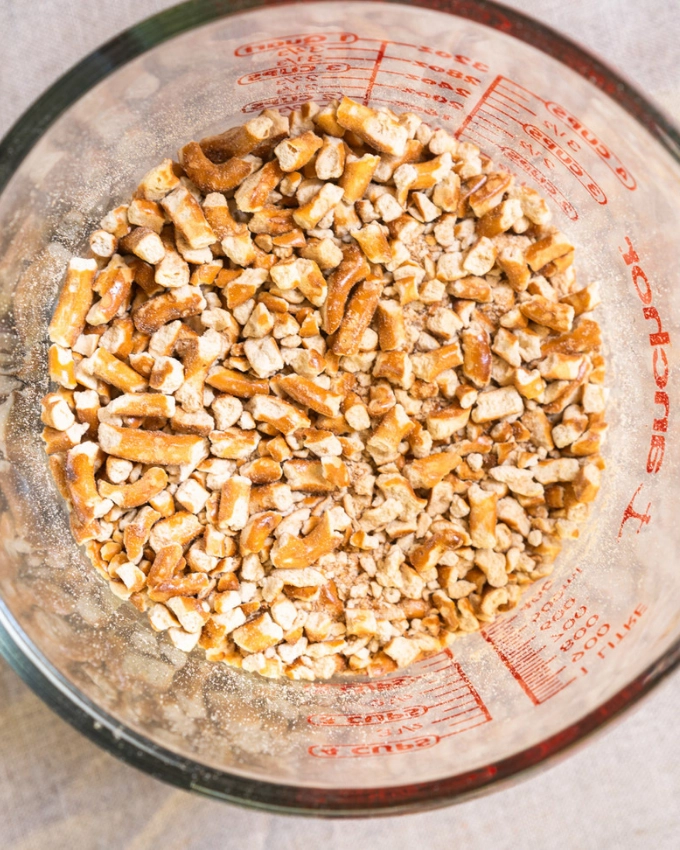 Note: these bars need to chill 1 hour so plan accordingly.
How to make Chocolate Pretzel Peanut Butter Squares
Crush the pretzels. You can use a food processor, blender, or put them in a plastic bag and smash them with a rolling pin or meat mallet. I like leaving chunks of uncrushed pretzels for a delightful crunch.
Combine the crushed pretzels with powdered sugar and 1 cup of the peanut butter.
Spray the bottom of a serving dish. You can use a 9×13 for thinner Pretzel Peanut Butter Bars or an 8×11 for thicker bars.
Press the pretzel layer in your serving dish.
Combine the chocolate chips and remaining 1/4 cup of peanut butter in a microwave-safe bowl. Melt in 30-second intervals, stirring after each session until smooth. You can also melt this combination in a saucepan or double boiler.
Pour the chocolate layer over the pretzel later.
Chill in the refrigerator for 1 hour before cutting.
No-Bake Chocolate Pretzel Peanut Butter Square serving tips and notes:
Make these chocolate pretzel peanut butter squares ahead of time. They will store perfectly in the refrigerator covered for up to 5 days.
After these peanut butter dessert squares have chilled, cut them in serving-sized pieces and put them on a serving plate. Cover them and store them in the refrigerator until guests arrive.
Cut Chocolate Pretzel Peanut Butter Squares into serving-sized pieces and freeze them in an air-tight container for up to 3 months. You can take out just what you need or make them in advance for when you need them. Defrost them in the refrigerator or just set them out for a little while. You'll be prepared for unplanned parties or guests.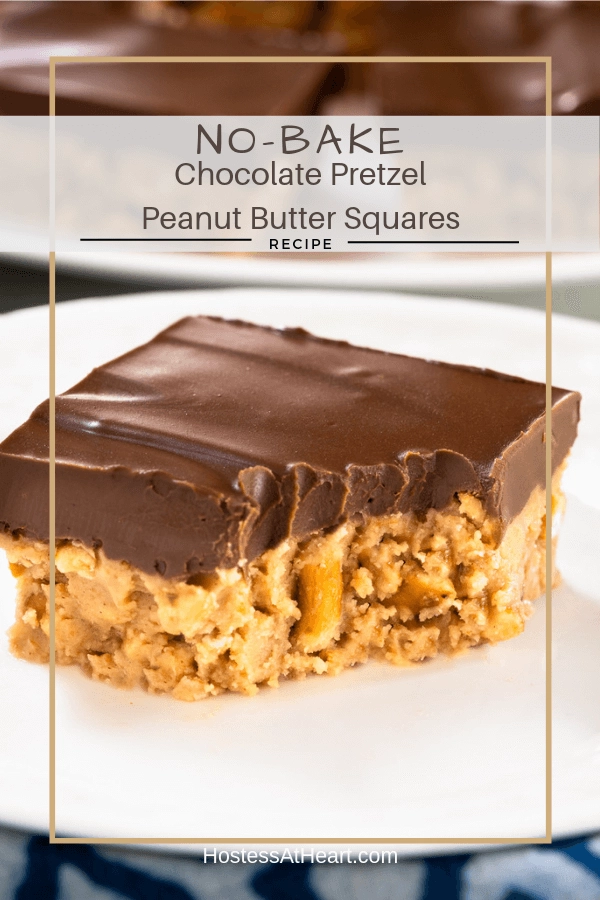 Variations ideas for Chocolate Pretzel Peanut Butter Bars
Before chilling the chocolate pretzel peanut butter bars, sprinkle the top with crushed pretzels, peanuts, or sprinkles!
Add mini chocolate chips or crushed nuts to the pretzel filling. Don't add so much that these bars won't stick together. If you do, add more peanut butter and powdered sugar.
Items you may need to make Chocolate Pretzel Peanut Butter Squares
Baking Dish – I used this baking dish for this recipe because it was a little smaller than my 9×13 which made my dessert a little thicker.
Silicone Spatulas – This pretty set has a flat side and a curved side to take on your toughest job. I love that they are all one piece and can withstand 500°F! Throw out those old chipped ones and treat yourself!
Don't forget to pin this recipe to your favorite board!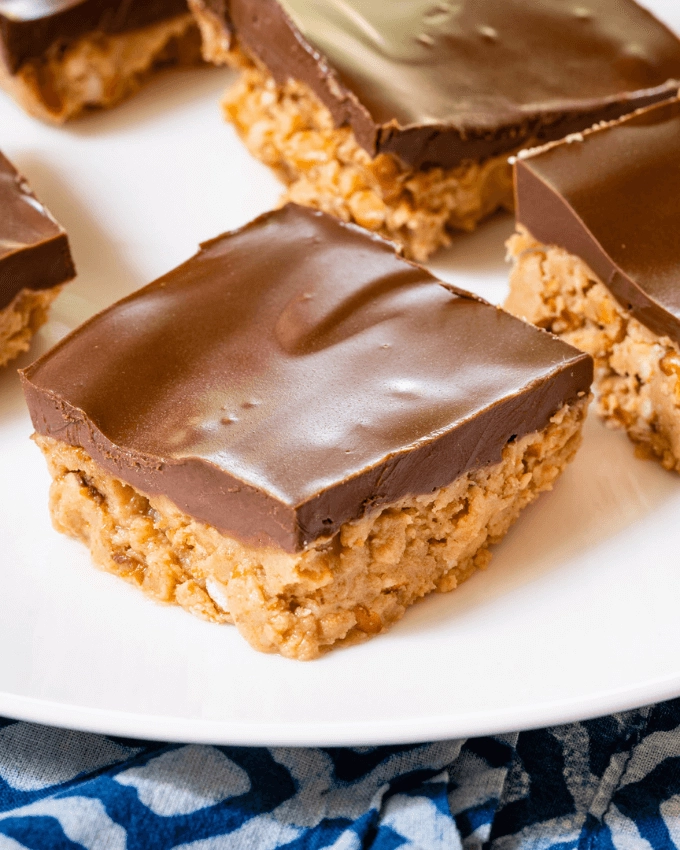 If you like this recipe, here are a few more you may love!
When it comes to attending parties and taking treats to work, I like to keep it simple. Simple doesn't mean any less delicious. It's just a time when I am not trying to bake the Mona Lisas' image into a cake (that really isn't on my bucket list).
What is your favorite go-to party recipe? Please share, you are my inspiration!