Whip together my decadent, triple chocolate Rocky Road Brownies for a mouthwatering treat your family will ask for over and over again. You'll all love this fudgy brownie topped with gooey marshmallows and rich chocolate with a cold glass of milk or the next day for an afternoon pick-me-up.
Making the Rocky Road Brownie Recipe is almost as easy as making a boxed brownie mix, but takes the flavor experience to a whole new level. I love a great brownie. If you're like me, you can check out these soft Buttermilk Brownies, Oreo Brownies that are just a chocolate overload, or our popular Fudgy Brownies. They're definitely drool-worthy for the chocolate lover.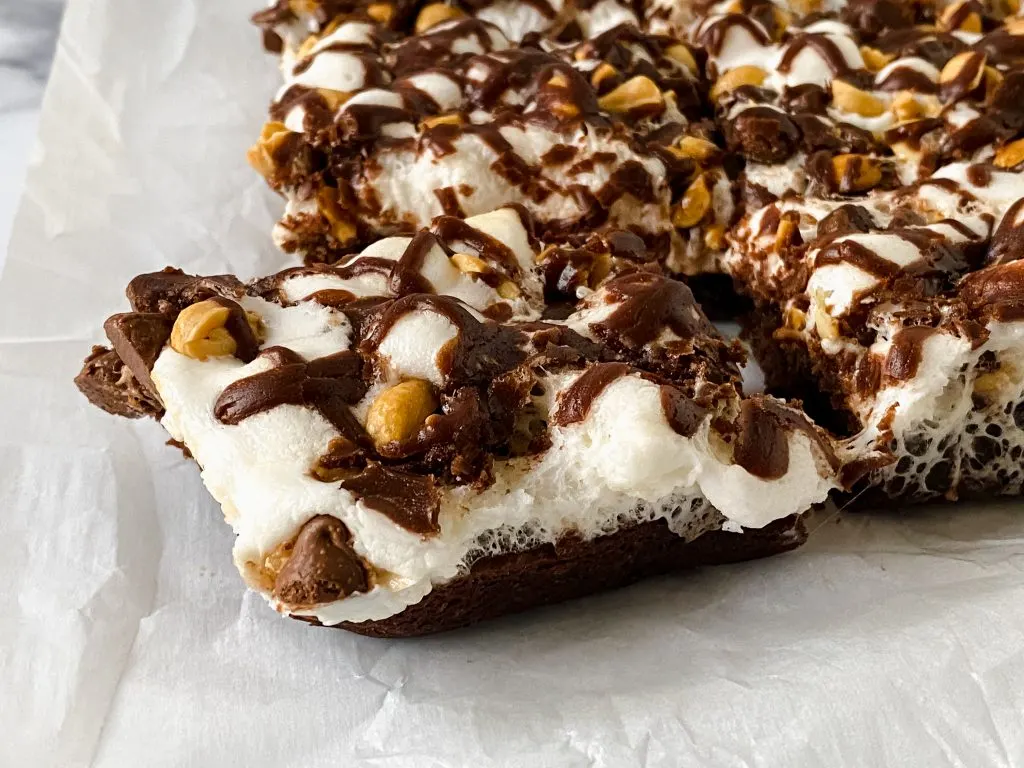 You're going to love this chocolate Rocky Road Brownie Recipe with rich cocoa powder. It's a simple one-bowl recipe that's quick and easy to put together.
How to Make Rocky Road Brownies
Preheat the oven and line an 8×8 square baking pan with parchment paper. We also spray the paper with nonstick cooking spray.
Whisk the dry ingredients together in a large bowl.
Then add the liquid ingredients.
Fold in the chocolate chips.
Pour the batter into the prepared pan and bake for 30 minutes.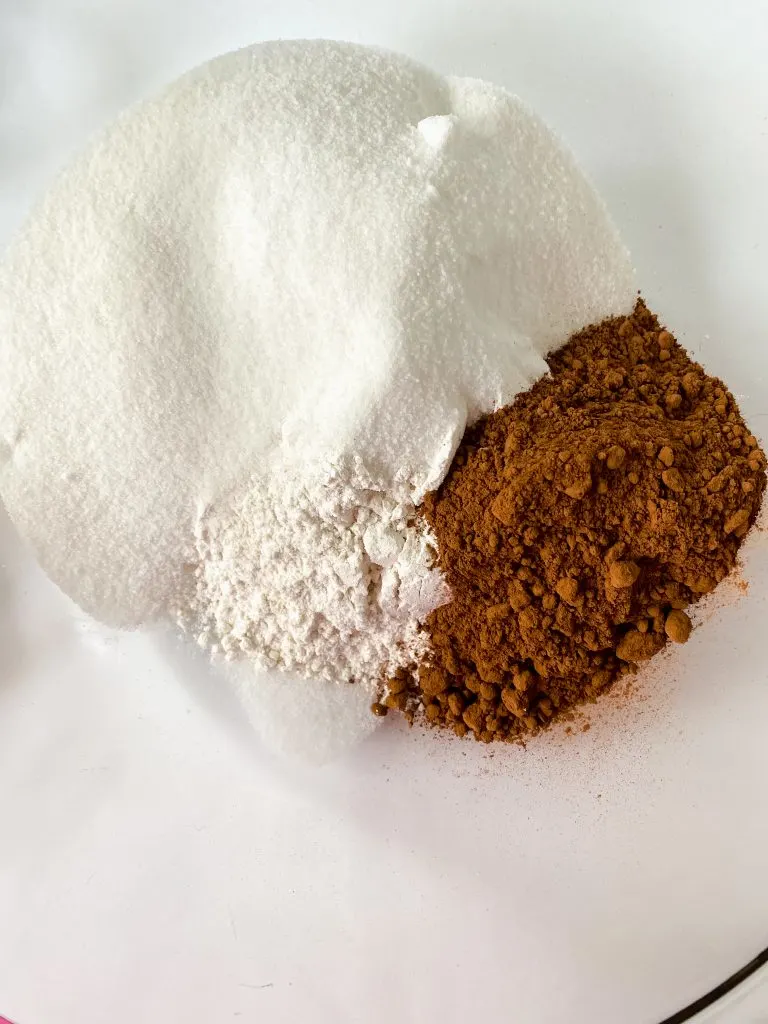 Remove the brownies from the oven and top with the Rocky Road topping, Bake for 5 more minutes.
Mix the chocolate drizzle ingredients together in a small bowl. Drizzle the chocolate mixture over the brownies using our tips below.
Cut the brownies. Make sure to see our tips for cutting the brownies!
Ingredients for the Rocky Road Brownie Recipe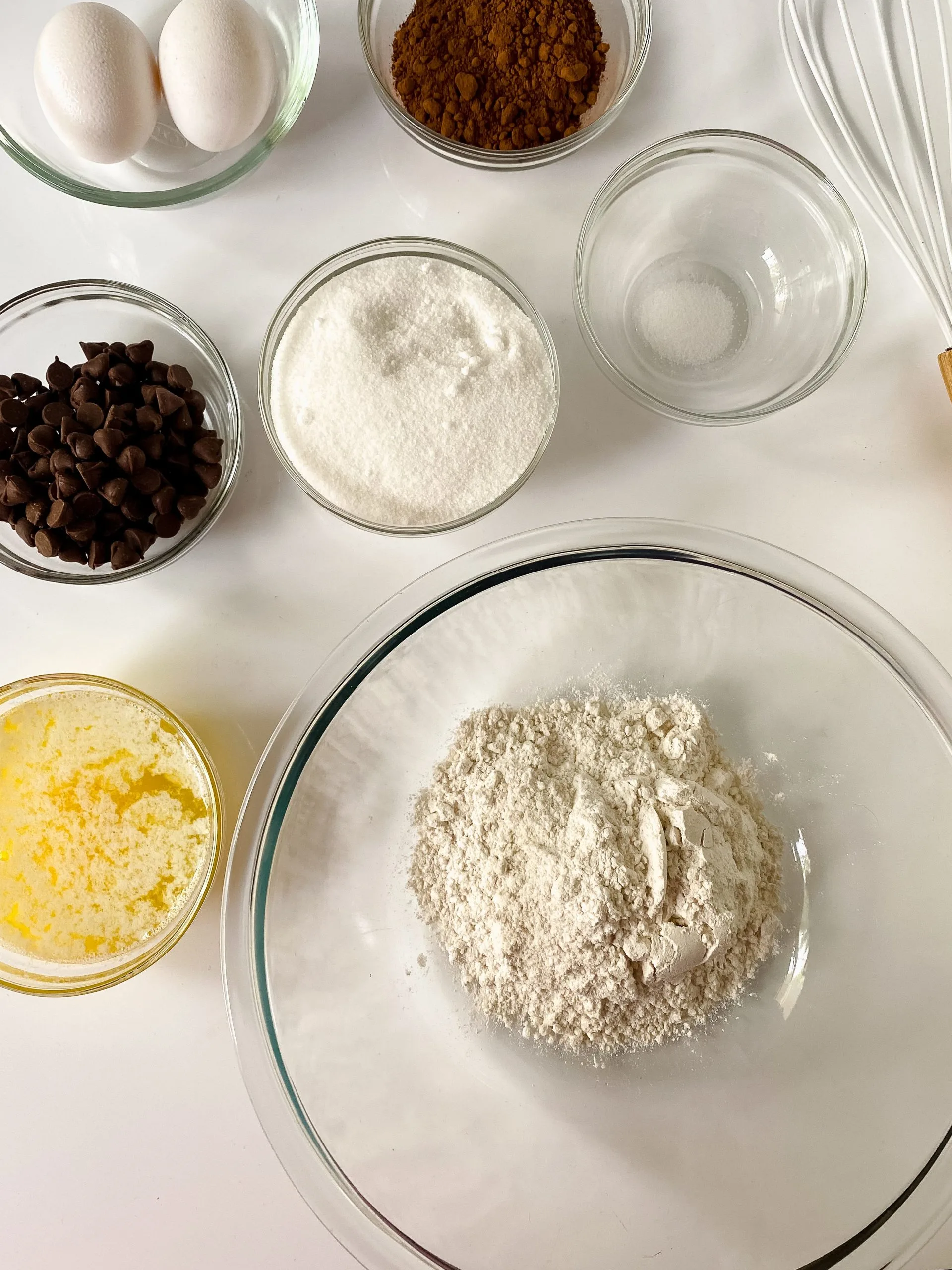 Brownie batter
Sugar. Granulated White sugar.
Unsweetened Cocoa Powder. Measured and then sifted.
Unsalted Butter. Melted.
Large Eggs.
Vanilla extract. The link will take you to my favorite!
All-Purpose Flour. Spoon & level technique.
Salt. Eliminate this salt if you are using salted butter.
Chocolate chips. Dark chocolate chips for this step.
Rocky Road Brownies Topping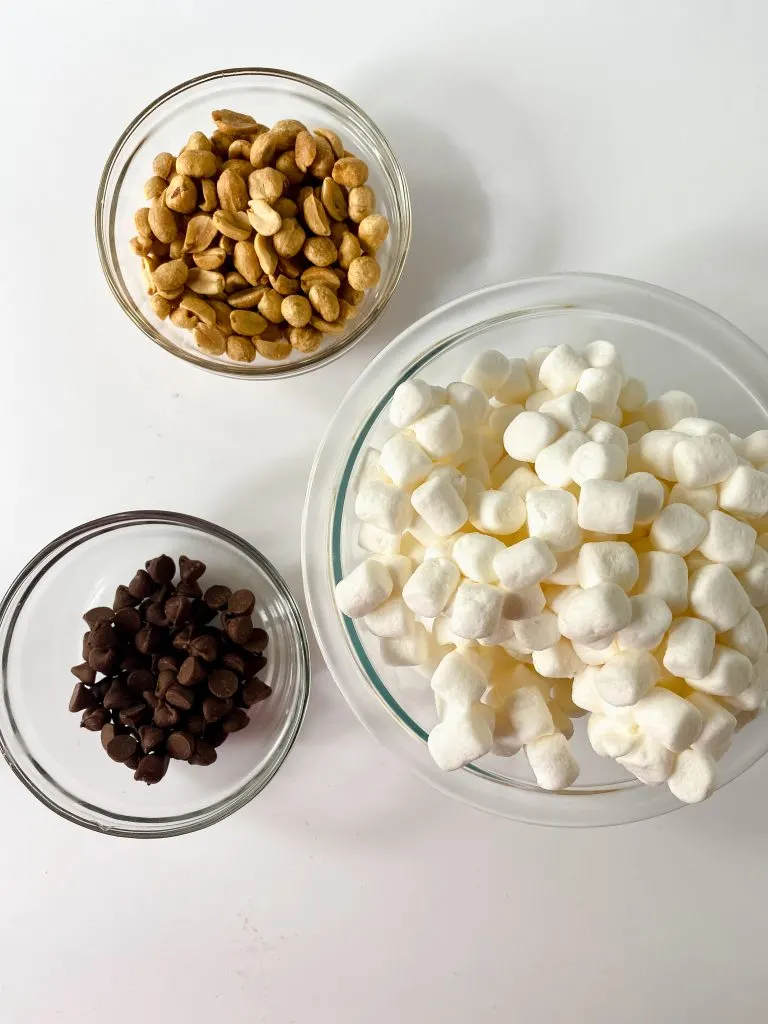 Mini Marshmallows. You'll need about 1/2 of a ten ounce bag.
Peanuts. Or your favorite cruncy nut. Chopped.
Semi-Sweet Chocolate Chips. You can use a blend of types!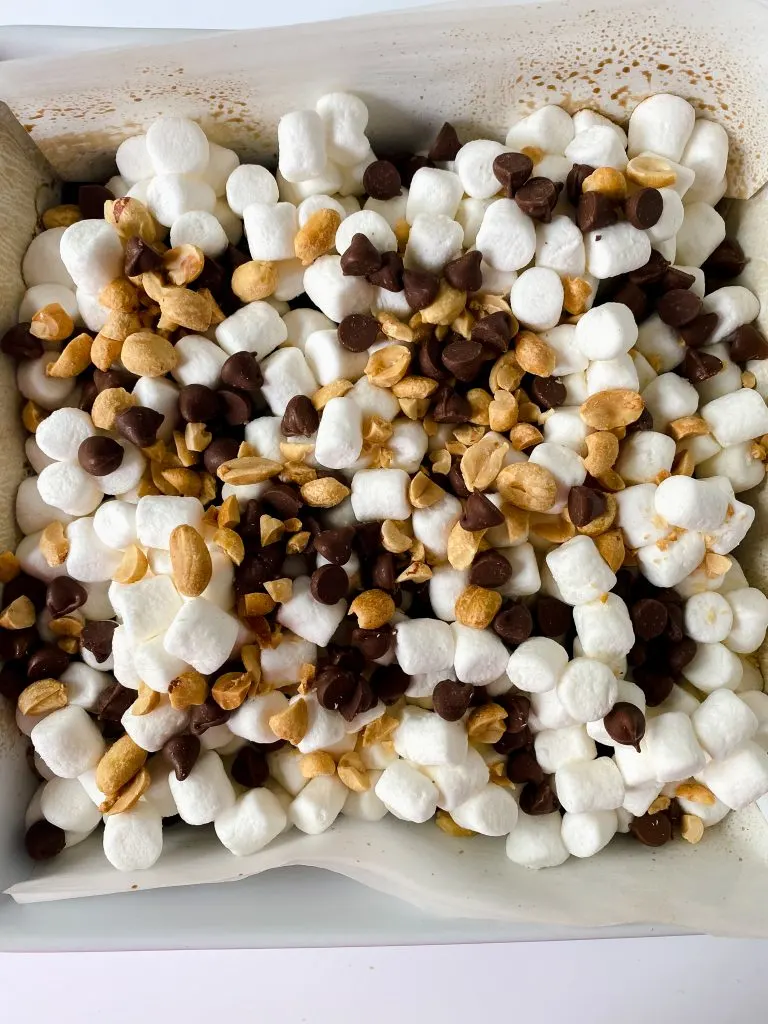 Chocolate Drizzle
Butter. Melted and slightly cooled.
Powdered Sugar.
Unsweetened Cocoa Powder.
Whipping Cream. You can substitute with half and half or milk.
Variations on the Triple Chocolate Rocky Road Brownie Recipe
1. We use two kinds of chocolate chips in this recipe. You can use a mix or just your favorite one.
2. I'm obsessed with black cocoa but you can any unsweetened cocoa powder.
3. Almonds, peanuts, walnuts, or pecans can be used.
4. This recipe makes an 8×8 pan. Double the ingredients for a 9 x 13 pan.
FAQ
What is Rocky Road?
One of several stories is that Rocky Road was originated as a chocolate ice cream with nuts and marshmallows in 1929. The Company chose the name to give people something to smile about in the midst of the Great Depression. It was said to mimic the road that travelers took to reach the goldfields.
Can I make Rocky Road Brownies from a box mix?
Yes! You absolutely can use a boxed brownie mix, baked according to packaged instructions. Finish off with topping and drizzle.
How to apply the chocolate drizzle.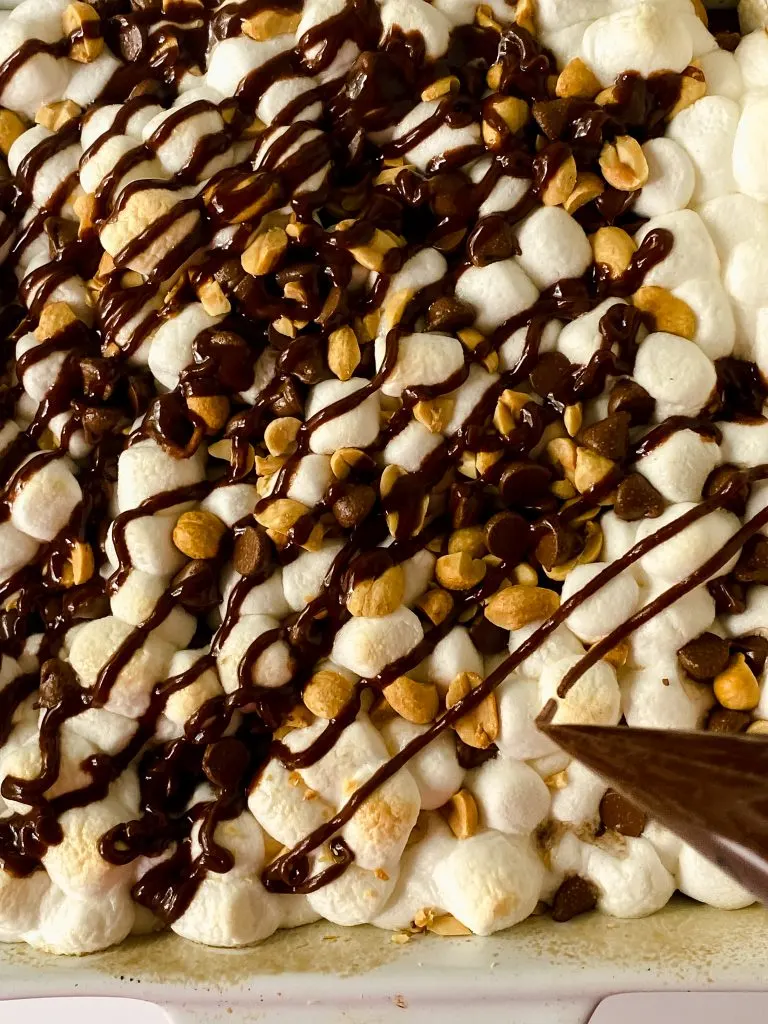 I used a piping bag with the tip cut off and then squeezed the drizzle over the brownies vertically and horizontally. You could also use a reclosable plastic bag with the corner snipped off or dip a fork into the chocolate drizzle and whip it horizontally and vertically across the top of the brownies.
How do you cut Rocky Road Brownies?
Brownies are easiest to cut when completely cooled. We recommend running a sharp knife through hot water and then wiping it dry. Make slices. Repeat running the knife through the hot water, drying it off, and making your cut.
Tips to Make the Best Rocky Road Brownies
1. Almonds, peanuts, walnuts, or pecans can be used as nuts. Lightly roasting them will add depth of flavor.
2. If in a rush use a boxed brownie mix, baked according to packaged instructions. Finish off with topping and drizzle.
3. Use your favorite chocolate chips for this recipe. I used a mixture of dark chocolate chips and semi-sweet chocolate chips when I made our Rocky Road Brownie Recipe, but milk chocolate chips or gluten-free chips, etc will also work.
Pin this Delicious Rocky Road Brownie Recipe!
Storing Leftover Brownies
If you have leftovers, you can keep them in an airtight container at room temperature for a couple of days. I've never frozen these brownies. It never lasted that long!
Equipment You Will Need
Other Yummy Treats to Try
Don't forget to stop back and let me know how your Rocky Road Brownies turned out.
This recipe is inspired by National Nut Day, October 22. Just look at all of these amazing nut-inspired recipes!
Get More Nutty Recipes: