If you've never bitten into warm Oatmeal Scotchies, you are missing out on one of the best cookies. Oatmeal Scotchies Cookies are John's favorite, so we've made and tested this recipe to perfection!
Cookies come together so easily and are such a comforting reminder of home and love and warm hugs. It's the perfect afternoon treat or midnight snack! If you have kids or grandkids in the house, they will love helping you make this simple and delicious Oatmeal Scotchies Cookies Recipe.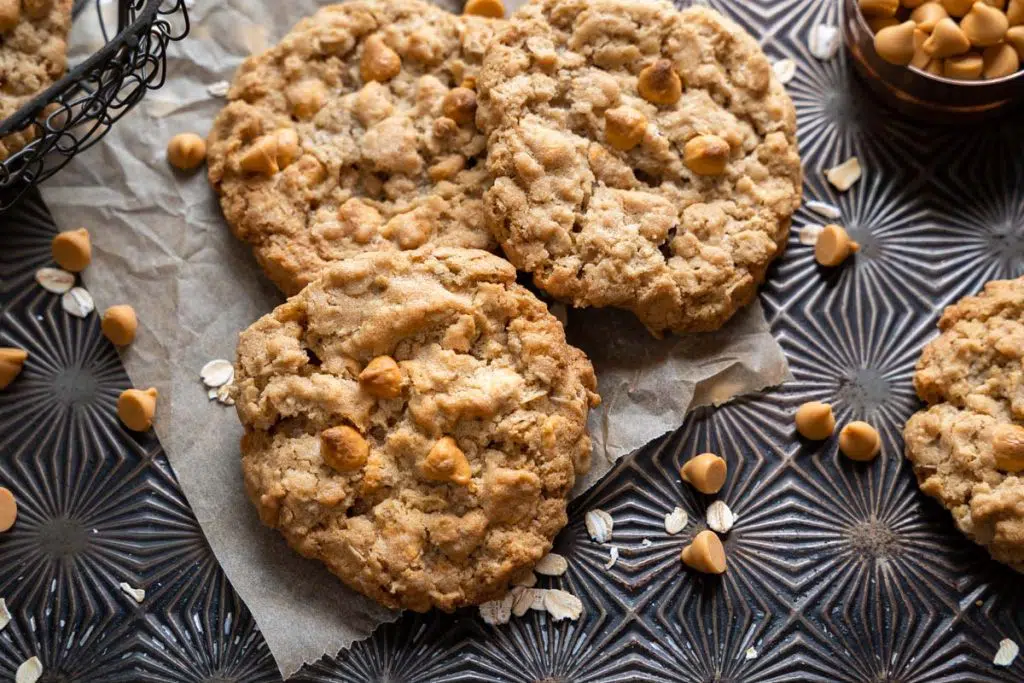 HOW TO MAKE OATMEAL SCOTCHIES RECIPE
Our time-tested method for making cookies is pretty standardized for all cookie recipes.
Preheat your oven first, so that it's ready to go and your cookies are evenly baked to perfection. Line your baking sheets with parchment paper or a Silpat baking mat to save on that washing up afterward!
Beat your eggs lightly in a small bowl so that they are ready to go. Then in your large mixing bowl, cream the sugars and butter with your electric mixer. This takes about three to five minutes until they are perfectly creamy. Mix the egg into this creamed mixture.
In a separate mixing bowl, mix together your dry ingredients minus the oatmeal a whisk or fork. Then slowly add the dry ingredients to your creamed ingredients. Once they are fully incorporated together, fold in the butterscotch chips and oatmeal.
Use a three-inch cookie scoop to fill your baking sheets with cookies, about twelve to a sheet. Bake for ten to twelve minutes until they are just barely brown on the edges. They may not look finished in the middle but pull them out anyway. Cool them on a cooling rack for five to six minutes to give them time to set up before your family devours them.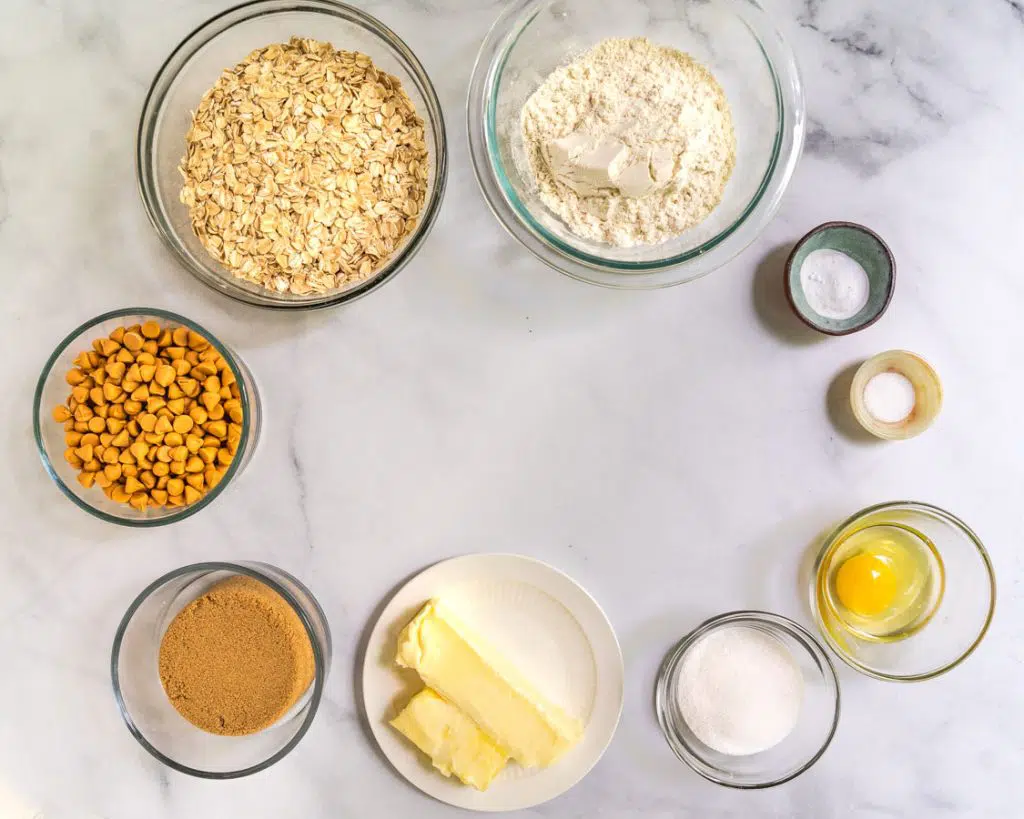 INGREDIENTS FOR THE OATMEAL SCOTCHIES COOKIES RECIPE
Butter. You will want to use unsalted. We use the real stuff, no substitutes. If you use salted butter, reduce the salt in the recipe to 1/4 teaspoon.
Brown Sugar. We use dark brown but light brown sugar is also fine.
White Sugar. Regular granulated sugar.
Baking Soda. Make sure yours is fresh. Once it has been opened for six months, it will start to have a funky taste or stop working in recipes.
All-Purpose Flour. Any brand will work great for this recipe. You can also sub a gluten-free one-for-one flour in this Oatmeal Scotchies Recipe if needed.
A Large Egg. Lightly beaten.
Butterscotch Morsels. You can find these wherever chocolate chips are sold.
Oatmeal. Old-Fashioned Oats work best.
Salt. Regular salt in the round container works great.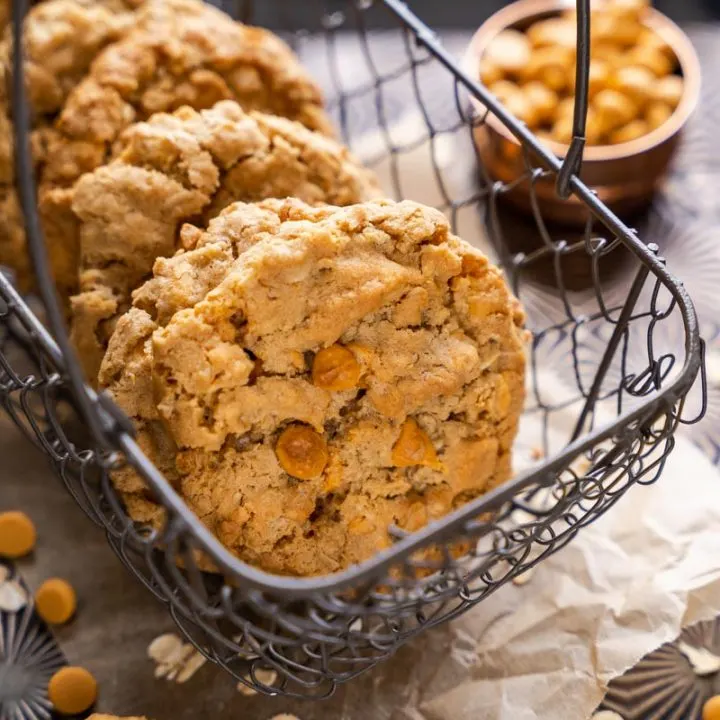 FAQ
WHAT IS THE DIFFERENCE BETWEEN OATMEAL BUTTERSCOTCH COOKIES AND OATMEAL SCOTCHIES?
They're synonymous. Oatmeal Scotchies is a buttery cookie that's loaded with creamy butterscotch chips.
CAN I USE QUICK OATS INSTEAD OF OLD FASHIONED OATS?
We will substitute old-fashioned oats for quick oats but rarely the other way around. Quick-cooking oats and old-fashioned oats are interchangeable. However, they do have an effect on the texture and moisture of the cookie. The old-fashioned oats used in this recipe guarantee a chewy cookie that's tender and moist. Quick oats can act as flour and dry the cookie.
CAN I USE SHORTENING INSTEAD OF BUTTER?
You can substitute butter for shortening. However, cookies made with butter tend to spread out a little more and are a little crispier. We wanted our cookies to be soft and tender without being crispy just like grandmother made them. If you choose to use shortening, you can do so interchangeably. We recommend butter-flavored shortening. For more info read about using butter instead of shortening here.
DO I HAVE TO CHILL THIS DOUGH?
It is definitely not required to chill the dough for Oatmeal Scotchies. However, this dough will keep in the refrigerator for up to 72 hours in an airtight container, so feel free to make it ahead of time!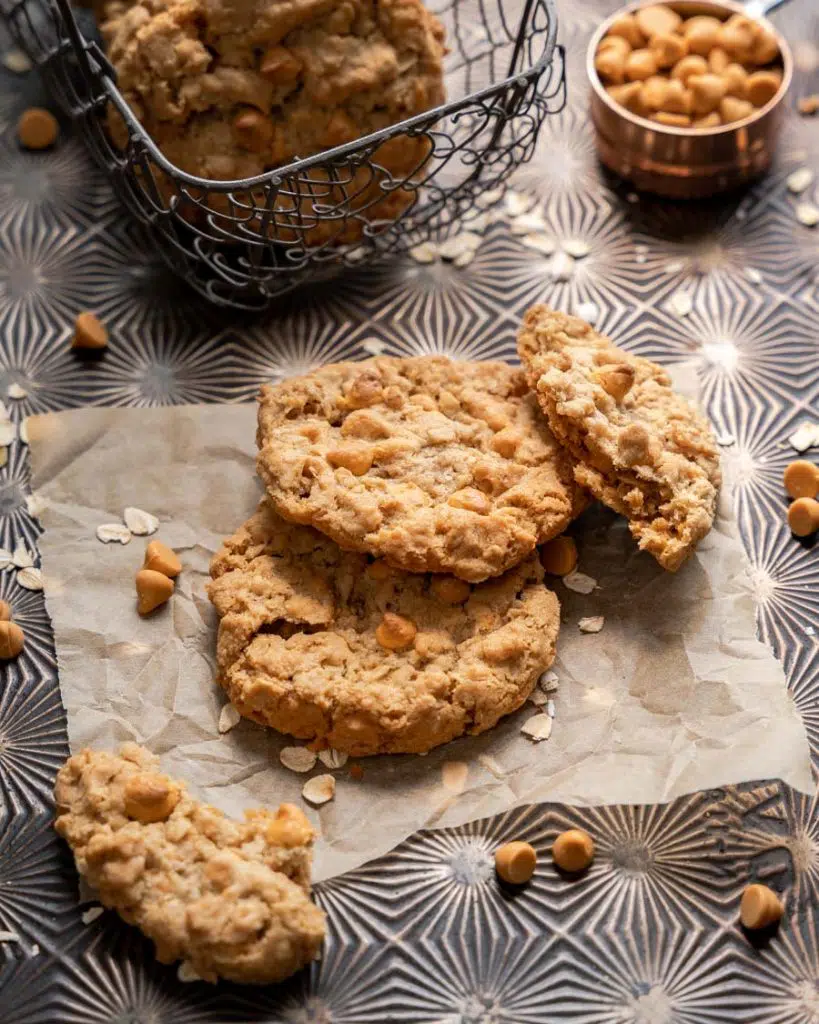 TIPS FOR THE PERFECT OATMEAL SCOTCHIES
We use a 3-tablespoon scoop for large cookies. You can make smaller cookies. The baking time may be reduced.
Don't be tempted to overbake your cookies. Oatmeal Butterscotch Cookies are so tricky because they won't quite look done in the middle when your timer goes off. If you pre-heated your oven, you can trust that timer and pull your cookies out. They will continue baking as they set up and become the perfectly chewy cookie you've been craving. If you leave them in just a minute or two too long, they will become crispy and crunchy and not nearly as good.
Before baking your cookies, press two or three butterscotch morsels on top of each cookie. We always want the cookie with the most chips. This levels out the playing field.
I prefer to use an electric stand mixer when making cookies. This is because it's a powerhouse. The cookie dough is thick and my mixer can handle it. You can definitely use a hand mixer or mix them by hand too.
STORING LEFTOVERS
Place your leftovers in a plastic zipper baggy or airtight container to keep them fresh and chewy. You can also freeze them for several months and pull them out to thaw as needed.
For fast cookies on busy school nights, freeze the uncooked dough in cookie-sized portions on a flat tray, and then place the frozen cookie dough portions in a freezer-quality zipper bag. Pull out just what you need and bake directly from frozen. Add a couple of minutes of baking time for frozen cookies and check them often.
MORE COOKIES TO TRY
Old Fashioned Oatmeal Cookies like Grandma used to make. Just simple, chewy, and delicious.
Or try these Oatmeal Raisin Cookies like you've never had before. The plumped-up raisins take our cookies over the top.
For a chocolate fix, make these Easy Chocolate Chip Oatmeal Cookies. The perfect blend of chewy and soft and delicious chocolate.
This Apple Pie Oatmeal Cookie is definitely a delicious twist on an oatmeal cookie and combines our favorite desserts!
We love a great cookie, and you can find all of our cookie recipes here!