Nothing compares to a warm cookie fresh from the oven. When you make this Oatmeal Chocolate Chip Cookie Recipe your whole family will love these soft and chewy cookies with crispy edges.
Make fresh cookies as an after-school snack, an after-dinner treat, or any time you want a little something sweet. If you have kids still at home, enjoy making cookies together. You will be teaching them life skills and they will love every minute of it.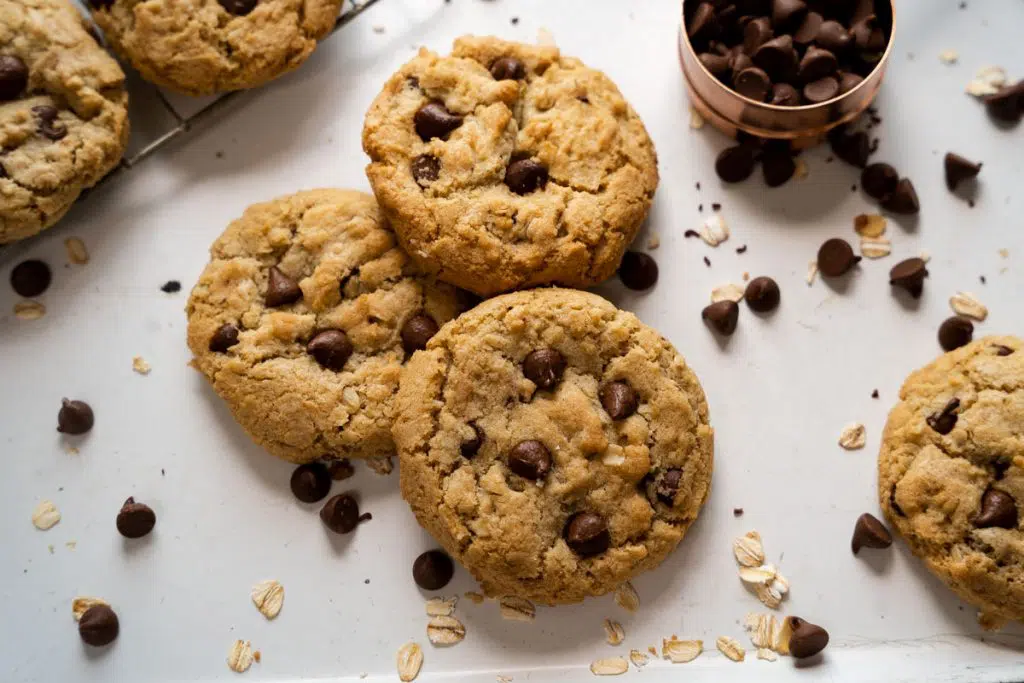 How to make Oatmeal Chocolate Chip Cookies
The best part about making cookies is how simple it is. Follow these instructions to have the perfect cookie every time.
Do not want to skip preheating the oven when you are making cookies. They are in the oven for such a short amount of time, you want the oven at the optimal temperature before you start. Don't leave the oven open for an extended amount of time either.
Step 1: Cream the sugar with the fat. I use an electric stand mixer fitted with the paddle attachment and will cream the ingredients together for 3 to 5 minutes or until they're light and fluffy. I explain this further in our Basic Techniques information.
Step 2: In a separate bowl, lightly beat the eggs. Then add the eggs and vanilla to the creamed mixture and blend it briefly.
Step 3: Whisk the dry ingredients together separately, and then add the dry mixture to the creamed mixture.
Step 4: Finally, add the chocolate chips and oatmeal gently, either by hand or with the mixer on low.

Step: 5 For this recipe, I like to use a three-tablespoon cookie scoop, but you can definitely make smaller cookies. You may have to reduce the baking time. Bake the cookies until just lightly browned on the edges. You don't want to overbake the chocolate chip oatmeal cookies, these are supposed to be soft and chewy.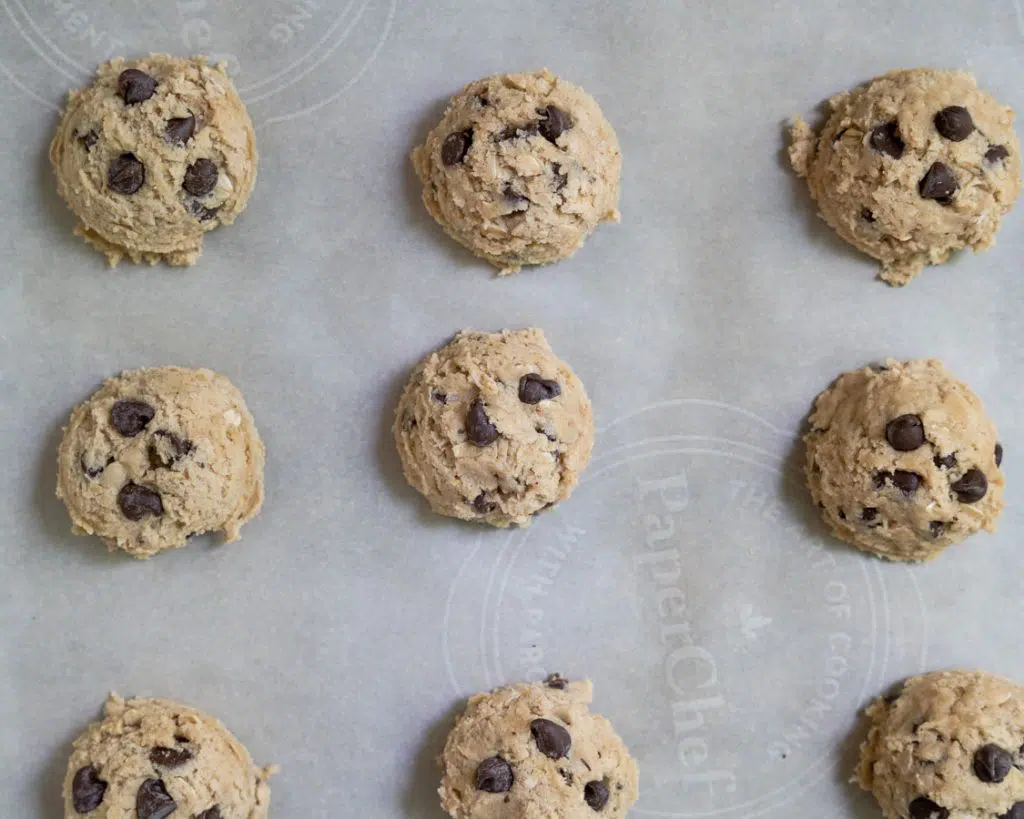 Ingredients for the Best Chocolate Chip Oatmeal Cookies
Here's what you will need to make these amazing cookies.
Butter. The real stuff! There isn't any additional salt in this recipe so you can use salted or unsalted butter.
Sugar.
Brown Sugar. We use dark but the light is fine.
Eggs. Large eggs lightly beaten.
Vanilla Extract.
Baking Soda.
All-Purpose Flour.
Cinnamon.
Quick Oats. Old-fashioned oats can work too.
Semi-sweet Chocolate Chips.
Variations on the Best Best Chocolate Chip Oatmeal Cookie Recipe
You can add variety to this favorite cookie by mixing in 1/2 cup of any of the following.
Add nuts like walnuts or pecans.
Use chocolate chunks instead of chips.
Add white chocolate chips.
Add raisins. – If you want oatmeal raisin cookies these are the best!
Use dried cranberries (craisins).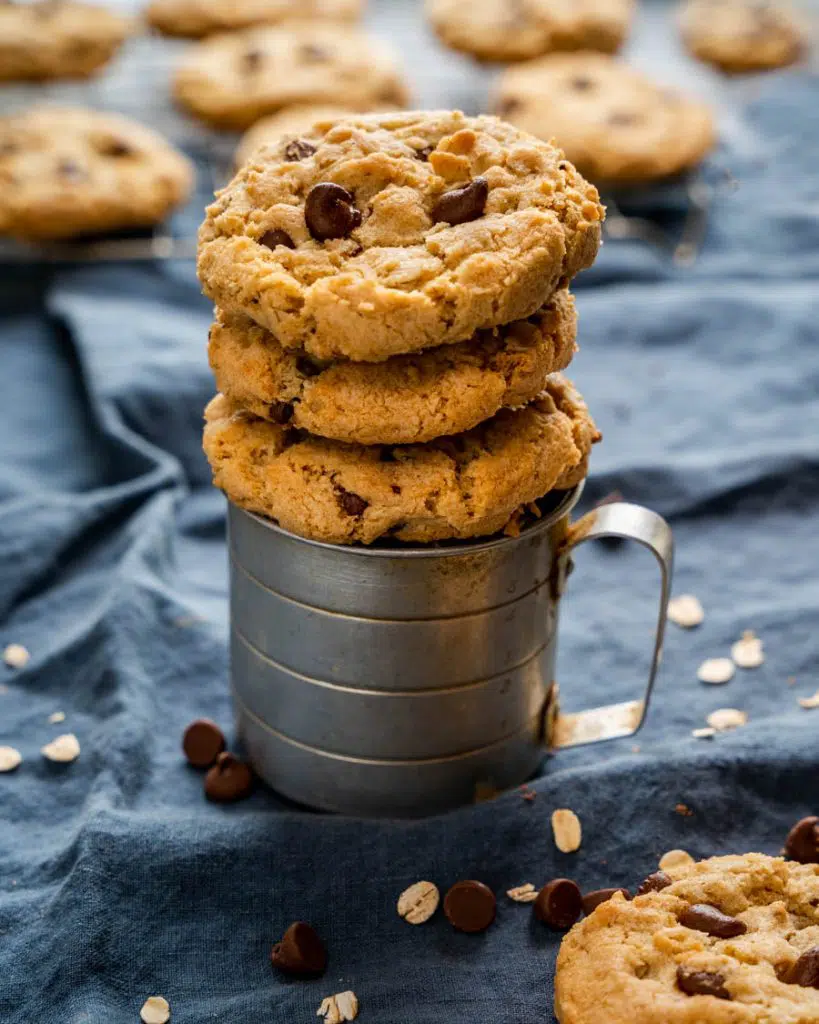 FAQ
Can I use old-fashioned oats instead of quick oats in cookies?
We will substitute old-fashioned oats for quick oats but rarely the other way around. Quick-cooking oats and old-fashioned oats are interchangeable. However, they do have an effect on the texture and moisture of the cookie. We used quick oats in this recipe. Old-Fashioned oats will work as well and create a chewier cookie.
Why are my chocolate chip oatmeal cookies flat?
So I didn't actually have to chill these cookies, but if your cookies are too flat it is possible that the dough was too warm when you started. This can be affected by climate, warm hands, or warm ingredients. If you find that your cookies are consistently flat try sticking the dough in the refrigerator for about thirty minutes.
You also want to make sure that your baking soda is fresh. It can lose its' potency.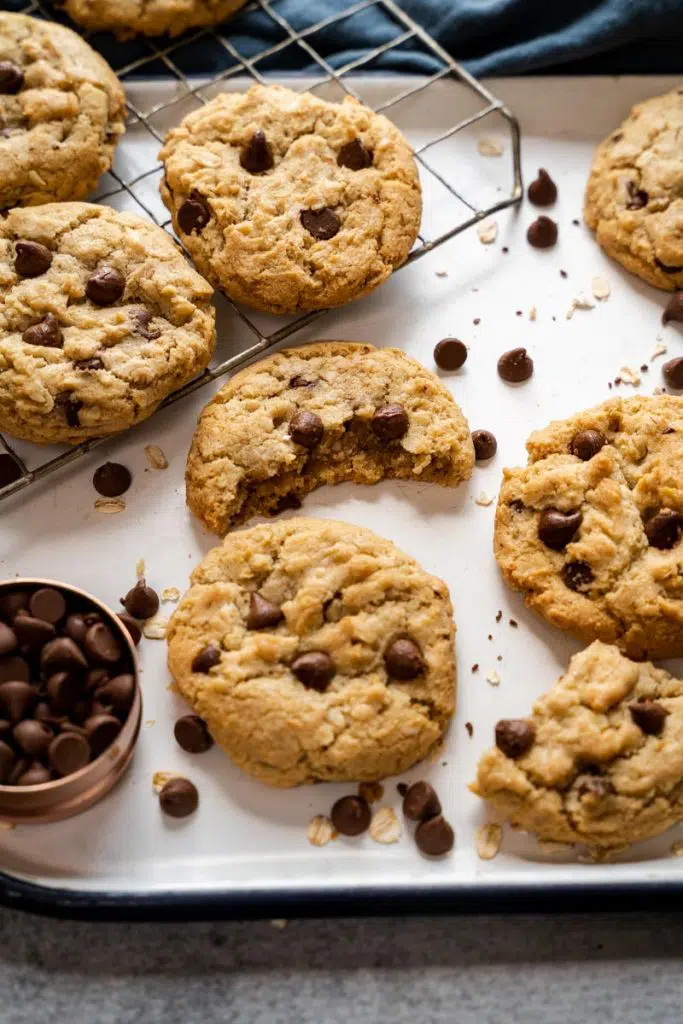 Tips for the Best Chocolate Chip Oatmeal Cookies
It's super easy to make this recipe, but there are few things to remember to make sure your cookies are the best of the best.
Don't over mix the dough. Over mixing causes cookies to be tough and dry.
After you've put your cookie dough on a baking sheet, press a few chocolate chips into the top. Everyone wants chocolate chips and these cookies will definitely satisfy that craving.
Do not overbake cookies. It is incredibly tempting to walk away from cookies in the oven without a timer. It is even more tempting to think they aren't quite finished when the timer goes off. I'm likely to get sidetracked so I always set a timer 1/2 way through baking so I can turn the baking sheet and then set the timer for the rest of the time as soon as I close the oven door.
Pull them out as soon as the edges start to brown or your cookies will not be soft and chewy. The center of oatmeal cookies will never look quite done when you pull them out, but they will continue to bake and firm up in the middle as they sit on your cooling rack.
We let our cookies sit on the hot baking sheet for 5 minutes and then move them to the cooling rack to finish cooling. You can also devour them at this point. I know this from experience!
Oatmeal does get stale or go bad eventually. Keep your opened oatmeal in an airtight plastic container. The round cylinder containers do not hold up well to storage and continued use once opened. Try to use oatmeal within a few months of opening the container.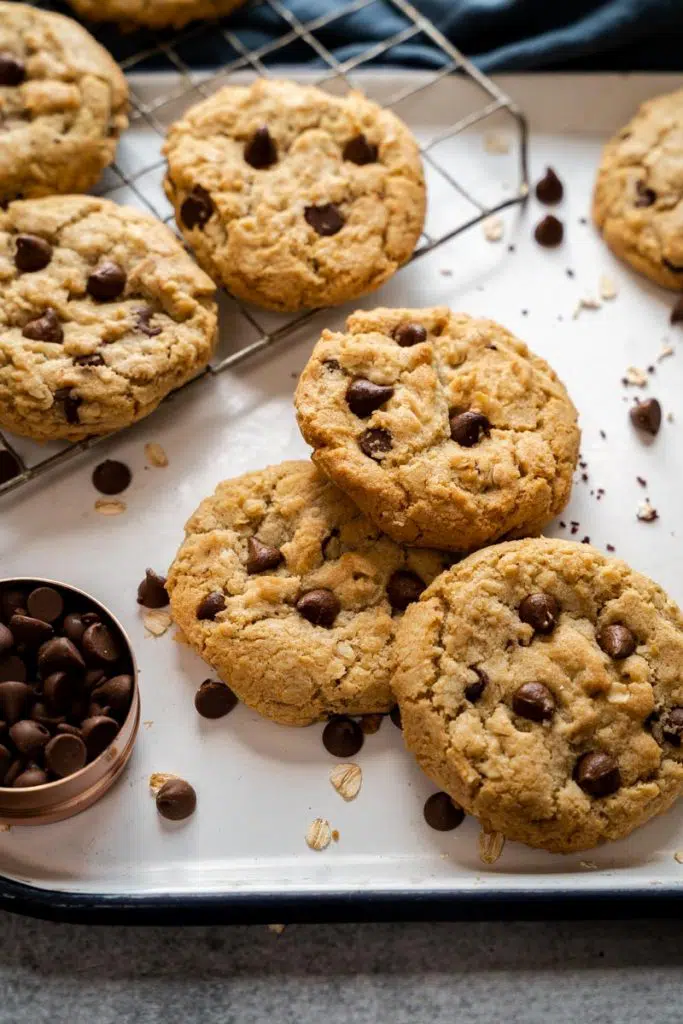 How to Store Cookies
Your baked cookies can be stored in a plastic zipper baggy for several days. An airtight container will keep them fresh even longer. These chocolate chip oatmeal cookies aren't likely to last long enough to go stale.
Did you know you can actually store the uncooked dough? This dough can be chilled for several days in the refrigerator as long as the container is airtight. You can bake the cookies directly from the refrigerator and may have to lengthen the bake time ever so slightly.
Unbaked cookie dough can also be frozen. I recommend creating cookie-sized portions, freezing them on a sheet pan that fits in your freezer, and then removing them from the pan and transferring them to a freezer-safe plastic zipper bag or airtight container for long-term storage.
You can then bake the cookies from frozen, and simply add a couple of minutes to the baking time. This works like a charm to pre-make cookies in bulk and then bake only as much as you need.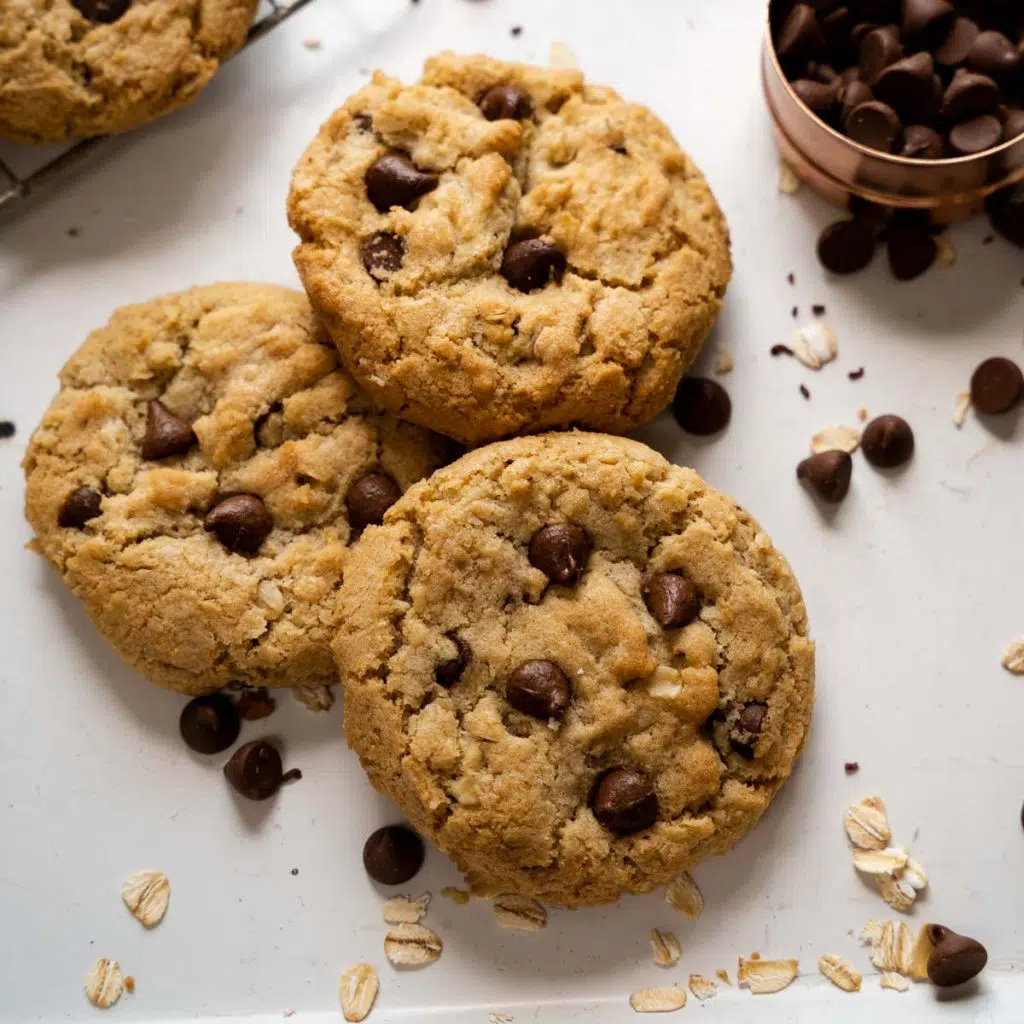 More Recipes to Love
Sourdough Chocolate Chip Cookies
DoubleTree Chocolate Chip Cookie Recipe – Copycat
Scotchies – Butterscotch Oatmeal Cookies
Old-Fashioned Oatmeal Raisin Cookies
We love a great cookie, and you can find all of our cookie recipes here!
Related recipes