The first time we made this sourdough chocolate chip cookies recipe we were pleasantly surprised by the moist cake-like middle, slightly crispy outside, and delightful cookie flavor. This recipe is the perfect way to use up your sourdough discard and treat your family.
Why Bake With Sourdough Discard
Every time you feed your sourdough starter, you discard most of it before adding fresh flour and water. The starter that you remove before you feed it is called sourdough discard. This keeps your sourdough starter fresh, healthy, and ready to use.
However, there's absolutely nothing wrong with the discarded portion, so you can put it to good use in other baking such as this sourdough chocolate chip cookies recipe!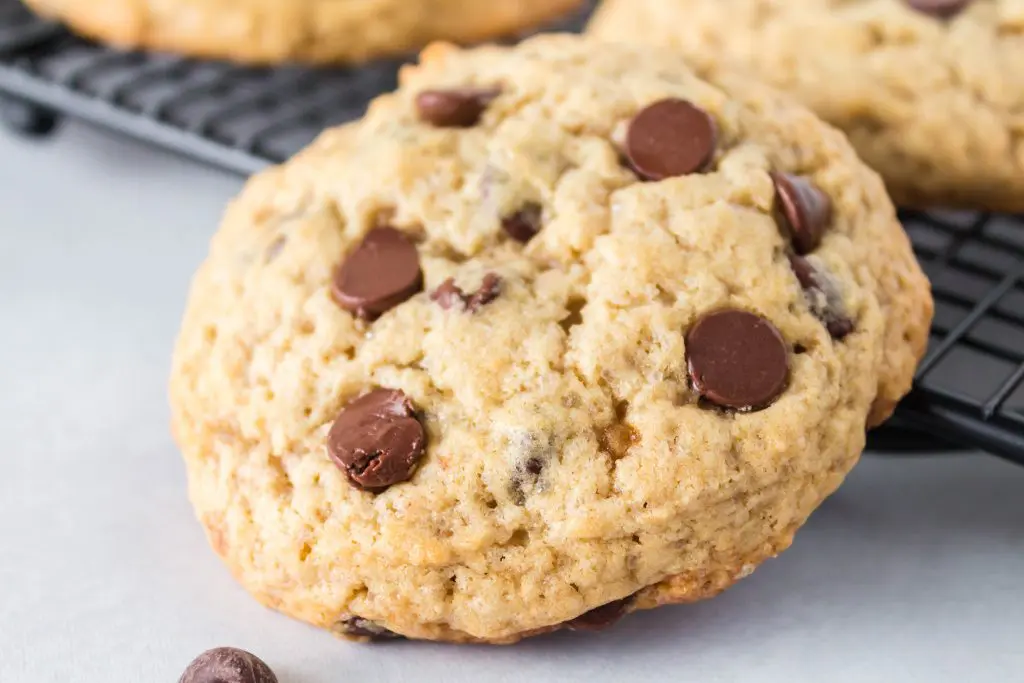 In addition to preventing waste, your Sourdough discard recipes will benefit from the extra flavor and moisture provided by this ingredient.
What are sourdough chocolate chip cookies like?
When we first made these cookies, we had no idea what to expect. We were concerned that our sourdough discard chocolate chip cookies would taste sour. We certainly did not want our cookies to taste like our sourdough bread!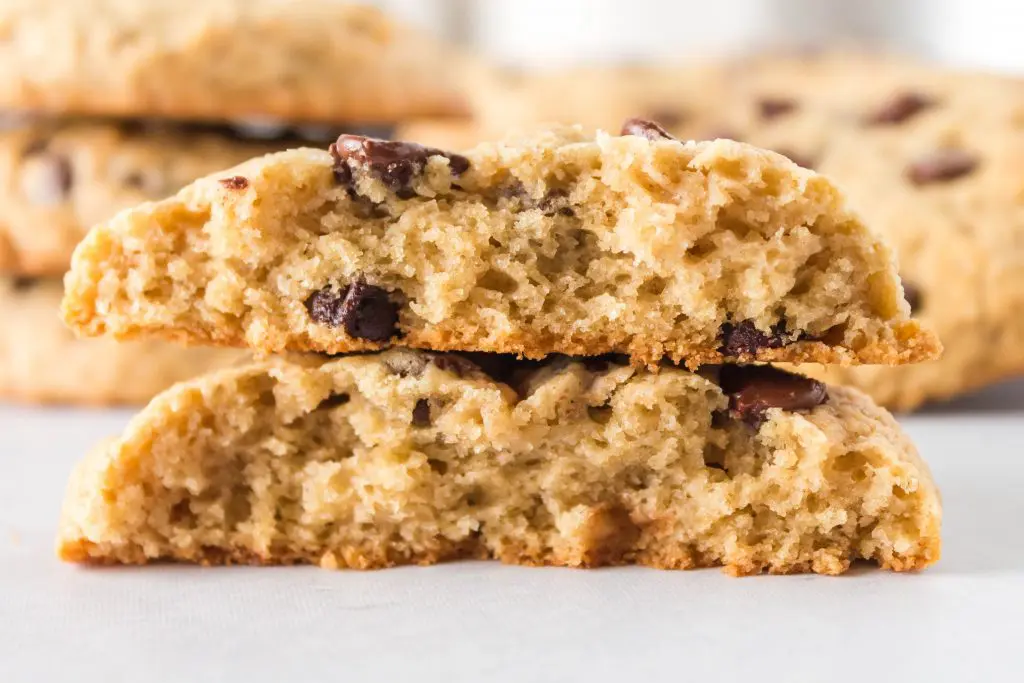 So when they came out of the oven perfectly moist, flavorful, and delicious we were both relieved and a little surprised that the "sour" in the sourdough starter discard basically disappeared.
This cookie is like no other we have ever tasted. The consistency is soft and tender with a nice rise and tastes like a delicious chocolate chip cookie. The middle is cakey and soft. The edge, where it is a little bit more golden, has this perfect texture of a crispier cookie.
Ingredients for our Sourdough Chocolate Chip Cookies Recipe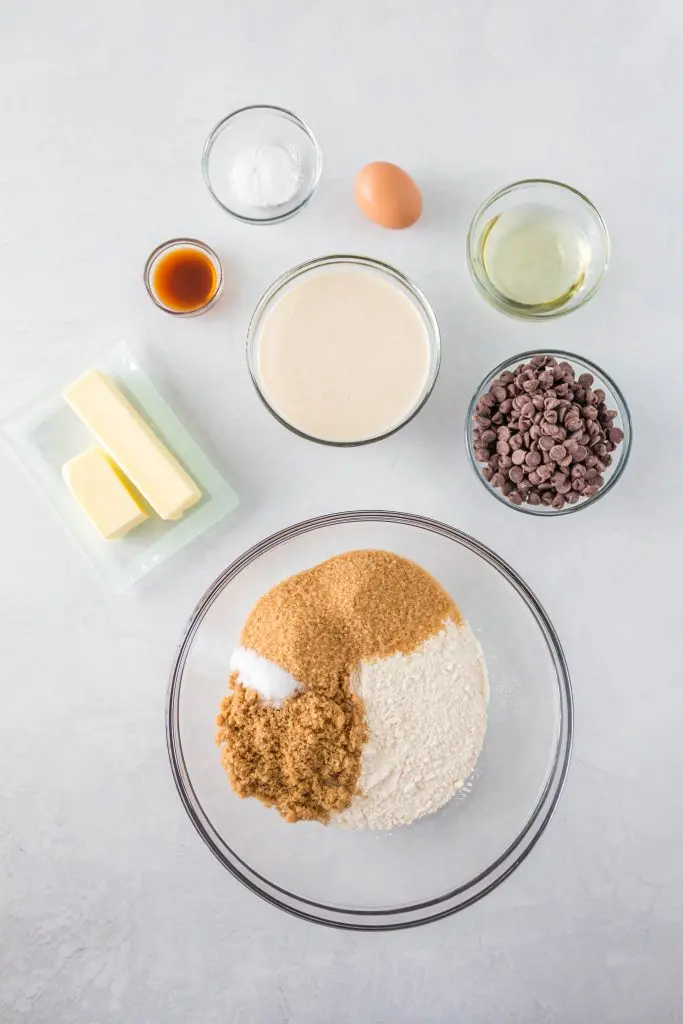 These cookies are easy to bake and fun to eat! Plus it just feels right to know you are preventing food waste. Make extra and share with friends! See the recipe card below for exact amounts. Make sure to print it for your recipe box!
Butter – I always use unsalted. If you use salted omit the salt.
Sugar – White granulated sugar. You can substitute with an equal amount of raw sugar.
Brown Sugar – I like dark brown but the light brown sugar is just fine.
Egg – Grade A large is what I use for consistency.
Oil – We used canola but any neutral tasting oil will work.
Vanilla – I highly recommend real vanilla extract and not imitation vanilla.

If you use imitation it will not affect the outcome of this cookie, however.

Sourdough Discard (unfed starter).
Flour – All-purpose flour
Salt – We like fine sea salt but kosher or table salt will work too.
Baking Soda – Make sure your soda is fresh! Baking soda absorbs odors and loses its potency over time, so replace your box often.
Chocolate Chips – We tend to use 60% cocoa but you can use semi-sweet or milk chocolate too.
How do you make Sourdough Chocolate Chip Cookies?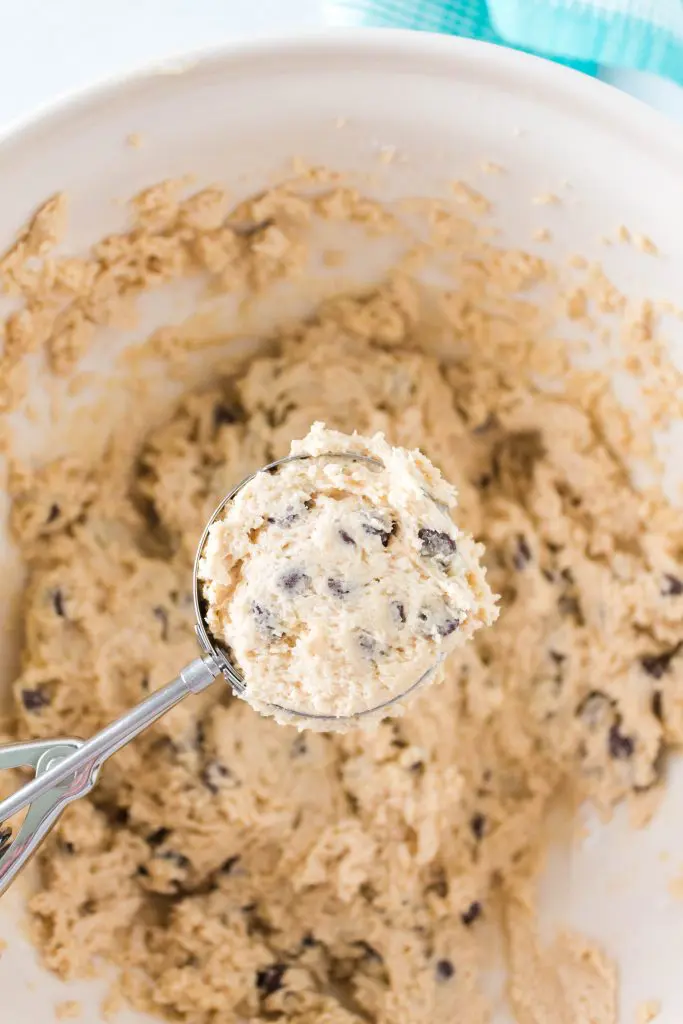 Preheat the oven to 350-degree F before you get started so that your oven is nice and hot when the cookies are ready to bake.
Line a cookie sheet with parchment paper. It saves so much clean-up time! It also removes any issues you could have by baking on a light or dark-colored baking sheet.
In a large bowl, with a whisk or hand mixer, mix butter, sugars, egg, and oil until light and fluffy.
Add sourdough starter and vanilla extract. Mix until well combined.
Combine your dry ingredients: flours, salt, and baking soda in a separate bowl and whisk to combine.
Add the dry ingredients to the wet ingredients and mix until all ingredients are well incorporated (no more dry flour), but don't over mix.
Fold in the chocolate chips.
Rest the dough in the fridge for 30 minutes.
With a cookie scoop, scoop balls of dough into a pan. Space them as they will spread.
Cook in preheated oven for 350-degree F for 12-14 minutes. Until the edge is slightly brown.
Rest on the pan for 2 to 3 minutes before transferring onto a cooling rack.
If baking scares or confuses you, check out or Baking Basics Techniques, Tools, and Ingredients article.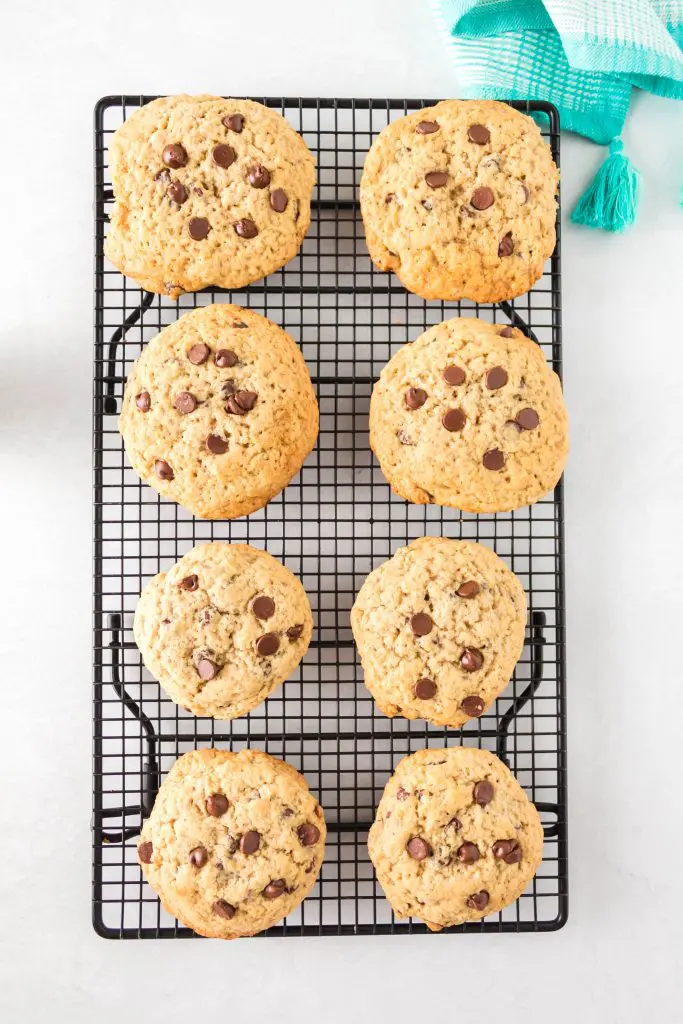 Storing Sourdough Discard Chocolate Chip Cookies
This cookie dough can be made in advance and refrigerated for up to one week. The cookie dough can also be frozen prior to baking.
We freeze shaped cookie dough on a parchment paper-lined cookie sheet and once frozen, put them in an airtight freezer container such as a resealable freezer bag.
Cookies can be baked from a frozen state. Add a couple of minutes to the baking time.
Baked cookies should be stored in an airtight container at room temperature for 2 to 3 days.
These sourdough discard chocolate chip cookies freeze beautifully. Store in an airtight container for up to 3 months.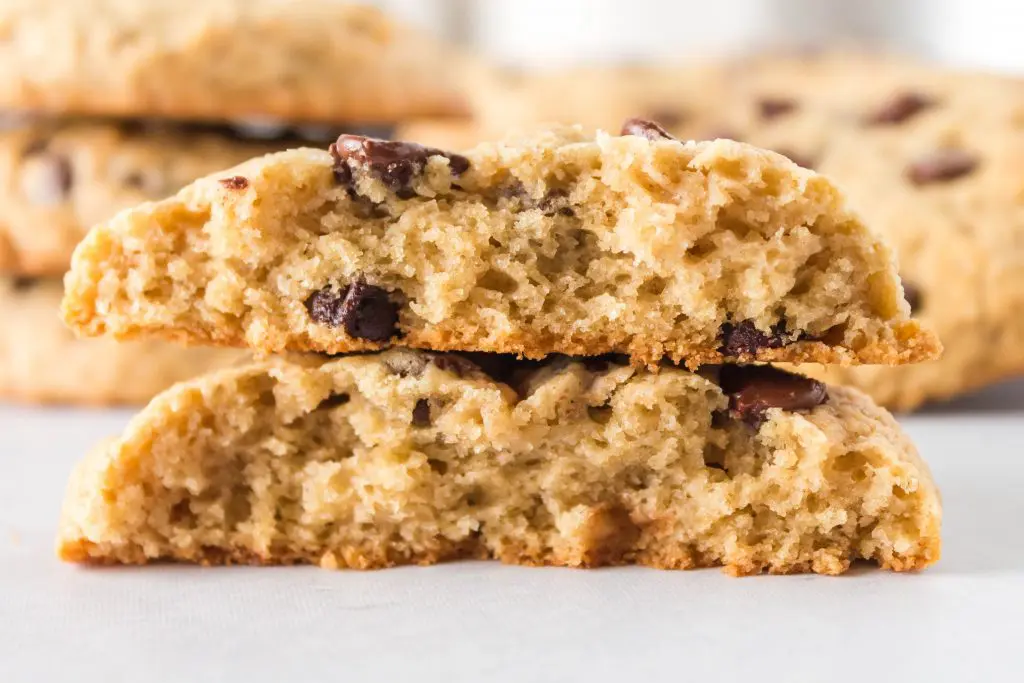 Tips and Tricks
Sourdough discard doesn't have to be fed or used right away. Just add it to a container and refrigerate it until you're ready to use it.
If the discard begins to smell foul or takes on a pinkish hue, it's no longer safe to use.
Raw sugar can be replaced by granulated sugar.
Resting the dough in the fridge for 30 minutes will help the cookie not to spread as much while cooking
Because all sourdough starters may have a different consistency, you may need to add a little bit of flour. Mine is like a pancake batter. So, I used 2 cups of flour. Your batter should be thick and sticky but not soupy or chalky.
We would also recommend if you need to make more than 1 batch in the oven, put the dough back in the fridge or away from the heat source until they're ready to bake so the cookie won't spread too much.
Don't use a hot baking sheet. We recommend letting your baking sheet cool or using multiple cookie sheets.
We used a 1-1/2 tablespoon scoop. Our sourdough chocolate chip cookies recipe makes 39 cookies filling each tray with 12 cookies. You can use a larger or smaller scoop and bake accordingly.
Bake Sourdough Discard Chocolate Chip Cookies for 12 minutes, turning the pan halfway through baking.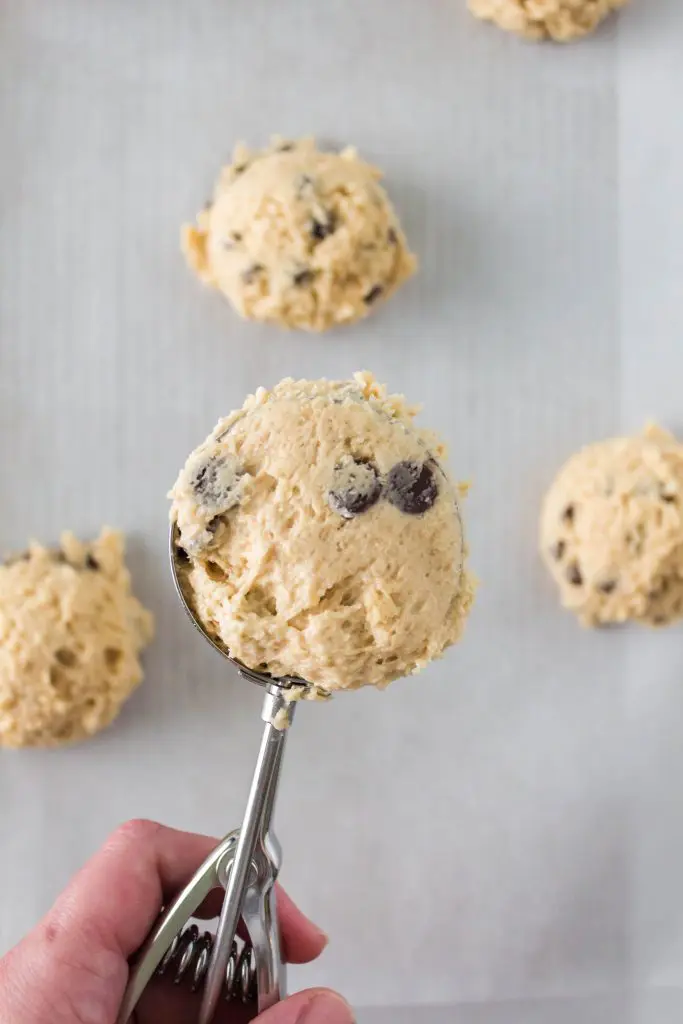 You May Need the Following Supplies
Cookie Scoops. Measure your cookies perfectly every time and have a consistent size and shape so that they bake evenly.
Baking Sheets. Clean-up is a breeze with these! I have 4 of them so my cookies get baked up in a jiffy.
Cooling racks. I always have to have several cooling racks to keep up with cookie batches as they come out of the oven.
If you liked our Sourdough Chocolate Chip Cookies recipe here are a few more cookie recipes you may enjoy
We love cookies! You can find all of our cookie recipes here!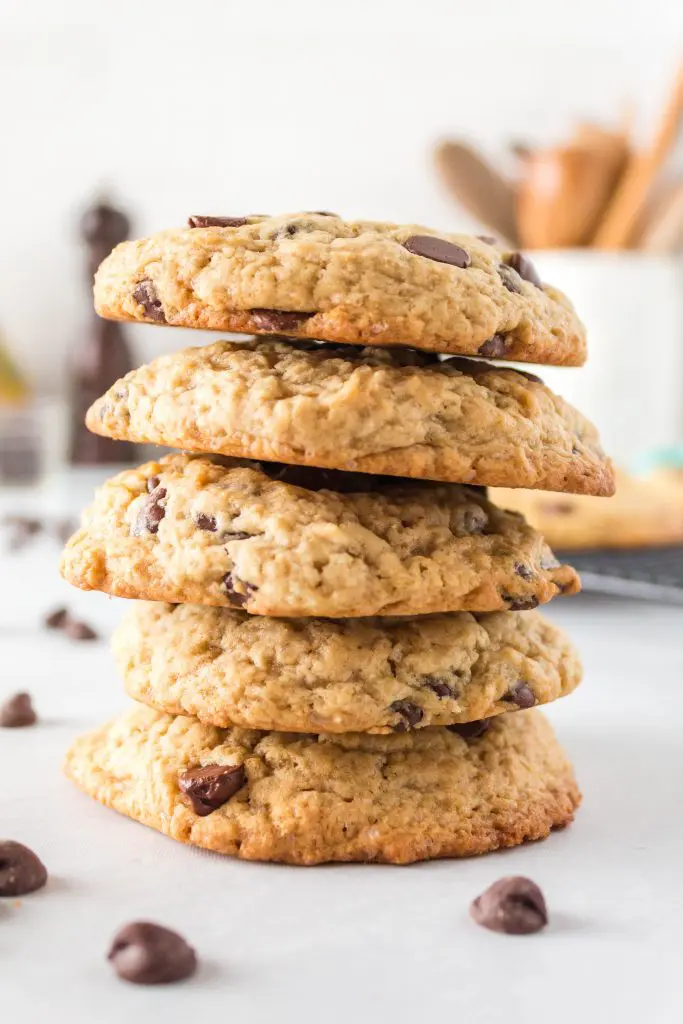 If you liked this recipe, we would appreciate your comment and a 5-star ⭐️⭐️⭐️⭐️⭐️ review!
More recipes you may like
Pin this recipe!