When you need a fun colorful treat for a birthday or a celebration, make unicorn popcorn. Easy unicorn popcorn recipe is a party in a bowl!
We made this adorable finger-food treat for our granddaughter's birthday party. She loved all of the pretty colors and sprinkles, and everyone loved munching on this delicious treat.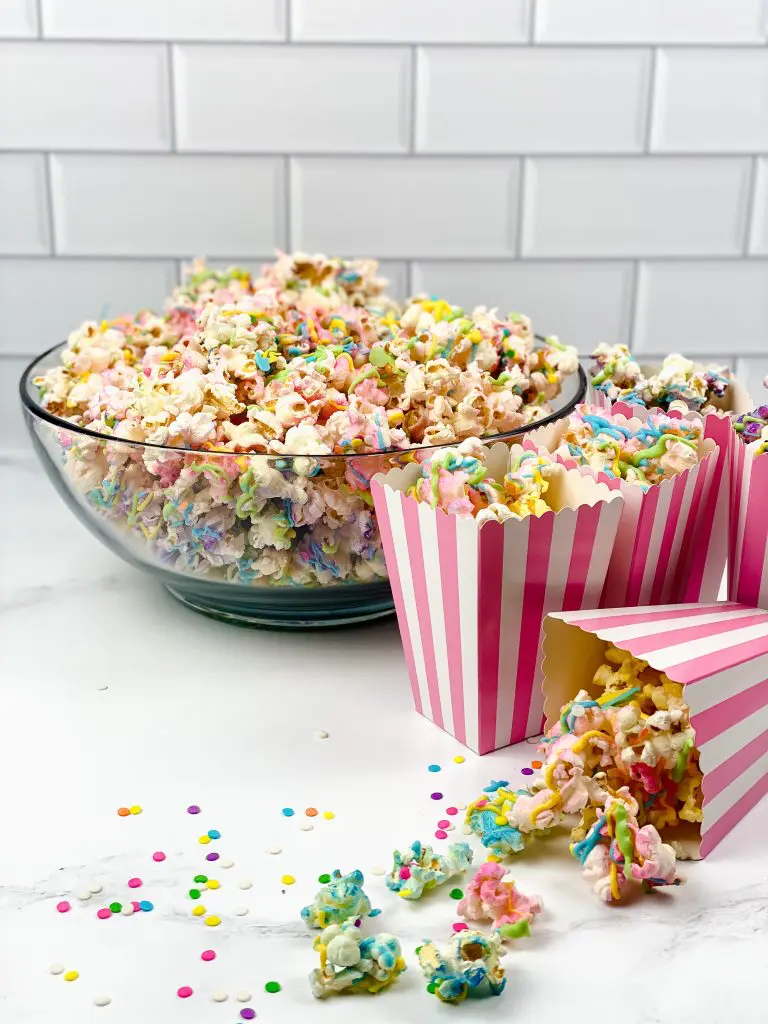 How to Make Unicorn Popcorn
Ingredients
Popcorn. Keep it super simple and buy a bag of pre-popped popcorn at the grocery store.
Candy Melts. You can get whatever colors you like for Unicorn popcorn, but the colors used for our photos are blue, yellow, and green. I prefer the Wilton brand.
Pink Mist Spray. This is a can of edible paint from Wilton for added decoration.
Coconut Oil or Vegetable Oil. A little oil added to each of the different colors will allow for smoother melting.
Sprinkles. Choose colors to coordinate with your candy melts and add sparkle to your unicorn popcorn recipe.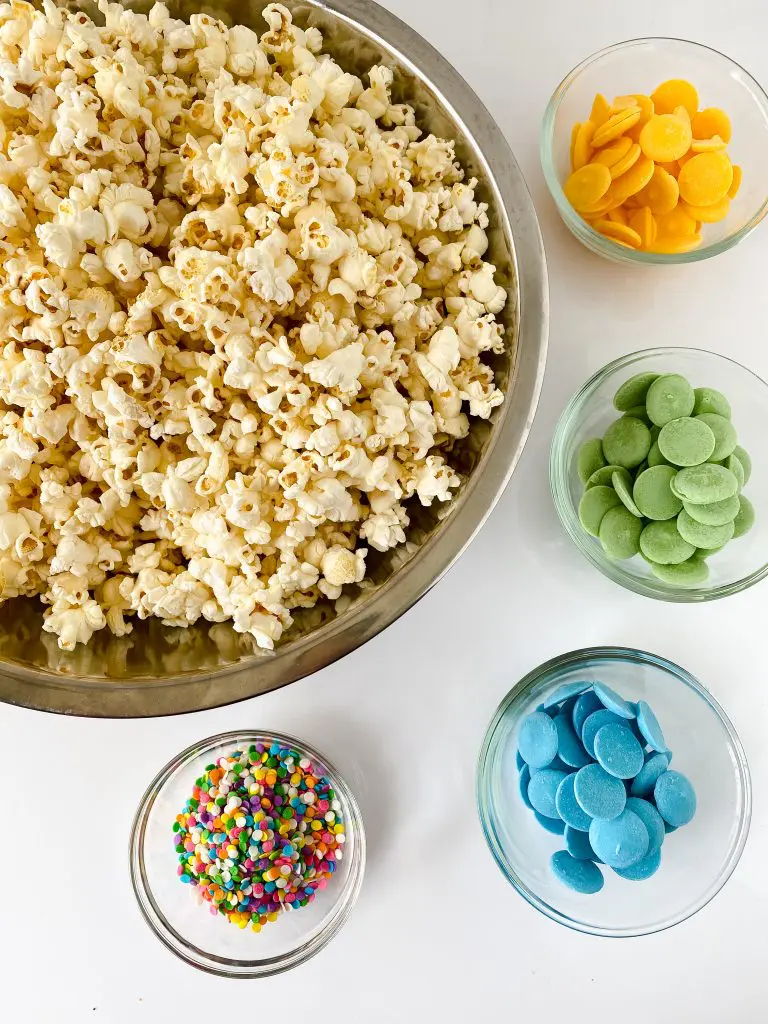 Making the Popcorn
Pop some popcorn in an air popper or use any unbuttered popcorn.
Spread the popcorn out on cookie sheets and spray with the pink mist spray. Allow it to dry for a couple of minutes and then stir it up and spray it again. We like some of the white to show through.
Melt each of the different colors of candy melts in separate bowls and add a bit of oil.
Drizzle half of the candy melts over the popcorn, add sprinkles before the candy melts dry, and then allow it all to dry for a couple of minutes.
Reheat the candy melts if necessary and carefully turn the popcorn so you don't knock off all of the candy melts. Apply it to the other side.
Allow the popcorn candy to dry completely before serving.
Complete instructions can be found on the printable recipe card at the end of this post.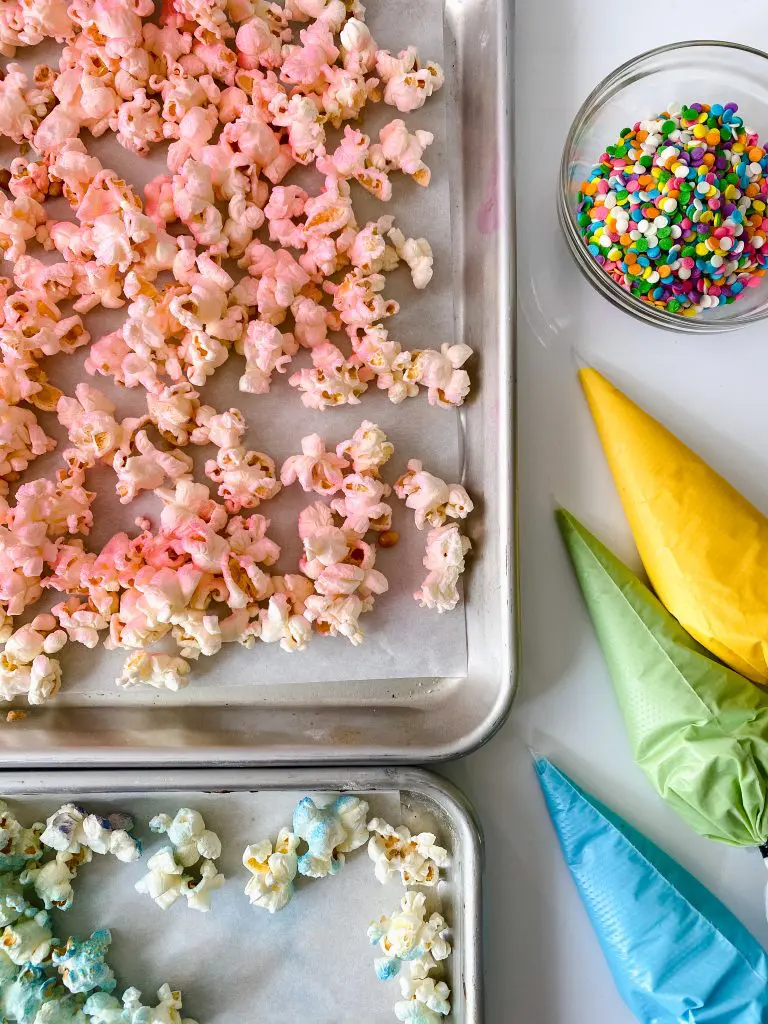 Tips for Unicorn Popcorn
You can use air-popped popcorn or just buy a bag at your grocery store. I like the easy button so that's what we do. Why make it difficult?
We don't recommend using a buttered popcorn variety. You want the candy melts to stick to the popcorn plus it's less mess.
We recommend the lightly salted and not the unsalted or full salt popcorn.
Sprinkle on the candies as you apply the candy melts so they will stick. Once the candy melts dry the nonpareils, sprinkles, or M&Ms will not stick. If you're brave, have your kids add the sprinkles as you add the candy melts.
We lightly sprayed our pans so the candy melts wouldn't stick to the pan. You could use parchment paper or a silicone mat. Parchment paper has been a game-changer for me because it makes clean-up a breeze.
We lightly break up the popcorn before putting it in a bowl. Everyone loves there own little clumps so it makes the perfect finger-food appetizer, snack or party-food.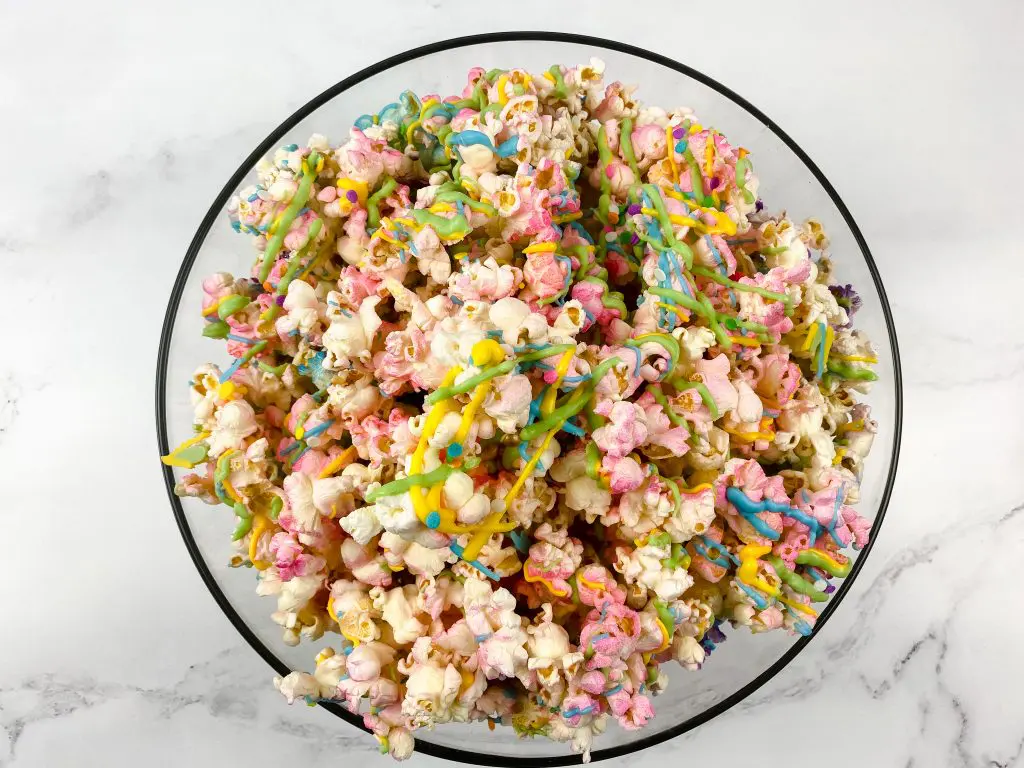 What are Candy Melts?
Candy melts are not chocolate. They're a mixture of sugar and vegetable oil.
Make sure you buy a new bag. Old candy melts tend to create problems when melting. If your candy melts are clumping as you melt them, it's definitely time for a new bag.
How to Melt Candy Melts
Always use a completely dry bowl or pan. Liquids and candy melts do not mix!
Do not cover the candy melts while heating. The moisture from the steam will cause them to seize up.
We recommend melting the candy melts at 50% power for 30-second intervals in the microwave or slowly in a double boiler. If you try and melt it at full power, it can tend to seize up which is a complete mess.
If the candy melts become too thick or seizes up (dry clumpy mess) due to overcooking, you can try adding 1 teaspoon of solid shortening for every 12 to 16 ounces of candy melts to save the unicorn popcorn recipe.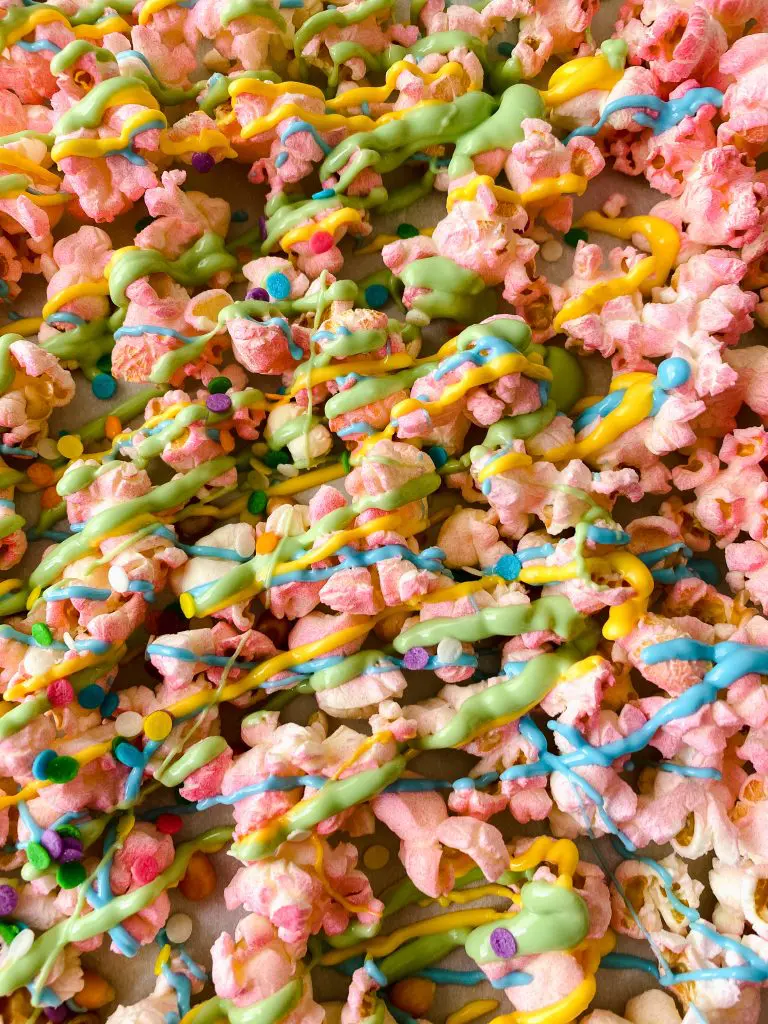 Popcorn Variations
If you don't need a unicorn popcorn snack just yet, use other colors of color mist spray for a boy's birthday, or how about red, white, and blue for the 4th of July? You can pick the edible paint color and the color and type of the sprinkles to fit your theme of choice.
Use colored M&M®'s or other candies to compliment your theme instead of sprinkles. If you order ahead of time you can even order a custom color of M&Ms.
Miniature marshmallows – white or colored would work well.
Nerds® Candy or Chewy Sweet Tarts® make an excellent "sprinkle" with flavor instead of just a waxy texture.
Equipment
Air popcorn maker. This allows you to make popcorn without any added oil or salt.
Piping bags. Using a piping bag will help control the amount of chocolate.
Parchment Paper. Lining your cookie sheets with parchment always makes cleanup so much easier!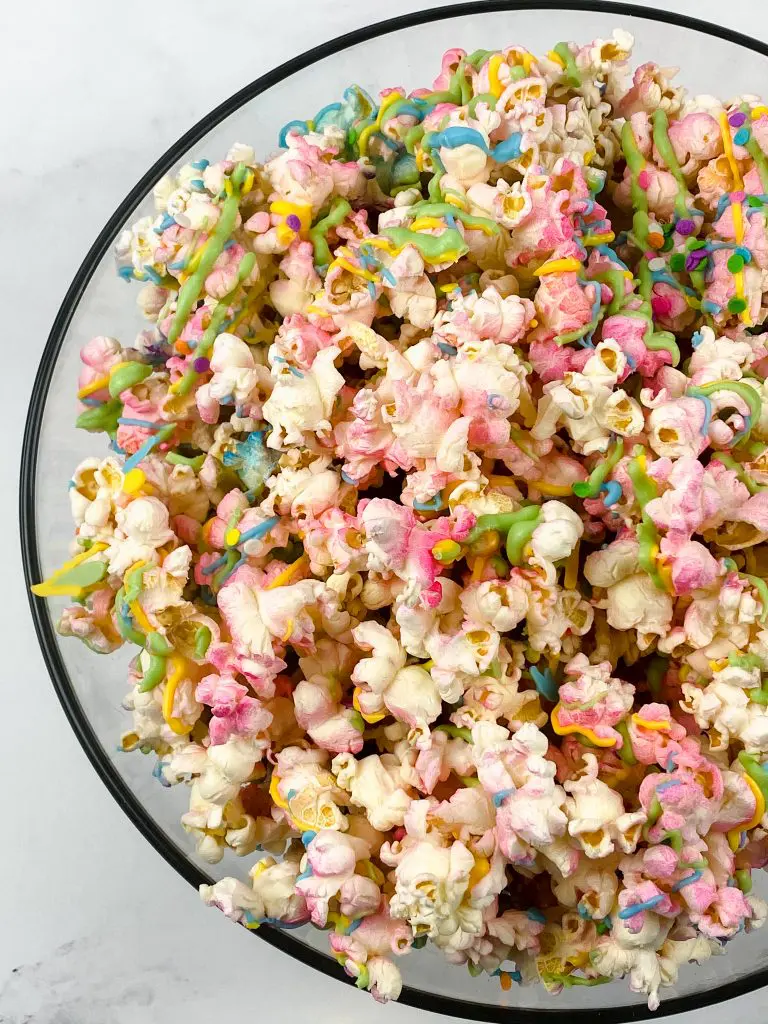 Storing Unicorn Popcorn
My unicorn popcorn recipe can be made ahead for your party! It will keep in an airtight container at room temperature for 7 to 10 days. I do not recommend freezing popcorn.
Fun Party Snacks to Try