Black Russian Cake is a boozy cake infused with Kahlua and vodka and topped with a rich chocolate ganache. It's a semi-homemade chocolate cake recipe that just begs for a party.
This moist and delicious Kahlua cake looks like it came from a bakery but is easy enough to make at home.
This post was originally posted in 2016 and has been updated to improve our readers' experience. No changes were made to the recipe.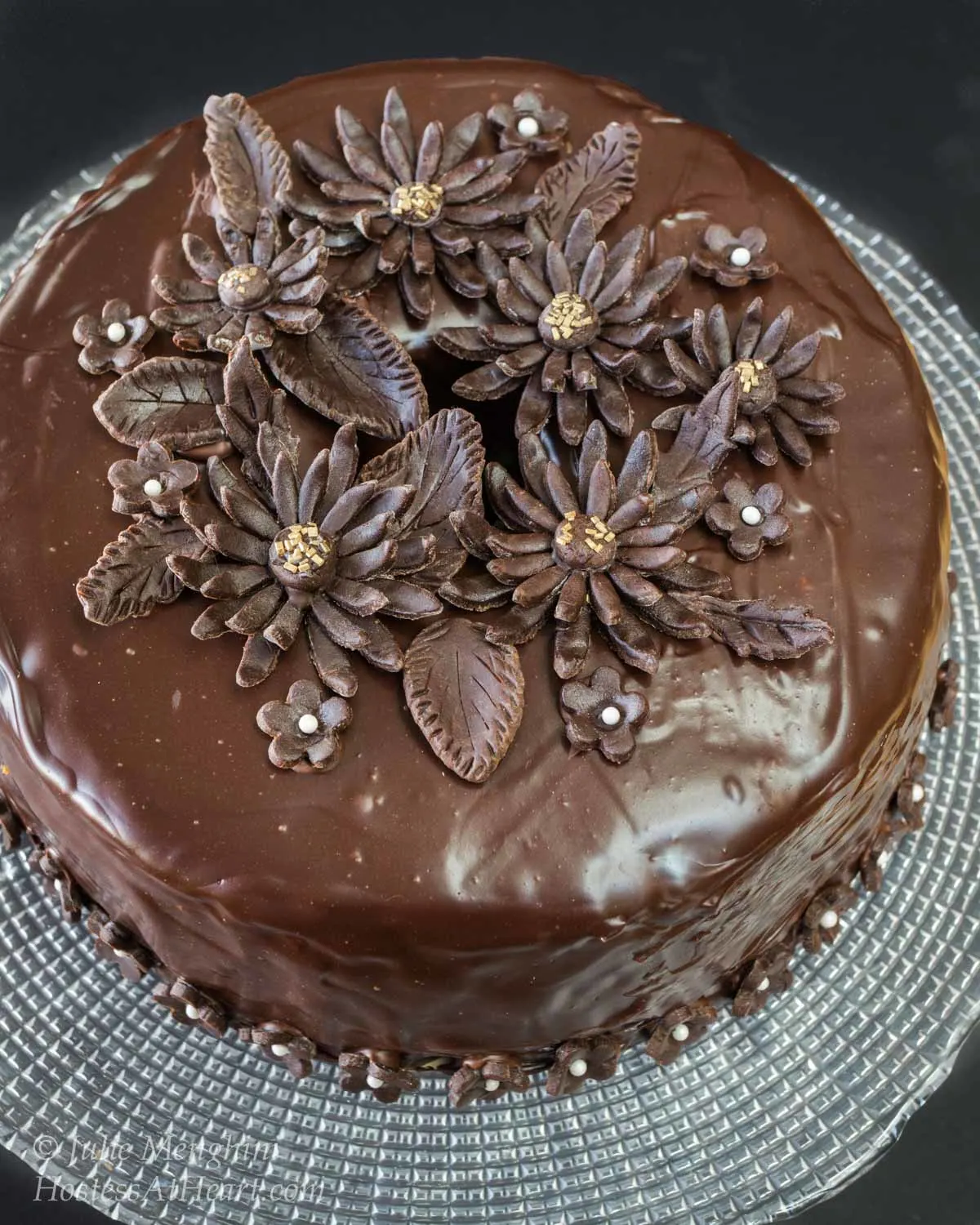 This Black Russian chocolate cake is a deep chocolate moist cake that is perfect for any occasion. If you like Kahlua, you're going to love this cake.
Why is it called a Black Russian Cake?
This cake gets its name from a cocktail called a Black Russian which is made of Kahlua and vodka. You will not want to show restraint when it comes to my Black Russian Cake with Kahlua and vodka!
Black Russian Cake Recipe Ingredients
Kahlua cake with yellow cake mix
Yellow Cake Mix. Any brand of cake mix will do.
Chocolate Pudding. You want the cook-and-serve box. Do not get instant pudding.
Granulated White Sugar.
Vegetable Oil. All cakes need a little bit of fat content to keep the cake moist.
Water.
Vodka. No need to get a special kind. See the section on variations if you don't want to use vodka.
Kahlua. A coffee liqueur made from 100% Arabica coffee, rum, and sugar.
Eggs. This cake uses four Grade A large eggs.
Kahlua Filling for the Russian Chocolate Cake
Poke cakes such as this Lemon Pudding Poke cake have gained popularity since I first made this cake. The premise is the same and quite easy to do.
Kahlua. This liqueur is used in mixed drinks and works wonderfully for baking applications.
Powdered Sugar. Did you know — if you don't have powdered sugar you can make your own. See the instructions here.
Ganache Ingredients
What is a ganache? It's a fancy word for a smooth chocolate glaze.
Bar Chocolate. Do not use chocolate chips to make the ganache because chips have stabilizers that cause the chips to hold their shape. It will mess up your beautiful ganache.
Heavy Whipping Cream. Make sure you do not get "ultra-pasteurized". It will not work for making a ganache.
How to Make a Black Russian Chocolate Cake
This cake may look a little fancy but it's quick and easy. It's semi-homemade, starting with a cake mix. No one would ever know because this Kahlua chocolate cake with its creamy filling and chocolate ganache is bakery delicious.
Step 1: Combine and bake
Preheat the oven and prepare the pan. I give you pan variations below.
Combine the cake ingredients together in the bowl of an electric mixer. Blend until smooth. Pour the mix into the prepared pan and bake. Allow the cake to cool while you prepare the Kahlua glaze.
Step 2: Kahlua filling
In a small bowl, mix the Kahlua with the powdered sugar and stir together until blended.
Run a knife along the edges of the cake pan and turn out the cake onto a cooling rack set over a baking sheet. Poke holes into the cake using a skewer or other long sharp item. Pour the Kahlua over the cake and allow it to soak into the cake.
Step 3: Chocolate Ganache
Chop up the chocolate bar and put it in a microwave-safe bowl. Pour enough cream over the chocolate to just barely cover the chocolate. Microwave at 1-minute increments at 50% power, stirring after each increment until smooth.
Pour the warm ganache over the cake.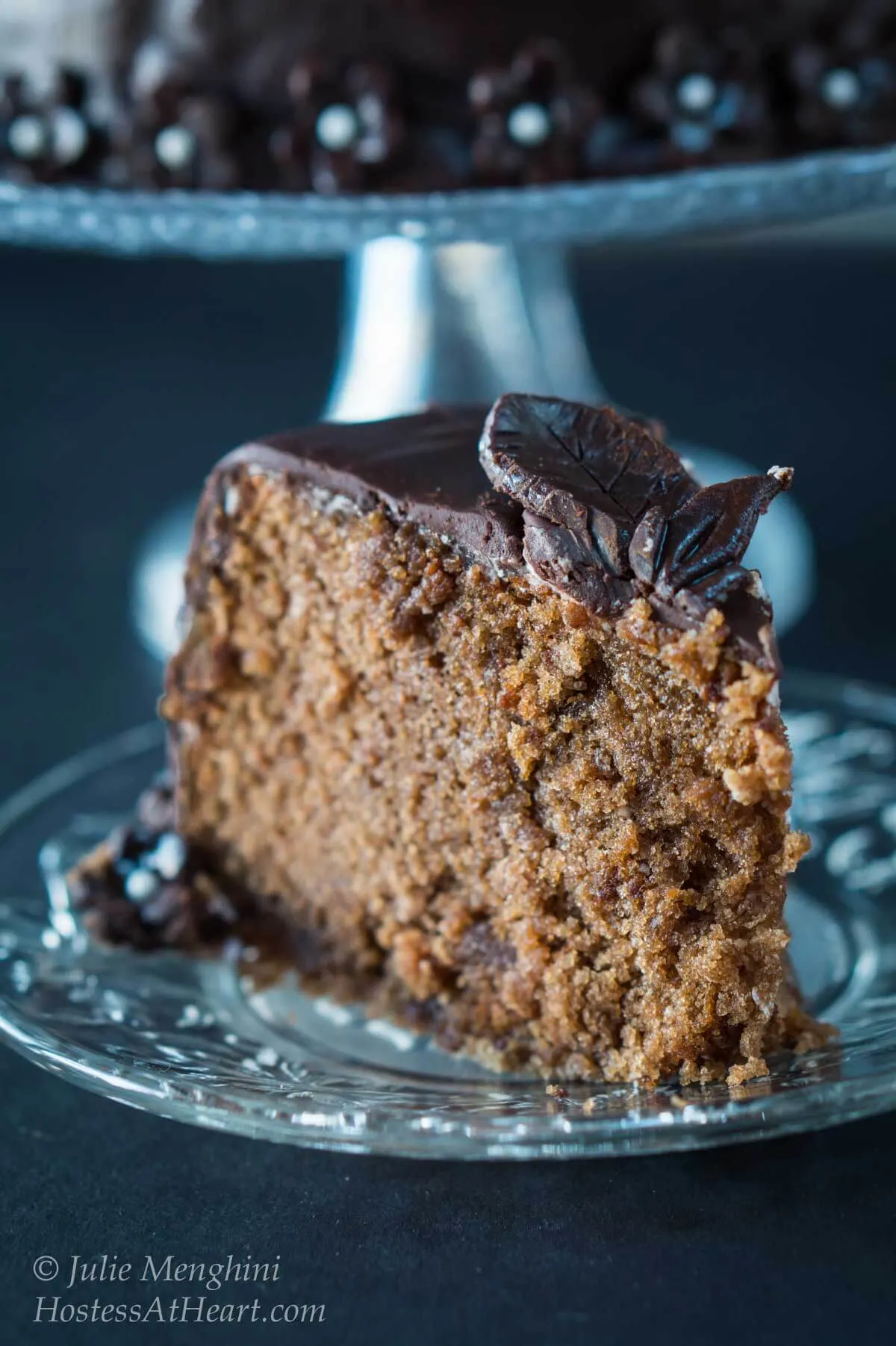 Tips and Variations on the Black Russian Cake
Hostess At Heart participates in affiliate programs. As an Amazon Associate, I earn a commission from qualifying purchases. Please refer to my disclosure page for more information about these affiliate programs.
I baked this decadent chocolate cake in an angel food cake pan because I wanted a flat top for decorating. You could use any bundt pan for a beautiful Black Russian Bundt cake or you could use another shaped cake pan. For help with converting, check out my cake pan cheat sheet.
Instead of a ganache topping, use a Kahlua frosting or glaze, or just dust it with powdered sugar (after it's completely cooled).
Add chocolate chips or chunks to the cake batter for a special touch.
Substitute the yellow cake mix with a chocolate cake mix for an extra intense chocolate flavor.
My ganache was still a bit thick so, while not perfect, it was still delicious. If your ganache is on the thick side, add a little more cream while it's still hot.
Another great option to top the Black Russian cake with Kahlua filling would be to sprinkle it with toasted coconut, crushed nuts, or chocolate sprinkles.
I was inspired to make this cake after I learned how to make modeling chocolate and wanted a special chocolate Kahlua cake to decorate. This technique is a lot of fun if you want to make a fancier cake, but it's absolutely not necessary. The cake is impressive enough with a simple ganache.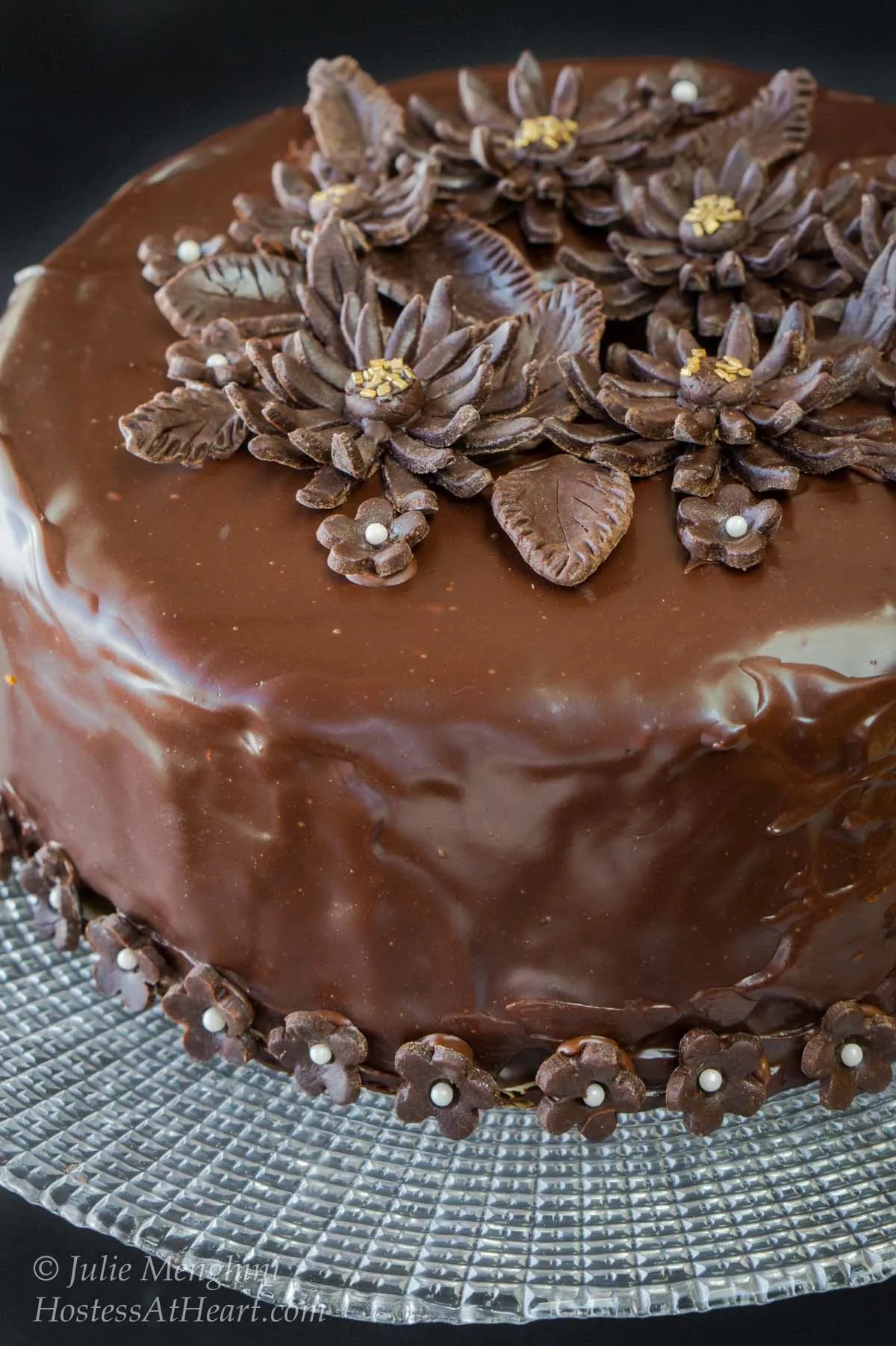 If baking scares or confuses you, check out or Baking Basics Techniques, Tools, and Ingredients article.
What can you substitute for Vodka?
This boozy Kahlua chocolate cake looks a little intimidating, but it's so easy to make. This cake is beautiful without fancy decorating. You can just make the smooth ganache and you're good to go.
If you don't want to use vodka or don't have any on hand you can substitute water or coffee and still have a delicious cake.
Storing Leftover Cake
Since this cake has dairy as an ingredient, it's best to store this cake covered in the refrigerator for up to 5 days in a covered container. Chilling this cake also keeps this cake from becoming soggy.
This cake also freezes well in an airtight container. It can be frozen with or without the ganache topping.
You can freeze the cake as a whole or you can put individual servings in freezer-safe containers. Allow them to thaw briefly at room temperature or in the refrigerator. It's great just pulling out one slice for a sweet tooth fix!
I hope you enjoyed this delicious recipe as much as we do. Drop me a comment below, and don't forget to give it a star rating. ⭐⭐⭐⭐⭐. Your comments and ratings help others decide if this recipe is for them too.
Most Popular Cake Recipes
Pin this amazing recipe!
Most popular recipes