If you liked playing with play doh as a child, you're going to love this easy Modeling Chocolate Recipe!

When I was 23 years old, I wanted to take a cake decorating class. The only thing that stopped me was that I was 9 months pregnant. I always intended to take the class after my daughter, Sarah was born, but I just never got around to it. Fast forward approximately 27 years, and I finally took that class….with Sarah.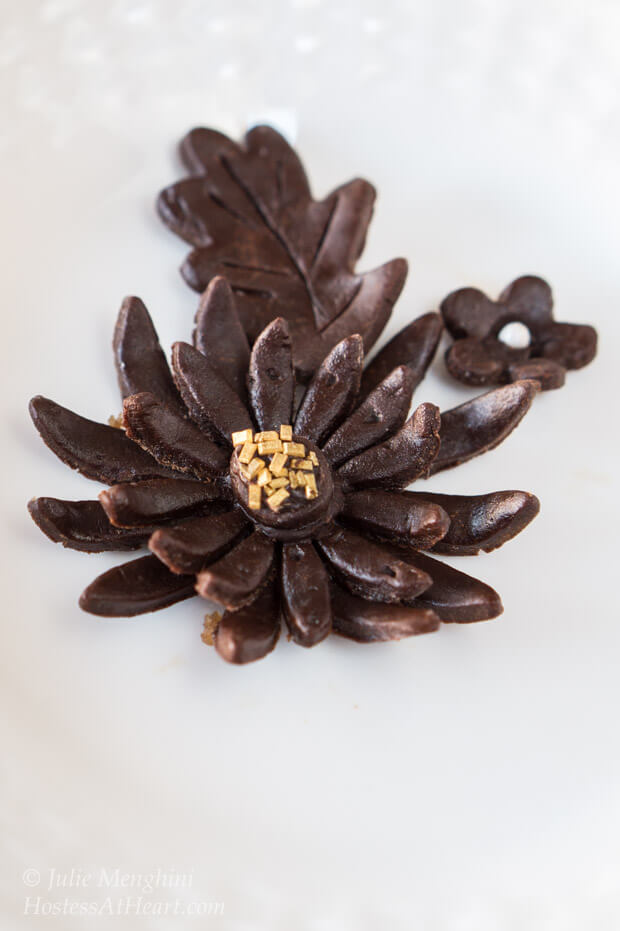 The latest Daring Kitchen project was hosted by Shillpa Bhaambri from Cakeline the Journey, a Baker and Cake designer living in Mumbai, India. She challenged us to design a cake using homemade decorating clay. Decorating clay could be either fondant, Gum paste or modeling chocolate. I've used fondant and gum paste before, but I've never made my own. Being the chocolate nut that I am, I decided to give that recipe a try.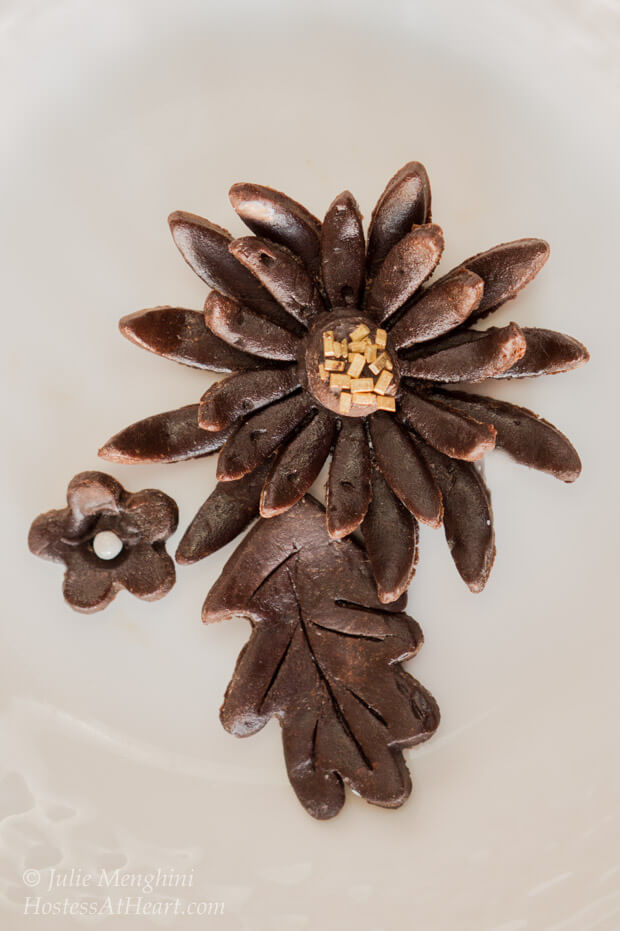 Modeling chocolate can be used to cover cakes, make flowers, figures, stripes, polka dots or whatever your creative mind comes up with. Best of all, it tastes so much better than fondant or gum paste and doesn't dry out as quickly. I read several other methods for making modeling chocolate, and one of the biggest cautions that I read was to not over mix it. If you do, there is no bringing it back. It becomes grainy and unusable. So, I followed the instructions step by step. My final product was a perfect modeling chocolate.
This is fun fun stuff folks, and it's not hard to make. I used dark chocolate, but you could use white chocolate and color it with gel food coloring too. I really have to apologize for these photos. The lighting in my work space wasn't the best.
To make my cake decorations, I had two sizes of the same flower cookie cutter, and different leaf cutters. Dust working surface with corn starch, and dust your rolling pin. Pinch off a portion of your modeling chocolate and roll it thin. Dip cutter into corn starch and press into the dough. Continue until you have enough to decorate your cake. I also rolled some small balls and flattened them into disks as my flower center. This paste is sticky. I know it looks pretty tough, but it cleans up well.
The glue that I used to put the flowers together, and to adhere them to the cake, is chocolate that I melted in the microwave. I just used chocolate chips for this. Place a small amount of this chocolate in the center of the larger flower and adhere the smaller flower onto the center of the larger flower. Put a little bit of chocolate onto the center disk and dip it into decorative sugar. Adhere the other side of the disk onto the center of the flower with more chocolate. Curl the petals slightly. Clean the corn starch off using vodka and a small paint brush. The alcohol will evaporate. Have fun!
Modeling Chocolate Recipe
If you liked play doh as a child, you're going to love this easy modeling chocolate recipe.
Ingredients
450

gr/1 lb

dark or white chocolate or coating chocolate

roughly chopped into 1 inch pieces

110

ml

light corn syrup

1 cup minus 2 tsp

Gel color if using white chocolate
Instructions
Using a glass bowl, melt the chocolate in a microwave at 50% power for one minute at a time. Stir after each minute because chocolate will not look like it has started melting. This should only take about 2 minutes total. (You could also us a double boiler) Stir until smooth.

Heat corn syrup in a glass cup or bowl for 30 seconds in the microwave.

Slowly, while stirring, gently fold syrup into chocolate. Cut and fold two to three times. Mixture will initially look glossy.

Fold two or three more times. Mixture will begin to loose it's shine and resemble soft serve ice cream. Stop stirring.

Pour all of the modeling chocolate into a large zip lock bag. Flatten the bag and spread the chocolate out as much as you can into a thin layer.

Put the bag into the freezer for 30 minutes. After 30 minutes, remove from the freezer and break the chocolate into large pieces. Allow to sit out 20 to 30 minutes to slightly soften.

Once malleable, start kneading it until soft and pliable.

Form into a ball and wrap with plastic wrap. Refrigerate until using. I formed mine into 6 individual balls.

Store up to 6 months in the refrigerator or freezer for up to 2 years.
Notes
Prep time includes inactive waiting time.
Original recipe provided by Lara Clarke of Tasty Treats and adapted by Shillpa Bhaambri from Cakeline the Journey
Nutrition
Serving:
1
g
|
Calories:
3002
kcal
|
Carbohydrates:
291
g
|
Protein:
35
g
|
Fat:
192
g
|
Saturated Fat:
110
g
|
Cholesterol:
14
mg
|
Sodium:
158
mg
|
Potassium:
3218
mg
|
Fiber:
49
g
|
Sugar:
192
g
|
Vitamin A:
176
IU
|
Calcium:
343
mg
|
Iron:
54
mg
This recipe was calculated using the exact brands and measurements I used to make this recipe. If you are following a strict diet please note changing anything will cause the nutritional info to change. My calculations are intended as a guide only.
It's amazing what a little modeling chocolate can do, especially on top of this Black Russian Cake!