Our beautiful Lemon Orzo Asparagus Salad Recipe is made with whole-grain orzo, fresh lemon, crisp asparagus, and feta. Easy to throw together and elegant on the palate, it's a savory summer lunch or side dish everyone loves.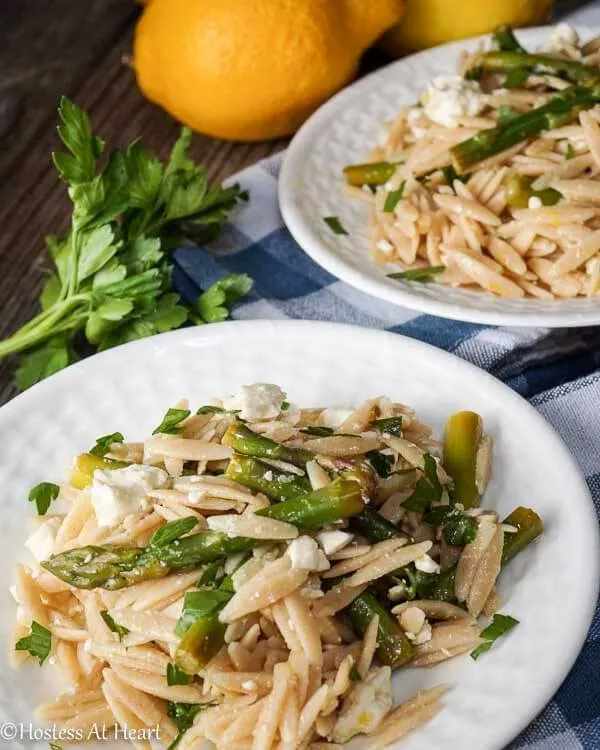 Growing up, my dad owned the town tavern. He was gone most of my day and only had Sundays off. On Sundays, we often went fishing in nearby ponds.
My mother always prepared a picnic lunch, usually fried chicken and potato salad. I get hungry for it just thinking of it. I think about those dirty little hands handling worms and who knows what, and I cringe. Oh well, none of us ever got sick.
I still love potato salad, but John isn't crazy about it (maybe he's just crazy?) I also limit myself of salads that contain mayonnaise because of the fat. There are a lot of delicious salads that we do like, such as this Lemon Orzo Salad, that are a bit better for us.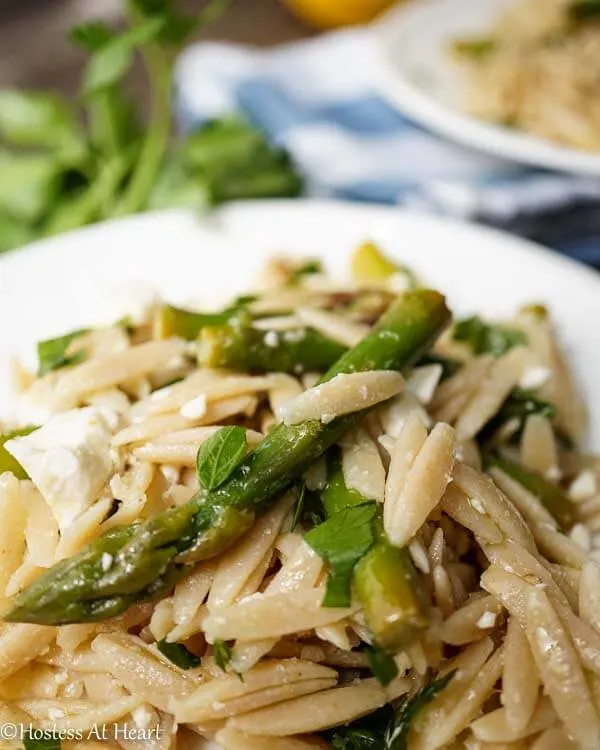 Why You'll Love This Orzo Salad with Feta
Good for you. This Orzo Asparagus Salad is chock full of great healthy ingredients. I used whole grain wheat orzo, fresh lemon, crisp asparagus, and crumbled feta.
So tasty. This salad is cool, fresh, and delicious. It is perfect as a side at dinner or a picnic lunch. Serve it cold for a Summer Orzo Salad.
Make as much or as little as you need. You can make a huge bowl to feed a crowd of hungry people or make a small amount for two people. This recipe is easy to scale.
Make it ahead of time. This delicious lemon orzo salad with feta keeps for one week in the fridge. It also lasts for an entire week, and I never get tired of it.
Minimal prep. You don't have to do a lot of chopping and rinsing to throw your salad together.
Easy variations. Change this one up to suit your tastes! It can be loaded with as many or as few of your favorite ingredients as you want.
Equipment Needed to Make Orzo Asparagus Salad
Large Pot. You'll need to boil pasta and asparagus.
Strainer. To strain the water off the pasta.
Large Serving Bowl. If you're making enough for a crowd, you'll need a bowl.
Small Mixing Bowl. To mix up the dressing.
Whisk. This handy tool is a must-have in my kitchen.
Ingredients for the Lemon Orzo Salad Recipe
Asparagus. Fresh Spring asparagus is best.
Whole Wheat Orzo. The whole wheat orzo that I buy comes in a 16 oz package so I use half of it and save the rest for other whole wheat orzo recipes.

I've actually used the whole package for a larger salad.

Crumbled Feta Cheese. The perfect cheese for this dish whether served hot or cold!
Flat Italian Parsley. The curly variety is fine too.
Lemon Dressing. See the recipe below for homemade lemon orzo pasta salad dressing.
Ingredients for the Lemon Dressing
Lemon Juice & Zest. One lemon was zested and juiced for this recipe.
Plain Yogurt. Because this brings its own tartness to the recipe, plain yogurt is the perfect choice to form the body of the lemon dressing.
Sugar. A slight counterbalance to the sourness of lemon.
Salt and Black Pepper. To taste.
Olive Oil. Thins the dressing a bit.
How to Make Lemon Orzo Salad with Feta
I show you how to make this Orzo Salad with Lemon using a minimum number of bowls and pans by cooking the asparagus in the water before cooking the pasta in the same water.
Step 1: To begin, bring a large pot of water to boil and you will use that to cook both the asparagus and the orzo pasta. First, blanch the asparagus for two minutes and then remove it from the boiling water using a slotted spoon. Put it in a colander to drain and spray it with cold water so that it stops cooking.
Step 2: Next, bring the water back to a boil and add salt. Then put the orzo in the boiling water. Cook the orzo for one to two minutes less than the recommended time so that you have the right consistency for a salad. Run it under cold water after straining to stop it from getting too soft.
Step 3: In a large bowl, add orzo, asparagus, feta, and parsley. Mix the dressing separately and then toss to combine. Refrigerate the salad for a couple of hours if you want to serve it cold. It can be served hot as soon as you finish making it if you prefer.
How To Cook Orzo for Pasta Salad
Cook for 1 or 2 minutes under the recommended cooking time. You want the whole wheat orzo to have a chewy texture, not hard or mushy. This is described as "al dente" Run the cooked orzo under cold water to stop the cooking.
How to cook Asparagus
Add chopped Asparagus to a pot of boiling water and cook it for two minutes or until bright green. This is called blanching. Remove with a slotted spoon to a sieve or colander and run under cold water to stop cooking.
Blanching keeps the asparagus crisp and bright green without tasting raw.
What to Serve with Your Orzo Salad with Feta
Serve chilled for a summer salad.
Serve warm with sliced grilled chicken or shrimp or salmon over the top for added protein.
Substitutions and Additions
Use brown rice, quinoa, or couscous for a delicious option.
Make this a Mediterranean Orzo Salad by adding olives, red onion, cherry tomatoes, cucumbers, and fresh spinach.
Add marinated artichokes or pepperoncini.
Fresh Herbs or a spice blend such as Herbes de Provence, or fresh basil.
Substitute the asparagus for fresh peas or snap peas.
Add a finely minced garlic clove and stir it into the dressing.
If pressed for time, you can replace the lemony dressing with a prepared salad dressing. I recommend an Italian or simple balsamic dressing.
Don't forget to pin this Whole-Wheat Orzo Recipe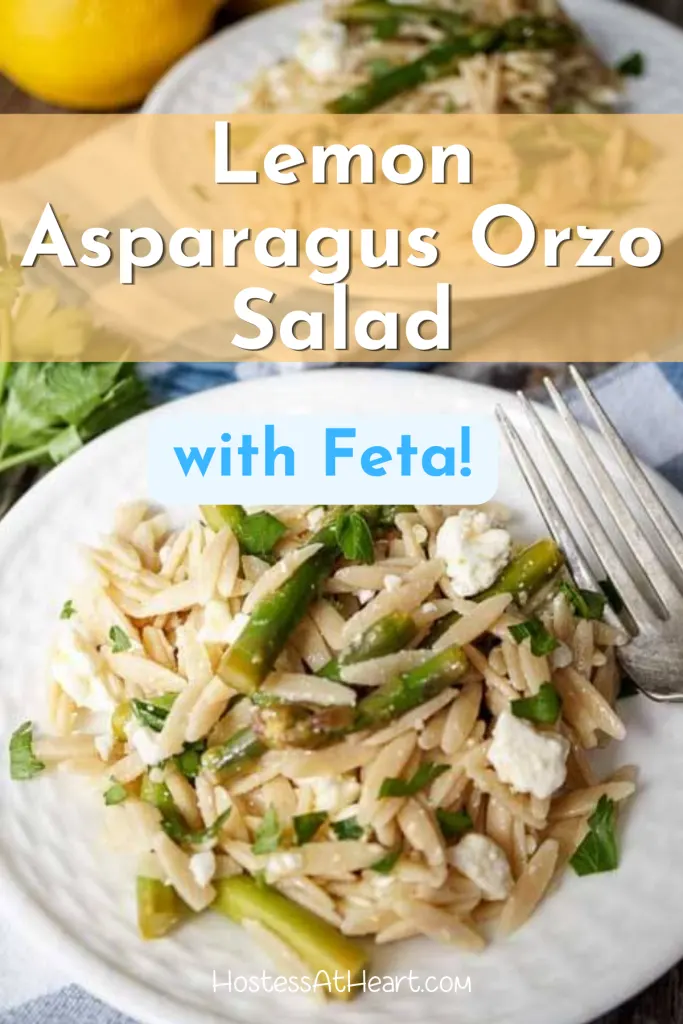 How To Store Lemon Orzo Salad with Feta
Best Way To Store Lemon Orzo Pasta Salad
Covered in the refrigerator. A sealed plastic container or sealed plastic baggy works best.
How long does Orzo Salad with Lemon last in the fridge?
5 days covered.
Can I Freeze/Thaw Orzo Asparagus Salad
Yes, you can freeze leftover orzo salad. Freeze for up to three months in an airtight container. Thaw it at room temperature to serve cold. Microwave thawed Lemon Orzo Salad with a small amount of olive oil to serve warm.
How To Reheat Orzo Salad with Feta
If you want to serve it warm, you can reheat it in the microwave for a minute at a time until it reaches your desired warmth for the dish.
Orzo Salad with Lemon FAQs
Can you freeze orzo salad?
Yes. Freeze for up to three months in a sealed plastic container or freezer-quality plastic bag.
How many days in advance can I make orzo salad?
One or two days in advance will work perfectly if you plan to serve the pasta dish cold. Add the feta and parsley at the table for best results.
What is orzo salad?
Orzo salad is any salad made with orzo pasta and a salad dressing of some kind. Our lemon orzo salad has a homemade dressing that is divine.
Is orzo salad gluten-free?
No. Orzo is a form of pasta made from wheat flour.
Is Orzo salad healthy?
We use Whole-wheat orzo which is higher in fiber and protein than regular orzo, which makes it the healthier choice. It's still high in calories and is bout 50% more calories than an equal serving of white rice.
Tips to Make the Perfect Lemon Orzo Salad
You can make this salad a day or 2 in advance. I recommend that you add the fresh parsley and crumbled feta right before serving to maintain its bright fresh flavor.
Cut the fresh asparagus into 1-inch-sized pieces before blanching. This will assure that the asparagus cooks evenly and can be easily strained from the boiling water.
If the salad isn't fluffy after chilling, add a little olive oil and toss.
Other Dishes You Will Love
Don't Forget To Come Back And Let Me Know How Your Orzo Salad with Lemon Turned Out!