This Mango Salad with Blueberries is perfect for a summer picnic or with a bowl of soup on a cold winter day. It's fresh and naturally sweet with a delectable crunch.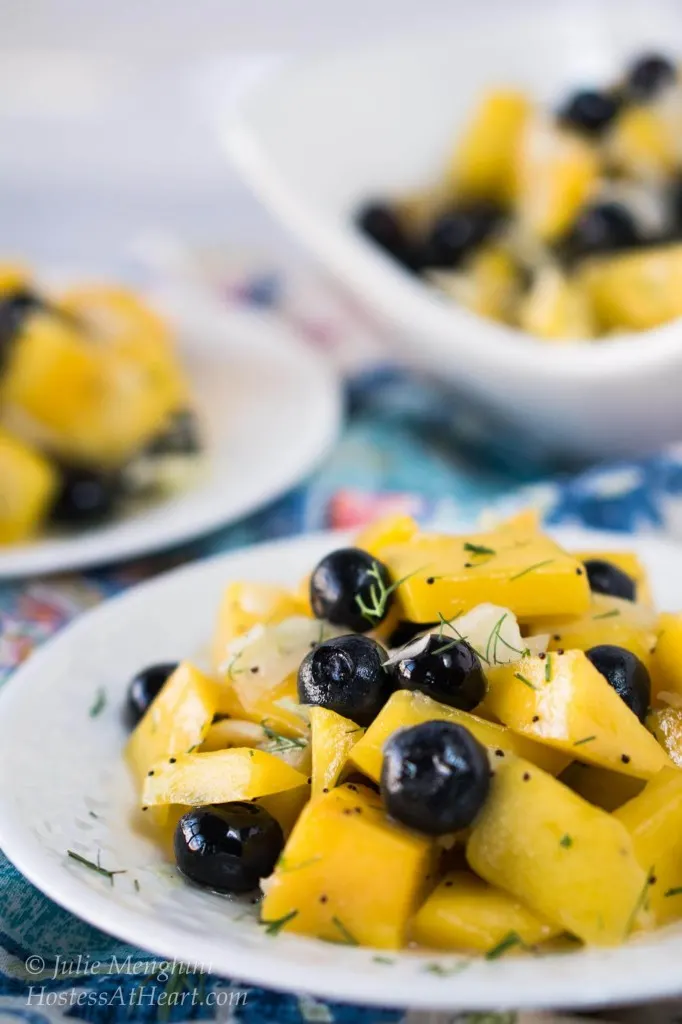 This Mango Salad tastes fresh and delicious regardless of when you put it together.
It's simple to put together and has a natural sweetness from the fruit and a delicious crunch from the fennel.
Mangos are an ingredient that is available all year round, and they go with so many things.
If I lived in an area that was warm all year round, I would have a mango tree and an avocado tree.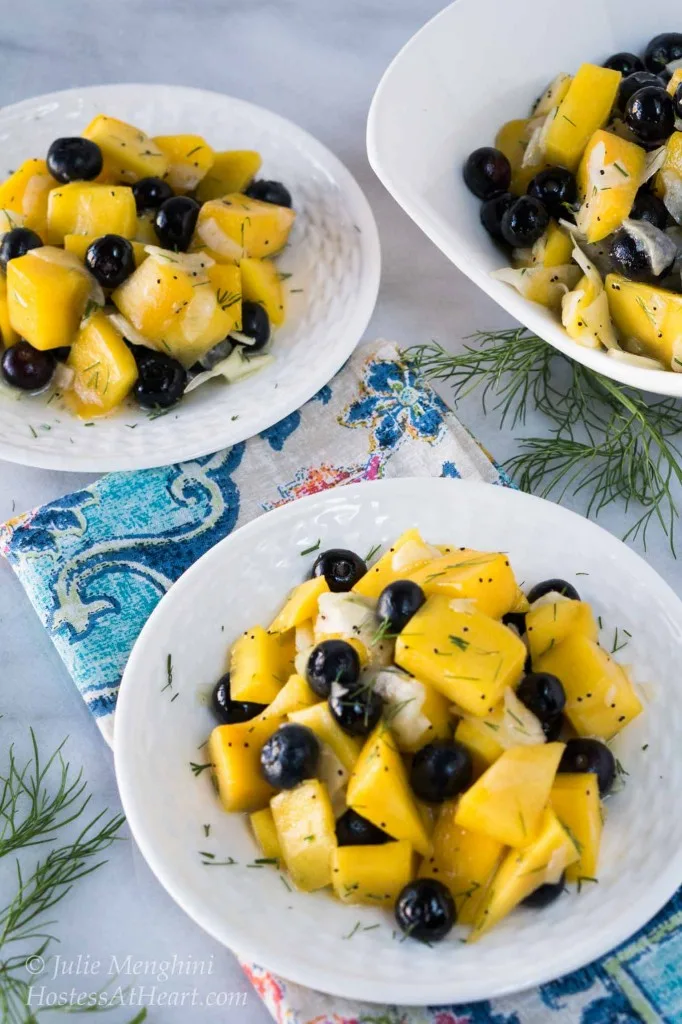 Oh, and I have to have a lime tree for the margaritas too.
The first time that I tried mangos it was love at first bite. My son has a mango tree in his yard and when he moved there it was overgrown and he contemplated removing it. I threatened him with a time out.
The tree stands and is just waiting for me to visit.
The beautiful colors in this salad are a feast for the eyes, and it can be made ahead of time.
The colors stay vibrant and the fennel retains its crunch even after a couple of days in the refrigerator.
How to pick the perfect mango
When picking a mango, you can't go by color. Mangos are ready to be used when they are slightly softened when squeezed.
You can find out more about mangos and recipes that use them from the National Mango Board.
Pin it now!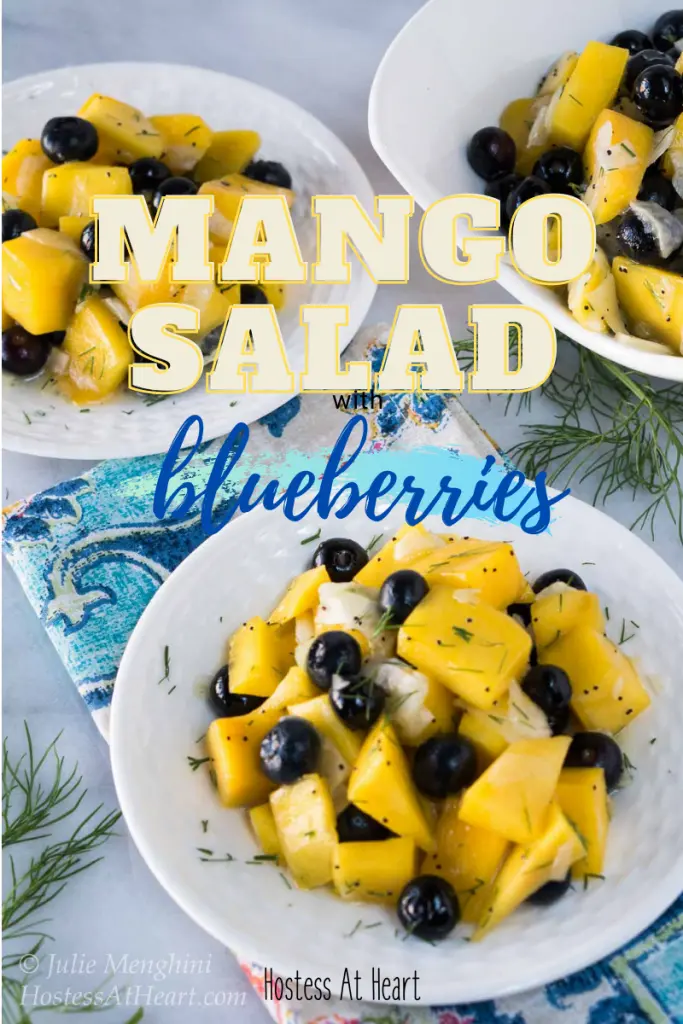 Mango Blueberry Salad Ingredients
Mango – We used fresh mangos.
Fennel – Provides a delicious crunch and a mild black licorice flavor. You can substitute with jicama or cucumber too.
Blueberries – What a beautiful color contrast. You can substitute with any berry or combination of berries.
Lemon Honey Vinaigrette Ingredients
This vinaigrette adds a nice sweet citrusy flavor to this salad. It makes more than what you will need. Refrigerate leftovers and drizzle it over a fresh green salad.
Canola – Any neutral oil works including grapeseed, walnut oil, or vegetable oil.
Lemon juice – We used fresh lemon. You could also use an orange or lime.
Honey – We use local organic honey. Honey acts as an emulsifier and adds a sweet smooth flavor.
Dijon Mustard – Mustard acts as an emulsifier and adds a nice contrast of flavor. Dijon has a mild soft flavor so it doesn't take over.
Poppyseeds – I like the flavor of poppy seeds. You can leave them out or substitute with sesame seeds.
Salt and Pepper
If you like this salad recipe, here are a few more you may enjoy
How to serve this Fresh Mango Salad
One of the things that we love about this salad is that you can prepare it ahead of time. It will stay bright and beautiful.
We recommend dressing the salad before serving to keep it crisp.
You can mix all of the ingredients and put it in a beautiful serving bowl or you can individually plate this salad and just cover them with plastic wrap until you're ready to set the table.
Our Mango Salad makes a great side dish to these amazing recipes
The only kitchen equipment we used to make this salad was my favorite knife and a cutting board.
Pin this Yummy Mango Salad now!