This Mongolian Chicken recipe is so quick and easy to make that it's a perfect recipe to throw together even after a long day at work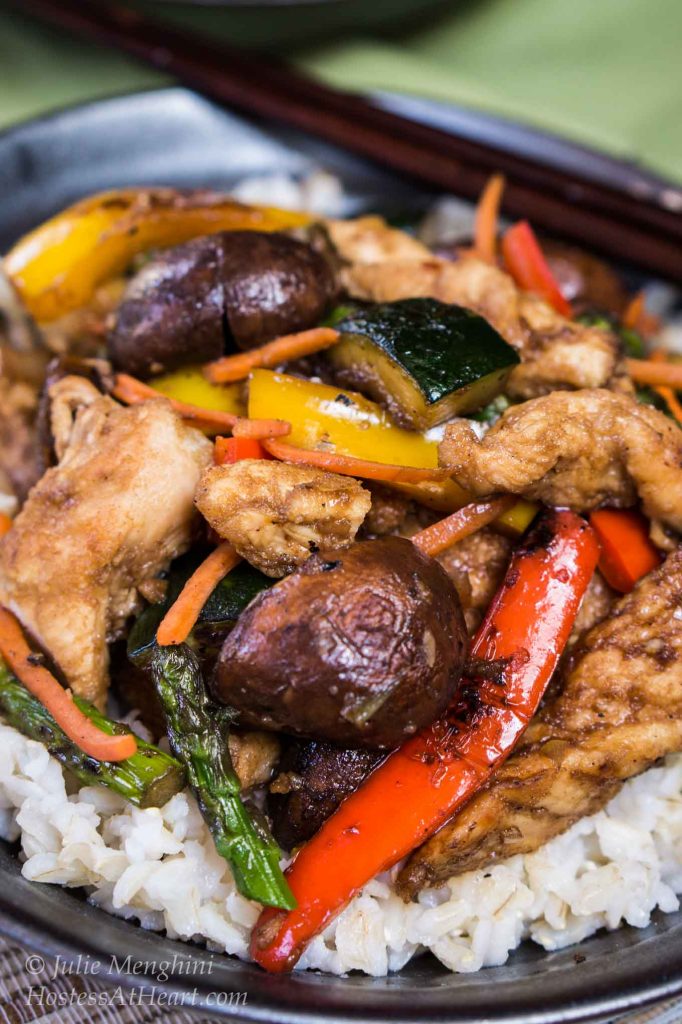 I love Asian inspired dishes, but it seems like when ever we order it out, we end up feeling slightly sick or thirsty all night long from all of the sodium and who knows what else. These dishes are so quick and easy to make that we make them more at home these days, and they are perfect to throw together even after a long day at work.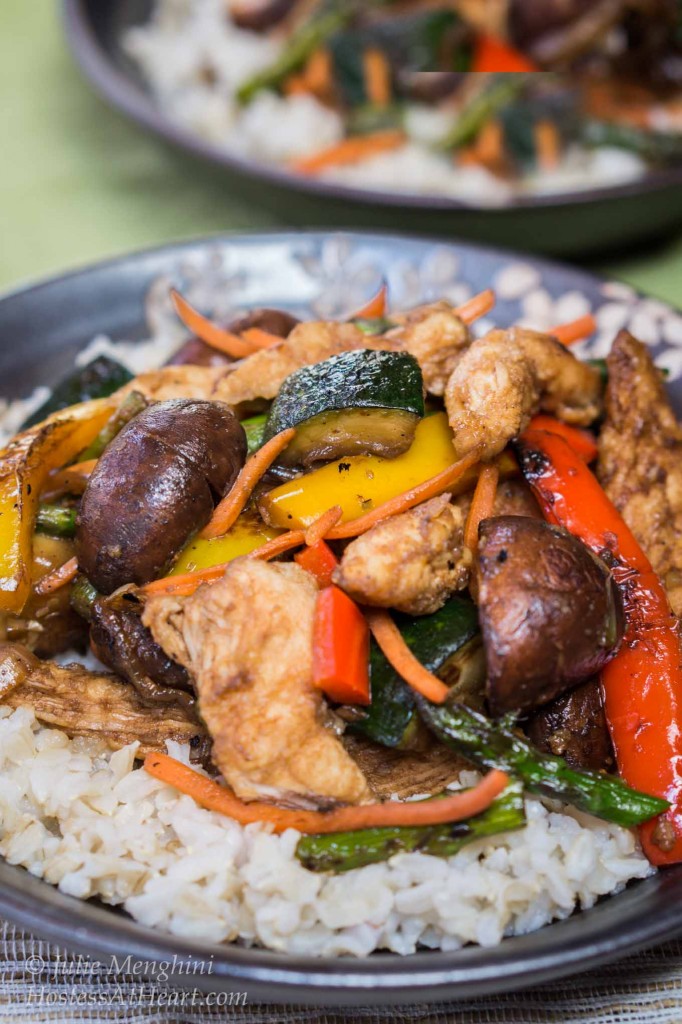 One of the reasons that I like Asian dishes is because of all of the yummy vegetables. When I put my Mongolian Chicken on the menu this week, I bought the vegetables that looked the best to me. I ended up with some zucchini, asparagus, mushrooms, onion and peppers. I was getting all of my ingredients out and then it hit me. Why not try making this dish with roasted vegetables?
I love the bright crispiness of sauteed vegetables, but I also just love the deep flavor of roasted vegetables, especially when the edges turn a rich golden brown. I roasted my vegetables and then started in on my chicken. Everything was going fine until my cell phone started going crazy. I had so many friends telling me that my Facebook account was being hacked. I immediately turned off the stove and started changing passwords and sending notifications to my friends on Face Book about what was going on.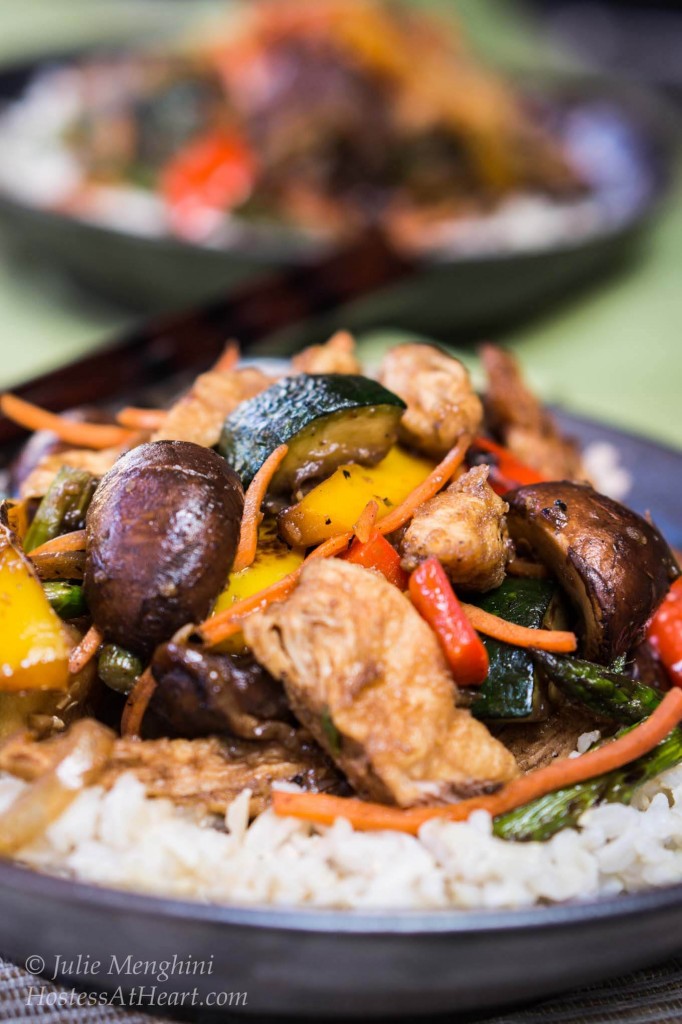 I came back and finished this dish. It was immediately apparent that roasting the vegetables wasn't going to work. They weren't crunchy or visually appealing, and leftovers looked much worse. I knew I couldn't share that recipe. All of the work and the pictures all down the drain. I remade this recipe and after taking a chunk out of my thumb with my knife, I finally got a finished dish that was delicious and one that I would serve at my table.
They say when it rains it pours. It's a good thing that I wasn't posting my Fresh Margarita recipe. I would probably have lost more than a chunk of my thumb!
Mongolian Chicken with Roasted Vegetables
Mongolian Chicken is quick and easy to make. Best of all, it is delicious to eat and versatile enough that anyone would love it.
Ingredients
1

lb

chicken breast

skinless and boneless, sliced 1/2 inch thick

1/4

cup

cornstarch

3

tablespoons

oil

canola, olive, or sesame, divided

1

tablespoon

ginger

grated fresh

1

tablespoon

garlic

minced

1/2

cup

water

1/2

cup

soy sauce

low sodium

1/4

cup

brown sugar

light or dark

1

teaspoon

red pepper flakes

Vegetables of your choice cleaned and chopped in 1 inch strips.

asparagus, mushrooms, broccoli, onion, red or green bell Peppers and zucchini work well

1

cup

brown rice

cooked according to package directions

green onions or matchstick carrots as garnish if desired.

Thinly sliced
Instructions
Start cooking rice according to package directions. It should take 35 to 45 minutes.

Drizzle oil in the bottom of a large skillet or wok. When hot, add garlic, ginger and sauce. Cook for 2 minutes. Pour into a bowl and set aside.

Add chicken to a separate bowl and coat with corn starch.

Drizzle the same large skillet or wok with oil. When hot, add chicken. Brown on both sides. Return to a bowl or plate once browned.

Coat the skillet with the oil once more. Add vegetables and continue cooking until browned.

When finished, add chicken and cover with sauce.

Garnish with onions or carrots. Serve immediately over rice.
Notes
Beef can be substituted for chicken if desired.
Nutrition
Serving:
6
g
|
Calories:
333
kcal
|
Carbohydrates:
40
g
|
Protein:
21
g
|
Fat:
10
g
|
Saturated Fat:
1
g
|
Cholesterol:
48
mg
|
Sodium:
1179
mg
|
Potassium:
424
mg
|
Fiber:
1
g
|
Sugar:
9
g
|
Vitamin A:
122
IU
|
Vitamin C:
1
mg
|
Calcium:
28
mg
|
Iron:
1
mg
This recipe was calculated using the exact brands and measurements I used to make this recipe. If you are following a strict diet please note changing anything will cause the nutritional info to change. My calculations are intended as a guide only.
While this week was trying at times, I realize how fortunate I am. I have my health and so many wonderful people in my life such as you, and my Facebook account is more secure than ever. Do you make Asian dishes at home or are you more of a take-out kinda person?
I'm taking this over to Fiesta Friday to share and to pick up some amazing recipes.